September 11, 2012. Last time we hit 90 at KMSP (95 F).
"Wummer"
Sometimes you read a story and just shake your head in utter amazement. Last week saw a rash of 911 calls in Madison - people reporting "dead bodies" on area lawns. It turns out it was just sun-starved college kids sunbathing. Yep, reluctant zombies, just trying to get a tan. Details below.
"I'm calling this WUMMER, Paul. A rude mash-up of winter and summer...since we never really experienced spring" a friend complained yesterday. Will this be one of those tentative, sickly summers, where we celebrate every time we hit 80? No idea, but I suspect it won't be anything like 2012, when we couldn't buy a cool front.
Welcome to an All or Nothing May: frost Sunday morning to low 90s today? Wear a light jacket over your shorts and don't ask any questions.
A Fire Weather Warning is posted; gusty winds and low humidity fanning & accelerating any brush fires later today. We cool off a little Wednesday - 70s into next weekend.
No need to water anytime soon: a series of storms rippling along an east-west frontal boundary may drop some heavy rainfall amounts Friday into Tuesday of next week. Minor flooding is even a possibility. Drought to flood - 30s to 90s?
I can't remember a spring like this.
Heat Spike. All the models show a high above 90 today; a few suggesting mid-90s. Temperatures cool off into the 70s Wednesday and Thursday, before rising above 80 again by Saturday.
Warm And Wet. I suspect the ECMWF is underestimating today's heat: unless we stay cloudy the mercury should rise into the upper 80s, with a better chance of low 90s by late afternoon. Another surge of heat and humidity sparks T-storms Friday, Saturday and Sunday; temperatures cooling off into the 50s by Tuesday of next week.
Big Swings. While residents of New England reach for jackets folks in the Upper Midwest will be sweating thru a July-like day; 90-degree highs surging into Minnesota by afternoon. The Southwest remains dry with only spotty instability T-showers over the Southeast. NAM model loop: NOAA.
High Fire Threat. The Twin Cities National Weather Service has issued a Red Flag Warning for central and most of southern Minnesota, which is basically a Fire Warning. Gusty winds, coupled with sunshine and low humidity (and the fact that we haven't entirely greened up yet) will accelerate any brushfires that might form today, especially this afternoon. Details from NOAA:
HOT AND WINDY CONDITIONS WILL ARRIVE ON TUESDAY WITH TEMPERATURES
EXPECTED TO REACH THE MIDDLE 80S TO MIDDLE 90S. SOUTHWEST TO WEST
WINDS FROM 15 TO 25 MPH AND GUSTS OF 30 TO 40 MPH ARE FORECAST
ALONG WITH MINIMUM RELATIVE HUMIDITY VALUES NEAR 20 PERCENT. THIS
CAN RESULT IN DANGEROUS WILDFIRE CONDITIONS TUESDAY AFTERNOON AND
EVENING ACROSS MUCH OF CENTRAL AND SOUTHERN MINNESOTA.

...RED FLAG WARNING IN EFFECT FROM NOON TO 8 PM CDT TUESDAY FOR
WIND AND LOW RELATIVE HUMIDITY FOR MOST OF CENTRAL AND SOUTHERN
MINNESOTA...

THE NATIONAL WEATHER SERVICE IN TWIN CITIES/CHANHASSEN HAS ISSUED
A RED FLAG WARNING FOR WIND AND LOW RELATIVE HUMIDITY...WHICH IS
IN EFFECT FROM NOON TO 8 PM CDT TUESDAY. THE FIRE WEATHER WATCH
IS NO LONGER IN EFFECT.

* WINDS...SOUTH 15 TO 25 MPH WITH GUSTS UP TO 40 MPH...SHIFTING
  WEST.

* RELATIVE HUMIDITY...AS LOW AS 20 PERCENT.

* IMPACTS...WILDFIRES COULD BECOME FAST MOVING IN A SHORT PERIOD
  OF TIME DUE TO THE STRONG WINDS...LOW HUMIDITY AND DRY FUELS.

PRECAUTIONARY/PREPAREDNESS ACTIONS...

A RED FLAG WARNING MEANS THAT CRITICAL FIRE WEATHER CONDITIONS
ARE EITHER OCCURRING NOW...OR WILL SHORTLY. A COMBINATION OF
STRONG WINDS...LOW RELATIVE HUMIDITY...AND WARM TEMPERATURES CAN
CONTRIBUTE TO EXTREME FIRE BEHAVIOR.

Drought, Cold Cripple Wheat Crop
. Here's an excerpt from a story at AP and
NBC News
: "
The winter wheat crop is expected to be far smaller this season compared to last, particularly for hard red varieties used in bread, the U.S. Department of Agriculture reported Friday. In the first government projection on the harvest's anticipated size, the National Agricultural Statistics Service estimated winter wheat production will be down 10 percent to 1.49 billion bushels, due to fewer acres — 32.7 million acres, some 6 percent fewer acres than a year ago — and a 1.8-bushel decrease in average yields, to 45.4 bushels per acre. The government's forecast comes amid a season marked by drought and late spring freezes in the Midwest's major wheat growing areas, particularly in Kansas — the nation's biggest wheat-producing state
..."
Photo credit
above: Travis Heying / AP. '
Ben McClure examines a wheat stalk in a Reno County, Kan., wheat field. Forecasts show a smaller crop due to drought and late-spring cold
."
Minnesota Lakes Contaminated With All Kinds of Chemicals
. Out of 50 Minnesota lakes studied only 3 were found to be chemical-free. Details from
The Star Tribune
: "
Man-made chemicals, from cocaine to DEET to pharmaceuticals, are finding their way into Minnesota lakes in ways that no one understands. Some 50 lakes analyzed last year by state scientists contained at least some of 125 different chemicals. DEET, the insect repellent, was the most common, found in 76 percent of them. Only three of the 50 lakes were chemical-free. Bisphenol A, from plastic, was found in nearly half and cocaine was found in a third, according to a
Minnesota Pollution Control Agency analysis
made public Monday
..."
Photo credit
: Lake Nokomis, courtesy of Tom Wallace, Star Tribune.
* The MPCA (Minnesota Pollution Control Agency) reports are
here
.
Another Twist To The Weather: Tornadoes Few, Far Between
. Here are some interesting stats, part of story at
omaha.com
: "...
The last time Iowa had a confirmed tornado was May 24, 2012. If no tornadoes occur through Wednesday, the state will surpass the record of 355 days set at the end of April 1956, he said. "To have gone this long without one is pretty extraordinary," said John Lee, meteorologist for the National Weather Service in Des Moines. Harold Brooks, research meteorologist for the National Severe Storms Laboratory, said preliminary numbers for May 2012 through April 2013 indicate that 197 tornadoes rated EF1 or stronger occurred in the United States. Lesser tornadoes weren't factored into his analysis because they cause little damage and may even have gone unnoticed in the past, so the historical record is considered suspect.
.." (Photo: FEMA).
Satellites See Double Jeopardy For SoCal Fire Season
. It's going to be a long, hot, highly flammable fire season for residents of the west, including Southern California. Here's an excerpt from a post at NASA's
Jet Propulsion Laboratory
: "PASADENA, Calif. -
New insights into two factors that are creating a potentially volatile Southern California wildfire season come from an ongoing project using NASA and Indian satellite data by scientists at NASA's Jet Propulsion Laboratory, Pasadena, Calif.; and Chapman University, Orange, Calif. The scientists tracked the relationship between rainfall and the growth and drying-out of vegetation in recent months, during an abnormally dry year. They found the timing of rains triggered regional vegetation growth in January and early February, which then dried out faster than normal during a period of low rainfall, strong winds and high temperatures in March and April. The combination likely elevates wildfire risks by increasing available fuel. The two institutions are combining satellite datasets to monitor moisture changes in vegetation and soil across Southern California's vast wilderness areas in order to identify early warning signs of potential wildfires. The scientists are using measurements of soil moisture change from the Indian Oceansat-2 satellite scatterometer (OSCAT) and of vegetation stress from the Moderate Resolution Imaging Spectroradiometer (MODIS) sensor on NASA's Aqua satellite
..."
Graphic credit
above: "
* "
Fierce Fire Season Predicted For West
".
USA Today
has the story, following up on the JPL press release above.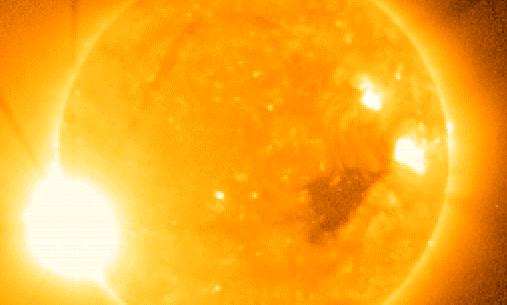 Solar Cycle Peaks Later This Year - Are You Prepared for Possible Disruptions to Power and Communications?
A potentially disruptive and damaging solar flare is reported on Earth roughly once a decade. The Earth's rotation around the sun will place it in a more vulnerable position later in 2013, directly exposed to the most active portion of the sun and sunspots capable of sparking major solar flares, including potentially damaging X-Flares, which can disrupt communications, GPS signals, even the power grid. NASA has a good overview (
"A Super Solar Flare"
) detailing the last time the USA experienced a devastating X-Flare, the "Carrington Event" in 1859. The odds of a similar event are small, roughly 12% over the next 11 year cycle. A major geomagnetic storm (G4 or G5 from an X-scale solar flare) could cause major power outages that might last weeks, months, even years - something none of us want to think about, but a real risk nonetheless.
A Space Weather Primer
. We've experienced 3 separate X-class solar flares since midday Sunday. The risk of geomagnetic storms is small, but not zero, and we need to pay attention to "space weather" in the coming months. The solar cycle peaks later in 2013, but some of the most intense solar flares and CME's are often observed going into and coming out of a peak. Details from
WeatherNation TV
: "
WeatherNation Chief Meteorologist Paul Douglas goes over some of the more active space weather we saw in the past couple of days. Paul Douglas goes over CMEs and solar flares and how they can impact life on Earth
."
First X-Class Solar Flare Of 2013
. There were two CME's (coronal mass ejections), one Sunday evening (X1.7), a second (X-scale 2.8) Monday morning. A 2.8 flare is nearly 3 times stronger than an X1. Details from
NASA
: "
On May 12, 2013, the sun emitted a significant solar flare, peaking at 10 p.m. EDT. This flare is classified as an X1.7, making it the first X-class flare of 2013. The flare was also associated with another solar phenomenon, called a coronal mass ejection (CME) that can send solar material out into space. This CME was not Earth-directed. Solar flares are powerful bursts of radiation. Harmful radiation from a flare cannot pass through Earth's atmosphere to physically affect humans on the ground, however -- when intense enough -- they can disturb the atmosphere in the layer where GPS and communications signals travel. This disrupts the radio signals for as long as the flare is ongoing – the radio blackout associated with this flare has since subsided
..."
Image credit
above: "
The sun erupted with an X1.7-class solar flare on May 12, 2013. This is a blend of two images of the flare from NASA's Solar Dynamics Observatory: One image shows light in the 171-angstrom wavelength, the other in 131 angstroms
."
Credit:
NASA/SDO/AIA
U.N.: Eat More Insects; Good For You, Good For World.
Tempting, but no thanks. If you're more adventurous than I am check out this story from AP and
Yahoo News
; here's an excerpt: "...
Scientists who have studied the nutritional value of edible insects have found that red ants, small grasshoppers and some water beetles pack (gram-per-gram or ounce-per-ounce) enough protein to rank with lean ground beef while having less fat per gram. Bored with bran as a source of fiber in your diet? Edible insects can oblige, and they also contain useful minerals such as iron, magnesium, phosphorous, selenium and zinc.
WHICH TO CHOOSE?
Beetles and caterpillars are the most common meals among the more than 1,900 edible insect species that people eat. Other popular insect foods are bees, wasps, ants, grasshoppers, locusts and crickets. Less popular are termites and flies, according to U.N. data
..."
Photo credit
above: Associated Press/Arnold Van Huis, FAO, ho - "
This Feb. 20, 2008 photo provided by the United Nations Food and Agriculture Organization (FAO) shows insects for sale at a market in Chiang Mai, Thailand. The U.N.

has new weapons to fight hunger, boost nutrition and reduce pollution, and they might be crawling or flying near you right now: edible insects
."
A "Pet Glacier".
O.K. During the last ice age the ice sheets were more than a mile thick, but it's a real disconnect looking out at your green lawn, watching wind-whipped ice from Lake Mille Lacs being pushed ont your yard. Thanks to Patricia Swanson for sharing this.
Before Calling 911 , Check To See If Person Lying On Grass Is Dead
. Need a good laugh? Check out this excerpt of a story at
madison.com
: "
Following the zombie scare on Monday, dead people kept popping up all over Madison on Tuesday. Or, at least it seemed that way to the Dane County 911 Center. The center was overwhelmed with calls from cellphone users reporting people lying on the grass, not moving, possibly not living. Not so. Check the weather. "Please tell cellphone users that people lying in the grass are not necessarily dead," a dispatcher at the 911 center told
Madison.com
.
.."
TODAY: Fire Warning. Hot sun, very windy. Winds: SW 15-25. High: 91
TUESDAY NIGHT: Isolated T-storm (best chance Wisconsin). Low: 58
WEDNESDAY: Mix of clouds & sun, a bit cooler. High: 77
THURSDAY: Partly sunny, a fine May day. Wake-up: 55. High: 75
FRIDAY: Few showers, possible T-storms. Wake-up: 57. High: 74
SATURDAY: Warm & sticky; few severe storms? Wake-up: 60. High: 82
SUNDAY: Lingering showers and T-showers, turning cooler. Wake-up: 63. High: 73
MONDAY: More showers, heaviest far south. Wake-up: 57. High: 68
Climate Stories...

Shell To Develop World's Deepest Offshore Platform
.
Reuters
has the story; here's an excerpt: "
Royal Dutch/Shell said on Wednesday it will go ahead with the world's deepest offshore oil and gas production project, pushing the boundaries of technology to produce from nearly 2 miles (3.2 km) down in the Gulf of
Mexico
.

Coming three years after the Macondo oil spill disaster, Shell targets first production by 2016, demonstrating confidence in big offshore projects in spite of a downturn in oil prices.

Earlier this week, Exxon Mobil Corp flagged startup for a $4 billion project to develop the Julia oilfield, about 40 miles (64 km) west of Stones in the Gulf's deepest waters
..."
Climate Change, "Happy Plants", And False Balance
. Here's an excerpt from
Media Matters
: "
Carbon dioxide levels in the atmosphere
passed
400 parts per million (ppm) on Thursday for the first time in human history. But one thing hasn't changed: false balance still crops up in climate change stories.
False balance
occurs when journalists give equal weight to arguments from both sides, regardless of where the facts lie. Climate change is a
textbook example
of this problem -- in fact, the term was
coined
in academic papers to criticize climate coverage in the 1990s. Yet 20 years later, we still get articles like
this
from Bloomberg News, reporting on the 400 ppm milestone:
Happy Plants
"The Earth has had many-times-higher levels of CO2 in the past," said Marc Morano, former spokesman for Republican Senator
James Inhofe
and executive editor of
Climate Depot
, a blog that posts articles skeptical of climate change. "Americans should welcome the 400 parts-per-million threshold. This means that plants are going to be happy, and this means that global-warming fearmongers are going to be proven wrong
..."
What's In A Number? New Carbon Dioxide Level Unseen In Human History
. Here's an excerpt from
ABC News
: "...
What worries scientists in 2013 is not only the amount of CO2 in the atmosphere, but how fast it continues to build up without showing any sign of slowing or even stabilizing. Today's rate of carbon dioxide increase is more than 100 times faster than the increase that occurred when the last ice age ended, NOAA said today. At this rate, even 400 ppm will soon vanish in the rearview mirror. Unless emissions are slowed, scientists tell us that babies being born today will enter their thirties as the CO2 level reaches 450 ppm
..." (Image credit
here
).
Climate Sensitivity Stunner: Last Time CO2 Levels Hit 400 Parts Per Million The Arctic Was 14F Warmer.
Here's an excerpt from
Think Progress
: "...
At the same time, a major new Science study of paleoclimate temperatures — based on "the longest sediment core ever collected on land in the Arctic" –
revealed
what happened the last time we had similar CO2 levels:
"One of our major findings is that the Arctic was very warm in the Pliocene [~ 5.3 to 2.6 million years ago] when others have suggested atmospheric CO2 was very much like levels we see today. This could tell us where we are going in the near future. In other words, the Earth system response to small changes in carbon dioxide is bigger than suggested by earlier models," the authors state.

....How sensitive is the climate to increases in CO2, according to this "absolutely new knowledge" of paleoclimate temperatures?
Another significant finding to emerge from this first continuous, high-resolution record of the Middle Pliocene is documentation of sustained warmth with summer temperatures of about 59 to 61 degrees F [15 to 16 degrees C], about 8 degrees C [14 F] warmer than today..."

Graphic credit
above: "
Arctic sea ice is melting much, much faster than even the best climate models had projected (actual observations in red). The reason is most likely unmodeled amplifying feedbacks. The image (from Climate Crocks via Arctic Sea Ice Blog) comes from a 2007 GRL research paper by Stroeve et al.
"
Terrible News About Carbon And Climate Change.
Let's hope the markets respond (when a price is finally put on carbon pollution, like any other form of pollution). Then wait for the climate change-equivalent of Apple, Google or Tesla. Here's an excerpt of a post at
The New Yorker
: "...
We've failed collectively. As
Ryan Lizza explained
in miserable detail in 2010, the United States government couldn't pass a tepid, eviscerated law. Activists have failed. We've all failed morally: a problem created by the world's rich will now crush the world's poor. In a grand sense it's also a failure of the creators, and deniers, of climate change: the Exxon-Mobils, say, or the Wall Street Journal
editorial page
. A victory isn't worth much if your children and grandchildren will one day think of you with anger and shame. How do we get out of this mess? The political system seems hopeless. Yes, government regulation has done much to relieve us of acid rain and smog. But global warming combines two intractable problems. Reducing emissions mainly benefits people who aren't born and don't vote. And it requires international coördination, which is hopeless, and international law, which is toothless. We should do things like build more public transportation, which helps people here and now. We should design our cities for a future with terrible weather. But solving the problem of climate change through the U.N. is like a small man with olive oil on his hands trying to pull a whale from the water
...."
The True Cost Of Climate Change?
Here's a look at home changing climate and weather patterns (and availability of fresh water) may impact species and biodiversity, from
Birdwatch
: "
Accelerating world climate change will radically decrease two thirds of common plants and half the animals, says new research from the University of East Anglia (UEA). Research published today in the journal Nature Climate Change look at 50,000 globally widespread and common species, and found that two thirds of the plants and half of the animals will lose more than half of their climatic range by 2080, if nothing is done to reduce the amount of global warming and slow it down. This means that geographical ranges of common plants and animals will shrink globally, and biodiversity will decline almost everywhere. Almost two thirds of common plants and half the animals could see a dramatic decline this century due to climate change
..."
China "Moving To Lead On Climate Change"
, Says Report. Wait, this is the same country that's been launching roughly one new coal-fired power plant every week; a country where, at times, you can't breathe the air, drink the water or eat the food? The Chinese realize they have a serious environmental problem, and renewable energy provides the only way out. Here's an excerpt from
Climate Central
: "...
The report says China and the U.S., the world's two largest economies which together produce about 37 percent of world emissions, are both on track to meet their international commitments on climate change, something they said in this month's "historic agreement" they would tackle together. "Today the energy giants are undoubtedly on the move, which will fuel global momentum." China earns praise for several reasons. It is reducing its emissions growth, and in 2012 cut the carbon intensity of its economy more than expected. After years of strong growth in coal use, the rate of growth has declined substantially. It is also "the world's renewable energy powerhouse." Professor Flannery says: "China has halved its growth in electricity demand… [and] is quickly moving to the top of the leader board on climate change
..."
Graphic credit
above: "
Global progress on renewable energy graphic
." Credit: Climate Commission
.