62 F
. high Saturday in the Twin Cities.
72 F
. average high on May 25.
69 F
. high on May 25, 2012.
Trace
of rain fell yesterday. At least it didn't snow.
T-storms
possible tonight into Memorial Day, but no all-day rains.
Living With Risk
"I enjoy Minnesota summers. Both weeks!" the parable goes.
How could we have a 7 month boating season in 2012, only to be tracking late May frosts & jackets one year later? A new level of erratic.
18" snow in April - icy lakes in May. No, Minnesota is not for the squeamish. But those cold fronts we love to complain about inoculate us to a large degree from the worst tornadoes and ocean-roaming weather beasts: hurricanes can't touch us.
Texas, Alabama, North Carolina: roughly 4 times more billion dollar weather disasters since 1980 than Minnesota, says NOAA. In spite of our many weather faults we have no active earthquake faults. California is lovely, when tectonic plates aren't shifting. As long as that super-volcano in Yellowstone behaves itself we'll be just fine.
Today: more clouds, low to mid 60s, but the heaviest T-storms rumble over far southern Minnesota. Not great but at least it won't snow. A warm front limps north tomorrow, sparking scattered T-storms for Memorial Day, but no all-day rains.
A stormy pattern is in place all week; 80s by midweek with sufficient moisture & wind shear for a few severe storms. No storms with names though. "Andrea" may form near Florida within 2 weeks.
Uh oh.
Even Greener Lawns. Remember the drought? We may go from drought to spotty flash flooding this week as a series of warm fronts surge northward, each one initiating convection (thunderstorms). There's even a potential for an MCS, a meso-convective system: swarms of heavy/severe thunderstorms that tend to blow up late at night, capable of minor wind damage and flooding rains. Talk about a weather turnaround. NOAA's QPF product prints out some 3-5" amounts over Iowa and southeastern South Dakota, the best chance of heavy rain over far southern and western Minnesota.
A Noisy Warm Frontal Passage? Much of today should be dry (slight shower chance), but the approach of warmer, more humid air may set off strong T-storms from Sunday night into Memorial Day, in fact scattered showers and T-storms will linger right through the end of the week. Note that the higher-res 4 km. NAM prints out nearly 2" of rain from late tonight into midday Monday. Graphic: Iowa State.
Major Holiday = Blue Blobs. What happened to the green blobs? Now they're blue, and that means scattered showers and T-storms tonight and Memorial Day, but no steady, all-day rains are expected. We break out into a warm, sticky, thundery airmass by Tuesday and Wednesday with highs reaching the 80s. Finally. 84 NAM outlook: NOAA.
Putting This Spring's Cold In Context.
January thru March was the 8th warmest period in over 100 years for the planet, but it's human nature to look out the window and make assumptions. I get it.
UCAR
has a good overview of our chilly spring, placed in a larger context of a slowly warming atmosphere; here's an excerpt: "
What led to this springtime string of cold and snow? It's due in part to the perfectly normal seasonal shift of the polar jet stream. The jet often flows from west to east across the heart of the United States in winter. By summer, it's flowing mainly across Canada and the northern tier of states. Spring and autumn are times of transition, when the jet oscillates back and forth. Throughout the year, packets of upper-level low pressure ride the jet stream, rippling along the flow like waves and often bringing stormy weather with them. Sometimes these atmospheric waves "break." Southward dips in the jet stream can become so large and deep that they snap off from the main flow. The result: an upper low marooned hundreds of miles south of the polar jet stream
..."
Image credit
above: "
Cut-off centers of low pressure loitered near California and the U.S. South early this week, with the polar jet stream in a summerlike position across northern Canada. Shown here are upper-level winds as of 8:00 a.m. EDT on May 6
." (Image courtesy
NOAA/NCEP Model Analysis & Guidance.
)
Historical Memorial Day Holiday Weekend Weather In The Twin Cities
. Information courtesy of the
Minnesota Climatology Working Group
: "
Beginning in the late-1860's, Memorial Day was traditionally observed on May 30 (at least in northern states). The congressionally-mandated Memorial Day holiday weekend (last Monday in May) commenced in 1971. The investigation was limited to the period of time since the formal designation of the Memorial Day holiday weekend (42 years of data, 1971-2012). Memorial Day can occur as early as May 25 and as late as May 31. Given the fact that the dates of the holiday weekend float about, don't put too much stock in the climatological significance of the statistics offered below. However, the numbers are fun to mull over. It appears that Memorial Day is often the nicest day of the weekend
."
Wet May
. No, this won't come as a shock, but we are muddling through yet another cool, wet month. Dr. Mark Seeley has some interesting details in this week's edition of
WeatherTalk
; here's an excerpt: "...
The month of May has brought measurable rainfall on many days. Of the first 24 days of the month many observers report rainfall on 15 or 16 days, a very high frequency. Accumulated rainfall for the month is already record-setting at many southern Minnesota locations, with a week to go in the month. Some of those already reporting record rainfall amounts for the month include:
12.13 inches at Grand Meadow, 9.16 inches at Spring Valley, 9.03 inches at Austin, and 8.63 inches at Rochester. The all-time maximum rainfall for the month of May in Minnesota is 15.79 inches at St Francis (Anoka County) in 2012. If Grand Meadow (Mower County) has a wet last week of May, they may threaten that state record this month. For southeastern Minnesota counties May of 2013 already ranks as the 5th wettest May in history, averaging nearly 7 inches of rainfall. This number is likely to increase over the next week before the month concludes next Friday.
.."
Drought Continues To Ease
. The entire Twin Cities and St. Cloud metro areas are officially out of the drought now, lingering pockets of moderate to severe drought over southwestern Minnesota, but conditions continue to improve statewide. Yes, this spring has been a bust, but at least there's water in our lakes, and look at how good your lawn looks! Details from the
Minnesota Climatology Working Group
: "
The

U. S. Drought Monitor

, released on May 23 places portions of southwest Minnesota in the Severe Drought category

(map at right)

. Only 7 percent of Minnesota's landscape is in Severe Drought, a substantial improvement over early April when 67 percent of Minnesota was experiencing Extreme Drought or Severe Drought. The maximum geographic extent of the present drought was late autumn 2012 through mid-winter when 83 percent of the state was rated in the Extreme Drought or Severe Drought categories
..."
Sophisticated Tornado Warning System Saved A Lot Of Lives In Oklahoma
. Here's a segment from
Business Insider
: "
When a devastating tornado touched down in Moore, Oklahoma on May 20,
locals had 16 minutes
to get to safety before the
mile-wide EF4
hit. Even that seemingly short warning system is enough to save a ton of lives. The Oklahoma City siren system, a network of
181 emergency warning sirens
, was state-of-the-art when it went online in April, 2002. It cost $4.5 million to install the new system, which replaced the cold war-era sirens that covered only the most densely populated parts of the city
..."
Lifecycle Of A Weather Monster.
Here is some of the most remarkable raw tornado footage I've ever seen,courtesy of Justin Cox and Chance Coldiron. This is not for broadcast video; details on their intercept with the Moore EF-5 via
YouTube
: "
Raw footage of Fast Unit 70's (Chance Coldiron & Justin Cox) coverage of the Moore tornado that was used by KOCO5 during the event on May 20th, 2013. We watched as the tornado formed in front of us and rapidly intensified then moved across highway 37 in Newcastle, OK. Then the tornado continued to intensify as it tracked across the Canadian River and the interstate 44 bridge. The monster tornado was filmed from close range off the I-44 bridge north of Newcastle as it was headed for Moore
."
Storm Shelters And Safe Rooms Save Lives When Tornadoes, Hurricanes Strike
. Here's a portion of a timely article at
EHS Today
: "...
High wind speeds produce flying debris turning construction materials, furniture, appliances and just about anything into deadly missiles. The standard requires that walls, windows and doors are tested to withstand flying projectiles.
Tornado storm shelters are required to house people for 2 hours and include minimum requirements for ventilation, sanitation facilities, a fire extinguisher, lighting and other minimal power needs. 
 A storm shelter does not need to be a separate space or structure. A shelter can be a "hardened" room inside a building that normally is used for other purposes. For instance, schools often use a classroom or group of classrooms, a gymnasium or library as a shelter. The walls, doors, ceilings and windows are then designed to withstand the higher wind loads and flying debris
.
.."
Photo credit
above: "
In Moore, Okla., there have been dramatic examples of survivors who lived through the killer tornado because the home or other building they were in had a safe room or fortified basement
." Jocelyn Augustino/FEMA
Lessons Learned
. It was a long week chained to the Doppler radar. In light of the destruction in Moore, failure of GOES-13, and some troubling trends in the Arctic I recorded this
YouTube clip
, courtesy of WeatherNation TV: "
This is your chance to get inside the mind of Meteorologist Paul Douglas. What is he thinking about this week? Tornado safety, a satellite going dark and Arctic evacuations
."
Racing The Clock And A Storm: A Way Of Life In Tornado Alley.
Here's a clip from a
New York Times article
on how Oklahomans deal with tornado season, an amazing, minute-by-minute account of the minutes leading up to Moore's EF-5: "...
In this breeding ground of Oklahoma
tornadoes
, people prepare for the season with the care that the defensive coordinator for their Sooners prepares for the inevitable autumn. They develop family plans, hang on the words of meteorologists, and, in places like Moore, become accustomed to the Saturday noontime testing of emergency sirens. At the same time there exists disbelief that the devastation visited upon neighbors could ever happen to them or, that is, could ever happen to them again. Amid all the siren tests and awareness and false alarms, the warning can still be a half-hour, maybe a little more, maybe a little less. This means you must stop what you are doing, shake off the disbelief, track down loved ones and find shelter, all in the time it takes to watch a few rounds of "Jeopardy!"
...
Photo credit
above: "
A handout photo of a tornado in Newcastle, Okla., before it reached Moore, about 10 miles away, on May 20, 2013. With authorities saying they have likely recovered all the bodies to be found beneath the rubble left by the Category 5 tornado, the focus turned to the long and expensive path of recovering from one of the most catastrophic storms in Oklahoma's history
." (Nick Rutledge via The New York Times).
5 Myths About Tornadoes
. Meteorologist Mike Smith makes some very good points in this story at
The Washington Post
; here's an excerpt that caught my attention: "...
But many misconceptions persist — misconceptions that can encourage bad policy and put lives at risk. I'd like to dispel some of the myths
.
1

.

Meteorologists aren't any good at forecasting these storms.
How does 99.3 percent sound? In 2011, 553 people lost their lives in tornadoes. For all but four of those victims (99.3 percent), both a tornado watch and a tornado warning were in effect before the storm arrived. Modern tornado warnings are Nobel Prize-worthy endeavors that combine weather science, social science and technology. As recently as 1990, people in the path of a tornado were lucky to get five minutes' warning. Now, thanks to advances in radar, computer simulations and research on how tornadoes develop, the average "lead time" is 12 minutes — and more than 15 minutes for major tornadoes. The city of Moore had a stunning 36 minutes of warning
..."
Moore, Oklahoma: Before And After The Tornado
. This
ESRI URL
shows the implications of an EF-5 tornado, with devasting detail that I haven't seen anywhere else.
Tornadoes Were Just The Beginning
. This Hurricane Season Is Going To Be Stormy. Here's an excerpt from
Time Magazine
: "...
Altogether NOAA predicts a 70% likelihood that 13 to 20 named storms—which have winds that sustain at 39 mph or higher—will occur, of which 7 to 11 could become hurricanes (winds higher than 74 mph). Of those three to six may become major hurricanes, which means Category 3 to 5, with winds above 11 mph. That's all well above the average for an Atlantic hurricane season, which lasts from June 1 to the end of November. Why will this summer potentially be so stormy? For one, an atmospheric climate pattern, including a strong African monsoon, that's been ongoing since 1995 will help supercharge the atmosphere for tropical storms. Warmer-than-average water temperatures in the tropical Atlantic and the Caribbean Sea will lead to more of the wet, hot air that provides the fuel for hurricanes. And there is no El Nino—the alternating climate pattern that means unusually warm sea temperatures—which would usually suppress the formation of hurricanes
..."
Photo credit
above: "
Lightning in the sky over debris from the tornado that devastated Moore, Okla., Thursday, May 23, 2013
." (AP Photo/Tulsa World, Mike Simons)

Predicting hurricane track & intensity is as much art as science; knowing which models to trust, and when. My meteorology professors at Penn State would cringe to hear me say this, but intuition and past history can play as big a role as model trends. Predicting hurricane potential 3-4 months from now is equivalent to forecasting what financial markets will be doing in late summer. Good luck with that. But there are factors that lead me to believe that
this will be another above average year for tropical storms and hurricanes
in the Atlantic basin, with as many as 2-3 hurricanes hitting the U.S. coastline by October. Here's the logic behind that prediction:
*
Hurricane Cycle
. There is a natural 25-40 year cycle for hurricanes - we entered the busy/active part of that cycle in the mid-90s, so this is a significant factor.
*
Warm SST's
. Sea surface temperatures are warmer than average, to the tune of 1F. That may not sound like much, but hurricanes get their strength from warm ocean water, and every 1F. of warmth increases hurricane potential by 5-10%
*
No El Nino To Save Us
. El Nino warming phases in the equatorial Pacific tend to increase winds over the tropics; more wind shear shreds developing tropical storms, reducing the threat of hurricane development in the Atlantic and Gulf of Mexico. Right now we are in an ENSO-neutral state, meaning no El Nino or La Nina in the Pacific.
*
Feeling Lucky?
The last major (category 3 or stronger) hurricane to strike the USA was Wilma in 2005. The intervening 7 year stretch with no category 3+ hurricane is the longest on record for the USA. Last October we saw what a category 1 storm, Sandy, coming at high tide and a full moon can do. Jet stream winds are more erratic this year, more sweeping north/south dips and bulges to prevailing steering winds aloft, which increases the potential for tropical systems to penetrate unusually far north.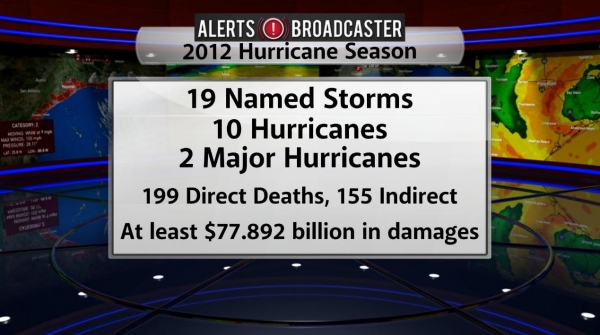 2012 Recap
. Last year was very active in the Atlantic basin with 19 tropical storms; 10 strengthened into hurricanes; 2 of those became major hurricanes (but remained out at sea). Damage estimates vary, but generally run in excess of $70 billion, the vast majority of that from Sandy.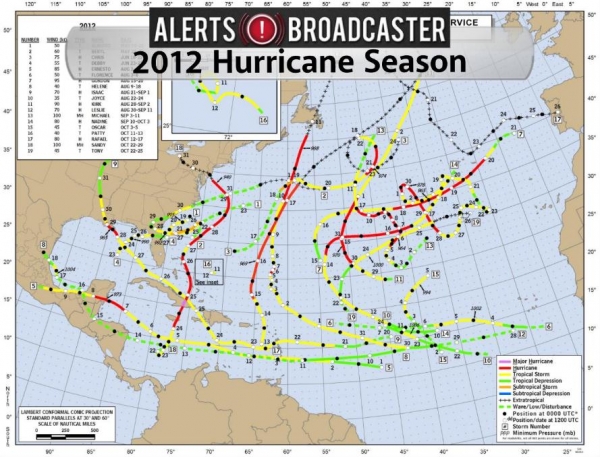 2012 Tropical Systems
. NHC confirms 19 named storms, the 3rd highest number on record in the Atlantic basin. Mercifully most of those tropical storms and hurricanes remained out over the open waters of the North Atlantic.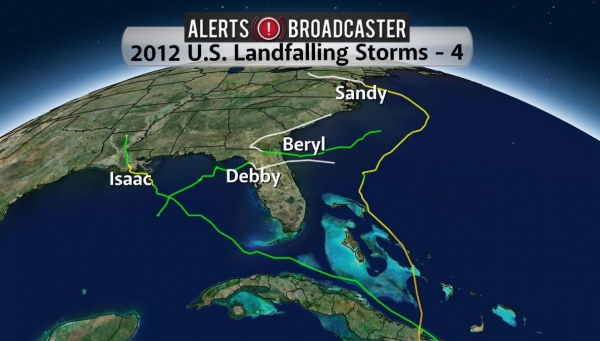 2012 U.S. Landfalling Storms
. Only Isaac was a full-fledged hurricane as it hit the U.S. coastline. Debby and Beryl were tropical storms, and Sandy was "extra-tropical", technically not a warm-core hurricane as it came ashore - although the distinction was probably lost on waterlogged residents of New Jersey and metro New York. In fact NOAA got a lot of grief for discontinuing Hurricane Warnings before Sandy's landfall - this send the wrong message to coastal residents who assumed the storm was weakening. Sandy was a hybrid storm, a slowly weakening hurricane that was energized by a Nor'easter, mutating into a storm 3 times larger than Katrina in 2005. Slow movement and astronomical forcings whipped up a 900-mile wide band of tropical storm force winds, the largest ever recorded, compounding the storm surge problems for the northeast coast.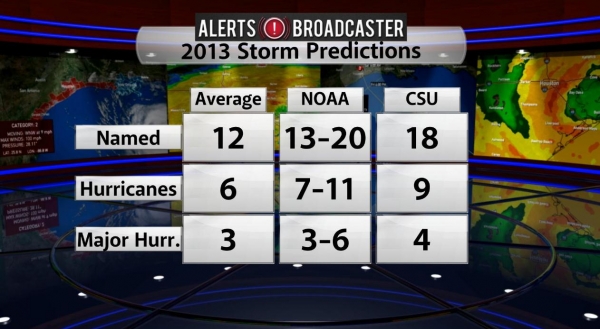 2013 Hurricane Prediction
. I tend to agree with both NOAA and CSU, Colorado State University, that we will experience more hurricanes than usual again this year. The big question: will prevailing winds guide those storms into the U.S. - or whisk them out to sea, as was the case last year. For a variety of reasons, including a more amplified north/south jet stream pattern (less of a westerly wind bias aloft) I believe a higher percentage of tropical storms and hurricanes will impact the Caribbean and U.S. in 2013. NOAA predicts 7-11 hurricanes, above the annual average of 6, and 3-6 major hurricanes, category 3 or stronger.
* it's important to remember that, overall, climate change doesn't seem to be triggering more hurricanes in the Atlantic, but since 1970 the number of category 3 or stronger hurricanes has roughly doubled; it may be having a causal effect on hurricane intensity. Scientists believe this may be linked to consistently warmer sea surface temperatures. 90% of all warming is going into the oceans, and that has implications for tropical development.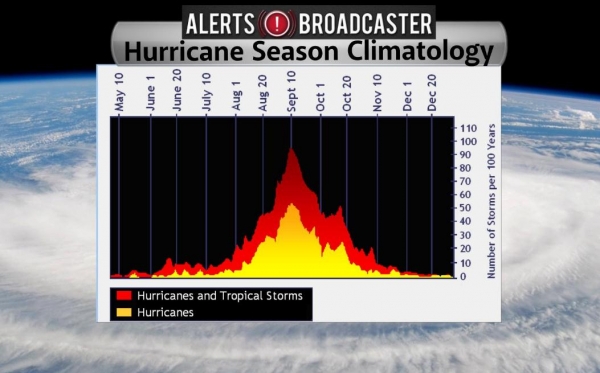 Hurricane Climatology
. Think twice before booking a Carnival Cruise on September 10, the date hurricanes are most likely to reach the U.S. coastline, statistically. Atlantic basin hurricanes have been observed every month of the year, but tend to peak from late August into early October, when sea surface temperatures in the Atlantic and Caribbean are warmest.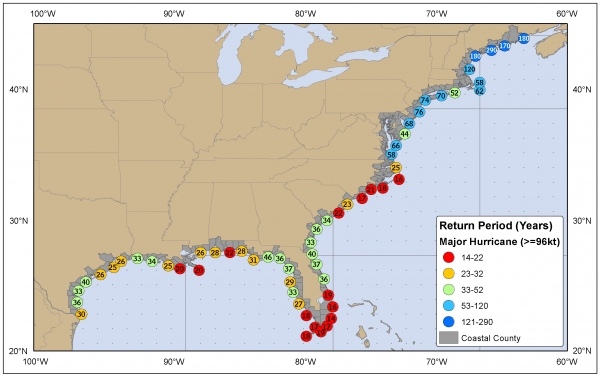 Return Frequence Of Major Category 3+ Hurricanes
. We compiled this map showing the probability of major (category 3 or stronger) hurricanes along the U.S. coastaline. The red dots show the locations of highest risk, based on past storm tracks: a return frequency of 14-22 years for New Orleans, Mobile, much of south Florida and the coastal Carolinas and Outer Banks.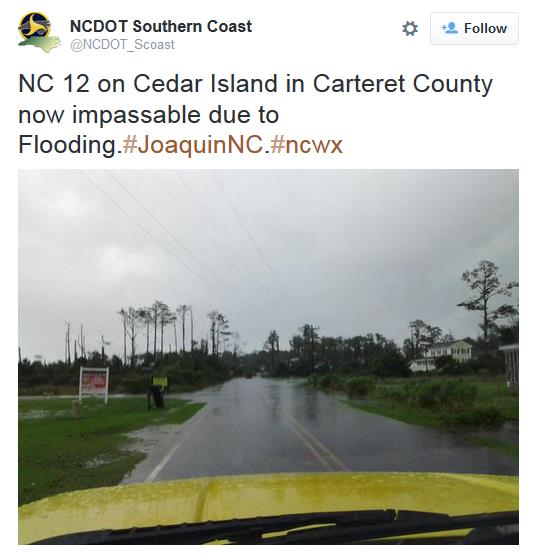 Out On A Limb
. Based on a variety of factors, including prevailing winds, SST's, climatology and historical analogs, this is my forecast for overall hurricane risk level in 2013; the greatest potential for landfalling hurricanes and tropical storms from south Florida northward to Savannah, Hilton Head and Charleston, South Carolina. A moderate risk for landfalling hurricanes exists from Galveston and New Orleans eastward to Mobile and Pensacola, with a low to moderate risk from Virginia's Tidewater northward to Long Island and Cape Cod.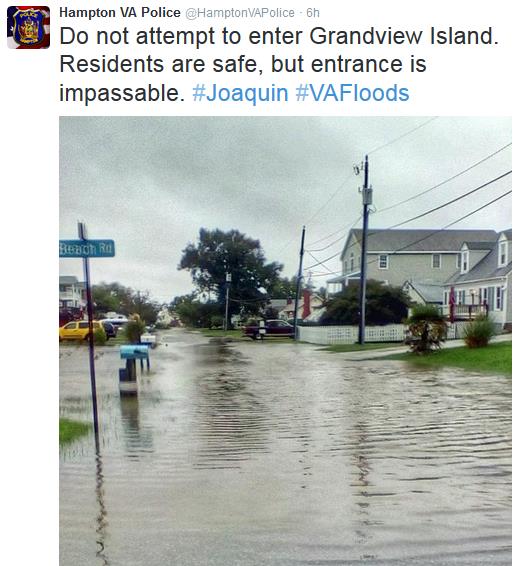 Tropical Whispers - Risk of "Andrea"
. Confidence levels are still low; it's not time to start moving people or testing emergency generators, but models have been trying to spin up the first tropical system of the year near Mexico's Yucatan Peninsula, tracking it due north over Florida, possibly posing some risk to the southeast coast by June 5-8. We're watching this and examining model trends over time. I just wanted to plant an early seed and raise overall awareness for possible tropical development impacting Florida and southeastern facilities in a 10-14 day timeframe. The first tropical storm of 2013 will be named Andrea.
NOAA Predicts Active 2013 Atlantic Hurricane Season
. We're in an ENSO-neutral period right now, no La Nina cooling or El Nino warming. El Nino also tends to turn on stronger winds in the tropics, which can deter tropical storm formation. It may be another very active season - here are a few excerpts from
NOAA
: "
For the six-month hurricane season, which begins June 1, NOAA's Atlantic Hurricane Season Outlook says there is a 70 percent likelihood of 13 to 20 named storms (winds of 39 mph or higher), of which 7 to 11 could become hurricanes (winds of 74 mph or higher), including 3 to 6 major hurricanes (Category 3, 4 or 5; winds of 111 mph or higher)....

Three climate factors that strongly control Atlantic hurricane activity are expected to come together to produce an active or extremely active 2013 hurricane season. These are:
A continuation of the atmospheric climate pattern, which includes a strong west African monsoon, that is responsible for the ongoing era of high activity for Atlantic hurricanes that began in 1995;


Warmer-than-average water temperatures in the tropical Atlantic Ocean and Caribbean Sea; and


El Niño is not expected to develop and suppress hurricane formation..."
Hurricane Outlook: Another Busy Atlantic Season
. There's some good information and statistics in this AP article, courtesy of
boston.com
: "...
This year, all the factors that go into hurricane forecasts are pointing to an active season, or an extremely active one, said lead forecaster Gerry Bell of the Climate Prediction Center. Those factors include: warmer than average ocean waters that provide fuel for storms, a multi-decade pattern of increased hurricane activity, the lack of an El Nino warming of the central Pacific Ocean, and an active pattern of storm systems coming off west Africa. The Atlantic hurricane season goes through cycles of high and low activity about every 25 to 40 years based on large scale climatic patterns in the atmosphere. A high activity period started around 1995, Sullivan said
..."
As Need For New Flood Maps Rises, Congress And Obama Cut Funding
. Here's an excerpt from
OPB News
: "...
Congress has cut funding for updating flood maps by more than half since 2010, from $221 million down to $100 million this year. And the president's latest budget request would slash funding for mapping even further to $84 million — a drop of 62 percent over the last four years. In a little-noticed
written response
to questions from a congressional hearing, FEMA estimated the cuts would delay its map program by three to five years. The program "will continue to make progress, but more homeowners will rely on flood hazard maps that are not current," FEMA wrote
"...
Sequester Cuts Wildfire Prevention, Sets Up Bigger Blazes
.
Grist
has another story that caught my eye - here's a portion: "...
Last year saw the
third-worst wildfire season
in five decades; the Southern California fire that
threatened thousands of homes
earlier this month looks to be only the first flash of what the National Oceanic and Atmospheric Administration announced last week will be an above-average season for much of the Southwest. But the sequester took a
7.5 percent bite
out of the Forest Service's budget,
nearly half of which
is spent fighting wildfires. That means there will be 500 fewer pairs of boots on the ground and 200,000 fewer acres treated to prevent fires; the agency's next proposed budget cuts preventative spending by a further
24 percent
.
.." (photo: DNR).
Weather Service To Add Major Might To Computing Power.
With any luck I won't to rely on the European ECMWF model quite so much in the years ahead.
Kitsap Sun
has the story - here's an excerpt: "...
After coming under fire for
falling behind the capabilities of other nations
, the National Weather Service (NWS) is setting out to make an unprecedented increase in its computing power over the next several years, the agency announced this week. The computing boost will triple a key measure of the agency's main weather model, and could yield major improvements to its weather forecasting and warnings capabilities. The program is made possible by recent funding from Congress contained in the
Hurricane Sandy
relief legislation, which was signed into law in January. The NWS plans to use $25 million of the $48 million provided to it in the Sandy supplemental bill, along with funds that are called for in President Obama's
fiscal year 2014 budget proposal
, to bring about "unprecedented" computing upgrades — going from an operational computing capacity of 213 peak teraflops at the end of the current fiscal year, to 1,950 peak teraflops by the end of fiscal year 2015, according to NWS Director Louis Uccellini
..."
The Suicide Epidemic
. I've lost too many friends and family members to suicide. As a society we don't stigmatize people with diabetes, and yet another chemical imbalance, depression, is often brushed under the carpet. No, we can't possibly admit to that, as if it's a character flaw or genetic defect. But it's not. Depression is treatable, with medication and therapy everyone can be helped. We have to keep pounding home that message, to our friends, colleagues and family members, and if you suspect someone is in a dark place, don't ignore it - do something about it. Help them find the help they need. Read this article at
The Daily Beast
and then do something positive, like supporting
SAVE
(Suicide Awareness, Voices of Education), based in Bloomington with an international outreach. Their director (and a good friend of mine) Dr. Dan Reidenberg, has testified before Congress. SAVE has an amazing staff and volunteers working 24/7 to avoid senseless, horrific tragedies. Consider attending their annual Fashion Show to raise more funds to help more people in need - next Thursday, May 30, in Minneapolis.
Details are here
. I feel strongly about SAVE and it's mission - I hope to see you there.
TODAY: Mostly cloudy, still cool for late May. T-storms most likely far southern MN. Winds: E/SE. E 10-20. High: 64
SUNDAY NIGHT: Better chance of T-storms late. Low: 55
MEMORIAL DAY: More humid. Peeks of sun, PM T-storms, some heavy. Winds: SE 15. High: 71
TUESDAY: Morning T-storms, some clearing PM. Wake-up: 59. high: near 80
WEDNESDAY: Feels like summer again. Sticky & stormy, a few severe? Wake-up: 64. High: 83
THURSDAY: Sunny start, heavy PM T-storms. Wake-up: 65. High: 84
FRIDAY: More strong T-storms. Wake-up: 64. High: 83
SATURDAY: Some sun, PM shower, thunder. Wake-up: 62. High: 82
Climate Stories...
Century-Old Science Helps Confirm Global Warming
. Here's an excerpt from
NASA's Jet Propulsion Laboratory
: "
A new NASA and university analysis of ocean data collected more than 135 years ago by the crew of the HMS Challenger oceanographic expedition provides further confirmation that human activities have warmed our planet over the past century. Researchers from the University of Tasmania, Sandy Bay, Australia; and NASA's Jet Propulsion Laboratory, Pasadena, Calif., combined the ship's measurements of ocean temperatures with modern observations from the international Argo array of ocean profiling floats. They used both as inputs to state-of-the-art climate models, to get a picture of how the world's oceans have changed since the Challenger's voyage
..."
Image credit
above: "
From Global Warming To Flouride: Why Do People Deny Science?
Salon
has a good story about the roots of denial; here's an excerpt: "...
Why is it that ordinary citizens do not sit up and take notice of the danger? Unfortunately, the focus remains mostly on "global warming" instead of on the bigger concern—that we are disrupting the planet's climate in completely unpredictable ways. Because climate prediction includes a significant degree of scientific uncertainty, this has allowed skeptics to gain the upper hand and even corner some expert scientists into difficult positions. A friend in the climate research field privately admits that he and most of his colleagues are afraid to stand up and speak out because of the vituperative attacks and massive smear campaigns that they would inevitably suffer—as did Michael Mann and others. But much research indicates that as forests disappear and polar ice caps melt, etc., there are unpredictable feedback mechanisms that will make global warming increasingly difficult to tackle. Even more worrisome, there will likely be a tipping point after which continued warming may become irreversible, no matter what we do
..."
Photo credit
: "
Where Is President Obama's Climate Agenda?
Here's the intro to a story from
Politico
: "President Barack Obama began his second term with a ringing pledge to tackle climate change — saying that "the failure to do so would betray our children and future generations." Four months later, everyone's still waiting. Instead of taking bold steps, Obama's environmental regulators are dodging questions about how they intend to rein in the nation's largest sources of greenhouse gases. They missed a major deadline last month for rolling out rules for future power plants, prompting environmental groups and several states to threaten lawsuits. And the EPA has insisted to Congress that it's not even working on regulations for the next piece of the carbon puzzle — the nation's vast fleet of existing power plants..."
Photo credit
: Politico, AP.
Insurers And Climate Change: The Truth Is More Complicated Than The Sound Bytes
.
Insurance Journal
has the story - here's a clip: "...
On one hand, if one doubts the opinion of an overwhelming majority of scientists, the insurance industry provides another major data point. Given that accurate and unbiased weather forecasts are key to property insurers' business, the fact that the industry broadly accepts that climate change is real and likely to be a problem should be taken seriously by anyone who believes in the power of markets to aggregate information. If insurers were not concerned about climate change, that would be a very strong piece of evidence that politicians, the media or scientists have hyped the issue beyond what it deserves. In fact, every large property insurer incorporates climate change-related projections into its own models. Every large property insurer that I know of considers the likelihood of climate change-linked catastrophes to be a future operational threat. Smaller property insurers do less long-term planning and are less likely to make direct use of climate change projections, but they still feel the impact of those projections in terms of how much reinsurance they can buy and at what price
..."
A Mission On Climate Change
. Here's a portion of an Op-Ed at
The Washington Post
: "...Only someone who was ignorant of basic science — or deliberately being obtuse — could write a sentence like this one: "
Contrary to the claims of those who want to strictly regulate carbon dioxide emissions and increase the cost of energy for all Americans, there is a great amount of uncertainty associated with climate science." Oh, wait, that's a quote from
an op-ed in The

Washington

Post by Rep. Lamar Smith
(R-Tex.), chairman of the House Committee on Science, Space and Technology. Yes, this is the officially designated science expert in the House of Representatives. See what I mean about Obama likely having to go it alone? For the record, and for the umpteenth time, there is no "great amount of uncertainty" about whether the planet is warming or why.
A new study
looked at nearly 12,000 recently published papers by climate scientists and found that, of those taking a position on the question, 97 percent agreed that humans are causing atmospheric warming by burning fossil fuels, which releases carbon dioxide and other greenhouse gases
..."
Photo credit
above: Brad Birkholz.
Climate Change And Wildfire - Research Examines Relationship
.
PlanetSave
has the story; here's an excerpt: "
Changes in the climate are intimately connected with wildfires, both causing them and being being caused by them. Recent research has estimated that wildfires will increase by around 50% across most of the US, and by as much as 100% in the West, by 2050, as a result of climate change. And with this increase in the frequency/extent of wildfires, greenhouse gas emissions will rise too
..."
Photo credit
above: "
Wild Fire via Flick CC
."
Floating Research Station In Need Of Evacuation
. A friend forwarded me this article late last night - a Russian research facility near the North Pole being evacuated due to unstable ice. In May? More evidence of profound changes at the top of the world. Here's an excerpt from
The Barents Observer
: "
The scientific research station was placed on the ice floe in October 2012 and was planned to stay there until September. Now the floe has already started to break apart and the crew has to be evacuated as soon as possible.
Russia's Minister of Nature Resources and Ecology Sergey Donskoy has ordered that a plan for evacuation should be ready within three days, the Ministry's
web site
reads.
"A collapse of the station's ice floe poses a threat to its continued work, the lives of the crew, the environment close to the Canadian Economic Zone and to equipment and supplies", a note from the minister reads
..."
Photo credit
above: "
The Odds Of Disaster: An Economist's Warning On Global Warming
. Here's an excerpt of a Paul Solman interview with economist Martin Weitzman at
The PBS NewsHour
: "...
Once it is in the atmosphere, CO2 remains there for a very long time. Even if CO2 emissions were cut to zero at some point in the future (a very drastic assumption), about 70 percent of CO2 concentrations over the pre-industrial level of 280 ppm would remain in the atmosphere for the following one hundred years, while about 40 percent would remain in the atmosphere for the following one thousand years. This, along with the possibility of bad outcomes, is the argument for keeping CO2 concentrations from reaching very high levels. Most people do not realize how difficult it is to stabilize CO2 concentrations. It is not nearly enough to stabilize CO2 emissions, which would cause CO2 concentrations to keep on increasing at the same rate as before. (This is because changes in concentrations are proportional to emissions.) The problem is that if you want to stabilize CO2 concentrations, you have to make drastic cuts in CO2 emissions. This is no easy feat. Yet, unless it is done, we are liable to reach very high levels of CO2 concentrations. Global warming skeptics would dispute or minimize the link between CO2 concentrations and temperature increases. Here is yet another uncertainty -- are they or the mainstream climate scientists more right than wrong? But can we afford the luxury of assuming that a small minority of climate skeptics are more correct than the vast majority of mainstream climate scientists? What is the probability of that?
..."
Photo credit
above: "
No one can say with any assurance what the dollar value of damages would be from the highly uncertain climate changes that might accompany a planet earth that is steadily warming.
: PBS NewsHour.
Has Global Warming Stalled?
Noted climate scientist Kevin Trenberth has some answers in a post at
The Royal Meteorological Society
; here's an excerpt: "
Has global warming stalled? This question is increasingly being asked because of impressions about local weather being cool and wet, or because of impressions that the global mean temperature is not increasing at its earlier rate or the long-term rate expected from climate model projections. The answer depends a lot on what one means by "global warming". For some it is equated to the "global mean temperature". That quantity keeps going up but also has ups and downs from year to year. More on that shortly. Why should it go up? Well, because the planet is warming from human activities. With increasing carbon dioxide and other heat-trapping greenhouse gases in the atmosphere, there is an imbalance in energy flows in and out of the top-of-atmosphere: the greenhouse gases increasingly trap more radiation and hence create warming. "Warming" really means heating, and so it can be manifested in many ways. Rising surface temperatures are just one manifestation. Melting Arctic sea ice is another. So is melting of glaciers and other land ice that contribute to rising sea levels. Increasing the water cycle and invigorating storms is yet another. However, most (over 90%) of the energy imbalance goes into the ocean, and several analyses have now shown this
..."
* Trenberth's article at The Conversation, with additional graphics and imagery, is
here
.
Hot In My Backyard.
This compilation of radio reports is worth a listen; here's an overview of the series from
This American Life
: "
After years of being stuck, the national conversation on climate change finally started to shift — just a little — last year, the hottest year on record in the U.S., with Hurricane Sandy flooding the New York subway, drought devastating Midwest farms, and California and Colorado on fire. Lots of people were wondering if global warming had finally arrived, here at home. This week, stories about this new reality
...."
Heat-Related Deaths May Increase With Climate Change
. Here's an excerpt of a story from LiveScience and
Fox News
: "
Heat-related deaths in New York City's borough of Manhattan may rise about 20 percent over the next decade, according to a new study. Researchers at Columbia University in New York analyzed the relationship between daily temperatures and
temperature-related deaths
across all seasons between 1982 and 1999 in Manhattan, which comprises the most densely populated county in the United States. The findings were published online May 19 in the journal
Nature Climate Change
..."