62 F. high on Memorial Day. Lovely.
73 F. average high on May 27.
92 F. high on May 27, 2012. That's right, the high one year ago yesterday was 30 degrees warmer. Unreal.

.05" rain fell yesterday at KMSP.

Wednesday: best chance of severe T-storms this week.

.63" rain by Friday morning (NAM model).

A Complete 180
Spring weather often sets the tone for the summer to come. Last year flowers were blooming in March, an omen of record summer heat and deepening drought. This spring's chill and freak April snows may be a premonition of a radically different summer for Minnesota, one characterized by cooler, wetter weather, with frequent severe outbreaks & occasional heat spikes, but nothing like 2012.
A Year Without a Summer? Probably nothing that dire, but something tells me you'll be checking Doppler online, and on your smartphone, more often than you'd like. The upside? Water in our lakes, and if hail holds off a potential bumper crop for corn, wheat and beets.
Why the shift? The jet stream, the main superhighway for storms, is howling an average of 400-600 miles farther south than last year at this time. The frontal boundary separating chilly from blast-furnace heat may stall out near Minnesota into much of June, possibly longer, increasing the risk of frequent storms.
The most intense T-storms will rumble south of MSP today; the best chance of T-storms Thursday - then drying out & cooling off by late week. No hot fronts in sight, just a soggy taste of late April.
Mosquitoes are doing high-fives right about now.
Flash Flood Watch
. Monday's heavy rains over southeastern Minnesota have left the soil saturated; any additional heavy rain will quickly run off into streets and streams. Details from the NWS:
A FLASH FLOOD WATCH MEANS THAT CONDITIONS MAY DEVELOP THAT LEAD
TO FLASH FLOODING. FLASH FLOODING IS A VERY DANGEROUS SITUATION.

DO NOT DRIVE YOUR VEHICLE INTO AREAS WHERE THE WATER COVERS THE
ROADWAY. THE WATER DEPTH MAY BE TOO GREAT TO ALLOW YOUR CAR TO
CROSS SAFELY. VEHICLES IN RISING WATER SHOULD BE ABANDONED
QUICKLY. IF YOUR VEHICLE STALLS...ABANDON IT AND SEEK HIGHER
GROUND IMMEDIATELY. RAPIDLY RISING WATER MAY ENGULF YOUR VEHICLE
AND ITS OCCUPANTS AND SWEEP THEM AWAY. MOVE TO HIGHER GROUND.

YOU SHOULD MONITOR LATER FORECASTS AND BE PREPARED TO TAKE ACTION
SHOULD FLASH FLOOD WARNINGS BE ISSUED.
Nagging Severe Potential
. Today's risk extends from the Black Hills and Nebraska to Chicago, Detroit and Pittsburgh. Wednesday the risk spreads north with a surge of warm, moist air, reaching the Twin Cities and Eau Claire. Maps: NOAA SPC.
A Wet, Stormy Pattern
. We seem to be stuck in a cooler than average, wet, stormy rut, with no end in sight (looking out 2 weeks). ECMWF guidance shows the heaviest rain on Thursday, drying out a little late Friday and Saturday - just light instability showers Sunday. The next surge of warm, humid air may spark more heavy/severe storms by the middle of next week.
No Need To Water Anytime Soon
. The models have been especially unreliable with this on-again, off-again warm frontal passage. Warm fronts appear to tire before reaching our latitude, but if you believe the models the best chance of heavy T-storms will come Wednesday PM into Thursday.
A Tardy Warm Front.
Warm air is pushing north much slower than models were predicting a few days ago. I suspect today will be mostly-dry; heaviest showers and T-storms pushing across Iowa toward Chicago. The NAM model suggests that warm air will (finally) reach us Wednesday, increasing the potential for strong to severe T-storms. Serious puddle potential lingers into Thursday, then we dry out during the day Friday.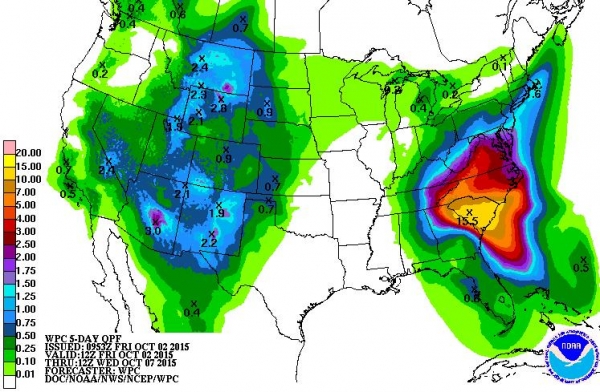 Urban And River Flooding Risk
. A nearly stationary frontal boundary much of this week will result in repeated swarms of strong to severe thunderstorms. A few of these storms will produce large hail and damaging winds, but the most pervasive and widespread risk across the Midwest will be flooding: both urban and river/stream. Models print out as much as 4-6" of rain from Wichita and Kansas City to Des Moines, the Quad Cities, Rockford, Chicago, Madison and Milwaukee. Areas that normally enounter problems with sporadic flooding will want to remain on alert this week.
Confidence level: moderate to high
.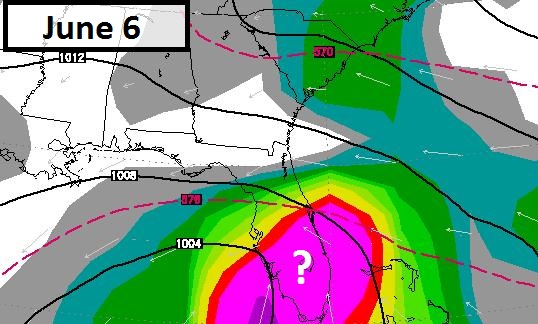 Potential Florida Soaker.
Long-range models have been fairly consistent spinning up a tropical wave or weak tropical storm by the middle of next week. Although a full-fledged hurricane seems unlikely, even tropical depressions are capable of copious rains capable of significant flooding. Such may be the case the latter half of next week across much of Florida. Models strengthen this system into a possible tropical storm or hurricane well offshore, pulling it into the Canadian Maritimes within 2 weeks. We'll see, but the fact that we may be seeing tropical activity so early in the season confirms my suspicions of a busy hurricane season for the Atlantic basin.
Confidence level: low
.
Putting This Spring's Cold In Context.
January thru March was the 8th warmest period in over 100 years for the planet, but it's human nature to look out the window and make assumptions. I get it.
UCAR
has a good overview of our chilly spring, placed in a larger context of a slowly warming atmosphere; here's an excerpt: "
What led to this springtime string of cold and snow? It's due in part to the perfectly normal seasonal shift of the polar jet stream. The jet often flows from west to east across the heart of the United States in winter. By summer, it's flowing mainly across Canada and the northern tier of states. Spring and autumn are times of transition, when the jet oscillates back and forth. Throughout the year, packets of upper-level low pressure ride the jet stream, rippling along the flow like waves and often bringing stormy weather with them. Sometimes these atmospheric waves "break." Southward dips in the jet stream can become so large and deep that they snap off from the main flow. The result: an upper low marooned hundreds of miles south of the polar jet stream
..."
Image credit
above: "
Cut-off centers of low pressure loitered near California and the U.S. South early this week, with the polar jet stream in a summerlike position across northern Canada. Shown here are upper-level winds as of 8:00 a.m. EDT on May 6
." (Image courtesy
NOAA/NCEP Model Analysis & Guidance.
)
After The Storm: Safe Rooms Need To Be Mandated In Perilous Places
. Here's a portion of an Op-Ed at
The Pittsburgh Post-Gazette
: "...
It rankles that Oklahoma's U.S. senators, James Inhofe and Tom Coburn, have voted against federal funding for other disaster relief, including for victims of Hurricane Sandy. Yes, they had their reasons -- concerns for wasteful federal spending and deficits -- but a day of reckoning comes for ingrate behavior. In Moore, it came in a terrifying funnel cloud. Political ideology should have been blown away in this storm. State and local governments in areas at risk should insist on safe rooms, at least in all new construction. The cost might be high, but so is the cost of repetitive tragedy. It is said that God helps those who help themselves; federal aid ought to be predicated on it.
"
Sophisticated Tornado Warning System Saved A Lot Of Lives In Oklahoma
. Here's a segment from
Business Insider
: "
When a devastating tornado touched down in Moore, Oklahoma on May 20,
locals had 16 minutes
to get to safety before the
mile-wide EF4
hit. Even that seemingly short warning system is enough to save a ton of lives. The Oklahoma City siren system, a network of
181 emergency warning sirens
, was state-of-the-art when it went online in April, 2002. It cost $4.5 million to install the new system, which replaced the cold war-era sirens that covered only the most densely populated parts of the city
..."
Storm Shelters And Safe Rooms Save Lives When Tornadoes, Hurricanes Strike
. Here's a portion of a timely article at
EHS Today
: "...
High wind speeds produce flying debris turning construction materials, furniture, appliances and just about anything into deadly missiles. The standard requires that walls, windows and doors are tested to withstand flying projectiles.
Tornado storm shelters are required to house people for 2 hours and include minimum requirements for ventilation, sanitation facilities, a fire extinguisher, lighting and other minimal power needs. 
 A storm shelter does not need to be a separate space or structure. A shelter can be a "hardened" room inside a building that normally is used for other purposes. For instance, schools often use a classroom or group of classrooms, a gymnasium or library as a shelter. The walls, doors, ceilings and windows are then designed to withstand the higher wind loads and flying debris
.
.."
Photo credit
above: "
In Moore, Okla., there have been dramatic examples of survivors who lived through the killer tornado because the home or other building they were in had a safe room or fortified basement
." Jocelyn Augustino/FEMA
Hurricane Center Chief Focusing On Water Hazards
. The power of moving water is overwhelming, as Sandy proved last year. Here's an excerpt from a story at
Ocala.com
: "...
It wasn't just high winds that posed a threat and caused damage, said National Hurricane Center Director Rick Knabb, who joined Florida's emergency managers earlier this month in Fort Lauderdale at the annual Governor's Hurricane Conference. "2012 was all about water, water, water. Debby, Isaac, Sandy," Knabb said. "It was storm surge from the ocean, it was inland flooding, it was river flooding." The hurricane center has been working for several years to improve its storm surge forecasts and public warnings about potential flooding risks far from the coastline. The last season has added a sense of urgency to get those upgrades ready by the 2015 season, Knabb said
..."
Photo credit
above: "
National Hurricane Center Director Rick Knabb talks this month in Fort Lauderdale about the lessons learned from Hurricane Sandy and expectations for the Atlantic storm season that begins Saturday. Knabb and hurricane center forecasters joined emergency managers at the annual Governor's Hurricane Conference
." (The Associated Press)
Weather Service To Add Major Might To Computing Power.
With any luck I won't to rely on the European ECMWF model quite so much in the years ahead.
Kitsap Sun
has the story - here's an excerpt: "...
After coming under fire for
falling behind the capabilities of other nations
, the National Weather Service (NWS) is setting out to make an unprecedented increase in its computing power over the next several years, the agency announced this week. The computing boost will triple a key measure of the agency's main weather model, and could yield major improvements to its weather forecasting and warnings capabilities. The program is made possible by recent funding from Congress contained in the
Hurricane Sandy
relief legislation, which was signed into law in January. The NWS plans to use $25 million of the $48 million provided to it in the Sandy supplemental bill, along with funds that are called for in President Obama's
fiscal year 2014 budget proposal
, to bring about "unprecedented" computing upgrades — going from an operational computing capacity of 213 peak teraflops at the end of the current fiscal year, to 1,950 peak teraflops by the end of fiscal year 2015, according to NWS Director Louis Uccellini
..."
TODAY: More clouds than sun, stray T-shower. Winds: E 5-10. High: 72
TUESDAY NIGHT: Isolated T-storm (best chance far southern MN). Low; 60
WEDNESDAY: Warmer and more humid, peeks of sun. Storms late? High: 80
THURSDAY: Best chance of showers, T-storms. Wake-up: 64. High: 81
FRIDAY: Shower, then partial clearing. Wake-up: 63. High: 78
SATURDAY: Partly sunny, probably the nicer day of weekend. Wake-up: 58. High: 73
SUNDAY: More clouds - cooler, few pop-up showers possible. Wake-up: 53. High: 68
MONDAY: More sun, turning warmer again. Wake-up: 51. High: 77
Climate Stories...
Climate Change: Human Disaster Looms, Says Research.
Cheap, alarmist hype? I sure hope so. Here's an excerpt from
Climate Central
: "...
Alexander Otto, at the University of Oxford, lead author of the research, told the Guardian that there was much that climate scientists could still not fully factor into their models. He said most of the recent warming had been absorbed by the oceans but this would change as the seas heat up. The thermal expansion of the oceans is one of the main factors behind current and projected sea level rises. The highest global average temperature ever recorded was in 1998, under the effects of a strong El Niño, a southern Pacific weather system associated with warmer and stormy weather, which oscillates with a milder system called La Niña. Since then the trend of average global surface temperatures has shown a clear rise above the long-term averages – the 10 warmest years on record have been since 1998 – but climate skeptics have claimed that this represents a pause in warming.
.."
Photo credit
: "
The trend of average global surface temperatures has shown a clear rise above the long-term averages - the 10 warmest years on record have been since 1998
." Credit: flickr/Global Jet.
Geoengineering: Our Last Hope, Or A False Promise?
Tinkering with the atmosphere on a global scale - what can possibly go wrong? Here's a clip from an important
New York Times article
on tinkering with the atmosphere, attempting to undo the impact of carbon pollution: "...
Geoengineering — the deliberate, large-scale intervention in the climate system to counter
global warming
or offset some of its effects — may enable humanity to mobilize its technological power to seize control of the planet's climate system, and regulate it in perpetuity. But is it wise to try to play God with the climate? For all its allure, a geoengineered Plan B may lead us into an impossible morass. While some proposals, like launching a cloud of mirrors into space to deflect some of the sun's heat, sound like science fiction, the more serious schemes require no insurmountable technical feats. Two or three leading ones rely on technology that is readily available and could be quickly deployed
..."
Century-Old Science Helps Confirm Global Warming
. Here's an excerpt from
NASA's Jet Propulsion Laboratory
: "
A new NASA and university analysis of ocean data collected more than 135 years ago by the crew of the HMS Challenger oceanographic expedition provides further confirmation that human activities have warmed our planet over the past century. Researchers from the University of Tasmania, Sandy Bay, Australia; and NASA's Jet Propulsion Laboratory, Pasadena, Calif., combined the ship's measurements of ocean temperatures with modern observations from the international Argo array of ocean profiling floats. They used both as inputs to state-of-the-art climate models, to get a picture of how the world's oceans have changed since the Challenger's voyage
..."
Image credit
above: "