67 F. high in the Twin Cities Monday.
62 F. average high on October 7.
53 F. high on October 7, 2012.
70s likely every day into Friday.
Showers Friday PM, steadier, heavier rain possible the latter half of next week.
Slight frost risk (mainly outer suburbs) next Wednesday morning.
"...I think that markets will do a much cheaper, faster job of attacking our energy and environment problems than having politicians and regulators try to solve them by selecting technologies or drafting complex rules and regulations that simply hide the costs from consumers and producers alike. The likelihood that what I just said will actually happen is vanishingly small..." - from a recent Forbes article, details below.
---
Above and Beyond
Here's a good ROI, return on investment. Every U.S. citizen pays $4/year to fund NOAA, the agency that provides the forecasts, severe weather warnings & raw data streams to power Doppler & weather satellites - the fuel that powers every weather forecast made in this country.
Now I'm free to interpret the data differently than another forecaster, but if NOAA went away we'd be back in the 1800s, staring up at an Amish Doppler (west-facing window).
Local Weather Service forecasters, unpaid, considered "unessential personnel", braved 4-6 foot drifts, hiking ON FOOT to get to their office and keep emergency operations going, during what was probably the worst October blizzard on record at Rapid City.
A friend measured 50" snow (without the drifts) at the High School in Lead, South Dakota!
My point: countless government employees are working through the pain of no pay and lingering uncertainty to save lives and get things done. We owe them a debt of gratitude.
Another soul-soothing spell of 70s lingers into Friday; late-week showers ushering 50-degree highs early next week. Long-range ECMWF models hint at a suburban frost risk next Wednesday, almost 2 weeks later than average.
* Doppler radar photo above courtesy of Reid Wolcott.
---
Local (unpaid) National Weather Service Heroes. The photos above, courtesy of WeatherNation TV, show the impact of the recent blizzard on the local National Weather Service office in Rapid City. Meteorologists Jeff Pietrowski reported 50" of snow at the high school in Lead, South Dakota, which is remarkable for early October (or any month!) I received this overview of how (unpaid, "unessential") National Weather Service employees at the Rapid, City, South Dakota office of the NWS coped with a record weekend blizzard across western South Dakota. This is the stuff that doesn't necessarily make national news headlines, but maybe it should:"Access to the office is still blocked. Two employees were able to hike in around some obstructions, but it is not possible to drive out of the parking lot due to snow drifts and downed trees in the neighborhood. The SOO (one who hiked in) is attempting to take two stranded employees home this morning. One forecaster hiked in for his mid shift last night, and I sent him home so he can come back tonight. Of the three who are on duty at this time, two have been here since 7 a.m. Friday, and I have been here since 3 p.m. Friday. We have two NWR transmitters down: Terry Peak and Rapid City. We have three ASOSs down: IEN, RAP, and PHP. We are on commercial power which has been stable since yesterday evening. Rapid City is pretty much paralyzed, and recovery and repair operations are in full swing. We have heard that the governor called in the National Guard. Conference call briefing expected to take place later this morning. There is some concern about the potential for flooding with temperatures warming up quickly tomorrow and melting off the large snowpack. we have 1 to 4 inches of liquid equivalent on the ground and a big rain storm in the models for Friday. 8:09 a.m. MDT"
---
Record-Breaking Blizzard Leaves More Than 38,000 Homes Without Power.
The Rapid City Journal
has a good recap of the weekend's record snowfall and blizzard; here's the introduction: "
A record-breaking blizzard dealt the Black Hills a frosty blow on Friday night, crippling the region's power and transportation infrastructure. Below are some key facts about the blizzard and its impact to the region:
21.5 inches of snow fell on Friday night in Rapid City – the highest single-day snowfall for October since record keeping began around the 1890s.
The National Weather Service has recieved reports of 43 inches of snow in Lead and 48 inches in Deadwood.
More than 38,000 properties across the Black Hills remain without power..."
Photo credit above: Benjamin Brayfield, Rapid City Journal staff.
---
A Crazy 72 Hours Of Weather.
Roof-crushing snows in Sturgis, South Dakota last Saturday? The extremes around the USA last weekend were pretty awe-inspiring; 90s in Washington D.C. to EF-4 tornadoes in Nebraska, over 4 FEET of snow in the Black Hills of South Dakota, record flooding in Louisville, while brushfires sparked evacuations near Camp Pendleton in southern California. More on the volatile weather in today's edition of
Climate Matters
: "
Blizzard, tornado outbreak, flooding and roller coaster temperatures, all in the last weekend. Meteorologist Paul Douglas discusses the past weekend storms and weather extremes from all around the country
."
---
More September 8 Than October 8. With a gusty south wind and blue sky it will feel like early September out there by afternoon; NAM guidance showing highs in the mid, even some upper 70s by mid afternoon, about 10-20 F warmer than average. Map: NOAA and Ham Weather.
---
Supersized Autumn? We'll see how long our luck holds out, but unusually mild weather spills over into most of this week; highs topping 70 F into Friday, based on ECMWF guidance. Showers are possible late Friday ahead of a cooler front - highs in the 50s from Sunday into much of next week. I could see a suburban frost by Wednesday morning of next week, heavier/steadier rain possible by next Thursday and Friday. Graph: Weatherspark.
---
Significant Coastal Storm? The GFS model is spinning up a nearly stationary area of low pressure east of the Carolinas later this week into early next week; from the soggy dregs of what was once "Karen" in the Gulf of Mexico. It almost looks like the storm has tropical characteristics. The ECMWF is less impressive, but also hints at a coastal storm for New England early next week. Coastal beach erosion can't be ruled out from the Outer Banks to Cape Cod. Meanwhile the central USA warms up into late week with Pacific storms brushing the West Coast with high winds and heavy rain. Map above shows predicted wind speeds and pressure, courtesy of NOAA and Ham Weather.
---
Alerts Broadcaster Update
: Monday night, October 7, 2013.
* Typhoon Danas landfall likely near Nagasaki, Japan and Busan, South Korea by Tuesday afternoon (local time) as a Category 1 storm, capable of 5-10" rains and a 4-8 foot storm surge from Nagasaki to Fukuoka, Yamaguchi and Hiroshima. Busan and Ulsan, South Korea will also see major impacts later in the day Tuesday with extensive urban flooding expected.
* Flash flooding, mudslides and facility disruptions are possible along the northern coastline of Japan (mainly Kyushu and Chugoku Prefectures).
---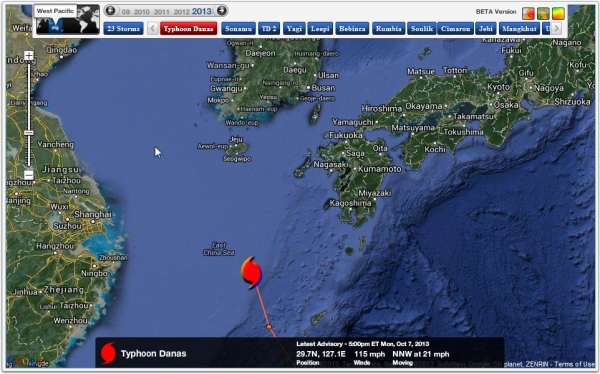 Typhoon Danas
. Here is the latest position from Alerts Broadcaster - no longer a Super Typhoon Danas is still formidable, producing sustained winds close to 115 mph but weakening rapidly now as it passes over cooler water over the East China Sea. It's also accelerating to the north-northwest at 21 mph, with landfall possible for far western Japan and the southern coastline of South Korea later in the day Tuesday, local time.
---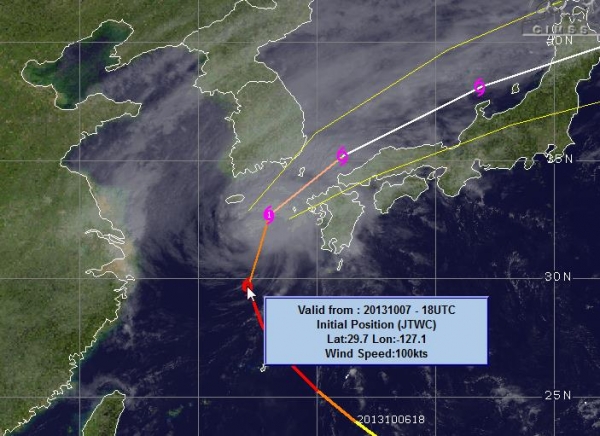 A Potent Typhoon
. The Joint Typhoon Warning Center (JTWC) is still reporting 48 foot seas with this typhoon, which will avoid the largest urban centers of Shanghai, Seoul and Tokyo.
---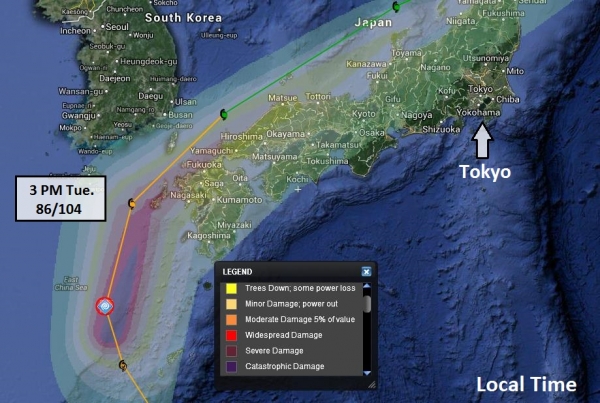 Tapering Damage Swath
. The worst impacts of Danas will remain just offshore, as the weakening storm passes from the East China Sea to the Sea of Japan Tuesday PM into early Wednesday, local time. Catastrophic damage is forecast to remain offshore, but severe damage may extend into Nagaski and possibly Fukuoka, where the most significant (4-8 foot) storm surges are expected. Busan and Ulsan, South Korea may also experience moderate to major lowland flooding from Danas' storm surge, especially at high tide.
---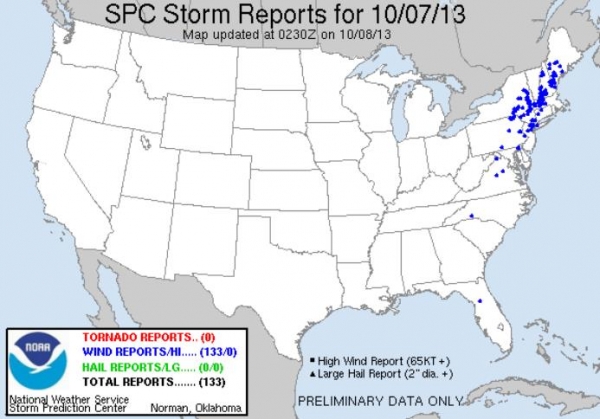 No Tornadoes- But Plenty Of Wind Damage
. Tornado Watches were posted for much of the Mid Atlantic and Northeast earlier today. NOAA SPC isn't reporting any confirmed tornadoes, but at last count there were 133 separate reports of straight line wind damage. For a list of impacted cities click here.
Summary
: Things are quieting down in the USA, but western Japan and far southern South Korea are bracing for Typhoon Danas on Tuesday (local time). Although the storm is weakening steadily it's still capable of moderate to major storm surge and inland flooding Tuesday into Wednesday, local time. Osaka and Kyoto may see significant rains, but the core of the storm should pass north, sparing those major city center as well as Tokyo.
---
Quiet Hurricane Season Defies Predictions
. No kidding. This is why I'm highly skeptical of the long-range hurricane "outlooks" that come out around June 1 - more of a horoscope than an actual forecast. Here's an excerpt of a good explanation of what happened (to diminish hurricane potential in the Atlantic) from
The Post And Courier
: "...
Today, Saharan dry air is a staple of hurricane forecasting. And this year, the Saharan winds blew farther southwest than usual, right into the zone where African monsoons blown into the Atlantic form tropical waves that become hurricanes — the notorious Cape Verde storms. Meteorologists in West African nations called August the driest they had ever seen, Dunion said. At least two other things happened: The air carried dust all the way across the Atlantic into Brazil, then into the Caribbean where it disrupted storms there. A pocket of cooler water in the ocean off Portugal weakened storms that moved north. Neither of the two were factored into computer modeling for predictions
..."
---
California Wildfires Cause Outages, Evacuations
. Strong Santa Ana winds howling over the weekend created very favorable conditions for fast-moving fires over southern California. Here's a clip from a story at
Time Magazine
: "
Hot, dry Santa Ana winds caused southern California wildfires in San Diego County and Orange County this weekend, in what the National Weather Service is calling the "most significant fire weather threat in the past five years." A fire at Camp Pendleton, a major Marine Corps base north of San Diego, caused 230 residents to evacuate their homes in a housing unit, the Associated Press reports. The base's hospital suffered a power outage, leading to the evacuation of 30 patients. By late Sunday night, the 2,500-acre fire was nearly one-fourth contained
..."
Photo credit
above: "
Newport Beach and Laguna Beach firefighters work to put out a mulch pile at a nursery near Santiago Canyon in Orange County, Calif. Sunday, Oct. 6, 2013. The blaze, reported late Sunday morning, quickly spread to surrounding wild vegetation, said Orange County Fire Authority Capt. Steve Concialdi. No homes were threatened
." (AP Photo/The Orange County Register, Stuart Palley).
---
9 Essential Apps For Storms And Emergencies
. Always good to be prepared - here's an excerpt from
Mashable
: "
Following the devastation of Hurricane Sandy, disaster preparedness is on everyone's mind this storm season. You should keep your home equipped with these fundamental supplies at all times and your family should have a plan in place in case of emergencies. Since we rely on our cell phones so much when the threat of disaster is not imminent, it only makes sense that they could become more useful when it is. The nine apps in the above gallery will help you and your family in the time leading up to a storm and in its aftermath. While a cell phone probably won't help you in the potential weeks without heat or power, it could be invaluable in the case of a medical emergency requiring first aid or a missing family member
..."
---
5 Quotes About The Debt Ceiling That Will Totally Freak You Out
. Yes, I'm freaked. Our politicians in D.C. need adult supervision. Here's an excerpt from a story at
The Week
: "
Prepare for a "financial apocalypse," says Yalman Onaran at Bloomberg.
Failure by the world's largest borrower to pay its debt — unprecedented in modern history — will devastate stock markets from

Brazil

to Zurich, halt a $5 trillion lending mechanism for investors who rely on Treasuries, blow up borrowing costs for billions of people and companies, ravage the dollar and throw the U.S. and world economies into a recession that probably would become a depression. Among the dozens of money managers, economists, bankers, traders, and former government officials interviewed for this story, few view a U.S. default as anything but a financial apocalypse. [Bloomberg]
"
Dogs Are People, Too
. My dog certainly thinks so, and this excerpt of a recent
New York Times Op-Ed
seems to verify that theory: "...
The ability to experience positive emotions, like love and attachment, would mean that dogs have a level of sentience comparable to that of a human child. And this ability suggests a rethinking of how we treat dogs. DOGS have long been considered property. Though the Animal Welfare Act of 1966 and state laws raised the bar for the treatment of animals, they solidified the view that animals are things — objects that can be disposed of as long as reasonable care is taken to minimize their suffering. But now, by using the M.R.I. to push away the limitations of behaviorism, we can no longer hide from the evidence. Dogs, and probably many other animals (especially our closest primate relatives), seem to have emotions just like us. And this means we must reconsider their treatment as property.
.."
---
TODAY: Sunny, windy & warm. Winds: South 15-30. High: 78
TUESDAY NIGHT: Clear and dry. Low: 55
WEDNESDAY: Lukewarm sun, still pleasant. High: 76
THURSDAY: Partly sunny, feels like September. Wake-up: 52. High: 73
FRIDAY: Fading sun, PM showers likely. Wake-up: 56. High: 71
SATURDAY: Partly sunny, drying out. Wake-up: 53. High: 64
SUNDAY: Intervals of sun, feels like fall. Wake-up: 50. High: 58
MONDAY: Mix of clouds & sun, cool. Wake-up: 45. High: 56
* slight risk of a suburban frost by Wednesday of next week.
** photo above: Mike Hall.
---
Climate Stories....
Autumn "Falling Back"
. One implication of climage change and a slowly warming atmosphere? A longer growing season. The graph above, courtesy of
Climate Central
, shows how the end of the growing season, nationwide, has shifted from October 28 in the early 80s to November 9 as of 2008.
---
Climate Change Report Causes Alarm
. The insurance industry is taking weather and climate trends very seriously, because it's already impacting profitability and their bottom line. Here's a quote from a recent story at
The National Law Review
that caught my eye: "...
Global cat losses are increasing, she explained. In the 1980s, "the rolling 10-year annual average for the worldwide cat loss was less than $10 billion. In the last few years that average has jumped up to more than $50 billion average, based on that 10-year rolling time frame." In addition, 2005, 2011 and 2012 represent the top three insured cat loss years on record, she noted. Given the IPCC's conclusion on flood, drought and changing weather patterns and evidence of this over the past 50 years, the industry needs to evaluate how these changes could impact future losses
..."
---
The Case For Combating Climate Change With Nuclear Power And Fracking
. The jury may still be out on the long-term implications and environmental (ground water) risks related to hydraulic fracture to extract shale gas, but new (safer) forms of nuclear power may become an important part of our low-carbon energy mix in the future. Here's a clip from a story at
Forbes
: "
Joseph B. Lassiter believes that nuclear power and shale gas are on the right side of the fight against climate change, and that markets have a better shot at winning the fight than governments do.....His proposed market-based solution? "I think each energy source—oil, natural gas, wind, nuclear, solar, etc.—should have a market price based not only on its production costs, but also, in part, on its unique public costs reflected by revenue-neutral taxes: a carbon emissions tax, a security-of-supply tax, a catastrophe insurance tax, and even a local emissions abatement tax," he says. "While people hate the thought of paying more taxes, we are in truth paying most of these 'taxes' today. Unfortunately, the political process allows these taxes—or subsidies—to be hidden in rules, regulations, and foreign policy decisions
..."
---
Q&A: Taking On Climate Skepticism As A Field Of Study
. Here's a clip from a question and answer session at
The New York Times
: "...
But I do think that there is a process by which, for example, the connection between cigarette smoking and cancer for decades had a scientific consensus that this was an issue, then a social process begins, and then it becomes accepted. The interesting thing with climate change, I find, is that positioning on climate change is strikingly predictable based on someone's political leanings. One-third of Republicans and three-quarters of Democrats think that climate change is real. That to me speaks to the political, ideological and cultural dimensions of this debate. It's interesting because it wasn't always so. In 1997 with the Kyoto treaty, with the development of regulations that would impact economic and political interests, sides started to be drawn. We've reached the stage today that climate change has become part of the culture wars, the same as health care, abortion, gun control and evolution
..."
---
Climate Change: "Adapt Or Bust"
.
GreenBiz.com
has the article; here's the intro: "
Probably no sector is more conservative than the insurance industry, and I'm not referring to its political posturing. Insurance is, at its essence, a numbers game -- about risk management, probability theory, and certainty. And so it is noteworthy that the insurance industry's concern over climate change continues to grow, and that the warnings are becoming louder and clearer. This isn't new, of course. I've previously covered reports on the growing weather-related economic losses being absorbed by the insurance industry, and on U.S. insurers' efforts to examine the impact of climate change on the U.S. insurance industry and on insurance consumers
..."