14 F
. high in the Twin Cities Thursday.
30 F
. average high on December 5.
40 F
. high on December 5, 2012.
Trace
of snow reported yesterday.
Windchill Advisory
in effect today for a chill factor dipping to -20 to -25F at times.
30s
(above zero) one week from today.
Embrace the Burn
A Minnesota winter is a steep learning curve. I remember being baffled, horrified, then deeply impressed the first time I saw someone RUNNING in subzero cold. I had moved to a state populated by a race of attractive aliens with cold-weather superpowers.
Early on someone pulled me aside with good advice: "Don't hide in the basement or hibernate in front of the tube. Embrace winter! Put on some cross-country skis, take the kids skating, build a snowman. The best antidote is to throw yourself, headfirst into winter.
As long as you're properly dressed. I've been following the no-exposed-skin rule since reaching middle age and it will apply to everyone thru the first half of next week. Windchill advisories are posted; we may see 5 nights/row below zero - highs Saturday may hold below zero.
Character-building cold.
This may wind up being the coldest stretch since 2007. According to Pete Boulay, at the MN Climate Center, we enjoyed 10 nights/row below zero in February, 2007. The record? 36 nights/row below zero in 1936.
More deep breaths: 30s return in a week, and you'll be amazed how good freezing feels a week from today.
Yes, misery loves company. Freeze warnings are posted for Phoenix, even San Francisco. Most of America is shivering right along with us!
---
Consecutive Nights Below Zero at MSP
. Data above from the Midwest Regional Climate Center shows 10 nights/row below zero in 2007, from February 1 to February 10. 1996 saw a run of 15 consecutive subzero nights, 23 in 1976 and early 1977. Here's more information from Pete Boulay, at the Minnesota Climatology Working Group: "
It's been a few years since we've had a lengthy stretch of overnight lows of 0 or below in the Twin Cities. The last time there were 10 nights in a row of at or below zero temperatures in the Twin Cities was in Feb 2007. The record is 36 nights in a row from 1/18 1936 to 2/22/1936
."
---
6 AM Saturday Morning
. Cold enough for 'ya? I thought so. Temperatures bottom out early Saturday, double digit negative numbers pushing into much of Minnesota, as cold as -10 to -12F in the outlying suburbs of the Twin Cities. Winds will ease up on Saturday so chill factors won't be quite as obscene. Map: NOAA and Ham Weather.
---
Character-Building
. Temperatures hold below zero from this afternoon into Sunday morning across most of Minnesota. Highs Saturday may blip up to zero in the metro (urban heat island), but we're looking at roughly 36 consecutive hours below zero. Not days, hours. Another surge of subzero weather is likely Monday PM, another clipper drags a quick shot of bitter air into town late Tuesday into much of Wednesday. And then the recovery begins; 30s possible by Friday. Which will feel like a Godsend. Graph: Weatherspark.
---
35.3" North Of Two Harbors
. Surreal, and here I thought predicting 2 feet for the North Shore was going out on a limb. Talk about turbocharged lake effect. Here's an excerpt from Dr. Mark Seeley's always informative
WeatherTalk Newsletter
: "
Most of the state reported measurable snowfall during the first week of December. Monday through Wednesday of this week (Dec 2-4) brought almost continuous snow to many areas of northeastern Minnesota, especially the north shore along Lake Superior. The greatest amount of snowfall reported by a National Weather Service observer came from 7 miles north of Two Harbors where 35.3 inches was recorded. The Duluth Weather Service Office reported a storm total of 23.3 inches, and Duluth public schools were cancelled two consecutive days over the 3rd and 4th. Tofte reported 25 inches and Wolf Ridge reported 20.7 inches for the week. Many other areas of the state accumulated 5 to 10 inches of snowfall this week, while areas of southeastern Minnesota received mostly rain and drizzle
..."
* map above courtesy of the
Duluth office of the National Weather Service
.
---
---
A Canadian Invading Force
. Canada's largest export is in full swing, waves of bitter air lapping south of the border. The solid red line marks the 32F isotherm - the solid green line shows the 0F isotherm. Only Florida escapes the cold wave over the next 84 hours. 12km NAM data courtesy of NOAA and Ham Weather.
---
Future Radar.
The animation below shows a wave of low pressure rippling along the edge of arctic air, sparking a band of snow and potentially paralyzing ice from Texas and Oklahoma into Arkansas, Kentucky and Ohio over the next 84 hours. Data: NOAA's 4km NAM and Ham Weather.
Alerts Broadcaster Briefing
: Issued Thursday, December 5, 2013.
* Leading edge of bitter air sparks band of heavy snow and ice from northern Texas and Oklahoma into Arkansas and Middle Mississippi Valley and Ohio Valley over the next 36 hour. Very significant snow is expected from southern Illinois and southern Indiana into northern Kentucky and much of Ohio.
* Ice Storm Warnings posted from near Oklahoma City to Little Rock and Memphis for .25"+ amounts of glaze ice tonight into Friday.
* Enhanced risk of frostbite north central USA as wind chill values dip to -30F by Saturday morning.
---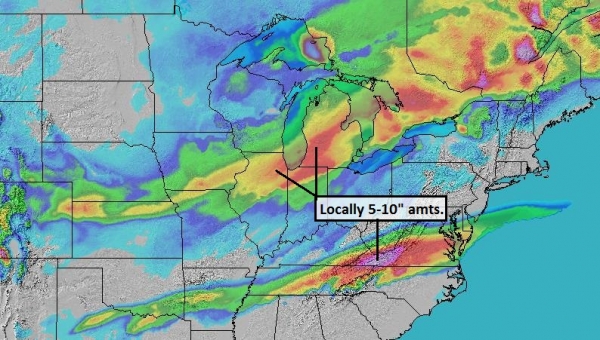 Current Warnings.
NOAA has issued Ice Storm Warnings from southeastern Oklahoma into much of central Arkansas and western Tennessee, for the potential of as much as 1/2" of glaze ice. A band of heavy snow will set up just north/west of the ice band, impacting Oklahoma City, Hot Springs, Evansville, Louisville and Cincinnati. Wind Chill Advisories may have to be upgraded to warnings as the combination of bitter cold and strong winds create wind chill factors as cold as -25 to -40 from Fargo into the Twin Cities; a wind chill dipping to -15F in Chicago by Saturday. Map: NOAA.
---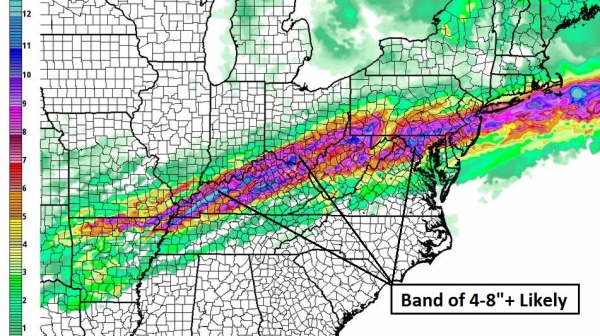 84 Hour Snowfall Prediction
. A storm spinning up along the leading edge of arctic air creates a swath of snow and ice from northern Texas and Oklahoma into the Ohio Valley through Saturday - a couple inches of slushy snow may extend into Washington D.C. and Baltimore by Sunday, where most of the precipitation will fall as a cold rain. NAM guidance: NOAA and Ham Weather.
---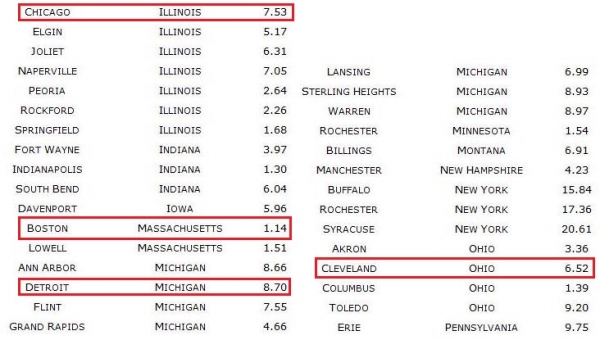 Selected City Amounts.
The extent and intensity of the bitter cold is impressive: 3" snows predicted for Sacramento, California (which seems high to me, but not out of the question). Models print out close to 10" snow from Louisville to Dayton and Cincinnati, Ohio - even if these amounts are slightly inflated this is still going to be a plowable/crippling snowfall event for much of the Ohio Valley Friday into Saturday.
---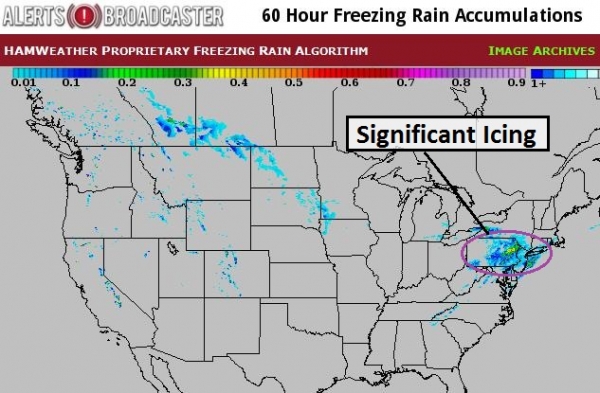 Ice Potential Next 24 Hours
. The red-shaded area shows the greatest potential for glaze ice (freezing rain) into Friday morning, from near Wichita Falls and the suburbs of Dallas to Little Rock, Hot Springs, Memphis, Cairo and Evansville. Map: NOAA and
Ham Weather
.
---

Potentially Paralyzing Ice.
The forecast from early Friday into early Saturday shows the greatest risk of ice from east of Little Rock to Memphis and western Kentucky. This storm will probably impact the grid, with a heavy enough accumulation of glaze ice to bring down power lines.
I expect numerous power outages from Oklahoma and Arkansas into the Ohio Valley within 24-48 hours.
---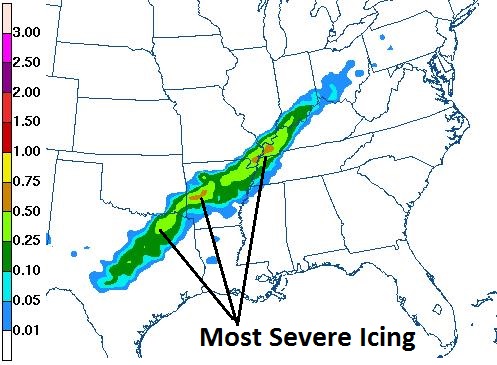 Icy Trouble Zone
. Here is another computer model summarizing the ice potential. Dallas may avoid the worst of the icing, but Hot Spring, Fayetteville and Little Rock, Arkansas, as well as Memphis, Cairo, Illinois and Evansville/Bowling Green, Kentucky may see serious icing capable of disrupting early weekend travel plans and the power grid. (Map: NOAA).
Summary
: We're still on track for a very significant period of heavy snow and ice, impacting the Southern Plains, Middle Mississipi Valley and Ohio Valley over the next 48 hours. This still will impact travel by land and air, with a high probability of power disruptions in some communities due to a heavy accumulation of glaze ice. Accumulating snow may extend into New England over the weekend, with a few slushy inches from D.C. to Philadelphia by Sunday, but confidence levels for East Coast accumulation is still quite low - we need to see more data. Meanwhile the coldest air in at least 4 years will create potentially dangerous wind chills and an enhanced frostbite risk from the Upper Midwest into the Great Lakes.
Paul Douglas - Senior Meteorologist - Alerts Broadcaster
---
These 11 Cities May Completely Run Out Of Water Sooner Than Y
ou Think. We will take many things for granted in the 21st century. Access to clean, reliable water is not one of them, especially west of the Mississippi, but some cities you might not suspect are on this list. Here's a clip from a long and thorough story at
Huffington Post
: "
Columbia University's water scarcity study showed most of California, from San Diego all the way to Santa Barbara, at high risk for water problems. And CIRES' study showed much of the same areas with high to moderate stress on regional watersheds from the coast and all the way inland. Los Angeles relies on importing much of its water from the Colorado River system which has long provided the American West with water -- seven states in all that are home to almost 40 million people. But demands on the river are often cited as unsustainable, due to predicted population increases and climate change. A recent report from the U.S. Bureau of Reclamation predicts a water supply and demand gap in the Colorado River of about 3.2 million-acre feet by 2060 -- roughly five times the amount of water that Los Angeles uses in a year.
.." (Image: NASA Earth Observatory).
---
New Research Maps The Secret Structure Of The Sun
. I found this article at
The Verge
interesting - revealing how little we know about the star that sustains us - here's a clip: "...
But David Hathaway, a NASA scientist whose new paper in Science confirms the existence of giant cells, was able to find the structures by tracking supergranules over time. Hathaway and fellow researchers used NASA's Solar Dynamics Observatory to monitor the sun every 45 seconds for a few months. With careful averaging, they were able to determine that large groups of supergranules were being moved by an underlying presence — the long-sought giant cells
...."
Image credit
above: "
An illustration of giant-cell flow trajectories in 2010
". Credit: Hathaway/NASA.
---
Top 10 Fuel Efficient Vehicles For 2014
. A few more surprises on this list, courtesy of
Ecowatch
. Here's the intro: "
The government's ranking of the 10 most fuel-efficient cars for 2014 doesn't sport any fuel at all. The 10 vehicles on the list by the U.S. Environmental Protection Agency and Department of Energy are all either 100 percent electric (EV) or plug-in hybrids. Keeping in mind that one gallon of gasoline equates to 33.7 kilowatt-hours, the vehicles on the list all achieve at least 58 miles per gallon equivalent (MPGe). Though the Nissan LEAF is the highest selling EV, it did not make the cut. None of Elon Musk's Tesla models are listed either.
.."
Photo credit
: "
The Chevrolet Spark gets 128 MPGe in the city and 109 on the highway
." Photo credit: Chevrolet.
---
Why You Should Give LED Lightbulbs For Christmas
.
Seriously
.
The Daily Beast
has an interesting analysis about why LED bulbs pay longterm dividends; here's a clip: "...
And yet not many people will go out and make the switch. Our existing bulbs tend to work, and we are not yet conditioned to think of them as capital investments. "This isn't a disposable commodity," said Watson. "It is a transferrable asset." Behavioral economists have taught us that we are often wired to ignore the long-term financial benefits of a transaction in favor of perceived short-term benefits. That's why I think LEDs make excellent gifts. For the giver, these bulbs offer a huge amount of leverage. You pay $22 out of pocket for a 75-watt bulb, but you are in effect giving the recipient an annuity that will pay out $215.50 over its lifetime. No savings bond promises that kind of bang for the buck. And even though the recipient might recoil at first, he will come around once you point that they're getting a household utility and an income stream—all with no upfront cost
." (Image above: The Daily Beast).
---
How The NSA Is Tracking People Right Now.
If this keeps up I'm going to toss the iPhone into a lake and rely on Morse Code. Here's an amazing and vaguely terrifying infographic from
The Washington Post
.
---
Netlix's War On Mass Culture
. It turns out binge viewing is just the beginning, as reported in an eye-opening story at
New Republic
; here's a clip: "...
And that's why what Netflix is trying to do is so audacious. For the past two years, the Silicon Valley company has been making a major push into original programming, putting out an ambitious slate of shows that have cost Netflix, which had profits of $17 million in 2012, hundreds of millions of dollars. Because of the relative quality of some of those series, such as "House of Cards" (a multiple Emmy winner) and "Orange Is the New Black," they've been widely interpreted as part of an attempt to become another HBO. Because every episode of every show is made available to watch right away, they're also seen as simply a new twist in on-demand viewing. But in fact the company has embarked upon a venture more radical than any before it. It may even be more radical than Netflix itself realizes
..."
---
The Rise And Fall Of Blackberry: An Oral History
. Creative disruption is happening faster than ever. Remember, oh, 6-7 years ago when everyone was walking around glued to their "crackberrys"? Then came the iPhone, then Android, and Blackberry didn't react to the disruption until it was too late. Here's a clip from this week's cover story at the always-excellent
Bloomberg Businessweek
: "
In 1984, Mike Lazaridis, an engineering student at the University of Waterloo, and Douglas Fregin, an engineering student at the University of Windsor, founded an electronics and computer science consulting company called Research In Motion, or RIM. For years the company tinkered in obscurity, until it focused on a breakthrough technology: an easy, secure, and effective device that allowed workers to send and receive e-mails while away from the office. They called it the BlackBerry. RIM grew into one of the world's most valuable tech companies. The BlackBerry became the indispensable accessory of business executives, heads of state, and Hollywood celebrities—until iPhone and Android came along and spoiled the party. Today the company, which has been renamed, simply,

BlackBerry

(BBRY), is burning through cash as sales keep falling. On Nov. 21, BlackBerry shares closed at just above $6, the lowest it's been in almost 15 years.
.."
---
The 80 Most Powerful Photos Of 2013
. Here's one of 80 compelling, sometimes chilling photos that encapsulate 2013, courtesy of
The Roosevelts
: "
Chris Hadfield: Chesapeake to Cape Cod to Lake Huron – in a glance, so much history, geology and geography, May 9, 2013
."
---
A "Mood-Sweater" That Shows People How You're Feeling
. Yes, this is at the top of my Christmas shopping list, right behind glow-in-the-dark Honey Boo Boo slippers and a robotic cat that meows my latest Facebook posts. Here's a clip from
The Guardian
: "
A phlegmatic character can belie a multitude of feelings, making it difficult for others to pick up on emotional cues. But help is at hand. The GER mood sweater, by design lab Sensoree, is wearable tech that attempts to shed light on the inner feelings of the wearer, without the need for uncomfortable chat. According to Sensoree, the top makes use of Galvanic Skin Response (GSR) – the way in which the conductance of human skin changes in response to stimuli
..."
Photo credit
above: "
The GER mood sweater means you will never again have to tell people how you are feeling
."
---
"Snow-Hawk"
. From mohawk to snowhawk - nice SUV decoration, very much in the holiday spirit. Thanks to Amanda Granning in Duluth, via WeatherNation TV's Todd Nelson.
---
TODAY: Windchill advisory. Some sun. Windchill: -20. High: 3
FRIDAY NIGHT
: Clear and polar. Low: -15
SATURDAY
: Sunny, less wind. Bug-free. High: -2
SUNDAY
: Clouds increase, light snow possible late in the day and at night. Wake-up: -4. High: 10
MONDAY: Clearing, bitter breeze returns. Wake-up: 7. High: 8 (falling during the afternoon)
TUESDAY: Another clipper, still numbing. Wake-up: -10. High: 12
WEDNESDAY: Sunny start, clouds increase late. Wake-up: -14. High: 3
THURSDAY: Patchy clouds, more tolerable. Wake-up: 0. High: 21
* 30s are possible a week from today.
** photo above of a "light pillar" and sundogs courtesy of the
Twin Cities National Weather Service
.
---
Climate Stories...
Large Companies Prepared To Pay Price On Carbon
.
The New York Times
has the article - here's an excerpt: "
More than two dozen of the nation's biggest corporations, including the five major oil companies, are planning their future growth on the expectation that the government will force them to pay a price for carbon pollution as a way to control global warming. The development is a striking departure from conservative orthodoxy and a reflection of growing divisions between the Republican Party and its business supporters. A new report by the environmental data company CDP has found that at least 29 companies, some with close ties to Republicans, including ExxonMobil, Walmart and American Electric Power, are incorporating a price on carbon into their long-term financial plans
..."
Photo credit above: "The Motiva refinery, co-owned by Shell in Port Arthur, Texas, April 2, 2013. More than two dozen major American corporations, including the five oil giants, are preparing to pay climate-related taxes, departing from the conservative orthodoxy of the party they traditionally support." (Michael Stravato/The New York Times)
---
Experts Say The IPCC Underestimated Future Sea Level Rise
. St. Thomas climate scientist John Abraham has the story at
The Guardian
; here's the introduction: "
It looks like past IPCC predictions of sea level rise were too conservative; things are worse than we thought. That is the takeaway message from a new study out in Quaternary Science Reviews and from updates to the IPCC report itself. The new study, which is also discussed in depth on RealClimate, tries to determine what our sea levels will be in the future. What they found isn't pretty. Predicting of sea level rise is a challenging business. While we have good information about what has happened in the past, we still have trouble looking into the future. So, what do we know? Well it is clear that sea levels began to rise about 100 years ago. This rise coincided with increasing global temperatures
..."
Photo credit
above: "
Sea level rise over the next century depends on future greenhouse gas emissions
." Photograph: Jon M Fletcher/AP.
---
Obama To Feds: Boost Renewable Power 20 Percent
. AP and
ABC News
have the article - here's a clip: "
Saying the government should lead by example, President Barack Obama is ordering the federal government to nearly triple its use of renewable sources for electricity by 2020. Obama says the plan to use renewables for 20 percent of electricity needs will help reduce pollution that causes global warming, promote American energy independence and boost domestic energy sources such as solar and wind power that provide thousands of jobs. Obama announced the plan Thursday as part of a wide-ranging, second-term drive to combat climate change and prepare for its effects. A plan announced in June would put first-time limits on carbon pollution from new and existing power plants, boost renewable energy production on federal lands and prepare communities to deal with higher temperatures
..."
---
Worst Case Scenario For Oil Sands Industry Has Come To Life, Leaked Document Shows.
Pulitzer-prize winning
InsideClimate News
has the story; here's an excerpt: "...
The document identifies nearly two-dozen environmental organizations leading the anti-oil sands movement and puts them into four categories: radicals, idealists, realists and opportunists—with how-to's for managing each. It also reveals that the worst-case scenario presented to industry about the movement's growing influence seems to have come to life. The December 2010 presentation by Strategic Forecasting, or Stratfor, a global intelligence firm based in Texas, mostly advised oil sands companies to ignore or limit reaction to the then-burgeoning tar sands opposition movement because "activists lack influence in politics." But there was a buried warning for industry under one scenario: Letting the movement grow unopposed may bring about "the most significant environmental campaign of the decade.
.."