12 F
. high in the Twin Cities Monday.
29 F
. average high on December 9.
32 F
. high on December 9, 2012.
1/10th
of an inch of snow fell yesterday at MSP International Airport.
6.3"
snow in the Twin Cities during the first 9 days of December.
3.7"
average snowfall from December 1-9.
11.3"
snow last December as of the 9th.
Minnesota Weather History on December 9
. Data courtesy of the Twin Cities National Weather Service:
1992
: By this time there is partial ice cover in the Duluth harbor.
1979
: Heat wave across Minnesota. High of 54 at Twin Cities and 57 at Winona.
1978
: Alexandria ends it fourteen day stretch of low temperatures at or below zero degrees Fahrenheit.
1889
: Late season thunderstorm observed at Maple Plain.
Southern Daydreams
Canada is spamming us with more arctic air, and it's getting harder to mock the snowbirds who flee south every winter. I get regular calls & e-mails from Florida friends, sharing the predicted high temperature for the day. Very thoughtful. I return the favor by sharing coordinates of major hurricanes during the summer months.
With a son in the Navy near Pensacola we've had a chance to explore the Sunshine State, and I'm going to let you in on a secret. If you're tired of the congestion & traffic gridlock consider 30-A, South Walton County, on the Panhandle. Not as warm in January. Not as crazed either.
Sometimes the thought of a sunny, southern vacation is almost as good as the getaway itself. Right now I'd settle for Dubuque.
A family of clippers drags more bitter air south of the border into midweek; 20 (above) feels like sweet relief by late week.
Models show a subzero swipe early next week, followed by a Pacific reprieve next week as steering winds turn more westerly. That should mean 30s within 8-9 days. NOAA's 45-day CFS model hints at a mild bias returning much of January.
Perhaps that's wishful thinking. At least we'll have a (very) white Christmas this year.
---
66.9% of USA Has Snow On The Ground
. That compares to 26% of the USA last year at this time. Yes, a fast-forward winter this year - maybe it won't extend into May, like it did this year. Map: NOAA.
---
A December To Remember - Or Forget.
Arctic chill lingers into midweek, with some slight temperature recovery by late week. Sad when 20F constitutes "recovery". Another arctic relapse is expected early next week, followed by more of a Pacific influence in a little over a week; maybe a few 30s by the middle of next week? Wouldn't that be nice. Graph: Weatherspark.
---
The Big Leak.
Harsh air of Siberian origin continues to lap south of the border in waves, skirting the northern USA in the coming days. The solid green line shows the 0F isotherm; unusually chilly weather impacting the entire USA (even Florida) by midweek. Hard Freeze Warnings are posted as far south and west as Las Vegas and Phoenix. NAM 2 meter temperature guidance courtesy of NOAA and Ham Weather.
---
Ill-Timed Snow Burst Out East
. Today's clipper sparks a stripe of accumulating snow from Iowa into Illinois, and a second, stronger wave of low pressure rippling along the leading edge of bitter air drops 3-6" of snow from Washington D.C. to Philadelphia and Wilmington. Not a good day to be traveling out east. 4 km. NAM Future Radar product courtesy of NOAA and Ham Weather.
---
45 Day Wish-Cast
. I'm keeping an eye on NOAA's 45 day (CFS, for Climate Forecast System) model trend, which has actually been showing more skill than I thought it would. It shows a slight warming trend thru December 20, then much colder weather returning for Christmas, a potential for a mild bias by the middle of January. Don't hold your breath. Data: NOAA and Ham Weather.
---
45-Day Snow Cover.
Odds still favor a white Christmas this year - we may lose a little of our snowcover by December 24 (down to 2-3" according to the CFS model), which predicts 5" around New Year's Eve and a whopping 12" by the middle of January. A good winter to invest in cross country skis or a sturdy snowmobile. Graph: Ham Weather.
---
Alerts Broadcaster Briefing
: Issued Monday evening, December 9, 2013.
* Another significant burst of snow is likely Tuesday for major urban centers from Washington D.C. and Baltimore to Philadelphia and New York, slightly lesser amounts across southern New England and metro Boston.
* Band of 3-6" likely D.C. to Philadelphia with locally heavier 6"+ amounts possible; best chance of snow morning and midday hours. I expect 2-4" in metro New York City. Expect significant air delays and cancellations from Dulles and Reagan National in D.C. to La Guardia, Newark and JFK in New York City Tuesday.
* Impacts to air/land travel likely - I envision extremely slow commutes - and facilities within 100 miles of the I-95 corridor will see snowy impacts from this system. Little or no ice expected; the atmosphere should be cold enough for all-snow.
---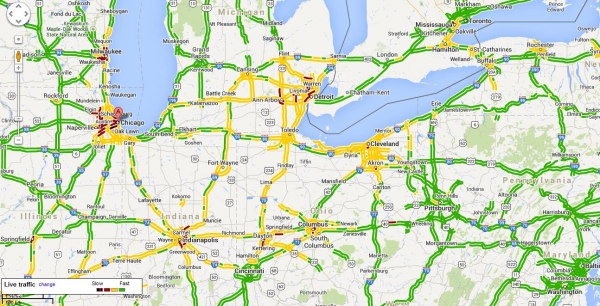 Brewing Tuesday Travel Headaches
. Major interstates are in fairly good shape this evening, but this will change, dramatically, within 12-15 hours as another surge of snow pushes across the Mid Atlantic Region into southern New England.
Click here
for real-time traffic reports, courtesy of Google.
---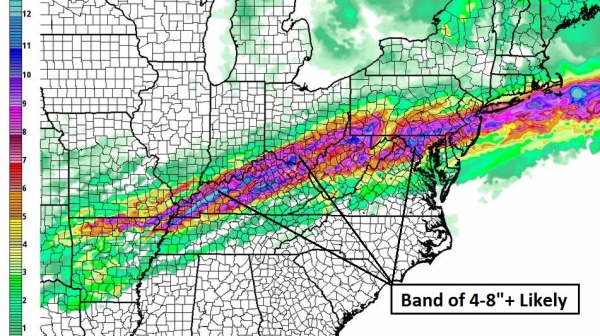 Narrow Band Of Significant Snow
. Our internal models show as much as 6-8" for the wester and southwestern suburbs of Washington D.C., a band of plowable snow from Charlottesville and D.C. to Baltimore, Wilmington, Philadelphia, much of New Jersey and metro New York City. Map: Ham Weather.
---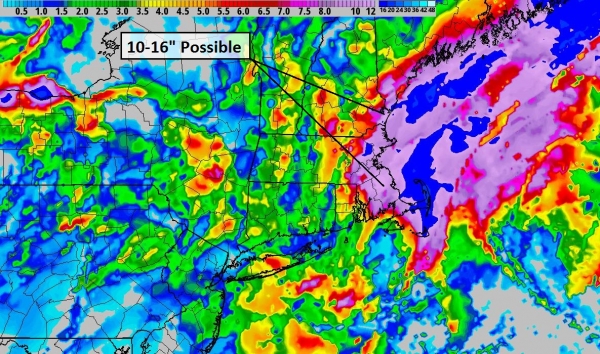 Heaviest Snow Band.
Other models show similar solutions, the axis of heaviest snow from near Washington D.C. to Harrisburg and Philadelphia, but a broad area of the Mid Atlantic and Northeast picking up at least 2-3". With temperatures in the upper 20s and low 30s even interstates will become snow-covered and slippery. Map: WSI.
---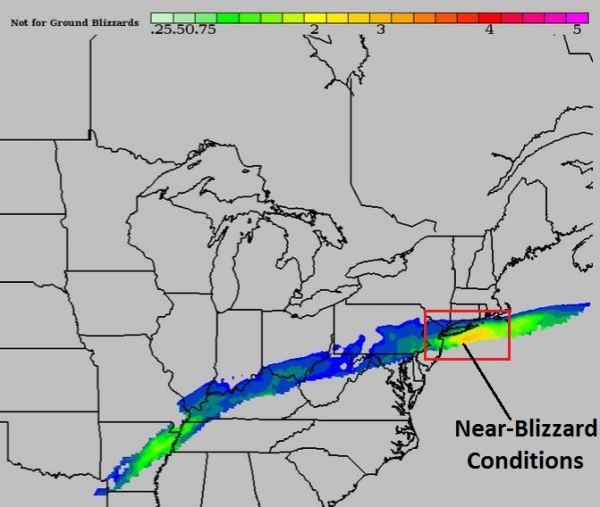 Blizzard Potential Index.
Alerts Broadcaster's internal BPI model shows a 6-8 hour burst of near-blizzard conditions spreading northeastward Tuesday from D.C. to south Jersey and Long Island; visibilities may drop below 1/2 mile in moderate snow, winds of 20-25 mph. It won't be the classic definition of a blizzard, but travel conditions will range from poor to treacherous by morning and midday from D.C. to Philadelphia, pushing into New York City during the midday and afternoon hours. Map: Ham Weather.
---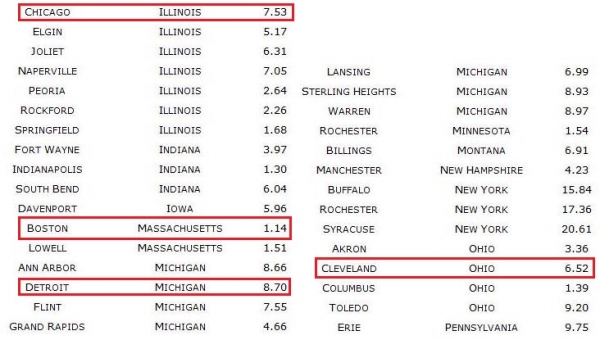 Select City Amounts
. Models print out as much as 6" for Washington D.C., 5" for Baltimore and 4-5" for Philadelphia, with 3-4" possible for New York City and suburbs during the day Tuesday.
---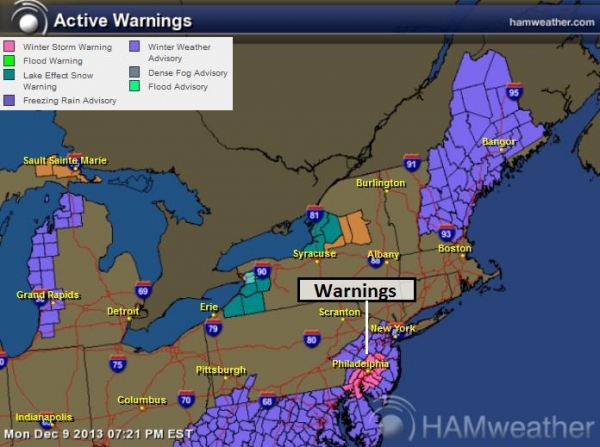 Advisories and Warnings
. NOAA has issued Winter Storm Warnings for the Delaware Valley, which may have to be extended into Baltimore and Washington D.C. Winter Weather Advisories are in effect from the Virginia and Maryland into eastern Pennsylvania, New Jersey and New York City. Map: Ham Weather.
---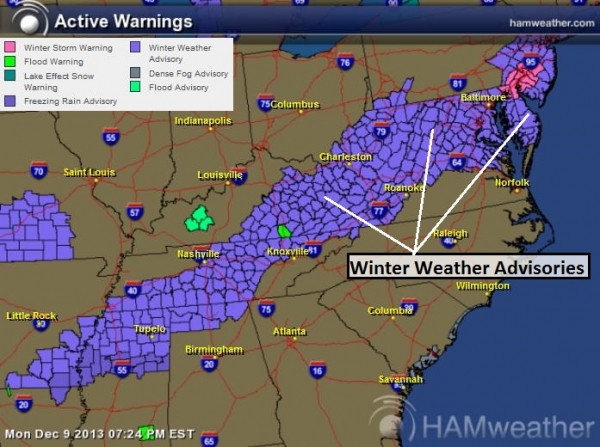 A Nagging Frontal Zone
. Winter Weather Advisories extend from southeast Arkansas and northern Mississippi into eastern Kentucky and the Shenandoah Valley of Virginia, calling for a couple of inches of additional snow and ice.
Summary
: A few weeks ago we warned of an active and wintry pattern for much of the East Coast, and that forecast seems to be verifying as a series of storms ripple along the leading edge of Arctic air. One such ripple of low pressure will squeeze out plowable amounts of snow from northern Virginia to New York City, with lesser amounts for Providence, Hartford and Boston. I'm especially concerned about Washington D.C. and suburbs, where mere flurries can wreak havoc. Tuesday will be a very forgettable travel day in the nation's capital, with considerable impacts into Philadelphia and even metro New York City.
Paul Douglas - Senior Meteorologist - Alerts Broadcaster
---
Federal Flood Maps Left New York Unprepared For Sandy - And FEMA Knew It.
Here's a remarkably damning story from
ProPublica
- it turns out budget cuts can have a significant impact, even on something as mundane (yet critically important) as FEMA flood maps. Here's a clip: "...
But the maps drawn up by the Federal Emergency Management Agency were wrong. And government officials knew it. According to documents and interviews, state, local and federal officials had been aware for years that the crucial maps of flood risks were inaccurate; some feared they understated the dangers in New York City's low-lying areas. The flaws in the maps had significant impact. Developers relied on FEMA's assessment of risks when they built new homes near the water. And homeowners and businesses made crucial decisions about where to buy or lease property on the assurance that they were outside of the high-risk zones
..."
---
Critical Weather Forecasting Bill Moves One Step Closer.
Some encouraging news from
Climate Central
; here's an excerpt: "...
The bill, known as the "Weather Forecasting Improvement Act," now heads to the full House for consideration. If it passes, and there are no guarantees given the small window left in the legislative calendar, it would be the first broadly focused weather bill to be enacted by Congress since the mid-1990s. The bill would establish a research program within the National Oceanic and Atmospheric Administration (NOAA) to extend the lead time for tornado warnings beyond 1 hour, and contains provisions aimed at closing the performance gaps between the agency's weather forecasting computer models and those of other nations
..."
Graphic credit
above: "
High-resolution radar imagery from the OU RaxPol mobile research radar showing different aspects of the El Reno, Okla., tornado. In the top-left image the main vortex is located in the center of the larger donut hole. Advanced technologies such as this radar may help forecasters extent tornado warning lead times." Credit: Twitter via @WunderAngela.
---
October: 7th Warmest On Record Worldwide
. Data courtesy of
NOAA NCDC
.
---
Smog? It Bolsters Military Defense, Says Chinese Nationalist Newspaper.
This is one of the greatest samples of spin and rationalization I've ever encountered. Smog is GOOD for you! Uh huh. Here's an excerpt from
The South China Morning Post
: "
A nationalist newspaper has tried to put a positive spin on China's smog, claiming it is conducive to the country's military defence strategy. Smog, it argued, could thwart missile attacks and hamper hostile reconnaissance. "Smog may affect people's health and daily lives … but on the battlefield, it can serve as a defensive advantage in military operations," said an article on the website of Global Times, a nationalist newspaper affiliated to the Communist Party's mouthpiece the People's Daily. Missile guidance that relies on human sight, infrared rays and lasers could be affected by smog in varing degrees, the article said. It explained that tiny particles in the air contributing to air pollution could hinder missile guidance systems
..."
Photo credit
above: "
The skyline of the Lujiazui Financial District with the high-rise buildings is covered with heavy smog in Pudong in Shanghai
." Photo: AP.
---
Top 10 Predictions For Technology In 2014
. Here's a snippet of a thought-provoking article at
The Daily Beast
: "
Microsoft may get its mojo back, smartphones will get cheap, and we're about to enter the Year of Encryption. A look at what to expect in telecom and computing for the coming year. How might 2014 play out in tech? Silicon Valley may again need to watch out for Microsoft, cheap smartphones will hit markets, and the Edward Snowden revelations will launch the Year of Encryption. Those are a few predictions from Mark Anderson, founder and publisher of the Strategic News Service newsletter, long a must-read for industry leaders and venture capitalists, and host of Future in Review, an annual gathering for tech leaders, investors, and policymakers The Economist called "the best technology conference in the world
..."
Photo credit
above: Noor Khamis / Reuters.
---
The 45 Most Powerful Photos Of 2013
. Some of these are truly amazing, courtesy of
Buzzfeed
. Here's the caption for the photo above: "
A couple pauses between salvaging through the remains of a family member's home one day after a tornado devastated the town of Moore, Oklahoma
." ADREES LATIF / Reuters.
---
Disgusting Christmas "Tinner" Offers A Time-Saving Alternative To Gamers.
This sets a new bar for a whole new level of pathetic. Apparently it's a new product offering, for gamers who can't be bothered with the prospect of a "real meal". Check out the details from
Yahoo Games
; here's a clip: "
For gamers who want to enjoy all the traditional components of a Christmas dinner and don't mind doing so in the most disgusting, least appetizing way possible, we present...Christmas Tinner, the Christmas dinner in a can. Those with sensitive tummies should stop reading now, because this one will haunt your nightmares. There's just no other way to describe a tin can that comes with nine layers of food, one on top of the other. Pop open the can, and you're greeted with a top layer of scrambled eggs and bacon. But wait, there's more! Below that resides some fruity mincemeat. Still with us? Good, because it's time for the main course: turkey and potatoes, plus carrots and other side dishes, including gravy, cranberry sauce, and Brussels sprouts or broccoli, depending on your preference
..."
Photo credit
: "
Christmas in a can
". Courtesy of GAME.
---
Ron Burgandy And Dodge Laugh All The Way To The Bank
.
Advertising Age
has the details; here's an excerpt: "
Chrysler's risky move to turn over creative control of its Dodge Durango campaign to fictional anchorman Ron Burgundy is paying off–in real-world SUV sales. Comedian Will Ferrell's campaign co-promoting the 2014 Durango and "Anchorman 2: The Legend Continues" drove a 36% boost in November sales over the previous year, according to Olivier Francois, chief marketing officer of Chrysler Group. Automotive News figures show that follows a 59% jump in October.
.."
---
Football - Winter Rules
. Did you see any of the Eagles-Lions NFL game on Sunday? The Vikings game in Baltimore was bad enough, but conditions were even worse in Philadelphia. Watching these guys trying to play with white-out conditions and 5" of snow on the field was one of the funniest things I've ever seen. At one point they brought a snowblower onto the field to be able to see the goal line. Never seen THAT before. I saved the frame grabs above on my smart phone, courtesy of FOX and (sorry Oprah), one of PD's favorite things, DirecTV's Sunday Ticket.
---
---
TODAY: Coating of flurries, then bitter winds and falling temperatures. Windchill: -15. High: 9
TUESDAY NIGHT: Clear and Nanook. Low: -10
WEDNESDAY: Bright sun, still numb. High: 1
THURSDAY: Patchy clouds, not quite as harsh. Wake-up: -12. High: 17
FRIDAY: Intervals of sun, still dry. Wake-up: 12. High: 23
SATURDAY
: Flurries or very light snow. Wake-up: 15. High: 18
SUNDAY
: Mostly cloudy, turning colder again. Wake-up: 3. High: 9
MONDAY: Light PM snow, coating possible. Wake-up: -5. High: 12
* 30s are possible by the middle of next week.
---
Climate Stories....
Extreme Summer Weather In Northern Mid-Latitudes Linked To A Vanishing Cryosphere
. It turns out all that melting ice in the arctic may, in fact, be having a domino effect at our latitude. Here's an excerpt of a technical, but fascinating paper at
Nature
: "
The past decade has seen an exceptional number of unprecedented summer extreme weather events in northern mid-latitudes, along with record declines in both summer Arctic sea ice and snow cover on high-latitude land. The underlying mechanisms that link the shrinking cryosphere with summer extreme weather, however, remain unclear. Here, we combine satellite observations of early summer snow cover and summer sea-ice extent with atmospheric reanalysis data to demonstrate associations between summer weather patterns in mid-latitudes and losses of snow and sea ice. Results suggest that the atmospheric circulation responds differently to changes in the ice and snow extents, with a stronger response to sea-ice loss, even though its reduction is half as large as that for the snow cover.
.."
---
Arctic Ice Melt Tied To Heat Waves And Downpours In U.S., Europe And Elsewhere, Study Suggests
. Following up on the new research findings above here's an excerpt of a good summary at
Reuters
: "
A thaw of Arctic ice and snow is linked to worsening summer heatwaves and downpours thousands of miles south in Europe, the United States and other areas, underlying the scale of the threat posed by global warming, scientists said on Sunday. Their report, which was dismissed as inconclusive by some other experts, warned of increasingly extreme weather across "much of North America and Eurasia where billions of people will be affected". The study is part of a drive to work out how climate change affects the frequency of extreme weather, from droughts to floods. Governments want to know the trends to plan everything from water supplies to what crops to plant. But the science of a warming Arctic is far from settled
..."
---
Solar Would Be Cheaper: U.S. Pentagon Has Spent $8 Trillion To Guard Gulf Oil.
Here's an eye-popping number. Trillions of dollars and the lives of too many members of our armed services. Here's an excerpt from
Informed Consent
: "...
It has cost the United States $8 trillion to provide military security in the Gulf since 1976. According to Roger Stern, a Princeton economist, the US has spent as much on Gulf security as it spent on the entire Cold War with the Soviet Union! In recent years through 2010 it has been $400 billion a year, though the US withdrawal from Iraq at the end of 2011 and the gradual withdrawal from Afghanistan this year and next presumably means that the figure is substantially reduced. Still, we have bases in Kuwait, Qatar and elsewhere, and a Naval HQ in Bahrain, none of which is cheap. If it were $200 billion a year, that is a fair chunk of the budget deficit the Republican Party keeps complaining about. And if we could get that $8 trillion back, it would pay down half of the national debt
..." (Photo: Wikipedia).
---
Solar Panels Could Destroy U.S. Utilities, According To U.S. Utilities.
Here's an excerpt of an April post from
Grist
, which is just as relevant as ever: "
Solar power and other distributed renewable energy technologies could lay waste to U.S. power utilities and burn the utility business model, which has remained virtually unchanged for a century, to the ground. That is not wild-eyed hippie talk. It is the assessment of the utilities themselves. Back in January, the Edison Electric Institute — the (typically stodgy and backward-looking) trade group of U.S. investor-owned utilities — released a report [PDF] that, as far as I can tell, went almost entirely without notice in the press
..." (Image; clickgreen.org).
---
What We Owe Our Kids On Climate.
NASA climate scientist James Hansen has the Op-Ed at
CNN
; here's an excerpt: "...
Carbon emissions will decline only if the price of fossil fuels begins to include their costs to society: their effects on human health and climate. Economic analysis shows that a rising carbon fee collected from fossil fuel companies would swiftly drive market innovations and investments in clean energy. (Indeed, many companies are preparing for such a fee.) Courts cannot tell the government how to reduce emissions. But they can require that the government provide a plan: How will emissions be reduced to assure that the rights of young people are protected?
..."