Windchill Advisory
in effect today.
-8 F
. low temperature reported at MSP Wednesday morning.
1 F
. high temperature yesterday.
24 F
. average high on January 1.
20 F
. high on January 1, 2013.
18th
coldest December on record for the Twin Cities.
Arctic Mother Lode
Resolutions for 2014? I have a few and they have nothing to do with my business. This year I'm going to worry less about tomorrow and fixate on today. Spontaneity? What a concept. I'm asking God to make me more patient & tolerant, looking for the good in people - and not judging others, lest I be judged.
Grant me the serenity to put down my smartphone and take in more sunsets.
To need less, want less, waste less and live more simply and sustainably. More time with family & friends - less time agitating about things I can't change. The future will take care of itself. Oh, and less complaining about the weather, no matter what the temperature. I'm just happy I'm still around to take it in.
Good news/bad news. First the good news: we don't live in Boston, where a blizzard is likely Friday. Details below.
More good news: I see a major shift in the pattern; a Pacific break after January 11 with 20s & 30s (above!) by mid-month.
Now the bad news: next week should bring the coldest air of winter, maybe the coldest slap since 1996. After reaching the 20s on Friday daytime highs may hold between -5 to -10F Monday; metro lows near -20F.
Remind me about that last resolution again?
This too shall pass.
* 7 am Monday temperatures (January 6) courtesy of Weather Bell.
---
The Depths of Winter.
I have a semi-educated hunch that the next 7-8 days will bring the coldest temperatures of winter, at least for the Upper Midwest and Great Lakes. The leading edge of the latest cold blast will spin up a major Nor'easter tonight into Friday, with major impacts from New York City to Boston (details below). Much of New England will experience lows near zero by Saturday morning. 2-meter NAM forecast temperatures courtesy of NOAA and Ham Weather.
---
Minnesotans Are Weather Warriors: Exhibit A
. Here is the ECMWF guidance for the next 8 days, showing late-week moderation, followed by what will probably be the coldest outbreak of the winter. We bottom out Monday and Tuesday of next week: daytime highs around -5F. in the metro area, nighttime lows as cold as -15F downtown, -20F in the outlying suburbs, -30F in St. Cloud and -35F at Brainerd. Those are air temperatures, not wind chills. I envision 72-90 hours in a row below zero the first half of next week, followed by some moderation toward the end of next week. Graph courtesy of Weatherspark and the Minnesota Chamber of Commerce.
---
A Reason To Keep On Going.
We'll see more cold fronts (no kidding Paul), but I see some signs of a phase-shift in the pattern by mid-January, a few days in the 20s and 30s. I think we'll bottom out in the temeprature department early next week. To quote Dan Rather, courage.
---
Lowest Wind Chills This Morning
. It helps to know that much of America is shivering right along with us, windchills dipping to zero from Denver to Oklahoma City and Little Rock, Indianapolis and Cleveland. Map: NOAA.
---
Counterintuitive, But True
. The Iowa Department of Transportation reminds us that spreading more salt on roads when it's this cold can actually trigger more black ice. Salt works best when air temperatures are between 20 and 32 F. When it's this cold salt melts ice very slowly, and may actually cause highways to refreeze faster than they would with no salt.
---
18th Coldest December On Record For MSP
. It was the coldest December since 2000 for the Twin Cities, but we've seen colder Decembers in years gone by. For St. Cloud it was the 8th coldest December on record. Details from the
Twin Cities office of The National Weather Service
: "
It was a December to remember in reference to cold weather. However, as you can clearly see from the long term averages, there have been many Decembers in the past much colder than December 2013. Even so, Minneapolis International Airport ended up the month with a respectable 18th place on the all-time list
."
---
1 In 10 Chance Of Major Snowstorm For 2014 Super Bowl?
Apparently there's some controversy over recent statements made by the New Jersey State Climatologist when asked about a "forecast" for February 2 at The Meadowlands. Some sports writers confused climatology with an actual weather prediction for the day in question. Here's an excerpt of a story at
NJ.com
: "...
Based on an analysis of 80 years of data gathered at Newark's weather station, which is the closest long-term station to MetLife Stadium, we found there's a one out of 10 chance based on past records that it snows during the evening hours of Feb. 2. The record suggests that the largest snow event in the last 80 years on Feb. 2 at Newark is 3.2 inches
..."
---
Alerts Broadcaster Briefing
: Issued Wednesday night, January 1, 2014.
Here is what has changed since the late morning briefing:
* Winter Storm Watch upgraded to a
Winter Storm Warnings
for much of New England; includes New York City, Providence, Hartford & Boston.
*
Blizzard Warnings
posted for Long Island, where visibilities will fall to near zero in falling/blowing snow Thursday night into Friday morning.
* 4-8" expected for New York City Tri-State Area - up to 10" Long Island, as much as 12-14" from near Providence to Boston (heaviest amounts over Cape Cod).
* Travel conditions gradually worsen during the PM hours Thursday. The heaviest snow and strongest winds come Thursday night into Friday morning. Conditions slowly improve late Friday, but some coastal communities won't be dug out with traffic flowing (very slowly) until later in the day Saturday.
---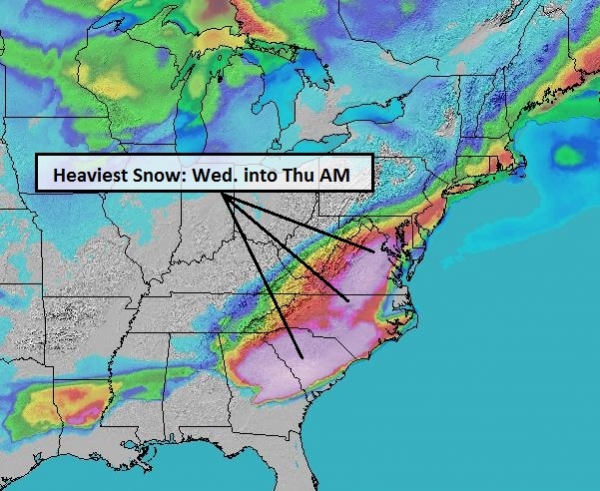 Overview
. Here is the latest snowfall prediction, showing a heavy 4-8" band from near Peoria to Gary, South Bend, Terre Haute, Ann Arbor and Detroit, with some 10"+ amounts for upstate New York and northern New Jersey. This storm will approach "crippling" criteria from Long Island and New Haven to Providence, Nantucket, Martha's Vineyard, Cape Cod and Boston, with 8-14" snows whipped into 2-3 foot drifts by midday Friday. This will be a cold storm, making it difficult (probably impossible) to prevent even interstates from becoming snow-covered Thursday night and Friday.
Friday will be the roughest day from New York to Boston
. NAM model guidance: NOAA and Ham Weather.
---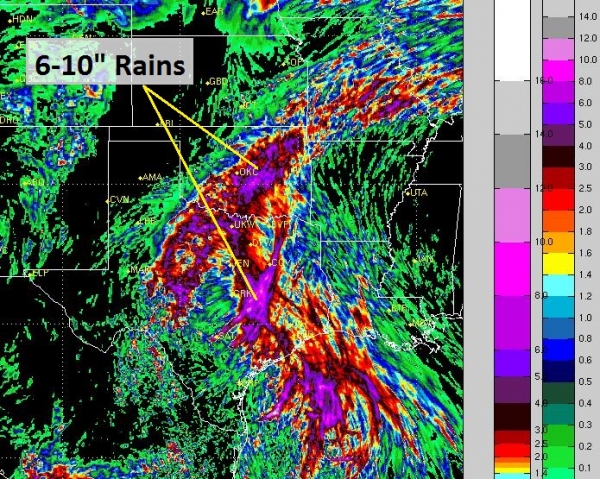 High-Resolution Solution
. The Delaware Valley will pick up 3-4" of snow, with heavier amounts closer to New York City - heaviest amounts over eastern Massachusetts and Cape Cod to near Providence, where some 10-14" amounts are expected. Keep in mind this will be a cold, dry, powdery snow - prone to blowing and drifting Thursday night and Friday as wind gusts top 30 mph. Travel can be characterized as somewhere between treacherous and tortured from Thursday night into midday Friday from New York City to Boston. RPM model guidance above: WSI Corporation.
---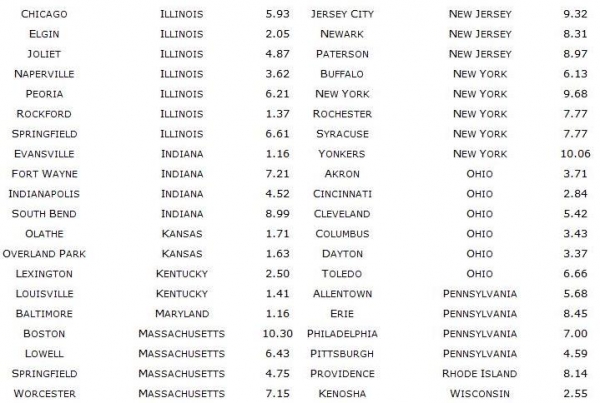 Select City Snowfall Predictions
. I think the models have the right idea, plus or minus 2-3". The big unknown is how long a fetch of moisture will blow off the Atlantic, and whether blizzard conditions will remain offshore, or creep inland for a few hours Friday morning.
Also keep in mind that salt and other chemicals lose their effectiveness at temperatures colder than 15F
, which means even interstates, including I-95, may be snow-covered after midnight Thursday night.
---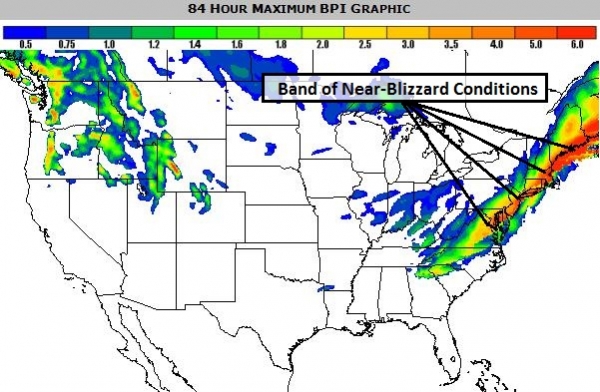 BPI: Blizzard Potential Index
. Here is an overview of where conditions may approach or exceed blizzard criteria over the next 84 hours (35 mph winds and visibility under 1/4 mile in falling/blowing snow). The greatest potential for white-out conditions Thursday night into Friday includes Long Island to coastal Connecticut, Cape Cod and Boston. Map: Ham Weather.
---

Timing The Storm
. Our internal BPI index shows near-blizzard conditions over Long Island and coastal Connecticut by midnight Thursday night, lingering into the late morning hours Friday for coastal New England. The storm finally pushes out to sea during the PM hours Friday. Snow will taper to flurries, but 15-25+ mph winds will continue to spark moderate drifting as wind chills dip to zero or below. The risk of frostbite and hypothermia peaks Friday morning and midday. Map sequence: Ham Weather.
---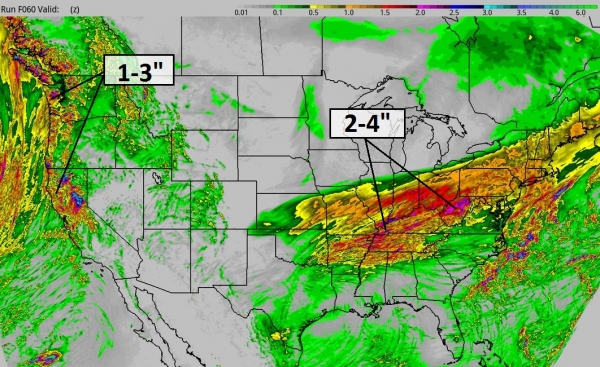 Imminent.
As we predicted this morning, NOAA has upgraded the Winter Storm Watch to a Winter Storm Warning for much of New England, meaning treacherous winter conditions are imminent/likely. The warnings include Wilkes-Barre/Scranton, New York City, Syracuse, Albany, Hartford, Providence, Boston and Portland, Maine. Advisories remain posted for much of Pennsylvania and the Ohio Valley for plowable, 3-6" snowfall totals. Map above:
Ham Weather
.
---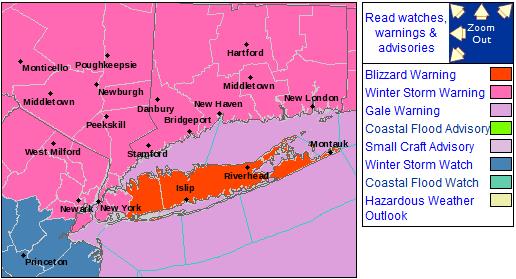 Blizzard Warning
. The L.I.E. will be an even bigger basket case by Thursday night, and I expect a rash of cancellations (schools and businesses) on Friday as the storm peaks during the morning hours. The heaviest snow and strongest winds set up over the Atlantic, putting Long Island in the crosshairs for some of the most extreme conditions. Travel will get progressively worse as you head east on the Long Island Expressway by Thursday night, and near-blizzard conditions may extend farther north, from New Haven to Groton, Newport and Providence, as well as Nantucket and Martha's Vineyard. The most extreme blizzard conditions may stay just south of Boston, but Cape Cod will see extreme winter conditions Friday morning.
Summary
: The major winter storm we've been tracking this week is still on the way, and impacts will be widespread, especially Thursday night into the early afternoon hours. Coastal New England and Long Island will bear the brunt of the storm, but with rapidly falling temperatures and low visibility I could see very significant impacts for New York City's 3 airports by Thursday evening, with delays and cancellations extending into at least midday Friday. The dry/fluffy nature of the snow from this system favors blowing and drifting, but very cold temperatures should insure all-snow; no ice - which lowers the risk of widespread power outages. We'll keep an eye on the maps and the models and fine-tune expectations further Thursday morning.
Paul Douglas - Senior Meteorologist - Alerts Broadcaster

---
2013's Wild, Unforgettable Weather: A Roundup
.
LiveScience
has the highlights and lowlights of a fairly quiet year, overall, for the USA, with a few notable exceptions: "
Floods, fires and typhoons — weather fueled by heat led the news in 2013. In Colorado and central Europe, tropical moisture fed heavy rains and floods. Australia was ravaged by heat waves and wildfires for much of the year. Warm Pacific Ocean temperatures fueled major tropical storms that devastated the Philippines and Asia. The unusually warm temperatures are on pace to set a heat record, making 2013 one of the warmest years in more than a century, according to a report released in December by the National Climatic Data Center (NCDC). The first 11 months of 2013 are the fourth warmest (averaged around the globe) since record-keeping started 134 years ago
..."
Image credit
above: "
Super Typhoon Haiyan, the strongest storm seen during the satellite era, was spotted by the Japan Meteorological Agency's MTSAT on Nov. 7, 2013, as it headed toward landfall over the Philippines
." Credit: Japan Meteorological Agency/NOAA.
---
Compared To 2 Previous Years, 2013 Was A Paper Tiger
. Meteorologist Andrew Freedman has a good summary of what was a relatively quiet year for the USA, at least compared to the insanity of 2011 and 2012; here's an excerpt from Climate Central: "
The U.S. suffered its share of extreme weather and climate events in 2013, from a monster tornado that flattened large parts of Moore, Okla., to the driest year on record in California. But compared to the blockbuster calamities of the previous 2 years, 2013 stands out more for its relative tameness. Mother Nature's most powerful storms — hurricanes — were unusually absent from the North Atlantic. Not a single hurricane made landfall in the U.S., and no major hurricanes of Category 3 or above intensity even formed. In addition, the longstanding drought that had gripped much of the nation abated. And for the first time in 20 years, daily record low temperatures outnumbered daily record highs
..."
Climate Central Infographic featured above is
here
.
---
2013 In Review: Extreme Weather - In Pictures
. Here's an excerpt of a 20 slide recap of some of the more unusual and extreme weather events of 2013, courtesy of
The Guardian
: "
2013 was the seventh warmest year on record and saw one of the strongest cyclones, some of the longest heatwaves and the most topsy-turvy weather experienced in decades
."
Image credit
above: "
."
Photograph:

Japan Meteorological Agency and EUMETSAT/Barcroft Media
.
---
Heatwave Declared As Queensland Interior Swelters Throught Record-Breaking Temperatures
. The
Australian Broadcasting Corporation
has details and a video clip; here's a clip: "
A heatwave has officially been declared in parts of inland Queensland, where scorching weather is smashing records and prompting health warnings. The mercury has soared above 40 degrees Celsius in a number of areas over recent days, and the sweltering weather is set to continue
..."
---
Weather Forecasting Is About To Improve With Satellite Launch
. The launch of a new low-orbiting satellite may help the initialization of global weather models, the quality of data we put into the simulations that drive weather forecasts. Here's an excerpt from
Global Post
: "
NASA and the Japan Aerospace Exploration Agency announced the launch of a precipitation satellite that will enhance how we understand the climate. The Global Precipitation Measurement Core Observatory satellite will be launched on February 27 from Japan's Tanegashima Space Center and will measure precipitation and energy cycles. Researchers say that it will improve weather forecasting worldwide. "Launching this core observatory and establishing the Global Precipitation Measurement mission is vitally important for environmental research and weather forecasting," said Michael Freilich, director of NASA's Earth Science Division in Washington
..."
Image credit
above: "
Artist concept of the Global Precipitation Measurement (GPM) Core Observatory satellite
." (NASA/Courtesy).
---
Massive Solar Plan For Minnesota Wins Bid Over Gas
. Prices of photovoltaic cells are dropping like a rock, making solar more attractive by the day. When people realize they can power their homes and cars with (free) power from the sun, using solar power and emerging battery storage technologies, they'll quickly realize that going green can save them green - and clean up the environment in the process. Here's a clip from
The Star Tribune
: "
Minnesota soon could see at least a sevenfold expansion of solar power. In an unprecedented ruling, a judge reviewing whether Xcel Energy should invest in new natural gas generators vs. large solar power arrays concluded Tuesday that solar is a better deal. If the finding by Administrative Law Judge Eric Lipman is upheld by the state Public Utilities Commission (PUC), Edina-based Geronimo Energy plans to build about 20 large solar power arrays on sites across Xcel's service area at a cost of $250 million. "It says solar is coming in a big way to the country and to Minnesota," Geronimo Vice President Betsy Engelking said of the ruling
..." (image: businessgreen.com).
---
Five Ways Television Can Save Itself In 2014
.
Quartz
has the story - here's an excerpt: "
This was a game-changing year for the television industry, as Netflix—and the rise of other streaming video carriers—forever altered the way that we consume TV. So how are the networks supposed to thrive in this strange new world of streaming, stacking and binge-viewing? By making, and following, these five resolutions for 2014:
1. Cultivate more event programming
While fewer viewers are watching "live" programming each year (see below), the monster ratings for NBC's The Sound of Music Live! (18.6 million viewers, its highest non-sports Thursday night ratings since 2004) prove that audiences will still flock to live TV for event shows. In June, 13 million Discovery viewers held their breath while Nik Wallenda successfully wire-walked across the Grand Canyon (live, of course).
.."
---
This Amazing Dog With A Mustache Deserves Your Complete Attention
. Yes, "before we go" let's admire this little pooch with a perfectly natural mustache. I wish I could grow one that good. Details in this amazing pictorical from
Buzzfeed
.
---
TODAY: Windchill Advisory. More sun, still nippy. Winds: NW 5-10. High: 1
THURSDAY NIGHT: Partly cloudy. Low: -9
FRIDAY: Breezy and milder. High: 25
SATURDAY
: Clouds & flurries. Colder wind. Wake-up: near 20. High; 19 (falling during the day)
SUNDAY
: Sunny & crisp. Feels like -25F. Wake-up: -12. High: -2
MONDAY: Yukon-blue sky. Coldest in decades? WC: -35F. Wake-up: -20. High: -5
TUESDAY: Dim sun, some recovery. Wake-up: -15. High: 3
WEDNESDAY: Mostly cloudy. Worst is over. Wake-up: -12. High: 18
---
Climate Stories...
Climate Change Models Underestimate Likely Temperature Rise, Report Shows
. Here's an excerpt from
The Guardian
: "
The Earth's climate is far more sensitive to carbon dioxide emissions than previously thought, heightening the likelihood of a 4C temperature rise by 2100, new Australian-led research of cloud systems has found. The study, published in Nature, provides new understanding on the role of cloud formation in climate sensitivity – one of the key uncertainties in predictions of climate change. Report authors Steven Sherwood, Sandrine Bony and Jean-Louis Dufresne found climate models which show a low global temperature response to CO2 emissions do not factor in all the water vapour released into the atmosphere
..."
Photo credit
: "
Understanding cloud formation is key to predicting climate change
." Photograph: CBW/Alamy.
---
Climate Change: Planet To Warm 4C By 2100
. Following up on the latest research into cloud dynamics and possible impact on warming here's an excerpt of a slightly different perspective from
The Sydney Morning Herald
: "...
Forecasts in many climate models for lower temperature rises were based on assumptions that clouds might help limit temperature increases. But the team claims to have found the key to predicting cloud behaviour, and forecasts that clouds will not be nearly as helpful as thought in many models. Current models estimate a doubling of carbon dioxide in the atmosphere - a level that may be reached by mid-century - will result in temperature rises of between 1.5 degrees and 5 degrees. Instead, the likely range will be 3-5 degrees for twice the amount of C02, the study found
..."
Photo credit
above: "
New research suggests temperatures will rise between 3-5 degrees for a doubling of C02
." Photo: Michael Clayton-Jones.
---
13 Dumbest Things Said About Climate Change In 2013
.
Media Matters
has the story (and video).
---
10 Predictions For Rooftop Solar In 2014
. Here's an excerpt from a story at
greentech solar
: "
As the year winds down, we hope you are resting, recovering, and enjoying some time off with your loved ones. Before we return to the grind in 2014, Barry Cinnamon provides a forecast into the fate of rooftop solar in the coming year.
1. Net metering will win in big solar states and lose in small solar states. The efforts of SEIA, Vote Solar and others make a tremendous difference -- but the biggest factor is voters who want more solar. As such, states with a strong solar constituency (like California with almost 200,000 rooftop systems) will be most successful in passing solar-friendly policies. The lesson for the solar industry is that we need strong grassroots support coupled with effective lobbying. Happy net-metered voters are the foot soldiers who will win this war
..."