40 F. high in the Twin Cities Wednesday.
30 F. average high on February 19.
10 F. high on February 19, 2013.
17" snow on the ground at KMSP.
6.4" most snow from a single storm so far this winter (January 30).
Winter Storm Warning posted for the Twin Cities.
Blizzard Warnings in effect just south of MSP.
On Edge
I'm exhausted - from banging my head against the wall. In a perfect world, 12 hours before a significant weather event, the weather models would agree. No discrepancies. Meteorologists are confident; everyone is on the same page!
Right.
Today's scenario is especially murky. NOAA's NAM model kept the heaviest snow bands well east of Minnesota yesterday, but last night's (00z) run finally came in line with guidance from GFS and ECMWF, both hinting at very significant snowfall amounts for the Twin Cities. Snow gets heavier as the day goes on, accumulating at the rate of 1" an hour by afternoon and tonight. By Friday morning there's a good chance many towns and suburbs within 30-40 miles of MSP may wake up to 5-10" of new snow.
I suspect this will be the biggest snowfall of the winter, to date
. Plan on significant delays and cancellations Friday morning, with travel slowly improving during the day tomorrow.
Blizzard Warnings are posted just south of the Twin Cities, where high winds accelerating into a rapidly deepening storm may reach 30-40 mph, whipping up severe blowing & drifting. But our recent thaw has left an icy crunch on top of the snow, which may prevent a worst-case white-out towards Mankato, Northfield & Rochester. Be careful out there later today and tonight.
Next week will feel more like late January, and any extended thaw in early March appears to be a cruel hallucination, a meteorological mirage. I see a very (VERY) cold start to March, with some recovery after March 5.
A gently used echo of the Polar Vortex is about to pinwheel south the next 2 weeks, temperatures bottoming out (again) roughly 1 week from now. Not as extreme as a few weeks ago, but cold enough.
Isn't this fun?
---
One Tough Travel Day
. After a wet/slushy start, travel conditions gradually deteriorate as the day goes on, with the worst travel coming from this afternoon into tonight, when snow may accumulate at the rate of 1" an hour at times. I expect school closings/delays Friday morning, followed by gradually improving travel conditions as the day goes on tomorrow. Details on the Blizzard Warning:
...SIGNIFICANT WINTER STORM TO AFFECT EASTERN AND SOUTHERN
MINNESOTA AND ALL OF WEST CENTRAL WISCONSIN THURSDAY AND THURSDAY
NIGHT...

A BLIZZARD WARNING IS IN EFFECT FOR ALL OF SOUTH CENTRAL AND
SOUTHEAST MINNESOTA...INCLUDING AREAS SOUTH OF A LINE ROUGHLY
FROM SLEEPY EYE...TO GAYLORD...TO NORTHFIELD...TO RED WING. THIS
INCLUDES INTERSTATE 35 SOUTH OF NEW MARKET... AND THE INTERSTATE
90 CORRIDOR BETWEEN FAIRMONT AND ALBERT LEA.

A WINTER STORM WARNING IS IN EFFECT FOR ALL OF EAST CENTRAL
MINNESOTA AND WEST CENTRAL WISCONSIN...INCLUDING THE ENTIRE
GREATER TWIN CITIES METRO AREA AND ADJACENT LOCATIONS TO THE
IMMEDIATE NORTH AND NORTHWEST OF THE METRO...AND ALL OF WEST
CENTRAL WISCONSIN.

TO THE WEST OF THE WARNING AREAS...A WINTER WEATHER ADVISORY IS
IN EFFECT FOR AREAS FROM SOUTHWEST MINNESOTA INTO CENTRAL
MINNESOTA FROM WALNUT GROVE AND REDWOOD FALLS...NORTH-
NORTHEASTWARD TO OLIVIA...LITCHFIELD... THE GREATER SAINT CLOUD
AREA...AND LITTLE FALLS AND LAKE MILLE LACS.

HEAVY SNOW AND STRONG WINDS WILL RAPIDLY SPREAD NORTHWARD ACROSS
THE ENTIRE AREA THURSDAY MORNING...AND PERSIST THROUGH THURSDAY
NIGHT. STRONG WEST TO NORTHWEST WINDS AND WIDESPREAD SEVERE
BLOWING AND DRIFTING SNOW AND WHITE OUT CONDITIONS WILL
OCCUR...ESPECIALLY ACROSS THE BLIZZARD WARNING AREA.
---
Very Plowable
. Models are finally converging on a similar solution, showing the heaviest snow band over eastern Minnesota and the northwestern third of Wisconsin, where some 5-10" amounts are possible, the best chance of a cool foot from Eau Claire to Hayward and Herbster. Meanwhile St. Cloud will pick up closer to 2-4" snow, with little or no snow from Windom to Alexandria to Wadena and Bemidji. NAM snowfall forecast courtesy of NOAA and Ham Weather.
---
Biggest Snow Of The Winter?
The models have been flip-flopping back and forth, but now the NAM and RPM models are both coming in line with GFS and ECMWF, hinting at a (very) significant snowfall for much of southern and eastern Minnesota, as much as 10" in some towns. The best chance of a cool foot: western Wisconsin. 12 km RPM model solution above courtesy of WSI.
---
Cobb Method
. We're always trying to compensate (insert bad joke here) for snow compaction and rain:snow ratios. The Cobb Method is one way to fine-tune snowfall predictions, and the latest NAM outlook (corrected via Cobb) shows a whopping 11.8" at MSP by 5 AM Friday morning. Not sure we'll see quite that much, but feeling more confident we'll wind up in the 5-10" range.
---
BPI: 9 PM Thursday Evening
. Our internal Blizzard Potential Index shows near-blizzard conditions from the Twin Cities to Rochester at 9 PM this evening, a better chance of white-out conditions from Eau Claire to Hayward, Wisconsin. Travel conditions will get worse as the day goes on, with the worst driving conditions this evening and tonight. Source: Ham Weather.
---
16 Hour Snow Burst
. A light mix is possible this morning, but by midday temperatures aloft are cold enough for all snow, becoming more powdery as we head into tonight with temperature dropping thru the 20s. Snow shuts off around 6 AM Friday morning, but I have a hunch many schools will be closed tomorrow. Just a gut feel. 4 km NAM Future Radar product courtesy of NOAA and Ham Weather.
---
A Fleeting Thaw
. I hope you enjoyed 3 days of highs above 32F, because another Canadian Smack is brewing; not as cold as a few weeks ago, but a week from now highs may struggle to reach 0F in the metro with lows dipping to -10F, even -15F in the suburbs. We've already enjoyed 44 subzero nights so far this winter. I suspect we'll top 50 subzero nights before the winter is finally over. Graph: Weatherspark.
---
Numbing Late Next Week - Then Slow Recovery
. When I tell you that our weather is STUCK I'm not exaggerating. It's remarkable how persistent this pattern has been, favoring drought in the western USA, and unrelenting waves of polar chill east of the Rockies. GFS data shows temperatures bottoming out late next week, followed by 20s after March 5. A numbing start to March, but it will get better. In theory.
---
From Blizzards To Tornadoes
. The weather menu has something for everyone today; from blizzard conditions tonight from Iowa into eastern Minnesota and western Wisconsin to a few supercell T-storms and tornadoes over the Ohio and Tennessee Valley, today's weather will not be for the faint of heart. Here's a recap of today's edition of
Climate Matters
: "
WeathernationTV Chief Meteorologist Paul Douglas looks over the coming severe weather outbreak for Thursday. As well as some storms on the Earth's surface, we show the results of a storm from the Sun! The aurora was active on Wednesday morning and we have viewer photos! On the severe side of things, what part does melting snow and frozen ground play into it all? When and what kind of weather can we expect with this system?
"
---
Alerts Broadcaster Briefing
: Wednesday afternoon, February 19, 2014.
* Severe thunderstorm outbreak still expected Thursday PM hours from the Ohio Valley into the Mid South. A few isolated tornadoes are possible, but the main risk is straight-line wind gusts to 70 mph and 1-2" diameter hail.
* Rapid snow melt coupled with rain increases the risk of urban, stream and river flooding, especially Indianapolis and South Bend to Toledo and Cleveland by late week.
* Slight severe risk for eastern USA Friday; strong to severe T-storms possible as far north as New Jersey. Some straight-line wind damage possible Carolinas to Georgia; tornado risk drops.
* Blizzard Warnings in effect for much of Iowa and southern Minnesota. Potential for significant snow, coupled with high winds and blowing/drifting late Thursday and Thursday night across the Upper Midwest.
---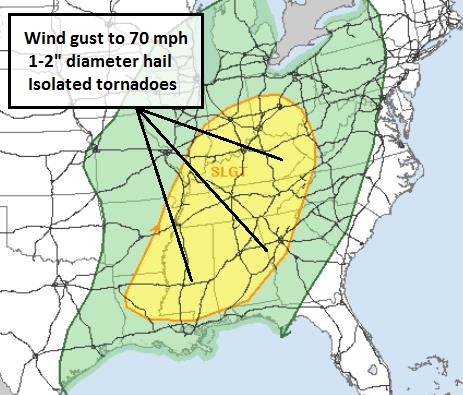 Thursday Severe Storm Risk
. SPC still has a "slight risk" of severe storms, implying an outbreak Thursday PM hours. Most areas will experience gusty winds and 1-2" diameter hail. A few tornadoes are possible, probably EF-0 or EF-1, best chance from near Evansville south to Nashville and Huntsville late afternoon hours tomorrow. The first severe outbreak of the season always attracts attention, but right now I don't expect a widespread outbreak of violent, long-track, long-lasting tornadoes. Source: NOAA SPC.
---

Thursday TPI
. Our in-house Tornado Potential Index shows an enhanced risk of (mostly small/brief) tornadoes by late afternoon Thursday from near Evansville and Bowling Green to Memphis and Nashville. A few supercell thunderstorms capable of damaging hail and tornadoes are possible during the late afternoon hours, especially Tennessee River Valley. Any supercells congeal into more of a solid squall line by evening, with 60-70 mph wind gusts and 1-2" diameter hail the main concern from Louisville to Knoxville to Huntsville. Strong storms reach Atlanta later Thursday night, capable of pea-size hail. Source: Ham Weather.
---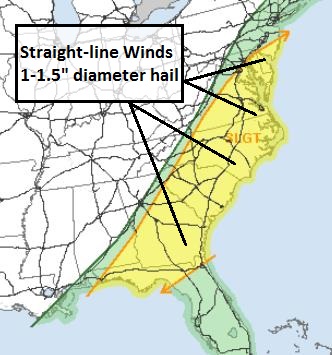 Friday Severe Risk.
The leading edge of colder air, coupled with lingering instability and low-level moisture (dew points in the 60s) may spark more strong to severe storms Friday from Cape May and Washington D.C. to Richmond, Norfolk, Charlotte, Columbia and Atlanta - many of the same cities impacted by heavy snow and ice less than 1 week ago. Serious weather-whiplash. I expect any line of severe storms to be weaker than tomorrow, but still capable of (minor/moderate) wind damage Friday.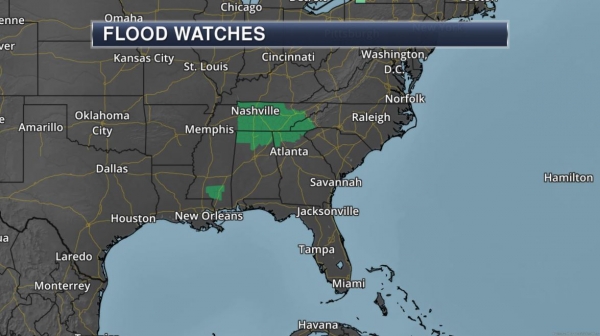 Potential For River Flooding
. The combination of rapidly melting snow, frost lingering in the ground and expected rain may push a few streams and rivers out of their banks later this week across the Ohio Valley. The greatest potential for flooding runs from Champaign-Urbana to Indianapolis, Toledo and Cleveland. Some urban flooding of low-lying and poor drainage areas may also result in this zone. Be alert for flooded roads and bridges tomorrow into Saturday. Source: NOAA.
Summary
: We're watching a variety of weather threats, including severe storms, damaging winds and a risk of isolated tornadoes Thursday afternoon and evening from the Ohio River southward to Nashville and Huntsville. Rapid melting coupled with a squall line of heavy rain may result in urban and river flooding from Indianapolis to Cleveland Thursday and Friday, when a line of severe thunderstorms pushes across the East Coast. Deep into the cold air blizzard conditions may impact travel from Iowa into eastern Minnesota and western Wisconsin late tomorrow into Friday morning.
The transitions form winter to spring always leaves Mother Nature in a foul mood. Today is Exhibit A.
Paul Douglas - Senior Meteorologist - Alerts Broadcaster
---
Fire Season Underway In Arizona, New Mexico.
Stating the obvious, it's a little early to be tracking wildfires, considering this is still the (alleged) wet season for California and the southwestern USA. Here's an excerpt from AP and
The Denver Post
: "
Recent warm weather, dry conditions and a spate of brush fires on the outskirts of major cities in Arizona and New Mexico are prompting warnings that the 2014 wildfire season is already underway.
In the Albuquerque area, Lt. Michael Everett of the Bernalillo County Fire Department said fire conditions are already dangerous because there's been little rain or snow. "It is starting early, and everybody needs to be aware, just be very careful," Everett said..."
Photo credit above: "
Smoke ruses from a grass fire on Flagstaff Mountain in western Boulder, Colo. on Tuesday Feb. 18, 2014. City officials say the fire, which has been contained, started Tuesday afternoon on private property
." (AP Photo/The Daily Camera, Paul Aiken).
---
Why Taxpayers Will Bail Out The Rich When The Next Storm Hits
. Here's an excerpt of an investigative report from
NBC News
that made me do a double-take: "
As homeowners around the nation protest skyrocketing premiums for federal flood insurance, the Federal Emergency Management Agency has quietly moved the lines on its flood maps to benefit hundreds of oceanfront condo buildings and million-dollar homes, according to an analysis of federal records by NBC News. The changes shift the financial burden for the next destructive hurricane, tsunami or tropical storm onto the neighbors of these wealthy beach-dwellers — and ultimately onto all American taxpayers
..."
---
---
TODAY:
Winter Storm Warning
. Snow gets heavier as the day goes on. Treacherous travel by afternoon and evening. Winds: NW 15-35+ High: 32
THURSDAY NIGHT: Winter Storm Warning for treacherous travel. Snow and blowing snow, heavy at times, with
5-10" expected
. Low: 7
FRIDAY: Slow, snowy start with numerous delays. Mostly cloudy, cold wind. Better travel by afternoon. High: 16
SATURDAY
: Partly sunny, chilly breeze. Wake-up: -1. High: 13
SUNDAY
: Plenty of sun. Go back to sleep. Wake-up: -3. High: 12
MONDAY: Mix of clouds and sun, still dry. Wake-up: -4. High: 10
TUESDAY: An even colder smack arrives. Wake-up: -2. High: 7 (falling by afternoon)
WEDNESDAY: Numb and number. Not spring. Wake-up: -9. High: 4
---
Climate Stories....
---
Vision Prize: Scientists Are Worried The IPCC Is Underestimating Sea Level Rise
. Here's a snippet of a story running at
The Guardian
: "...
The Vision Prize results revealed that despite the much higher sea level rise estimates this time around, the survey participants are worried that the IPCC is still underestimating future sea level rise. 41 percent responded that it's likely or very likely that sea level rise will exceed the IPCC highest estimate, and 71 percent answering that it's at least as likely as not. Conversely, only 5 percent responded that it's likely sea level rise will be less than the IPCC lowest estimate, and 83 percent called this scenario unlikely
..."
Graphic credit
above: "
Graph by Stefan Rahmstorf comparing measured sea level rise (red and blue) to previous IPCC estimates (grey and dashed lines), showing sea level rise is happening faster than expected
."
---
How Big Oil Gave Up On The Climate.
The great irony, one of many, is that a rapidly shrinking summer ice cap in the Arctic is making it easier for oil companies to explore and drill for more oil, which will eventually be burned, with a subsequent release of CO2 into the atmosphere, a process at least partially responsible for disappearing summer ice up north.
Slate
has the story - here's a clip: "...
For true believers in the free market, Funk points out, there are two possible responses to climate change. The first is to deny it. This is becoming ever more awkward, however, as the evidence piles up. The second response is to profit from it. The free market, these new libertarians argue, will provide the perfect incentive for forward-thinking businesses to find new ways to adapt to a hotter and more turbulent world. So while the politicians are arguing over whether climate change is real, a growing number of businesses are betting hard that it is—and getting rich as they're proved right.
.."
Photo credit
above: "
Shell calls for action on climate change while exploring the Arctic for oil
." Photo courtesy TJ Guiton/Creative Commons.
---
Billionaire Climate Change Activist Tom Steyer Plans $100 Million Ad Push In 2014.
Details from
Huffington Post
; here's an excerpt: "
Billionaire retired investor Tom Steyer is planning a $100 million push to make climate change a key issue in the 2014 midterm elections, the New York Times reports. According to the Times, Steyer wants to make his group, NextGen Climate Action, a critical player in this year's races by putting $50 million of his own funds into the San Francisco-based group and seeking an additional $50 million from outside donors. The former hedge fund manager reportedly met with two dozen liberal donors earlier this month to offer details on his plan
..."
---
5 Reasons Why Climate Change Is Back In The News.
CNN
has the story - here's a clip: "...
After what seemed like a lull in political focus on the issue, why is everyone talking about it this week? A convergence of events and factors -- blizzards in the East and drought out West, an administration acting on oft-stated intentions, the pending Keystone pipeline decision -- have renewed debate on a topic that alternately captures attention or numbs the public.
.."
---
Utah Lawmaker: Our Atmosphere Needs More Carbon Dioxide.
Yes, and my hamburger needs more arsenic and carcinogens.
The Salt Lake Tribune
has the head-shaking story; here's an excerpt: "
Arguing that we need more carbon dioxide, not less, in the atmosphere, Rep. Jerry Anderson, R-Price, has proposed legislation that would limit the state's ability to regulate emissions of the greenhouse gas. HB229 narrows the definition of the term "air contaminants," clarifying that "natural components of the atmosphere," including nitrogen, oxygen and other stable, or noble gases, are not pollution.
.."
---
China Beats U.S. On Smart-Grid Spending For First Time
.
Bloomberg Businessweek
has the article - here's an excerpt: "...
Smart grids allow power generators and users to monitor usage, helping utilities adjust supply to demand and reducing costs by saving energy in transmission. China has installed almost 250 million smart meters, which enable customers to provide immediate feedback to utilities that are able to use the data to set pricing and smooth fluctuations in consumption.
.."