81 F
. high in the Twin Cities Monday.
83 F
. average high on June 30.
82 F
. high on June 30, 2013.
11.36"
rain fell in June; wettest since 1874 (when 11.67" fell).
60s
today, nearly 20F. cooler than average.
First World Problems
"Paul, will there be a T-storm for my 4th of July fireworks show? Will I be able to get a 'safe tan' (oxymoron) next weekend, is there still a no-wake zone on my favorite lake?"
Most people around the world would love to have such worries. Many of them will be too busy finding drinkable water or tracking down their next meal.
No sermons (I'm not licensed) but the 4th of July holiday reminds us what's really important over the long haul: time with friends & family. Weather should be an afterthought.
For the record a few T-storms may bubble up from late Friday into Monday, but no sustained all-weekend-washouts are brewing. Expect 70s on the 4th, 80s Saturday with an outside shot at 90F Sunday; the best chance of storms during the overnight hours.
The wettest June since 1874 gives way to a Canadian breeze into midweek. Showery rains and 60s today (more like October 1) give rise to a clearing trend tomorrow, followed by a spectacular, sun-drenched Thursday. Start your holiday early.
Our 4th of July weather headaches pale compared to the Outer Banks of North Carolina. Odds favor the formation of "Arthur", which may strike as a Category 1 hurricane on Friday. Details below.
---
Canadian Breeze - Summer Rerun 4th of July Weekend
. Unstable air sparks clouds and numerous showers today (too cool for anything severe - but thunder/lightning and even small hail can't be ruled out with a few of these cells). Dew points drop into the 40s Wednesday and Thursday, more like September before the next surge of warm, sticky air sparks a few scattered storms Friday into Monday.
---
Tracking "Arthur" - Canadian Air Sweeps South
. The 84 hour NAM from NOAA shows heavy showers and T-storms pushing across the Great Lakes into New England followed by clearing and a big drop in humidity. You can see the swirl of moisture off the east coast of Florida tracking up the Carolina coast by Friday.
---
7-Day Rainfall.
The Dakotas and Minnesota get a break from monsoon rains in the coming days; heaviest rains expected from near Des Moines to Chicago. A tropical system pushing up the east coast is expected to drop heaviest rainfall amounts over the Atlantic Ocean, but coastal communities may see some 3-5"+ amounts from near Savannah and Charleston to the Outer Banks and Norfolk by the weekend.
---
Alerts Broadcaster Briefing
: Issued Monday evening, June 30, 2014.
* Tropical depression off the east coast of Florida already producing 30-35 mph sustained winds.
* Conditions are ripe for strengthening to Tropical Storm force ("Arthur") within 24-48 hours; moderate flooding and storm surge rises are likely from Daytona Beach, Florida northward to Jacksonville, Savannah, Hilton Head and Charleston, South Carolina.
* Storm will probably strengthen to Category 1 hurricane strength as it pushes across the Outer Banks of North Carolina on Friday, July 4.
* No tropical storm/hurricane watches have been issued (yet), but
I expect NOAA NHC to place most of the Southeast USA coast under a Tropical Storm or Hurricane Watch within 24-36 hours
. At the rate we're going I would expect evacuation orders to be given for barrier islands by midweek, including portions of the Outer Banks. Mitigating factors: with the holidays imminent coastal populations are much higher than average -
it will take even much more time than normal to safely evacuate the most vulnerable barrier islands.
* "Arthur" still expected to veer out to sea, brushing Virginia Tidewater with heavy rain capable of flash flooding and a 2-3 foot storm surge. Some lowland flooding and minor beach erosion can't be ruled out farther north from coastal New Jersey and Long Island to Cape Cod, especially at astronomical high tide Friday and Saturday.
---
Tropical Swirl
. NOAA NHC is now saying there's an 80% probability that the tropical depression east of Florida will strengthen into a tropical storm within 48 hours. Image: WeatherTap.
---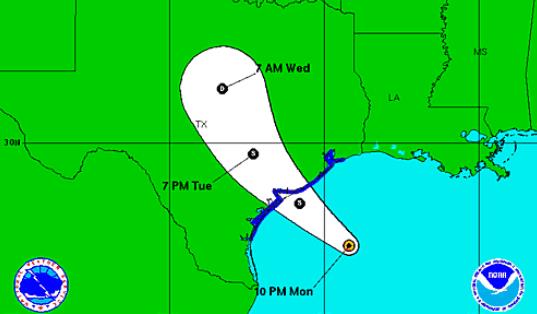 Track Ensemble
. NOAA's HWRF model (probably the most accurate U.S. model over time) agrees with ECMWF (European) solutions - showing a probably track hugging the East Coast. A portion of the storm's circulation will be over land, but this may be offset by unusually warm Gulf Stream water providing additional heat and fuel to the system, causing additional intensification as it tracks up the coast, much like a winter Nor'easter. Source: NOAA.
---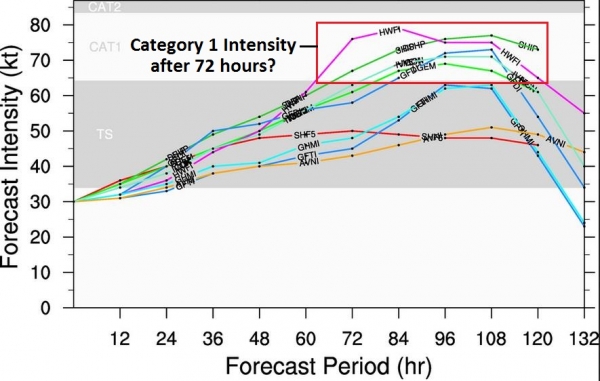 Models Trending Stronger
. Although this is no Sandy (or Katrina), "Arthur" stands an increasingly good chance of becoming a Category 1 hurricane, with sustained winds of 75-85 mph winds. Again the larger concern is not wind speed, but how winds and pressure combine to create a storm surge, the dome of water pushed ashore ahead of the "eye", and whether the surge will coincide with local high tide, which would compound flooding problems, especially for the Outer Banks of North Carolina. A majority of NOAA models now strengthen this system into a hurricane after 72 hours. Source: NOAA.
---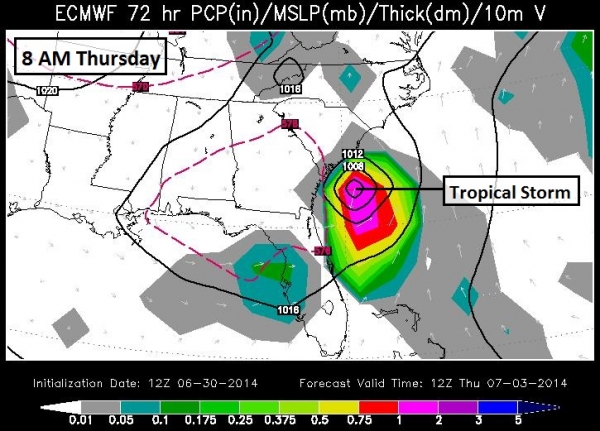 8 AM Thursday: Probably Tropical Storm East of Savannah
. ECMWF guidance shows sufficient intensification for tropical storm status by Wednesday or Thursday, the storm capable of minor to moderate storm surfe flooding, but as long as the center of low pressure remains just offshore any flooding won't be as bad as if the storm tracks ashore. Note the relatively small size of the storm, which may help to reduce any subsequent storm surge. Map source: WSI.
---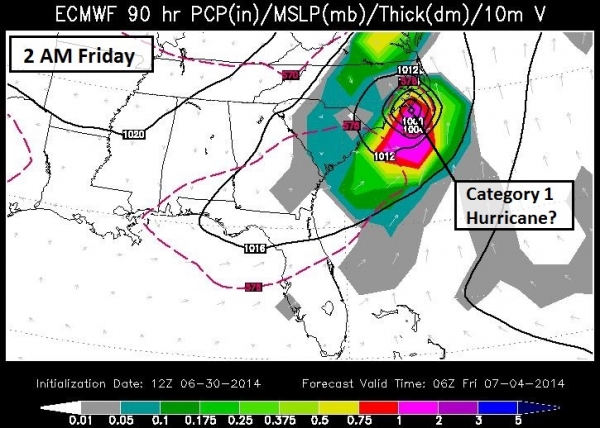 2 AM Friday: Probable Hurricane Pushing into eastern North Carolina
. ECMWF guidance shows the center of the storm near Wilmington, North Carolina during the wee hours of the morning Friday, producing a significant storm surge for the Outer Banks. I suspect the heaviest rains, strongest winds and worst coastal storm surge flooding for North Carolina will be morning and midday hours on Friday. Map: WSI.
---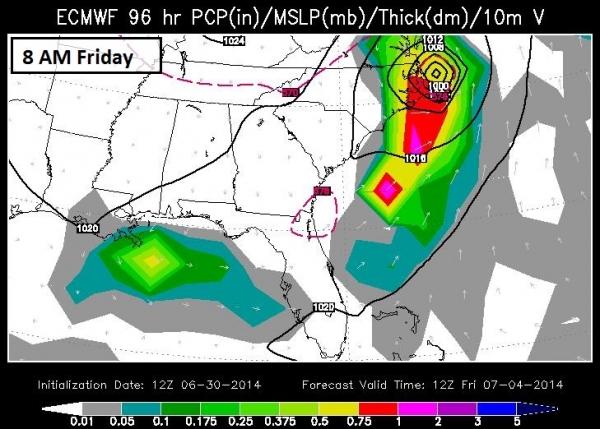 8 AM Friday: Category 1 Hurricane East of Duck/Corolla, North Carolina.
There is some evidence that "Arthur" may accelerate as it passes over the Outer Banks, which will limit the time over land and possibly reduce overall rainfall amounts (there is no evidence this system will stall, which would pose an even greater risk of inland flooding). The worst flooding from Cape Hateras to Duck, Virginia Beach, Newport News and Norfolk will come Friday morning; a surge of 2-4 feet is possible, with locally higher levels of water pushed ashore. Map: WSI.
---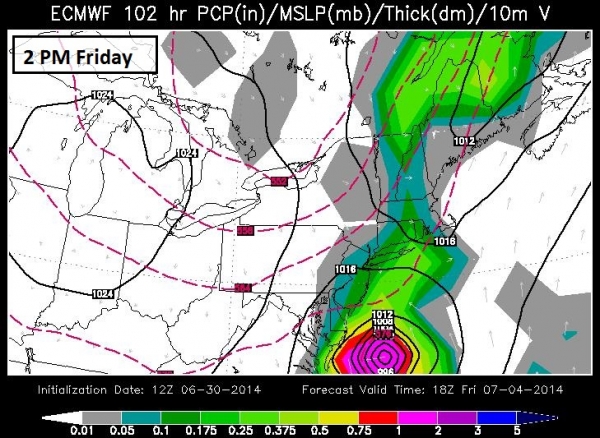 2 PM Friday: Possible Hurricane East of Ocean City, Maryland
. Right now I don't envision a "Sandy-scenario" where upper level winds cause the storm to hook inland. All the model solutions show the storm accelerating out to sea, including the ECMWF (European) - which did a very admirable job tracking Sandy. The latest ECMWF solution shows a possible Category 1 hurricane just east of the Delmarva Peninsula midday Friday, capable of significant storm surge flooding from Bethany Beach to Ocean City, Cape May and Wildwood, NJ, with large swells pushing into the southern shoreline of Long Island. Map: WSI.
---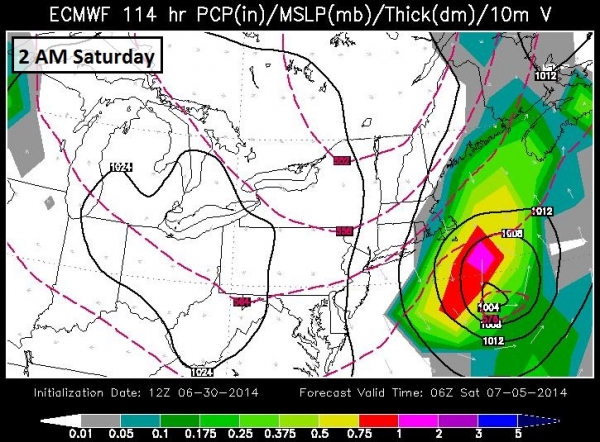 2 AM Saturday: Storm Weakens Slightly - Accelerates Out To Sea.
Although Long Island and Cape Cod may be brushed with gale-force winds and minor storm surge flooding, the brunt of wind and waves remains 100-200 miles to the east. A very close call, by meteorological standards, and we will watch subsequent model runs carefully for any sign that this system could track closer to the U.S. coastline and potentially pose a greater risk to New York, Providence and Boston. Right now it appears the storm will take that right turn out to sea, avoiding major impacts for the most heavily-populated I-95 corridor. Map: WSI.
---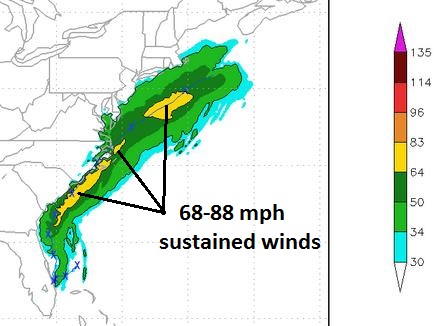 Projected Wind Swath.
NOAA's HWRF model is predicting strong tropical force to Category 1 hurricane force winds for the Carolina coast, with the strongest (80 mph+) winds remaining just offshore. Source: NOAA.
---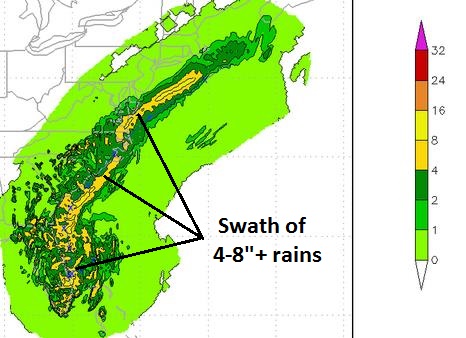 Heavy Rain-Maker, But Steady Motion Should Avoid Historic Rains
. A steady northeast track, accelerating as it passes the Outer Banks, should keep most rainfall amounts in the 4-8" range, enough moisture for inland river flooding and urban flooding of streets and poor drainage areas, but the progressive nature of "Arthur" should prevent extreme rainfall amounts. Map source: NOAA.
Resources for Emergency Managers:
NC Hurricane evac routes:
http://www.ncdot.gov/download/travel/travel_evac_hurricaneroutes.pdf
Storm Surge models:
http://www.wunderground.com/hurricane/GASCNCSurge.asp
Dare County evac route:
http://www.darenc.com/emgymgmt/huri3_map.asp
Currituck County evac route:
http://co.currituck.nc.us/pdf/Emergency-Management/map-evacuation-routes.pdf
Summary
: Every tropical system is different, unique. It may be similar to an earlier system, but it's never identical. We examine a wide range of models, but also rely on historical context before creating these briefings. The forecast, sadly, is never black or white. The future is always some nebulous shade of gray. That said,
the trend is for models to gradually ratchet up the intensity of this storm
- a good chance it will reach Category 1 hurricane status by Thursday and Friday as it skirts the South Carolina coast and tracks over the Outer Banks of North Carolina, where we expect storm surge flooding to be most extensive and widespread. Facilities from Charleston to Wilmington to Kitty Hawk, Corolla, Duck and Virginia Beach that have flooded during previous tropical storms and (minimal) hurricanes should experience flooding this time around as well, and all precautions should be taken soon, rather than later, to be prepared for this storm system. A few factors leave me extra-nervous: 1). This is the first storm of 2014 and there's a fair amount of complacency after a very quiet 2013 season, and 2). the fact that this potential hurricane is falling on the 4th of July holiday weekend, when local populations increase by 10-20X, making for more traffic, more potential evacuation problems getting people off the most vulnerable barrier islands. Leave (far) more time than usual to get staff to safety, in the event Arthur does in fact become a hurricane and impact the Carolinas.
The Confidence Level that this storm will become a strong tropical storm or Category 1 hurricane has risen from a 2 Friday to 3 Saturday, now reaching a 6 on a scale from 1 to 10. Bottom line: the probability of wind, water and wave-related problems, especially for the Carolinas, continues to rise over time.
We'll continue to track this developing storm and have updates on Tuesday.
Paul Douglas - Senior Meteorologist - Alerts Broadcaster
---
Most Extensive Closure of Mississippi Barge Traffic Since 2008
. Details from Reuters and
The Chicago Tribune
: "
Rising flood waters were expected to make 11 locks and dams impassable on the upper Mississippi River, forcing the closure of the river later on Monday from Bellevue, Iowa, to Saverton, Missouri, the U.S. Army Corps of Engineers said
..."
Friday, June 27, 2014 file photo
: "
Harriet Island was partial underwater near the Mississippi River
." Kyndell Harkness - Star Tribune.
---
Saskatchewan Flooding: 16 Areas Declaring State of Emergency
. A perptually stalled jet stream is also causing problems just to our north and west. Here's a clip from Canada's
CBC
: "
Up to 16 Saskatchewan communities have declared a state of emergency. Eight highways, most located near the Man. border have been closed. Heavy rainfall over the weekend in southeast Saskatchewan has some communities struggling to keep up with the influx of water. It's led to dangerous travel conditions after some highways were submerged or washed out, and several states of emergency were declared.
.."
Photo credit
above: "
All of the Melville's fire trucks are out helping pump water and sandbag where necessary
." (Bonnie Allen/CBC News).
---
Chicago Area Faces $20 Billion Tornado Threat: Study.
Here's an excerpt of an article at
CNBC
that caught my eye, dispelling the myth that large tornadoes can't hit heavily populated metropolitan areas: "
If a tornado like the one that ravaged Moore, Oklahoma in 2013 struck the Chicago area, potential damage could exceed $20 billion, reinsurer Swiss Re said on Monday..."Densely populated and developed Cook County, Illinois has the greatest potential exposure to a violent and long track tornado" compared to areas like Dallas and St. Louis, Swiss Re added, with more than 112,000 people living in the damage zone of a Moore-like tornado
..."
---
The Phenomenon Behind Tornadoes
.
Gizmodo India
has a good overview of the ingredients that go into tornado-producing thunderstorms; here's an excerpt: "...
Since instability in the atmosphere as well as wind shear are necessary for tornado formation, sometimes weak tornadoes can occur when the wind shear conditions are strong, but the atmosphere is not very unstable. This is known to have happened sometimes in the US state of California in winter, when a strong low pressure system comes ashore. Similarly, weak tornadoes can occur when the atmosphere is very unstable, but there is little wind shear. For instance, Florida (which reports more tornadoes than any other state in the US) has many weaker tornadoes of this type. Naturally, the most violent of tornadoes occur when both strong instability and strong wind shear are combined and present. This occurs in the middle part of the country mostly during the spring and to a lesser extent during fall
..."
---
Enormous Tornado-Blocking Walls: Could Wild Idea Really Work?
The short answer is no. But this keeps making the rounds (kind of like a meteorological Bigfoot) so here's a link to the concept and why it probably can't work, courtesy of
Live Science
: "
Tornadoes are as much of a given in the Midwest as cornfields and county fairs. In an average year, twisters kill 80 people and injure more than 1,500, so you can imagine the excitement when a physics professor proposed an end to the annual misery: three great walls, each about 1,000 feet (300 meters) tall, that could potentially block the deadly storms of Tornado Alley. But the idea didn't impress meteorological scientists. Never mind the huge cost, ecological consequences and engineering difficulties involved in the scheme, weather experts say it just wouldn't work
..."
---
Night Vision: China Enlists Drones In Fight Against Pollution
. And here I was worried about Facebook or the NSA spying on me - it's really the drone circling overhead with a real-time HD camera I should be concerned with.
The Wall Street Journal
has the story - here's an excerpt: "
Watch out, big Chinese polluters: The cover of night won't help you anymore. So say Chinese officials who are deploying aerial drones equipped with infrared cameras to spot pollution emissions after the sun sets. The Ministry of Environmental Protection said Saturday that 11 unmanned aerial vehicles were used this month to inspect 254 factories in the provincial-level regions of Hebei, Shanxi and Inner Mongolia
..."
Photo credit
above: "
A traffic policeman signaling to drivers during a smoggy day in Harbin, Heilongjiang province
." Reuters.
---
Feds Ask: Are Drones The Future of Firefighting?
Here's another story that caught my eye, courtesy of the Twin Falls, Idaho Times News and
firehouse.com
: "
When it comes to analyzing dangerous wildfires, could a sensor attached to a drone ever replace a human eye connected to an intellect shaped by experience and intuition? That's one of the many questions federal wildland firefighting officials are asking as drones become increasingly popular in warfare and commerce. The wildfire drone conversation comes on the heels of a national reminder about the human cost of firefighting after one of the deadliest seasons in recent memory. Nineteen firefighters died a year ago Monday at the Yarnell Hill Fire in Arizona. In all last year, 38 firefighters were killed in the line of duty as fire burned 4.1 million acres and more than 1,000 homes
..." (File photo: Nick Ut, AP).
---
Air Bags Could Keep Sinking Ships Afloat
. Just make sure they're BIG air bags. Here's an excerpt from a story at
Gizmag
: "
The European Union has invested in a project designed to keep damaged ships stable and afloat by means of airbag-like balloons. It is hoped that the new system, developed under the Su Sy project, will give emergency services extra time to evacuate stricken ships, minimizing the devastating losses of life synonymous with the sinking of cruise ships such as the Costa Concordia, and the South Korean ferry Sewol, which sank earlier this year.
.."
---
First LDSD Test Flight a Success
. Flying saucer? Yes, but it's one of our ours. Here's an excerpt from
NASA
: "...
This test was the first of three planned for the LDSD project, developed to evaluate new landing technologies for future Mars missions. While this initial test was designed to determine the flying ability of the vehicle, it also deployed two new landing technologies as a bonus. Those landing technologies will be officially tested in the next two flights, involving clones of the saucer-shaped vehicle
..."
Photo credit
above: "
Hours after the June 28, 2014, test of NASA's Low-Density Supersonic Decelerator over the U.S. Navy's Pacific Missile Range, the saucer-shaped test vehicle is lifted aboard the Kahana recovery vessel
." Image Credit: NASA/JPL-Caltech.
---
Pentagon: 7 in 10 Youths Would Fail To Qualify For Military Service
. Here's an excerpt from
Time Magazine
: "
The quality of people willing to serve has been declining rapidly," the U.S. Army Recruiting Command's commanding general says. Approximately 71% of the 34 million 17-to-24-year-olds in the U.S. would not qualify for military service because of reasons related to health, physical appearance and educational background, according to the Pentagon
..."
---
Alcohol Responsible for 1 in 10 U.S. Deaths
.
The PBS Newshour
has the article; here's the introduction: "
Alcohol consumption was the cause of nearly one in 10 deaths among U.S. adults from 2006 to 2010, according to a recent report by the Centers for Disease Control and Prevention. These numbers confirm that alcohol continues to be a leading cause of premature death across the nation. The CDC found that over half of all alcohol-related deaths were due to excessive consumption, or binge-drinking. The majority, 69 percent, of these deaths occurred among adults between the ages of 20 and 64.
.."
---
After Supreme Court Ruling, Aereo's Rivals In TV Streaming Seize Opening
. Still interested in cutting the cord?
The New York Times
has an interesting article with a few more viable options; here's a clip: ".
..Television is a castle filled with money," said Rishad Tobaccowala, chief strategy and innovation officer at Vivaki, the Publicis Groupe's digital marketing unit. "People are trying to get into that castle and take some money."....Eager for a piece of the $167 billion American television market, dozens of companies are offering options for the growing number of viewers known as cord cutters, who are canceling their traditional pay-television subscriptions.
.."
---
The 10 Most Common Sunscreen Slip-Ups
. I had no idea - if you're slathering on the goop and still getting fried there may be a reason; here's an excerpt from
The Huffington Post
: "...
If you've been slathering on the SPF but still come home from a day in the sun looking like a lobster, check your medicine cabinet. Common over the counter medications like ibuprofen, Aleve, Motrin and Advil decrease the efficacy of sunscreen. Other culprits include Benadryl and other antihistamines, antibiotics such as Tetracycline and doxycycline and many acne treatments containing benzoyl peroxide
..."
---
TODAY: Mostly cloudy, cool and showery. Winds: W 10-20. High: 67
TUESDAY NIGHT: Evening showers, partial clearing late. Low: 53
WEDNESDAY: Better: becoming partly sunny, less wind. High: 72
THURSDAY: Best day in sight. Sunny and perfect. Wake-up: 55. High: 78
4th of JULY
: Sunny start, late-day T-storm risk. Wake-up: 57. High: near 80
SATURDAY
: Sticky sun, late night T-storms? Wake-up: 64. High: 83
SUNDAY
: Hot sun, very humid with spotty T-storms. Dew point: 72. Wake-up: 69. High: 88
MONDAY: More numerous T-storms, muggy and unsettled. Wake-up: 72. High: 84
---
Climate Stories...
Global Warming Makes Drought Come On Earlier, Faster and Harder
. University of St. Thomas engineer and climate scientist John Abraham has the story at
The Guardian
; here's a clip: "...
Droughts, one of the most intensely studied climate events, are a perfect example of an effect with both human and natural influences. Separating the relative strengths of the influences is a challenge for scientists. But, when we deal with drought, with its large social and economic costs, it is a challenge we must undertake. A very recent study tries to do just this. Published in the Journal of Climate, authors Richard Seager and Martin Hoerling cleverly used climate models forced by sea surface temperatures to separate how much of the past century's North American droughts have been caused by ocean temperatures, natural variability, and humans
..."
Photo credit
above: "
Yemenis walk through a drought-affected dam on the outskirts of Sana'a, Yemen. Sana a city is running out of water and many relief agencies feel that it could become the first capital city in the world to run out of a viable water supply
." Photograph: Yahya Arhab/EPA.
---
Former U.S. Treasury Secretary Rubin on Climate Change: "The Risk Here is Catastrophic"
. Here is a video and transcript from a
CNN interview
on Fareed Zakaria's Sunday show on Sunday, in case you missed it: "...
Yeah. I think the cost of inaction is quite high, because it's - it's actual radical risk taking. There's a tendency for people to say let's wait until we get more information. But the longer you wait, you get to a dangerous point - a dangerous position, where the only things you can do then is to adapt to these adverse consequences as opposed to being able to prevent them. Because one of the things that I think is pretty clear is that if we act soon, we can avoid the most adverse consequences
..."
---
How High Would A Carbon Tax Really Have To Be To Reign In Climate Change?
Public Radio International
(PRI) has the story - here's a snippet: "...
Professors Nicholas Stern and Simon Dietz contend that current models grossly underestimate the actual risks and costs of global warming. If we want to have the market rein in carbon pollution, say Stern and Dietz, we need to place a much higher price on carbon pollution. The most widely-used economic model for calculating the economic cost of climate change is based on the work of Yale economist William Nordhaus. He called his model DICE — "Dynamic Integrated Climate Economy.
.."
Image credit
above: NASA. "
The Modern Era Retrospective-analysis for Research and Applications (MERRA) is producing a comprehensive record of Earth's weather and climate from 1979, the beginning of the operational Earth observing satellite era, up to the present
."
---
Keep Nuclear Plants Open
. Here's an excerpt of an Op-Ed at
The New York Times
that caught my eye yesterday: "...
Nuclear plants produce nearly a fifth of the United States' total power production, but in 2013 accounted for an overwhelming 63 percent of the country's carbon-free energy. Nuclear energy also prevented 589 million metric tons of carbon dioxide emissions in 2013, equal to the carbon emissions emitted by 113 million passenger cars — more than all passenger cars in the country
..." (Image: CNN).
---
Birthing The Solar Age
. Are we on the cusp of technological revolution and price drops that will put renewable energy into the hands of everyone? Or is that prediction wildly optimistic? Here's a story and video from Peter Sinclair at
Climate Denial Crock of the Week
: "...
For months I've been gathering interviews with people I know who are following the renewable energy explosion – and everywhere I go, I'm telling people that we are in a stage very much like the internet in about 1993 – taking shape and about to blow up. In fact, the key enabling technologies for renewables are growing right out of the distributed information network that is shaping the new century. There's no going back, and the companies, and countries, that do not grasp the scale of the change we are seeing, may not survive
..."