12 F
. high in the Twin Cities Wednesday after waking up to -1.
35 F
. average high on March 4.
19 F
. high on March 4, 2014.
2" snow
on the ground at KMSP.
March 4, 1966
: Blizzard finally ends in the upper midwest. Some wind gusts from the storm topped 100 mph.
Hockey Tournament Thaw
"It was one of those March days when the sun shines hot and the wind blows cold: when it is summer in the light, and winter in the shade" wrote Mark Twain in Great Expectations.
The sun is now as high in the sky as it was on October 7. In spite of 12 lousy degrees yesterday there was standing water on area highways. That higher sun angle will make a noticeable dent in your thermometer by next week, when 50s will come sweeping into town. Like turning on a switch: instant spring.
National Weather Service data shows that Twin Cities temperatures during "meteorological winter" (December into February ) were half a degree F. colder than average, compared to 9F colder last winter.
Ronald Marks asks "I think people would be interested in the Nov. through Feb. temp departure for this long winter." Since November 1 temperatures have averaged 2.5F colder than normal. Chilly, but still not in the same league as last winter.
No storms are brewing - just a thaw. We top freezing by Friday; 40s give way to 50s next week. Most of the snow in your yard will be gone within 5 days with rain possible late next week. Bad news for outdoor ice skating rinks.
One silver lining to so little snow: a lower threat of spring river flooding.
---
A Serious Warming Trend
. This is just about as cold as it's going to get, possibly until next November or December, at least on paper. All models continue to show a dramatic warming trend by late week with a streak of 40s and 50s next week. I'm not convinced MSP will experience 64 glorious degrees a week from tomorrow, but there's little doubt that many of us will feverish within a few days. Like snow? Get out and enjoy what's out there this weekend - most of it will be gone by the middle of next week.
Nice To Be Average Again
. Long-range GFS guidance for 500 mb winds shows a strong zonal flow with freqent cold fronts the third week of March, but nothing polar. This looks like highs in the 30s and 40s. Above zero. Progress. Source: GrADS:COLA/IGES.
---
Alerts Broadcaster Briefing
: Issued Wednesday morning, March 4, 2015.
* Major winter storm creating problems with flooding rains, then changeover to ice and snow with plowable amounts likely from near Little Rock and Nashville to Louisville, Cincinnati, Harrisburg, Washington D.C., Baltimore and Philadelphia to New York City from today into Thursday.
* 1-2"+ rains falling on frozen ground creating rapid run-off and a considerable flooding risk from Kentucky, southern Indiana to West Virginia and southwestern Pennsylvania.
* 4-8" snowfall amounts expected from Louisville and Cincinatti to Washington D.C, Philadelphia and New York City; heaviest snow comes tonight into Thursday with slowly improving travel conditions Friday.
* This will be a heavy, wet snow, capable of dropping tree limbs and power lines. Sporadic power outages are possible from the suburbs of Dallas into the Ohio Valley and Mid Atlantic region.
---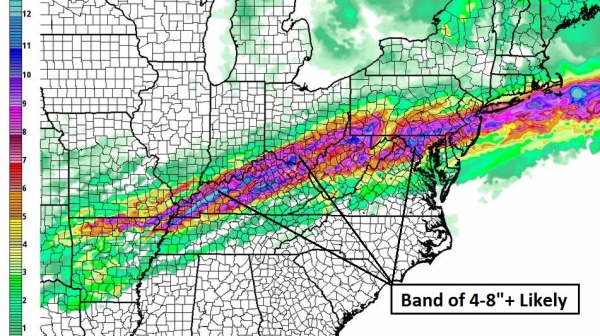 Snowfall Potential
. Plowable snowfall amounts are expected from northern Arkansas northeast, 100 miles either side of the Ohio River, with rain, ice and snow (in that order) spreading across the Virginias, southern Pennsylvania, Maryland annd New Jersey (including metro New York City) by tonight and Thursday. Graphic: NOAA NAM and Ham Weather.
---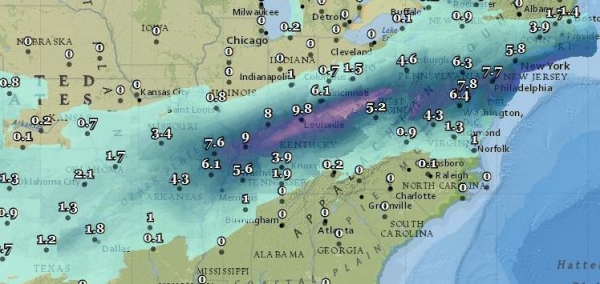 Plowable to Crippling
. It doesn't take much snow, especially in Dallas and Memphis, to create a crippling event. I suspect this will be a crippling snow and ice event from southeastern Missouri to Evansville, Louisville and Cincinnati - reaching Baltimore and Washington D.C. Thursday. Graphic: NOAA.
---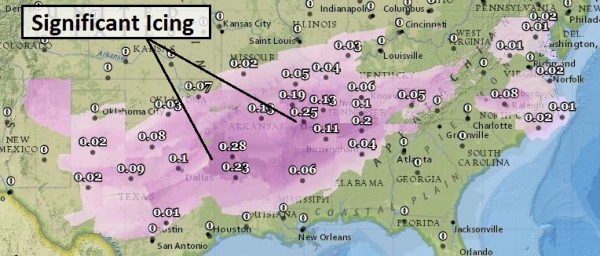 Icing Potential
. Model guidance prints out as much as a quarter inch of glaze ice from Arkansas into western Tennessee, with minor icing from Dallas to Louisville and Charlotte. Graphic: NOAA.
---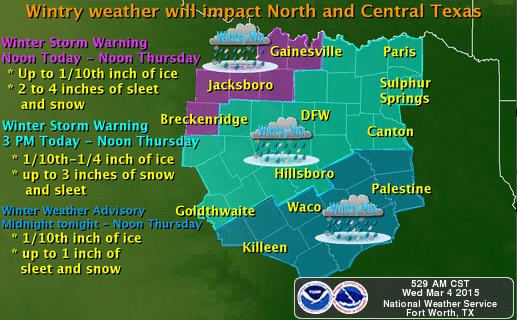 Another Tough Travel Day in North Texas
. Rain changes to ice, then snow later today, with as much as 1-3" for the Dallas, Fort Worth area - conditions getting worse as you head north on I-35.
---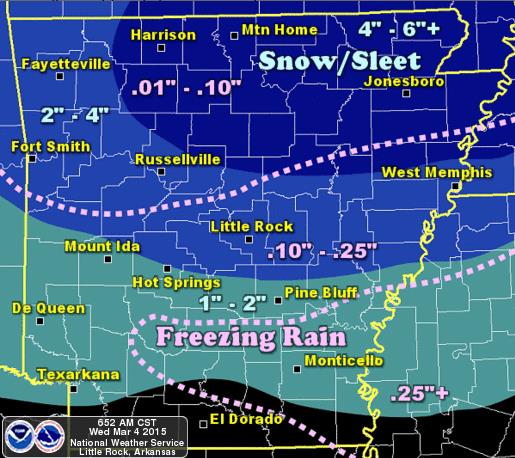 Arkansas Details
. Little Rock may pick up a tenth of two of glaze ice before rain changes over to snow, with 2-4" possible. Heavier snow (and ice) accumulations are likely north of Little Rock into the afternoon and nighttime hours.
---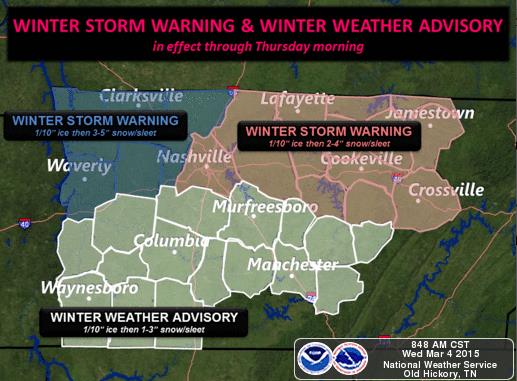 Weather Mess in Nashville
. The Nashville area is forecast to pick up a tenth of an inch of glaze ice (freezing rain), then 2-4" of snow tonight.
---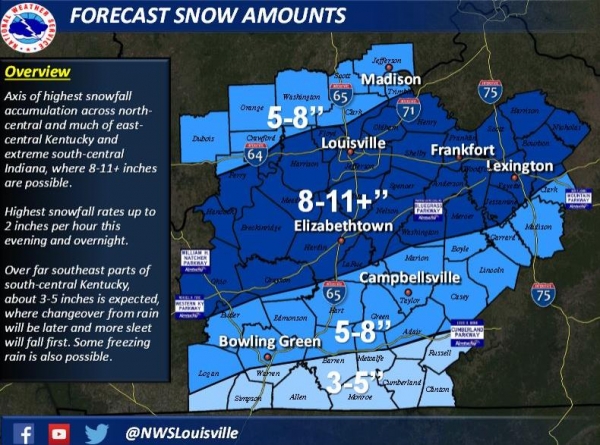 Crippling Snowfall For Much of Kentucky
. Even with heavy rain and a period of ice, as much as 6-8" snow may shut down Louisville and Lexington tonight, creating treacherous conditions for Thursday. Power outages are possible with this system.
---

A Different Kind of Washington Paralysis
. In a city where flurries are a big deal and 1-3" pretty much shuts everything down, the prospect of 5-8" sends shudders through the system. Rain today ends as a (very) plowable snowfall Thursday, at least 4-5" for D.C. and Baltimore, possibly 8" in some suburbs. Expect massive traffic snarls and airline delays and cancellations tonight into Thursday.
---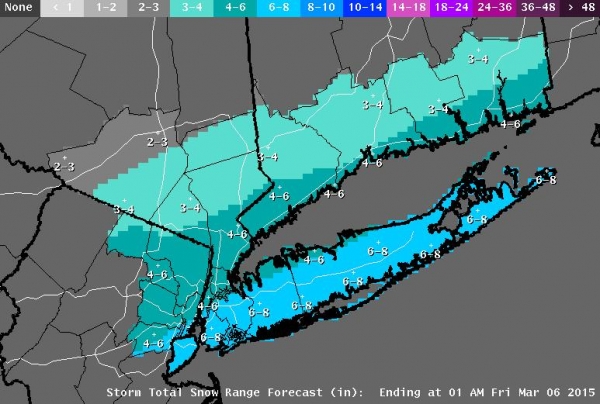 Tri-State Region: Brushed by Heavy Snow
. Although the heaviest snow bands are expected to set up just south of New York, we still expect plowable amounts of snow tonight into Thursday, as much as 4-8" for Manhattan, a little more as you go east across Long Island, about 2-4" for coastal Connecticut. Graphic: NOAA.
Timing The Storm
: the maps below show the position of heavy snow (blue shades with dark blue representing heavy snow), ice (purple) and rain (green to yellow) between now and Thursday evening. Most of the snow and ice pushes out into the Atlantic by Thursday evening. Graphics: Ham Weather
---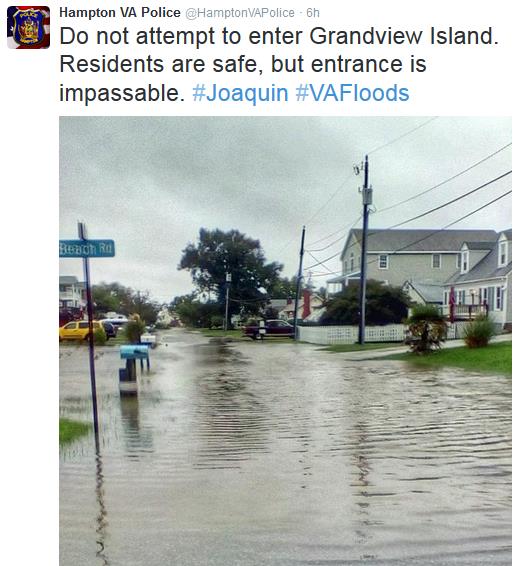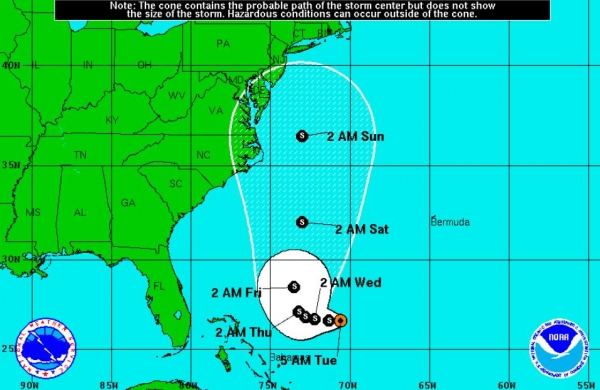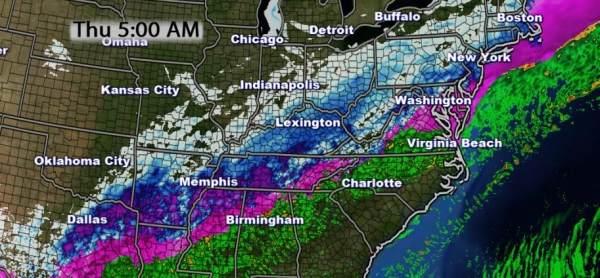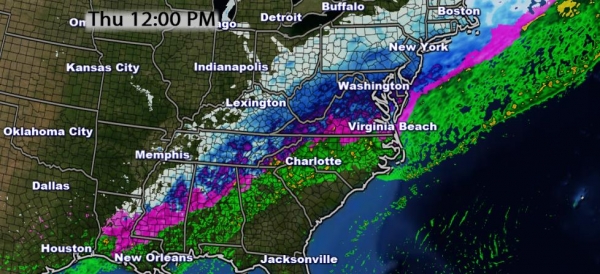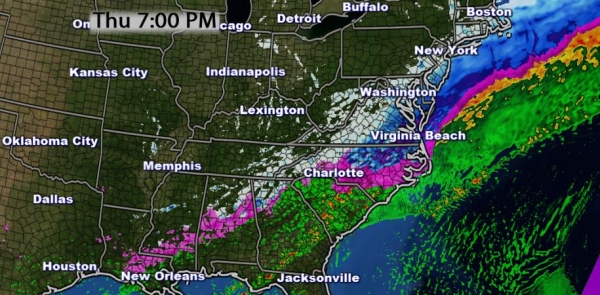 ---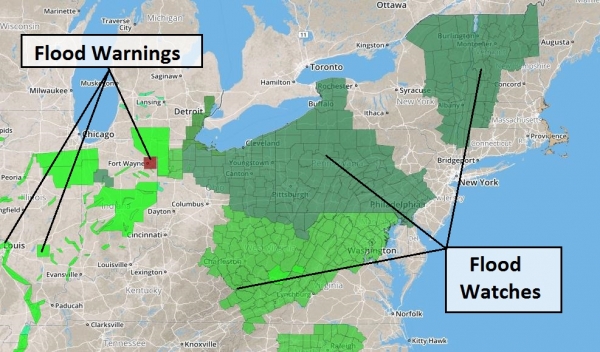 A Tale of Two Seasons
. The fact that heavy rain is preceding the ice and snow is a harbinger of spring to come. In fact next week the USA fast-forwards into a springlike pattern. The odds of heavy snow and ice should drop off significantly over the next 1-2 weeks. That said, the next 36 hours will be problematic from Dallas to D.C., Philadelphia and New York City. Heavy rain (capable of urban and small stream flooding) gives way to a period of glaze ice, then snow - enough to plow, shovel and generally shut down travel for the better part of 12-24 hours. Today will be the most treacherous day from Dallas to Little Rock, Memphis and Louisville. The most numerous ice and snow-related headaches come Thursday from Washington D.C. to the Delaware Valley and New York City. This may be the last (major) storm of the winter for much of the USA. No guarantees - but it appears that the conditions brewing up a parade of snow and ice storms will finally ease by next week. Hallelujah.
Paul Douglas - Senior Meteorologist - Alerts Broadcaster
---
Snow-Beleagured Boston Poised To Set All-Time Record.
104" and counting - Boston only needs another 3.5" to break the all-time seasonal snowfall record set in 1995-96. Here's an except from
The Los Angeles Times
: "...
Boston is likely to make the history charts this week by surpassing its record for snowfall in a season, meteorologists predicted. Meanwhile, the National Oceanic and Atmospheric Administration got a jump on spring, officially just weeks away, by launching a preparedness campaign for the weather-related ills that come when the weather warms
..."
Photo credit
above: "
Runner Becca Pizzi, 34, uses a snowbank to stretch as she trains along Heartbreak Hill in Newton, Mass., Friday, Feb. 27, 2015. Running 26.2 miles requires endurance, but 8 feet of snow and lots of treacherous black ice are testing this year's participants in frustrating new ways. Though the worst of the winter now seems past, there are only 50 days left until April 20, the 119th running of the venerable race
." (AP Photo/Elise Amendola).
---
Study: Traffic Pollution is Bad for Kids' Brains
.
New Republic
takes a look at some of the potentially more unusual implications of perpetual smog and pollution; here's an excerpt: "...
But some of the fastest growing urban areas

—

Houston, Dallas, and San Francisco

—

are also some of the country's most polluted. We already know how bad that can be for people's physical health. But a new study suggests that pollution may be hurt kids' intelligence, too. The study, published Tuesday in PLOS Medicine, finds that air pollution from traffic hinders the cognitive development of school children. The team of researchers followed 7- to 10-year-olds at 39 different schools around Barcelona, Spain
..."
---
New Film on China's Pollution Sparks Debate, Seen as Milestone
.
Reuters
takes a look at a movie going viral, and for good reason: "...
Could "Under the Dome", Chinese journalist Chai Jing's new documentary about pollution, become China's "Silent Spring", the 1962 book that spurred the development of the U.S. environmental movement?
Since it was released online on Saturday, the film has been viewed more than 150 million times and has sparked a national debate on environmental problems.
"Under the Dome", which explains air pollution in personal, straight-forward terms, was well-timed: this week China's National People's Congress, the country's parliament, holds its annual meeting..."
---
Satellite Data Suggests Forest Loss is Accelerating
. Deforestation is another major contributor to climate change and climate volatility. Fewer trees mean less CO2 is absorbed, naturally, which increases concentrations of this heat-trapping gas. Here's an excerpt from
Reuters
: "
Satellite images suggest tropical forests from the Amazon to the Philippines are disappearing at a far more rapid pace than previously thought, a University of Maryland team of forest researchers say.
The annual rate of deforestation from 1990 to 2010 was 62 percent higher than in the previous decade, and higher than previous estimates, according to a study carried out of satellite maps covering 80 percent of the world's tropical forests.
.."
Image credit
above: "
Forest cover loss from 2000 to 2005
." Image Credit: NASA/USGS/UMD/SDSU.
---
Earth's "Other Moon"?
Who knew? Check out an article at Australia's
The Conversation
; here's a clip: "...
What you might not know is that the moon is not the Earth's only natural satellite. As recently as 1997, we discovered that another body, 3753 Cruithne, is what's called a quasi-orbital satellite of Earth. This simply means that Cruithne doesn't loop around the Earth in a nice ellipse in the same way as the moon, or indeed the artificial satellites we loft into orbit. Instead, Cruithne scuttles around the inner solar system in what's called a "horseshoe" orbit.
.."
Image credit
: "
Cruithne's wacky orbit around the sun
."
YouTube, CC BY-SA.
---
Solar Energy Jobs Growing By Leaps and Bounds
.
Climate Central
takes a look at the trends, and how the quest for free energy from the sun is uniting red states and blue states: "..
.Installing solar panels on home rooftops and in giant multi-megawatt utility-scale solar farms is one of the United States' fastest-growing ways for both residents and power companies to reduce their climate impact in a warming world. For the solar industry, helping to reduce America's carbon footprint means inviting those with skilled hands to apply for a job. The solar sector is growing so quickly as solar panel costs drop that employment in the industry jumped 21.8 percent in 2014, adding 31,000 new jobs in that time for a total of 174,000 solar workers nationwide, Luecke said. Solar employment is expected to jump by another 36,000 workers this year
..." (File photo: USGS).
---
I Tried Silicon Valley's "Brain Enhancing" Drugs
. Is there one for memory yet? Please wake me up when there's a pill to bring my old memory back. Here's an excerpt from
Fusion
: "...
Nootropics—the name given to a broad class of so-called "cognitive-enhancing" drugs—are all the rage in Silicon Valley these days. Programmers like nootropics because they're said to increase productivity and sharpen focus without the intensity or side effects of a prescription drug like Adderall or modafinil. Some users mix their own nootropics using big bins of powders, purchased off the Internet or in supplement stores. And some take pre-made "stacks" that are designed to produce specific effects
..."
---
Prince: Music Icon, Basketball Player
. I came across this nugget in the
New York Daily News
and felt compelled to share: "...
Photos of an afro-rocking, short short-wearing Prince circulated online this week, along with clippings of a story about the music icon's days playing basketball in junior high and high school in Minneapolis in the mid 1970s. "Prince was an excellent player; he was like the sixth or seventh man," Richard Robinson, his coach at Minneapolis' Central High School, told the Star-Tribune. The clipping was shared by a reporter at the paper, Libor Jany, who discovered the yellowing piece of newsprint while digging through the newspaper's archives
..."
Photo credit
above:
Seth Poppel/Yearbook Library
. " "
---
Snowbot Wars: Can Robots Dig Us Out?
I need one of these for my driveway - very cool. Here's an excerpt of technology unveiled at the St. Paul Winter Carnival in an article at
How We Got To Next
: "...
This is the fifth annual Autonomous Snowplow Competition held by the Institute of Navigation. Teams from around the United States compete to build what are essentially snow-clearing Roombas — robots that can autonomously remove snow from an area of ground. Vacuum-cleaner and lawnmower robots of this type have been with us now for more than 10 years, but an autonomous robotic snowplow remains frustratingly out of reach, mostly because of the far tougher conditions it has to operate in
...."
Photo credit
above: "
---
Thanks to better medical care and higher quality of life, human beings are living longer than ever. However, longevity is determined by more than just your genes and living conditions. Here are some things that you can do to extend your lifespan:
Avoid overeating by unplugging your refrigerator, locking it up, and throwing it into a gorge between each meal
Cut car accidents out of your routine as much as possible
Pet owners have demonstrably longer lifespans than those who live without furry friends, so enslave as many small mammals as your schedule and budget allow..."
---
When The Zombie Apocalypse Comes Stay Out Of The Cities. I think I'm watching too much "Walking Dead" these days, but Huffington Post confirms what many of us have always suspected: when in doubt head for the hills: "...
Thanks to Cornell University researchers, we can now simulate the spread of a zombie disease outbreak. And thanks to their new zombie apocalypse simulator, we can confirm what we already knew: Stay out of cities if you don't want to get infected. The researchers will present their study, "The Statistical Mechanics of Zombies," later this week, and reportedly prove that the best place to escape should zombies take over is the northern Rockies.
.."
---
TODAY: Bright sun. Won't help much. Wind chill: -5. High: 16
THURSDAY NIGHT: Partly cloudy, not as cold. Low: 12
FRIDAY: Intervals of sun, feels like March. High: 37
SATURDAY
: Early flurries, then clearing. Wake-up: 30. High: 36
SUNDAY
: Clouds, period of flurries. Wake-up: 26. High: 37
MONDAY: Some sun, breezy and milder. Wake-up: 28. High: 46
TUESDAY: Partly sunny, hints of early April. Wake-up: 31. HIgh: 51
WEDNESDAY: Mix of clouds and sun, quiet. Wake-up: 33. High: near 50
* Image above courtesy of NASA.
---
Climate Stories...
Why Global Warming Does Not Necessarily Result in Warmer Winters
. Here's a clip from an
Economist article
that describes what I'm seeing with the jet stream in recent years: "...
But the Arctic is warming faster than the rest of the Earth. Since the mid 1990s, temperatures at the northern pole have risen almost three times as much as they have at temperate latitudes. So the difference between the poles and the equator is narrowing. This seems to be affecting the jet stream, and could change its moderating effect on northern weather. According to Jennifer Francis of Rutgers University, in the northern hemisphere westerly wind speeds seem to have weakened since the mid 1990s. As the flow has faltered, the undulations of the jet stream have become more marked, with gentle waves turning into bigger loops
..."
---
Albino Unicorn
. Thanks to Brian Lambert at
Minnpost.com
for taking an interest in climate science and how it's being communicated to the public - here's an excerpt from a recent interview: "...
But I think there's a fundamental injustice that's taken place because people have politicized this. I tell my conservative friends, "I didn't realize this was a la carte conservatism." If you're conservative, you should be conservative across the board, including conserving the thing that sustains us. It's a scientific issue, it's a moral issue and it's a spiritual issue. I'm writing a book now with a minister in Pennsylvania focusing on creation care and stewardship and that, as Christians, we are called to be stewards of God's gift to us. If you accept the premise that this planet was divinely conceived and created why would you knowingly do anything to mess that up?
"
---
Bank of England Warns of Huge Financial Risk from Fossil Fuel Investments
. How much fossil fuel risk is in your portfolio? Here's the introduction to a story at
The Guardian
: "
Insurance companies could suffer a "huge hit" if their investments in fossil fuel companies are rendered worthless by action on climate change, the Bank of England warned on Tuesday. "One live risk right now is of insurers investing in assets that could be left 'stranded' by policy changes which limit the use of fossil fuels," said Paul Fisher, deputy head of the bank's prudential regulation authority (PRA) that supervises banks and insurers and is tasked with avoiding systemic risks to the economy
..."
---
Climate Change a Threat to National Security
. More professionals with long, impressive military backgrounds are saying the same thing: shifting climate patterns, more volatility in the system and water shortages will impact America's national security in the years to come. Here's an excerpt of an Op-Ed at
The Miami Herald
: "...
Strains on natural resources and the growing influence of a changing climate have all played a direct role in deteriorating economic conditions and intensifying political instability across some of the most volatile regions in the world including modern day Syria. So when we talk about climate change, we're not only talking about a threat to our environment. Climate change represents a direct challenge to national security and global stability, and makes it more likely that our men and women will be sent into harm's way.
.." (File photo: AP).
---
What Science Says About the Senator Who Used a Snowball to "Disprove" Climate Change
.
Mic.com
has the story - here's an excerpt: "...
By the way, across the globe in Australia, where it actually is the end of summer right now, scientists are already estimating that the country experienced the second hottest February on record. "The main story is that the weather was very persistently warm, particularly in February, rather than notable hot — or cold — spells," Bureau of Meteorology climatologist Acacia Pepler told The Sydney Morning-Herald. "In particular, we had very warm nights in the city, which is not surprising considering the very warm sea surface temperatures." The senator is pandering, clueless, or both
..."
Animation credit
above: Source:
NASA Center for Climate Simulation / NASA Scientific Visualization Studio
---
Who Is Michael Mann And Why Do Climate Deniers Hate Him?
DesmogUK
has the article; here's the introduction: "
Professor Michael Mann is, through the sceptic looking glass, an accomplished dissembler, a manipulator of science, a fraud, and a threat to the American people. He is reviled, attacked and harassed. A former

CIA

agent has contacted his colleagues looking for dirt. The hacker who broke into the University of East Anglia servers during Climategate was searching for his data and emails, among other things. The hockey stick graph, which Mann helped create and showed that the rapid rise in global temperatures over the last decades has been unprecedented in human history, has become the totem the sceptics are most desperate to tear down
..."
---
How Climate Change Will Alter New York City's Skyline.
WIRED
has a fascinating article about the steps New York City may have to take to adapt to rising sea level and hotter summers; here's an excerpt: "...
One way to do that: Abandon all pretense of actually living on the ground floor. Alex Wilson, president of the Resilient Design Institute, advocates for clearing out ground floors and basements in buildings that are at-risk for frequent flooding, and adapting them to let water move in and drain out with minimal damage. "It's a big challenge if they need to renovate those spaces so they can be flooded," says Wilson. "That means losing those apartments, moving equipment like boilers to higher floors, and most of all making sure residents have some place to go." Buildings will also have to adapt to rising temperatures
..." (Photo: AP).
---
Study: Human-Caused Global Warming Behind California Drought
. Here's an excerpt of a story at
USA TODAY
that caught my eye: "...
The study, led by Stanford scientist Noah Diffenbaugh, found that the worst droughts in California's history occurred when conditions were both dry and warm, and that global warming is increasing the probability those two weather patterns will coincide. Diffenbaugh said having very dry years that are also very warm would not have happened without human influence. Burning of fossil fuels such as oil, gas and coal increases the amount of carbon dioxide and other "greenhouse" gases in the atmosphere and cause the planet to warm to levels that cannot be explained by natural causes
..."
* The latest U.S. Drought Monitor map for California is
here
.
---
Paper Abstract
. Here's a link to the paper and abstract referenced above, courtesy of pnas.org,
The Proceedings of the National Academy of Sciences
: "...
Our analyses show that California has historically been more likely to experience drought if precipitation deficits co-occur with warm conditions and that such confluences have increased in recent decades, leading to increases in the fraction of low-precipitation years that yield drought. In addition, we find that human emissions have increased the probability that low-precipitation years are also warm, suggesting that anthropogenic warming is increasing the probability of the co-occurring warm–dry conditions that have created the current California drought.
.."
---
Global Warming-Upped Heat Driving California Drought.
Climate Central
has more perspective on how insufficient precipitation isn't sufficient for a long-lasting mega-drought; it also has to be warmer than average. Here is where the human signal appears to be most visible, and scientifically defensible. Here's an excerpt: "...
There's no question that low precipitation is a prerequisite for severe drought in California but it's not sufficient,"

Noah Diffenbaugh, a senior fellow at the Woods Institute for the Environment at Stanford University, said. "The efficiency of low precipitation turning into severe drought is much higher if there are warm conditions." Diffenbaugh led the new research, which analyzed 20 moderate to severe droughts that are on record for California going back to 1896. Those droughts have occurred twice as often since 1995. Wet season precipitation hasn't changed noticeably over that time period. The big shift has been temperature. Prior to 1995, about half of all moderately dry years overlapped with warmer than average temperatures. But since then, every dry year has also occurred in a warm year.
.."
File photo
above: "
In this Thursday, Oct. 30, 2014 file photo, houseboats sit in the drought lowered waters of Oroville Lake, near Oroville, Calif. California voters overwhelmingly see the state's ongoing water shortage as a serious problem. A Field Poll released Thursday, Feb. 26, 2015 says 94 percent consider the shortage serious, and of those 68 percent find it extremely serious. California is entering its fourth year of drought with lower than normal rain and snow falling on the state that leads the nation in agriculture production
." (AP Photo/Rich Pedroncelli, File).