77 F. high in the Twin Cities Monday.
66 F. average high on September 28.
82 F. high on September 28, 2014.
Trace of rain fell at MSP International Airport yesterday.
September 29, 1876
: Cold day over the region with a high of 45 in the Twin Cities (normally the high should be 65 there this time of year).
Cool and Quiet
Potential for Hurricane Joaquin?
I savor every moment of quiet weather, but when it's too calm, for too long, my nervous twitch begins to act up. Minnesota has just experienced a Chamber of Commerce Summer; one of the 3 best since 1903. The afterglow spilled into a very August-like September.
While we decide which light jacket to try on, residents of the East Coast will be monitoring Tropical Storm Joaquin. Both the ECMWF and NOAA's HWRF model "hook" a potential hurricane inland; landfall between the Chesapeake Bay and New York City
Saturday
. It's still too early to hoot and holler about "another Sandy" but water in the Gulf Stream is unusually warm; the potential for a major storm impacting the Northeast by late week is significant.
Minnesota's weather won't make news anytime soon: a cool-blue sky from today into the weekend. Highs reach the upper 50s and low 60s - a few degrees cooler than average, for a change. The next chance of rain comes a week from today.
Freeze Warnings are posted for northern Minnesota, but I don't see a frost/freeze near the metro through the 2nd week of October, as we limp into fall.
---
* NOAA's 18z Monday HWRF model output valid Friday evening, map courtesy of WeatherBell.
---
Spaghetti Plot
.
Click here
to choose from scores of various weather models (and you wonder why we have migraines and gray hair, or no hair). There's general consensus that a strengthening "Joaquin" will push north, but ECMWF guidance still hints at an inland "hook" closer to the Chesapeake Bay. Source: Aeris Weather. (Hint: make sure you select "Click to show full model listing" for the complete list).
---
Alerts Broadcaster Briefing
:
Issued Monday
afternoon
,
September 28, 2015
.
* Unusually quiet 2015 may end next weekend; models hinting at potential for tropical storm or hurricane development in the Atlantic which may impact Mid Atlantic, Northeast, even New England by
Saturday
.
We will probably be tracking Tropical Storm Joaquin within 48 hours
.
*
Confidence levels are (very) low
; this is a preliminary (cover your butt) heads-up, but the normally reliable ECMWF and NOAA's HWRF model show an elevated risk of tropical development capable of flooding rains and beach erosion and coastal flooding - with the greatest potential for landfall
Saturday
into early
Sunday
.
*
Tropical Depression 11 has formed
- NOAA NHC (National Hurricane Center) shows strengthening to tropical storm status later this week, with the brunt of impacts remaining offshore until reaching New England with torrential rains next weekend. This solution is certainly possible, but ECMWF (specifically) is hinting at a strong system - even a hurricane - hooking inland, similar to Sandy in 2012. Again, it's very early. We want to examine a few more model runs before we can issue a forecast with moderate to strong confidence. We're not there yet, but you should definitely keep an eye on this system for facilities from Raleigh and Norfolk to Washington D.C., New York and Boston.
---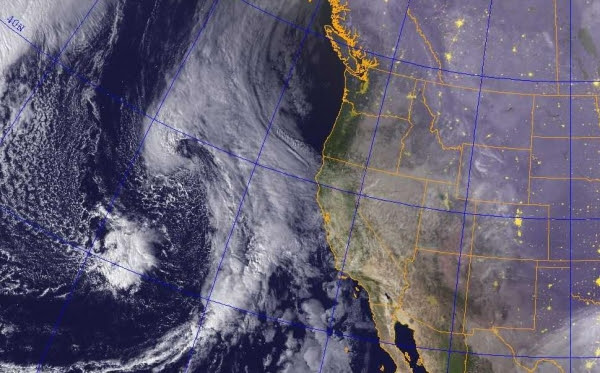 Tropical Depression 11
. Meteorologists are closely monitoring a depression forming east of the Bahamas. Computer models show it wrapping into a conventional low pressure system forming along the east coast, which may "hook" it inland, close to Norfolk or Cape May by
Saturday
.
---
ECMWF:

Saturday

Evening
. Here is the latest "European" computer guidance, strongly suggesting a hurricane east of the Outer Banks of North Carolina
Saturday
evening at
7 PM
. It's important to note that computer solutions will change over time as new data gets ingested into the models. Nothing is (ever) etched in stone. But this should be a wake-up call, a good excuse to pay attention in the coming days. Map credit: WSI Corporation.
---
ECMWF:

Sunday

Morning
. The same "Euro" model merges any Atlantic tropical storm or hurricane into an extratropical low pressure system wrapping up near Roanoke by
Sunday
morning at
7 AM
, hinting at flooding rains from the Carolinas and Virginias to New Jersey and possibly metro New York City, with beach erosion and coastal flooding most prominent along the Mid Atlantic coast
Saturday
night into early
Sunday
. Source: WSI.
---
NOAA's HWRF Model
. NOAA runs a specialized tropical computer model, which lines up better with the GFS solution, showing a swatch of hurricane force winds pushing up the east coast, with possible landfall closer to New York City by
Saturday
or
Saturday
night. The graphic above shows strongest wind speeds, a region of Category 2 strength winds possible before coming ashore. Source: NOAA.
---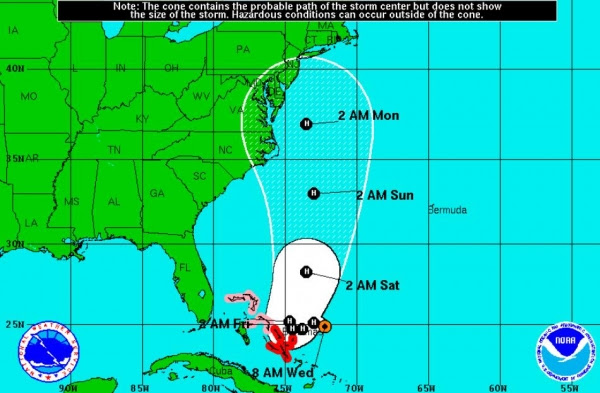 Official Guidance
. NOAA NHC predicts that Depression 11 will, in fact, strengthen into a tropical storm, with sustained winds of 45 mph by
Friday
morning. NHC believes that wind shear will prevent rapid strengthening, but water temperatures offshore are unsually warm, which may result in a stronger, deeper system, possibly reaching hurricane status later this week over the warm waters of the Gulf Stream.
Summary
: There's a strong probability of tropical storm development (Joaquin) in the next few days, and at least a 1 in 3 chance that Joaquin will become a hurricane, with possible impacts along the East Coast of the USA. It's still much too early to try to get specific with path and intensity. Facilities from the Carolinas to New England should be on alert for possible impacts; more updates as new information arrives.
Paul Douglas, Senior Meteorologist, AerisWeather
---
New York City Flood Risk Rising Due To Climate Change
. More intense storms and rising seas are a bad combination. Here's an excerpt from
USA TODAY
: "
The risk of major New York City flooding — such as what happened during Superstorm Sandy in 2012 — is likely to occur once every 25 years, rather than every 500 years, as a result of human-caused global warming, says a study released Monday. The study, published in the Proceedings of the National Academy of Sciences, found that flood heights have risen about 4 feet since the year 850 to 2005, largely because of sea-level rise. "Sea level is rising because of climate change," said Penn State meteorologist Michael Mann, one of the study's scientists. "But climate change also appears to be leading to larger and more intense tropical storms," he said
..." (File photo: NOAA).
---
Tropical Cyclone Heat Potential.
Although the risk of tropical formation is greatest in the Gulf of Mexico and Caribbean, conditions should favor continued strengthening farther north, where water temperature anomalies are 1-3C above average. Source: NOAA AOML.
---
Tropical Trouble
. NOAA's GFS model shows excessive rainfall amounts pushing into the Northeast and New England by late week with a plume of moisture; some 5-10"+ amounts possible, depending on the strength and path of "Joaquin". Even if the system hits as a tropical storm or tropical depression rainfall totals may be excessive with a high risk of coastal flooding and flash flooding from Virginia's Tidewater to New York and Boston. Source: Aeris Weather.
---
Another Warm Front?
NOAA's GFS guidance hints at 70s and 80s the second weekend of October with 850 mb temperatures close to 20C. Confidence levels are low, but there's little doubt that simmering warmth will hang on into much of October. We'll still see cold fronts, but the descent into winter may be delayed a bit this year.
---
Precipitation Required to End Drought
. I didn't realize how dry much of Montana and Wyoming is, or the western Carolinas for that matter. Map source:
AerisWeather
.
---
The Connection Between Cleaner Air and Longer Lives
.
The New York Times
reports - here's a clip: "...
As a fight brews over President Obama's new use of the law to address global warming, it's worth re-examining the vast difference the law has already made in the quality of the air we breathe, and in the length of our lives. Numerous studies have found that the Clean Air Act has substantially improved air quality and averted tens of thousands of premature deaths from heart and respiratory disease. Here, I offer new estimates of the gains in life expectancy due to the improvement in air quality since 1970 — based on observations from the current "smog capital" of the world, China. (To learn more about how this was calculated, click here.)
..."
Graphic credit
above: "
Estimates of three life-years saved per 100 microgram decrease of total suspended particles per cubic meter
." Michael Greenstone; E.P.A.
---
Renewables Overtake Coal in the U.K. Energy Mix For The First Time
.
Gizmag
has the details; here's an excerpt: "
Thanks to an increase in solar panels and wind turbines, as well as a particularly sunny and windy quarter, renewable energy has supplied a record 25 percent of the UK's energy mix in Q2 2015, leapfrogging coal for the first time to come into second place behind gas fired electricity. It's nearly a 10 percent increase on the same period last year.
.."
Photo credit
above: "
Renewable energy sources (combined solar, wind and biofuel) have overtaken coal, the most polluting energy source, in the UK for the first time
."(Credit:
Shutterstock
)
---
How a Little Lab in West Virginia Caught Volkswagen's Big Cheat
. As one of the comments at the bottom of the article said: "
A guy in WV takes down VW on a test commissioned by a guy named German. Some things were just meant to be."
NPR
has the story; here's an excerpt
: "Volkswagen was recently brought to its knees when scientists discovered the company had installed a device in its diesel-powered cars to fool emissions tests. Its stock price tanked, its reputation has been damaged and its CEO resigned on Wednesday. So who made the discovery that sent the German car giant into a tailspin? A group of scientists at West Virginia University
..."
Photo credit
above: "
Diesel car engines like this one in a 2012 Volkswagen Golf are among those that include software that circumvents EPA emissions standards for certain air pollutants
.
" Patrick Pleul/DPA/Landov.
---
Why An Oil Guy Believes Solar Has a Big Future. Here's a snippet of an Op-Ed at Fortune: "
I've worked on oil platform design. I've worked with oil companies on four continents (North and South America, Europe, and Asia). I live in Houston. And I spend about three-quarters of my time working on oil and gas issues. In short, I'm an oil guy. But I am also bullish on solar. There is no contradiction here. The point of energy is to move people around the world, to keep us warm (and cool), and to power an industrial economy that has created more wealth in the last 150 years, by far, than in any other time.
.."
---
Stop Googling. Let's Talk
. What has happened to face-to-face conversations? Will they go the way of the fax machine? Let's hope not. Here's an excerpt of a compelling essay at
The New York Times
: "...
Studies of conversation both in the laboratory and in natural settings show that when two people are talking, the mere presence of a phone on a table between them or in the periphery of their vision changes both what they talk about and the degree of connection they feel. People keep the conversation on topics where they won't mind being interrupted. They don't feel as invested in each other. Even a silent phone disconnects us. In 2010, a team at the University of Michigan led by the psychologist Sara Konrath put together the findings of 72 studies that were conducted over a 30-year period. They found a 40 percent decline in empathy among college students, with most of the decline taking place after 2000
..."
---
News is Different
. Every business is being disrupted by new technologies and new habits today, but Dave Pell at
NextDraft
argues (rather convincingly) that news is different. We don't want to pay for new - we don't want to see ads either. In the end WE will be the ones with fewer outlets of quality news that adds value and relevance to our lives. We need new business models, and quickly. Here's an excerpt: "...
It's hard to feel sorry for the news organizations that have utterly failed to pay enough attention to the top story of a generation. It's one thing to bury the lede. It's another to allow it to bury your industry. But if you can't feel sorry for news orgs, then at least feel sorry for yourself. Because news really is different. The demise of reporting outfits is not only about the loss of jobs and the diminishing of fortunes, it's a severe blow to society. It represents the potential silencing of the only voice many people have.
.."
---
TODAY
: Comfortable sunshine, fresh breeze. Winds: N 7-12. High: 63
TUESDAY NIGHT: Clear and crisp. Low: 40
WEDNESDAY
: Plenty of cool sunshine. Winds: SE 8-13. High: 62
THURSDAY
: Mix of clouds and sun. Wake-up: 42. High: 63
FRIDAY
: Status quo. Cool sunshine. Wake-up: 42. High: 62
SATURDAY
: Atmospheric holding pattern. Still dry. Wake-up: 43. High: 63
SUNDAY
: Blue sky, less wind. Wake-up: 44. High: 62
MONDAY
: Ditto. Cool sunshine. Wake-up: 44. High: 63
---
Climate Stories
....
Shell Oil Abandons Controversial Drilling Off Alaska's Shore
. Here's a clip from a summary at
NPR
: "
Citing a lack of enough oil to make the project worthwhile, Royal Dutch Shell Oil is halting its effort to drill for oil off Alaska's shore "for the foreseeable future." The company has spent some $7 billion on the exploration project. Shell announced the move late Sunday, describing what the company called "a clearly disappointing exploration outcome" in the Chukchi Sea, which is part of the Arctic Ocean.
.."
File photo
above: Daniella Beccaria/seattlepi.com via AP, File.
---
China To Put Key Climate-Change Policy Into Action
.
Voice of America
has the details; here's the introduction: "
China has agreed to implement a cap and trade program to limit emissions, in what could be a crucial step in international efforts to combat climate change. Chinese President Xi Jinping announced the program after he met with President Barack Obama at the White House Friday. U.S. officials said the program will go into place by 2017 and will cover some of the worst-polluting sectors of China's economy.
.."
File photo
credit above: "
Smoke billows from a coal-fired power plant in Beijing, China, Nov. 13, 2014." AP.
---
China Shows It's Getting Serious About Climate Change. More details and perspective from TIME; here's an excerpt: "
The best thing to come out of a summit between China and the U.S. is a renewed commitment to fight global warming. China—the world's largest polluter—has sought to portray itself as a leader in the global fight against climate change in recent years. The country has expedited the development of renewable energy power plants, experimented with cap-and-trade programs and last year committed to curb its growing carbon dioxide emissions in coming decades
..."
Photo credit
above:
Evan Vucci—AP
. "
---
The pledges that countries are making to battle climate change would still allow the world to heat up by more than 6 degrees Fahrenheit, a new analysis shows, a level that scientists say is likely to produce catastrophes ranging from food shortages to widespread extinctions of plant and animal life. Yet, in the world of global climate politics, that counts as progress. The new figures will be released Monday in New York as a week of events related to climate change comes to an end
..."
Photo credit
above: " "
Credit

Lalo de Almeida for The New York Times
---
But rather than getting bogged down in technological fixes or

percentages of greenhouse gas reductions and carbon credits, the Pope spoke of the climate as a fundamental moral and human rights issue. "In all religions, the environment is a fundamental good," Pope Francis said. "Any harm done to the environment is a harm to humanity." Speaking of people who suffer from lack of rights, including environmental ones, the Pope said, "government leaders must do everything possible to ensure all have the minimal spiritual and material means to live in dignity and to create and support a family
..."
Photo credit
above: "
Pope Francis walking into the U.N. General Assembly." Credit: Eskinder Debebe/U.N.
---
Survey of Republican Voters Shows a Majority Believe in Climate Change. Here's an excerpt of a New York Times story: "...
A majority of Republicans — including 54 percent of self-described conservative Republicans — believe the world's climate is changing and that mankind plays some role in the change, according to a new survey conducted by a trio of prominent Republican pollsters.The results echo a number of other recent surveys concluding that, despite the talk of many of the party's candidates, a significant number of Republicans and independent voters are inclined to support candidates who would back some form of climate action.
.."
---
Why Are Republicans The Only Climate-Science-Denying Party in the World?
Here's an excerpt from
New York Magazine
: "...
Of all the major conservative parties in the democratic world, the Republican Party stands alone in its denial of the legitimacy of climate science. Indeed, the Republican Party stands alone in its conviction that no national or international response to climate change is needed. To the extent that the party is divided on the issue, the gap separates candidates who openly dismiss climate science as a hoax, and those who, shying away from the political risks of blatant ignorance, instead couch their stance in the alleged impossibility of international action.
A
new paper
by Sondre Båtstrand studies the climate-change positions of electoral manifestos for the conservative parties in nine democracies, and finds the GOP truly stands apart..."
* Here are the Republicans in Congress who don't believe climate change is real, courtesy of The Guardian.
---
Cartoon courtesy of
Tom Toles
at the Washington Post.
---
The Mighty Himalayan Glaciers are Melting
. Check out the details at
GlacierWorks
: "
The snow and ice stored within this resplendent arc of nearly 50,000 high-altitude glaciers are vital sources of water for the major rivers of Asia. GlacierWorks is a non-profit organization that vividly illustrates the changes to Himalayan glaciers through art, science, and adventure
."