12 F. high yesterday in the Twin Cities.
27 F. average high on December 16.
41 F. high on December 16, 2015.
December 17, 1996
: 20 to 40 mph winds combined with recent snowfall produce blizzard like conditions for about a 36 hour period over much of the area. Whiteout conditions are common in rural and open areas. Every county road in Yellow Medicine county was impassable by the morning of the 18th. Travelers heading west were stranded in Clara City as plows were pulled off the road. Wind chills were as low as 60 degrees below zero.
December 17, 1946
: Heavy snow is reported along with strong wind across northern Minnesota. Duluth has winds up to 62 mph.
Danger Zone - Coldest Night of the Winter

Tonight

?
We're about to get our Minnesota Mojo back, our weather-swagger, our national-weather-boasting-rights. By
Sunday
morning at
7 am
the air temperature in the MSP metro may slip to -20F; the coldest reading in nearly 3 years.
Sunday's
record is -24F, set in 1983. We'll come close. Factor in a 5-10 mph breeze and it will feel like -30 to -40F. Serious, character-building cold; possibly the coldest of the entire winter. Wind Chill Warnings are posted for a chill factor of -35 to -45F by tonight. Exposed skin can become frostbitten within 10 minutes or less. Take the chill seriously - we don't get these levels of intense cold very often now.
Snow slowly tapers today as temperature slip below zero. The chill factor dips into the -20s this afternoon; by
tomorrow
morning you'll swear you've crash-landed on Pluto. But if you dress in multiple layers with no exposed skin (always a good idea at my age) you'll be fine, especially if you're moving.
"No such thing as bad weather, just inappropriate clothing choices." Right.
Weather quiets down next week with a few flurries from a parade of wimpy clippers - no big storms before Christmas. Highs surge into the 20s and 30s. You'll be amazed how good THAT feels. ECMWF models hint at an icy mix the
Sunday
after Christmas.
For now get ready for remarkably excellent snuggling-weather conditions.
---
Here It Comes
. A taste of the Arctic, a Siberian Swipe, compliments of Comrade Putin. Temperatures fall through single digits into negative territory by afternoon, bottoming out somewhere around -20F Sunday morning. That's the air temperature, not the wind chill. Beat your chest and let out a primal scream. NAM guidance: Tropicaltidbits.com
---
10-Day Snowfall Potential
. The animation above shows a time lapse of predicted snowfall totals, courtesy of NOAA's global GFS model. The best chance of a (very) white Christmas comes from the Upper Midwest into the Great Lakes and New England. Much of the west will be bright white come Christmas morning; a few feet of additional snow from the Rockies westward to the Sierra and Cascades.
---
First White Christmas in 3 Years for the Twin Cities
. Hard to believe (staring out the window now) but there was only a trace of snow on the ground last year, and 2014. The last white Christmas (defined as an inch of snow or more at MSP International on December 25) was back in 2013, when we woke up to 9". There should be more than that this year. Santa is pleased.
---
Weather Perspective
. Here's an excerpt from this week's installment of
Minnesota WeatherTalk
, courtesy of Mark Seeley: "...
In addition to the added snow cover, the trend for below normal temperatures has continued this week, now 9 consecutive days across most of the state. This is the longest spell of cooler than normal temperatures since mid-February of 2015. Some northern Minnesota climate stations fell to -20°F or colder this week, including Georgetown (Clay County), Orr (St Louis County), and Camp Norris (Lake of the Woods County). Snow cover around the state ranges from as little as 2 inches to over 12 inches in many northern counties. Despite the snow cover, frost depths in the soil have progressed over the past week and now range from 6 to 12 inches in most areas. Ice cover on area lakes is increasing as well with reports ranging mostly from 2 to 4 inches, but caution is still advised not to venture out on the ice yet.
.."
---
---
Aeris Weather Briefings
:
Issued Friday

morning
,
December 16, 2016
:
* Long-duration snow event from the Northern Plains and Upper Midwest into New England today into
Sunday
; band of 5-10" likely with locally higher amounts.
* Ice potential greatest across southern Ohio and western Pennsylvania.
* Sporadic flooding and mudslides reported across California with latest frontal passage.
* Urban and small stream flood advisory posted for eastern Los Angeles County.
* Dangerously cold air temperatures and wind chills forecast for the Upper Midwest
Saturday
night into
Sunday
; coldest air
in 3 years
.
---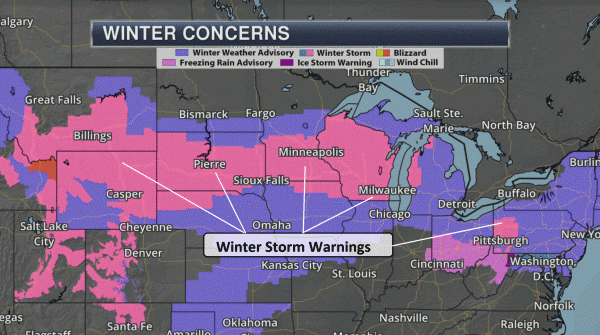 Advisories and Warnings
. The areas of greatest concern for potential travel disruptions are in bright pink - watches have been upgraded to warnings, meaning treacherous conditions are imminent or already-occurring.
---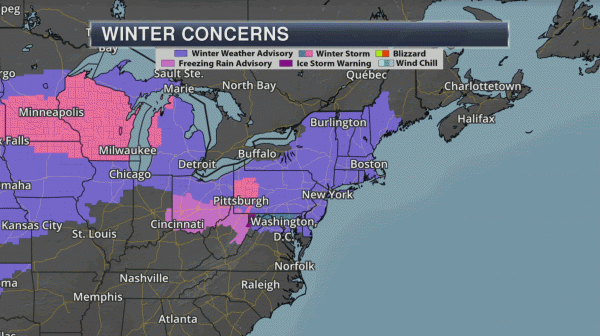 Advisories Posted for New England
. A potential for an icy mix in the Pittsburgh area has prompted the issuance of warnings, otherwise advisories are posted for New England and major urban centers from Boston to New York to D.C. for a few inches of snow. For the northeast this will be more of a nuisance vs. a paralyzing storm scenario. Map credit: AerisWeather AMP.
---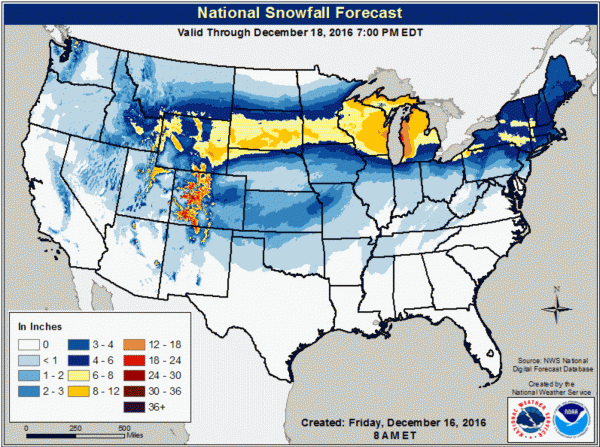 Total Snow Accumulation
. Heaviest snows fall from South Dakota and the southern half of Minnesota into Wisconsin and Michigan, where 5-10" will be the rule with some isolated 12"+ amounts, especially areas downwind ofthe Great Lakes. The mountains of Colorado may pick up 2-3 feet of snow, but metro Denver should be spared from the heaviest bands.
---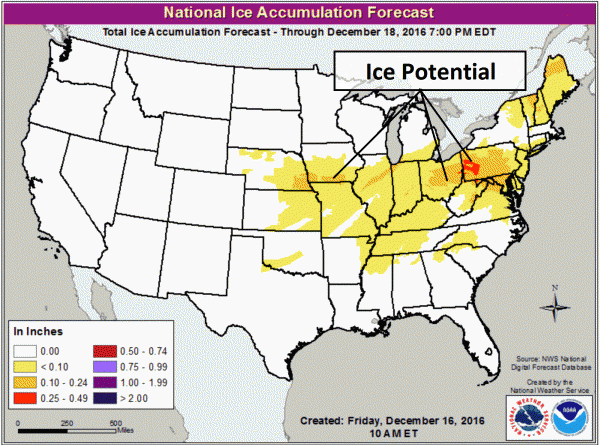 Ice Potential
. All-snow requires temperatures <32f a="" aloft="" an="" and="" atmosphere.="" class="aBn" columbus="" data-term="goog_1064088154" for="" from="" greatest="" ice="" icy="" in="" layer="" lowest="" mean="" mile="" mix="" of="" ohio="" pittsburgh="" potential="" rainn="" roughly="" snow="" span="" tabindex="0" the="" to="" valley="" warm="" will="" youngstown="">
tonight
32f>
and
Saturday
. Map credit: NOAA.
---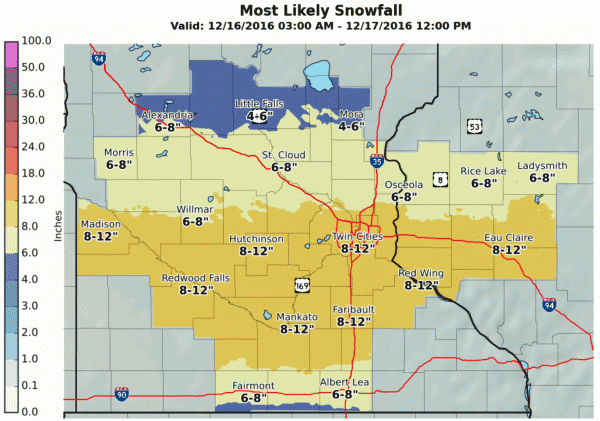 Close to 10" for the Twin Cities
. A few inches fell last night; another burst of heavier snow is likely from this afternoon into
tonight
with 5-10" from CSt. Cloud to Minneapolis - St. Paul and Eau Claire. Up to a foot of snow may fall just south of the Twin Cities by
Saturday
afternoon, when snow tapers to flurries.
---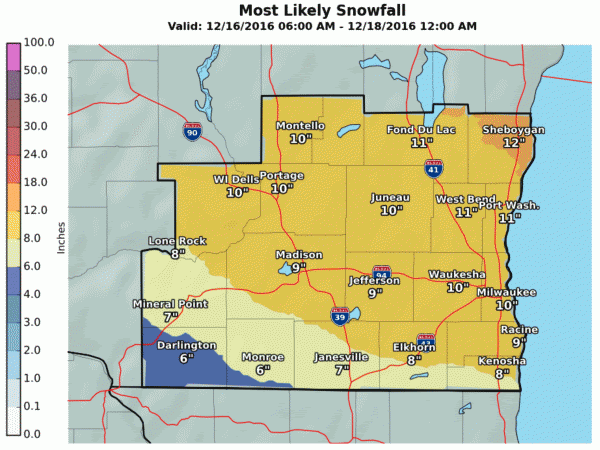 Major Dumping for Southern Wisconsin
. As much as 10" of snow is expected for Madison and Milwaukee; the worst travel conditions close to Lake Michigan
Friday
night into
Saturday
morning.
---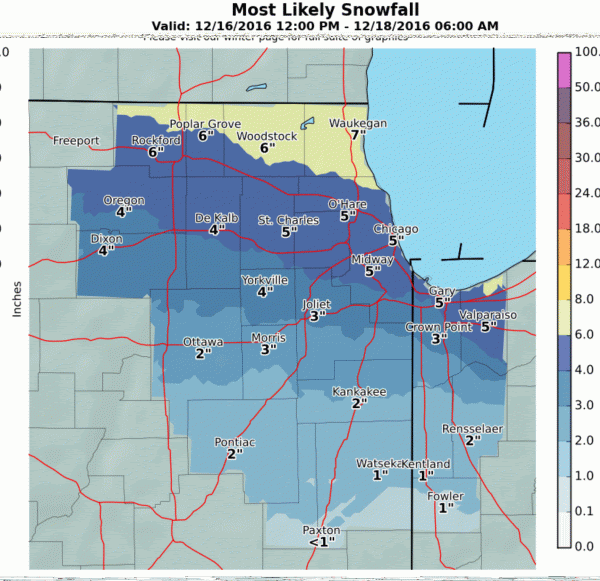 Close Call for Chicago
. Although the heaviest snow bands are forecast to track just north of Chicago, expect some travel disruptions (land and air) with the heaviest 5-6" amounts likely over the northern suburbs. This should be a plowable snow event for metro Chicago.
---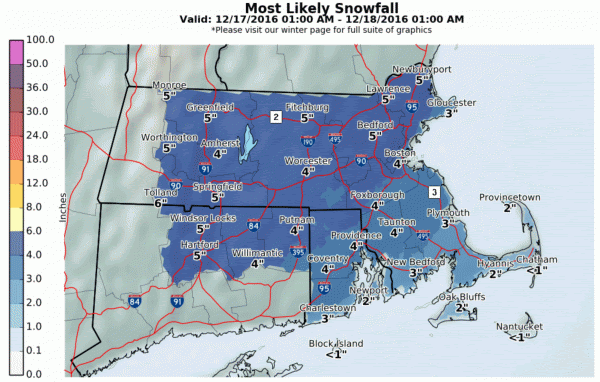 Potentially Plowable for New England
. Although advisories are issued, models suggest some 3-6" snowfall amounts for much of New England, including Boston and Hartford, with lesser amounts closer to the coast. Expect travel delays, but this should not be a crippling storm for New England.
---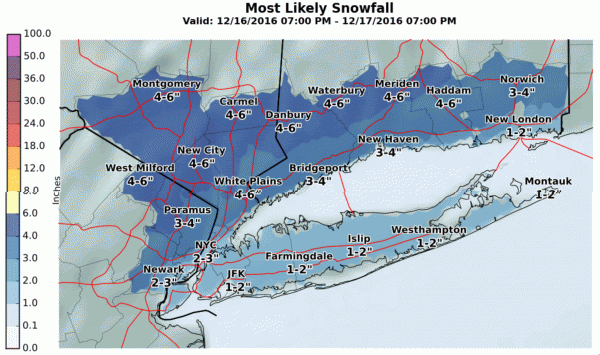 Nuisance to Plowable for Metro New York City
. New York will be on the edge of significant accumulation, a couple inches of slush for Manhattan, but close to 4-6" for far northern suburbs in Westchester County, New York and the Greenwich/Westport area of Connecticut. Map: NOAA.
---
After The Snow: Intense Cold
. It won't last long, but by
Sunday
temperatures dip into the extreme danger zone from the Dakotas and the Twin Cities to Milwaukee, Chicago and Des Moines. Air temperatures dip well below zero with a chill factor as low as -40 across Minnesota and the Dakotas - the coldest air since January, 2014.
---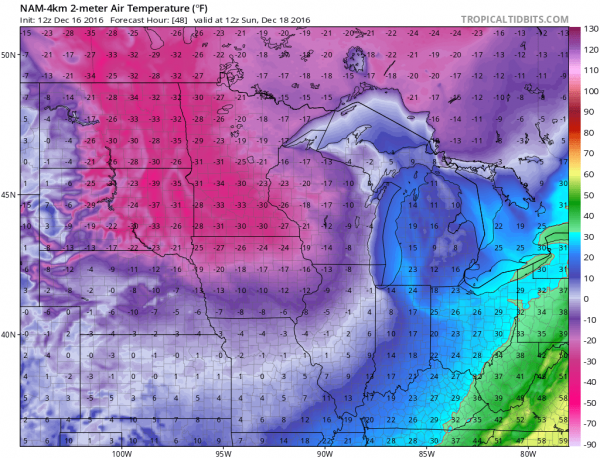 Character-Building Cold
. The map above shows predicted air temperatures around the breakfast hour
Sunday
, as cold as -30F across Minnesota and much of the Dakotas. Under these conditions exposed skin can become frostbitten in less than 10 minutes. Dangerously cold weather peaks
Sunday
with rapid warming set for next week - a glancing blow of Siberian air focused on the Upper Midwest. (Map source: Tropicaltidbits.com)
Summary
: the storm is very much on-track; snow, ice, wind and bitter cold - a premature taste of January. The worst of the snow and cold is coming on the weekend, which may help to mitigate some impacts (no schools to close across Minnesota and the Dakotas on a
Sunday
due to severe cold), but I envision significant delays to land and air travel from this afternoon into
Sunday
. Meteorological winter, marking the coldest 90 days of the year, really began back on December 1. Looking at the maps that's not too hard to believe.
Paul Douglas, Senior Meteorologist, AerisWeather
---
Reason To Keep On Going
. Our Fairbanks Fling will be relatively brief. Just about the time you can't take it anymore you won't have to. A more moderate, zonal flow blows Pacific aiir back into town next week; ECMWF guidance continuing to show a streak of 20s and 30s. Mark my words: you will be dazed and amazed how good freezing feels after a spell of subzero. Graphic: WeatherBell.
---
Arctic Air Retreats North
. No t-shirt weather brewing anytime soon, but I'm happy to report that the core of any subzero air will remain well north of the border through New Year's Day, as the USA recovers from this latest outbreak. Looking at latest long-range guidance I wouldn't be at all surprised if tomorrow isn't the coldest day of the entire winter, even though (historically) our coldest weather usually arrives in mid January.
---
---
Large Regions of U.S. Damaged by Drought in 2016.
Here's the intro to a story at
The Wall Street Journal
: "
Droughts sparked deadly wildfires, killed tens of millions of trees and damaged crops and livestock in large regions of the U.S. in 2016. Major regional droughts hit the U.S. this year in the Southeast, California and New England—and all developed differently. But changes in the earth's climate mean regional droughts and other "extreme events are going to be more common than in the past," said Brian Fuchs, climatologist at the Nation Drought Mitigation Center at the University of Nebraska—Lincoln.
.."
Photo credit
: " "
Photo:

Noah Berger/Associated Press.
---
Abnormally Warm Arctic Spurs Planet to Second-Warmest November on Record
. Jason Samenow reports at
Capital Weather Gang
: "
It's frigid outside over large parts of the United States, but the planet is still warming, as evidenced by a near record-warm November for the globe. Temperatures in parts of the Arctic averaged more than 20 degrees above normal, as Earth recorded its second warmest November since 1880 (when records began). NASA data show the planet's temperature was 1.7 degrees above the 1951-1980 November average, and just slightly cooler than November 2015 — the record-setter (at 1.8 degrees above average). While some media commentators misleadingly claimed the Earth's land temperature recently experienced its greatest drop ever recorded, NASA data show whatever drop there was (because of the transition from El Niño to La Niña) has begun to reverse
..." (Image credit: NASA).
---
Experts Explain Why the U.S. Saw a Low Tornado Count in 2016
. Here's an excerpt of a good explainer at
AccuWeather
: "...
The lower counts were mostly over the main tornado-prone regions of the U.S., including the Plains and South. These areas experienced drier-than-normal weather during the warm season. Because tornadoes require a particular mix of ingredients in order to form, the number of tornadoes is highly dependent on the prevailing weather patterns. "The lack of deep moisture prevented the development of strong and widespread thunderstorms during much of the spring and certainly during the summer and fall seasons," Kottlowski said. The lack of sustained and widespread thunderstorms reduces the chances for tornado development
..."
---
Report Offers Roadmap for Overhaul of U.S. Electrical Grid
.
Midwest Energy News
has the story: "
A new report by a team of engineers, scientists and researchers at the Massachusetts Institute of Technology offers a roadmap for the redesign of one of history's most critical inventions. The power grid – named the greatest engineering feat of the 20th century by the National Academy of Engineering – is in need of an upgrade, according to "Utility of the Future," released Thursday. Designed for last century's rigid, analog and centralized world, the grid must now be recalibrated for today's flexible, digital and decentralized landscape
..." (Map source: FEMA, Wikipedia).
---
Advanced Black Lung Cases Surge in Appalachia
.
NPR
reports: "
Across Appalachia, coal miners are suffering from the most serious form of the deadly mining disease black lung in numbers more than 10 times what federal regulators report, an NPR investigation has found. The government, through the National Institute for Occupational Safety and Health, reported 99 cases of "complicated" black lung, or progressive massive fibrosis, throughout the country the last five years. But NPR obtained data from 11 black lung clinics in Virginia, West Virginia, Pennsylvania and Ohio, which reported a total of 962 cases so far this decade. The true number is probably even higher, because some clinics had incomplete records and others declined to provide data
..."
Photo credit
: "
The Sidney Coal Co.'s Coal Preparation Plant in Sidney, Ky., in 2006
.
" Brian Tietz/AP.
---
There's a transformation happening in global energy markets that's worth noting as 2016 comes to an end: Solar power, for the first time, is becoming the cheapest form of new electricity. There have been isolated projects in the past where this happened: An especially competitive auction in the Middle East, for example, resulting in record-cheap solar costs. But now unsubsidized solar is beginning to outcompete coal and natural gas on a larger scale, and notably, new solar projects in emerging markets are costing less to build than wind projects, according to fresh data from Bloomberg New Energy Finance.
.."
Graphic credit
: "
Disclosed capex for onshore wind and PV projects in 58 non-OECD countries
." Source: Bloomberg New Energy Finance.
---
Will Elon Musk Be The Champion Cleantech Needs at the White House?
Greentech Media
has the article; here's a clip: "...
Where Musk could be most effective as a Trump adviser is in advocating for continued investments in cleantech research and development at the Department of Energy. Among many other things, the DOE has played an instrumental role in bringing down the cost of lithium-ion batteries and helping to develop the next generation of battery technologies. Companies like Tesla stand to benefit from government-led innovation and government-trained talent pool. However, it's unclear what kind of policy advice Musk's "go-it-alone" attitude will translate into. Tesla's leadership frequently touts the company's abilities, like cutting battery costs faster than projections. So it's possible that Musk will argue that entrepreneurship is the true source of innovation, not the state
..." (Image:
Investopedia
).
---
---
If you love technology, it may be time for a group hug: This year has been rough for consumer technology. From exploding smartphones and hoverboards to the proliferation of fake news on social media, many of our tech hardware, software and web products suffered embarrassing failures. Behemoths like Google, Facebook and Samsung Electronics were on the firing line as a result. Yet the year was not entirely bleak. There were major strides in several areas of consumer tech, including Wi-Fi, virtual reality and encryption. What follows is a year in review on the tech that needed the most fixing, and the tech that was actually fixed in 2016..."
---
In 1562 Map-Makers Thought America Was Full of Mermaids, Giants and Dragons.
You mean to tell me it wasn't full of mermaids, giants and dragons? I thought I read that fake news story on Facebook. Here's an excerpt from
Atlas Obscura
: "
In the 15th and 16th centuries, the mysterious lands of the western hemisphere were a misty haze of tales and stories. After Christopher Columbus set foot in the New World, curious Europeans ate up fantastic sagas about sea monsters, exotic wildlife, and foreign civilizations. Teasing out fact from folklore created an ever-growing obstacle for depicting what the Americas truly looked like. In 1562, Spanish chartmaker Diego Gutiérrez and Dutch engraver Hieronymous Cock made such an attempt. They visualized the New World in a massive six-paneled engraved map—the largest engraved map of America of its time
..."
---
TODAY
: Wind Chill Warning. Snow tapers, falling temperatures. Winds: NW 10-20. Wind chill: -20s. High: 5 (falling)
SUNDAY NIGHT
: Wind Chill Warning. Near-record cold. Clearing - frigid. Low: -20
SUNDAY
: Wind Chill Warning. Possibly the coldest day of winter. Some sun; feels like -30 early. Winds: SW 5-10. High: -4
MONDAY
: Mostly cloudy, feels much better. Winds: SW 10-20. Wake-up: -6. High: 26
TUESDAY
: Milder with gusty winds, few flurries. Winds W 15-25. Wake-up: 21. High: 35
WEDNESDAY
: Chance of light snow, slushy? Winds: W 10-15. Wake-up: 20. High: 32
THURSDAY
: Peeks of sun, good travel weather. Winds: W 8-13. Wake-up: 24. High: 31
FRIDAY
: Clouds increase, milder breeze. Winds: S 10-15. Wake-up: 20. High: 34
---
A new report, published Thursday as a special edition of the Bulletin of the American Meteorological Society, provides some of the best evidence yet that climate change already has a hand in our worst weather. It points to a variety of extreme weather events in 2015 that were likely influenced by global warming, from heat waves in Australia to heavy rain in China to raging wildfires in Alaska.
The report, examining research on two dozen weather events, was compiled and edited by scientists from the National Oceanic and Atmospheric Administration, as well as the Met Office Hadley Centre for Climate Prediction and Research..."
Photo credit: "
---
This fifth edition of explaining extreme events of the previous year (2015) from a climate perspective continues to provide evidence that climate change is altering some extreme event risk. Without exception, all the heat-related events studied in this year's report were found to have been made more intense or likely due to human-induced climate change, and this was discernible even for those events strongly influenced by the 2015 El Niño. Furthermore, many papers in this year's report demonstrate that attribution science is capable of separating the effects of natural drivers including the strong 2015 El Niño from the influences of long-term human-induced climate change
."
Climate Central
has more
perspective
.
---
Climate Change Worsened Deadly Heatwaves Last Year
. Following up on the recent report on climate attribution, here is more perspective at
USA TODAY
: "
From Europe to India to Australia, climate change worsened several deadly heat waves around the world in 2015, according to a report released Thursday. "We're seeing mounting evidence that climate change is making heat waves more extreme in many regions around the world," said report lead editor Stephanie C. Herring, a scientist with the National Centers for Environmental Information at the National Oceanic and Atmospheric Administration (NOAA) . In all, 10 extreme hot streaks last year, including heat waves in Europe, Egypt, India, Pakistan, China, Indonesia, Japan and Australia, were worsened by climate change.
.."
---
Scientists: Strong Evidence that Human-Caused Climate Change Intensified 2015 Heat Waves
.
NOAA
provides more context: "
Human-caused climate change very likely increased the severity of heat waves that plagued India, Pakistan, Europe, East Africa, East Asia, and Australia in 2015 and helped make it the warmest year on record, according to new research published today in a special edition of the Bulletin of the American Meteorological Society. The fifth edition of Explaining Extreme Events from a Climate Perspective

offsite link

presents 25 peer-reviewed research papers that examine episodes of extreme weather of 2015 over five continents and two oceans. It features the research of 116 scientists from 18 countries analyzing both historical observations and changing trends along with model results to determine whether and how climate change may have influenced the event.
.." (Image credit: NOAA).
---
Link Between Warming Oceans and More Extreme Typhoons in Western North Pacific
. It turns out there is a connection between warming of air and water and the intensity of some of the typhoons (hurricanes) impacting the western Pacific. The paper is
here
, courtesy of the American Meteorological Society.
---
Here at Vox, we're big fans of clever graphics and visualizations that make climate change, which can sometimes seem abstract and impenetrably complex, easier to grasp. We've highlighted several this year (see here, here, and here), more than one of them from University of Reading climate scientist Ed Hawkins, who seems to have a real eye for these things. Helpfully, Hawkins has rounded up his own favorite climate visualizations from the year in one place — graphics showing the rise in temperatures, the rise in CO2 concentrations, the melting of Arctic ice, and more. So without further ado, here are the coolest, most visually arresting ways of understanding just how screwed we are. Thanks, 2016
..."
---
NASA Produces First 3-D Animation of Global Carbon Emissions
. Here's an excerpt from
EcoWatch
: "
The National Aeronautics and Space Administration (NASA), the U.S. space agency, has released an "eye-popping" three-dimensional animation showing carbon dioxide emissions moving through the Earth's atmosphere over the course of a year. It says the 3-D visualization is "one of the most realistic views yet" of the "complex patterns in which carbon dioxide in the atmosphere increases, decreases and moves around the globe." The data used to produce the visualization was collected by NASA's Orbiting Carbon Observatory-2 (OCO-2) satellite from September 2014 to September 2015
..."
---
Late Night Comics Could Have a Real Impact on Climate Change Denial.
Don't laugh - there's something here, reports
Popular Science
: "...
People watch these comedy shows in large part to be entertained. They're not there for the science. They're sometimes there for the politics," said Feldman. Airtime on comedy shows, Feldman said, is "going to get a whole lot more people paying attention to science." In a 2011 study, Feldman and her colleagues found that people who watched The Daily Show and The Colbert Report were more likely to follow news about science and technology—and particularly global warming. The effect was most pronounced among viewers without a college education.
.."
---
---
A coalition of the world's most powerful bankers, regulators and even executives at some heavy polluters have a message for oil and gas companies: Be more forthcoming about the risks posed by climate change. The new guidelines, issued on Wednesday by a task force commissioned by the Group of 20 richest nations, are some of the most comprehensive about how companies should measure and disclose the predicted effects of extreme weather and rising seas. These recommendations come at a tough time for climate advocates, still reeling from the prospect of a presidential administration in the United States hostile to steps to address climate change. With little prospect for new rule making in the United States and slow progress elsewhere, the task force urged corporations to disclose climate risks voluntarily.
.."