36 F. high yesterday in the Twin Cities.
56 F. average high for April 11.
54 F. high on April 11, 2012.
3.7" snow fell yesterday, on top of the 1.4" that fell early Wednesday.
Winter Weather Advisory posted this morning.
Cold rain expected Sunday - more rain and wet snow possible the middle of next week.
Slushy April Funk
I will never, ever take spring for granted again. You think your colleagues are grumpy? Try being the guy predicting a plowable snow in mid-April. I'm getting my fair share of insults, trash-talk & dirty looks. And that's just from family members.
Glass half-full weatherguy that I am, let me gently remind you of some good news: we have entered a (much) wetter pattern. Gulf moisture is finally reaching Minnesota on a consistent basis.
Precipitation since January 1 is running over 2 inches above average. With any luck the drought will ease, with plenty of water for crops and lakes by this summer.
The storm that dumped up to 6-9" on the western metro is pinwheeling away from Minnesota; flurries taper today - travel conditions improving. A high sun angle should melt the ripples of ice that made Thursday morning's commute a slow-motion nightmare. A coating to an inch of flurries today gives way to some sun tomorrow; a cold rain Sunday may mix with wet snow and sleet up north.
Next week brings more rain by Wednesday, possibly ending as snow Thursday.
Not sure whether to laugh or weep. Long-range guidance shows 50s after April 25.
I'm ready to wave the white flag of surrender.
* photo comparison above courtesy of WeatherNation TV Executive Producer Lori Ryan, who snapped these photos near her home in St. Louis Park. Yikes.
Crazy Extremes
. This is why weathermen (and women) have gray hair and ulcers. Let me get this straight: 1" at Richfield, but 5.1" in downtown Minneapolis and nearly 4" at Hastings, with 6" for the western suburbs and 8.5" at New Prague? 8"+ snows were common west of a line from Buffalo to Norwood, but amounts dropped off rapidly south/east of MSP, more precipitation falling as sleet and freezing rain. NOAA has an updated map
here
; additional statewide snowfall amounts
here
.
Ah, Spring. Light Rail Back On Track, Flights Cancelled, Roads Clogged
. Paul Walsh at
The Star Tribune
has a good overview (and video) of Thursday's unusual weather-mess; here's an excerpt: "
Metro area highways should be "in good shape" for Thursday afternoon's rush hour after a day of plowing and melting, said Minnesota Department of Transportation spokesman Kevin Gutknecht. A day of plowing and temperatures above freezing has left roads snow-free if not dry, Gutknecht said. That'll be a steep contrast from Thursday morning, when overnight rain, then about 5 inches of snow shut down the entire Hiawatha light-rail line for hours, severely slowed motorists along all major roads and highways and cancelled about 100 flights at Minneapolis-St. Paul International Airport.
.."
Winter Weather Advisory
. Another coating to an inch of snow may fall this morning, flurries slowly tapering as the day goes on. Recent heavy rains have increased the potential for stream and river flooding, especially in the Eau Claire area;
details
from the NWS:
...THE FLOOD WARNING CONTINUES FOR THE FOLLOWING RIVERS IN
WISCONSIN...

  CHIPPEWA RIVER AT DURAND AFFECTING BUFFALO AND PEPIN COUNTIES
  EAU CLAIRE RIVER NEAR FALL CREEK  AFFECTING EAU CLAIRE COUNTY

.OVERVIEW...
RECENT RAINFALL COMBINED WITH THE SNOW MELT HAS CAUSED THE
CHIPPEWA AND EAU CLAIR RIVER TO RISE. HOWEVER...NO SIGNIFICANT
PRECIPITATION IS EXPECTED IN THE NEXT COUPLE OF DAYS.

PRECAUTIONARY/PREPAREDNESS ACTIONS...

DO NOT DRIVE CARS THROUGH FLOODED AREAS.  TURN AROUND...DON`T DROWN.

STAY TUNED TO NOAA WEATHER RADIO OR YOUR LOCAL RADIO OR TV STATION
FOR THE LATEST INFORMATION CONCERNING THIS FLOOD EVENT.

Time Warp
. April 12 or February 12? I can't quite decide. Yesterday's snowy time machine dropped 20"+ from central Wyoming into western South Dakota, with some 12-15" amounts over southwestern Minnesota. Map: NOAA.
Parking Lot Conditions
. No, this isn't current. This was
Google Traffic
at 8:45 am Thursday morning, those black stripes meaning precious little was moving at the time, due to a layer of ice underneath the snow. It may have been some of the worst travel April travel conditions since 1983.
Before And After.
Guess which photo was taken yesterday. The picture in the upper left was taken April 11, 2012. Thanks to Tricia Frostad in Chanhassen for reminding us what a difference a year makes.
"40 Years Of Forecasting - I've Never Seen A Week Like This"
. From 20-30 foot swells on Lake Superior and a "Civil Emergency" for Duluth to shoveling out Target Field, to 20"+ snows in South Dakota and Wyoming, to wedge tornadoes in Mississippi and record 90-degree heat in Washington D.C. the weather is reaching a new level of extreme. Here's my latest
YouTube Climate Matters
update, courtesy of WeatherNation TV: "
Incredible video of a wedge tornado Thursday in Mississippi, A civil emergency in Duluth, MN thanks to the snow and extreme heat in the Mid-Atlantic. What kind of weather have you experienced this week?
"
Stuck In A Rut.
I can't remember the last time winter chill has lasted this deep into spring. ECMWF model data suggests just enough warm air aloft for a cold rain Sunday; mostly rain next Wednesday - possibly ending as a period of wet snow next Thursday. Yes, it's time to call your therapist. I'd be happy to make a referral.
No Sign Of Spring
. This is going from annoying to baffling to unbelievable. The European solution valid midday next Thursday shows a deep low over the Great Lakes pulling enough chilly air south for mostly snow across Minnesota. It's getting to the point where I'm afraid to look at the maps.
Aurora Potential?
There has been a significant solar flare - a CME, and if skies clear the Northern Lights may be very prominent this weekend. The best chance of partly cloudy skies: Saturday night, especially east, over Wisconsin. Here are details from
spaceweather.com
: "
The magnetic field of sunspot AR1719 erupted on April 11th at 0716 UT, producing an
M6-class
solar flare. NASA's Solar Dynamics Observatory recorded the explosion's extreme ultraviolet flash. Coronagraph images from the Solar and Heliospheric Observatory (SOHO) show a CME emerging from the blast site. The expanding cloud should hit Earth's magnetic field during the early hours of April 13th, possibly sparking geomagnetic storms and auroras
..."
"Sandy" Retired From List Of Hurricane Names By World Meteorological Organization
. You could certainly see this coming. Any storm that claims considerable lives is automatically "retired"; details from Reuters and
Huffington Post
: "The World Meteorological Organization has retired "Sandy" from its rotating list of hurricane names because of the devastation last year's storm by that name caused in Jamaica, Cuba and the northeastern United States, forecasters said on Thursday. Atlantic and Pacific storm names are reused every six years but are retired "if a storm is so deadly or costly that the future use of the name would be insensitive or confusing," forecasters at the U.S. National Hurricane Center in Miami said.
Sandy is the 77th name to be retired from the Atlantic list since 1954
. It will be replaced with "Sara" beginning in 2018, when last year's list is repeated..."
Ask Paul
. Weather-related Q&A:
Hi Paul,
Good call on the snow totals! Since you are my weather guru, I'm wondering if you could take a guess at how long this 3-6" in the Twin Cities will stick around? I've seen competing reports about it being gone by the weekend or sticking around into the middle of next week. I am a lacrosse coach, and would like to plan if we will have to be indoors still by Monday!
Kate Gliske
Karen - most of the snow in the east metro will be gone by Saturday afternoon; it may take a little longer over the west metro, where there is 4-7" on the ground. Rain will accelerate snow melt Sunday, but most lawns in the western suburbs probably won't be snow-free until Monday afternoon. The sun angle is too high for snow to linger for long.
Dear Paul-
Just wanted to let you know that there are many children who are seriously disappointed they didn't cancel school. They were all betting on a snow day.
Keep up the good work.
Rod Meyer
Thanks Rod - I'm surprised that more schools didn't cancel or postpone classes Thursday. Roads were terrible, temperatures just below freezing combined with sleet, freezing rain to put down a layer of rutted ice beneath the snow. When is the last time we had a snow day in April? Probably not since 1983, when 21.8" fell.
Here is an excerpt of an Alerts Broadcaster Briefing issued for our corporate customers midday Thursday: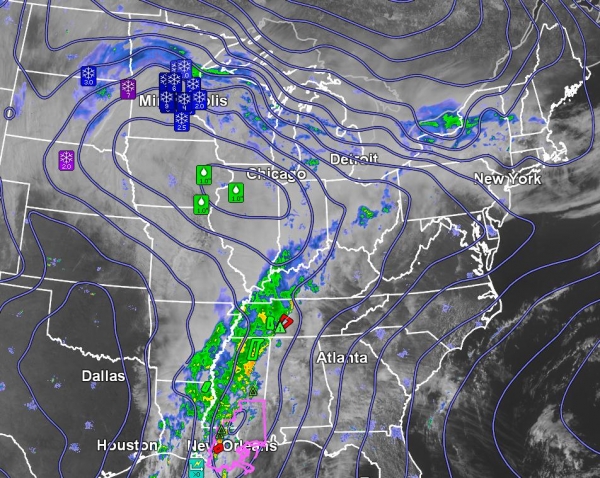 The unusually intense storm we've been tracking continues to cause problems; the threat won't diminish until late tomorrow. Highlights:
*
February-like snowfall
from the Dakotas into Minnesota and Wisconsin - plowable snows possible over central and northern New England over the next 48-72 hours. The heaviest snow is over for the Twin Cities (where 3-7" piled up). Another 1-2" slush is possible by midday Friday, but the worst of the storm is winding down.
* As expected,
river flooding is increasing
from the Central Plains into the Upper Midwest and Ohio Valley, the result of recent heavy rains.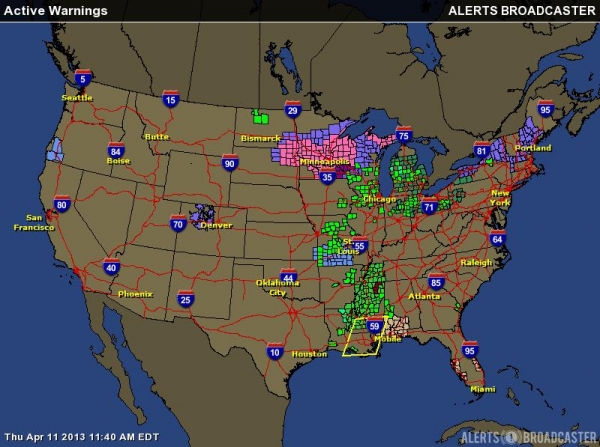 The Big Picture
. From February-like snow and ice over the northern tier of the USA to June-like heat over the Mid Atlantic Region to a significant severe/tornado threat over the Gulf Coast, it's another busy day at Alerts Broadcaster.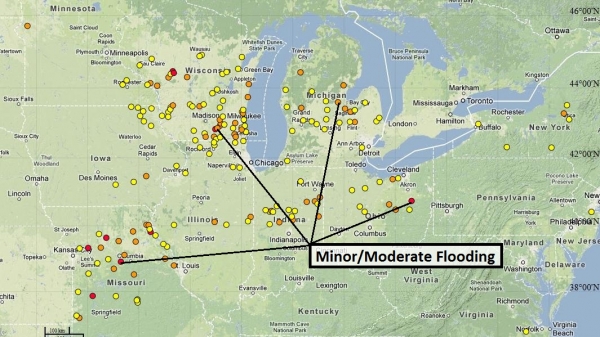 Stream/River Flooding Currently Underway
. NOAA reports minor to moderate flooding from Wisconsin and Missouri into the Ohio Valley and upstate New York. I expect many rivers to crest in these areas over the next 1-2 weeks - facilities in flood-prone areas will need to stay on alert.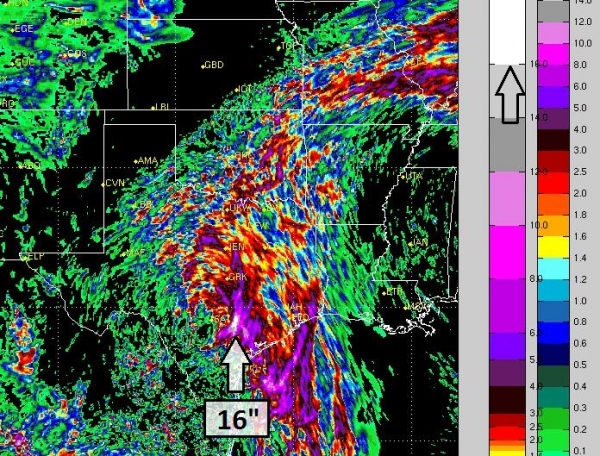 Make It Stop
. In stark contrast to the record warmth that swept into the northeast this week, your colleagues in the Upper Midwest may be in an especially foul mood. Although the heaviest snow burst is over now for the Twin Cities, an additional 1-2" of snow may fall into Friday, closer to 5-8" central Minnesota, and as much as a foot from near Green Bay into the U.P. of Michigan. What spring?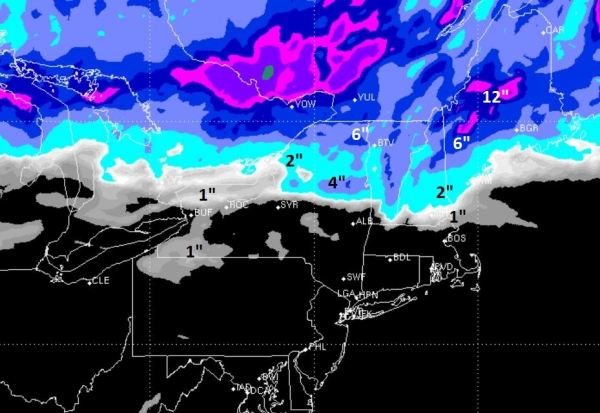 Accumulating Snow For Northern New England
. 90F in Washington D.C. yesterday; strong to severe T-storms in the New York City area? Those storms marked the leading edge of much cooler air, setting the stage for a plowable snow event north of Albany. Boston should be spared, but Nashua, NH may pick up an inch, some 2-8" amounts for Maine and Vermont.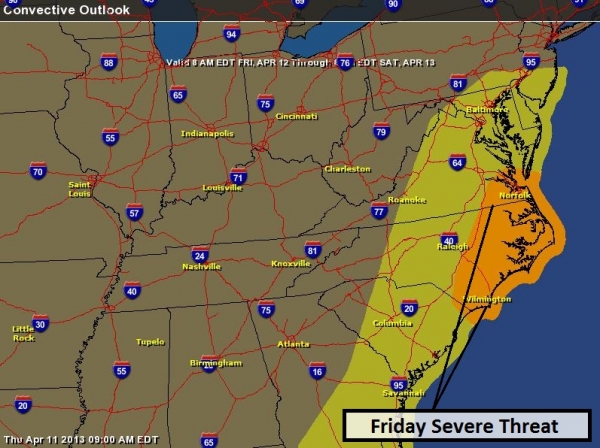 Friday Severe Threat
. Record warmth will come to an end by late Friday as a cold front pushes east, the best chance of Friday severe storms from Virginia's Tidewater to the Outer Banks and Wilmington, NC. A few strong storms may rumble into D.C., Baltimore and South Jersey.
High-Speed Camera System Catches Close-Ups of Snowflakes In Mid-Air
.
Gizmag
has the details, and some amazing photos: "
Falling snow can play havoc with radar systems, so the more that we know about the manner in which snow falls, the better that those systems can be equipped to compensate for it. That's why for the past three years, researchers from the University of Utah have been developing a device known as the Multi-Angle Snowflake Camera – or MASC. Using three cameras and two motion sensors, it captures 3D photos of snowflakes in free-fall
..."
Photo credit
above: "
The Multi-Angle Snowflake Camera, or MASC, is able to capture 3D photos of individual snowflakes in free-fall
."
How Thoughtful. A friend of mine, Pete Schenck, is on an extended cruise in the Pacific. Yesterday he sent me this photo from Samoa, to "warm me up inside". This is me ignoring you Pete. Thanks for reaching out. Sorry about Typhoon Bubba...
Nothing Can Stop The U.S. Mail! Thanks to AM1240, WJON Radio up in St. Cloud, for sharing this photo. Give that mail carrier a raise!
Day Dreaming Of Spring. St. Cloud picked up 8.2" snow yesterday, anywhere from 3-8" across the Twin Cities metro, heaviest amounts western suburbs. Yes, I'm enjoying spring...
TODAY: Light snow tapers to flurries. Another coating to 1" possible. Winds: N 10-15. High: 36
FRIDAY NIGHT. Patchy clouds - a few slick spots. Low: 27
SATURDAY: Welcome sun, melting snow. High: near 40
SUNDAY: Cold rain, mixed with snow up north. Wake-up: 33. High: 45
MONDAY: Partial clearing, drying out. Wake-up: 35. High: 45
TUESDAY: More clouds than sun, quiet. Wake-up: 36. High: 44
WEDNESDAY: Rain develops. Wake-up: 35. High: 42
THURSDAY: Rain ends as wet snow? Help. Wake-up: 33. High: near 40
Climate Stories...
Climate Change Brings Stormier Weather To The U.S.
No kidding. There's mounting evidence that this is not just our imagination; here's an excerpt from a story at
Nature
: "...
At the EGU meeting, Eberhard Faust, head of climate risk and natural hazards research at the reinsurance company Munich Re in Germany, presented a study showing in the US, the annual economic losses from sizable thunderstorms — those that cause more than $250 million in damages — have doubled since 1970. His team also found that storms have become more unpredictable. From 1990 to 2009, years with exceptionally large storm activity and high losses alternated frequently with relatively calm years. Year-to-year variation and average losses were significantly higher than they were between 1970 and 1989
..."
Think The Planet Isn't Warming? Check The Ocean
. Climate scientists estimate that 90-93% of all warming is going into the world's oceans - the rest is heating up the air and melting ice. Here's an excerpt from
Discovery News
: "
A
recent article
in The Economist stated that "over the past 15 years air temperatures at the Earth's surface have been flat while greenhouse-gas emissions have continued to soar." The Economist went to great lengths to point out that "the mismatch between rising greenhouse-gas emissions and not-rising temperatures … does not mean global warming is a delusion." But the piece was
predictably lauded by climate skeptics
as "further evidence" of the case against climate change. Except that … it wasn't. As The Economist piece itself pointed out, this wasn't an argument that "
global warming has 'stopped.
'" The past two decades have been the hottest in recorded history; of the nine hottest years on record,
eight have come since 2000
. The question, though, is why the year-on-year/decade-on-decade increase appears to have been somewhat less in the past 10 to 15 years, given the ongoing increase in atmospheric greenhouse gas concentrations
..."
What Is Climate Sensitivity, Why Does It Matter And Who's Got What Wrong and Why?
Perpetual climate deniers like to point out that Earth's climate isn't nearly as sensitive to man-made greenhouse gases as all those "alarmist/warmist" scientists claim. Here is a good explanation of climate sensitivity from climate scientist and Minnesota native Greg Laden at
scienceblogs.com
: "
Climate sensitivity is the number of degrees C that the earth's average temperature (of the atmosphere air and water on top of the "earth" per se) will increase with a doubling of "pre-industrial CO2″ in the environment. This is an important number … and it is a number, and to save you the suspense, the number is about 3 … because it tells us what the direct effects of the release of fossil Carbon (mainly in the form of CO2) from the burning of fossil fuels would be. Here's the thing. Climate change denialists would like the number to be 1, or some other number lower than 3. Well, we would ALL like the number to be low, but those of us interesting in actual science and truth and such things mainly want to have a good estimate of this important value. Climate change denialists want to pretend that the number is lower than it is, regardless of what that number may be
..."
Companies Unite In Call For U.S. Climate Change Policy
.
Huffington Post
has the article; here's an excerpt: "
Leaders from the business community made one thing clear when they came together on Wednesday to announce a 100-day corporate campaign in support of climate change policy: This is not a right or left issue. It is not about appealing to a base of liberals or conservatives. According to signers of the campaign, it is about tackling one of the greatest economic challenges and opportunities of the 21st century. "The longer we wait, the higher the risks will be to our business, to our consumers and to society as a whole," said Betsy Blaisdell, Senior Manager of Environmental Stewardship at Timberland. "We're motivated to see progress made on the issue of climate change, and it will take everyone to get it done.
.."
White House Budget Funds Gore Climate Change Satellite
. Details from
The Hill
; here's the intro: "
President Obama's fiscal 2014 budget calls for using a satellite designed to track climate change that was originally pushed by former Vice President Gore. Gore proposed the satellite in 1998 as a way to take continuous photographs of the Earth, giving scientists measurements of climate change. Former President George W. Bush never pursued the plan
...." From AP: "
Acting NOAA chief Kathryn Sullivan said its main mission will to give Earth warning when solar storms — which can zap power systems on the ground and fry satellite electronics — are on the way. That job is now being done by a NASA satellite that has surpassed its scheduled lifetime, she said
..."