48 F
. high in the Twin Cities Sunday.
53 F
. average high on April 7.
57 F
. high on April 7, 2012.
1-2" rain
possible this week.
Wintry mix
possible Wednesday and Thursday (sleet, freezing rain, even a period of accumulating snow Wednesday night into Thursday).
Sputtering Spring
"This isn't funny Paul - we're not Duluth". That was my Saturday evening; more stares & glares than friendly smiles. Our tortured spring hits rock-bottom later this week; the second week of April's weather looking like something out of early March.
An intense storm spins up tornadoes from Kansas City to Dallas, while 1-2 feet of snow buries the Dakotas. I expect enough warm air aloft for rain into Tuesday evening. And then it gets interesting.
Models suggest enough sub-freezing air in the lowest few thousand feet of the atmosphere for some freezing rain (glaze ice) and sleet (ice pellets) by Wednesday- maybe a few inches of slush on lawns & fields by Thursday. Plowable?
It's too early to speculate on amounts, but whatever falls should be pretty much gone by Friday afternoon. The sun is too high in the sky for slush to linger.
1-2" of precipitation may fall this week close to home, complicating the flood forecast - the ground is still frozen, making run-off and rapid urban, stream and river flooding a greater risk.
A few months ago I predicted a late spring, a slow easing of drought, and a cooler, wetter, more severe summer. I stand by that prediction.
Short-term I may need a better disguise and more therapy: long-range models hint at another slush-storm in one week.
I hope I'm wrong.
A Potentially Very Wet Week
. Models are printing out well over 1" of liquid precipitation by Wednesday; mostly rain for the Twin Cities, but a wintry mix can't be ruled out by midweek. The local NWS office is predicting 1.2" by Wednesday midday. Graphic: Iowa State.
May I Please Be Excused?
I'm tempted to drive to MSP International and hop the first southbound flight. Anywhere. Not sure I want to be here Wednesday and Thursday. The natives are already restless - if we do pick up a few inches of slush by Thursday that might just push people over the edge. Rain today, Tuesday and the first half of Wednesday. If we do see a wintry mix it would probably come from Wednesday PM into Thursday. Saturday looks dry, a cold rain pushing back into Minnesota Sunday - right now it looks warm enough for rain, at least in the Twin Cities, based on ECMWF guidance.
Skew-T.
The projected temperature sounding (in red) by 2 pm Wednesday shows a relatively shallow layer of sub-freezing air in the lowest few thousand feet of the atmosphere. Warm ari aloft will melt rain, which may re-freeze into sleet or even wet snow by Wednesday afternoon and night.
Latest from
Alerts Broadcaster
:
A major storm is spinning up for the central USA, capable of impacting towns from Denver to Dallas to the Twin Cities from Monday thru Thursday of this week with a wide variety of potentially disruptive weather:
-
Significant tornado outbreak
possible the first half of this week. Tuesday looks like the most violent day from Dallas and Oklahoma City to Kansas City and St. Louis, with a few large, violent, long-track tornadoes expected.
-
Heavy wet snow
will fall from Wyoming and Colorado's Front Range across the Dakotas, potentially plowable amounts of slush into part of Minnesota, Wisconsin and Lower Michigan by Wednesday and Thursday. Yes, this is unusual for the second week of April.
-
Flood risk
. The ground is still frozen over most of the Upper Midwest - any heavy rain will run off into streets, streams and rivers. I expect river flooding (and urban flooding) to be on the increase over the next 72 hours. Details: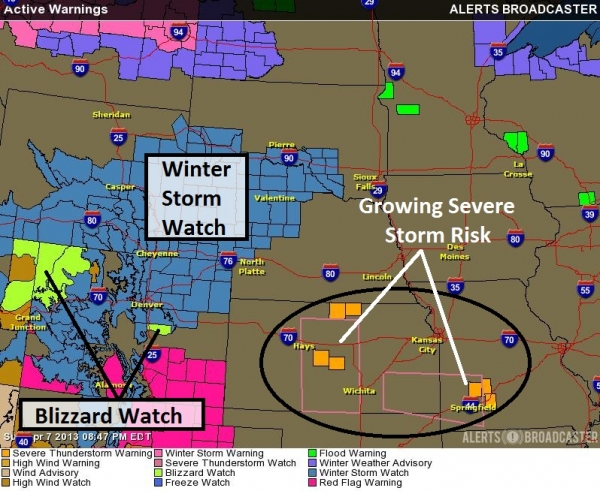 Latest Watches
. Denver may pick up as much as 5-10" of snow from Monday night into Tuesday. Blizzard Watches are posted for portions of Colorado, a Winter Storm Watch from the Central Rockies into the Dakotas and western Nebraska. Severe thunderstorms are already popping up over the Plains; the potential for severe weather will increase into Tuesday.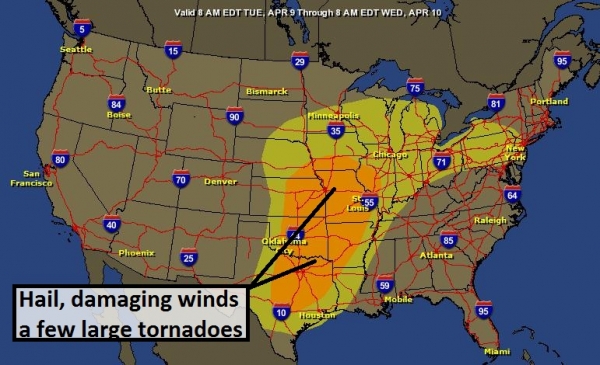 Tuesday Severe Storm Potential
. Severe storms are likely over the Plains Monday into Wednesday, but I suspect Tuesday will be the busiest day as dynamics converge for a few large, potentially violent tornadoes from Austin and Dallas northward to Tulsa, Wichita, Kansas City, St. Louis, even Des Moines. The timing is right - I expect SPC to upgrade the risk to "moderate" within 24 hours.
Facilities On Alert
. There is a 30% probability of severe weather (58 mph+ winds and/or 1" hail or larger) within 25 miles of metropolitan areas from Dallas and Oklahoma City to Kansas City and Topeka on Tuesday. I expect numerous Tornado Watches and Warnings, with the greatest potential for damaging winds between 3 pm and 8 pm.

Cities Potentially Impacted Tuesday
. Here is a close-up of the significant severe threat area, which includes Waco, Wichita Falls, Wichita, Springfield and the suburbs of Kansas City.
Serious Slush Potential
. Chicago should avoid any snowy headaches, but enough snow to shovel and plow is expected from Denver into South Dakota and western and central Minnesota. A few inches of slush may accumulate on lawns and fields in the Twin Cities Wednesday night into Thursday - most freeways should stay wet.
Sliding Into A Much Wetter Pattern - Growing Flood Risk
. The GFS model is printing out impressive rainfall amounts with this storm by Friday evening, as much as 4" from near Omaha and Lincoln to Des Moines; some 2-3" amounts near Milwaukee, Chicago and Detroit. This may complicate river flooding later this week.
Areas prone to urban, stream and river flooding will want to keep a close eye on conditions and have contingency plans ready to go
.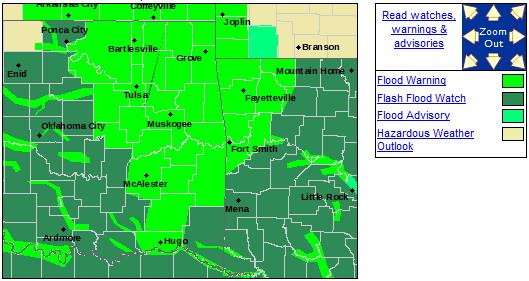 Flood Update
. Major flooding is
already underway
near Devil's Lake, North Dakota, and along the East Fork of the Black River in Wisconsin. I expect river flooding to intensify later this week - the greatest concern is along the Red River flowing through Fargo, where a crest is still probably 1-2 weeks away. Urban flooding later this week is most likely from Des Moines into the Twin Cities, Milwaukee and possibly the greater Chicago area.
Summary
: The calendar says April, but the weather maps still look like something out of early March. An unusually intense spring storm will elevate the risk of heavy wet snow (western Plains and Upper Mississippi Valley), significant river flooding from some 1-4" rainfall amounts, and a substantial risk of severe storms, hail, damaging winds and a few large, violent tornadoes by Tuesday from Dallas to Kansas City. After peaking in the 60s earlier today Denver will see 5-10" snow Monday night into Tuesday; I expect numerous delays and cancellations at KDEN Tuesday. We'll watch the storm unfold and provide updates as needed.
Impact Based Warnings
. Minnesota is one of 14 states that will see new, enhanced wording of tornado warnings, to try to better reflect and communicate the risks to consumers in the potential path. Details from
NOAA's Central Region
: "
An experimental National Weather Service warning enhancement will be used across much of the central U.S. this thunderstorm season (beginning April 1). This is an expansion of a smaller NWS experiment that began in Kansas and Missour in 2012. The Impact Based Warning (IBW) experimental product is an effort to better communicate severe weather threats within National Weather Service warnings. While the basic function of Severe Thunderstorm and Tornado warnings will remain the same, additional enhanced information will be provided within the warning to provide additional expected "impact" information. The goals are to provide more information through the warnings in order to facilitate improved public response and decision making, and to better meet societal needs in the most life-threatening weather events. This effort is in response to key findings from recent service assessments of devastating tornadoes in 2011, particularly the EF-5 tornado in Joplin, MO
..."
NOAA Needs Your Help
. The local Twin Cities National Weather Service is interested in knowing whether the ground is still frozen in your neighborhood. Why does this matter? The extent and depth of lingering frost in the ground will help to determine rainfall run-off rates next week, when we may see a significant storm. This will impact not only the potential for minor flash flooding in the Twin Cities, but more significant river flooding, especially on the Red River in the weeks to come.
Details
: "
As we head in to Spring, potential flooding is a primary concern across Minnesota and Wisconsin. We could use your help in determining if the ground is still frozen, or if there has been some partial thaw of the ground. As you can see on the map below, we have quite a large area with no data across southern MN and western WI. Visit our
Facebook Page
or send us a message via
Twitter
@NWSTwinCities and let us know what the ground condition is like at your location
."
Median Lake Ice Out Dates
. The
interactive map
above shows median dates when most of the ice is off Minnesota's lakes. For Nokomis the date is April 5. Not this year. Map courtesy of the Minnesota DNR.
HydroClim Update
. Here are a few bullet points from the
latest update
, courtesy of the Minnesota State Climate Office and the Minnesota office of the DNR:
Snow depths

range from zero in the southern one-third of Minnesota to over 20 inches west central Minnesota, north central Minnesota, and in the Lake Superior highlands.
[see: NWS Snow Depth Estimation Map | Snow Depth Maps]
The

amount of water content in the snow pack

is estimated to be in excess of five inches in some west central and north central Minnesota counties. The large amount of water on the landscape, lying upon an impervious frozen surface, has led to a

high risk for major flooding

in the Red River basin.
[see: NWS Snow Water Equivalent Estimation Map]
The U.S. Geological Survey and Minnesota DNR report that

stream discharge values

vary widely across the state. After the initial flush of snow melt runoff recedes, stream discharge values will quickly fall below historical medians unless there is a very wet spring.
[see: USGS Stream Flow Conditions | MNDNR Weekly Stream Flow Maps and Tables]

Water levels on most Minnesota lakes

are low due to the dry summer and autumn of 2012. Lake Superior's water level is approximately one foot lower than its historical average for this time of year.
* latest modeled snow depth from NOAA is
here
.
Weather, Disaster Agencies Turn To Twitter, Facebook, YouTube
. Bill McAuliffe at
The Star Tribune
takea look at The Star Tribune takes a look at social media's impact on weather coverage, specifically severe storm tracking and communication. As I say in the article, I suspect it's a mixed blessing: nice to have more information, but be sure you're following "trusted sources" to get reliable, actionable information. Here's an excerpt: "
With the season for quick-hitting storms about to barge into Minnesota, social media are about to become a key news tool. Indeed, public agencies concerned with natural disasters are glomming onto social media like so many teenagers, attracted to its instant, two-way connectivity. "It's fast. It's direct. It enhances our ability to deliver the message," said Bruce Gordon, director of communications for the
Minnesota Department of Public Safety
, whose 12 public information officers post breaking news, safety tips and even human interest stories on Facebook, Twitter and YouTube
..."
38 Things Minnesotans Are Too Nice To Brag About
. O.K. This is kind of funny, but rated PG. Buyer beware. Photo and article courtesy of
Buzzfeed
.
America's Most Bike-Friendly City? Minneapolis
. At least according to
Bicycle Magazine
, which writes: "
Despite the cold wintertime climate, Minneapolis has a thriving bike community. It has 120 miles of on- and off-street bicycle facilities, plus indoor bike parking and other cycling-friendly facilities
."
Spring Lite
. Look at the bright side: no bugs or humidity (yet). And no tornadoes - it's been much too cool and dry. O.K. I'm grasping at straws. The sun did peek thru yesterday, but highs were still 3-8 F. cooler than average, ranging from 30 at Alexandria to 46 St. Cloud, 48 MSP International to 49 Eden Prairie, Crystal and St. Paul.
TODAY: Few spring showers, mild. Winds: NE 5-10. High: 54
MONDAY NIGHT: Damp, a shower or two. Low: 39
TUESDAY: Cold rain. Icy mix possible up north late. High: 43
WEDNESDAY: Rain mixes with sleet, possible snow, some accumulation on lawns/fields, especially outside the metro. Wake-up: 33. High: 38
THURSDAY: What April? Wet snow. Couple inches on lawns? Wake-up: 32. High: 36
FRIDAY: Some sun - hope returns. Wake-up: 31. High: 41
SATURDAY: Mostly cloudy, waiting for a real spring warm front. Wake-up: 28. High: 45
SUNDAY: A cold rain (wintry mix up north). Wake-up: 33. High: 42
Climate Stories....

When It Rains It Pours: Study Confirms Climate Change Will Keep Driving More Intense Precipitation
. Here's a clip from a story at
Think Progress
: "...
The NOAA study, published in Geophysical Research Letters, found that extreme precipitation events will become more intense this century as the globe continues to warm. Extra moisture expected from that warming will be the dominant factor fueling this increase in extreme precipitation, with a
20 to 30 percent more precipitation
in the Northern Hemisphere by 2099.
The paper looked at three factors that go into the maximum precipitation value possible in any given location: moisture in the atmosphere, upward motion of air in the atmosphere, and horizontal winds. The team examined climate model data to understand how a continued course of high greenhouse gas emissions would influence the potential maximum precipitation. While greenhouse gas increases did not substantially change the maximum upward motion of the atmosphere or horizontal winds, the models did show a 20-30 percent increase in maximum moisture in the atmosphere, which led to a corresponding increase in the maximum precipitation value..."

Killing Pipeline Is Key To Climate Change Fight
. Here's an excerpt of an Op-Ed written by climate scientist James Hansen in
The Register-Guard
: "...
The draft review suggests the climate impacts of the pipeline are limited because the project will not substantially "induce growth in the rate of extraction in the oil sands." This narrow analysis misses the mark. Researchers now say that the Alberta tar sands contain 360 to 510 billion tons of carbon — more than double that of all oil burned in human history. While only a fraction is considered economically recoverable right now, we humans are genius at finding new and better ways to dig junk out of the ground. Digging begets more digging. Once the big spigot is open, TransCanada will have every incentive to milk the massive tar sands basin for all it is worth
..." (image: Clean Technica).
Getting Serious About A Texas-Size Drought.
Here's an excerpt from
The New York Times
(subscription may be required): "...Other desperately dry states in the Midwest and West are facing similar challenges. Drought has hurt farmers in New Mexico and reduced California's crucial mountain snowpack. Even the Great Lakes are at worryingly low levels. Drought conditions in the western half of the country are likely to persist at least through June, federal forecasters have warned. Over time, as the effects of climate change become more pronounced, hotter weather and longer dry spells will continue to threaten water supplies that are essential for development. Already the drought has led to consideration of wild, expensive ideas, like piping water hundreds of miles from the Missouri River to the parched Colorado River basin. Water traditionally has been mostly a state or local issue because communities draw supplies from nearby rivers or aquifers. But increasingly it is becoming a national one. Economies will rise and fall on the availability of water, whose price is inexorably marching upward. Litigation and rural-urban water conflicts are likely to intensify throughout the West and Midwest..."
Graphic credit
above:
Wesley Bedrosian
No Debate In The Scientific Community.
Graph above courtesy of Greg Laden at
scienceblogs.com
.
How U.S. Energy Policy Fails To Address Climate Change
.
The Christian Science Monitor
reports; here's an excerpt: "
What never gets asked and answered definitively in the policy debate is this: What should our ultimate goal be and when should we aim to achieve it? The first part of the question has elicited so many answers from so many constituencies that I may not be able to represent them all here. But here is an attempt to categorize the main lines of thinking concerning the country's energy goals:
Seek the cheapest price for energy with the implication that environmental consequences should not be tallied as part of the cost.
Complete a transition to renewable energy as quickly as possible while drastically reducing the burning of fossil fuels.
Replace all fossil fuel energy with nuclear power..."
Photo credit
above: "
Wind turbines of the Smoky Hill Wind Farm dot the countryside near Ellsworth, Kan. Perhaps the simplest way to manage the energy transition we must undergo would be to impose a high and ever rising tax on carbon, Cobb writes
." Orlin Wagner/AP/File
Global Warming: 1,600 Years Of Ice In Andes Melted In 25 Years
. Here's an excerpt from
frenchtribune.com
: "
Providing one of the signs of

global warming

, glacial ice in the Peruvian Andes has started melting. A structure that took 1,600 years to build has fallen into the grip of high temperatures and melted within 25 years. The

research

has been conducted by Lonnie G. Thompson, the

Ohio State University

glaciologist. According to him, his team has

worked

from time to time on the Quelccaya ice cap for decades. Findings have been published in a paper that has been released online. Global warming is one of the results of man-made activities. This recent

report

has highlighted that the problem of global warming has reached its peak. This time the proof has been provided by margins of the Quelccaya ice cap in Peru
..."
Even Doubter Wants To Prepare For Global Warming
.
Mother Nature News
has the article; here's the intro: "
Some still insist that climate change is a hoax, but the vast majority of Americans believe the globe is warming, a new survey finds — and they want to prepare for the worst. In fact, even 60 percent of climate-change doubters favored preparations, the survey found. Researchers collected opinions between March 3 and March 18 via an online questionnaire, using a nationally representative sample of 1,174 American adults, both English and Spanish speaking. The survey asked about climate-change beliefs and support for
adaptation strategies
to help coastal areas cope with the rising sea levels and frequent, intense storms that a warmer world could bring. The results showed that 82 percent of Americans are in favor of preparation
..."
Photo credit
above: "
Sea level rise is swamping coasts. Rodanthe in the Outer Banks of North Carolina is pictured
."(Photo: Andrew Kemp, Yale University)
Federal Study: Global Warming Means More "Extreme" Rains
. Basic physics: warm up the atmosphere, even by a few degrees, and you increase the capacity of the sky overhead to hold more water vapor (which is itself another greenhouse gas). The result? More fuel for extreme rains (and snows).
The Hill
has the story; here's the intro: "
Global warming will make cases of "extreme" rainfall even more intense and worsen flood risks, federal researchers say in the latest warning that climate change will likely worsen violent weather. A new federally led study explores how growing amounts of atmospheric water vapor due to global warming will affect what is called probable maximum precipitation. The report, released by the National Oceanic and Atmospheric Administration, forecasts an "accelerated water cycle with heavier extreme rains." The study shows "a 20-30 percent expected increase in the maximum precipitation possible over large portions of the Northern Hemisphere by the end of the 21st century if greenhouse gases continue to rise at a high emissions rate," NOAA said
..."
Photo credit
above: "
The flooded Red River surrounds houses near Fargo, N.D., in 2010. Scientists say climate change will produce more intense storms, increasing the risk of damaging floods
."
(

M. Spencer Green / Assoicated Press

/

March

21

, 2010

)
* The Los Angeles Times has another perspective on the potential for more extreme rains
here
.
Rising Seas Swallow 8 Cities In These Climate Change GIFS
.
Mashable
has the story; here's an excerpt: "
Climate change and global warming may cause sea levels to rise and flood coastal cities across the world. Over the past century, the Global Mean Sea Level has risen by 4 to 8 inches. And according to estimates by the National Oceanic and Atmospheric Administration (
PDF
), it will keep rising between 8 inches and 6.6 feet by 2100. How will the world look if that happens? In November of 2012, The New York Times published interactive maps displaying the effects of the sea level rising, in a series titled "
What Could Disappear?
" The maps show how much land the sea will claim in the future, if it rises by 5, 12, and 25 feet. Nickolay Lamm, a 24-year-old researcher and artist saw the interactive maps and wondered: "What would this actually look like in real life?" Lamm told Mashable in an email interview that "the only imagery I had of sea level rise came from Hollywood." So he decided to put his skills to work
..."