76 F
. high yesterday in the Twin Cities.
73 F
. average high on May 29.
64 F
. high on May 29, 2012.
.09"
rain fell at KMSP as of 7 pm.
- 1.6F
. May temperatures are running about a degree and a half cooler than average in the cities, to date.
Slight severe threat
today for southern Minnesota, including the Twin Cities.
.97"
additional rain predicted by Saturday afternoon.
Meteorological Medicine
I half expected cheering, ringing church bells & high-fives when the sun finally broke thru yesterday; faces pressed up against windows to admire a blue sky, however fleeting.
I'm as ready for real summer warmth as everyone else - but I'm trying to see the big picture. It took a dramatic shift in the jet stream steering currents to ease Minnesota's drought. The same volatile pattern that's turned on our rains is keeping us grayer & cooler than average.
Pete Boulay at the State Climate Office reports May, 2013 is the 4th cloudiest since 1963. Memorial day weekend was the 3rd gloomiest since 1971. Enough statistics.
More T-storms rumble into town today & Friday; a tiny percentage may turn severe. Cooler air arrives Saturday (what a shock huh?) with more showery rains, but nothing severe. Sunday looks like the sunnier day right now, the better day to mow your overgrown lawn.
I'm counting my atmospheric blessings: historic flash flooding is reported over Iowa & Illinois, and the soggy dregs of Tropical Storm "Barbara", sparking flooding over southern Mexico, may push into Florida by late next week.
We've seen drought-busting rains, without the floods or crazy T-storms.
Thursday Severe Risk. The Twin Cities is on the edge of the slight risk area, but we're close enough where we need to pay attention later today. The main threat is hail and straight-line winds, but a few isolated tornadoes can't be ruled out in this pattern.
Wednesday Storm Damage
. As of 11 pm last night SPC counted 23 tornadoes, 184 reports of damaging winds, and 128 large hail reports. Tornadoes touched down as close as southwest Wisconsin and northeast Iowa (in a severe storm watch, proving that sometimes tornadoes can form even if it's "only" a severe storm watch). Details from
SPC
.
Circle Your Calendar.
Does anyone still do that? My calendar is on my phone, so if I lose that I'm toast. The 00z NAM prints out .97" for KMSP, models in fairly good agreement we'll pick up anywhere from .50 to over 1" of rain, most of that today and tomorrow, but a few light showers spill over into Saturday (naturally). Dry weather is expected Sunday and Monday, before the next round of heavy showers and possible thunder next Tuesday and Wednesday.
Summer On Hold
. Yes, the Summer Solstice is a little over 3 weeks away. You know that. I know that. Apparently the atmosphere doesn't care. After 70s today and Friday we cool off into the 60s Saturday and Sunday; at least we'll salvage a partly sunny, pleasant Sunday and Monday. Data: ECMWF.
A Gloomy Spell.
Here's an excerpt of an e-mail I received from Pete Boulay, with a summary of some
interesting statistics
at the Minnesota Climatology Working Group: "
According to the solar instruments at the St. Paul Campus Climate Observatory May 1-28, 2013 is the 4th cloudiest going back to 1963. The gloomist is 2005. Looking at Memorial Weekend back to 1971 it was the 3rd gloomiest back to when the three-day Memorial Weekends began in 1971. The gloomiest Memorial Weekend was in 2000, and I remember that Memorial Weekend being quite gloomy indeed...

One more tidbit with Memorial Weekends. Looking at the solar radiation days for Friday through Tuesday, here's how they stack up from cloudiest to sunniest
:"
Cloudiest
Sunday
Saturday
Monday
Friday
Tuesday
Sunniest
"
Yes, the Tuesday after Memorial Weekend is, on average, the sunniest. Bot this year though!
"
* credit for the solar data is the University of Minnesota St. Paul Campus Climate Observatory.
Wettest Spring On Record For Iowa.
With saturated ground there's growing concern Iowa is at a "tipping point", with a potential for even more severe, even historic flooding in the days and weeks to come. Here's an excerpt from a story at
kwwl.com
: "
This spring is now the wettest on record in Iowa. State Climatologist Harry Hillaker says statewide average rainfall of 16.4 inches as of Tuesday morning is the most rain in March, April and May in 141 years of records. The previous record was 15.5 inches in 1892 and normal is just over 10 inches. That explains why Iowa rivers are overflowing shutting down roads, flooding basements, and sending emergency managers into flood planning mode
..."
* photo of the Des Moines River in downtown Des Moines courtesy of Angie Kufner.
Flood Potential
. NOAA's 5-Day QPF shows a risk of another 4-6" or more of rain from Illinois into southern Iowa and Missouri, which will complicate the flood forecast in the coming 48-72 hours. Some locations across the Midwest have already seen historic flooding in the last 2 weeks, and conditions may get worse by the weekend.
Slow-Motion Storm Machine
. Weather systems are moving very slowly across North America, which is prolonging the potential for heavy/severe T-storms every time a deep trough of low pressure sets up over the Plains. The threat of severe weather for Minnesota doesn't diminish until Friday night and Saturday, as winds shift to the northwest behind the storm. 84 hour NAM loop: NOAA.
Tornado Risk Goes Beyond "The Alley"
. I would argue that there's compelling evidence that extreme weather is, in fact, increasing. Yes, land use is an issue: expanding suburbs, more people living on the coast, but superimposed on these trends we also have an atmosphere with more water vapor and more potential energy, more fuel, especially for severe local storms and extreme rainfall events. Here's an excerpt of a very good summary of various weather and natural hazard-related risks from
CNN.com
: "...
From 2000 to 2011, about 6,700 tornadoes hit in the eight states typically identified as Tornado Alley: Kansas, Oklahoma, Illinois, Nebraska, Texas, Colorado, South Dakota and North Dakota. But 8,800 tornadoes touched down in at least 16 other states during the same time period, in Iowa, Louisiana, Mississippi, Alabama, North Carolina, South Carolina, Arkansas, Indiana, Missouri, Georgia, Ohio, Wisconsin, Minnesota, Florida, Tennessee and Kentucky. The Tornado Alley states lost $2.5 billion in residential property damage from 2000 to 2011 -- but consider that the 16 states outside the Alley suffered nearly $15.5 billion in damage during that same time. Are there more severe weather events now than in the past? There's no clear answer
...."
* EF-4 and EF-5 tornadoes comprise only 1% of all tornadoes in a given year, nationwide, yet they produce 70% of all tornado-related casualties.
KAMR Broadcasts From Station Bathroom During Tornado Alert.
This is a first, as far as I can tell, not a bad option to be away from outer walls and windows (if you can't get into a basement). The station is in Amarillo, Texas - here's an excerpt and video from
TVSpy.com
: "
Amarillo, TX, NBC affiliate
KAMR
found itself in the center of the severe storms sweeping through Texas last night. The area was
hit with winds up to 70 MPH
,
baseball sized hail
and, according to KAMR chief meteorologist
John Harris
, tornadoes touching down in Amarillo. Last night at around 11:45 p.m. reports of a tornado developing near the station sent the anchors and crew scrambling for shelter while they were still on the air. NBC's "Today" show aired what looked like cell phone video of the KAMR weather team broadcasting from the station bathroom. The station was also broadcasting on FOX affiliate
KCIT
at the time. That video leaves out the one scene setter viewers at home could hear during the broadcast, the sound of hail hitting the building
...."
Hurricane Alley: America's 5 Most Vulnerable Metro Areas
. In today's edition of
Climate Matters
I take a look at what is shaping up to be a busy year in the Atlantic and Gulf of Mexico. Sea surface temperatures are warmer, and a lack of El Nino means less wind shear over the tropics; a better chance of disturbances forming into tropical storms and hurricanes. While many people fixate on wind speeds and what category a hurricane is, inland flooding, in some cases days after landfall, is turning into one of the biggest ongoing threats from tropical systems, in some cases hundreds of miles away from the coast. Details: "
Tropical Storm Barbara was moving inland over Southeastern Mexico overnight, bringing a threat of inland flooding and mudslides. Meteorologist Paul Douglas looks at the possibility of Barbara having a U.S. impact. Plus what you can be doing now to prepare for the hurricane season
."
Cities Not Waiting For The Next Superstorm To Hit: Column
. Here's an article that caught my eye, an excerpt of a guest column commentary at USA Today and
The Marshfield News-Herald
: "...
This "surge" phenomenon is now occurring regularly in other East Coast cities even during "not-so-super storms" and sometimes when there is no storm at all. Parts of inland Hoboken lie below sea level and flood when high tides push rainwater -- being funneled off of city streets -- back through storm-water drainage pipes and out onto the streets. Because of an old, combined sewer system, sewage mixed with that rainwater backs up onto streets. In other places such as Miami Beach, even during bright sunny days,
tides get high enough
that seawater inundates storm-water drainage pipes and floods city streets. Flooding has become such a chronic problem there that city leaders approved a
$206 million overhaul
of the city's drainage system. As sea levels continue to rise, these problems likely will become commonplace up and down the Atlantic and Gulf coasts, and when major tropical storms hit, they will more likely cause damage on an unprecedented scale
..."
Photo credit
above: "
Taxis in Hoboken, NJ, in October, after Hurricane Sandy.
" Courtesy: Todd Plitt, USA Today.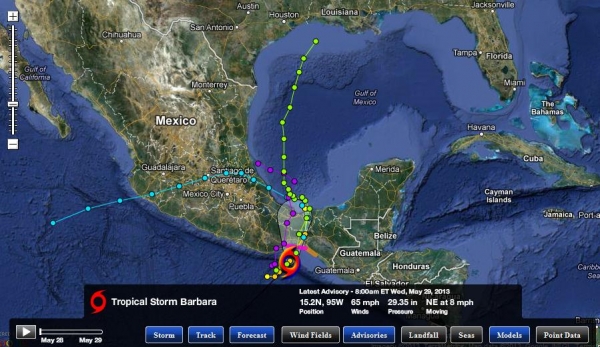 Tropical Storm Barbara
. "Barbara" came ashore as a tropical storm - over a relatively lightly populated region of coastal Mexico tonight as a strong tropical storm or weak category 1 hurricane. The main risk today: severe inland flooding, especially over mountainous regions, where some 10-15" rainfall amounts may result in mudslides and severe river flooding. Here's the latest from NHC:
SUMMARY OF WATCHES AND WARNINGS IN EFFECT...

A HURRICANE WARNING IS IN EFFECT FOR...
* PUERTO ANGEL TO BARRA DE TONALA MEXICO

A TROPICAL STORM WARNING IS IN EFFECT FOR...
* BARRA DE TONALA TO BOCA DE PIJIJIAPAN MEXICO.

A HURRICANE WARNING MEANS THAT HURRICANE CONDITIONS ARE EXPECTED
WITHIN THE WATCH AREA...IN THIS CASE WITHIN THE NEXT 12 HOURS.

A TROPICAL STORM WARNING MEANS THAT TROPICAL STORM CONDITIONS ARE
EXPECTED SOMEWHERE WITHIN THE WARNING AREA.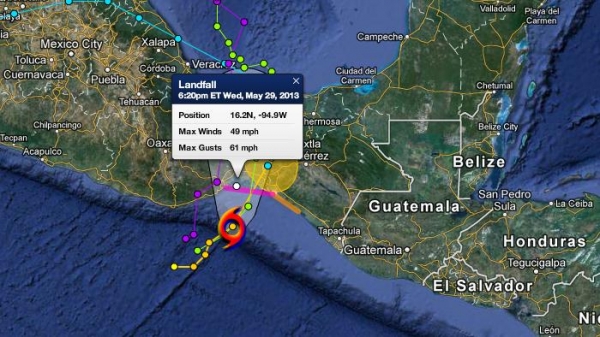 Landfall
. Alerts Broadcaster models brought Barbara ashore overnight with maximum winds of 50-65 mph. A few computer models bring the soggy remains of Barbara north into the Bay of Campeche and Gulf of Mexico. There is a 1 in 4 risk that heavy rain from Barbara may impact the USA within 7 days, something we'll be watching closely.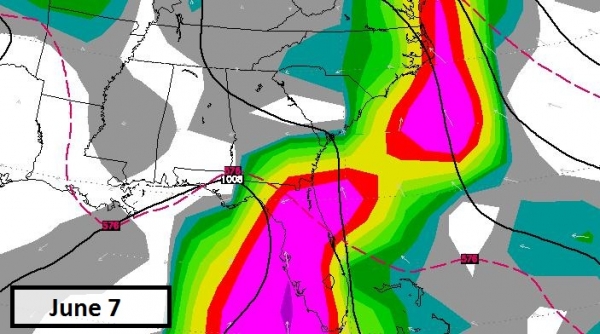 A Persistent Tropical Signal For Florida
. The GFS model continues to bring torrential rains from a possible tropical depression or weak tropical storm (Andrea?) into Florida around June 7, toward the end of next week. Confidence levels are still low, but models have been consistent pulling tropical moisture into the Southeastern USA, with possible flooding implications for much of Florida.
Top Apps To Track Severe Weather
. Jason Parker has a good overview of apps for IOS and Android; happy to see that he included one of my favorites: RadarScope, which is my go-to radar app for anywhere in the USA. Here's an excerpt of his story at
cnet.com
: "...Recently, I collected a few weather apps that are great for a
quick glance at the weather
, but those apps won't help you much in severe weather conditions. For more-serious weather activity, you're going to need apps that track the storms with the latest radar data, give up-to-the-minute information, and give you some forewarning for what's happening in your area. Here are a few of the best radar weather apps for tracking current storms on both iOS and
Android
devices...."
Image credit
: CNET.
Trulia Adds New Maps To Visualize U.S. Rental Prices, Earthquake And Flood Risk
. I found this vaguely interesting: before you buy or rent check out the neighborhood, everything from crime rates and rental prices to the risk of earthquakes and flooding; here's an excerpt from
techcrunch.com
: "
For a while, it looked like
Trulia
, the online marketplace for homebuyers, sellers, renters and real estate professionals, was going to cede much of its ground to Zillow, Redfin and other newcomers. Lately, however, the company has been making a bit of a comeback, with a
successful IPO
,
back-to-back
product launches
and
acquisitions
. The company also recently finalized a
$150 million
follow-on offering for acquisitions and mergers. Today, the company launched yet another addition to its product:
visualizations
of current per-bedroom rental prices in cities across the U.S., as well as new maps for tracking the risk of earthquake and flood risks in a given neighborhood.
.."
* access a Trulia Twin Cities map
here
.
Talk about crazy extremes...
Heat Wave Continues, Over 500 Dead Since April
. Details on scorching 100-degree heat from The Times of India"
"Heat wave conditions, which have seen over 500 people losing their lives since April due to heatstroke, continued across India on Tuesday, an official said. According to the department of

disaster management

, 524 people have died of sunstroke since April 1 across the country. However, unofficial sources have put the toll at over 600 during last four days itself. After a cloudy and windy on Monday, it was back to being scorching hot in the capital on Tuesday as the maximum temperature settled three notches above average at 43

degrees celsius

. The Met office has forecast

similar weather

Wednesday...."
French Ski Station To Reopen Slopes, In June!
Avalanche Alerts for the French Alps. 2013 just keeps getting stranger and stranger. Here's an excerpt from France's
The Local
: "
A combination of a icy winter and a chilly spring has meant that for the first time ever in the month of June, skiers will have the option of heading to the pistes in the French Pyrénées, French TV TF1 reported on Wednesday. After recent cold weather, bosses at the ski station Porte Puymorens in the Pyrenees-Orientales region of the mountain range that divides France from Spain have taken the exceptional step to reopen the slopes this weekend after they had closed them at the end of the season in April. Eric Charre, director of EPIC, the company that runs the station, told AFP that they wanted to "take advantage of all the snow that has not melted". The Pyrenees witnessed heavy snow falls throughout the winter that led to regular avalanche alerts being put in place
..."
Tesla's Path To The Upgradable Car.
It's hard not, on some level, to admire Tesla, taking on the Big 3 in Detroit. They actually sold more luxury vehicles in Q1 of 2013 than Mercedes and BMW. Here's an excerpt from
cnet.com
: "...
One of the Model S' great strengths, beyond its zero emissions, minimal running costs, excellent driving character, and luxury appointments, is that Tesla can deliver over-the-air updates to its cabin electronics. And those updates can be very extensive, as the Model S features few hard controls. Its instrument cluster is entirely digital and almost all cabin controls live on the 17-inch touch screen dominating the center stack. Behind the scenes, two Nvidia Visual Computing Modules, hosting Tegra 3 chips, perform all the processing for navigation, media, a hands-free phone system, and an instrument cluster display.
.."
Photo credit
above: "
Tesla designed its Model S from the ground up to allow software updates after it leaves the factory
." (Credit: Wayne Cunningham/CNET)
Cornell Develops Beer-Pouring Robot That Anticipates People's Actions
. Now here's technology you can really wrap your head around, courtesy of
gizmag.com
: "
What's better than as
robot bartender
that can pour you a beer? How about a robot waiter that can see you need a refill and comes over to pour you another one. Hema S. Koppula, a Cornell graduate student in computer science, and Ashutosh Saxena, an assistant professor of computer science are working at Cornell's Personal Robotics Lab on just such a robot. Using a
PR-2 robot
, they've programmed it to not only carry out everyday tasks, but to anticipate human behavior and adjust its actions
..."
Mary Meeker's Internet Trends Report
. Meeker always seems to have a knack for knowing where tech is heading; if you're interested in placing some smart bets her report might be worth a look; here's an overview from
allthingsd.com
: "...
Meeker, the Kleiner Perkins Caufield & Byers partner, highlights growth of Internet usage and other activities on mobile devices and updates that now infamous gap between mobile internet usage and mobile monetization. But there are many new additions. Among them are the rise of wearable tech as perhaps the next big tech cycle of the coming decade and a look at how Americans' online sharing habits compare to the rest of the world
..."
* the full report (slide deck) from KPCB is
here
.
Apple TV: There Is A Very Grand Vision
. Here's a segment from an interview with Apple CEO Tim Cook at
tvnewscheck.com
: "...
There have been plenty of rumors about a dedicated Apple television set hitting the market sometime this year. One rumor, citing industry sources, said Apple is, in fact,
working on a 4K "Ultra HD"
television set. Of course, it's unclear what Apple has up its sleeve. At last year's D10 conference, Cook said he felt like he went 30 years back in time whenever he sat down to watch TV. He reiterated those thoughts at this year's conference. "Look at the TV experience," he said. "It's not an experience that very many people love. It's not an experience you would say has been brought up-to-date for this decade. It's still too much of an experience of 10 years ago, 20 years ago, even 30 years ago
..."
A Washout As Traditional Sportswriter, Minnetonka Man Found Success As Innovative Blogger.
Way to go Aaron. You proved the so-called experts wrong. Here's an excerpt of an inspirational story at
The Star Tribune
: "...
Aaron Gleeman was rejected by the Minnesota Daily, the University of Minnesota's prestigious student newspaper, nine times before dropping out of college, so it was "a little weird," he said, when he was invited back to campus in October to speak to a sports journalism class made up mostly of Daily sports staffers. "The only really helpful advice I had for [the students] was to do everything," he said. "Learn how to read a teleprompter, go learn how to shoot video, learn how to edit audio and go do a podcast ... because I'm such a good example of that. The thing I thought I was going to do, I've literally never done once, and some of the stuff I've been most successful at, I didn't even know what it was when I first started doing it." The 30-year-old Minnetonka writer stands out as one of the first sports writers to independently cultivate a massive audience online. He founded his website,
AaronGleeman.com
, on Aug. 1, 2002, and it will soon surpass 10 million unique visitors
..."
Photo credit
: Joel Koyama, Star Tribune.
Iron Man Meets Star Trek: Space-Diving Suit In Development
. Turns out Tony Stark was on the right track, and reality may soon catch up with science fiction. Here's another excerpt of a mind-boggling story at one of my favorite places to geek out on new tech:
gizmag.com
: "
Science fiction may well become reality with the development of a real life Iron Man suit that would allow astronauts or extreme thrill seekers to space dive from up to 62 miles (100 km) above the Earth's surface at the very edge of space, and safely land using thruster boots instead of a parachute. Hi-tech inventors over at Solar System Express (Sol-X) and biotech designers Juxtopia LLC (JLLC) are collaborating on this project with a goal of releasing a production model of such a suit by 2016. The project will use a commercial space suit to which will be added augmented reality (AR) goggles, jet packs, power gloves and movement gyros
..."
Image credit
above: "
Space diving - extreme sport of the future
." (Photo: www.mondoart.net).
8th Annual SAVE Fashion Show
. Every year it gets bigger and better - I hope to see you there this evening to support the amazing work that
SAVE
does in our community. WCCO-TV's Esme Murphy will be there, and Dez from KS95 will be our emcee for the evening. The forecast calls for a good time, to support a great cause.
Details here
: "
The 8th Annual SAVE Fashion Show will be held at the beautiful
Nicollet Island Pavilion
. Come experience the spectacular views of downtown Minneapolis and the Stone Arch Bridge from the garden terrace and patio of this enchanting island park on the Mississippi River. There will be great food, music, silent auction and of course unique fashions! This year's fashions will be specially designed by local designers. With the help of our local celebrities, this event will be an evening to remember. You can be a host to your friends with your own table of 8. That includes table seating, a private cocktail hour out on the terrace from 5:30-6:30pm and a special gift that will be placed at your table
..."
TODAY: Humid, few T-storms, some strong to severe. Winds: S 20. High: 76
THURSDAY NIGHT: Muggy with another shower or thunderstorm. Low: 64
FRIDAY: Peeks of sun, another strong T-storm possible. High: 77
SATURDAY: Breezy and cooler with lot's of clouds and a few (mainly PM) showers. Wake-up: 55. High: 67
SUNDAY: Sunnier, nicer day. Still cool. Wake-up: 50. High: 64
MONDAY: Blue sky, clouds increase late. Wake-up: 49. High: 71
TUESDAY: Showers likely, possible T-storms. Wake-up: 55. High: 69
WEDNESDAY: Still unsettled, Pop-up showers. Wake-up: 56. High: near 70
* I'm still searching for a real warm front...
Climate Stories....
The Arctic Ice "Death Spiral"
. Here's an excerpt from the Bad Astronomy post at
slate.com
: "
It's no surprise to regular readers I am quite concerned about climate change. My concern on this issue is two-fold: one consists of the actual global consequences of the reality of global warming, and the other is the blatant manipulation of that reality by those who would deny it. These two issues overlap mightily when it comes to Arctic sea ice. The ice around the North Pole is going away, and it's doing so with alarming rapidity. I don't mean the yearly cycle of melt in the summer and freeze in the winter, though that plays into this; I mean the long-term trend of declining amounts of ice. There are two ways to categorize the amount of ice: by measuring the extent (essentially the area of the ocean covered by ice,
though in detail it's a little more complicated
) or using volume, which includes the thickness of the ice. Either way, though, the ice is dwindling away. That is a
fact
..."
Image credit
above: "
A computer climate model by the National Center for Atmospheric Research predicts an ice-free Arctic by 2040
." Illustration by
NCAR
Is More Global Warming Hiding In The Oceans?
As much as 90-93% of all warming is thought to be going into the world's oceans, accelerating thermal expansion and rising sea levels, and possibly providing more fuel for hurricanes. Here's an excerpt from
US News
: "...
Now, according to a new study, U.S. and Australian researchers have combined the work of the HMS Challenger with modern-era climate science models – and have some surprising results. The study found we may be significantly under-estimating global warming's impact and heat content in the oceans; and sea level rise from global warming seems to be split 60/40, with 40 percent coming from expansion of sea water caused by warming, and the remaining 60 percent coming from melting ice sheets and glaciers. The U.S. and Australian researchers who re-examined the HMS Challenger thermometer readings in light of modern supercomputer climate models say it provides further confirmation of human-produced global warming over the past century. "Our research revealed warming of the planet can be clearly detected since 1873 and that our oceans continue to absorb the great majority of this heat," said Dr. Will Hobbs, the study's lead author and a researcher at the University of Tasmania's Institute for Marine and Antarctic Studies
..."
Photo credit
: "
A man enjoys the ocean after sunset in 2012 on Ngapali Beach, Myanmar, located on the shores of the Andaman Sea
."
New Mexico County First In Nation To Ban Fracking To Safeguard Water
. A fluke or a trend, nationwide? We'll see. Here's a clip from
The Los Angeles Times
: ....."
We've lived off the land for five generations," said Roger Alcon, 63, looking out on a northern New Mexico landscape of high mesas, ponderosa pines and black Angus cattle. "We have what we need. We've been very happy, living in peace." Wells are the Alcons' only source of water. The same is true for everyone else in Mora County, which is why last month this poor, conservative ranching region of energy-rich New Mexico became the first county in the nation to pass an ordinance banning hydraulic fracturing, the controversial oil and gas extraction technique known as "fracking" that has compromised water quantity and quality in communities around the country. "I don't want to destroy our water," Alcon said. "You can't drink oil
...."
Photo credit
above: "
Tiny Mora County in northern New Mexico recently became the first county in the country to pass an ordinance banning hydraulic fracturing, the controversial oil extraction process known as fracking, which can release harmful chemicals in aquifers and municipal water supplies
."
(

Julie Cart / Los Angeles Times

)
Lobbying For The Greater Good
. Want to get involved, but unsure on the best way to leverage your time and convictions? Here's an excerpt of a
New York Times article
focused on CCL, The Citizen's Climate Lobby, which is arguing for a revenue-neutral carbon tax: "
Earlier this month, scientists
reported
that the concentration of carbon dioxide in the atmosphere had reached 400 parts per million. It's an
alarming
milestone, to be sure, but, alas, there is no shortage of dire warnings about global warming. What is lacking is the political will to address the problem. The big question is, what useful steps can citizens take to build that will? If you pose that question to the leading climate scientist
James E. Hansen
, he'll tell you to connect with the
Citizens Climate Lobby
(C.C.L.). "They have the potential to be extremely effective," he said. "That's why I recommend them in my speeches. They're doubling in size each year. And they're pursuing the right policy
...."