77 F
. high in the Twin Cities Thursday.
74 F
. average high on May 30.
72 F
. high on May 30, 2012.
.23"
rain fell yesterday.
5.96"
rain so far in May.
3.25"
average May rainfall as of May 30.
9.34"
rain fell in May, 2012 as of the 30th of the month.
Eye Of The Storm
You may not be feeling very lucky when it comes to weather right now.
Trust me, we've dodged some big weather-bullets.
Fargo picked up 4.5 inches of rain Wednesday night; 5 week's worth. Iowa just saw the wettest spring on record with historic levels of river flooding in some counties. Much of the Midwest is mopping up from excessive rains, wet basements & swollen streams. In contrast Minnesota has dodged the worst of the severe storms and flash floods, with just enough rain to ease the drought.
Yes, my lawn is neon-green; there's water in the lakes. Now if the sun could stay out for more than 15 minutes so we could enjoy it all.
A tall order.
I suspect June will be cooler, wetter and stormier than average, the May we never had. 70s will be far more common than 90s. Just a strong hunch (more like a premonition).
Some early sun gives way to instability T-showers this afternoon; a cold storm aloft keeping us showery & cool on Saturday. We salvage some sun Sunday and Monday before the next storm arrives Tuesday. Not a hot front in sight.
We're keeping an eye on "Barbara", which just hit Mexico. It may regenerate into a tropical storm, possibly impacting Florida or the Gulf Coast by late next week.
An Amazing Moisture Turnaround
. From babbling about drought to ranting about floods, more evidence of severe weather whiplash for much of the USA. For the latest 2:30 edition of Climate Matters, examining historic flooding just to our south, and the potential for "Barbara" to impact the Gulf coast late next week,
click here
.
Friday Severe Threat
. Folks in Oklahoma just can't catch a break. NOAA SPC has yet another moderate risk from Oklahoma City and Tulsa to Joplin, Missouri, meaning an elevated risk of large, violent, long-track tornadoes. A few isolated (smaller) tornadoes are possible in the slight risk area (yellow shaded area) with more flash flooding from Madison and Chicago to Detroit, Indianapolis and St. Louis.
Something To Show For Our Crappy Weather Pattern
. At least the drought is over, at least over central and eastern Minnesota. According to the latest
U.S. Drought Monitor
severe drought affected nearly 70% of Minnesota just 3 months ago; now only 3% of the state is in severe drought. That's pretty remarkable, especially considering that we busted the drought, without major, widespread flooding. Hopefully our luck will hold.
A Narrow Window.
Put off your lawn mowing until Sunday or Monday, the first 2-day dry stretch in sight. Instability showers are likely today, again Saturday afternoon, more rain by Tuesday and Wednesday of next week.
A Volatile Pattern
. The maps look like something out of late April or early May; everything STILL delayed by a good month. ECMWF model data shows light showers Saturday afternoon, followed by a dry Sunday. Some of the rain next Tuesday and Wednesday may be heavy, a drying sky by the end of next week. I pray.
When In Doubt Predict Rain
. A slow-moving storm pushes showers and T-showers across the Upper Midwest into the Great Lakes this weekend, while the west stays dry, hot and increasingly dry (and fire-prone). Things are looking more interesting in the Tropics. Keep an eye on the Gulf of Mexico over the next week or so.
Meteorological Mirage?
The models are doing a great job pushing back any real warmth. It seems to be a trend, in fact. My confidence level is low, but GFS model data shows consistent 80s by mid June. Circle your calendar.
A Week's Worth Of Rain
. Here's a fairly remarkable map, from the Midwest Regional Climate Center in Illinois, showing some 5-8" rainfall amounts, roughly 2 month's worth, for much of Iowa, northern Missouri and central Illinois. Southern Minnesota has picked up the most rain, anywhere from 2-3".
Assorted Trivia from USDA:
*
By late May, minor to moderate flooding was underway at nearly 100 river gauges in the western Corn Belt, with major flooding occurring in a few locations.
* For example, the Skunk River near Sigourney, Iowa, crested 9.93 feet above flood stage on May 28, surpassing the March 1960 high-water mark by a little over seven inches.
*
Little Sioux River at Correctionville, Iowa, climbed 6.27 feet above flood stage on May 28, the third-highest crest in that location behind 10.34 feet in June 1891 and 6.86 feet in April 1965.
Latest snowfall on record in NY:
* In New York, a trace of snow fell on May 24—later than ever before recorded—in Syracuse and Binghamton
* The previous record for Syracuse had been May 17, 1973; Binghamton had received a trace of snow on May 18, 1973 and 2002.
May Precipitation: Percent Of Mean
. Portions of southeastern Minnesota and far southwest Wisconsin have picked up 2 to 3 times the normal amount of rain in May. Yes, the drought is long gone. Source: Midwest Regional Climate Center.
* In Minnesota, Rochester's record-setting precipitation totals for May and March-May reached 9.52 and 19.16 inches, respectively. Rochester's previous records had been 8.41 inches in May 1982 and 15.87 inches in the spring of 2001.
Wettest Spring On Record For Iowa.
With saturated ground there's growing concern Iowa is at a "tipping point", with a potential for even more severe, even historic flooding in the days and weeks to come. Here's an excerpt from a story at
kwwl.com
: "
This spring is now the wettest on record in Iowa. State Climatologist Harry Hillaker says statewide average rainfall of 16.4 inches as of Tuesday morning is the most rain in March, April and May in 141 years of records. The previous record was 15.5 inches in 1892 and normal is just over 10 inches. That explains why Iowa rivers are overflowing shutting down roads, flooding basements, and sending emergency managers into flood planning mode
..."
* photo of the Des Moines River in downtown Des Moines courtesy of Angie Kufner.
A Gloomy Spell.
Here's an excerpt of an e-mail I received from Pete Boulay, with a summary of some
interesting statistics
at the Minnesota Climatology Working Group: "
According to the solar instruments at the St. Paul Campus Climate Observatory May 1-28, 2013 is the 4th cloudiest going back to 1963. The gloomist is 2005. Looking at Memorial Weekend back to 1971 it was the 3rd gloomiest back to when the three-day Memorial Weekends began in 1971. The gloomiest Memorial Weekend was in 2000, and I remember that Memorial Weekend being quite gloomy indeed...

One more tidbit with Memorial Weekends. Looking at the solar radiation days for Friday through Tuesday, here's how they stack up from cloudiest to sunniest
:"
Cloudiest
Sunday
Saturday
Monday
Friday
Tuesday
Sunniest
"
Yes, the Tuesday after Memorial Weekend is, on average, the sunniest. Not this year though!
"
* credit for the solar data is the University of Minnesota St. Paul Campus Climate Observatory.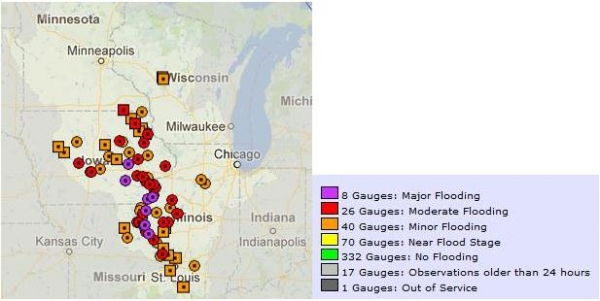 Major River and Stream Flooding
. Fargo, North Dakota picked up 4.5" rain overnight, roughly 4-6 weeks worth of moisture in a few hours, resulting in significant flash flooding. The most serious flooding stretches from Iowa into western Illinois and Missouri, according to NOAA river gauge monitors.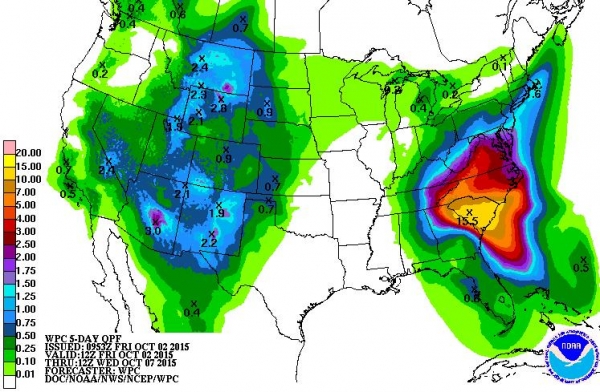 Additional Rain
. The map above shows 5-Day rainfall forecasts; another 5-6" predicted for portions of Missouri, as much as 3-4" across Illinois, where topsoil is already saturated. Additional flooding is most likely from Kansas City, Columbia, Springfield and the St. Louis metro into Peoria, Champaign/Urbana, even Indianapolis.

Watching "Barbara"
. The same tropical storm that hit south Mexico last night is forecast to meander in the Gulf of Mexico in the coming days; the GFS model brings a regenerated tropical system across the Gulf of Mexico into the Mobile/Pensacola area by late next week. Confidence levels are still low, but I want to raise awareness for Gulf coastal facilities to stay alert and keep an eye on the tropics. We'll keep you up to date.
Midday Saturday, June 8.
The GFS model has been hinting at a similar solution for a couple days now; today the (usually more reliable) ECMWF/European model is showing a similar path late next week, possibly coming ashore between Panama City, Pensacola and Mobile as a tropical storm. Confidence level is still low, but slightly higher than it was yesterday.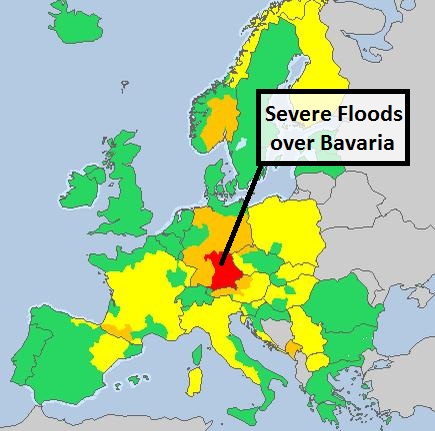 Significant Flooding For Bavaria
. The EU has issued Flood Warnings, calling for potentially life-threatening conditions across Bavaria, Germany in the coming days, persistent rains making a bad situation worse. Details of the warning: "
The weather is very dangerous. Exceptionally intense meteorological phenomena have been forecast. Major damage and accidents are likely, in many cases with threat to life and limb, over a wide area. Keep frequently informed about detailed expected meteorological conditions and risks. Follow orders and any advice given by your authorities under all circumstances, be prepared for extraordinary measures
."
Tornado Safe Rooms In The Works For Minnesota School District, RV Park
. Paul Walsh has the story at
The Star Tribune
; here's the intro: "
Two safe rooms, built sturdy enough to offer "near-absolute protection" from tornadoes and other potentially deadly events, will be built in central and western Minnesota, state public safety officials announced Thursday. One is scheduled for Paynesville Middle and High School in central Minnesota, according to the Department of Public Safety. The room will cover 4,691 square feet and be built in the shape of a V with two 60-foot-long wings. The other will be built near Lake Traverse and be available for visitors of a recreational vehicle park in the area, not far from where Minnesota and the Dakotas come together. That room will cover 720 square feet and be able to hold up to 122 people.
.."
Photo credit
above: "
A Tuesday, May 21, 2013 file photo, an aerial view shows Plaza Towers Elementary School, which was destroyed in Monday's tornado, in Moore, Okla. Unlike several others schools in the Oklahoma City area, Plaza Towers had no safe room
." Photo: Tony Gutierrez, Associated Press.
Tornado Risk Goes Beyond "The Alley"
. I would argue that there's compelling evidence that extreme weather is, in fact, increasing. Yes, land use is an issue: expanding suburbs, more people living on the coast, but superimposed on these trends we also have an atmosphere with more water vapor and more potential energy, more fuel, especially for severe local storms and extreme rainfall events. Here's an excerpt of a very good summary of various weather and natural hazard-related risks from
CNN.com
: "...
From 2000 to 2011, about 6,700 tornadoes hit in the eight states typically identified as Tornado Alley: Kansas, Oklahoma, Illinois, Nebraska, Texas, Colorado, South Dakota and North Dakota. But 8,800 tornadoes touched down in at least 16 other states during the same time period, in Iowa, Louisiana, Mississippi, Alabama, North Carolina, South Carolina, Arkansas, Indiana, Missouri, Georgia, Ohio, Wisconsin, Minnesota, Florida, Tennessee and Kentucky. The Tornado Alley states lost $2.5 billion in residential property damage from 2000 to 2011 -- but consider that the 16 states outside the Alley suffered nearly $15.5 billion in damage during that same time. Are there more severe weather events now than in the past? There's no clear answer
...."
* EF-4 and EF-5 tornadoes comprise only 1% of all tornadoes in a given year, nationwide, yet they produce 70% of all tornado-related casualties.
KAMR Broadcasts From Station Bathroom During Tornado Alert.
This is a first, as far as I can tell, not a bad option to be away from outer walls and windows (if you can't get into a basement). The station is in Amarillo, Texas - here's an excerpt and video from
TVSpy.com
: "
Amarillo, TX, NBC affiliate
KAMR
found itself in the center of the severe storms sweeping through Texas last night. The area was
hit with winds up to 70 MPH
,
baseball sized hail
and, according to KAMR chief meteorologist
John Harris
, tornadoes touching down in Amarillo. Last night at around 11:45 p.m. reports of a tornado developing near the station sent the anchors and crew scrambling for shelter while they were still on the air. NBC's "Today" show aired what looked like cell phone video of the KAMR weather team broadcasting from the station bathroom. The station was also broadcasting on FOX affiliate
KCIT
at the time. That video leaves out the one scene setter viewers at home could hear during the broadcast, the sound of hail hitting the building
...."
Hurricane Alley: America's 5 Most Vulnerable Metro Areas
. In today's edition of
Climate Matters
I take a look at what is shaping up to be a busy year in the Atlantic and Gulf of Mexico. Sea surface temperatures are warmer, and a lack of El Nino means less wind shear over the tropics; a better chance of disturbances forming into tropical storms and hurricanes. While many people fixate on wind speeds and what category a hurricane is, inland flooding, in some cases days after landfall, is turning into one of the biggest ongoing threats from tropical systems, in some cases hundreds of miles away from the coast. Details: "
Tropical Storm Barbara was moving inland over Southeastern Mexico overnight, bringing a threat of inland flooding and mudslides. Meteorologist Paul Douglas looks at the possibility of Barbara having a U.S. impact. Plus what you can be doing now to prepare for the hurricane season
."
Cities Not Waiting For The Next Superstorm To Hit: Column
. Here's an article that caught my eye, an excerpt of a guest column commentary at USA Today and
The Marshfield News-Herald
: "...
This "surge" phenomenon is now occurring regularly in other East Coast cities even during "not-so-super storms" and sometimes when there is no storm at all. Parts of inland Hoboken lie below sea level and flood when high tides push rainwater -- being funneled off of city streets -- back through storm-water drainage pipes and out onto the streets. Because of an old, combined sewer system, sewage mixed with that rainwater backs up onto streets. In other places such as Miami Beach, even during bright sunny days,
tides get high enough
that seawater inundates storm-water drainage pipes and floods city streets. Flooding has become such a chronic problem there that city leaders approved a
$206 million overhaul
of the city's drainage system. As sea levels continue to rise, these problems likely will become commonplace up and down the Atlantic and Gulf coasts, and when major tropical storms hit, they will more likely cause damage on an unprecedented scale
..."
Photo credit
above: "
Taxis in Hoboken, NJ, in October, after Hurricane Sandy.
" Courtesy: Todd Plitt, USA Today.
Top Apps To Track Severe Weather
. Jason Parker has a good overview of apps for IOS and Android; happy to see that he included one of my favorites: RadarScope, which is my go-to radar app for anywhere in the USA. Here's an excerpt of his story at
cnet.com
: "...Recently, I collected a few weather apps that are great for a
quick glance at the weather
, but those apps won't help you much in severe weather conditions. For more-serious weather activity, you're going to need apps that track the storms with the latest radar data, give up-to-the-minute information, and give you some forewarning for what's happening in your area. Here are a few of the best radar weather apps for tracking current storms on both iOS and
Android
devices...."
Image credit
: CNET.
Trulia Adds New Maps To Visualize U.S. Rental Prices, Earthquake And Flood Risk
. I found this vaguely interesting: before you buy or rent check out the neighborhood, everything from crime rates and rental prices to the risk of earthquakes and flooding; here's an excerpt from
techcrunch.com
: "
For a while, it looked like
Trulia
, the online marketplace for homebuyers, sellers, renters and real estate professionals, was going to cede much of its ground to Zillow, Redfin and other newcomers. Lately, however, the company has been making a bit of a comeback, with a
successful IPO
,
back-to-back
product launches
and
acquisitions
. The company also recently finalized a
$150 million
follow-on offering for acquisitions and mergers. Today, the company launched yet another addition to its product:
visualizations
of current per-bedroom rental prices in cities across the U.S., as well as new maps for tracking the risk of earthquake and flood risks in a given neighborhood.
.."
* access a Trulia Twin Cities map
here
.
Don't Hurry, Be Happy: Research Highlight Link Between Busy Lives And Bliss
. This report made me do a triple-take. The secret to happiness is....wait for it...staying busy? I'm still waiting to achieve a state of bliss.
Wamu.org
has the story; here's an excerpt: "
If someone were to ask you how happy you are, how would you respond? University of Maryland sociologist John Robinson has been studying how people answer that question for nearly 40 years, and he's been looking at that happiness question as it relates to two other questions, both about how people view their time. The first: "Would you say that you always feel rushed, only sometimes feel rushed or almost never feel rushed?" And the second: "How often do you have time on your hands that you don't know what to do with: most of the time, some of the time, none of the time?" Putting the happiness question aside for just a second, it's interesting to note that according to Robinson's analysis, the percentage of Americans who describe themselves as "always feeling rushed" actually went down between 2004 and 2010
..."
Graphic credit
above: "
The happiest people in the country are more likely to report themselves both as less rushed and with no excess time
."
TODAY: Early sun, PM showers and T-storms pop up. Winds: SW 15-25. High: 78
FRIDAY NIGHT: Evening shower, clouds linger. Low: 57
SATURDAY: Mostly cloudy, midday and PM showers likely - cool for early June. Winds: NW 15+ High: 68
SUNDAY: Plenty of sun. Mow the lawn. Winds: NW 10. Wake-up: 50. High: 67
MONDAY: Sunny start, clouds increase PM hours. Wake-up: 49. High: 71
TUESDAY: Showers, possible thunder. Wake-up: 55. HIgh: 68
WEDNESDAY: Still unsettled. PM T-showers. Wake-up: 56. High: near 70
THURSDAY: Partly sunny and lukewarm. Wake-up: 54. High: 74
Climate Stories....
Erratic U.S. "Weather Whiplash" Accounts For Billions of Dollars In Global Losses
.
The Guardian
has the story; here's the intro: "
America has some of the wildest weather on the planet, and it turns out those extremes – which run from heat waves and
tornadoes
to floods,
hurricanes
and droughts – carry a heavy price tag. Climate studies have associated more frequent and intense weather events – such as heavy storms and heat waves – with
climate change
. The wild swings in weather across the midwest over the last few years – including heat waves, floods, and
drought
– have been cited as an example of what lies ahead with future climate change. A
report
from the environmental research organisation World Watch Institute on Wednesday provided further evidence of the costs of those extreme shifts – known as "weather whiplash". The report found that the
United States
alone accounted for more than two-thirds of the $170bn in losses caused by natural disasters around the world last year
..."
Photo credit
above: "
A tornado passes across south Oklahoma City
." Photograph: Paul Hellstern/AP.
Sandy Reopened Debate On Climate Change and Hurricanes
. Eric Berger has a good story on the possible link at
The Houston Chronicle
; here's a clip: "...Some environmental advocates directly linked climate change to Sandy's large size and destructive storm surge. "
Folks, this storm is exactly the sort of thing climate scientists have been worried about for years," wrote
Amanda Staudt
, a senior scientist at the
National Wildlife Federation
, on the group's website before Sandy's landfall. "Global warming is putting hurricanes on steroids, and we're beginning to see the effects." But most climate scientists are not willing to go that far.
Kevin Trenberth
, a scientist at the
National Center for Atmospheric Research
who has forcefully warned of climate change's perils, wrote of Sandy, "Natural variability and weather has provided the perhaps optimal conditions of a hurricane running into extra-tropical conditions to make for a huge, intense storm." What scientists do agree upon is that climate change - the fact that the Earth has warmed about 1.5 degrees Fahrenheit since the industrial age began - exacerbated the effects of Sandy
..."
Photo credit
above: "
Richard Thomas' Fenwick Island, Del., neighborhood flooded after Hurricane Sandy in 2012
." Photo: Alex Brandon, STF / 2012 AP
National Survey: Nearly 90% of Americans Say Government Should Act on Global Warming, Push Ahead on Clean Energy
. Here's an excerpt from
Clean Technica
: "...
Repeated attempts to enact national climate change legislation – whether a revenue-neutral tax on carbon and greenhouse gas emissions, a nationwide emissions cap-and-trade scheme, a national renewable energy portfolio standard (RPS), stricter air pollution and environmental regulations, or higher energy efficiency standards – have all run up against fierce opposition among Congressional representatives, as well as well-funded public relations campaigns from the fossil fuel, utility and other industry lobbies and media agents. Yet broad public support for climate and clean energy policies continues strong among the US populace. Nearly 90% of Americans (87%) say that global warming and the development of clean energy sources should be priorities for the US president and Congress, according to results from a nationwide survey conducted by
4C – the George Mason University Center for Climate Change Communication
and
the Yale Center for Climate Change Communication
..."
Climate Change Scientists, Deniers Clash In West Virginia
. Here's a clip from a very interesting article at
Seattlepi.com
: "...
But
Scott Denning
, a professor at
Colorado State University
's department of atmospheric science, said the anti-regulation camp should stop telling "scary stories." Our ancestors once used candles and horses but adopted new technologies like oil and electricity even when they were more expensive. "I think when people tell scary stories about how our society can't adapt to a changing environment, they do a disservice to the power of the free market," he said. "I have faith in our descendants being as ingenious, as creative, as hardworking, as industrious as our ancestors were. "I believe they can solve this problem," Denning said, "and it won't bankrupt our society
."
Ski Corporations Take Stand On Global Warming
. Here's a clip from a story at
The Wyoming Business Report
: "
Companies that rely on cold weather are understandably up in arms when it comes to the impact of global warming. Consequently, more than 100 ski areas have signed onto the Climate Declaration calling for U.S. policies that capture the economic opportunities of addressing climate change. The declaration asserts that a bold response to climate change is "one of America's greatest economic opportunities of the 21st Century." The campaign is being organized by advocacy groups Ceres and BICEP (Business for Innovative Climate and Energy Policy). "We welcome the ski industry as allies in our work on climate and energy issues and as signatories of the Climate Declaration. This is an industry that cannot be off-shored, and they are calling for climate action here at home," said Anne Kelly, director of BICEP. "Policymakers must realize that the old political paradigm of 'It's the environment or the economy; pick one' is a false choice.
.." (File photo above: AP).
* another perspecive on 108 ski resorts calling for collective action on climate change from
Mother Nature Network
.
Obama Doesn't "Have Much Patience" For Climate Change Deniers
. Here's an excerpt from
Talking Points Memo
: "...
Because of that seriousness, Obama said he's willing to hear out "a different approach" to dealing with the issue. What he won't consider though, he said, are ideas from climate change deniers. "If I've got somebody who has a different approach to dealing with climate change -- I don't have much patience for people who deny climate change, but if you've got creative approaches, market-based approaches, tell me about them," Obama said. "If you think I'm doing it the wrong way, let me know. I'm happy to work with you
..."
Photo credit: AP, Carolyn Kasler.
Watson: Global Warming Is The Result Of Ignoring Nature's Limits
. Here's a portion of an Op Ed in
The Salem News
: "...
Taking everything — including uncertainties — into account, there is a preponderance of evidence to conclude that man is accelerating global warming and altering the climate in dangerous ways. It is time for us — globally — to move much more aggressively toward economies and energy systems that are respectful of nature's limits and balances. If you think about it, how could it be otherwise? On a strictly finite planet, with a thin atmosphere whose healthy cycling is tied closely to ecological equilibriums and processes on the earth, how could we imagine that — globally — infinite consumption, steady removal of vegetation, increasing use of resources, and expanding emissions of pollution could be sustained forever?
"
The Arctic Ice "Death Spiral"
. Here's an excerpt from the Bad Astronomy post at
slate.com
: "
It's no surprise to regular readers I am quite concerned about climate change. My concern on this issue is two-fold: one consists of the actual global consequences of the reality of global warming, and the other is the blatant manipulation of that reality by those who would deny it. These two issues overlap mightily when it comes to Arctic sea ice. The ice around the North Pole is going away, and it's doing so with alarming rapidity. I don't mean the yearly cycle of melt in the summer and freeze in the winter, though that plays into this; I mean the long-term trend of declining amounts of ice. There are two ways to categorize the amount of ice: by measuring the extent (essentially the area of the ocean covered by ice,
though in detail it's a little more complicated
) or using volume, which includes the thickness of the ice. Either way, though, the ice is dwindling away. That is a
fact
..."
Image credit
above: "
A computer climate model by the National Center for Atmospheric Research predicts an ice-free Arctic by 2040
." Illustration by
NCAR
Is More Global Warming Hiding In The Oceans?
As much as 90-93% of all warming is thought to be going into the world's oceans, accelerating thermal expansion and rising sea levels, and possibly providing more fuel for hurricanes. Here's an excerpt from
US News
: "...
Now, according to a new study, U.S. and Australian researchers have combined the work of the HMS Challenger with modern-era climate science models – and have some surprising results. The study found we may be significantly under-estimating global warming's impact and heat content in the oceans; and sea level rise from global warming seems to be split 60/40, with 40 percent coming from expansion of sea water caused by warming, and the remaining 60 percent coming from melting ice sheets and glaciers. The U.S. and Australian researchers who re-examined the HMS Challenger thermometer readings in light of modern supercomputer climate models say it provides further confirmation of human-produced global warming over the past century. "Our research revealed warming of the planet can be clearly detected since 1873 and that our oceans continue to absorb the great majority of this heat," said Dr. Will Hobbs, the study's lead author and a researcher at the University of Tasmania's Institute for Marine and Antarctic Studies
..."
Photo credit
: "
A man enjoys the ocean after sunset in 2012 on Ngapali Beach, Myanmar, located on the shores of the Andaman Sea
."
New Mexico County First In Nation To Ban Fracking To Safeguard Water
. A fluke or a trend, nationwide? We'll see. Here's a clip from
The Los Angeles Times
: ....."
We've lived off the land for five generations," said Roger Alcon, 63, looking out on a northern New Mexico landscape of high mesas, ponderosa pines and black Angus cattle. "We have what we need. We've been very happy, living in peace." Wells are the Alcons' only source of water. The same is true for everyone else in Mora County, which is why last month this poor, conservative ranching region of energy-rich New Mexico became the first county in the nation to pass an ordinance banning hydraulic fracturing, the controversial oil and gas extraction technique known as "fracking" that has compromised water quantity and quality in communities around the country. "I don't want to destroy our water," Alcon said. "You can't drink oil
...."
Photo credit
above: "
Tiny Mora County in northern New Mexico recently became the first county in the country to pass an ordinance banning hydraulic fracturing, the controversial oil extraction process known as fracking, which can release harmful chemicals in aquifers and municipal water supplies
."
(

Julie Cart / Los Angeles Times

)
Lobbying For The Greater Good
. Want to get involved, but unsure on the best way to leverage your time and convictions? Here's an excerpt of a
New York Times article
focused on CCL, The Citizen's Climate Lobby, which is arguing for a revenue-neutral carbon tax: "
Earlier this month, scientists
reported
that the concentration of carbon dioxide in the atmosphere had reached 400 parts per million. It's an
alarming
milestone, to be sure, but, alas, there is no shortage of dire warnings about global warming. What is lacking is the political will to address the problem. The big question is, what useful steps can citizens take to build that will? If you pose that question to the leading climate scientist
James E. Hansen
, he'll tell you to connect with the
Citizens Climate Lobby
(C.C.L.). "They have the potential to be extremely effective," he said. "That's why I recommend them in my speeches. They're doubling in size each year. And they're pursuing the right policy
...."