85 F
. high in the Twin Cities Monday.
83 F
. average high on July 1.
94 F
. high on July 1, 2012.
June
was 1/10th of a degree F. warmer than average in the Twin Cities.
Most
communities stay dry into at least Saturday morning.
mid-80s
on the 4th of July; highs near 90 by Saturday.
T-storms
likely Saturday night into Sunday.
Smoky Sunsets
All that haze in the air, the milky-blue cast to the sky, is evidence of big wildfires in Manitoba, Canada - smoke being swept south into Minnesota. Expect a few Technicolor-Cherry-Red sunsets this week.
Rumor has it this is the biggest week of the summer for family getaways, cabin reunions and camping adventures. Excuse me while I take a few shots of Maalox - with a Tums chaser. My nervous tick is kicking in.
America's weather is still stuck in a holding pattern, unusually big sweeps of the jet stream for July providing a non-stop runway for flooding T-storms out east, while the west wilts under incandescent heat. What does 128F feel like?
On my blog (below) an AP reporter in Death Valley describes it as a non-stop hair dryer inches away from your face, cell phones too hot to touch, using oven mitts because the steering wheel is THAT HOT.
Welcome to one of the best weeks of summer: a string of sunny, warm days into next weekend, when highs may nudge 90F with a few T-storms. We should luck out on the 4th: hazy-blue skies, dew points near 60 (humid, not unbearable) and highs in the mid 80s. 6-7 dry days in a row?
Unprecedented.
At this rate you might even have to water your garden.
A Long Overdue Case of Summer Bliss. The ECMWF is still fairly optimistic, at least into Saturday, with a slow warming trend and dew points creeping upward over time. An isolated instability T-shower is possible by Thursday, mainly over Wisconsin and Iowa, closer to the nagging trough of cold, low pressure aloft. By Saturday highs may approach 90, with the best chance of showers and T-storms Saturday night into Sunday.
4th of July, 2013. Here is the "Euro" forecast for midday Thursday, showing heavy showers and storm over the eastern seaboard; heaviest rains along the spine of the Appalachians. PM clouds will sprout over the Ohio and Mississippi River Valleys, the weather improving west of a line from Eau Claire to Des Moines to Kansas City.
84 Hour Forecast. Weather systems (fronts and storms) tend to slow down significantly during the summer months, but the current holding pattern is unusual, even for July. A massive trough of low pressure stalled over the Ohio Valley and Mid South will keep a steady flow of moisture flowing from Florida and Georgia on north toward Asheville and Pittsburgh.
5-Day Rainfall. NOAA HPC models are printing out some 3-4" rainfall amounts from Pensacola to Louisville by Saturday evening; monsoon-related T-storms helping to cool New Mexico and Arizona a bit by the end of the week.
A Chaotic Sky
. Thanks to Daniel Bovitz, Deputy Director of Hennepin County Emergency Management in Medina, who snapped this terrific photo over Perch Lake (Side Lake, Minnesota - just north of Hibbing). According to Daniel "
these storms were moving in every 20 minutes or so. Very heavy rain producers
."
AP Photographer Describes 128F Heat.
So what does 128F feel like? Is it really a "dry heat"? Here's a clip of a remarkable story from the AP and
sfgate.com
: "...
I know what to expect in Death Valley: Unrelenting heat so bad it makes my eyes hurt, as if someone is blowing a hair dryer in my face. I don't leave CDs or electronics in the car because they could melt or warp. I always carry bottles of water. But I still make mistakes. I forgot my oven mitts, the desert driving trick I learned as a teenager after burning my hands too many times on the steering wheel. And my rental car is black, adding several degrees to the outside temperature of 127. When the digital thermometer at the Furnace Creek visitor center ticks up to 128, a few people jump out of their cars to take a picture. The record temperature for the region — and the world — is 134 degrees, reached a century ago. I try to work in flip-flops, but the sun sears the tops of my feet, and I am forced to put shoes on. My cellphone, pulled from my shirt pocket, is so hot that it burns my ear when I try to take a call from my wife
..."
Photo credit
above: "
Eric Varone, right, takes a picture as Floriane Golay, of Switzerland watches, in Death Vally National Park Friday, June 28, 2013 in Badwater, Calif. Excessive heat warnings will continue for much of the Desert Southwest as building high pressure triggers major warming in eastern California, Nevada, and Arizona
." Photo: Chris Carlson.
Extreme Heat: Phoenix Forecasters Bake Cookies In Van
. Hey, what a great air freshener idea! Suddenly those cool fronts are looking at little easier to take. Thank you Canada. Here's an excerpt of a story from
The Los Angeles Times
: "
Frying an egg on the asphalt? That's so last heat wave.
As triple-digit, oven-like temperatures hit Phoenix this weekend, forecasters with the
National Weather Service
baked cookies--in a van.
"We were joking around that we should bake some cookies, because that sounds a lot better than frying an egg," meteorologist Charlotte Dewey told the Los Angeles Times. "More tasty, anyway."
When temperatures hit 116 degrees in Phoenix on Friday, Dewey and a fellow forecaster hunted down cookie pans, tin foil and a roll of store-bought chocolate chip cookie dough. On Saturday the desert city hit 119, breaking an all-time record for the day.
."
Photo credit
above: "
In 116-degree heat, forecasters with the National Weather Service in Phoenix baked cookies in a van as an experiment
."
(

Charlotte Dewey / National Weather Service

/

June

29

, 2013

)
19 Firefighters Killed In Yarnell Hills, Arizona Blaze - Are Wildfires Becoming More Frequent?
In today's edition of
Climate Matters
we look into the meteorological and climatological ingredients going into what may become a record year for wildfires out west. The combination of low winter snowpack, meager spring rains, and virtually no significant precipitation in June has set the stage for a series of fires, wildfires that are increasing in size, frequency and intensity: "
Record heat in the Southwest plus lack of rainfall combine for a deadly and destructive start to the 2013 wildfire season. WeatherNation Chief Meteorologist Paul Douglas looks at other factors leading to a longer and more active fire season
."
Remembering 19 Fallen Heroes
. The Yarnell Hills tragedy, with 19 firefighters killed in a single blaze, was the worst disaster for the fire-fighting communitiy since 1933. The image above sums up our thoughts, courtesy of garyvarvel.com and the
Kentucky Division of Forestry
.
The Troubling Data Behind America's Growing Wildfires
.
The Atlantic Wire
has the story - here's an excerpt: "...That uptick tracks with an increase in fire size. The NIFC has
data on acreage burned and the number of fires
going back 50 years, though data prior to 1983 uses different records. Here's the number of fires and acres burned during that time period. Over the past decade, there's been a noticeable trend: fires have gotten bigger. The number of acres burned per fire reached a new high last year. (graph above shows firefighter fatalities related directly to wildfires).
"Living With Fire"
, a must-read Op Ed in the NY Times, is
here
.
Yarnell Hill Tragedy: America's 3rd Deadliest
. All of the fatalities above are from firefighters fighting wildfires and brushfires. Of course 9/11 remains the largest loss of life for firefighters, nationwide. Graphic courtesy of EcoWest.org.
From
Alerts Broadcaster
(issued Monday afternoon):

Here's what we're monitoring
:
-
Flash Flood Warnings
posted for northern New Jersey, metro New York City and Fairfield County, CT, for excessive 1-3"+ rains falling on already-saturated ground. Our models are indicating a significant risk of flash flooding for Newark, Paterson and Elizabeth over the next 18 hours: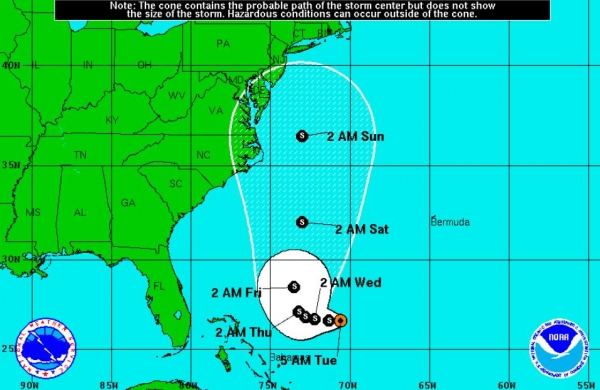 -
Typhoon Rumbia
should spare Macau and Hong Kong, direct strike on Maoming and Zhanjiang as a minimal Category 1 storm (70-90 mph winds) within the next 18 hours. 12 foot seas reported offshore pose a risk to shipping, main risk will be 10" rains and inland flooding over Guangdong Province of China.
-
Heavy rain sparking flooding in Sydney, Australia
- mudslides impacting rail lines and commutes.
-
Evidence points to an especially severe fire season
for western third of USA; update on blazes underway from Colorado to California.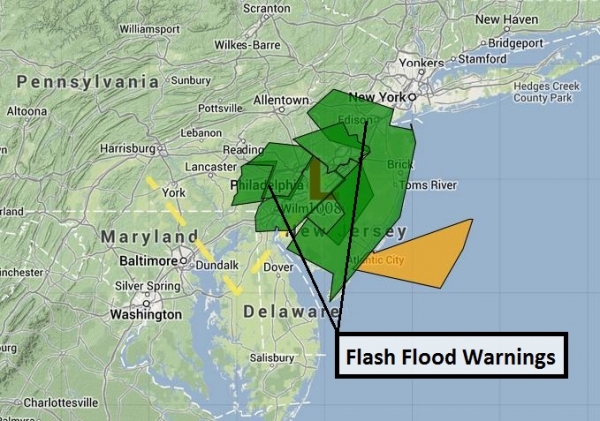 Flash Flood Threat
. Slow-moving thunderstorms will continue to redevelop along the Eastern Seaboard much of this week, pouring more excessive rain on ground that is already saturated, waterlogged. We saw 2.5" rain in 30 minutes near Sussex, New Jersey earlier this morning, storms dumping out a total of 4" nearby. For this reason warnings have been posted and a nagging flash flood risk will linger into Friday. I don't see any rapid clearing or drying. Areas that normally experience urban or small stream/river flooding should stay alert from Charlotte to Washington D.C., Philadelphia and New York City.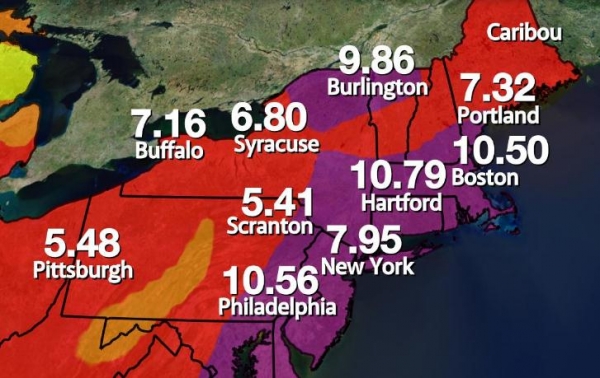 Waterlogged
. This map sums up why we're having ongoing problems with flooding: June was one of the wettest months on record, with over 10" for Philadelphia, Hartford and Boston. Additional rain in the coming days will almost immediately run off into streets and streams.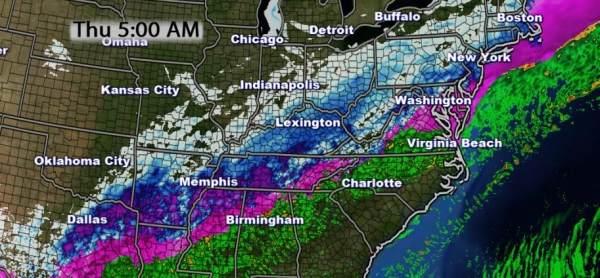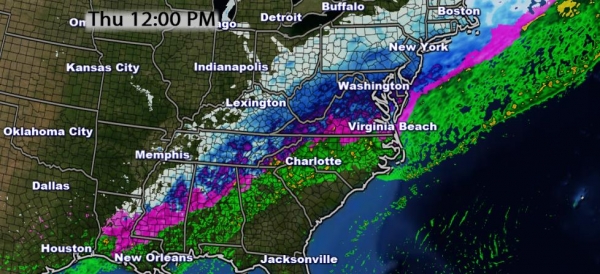 15 Hour Rainfall Outlook
. Our in-house modeling expert produced this map, showing the heaviest (3-5" downpours) most likely over eastern North Carolina, with some 2-4" amounts possible from near Wilkes-Barre and Allentown into northern New Jersey, on north to Burlington, Vermont and Manchester, New Hampshire.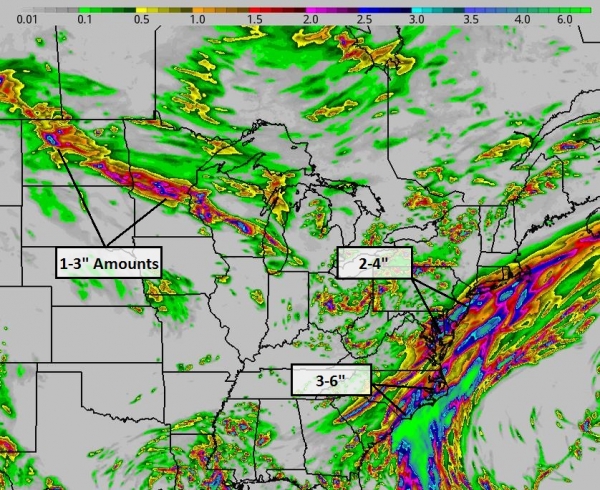 Flood Potential
. Weather systems are in a holding pattern, completely stalled, allowing a frontal boundary to linger directly over the East Coast. T-storms will flare up along this front, sparking as much as 3-5" from near Albany to North Conway and Manchester, New Hampshire and Portland Maine. The heaviest rains over the next 27 hours are forecast to fall over northern New Jersey, but Newark and New York City may see some 1-3" amounts, capable of sparking urban flooding. RPM 4 km rainfall prediction courtesy of WSI.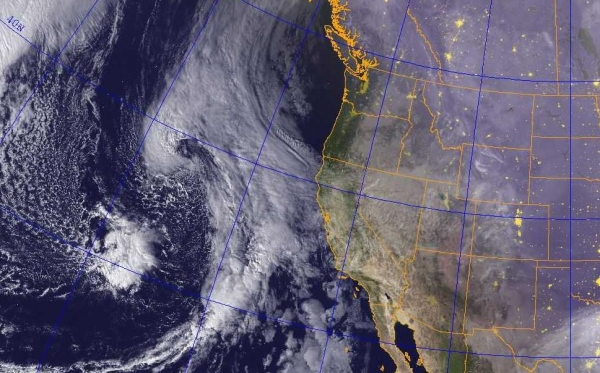 Typhoon Rumbia
. The southern coastline of China is bracing for "Rumbia", forecast to come ashore late Monday night or Tuesday morning (USA times) as a weak, Category 1 typhoon (same thing as a hurricane). The main threat is inland flooding, as tropical moisture interacts with higher terrain, generating as much as 10-15" rain.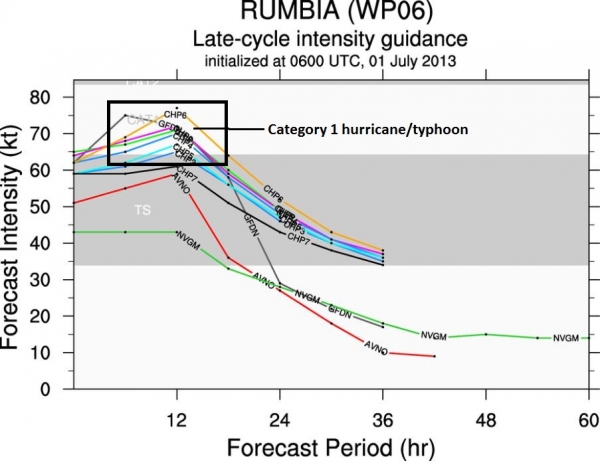 Rumbia Intensity Forecast
. All the models we examine show Rumbia striking the Guandong region of China as a Category 1 typhoon with sustained winds of 70-85 mph. This implies a storm surge of 5-8 feet, capable of lowland flooding, but probably not catastrophic flooding.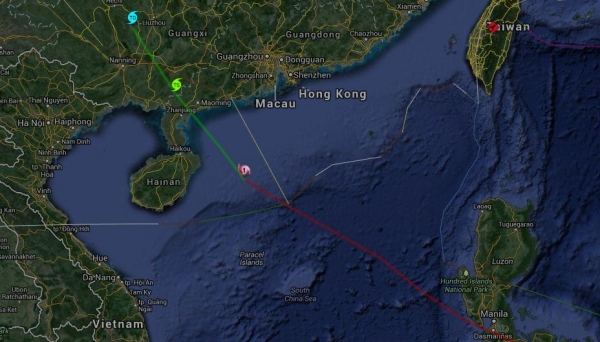 Tracking Rumbia
. It now appears that Macau and Hong Kong will avoid a direct strike from Typhoon Rumbia, which is taking a track farther south and west.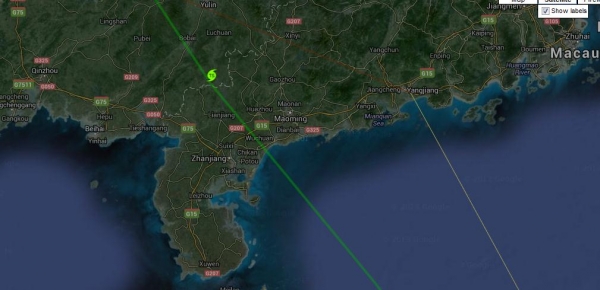 Direct Strike
. Chinese cities fromZhanjiang to Maoming are at risk of major flooding and light to moderate wind damage as Rumbia comes ashore tonight or early Tuesday.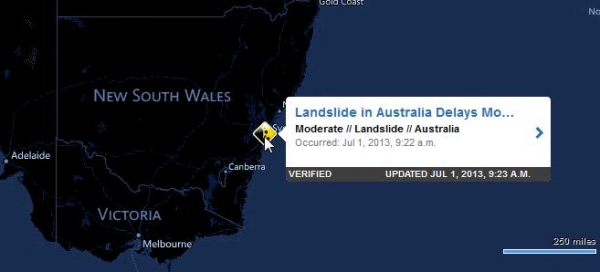 Severe Storms Strike Sydney
. June is usually the wettest, stormiest month of the year for Sydney, and last month was no exception to the rule. Powerful storms have swept across New South Wales, sparking flooding rains and even mudslides. Details from ubalert: "
A collapsed embankment at Harris Park Station Sydney is causing delays to rail commuters as crews work to repair. Sydney train passengers should expect delays for the rest of this week after wet and wild weather caused a 2000 ton landslide at a train station in the city's west. Pieces of concrete, fencing and trees were among the debris that tumbled across the platform and into the tracks. Large trees in the park were also inspected on Monday to ensure they don't pose a danger
."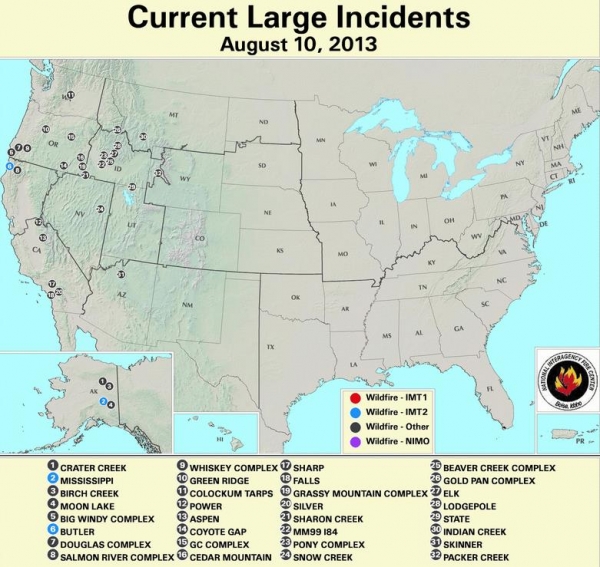 On Track For A Record Fire Season Out West?
I hope I'm wrong, but I don't like the signals I'm seeing. Snowfall amounts last winter and spring were lower than average, and an amazingly persistent jet stream pattern has funneled Pacific moisture away from southwestern states in recent months. The record heat of recent days has dried out vegetation even more, creating extremely dangerous, tinder-dry conditions. You've already heard about the tragic Yarnell Blaze that claimed the lives of 19 firefighters outside Phoenix. These large blazes are kicking up very early in 2013. Peak fire season is August through October. Details from
The North American Forest Fire Incident Display System
and
InciWeb
.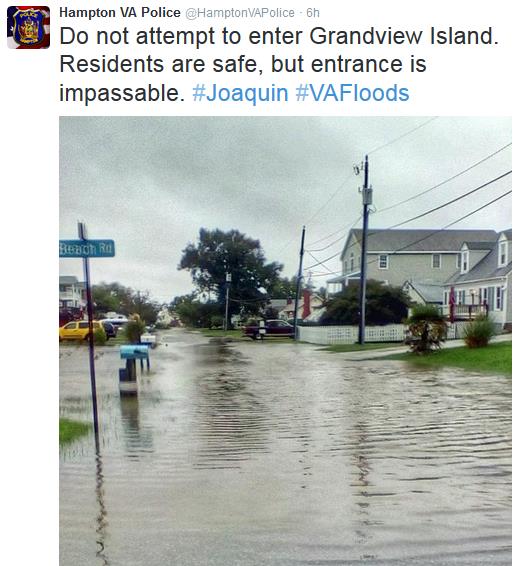 The Summer of All or Nothing
. The disparities in moisture are jaw-dropping this summer. While the East Coast grapples with a stalled front and Flash Flood Watches stretching from Hilton Head to Charlotte, D.C. and much of New England, most of the west is parched, with near-record heat lingering into at least midweek. The San Francisco Bay Area is under a Heat Warning thru Wednesday evening, with inland temperatures ranging from 97-110. Monsoon thunderstorms may produce slight relief for Arizona and the Las Vegas area by Wednesday, but higher humidity levels will mean a heat index in the danger zone much of this week.
Calgary Flood Photos Captured By Space "Disaster Cam"
.
CTV News
has the image, and the story - here's a clip: "
A "disaster camera" set up in space by Canadian astronaut Chris Hadfield has captured the widespread flood damage in Calgary. The International Space Station's Environmental Research and Visualization System -- nicknamed "disaster cam" -- captured about two dozen images of the flooding on June 22, 23, 24. Hadfield, who attracted worldwide attention by sharing stunning images of the Earth from the ISS on Twitter, installed the ISERV camera in January, during his five-month long space mission.
.."
Image credit
above: "
This image, captured by the ISERV camera aboard the International Space Station, shows floodwaters from the Bow and Elbow Rivers in downtown Calgary
." (Servir Global)
The ZIP Code Turns 50
. Why do we use zip codes to send our snail mail along? Here's a good overview, and a 50th birthday for Mr. Zip, from
Time Magazine
: "...
By the early 1960s, the post-war population boom and continued western growth led to even greater use of the postal service. Mail volume doubled between 1943 and 1962, putting further pressure on the post office to sort mail efficiently. On July 1, 1963, on the recommendation of an internal advisory board, the post office introduced the Zone Improvement Plan Code, which divided the entire country into coded delivery areas. The first two or three numbers told carriers to which states mail was being sent. More populous regions like New York were given five digit numbers starting with 10-14, for example, whereas less populous areas like Montana received five-digit numbers. These new ZIP codes helped the post office better pinpoint where mail was headed while allowing it to expand machine-based sorting systems that could quickly read digits. But many Americans were reluctant to adopt the new system
..."
Image credit
: "
Mr. ZIP, a cartoon mail character created in the early 1960s to entice Americans to use ZIP codes
."
Climate Stories....
Honoring The 19 Dead At Yarnell Hill, Arizona
. Here's an excerpt from climate scientist Greg Laden's blog at
scienceblogs.com
: "
Nineteen fire fighters were killed yesterday as they were overrun by a lightning-sparked fire in Arizona. This consisted of the entire crew as deployed to fight the Yarnell Hill Fire near Phoenix, Arizona. The best way to honor these fallen heroes, from afar and from the perspective of fellow citizens, is to demand that more support be given to their efforts (
by ending the Republican Sequester
) and to acknowledge that their job has been made much harder because of global warming induced increases in wild fire frequency and severity. Global warming is on track to
double the number of wild fires in the US by 2050
, but very few predictions of this type have panned out over the last ten years. Usually, the degree of severity of climate effects from global warming is much larger than predicted, or comes sooner than predicted. Some people try to push responsibility for more fires off on bad management practices, but this, while it may be a factor, is a) old news and addressed in many areas decades ago; b) pales in comparison to the effects of drought and c) pales in comparison to massive tree death which in turn is exacerbated if not simply directly caused by anthropogenic climate change
..."
Experts See A New Normal - A Tinderbox West, With More Huge Fires
. Here's a clip from a story at
The New York Times
(subscription may be required to read entire article): "...
Since 1970, Arizona has warmed at a rate 0.72 degrees per decade, the fastest among the 50 states, based on an
analysis of temperature data by Climate Central
, an independent organization that researches and reports on climate. Even as the temperatures have leveled off in many places around the world in the past decade, the Southwest has continued to get hotter. "The decade of 2001 to 2010 in Arizona was the hottest in both spring and the summer," said Gregg Garfin, a professor of climate, natural resources and policy at the University of Arizona and the executive editor of a study examining the impact of
climate change
on the Southwest. Warmer winters mean less snowfall. More of the winter precipitation falls as rain, which quickly flows away in streams instead of seeping deep underground.
.."
Photo credit
above: "
Firefighters work near a wildfire burning along a ridge in Yarnell, Ariz., in this photo provided by the U.S. Forest Service, Monday, July 1, 2013. The lightning-sparked fire, which started last Friday, spread to at least 2,000 acres amid triple-digit temperatures, overtook an elite group of firefighters, killing 19 members as they tried to protect themselves from the flames under fire-resistant shields
." (AP Photo/U.S. Forest Service)
Alpine Lakes In Austria Reflect Climate Change
. Here's an excerpt from National Geographic's
Water Currents Blog
: "...
Dokulil studied historical records and found a rise in summer surface water temperature parallel to air temperature since the mid-1960s. He estimates an average increase in annual lake temperature of about 1 degree Celsius (less than 2 degrees Fahrenheit) during this period. "Increases in air temperature as a result of climate change are mirrored in lake waters where temperatures are also on the rise," he concluded. He predicts that lake surface water temperatures are likely to rise by up to 3 degrees Celsius (5.4 degrees Fahrenheit) in Austrian Lakes by 2050, depending on the region
..."
Image credit
above: "
Satellite image of Neusiedlersee, one of the lakes where algal blooms are expected to increase with changes in climate
." Photo courtesy of Martin Dokulil
El Nino Was Unusually Active In Possible Link To Climate Change
. Here's a new angle I hadn't seen before; that a warming atmosphere (and ocean) may have increased the frequency/intensity of El Nino warming events in the equatorial Pacific. Here's an excerpt from
Bloomberg
: "
The El Nino weather pattern that can bring drought to
Australia
and rain to South America was "unusually active" at the end of the 20th century, possibly due to climate change, a University of Hawaii study found. Researchers studied 2,222 tree-ring records as proxies for temperature and rainfall over the past 700 years, the university wrote in an online
statement
dated yesterday. The records indicate the El Nino-Southern Oscillation weather phenomenon has been increasingly active in recent decades relative to the past seven centuries
..."
Global Warming May Drive More Active ENSO Pattern
. Picking up on the story above, here's a slightly different perspective from Bob Berwyn at
The Summit County Citizens Voice
: "
Climate scientists have long suspected that global warming has an influence on the
Pacific Ocean
El Niño-
La Niña
cycle (
El Niño-Southern Oscillation
), but instrumental records tracking the shift between above- and below average sea surface temperatures don't go back far enough to provide context for any recent changes in the pattern. But scientists working at the
International Pacific Research Center
,
University of Hawaii at Manoa
say a new tree ring record extending back about 700 years has helped decipher long-term trends. The tree ring samples from both the tropics and mid-latitudes in both hemispheres support the idea that the unusually high ENSO activity in the late 20th century is a footprint of global warming said Jinbao Li, lead author of the study published online in the
journal Nature Climate Change
..."
Koch Pledge Tied To Climate Inaction
. Here's the intro to a story at
The New Yorker
: "
When President Obama unveiled his program to tackle climate change last month, he deliberately sidestepped Congress as a hopeless bastion of obstruction, relying completely on changes that could be imposed by regulatory agencies. A
two-year study by the Investigative Reporting Workshop at American University
, released today, illustrates what might be one of the reasons why he had to take this circuitous route. Fossil fuel magnates Charles and David Koch have, through Americans for Prosperity, a conservative group they back, succeeded in persuading many members of Congress to sign a little-known
pledge
in which they have promised to vote against "legislation relating to climate change unless it is accompanied by an equivalent amount of tax cuts." Since most solutions to the problem of greenhouse-gas emissions require costs to the polluters and the public, the pledge essentially commits those who sign to it to vote against nearly any meaningful bill regarding global warning, and acts as yet another roadblock to action
..."
The Politics of Energy is Changing
. Is climate change, ultimately, a human rights issue? Here's an excerpt of an Op-Ed at
Huffington Post
: "...
Bad energy policy is not just polluting our planet; it is polluting our politics, and warping international relations. It is the invisible force holding nations in thrall to dictators, causing conflicts and repressing human rights, a suffocating inertia that holds back democracy and development. Just as it pollutes the air, the politics of energy is polluting foreign policy. For more than a century, the fight for fossil fuel resources has shaped the world. It has driven companies to corruption, governments to repression, and nations to war. The struggle to secure and control energy supplies is at the heart of some of our thorniest global problems, from instability in the Middle East to territorial claims in the newly accessible Arctic. The world's hottest flashpoints are located over its richest reserves. Economies have been ruined, and populations repressed, all in the name of fossil fuels. Thankfully, the clean energy resources needed to fix the climate problem are now becoming cost competitive with fossil fuels
..." (Image: Clean Technica).