76 F
. high in the Twin Cities Tuesday.
81 F
. average high on August 13.
83 F
. high on August 13, 2012.
40-degree
dew point this morning
65-degree
dew points expected by early next week.
No
significant rain until possibly Wednesday of next week.
90s
for Minnesota State Fair? It looks like we'll end August on a hot note.
"...
When you look more closely at the annual temperature record, you can see how the long-term warming trend — for the most part caused by human activities — is manifesting itself along with shorter-term natural variability in the climate system. Each of the past 27 years has been warmer than average (based on the average from 1961-1990). In fact, according to NOAA's data set, each month for more than 28 years has had a global average temperature that was above the 20th century average, meaning that anyone younger than 28 years old has never experienced a cooler-than-average month on earth
..." - from a Climate Central article, details below.
Just Right
Data from NOAA and NASA confirm that anyone under the age of 28 has never lived through a cooler than average month on Earth.
Our caveman DNA has us wired to prioritize what we can see outside our windows (or caves). It's more challenging to step back and track the big, global picture over time.
In recent days cities from Japan to China, South Korea, Austria and Slovenia have set all-time record highs, which makes our recent 3 week stretch of cool & comfortable all the more remarkable, and welcome. No complaints here.
Summer continues to simmer out west, and computer models push 80s into town from this weekend into much of next week; about 2-7F warmer than average. We go from simmer to sizzle the following week; long-range guidance showing a few 90s from the last week August into early September. A stray T-shower may sprout Friday, otherwise dry, increasingly warm & sticky weather prevails thru the middle of next week.
In today's weather blog: "Utor" pushes into China, some models bring a tropical depression or storm into the Gulf Coast by Saturday and flash floods continue to swamp a vast stretch of real estate from New York to Mobile.
I'm counting my weather-blessings.
What Month Is This Again?
Much of the Northern Hemisphere continues to fry with all-time record highs from Japan, Korea and China to Austria, and unusually hot weather over much of Alaska. Then why is there a frost risk early this morning over the Minnesota Arrowhead? Polar amplification; huge north/south sweeps of the jet stream, a giant and persistent kink in steering winds aloft, pushing unsually warm air into Alaska and western Canada, while simultaneously guiding unusually chilly air southward into the northern tier states of the USA. Very strange for mid-August. Map above shows predicted wake-up tempeatures this morning up north, courtesy of the
Duluth National Weather Service
.
Smoke Creating Hazy Skies Across Much Of Western And Central North America
. Yes, that milky-blue sky and cherry-red sunset is a pretty good tip-off of smoke, sweeping south out of Canada. Heres's an excerpt from a post at the local
Twin Cities NWS site
: "
Forest fires across northwest Canada and portions of the western United States have produced a great deal of smoke over the past week. That smoke has been circulated by the atmosphere across much of the western portion of the continent, including the Upper Midwest. The large scale weather pattern will be changing some over the coming days, which could help to shift the smoke and hazy skies out of many locations. The image (above) provides an overview of the fire locations and smoke conditions this morning
."
Soggy Southeast
. 5-Day predicted rainfall amounts are in the 3-6" rainge from near New Orleans and Mobile to Macon, Augusta and Wilmington, North Carolina. There is a small risk of a tropical depression, wave or even storm to impact the Gulf Coast by Saturday, soaking much of Florida's panhandle, Georgia and South Carolina. Map: NOAA.
European Model
. Here's the latest outlook from
WeatherSpark
, highlighting ECMWF data from the Norwegian Meteorological Institute. Expect a gradual warming trend, highs reaching the upper 80s by early next week - the best chance of showers and T-storms next Wednesday.
Wave Goodbye To September
. Dew points are forecast to rise from the 40s into the upper 60s by early next week. No, the muggies are not nearly over, not anytime soon. Graphic: Iowa State.
6-10 Day Outlook
. NOAA CPC (Climate Prediction Center) shows heat expanding from the west into the far northern tier of the USA, significantly cooler weather over the Southern Plains and Mid South, from August 19-23.
The Summer Of All Or Nothing.
While much of the northern USA is enjoying cool, comfortable, September-like weather, record heat is gripping much of the Northern Hemisphere, from Alaska and far northern Canada to Europe and China - some countries setting all-time heat records. More details in today's edition of
Climate Matters
: "
The July U.S. Climate numbers have just been released. Idaho, Nevada, Oregon, Utah Massachusetts and Rhode Island all endured a top 10 hottest month of July. Alabama, Arkansas, Mississippi and Tennessee saw July temperatures that were among the ten coolest on record. What about the rest of the world? WeatherNation Chief Meteorologist Paul Douglas looks at some of the crazy warm weather overseas
."
Japan, South Korea Soar To Hottest Recorded Levels
. Kind of makes you want to take a quick dip, huh? When it gets this hot people will do ANYTHING to cool down, even rubbing shoulders with strangers in the most crowded swimming pool I've ever seen. Here's an excerpt from meteorologist Jason Samenow at The Washington Post's
Capital Weather Gang
: "
Late last week
Austria and Slovenia established new records for extreme heat in central Europe
. Moving east, we can now add South Korea and Japan to the list of countries with new high temperature records, courtesy the summer of 2013. The
Wall Street Journal reports
Shimanto city, in southern Japan, climbed to 106 degrees (41 C) Monday, the country's highest temperature ever measured. In Tokyo, the nighttime temperature dropped to just 87 F (30.4 C) Sunday
tweets
The Weather Channel's Nick Wiltgen, its highest overnight low temperature in 136 years of record-keeping
..."
Photo credit
above: "
South Koreans swim at Caribbean Bay swimming pool in South Korea's largest amusement park Everland in Yongin, about 50 km (31 miles) south of Seoul August 11, 2013. South Korea has been suffering from the sweltering heat wave for weeks with temperatures in most parts of the country soaring above 35 degrees Celsius (95 degrees Fahrenheit), reported a local news agency
." (REUTERS/Lee Jae-Won)
Japan Breaks National Heat Record. Chinese Heat Wave Continues
. Christopher Burt at
Weather Underground
has an update on the unrelenting heat gripping much of eastern Asia; here's the intro: "
An all-time national heat record was set in Japan today (August 12th) when the temperature peaked at 41.0°C (105.8°F) at the Ekawasaki site in Shimanto (part of Kochi Prefecture). The previous record of 40.9°C (105.6°F) was recorded at Tajima and Kumagaya on August 16, 2007. Tokyo endured its warmest daily minimum on August 11th with a low of 30.4°C (86.7°F). This was the 2nd warmest minimum on record for Japan following a minimum of 30.8°C (87.4°F) at Itoigawa on August 22, 1990
..."
Photo credit
above: "
People pack a mammoth pool at Toshimaen amusement park in Tokyo, Sunday, Aug. 11, 2013. The heat wave continues across Japan as temperature soars up to 38 degrees Celsius (100 degrees Fahrenheit) in the metropolitan area in Tokyo while other parts of the country hit over 40 degrees Celsius, (104 degrees Fahrenheit), according to The Meteorological Agency.
" (AP Photo/Itsuo Inouye)
Here's an excerpt of an
Alerts Broadcaster
briefing that went out midday Tuesday:

Here's what we're monitoring at this hour:
*

Slight risk of a tropical wave/storm pushing into the Florida Panhandle by Saturday

. Regardless, much of the Southeast will be soaked by 2-5" rains over the next 3-4 days with an ongoing risk of flash floods.
*

Typhoon Utor will strike coastal China as a Category 2 hurricane

(sustained winds of 100-110 mph) by Wednesday morning (US time), capable of a 5-10 foot storm surge and severe inland flooding.
*

Extreme heat continues to grip much of China

; slight relief forecast for Japan in the coming days.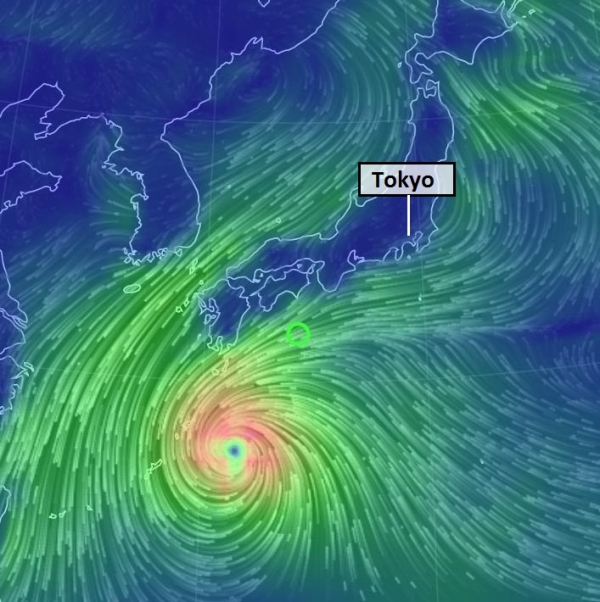 Keeping An Eye On The Tropics
. NOAA NHC shows a 10% risk of a tropical wave east of Nicaragua strengthening to tropical storm status in the next 48 hours, a system we need to watch for the Gulf Coast and Southeastern USA into the weekend.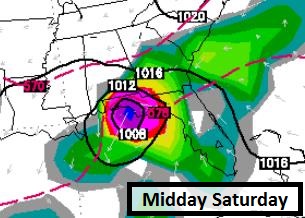 Canadian GEMS Model.
I want to point out that the Canadian model solution (above) is an outlier. None of the other models are spinning up a tropical storm, at least not yet. But in the spirit of full disclosure I want to show you why we need to watch the system in the tropics for possible intensification as it drifts north.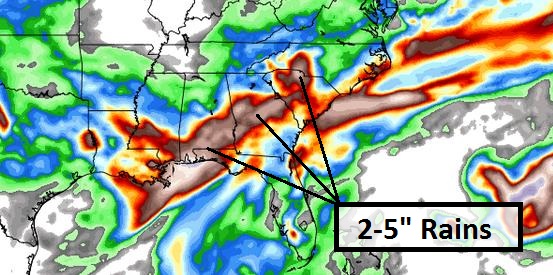 More Flooding Rains Southeastern USA
. Even if a tropical depression/storm doesn't form in the Gulf of Mexico by Saturday, very heavy rains are likely. The NAM model shows some 2-7" amounts from near Mobile and Pensacola to near Atlanta and Columbia, South Carolina. That means an ongoing risk of flash flooding capable of temporarily disrupting operations. Map above: WeatherBell.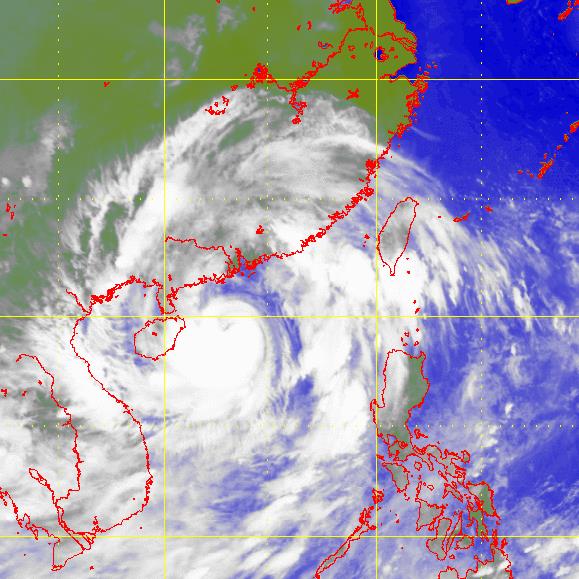 Typhoon Utor
. Still a Category 2 storm, packing sustained winds of 100-120 mph, Utor will take a track well south of Hong Kong and Macau.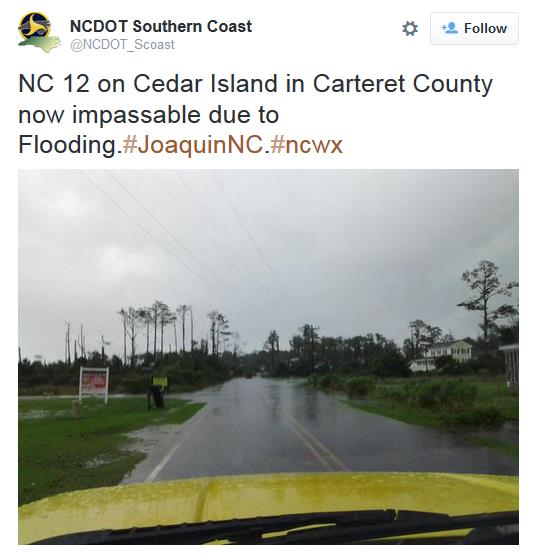 Utor's Projected Path
. Typhoon Utor should strike coastal China as a moderate to strong Category 2 storm, capable of a 5-10 foot storm surge and moderate coastal wind damage. The greatest risk is severe inland flooding and mudslides over southern China and portions of northern Vietnam, as much as 15" in some inland, mountainous areas.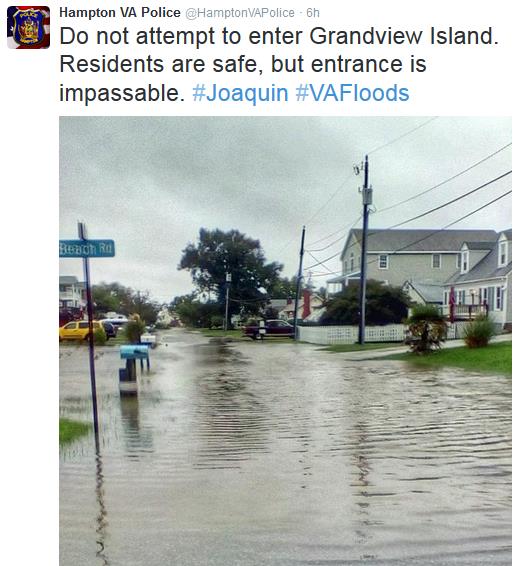 Landfall.
On it's current path Utor should come ashore near Bohe Harbor, China, with greatest impact on metropolitan areas from Maoming to Yangjiang and Hebei Harbor tonight and early Wednesday (our time).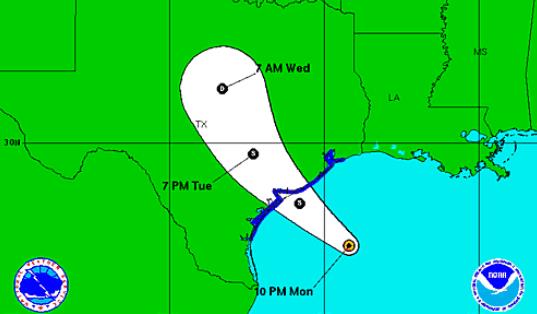 Inland Flood Potential
. As is often the case with typhoons, the most severe damage from Utor may not come from storm surge and coastal winds, but inland flooding, as the storm slows and eventually stalls near the China/Vietnam border by Thursday, focusing intense rains on mountainous terrain. A significant disaster is brewing for southwest China, coming in the form of extreme rains, flooding and mudslides within 48-72 hours.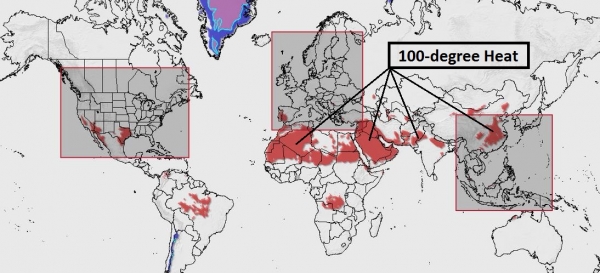 The Heat Goes On
. Alerts Broadcaster models looking out 72 hours show 100-degree-plus heat from eastern and central China into southern Spain and much of northern Africa and the Middle East. In recent days the hottest temperatures ever recorded have been observed in Japan, South Korea, Austria and Slovenia.
Summary
: Flash flooding is underway from Philadelphia into much of New Jersey, and conditions will not begin to improve until Wednesday. Travel and commerce will be impacted into Tuesday night. We're watching a tropical wave in well south of Cuba, which may drift north and enhance rainfall amounts over the Southeast USA from Thursday into Sunday. Significant flash flooding is expected from Mobile and Pensacola to Atlanta and Charleston, with a slight risk of tropical storm formation by late week. Meanwhile "Utor" spares Hong Kong and Macau, but a severe flood may be brewing for far southern China and northern Vietnam as Utor fizzles well inland later this week. Record heat continues to grip China, the worst in 140 years for much of the country. The typhoon will ease the heat in the south, but more superheated haze and pollution will make life very unpleasant from Bejing to Shanghai.
Hurricane Charley Hit Southwest Florida 9 Years Ago Tuesday.
Bay News 9
has the story of this small, but intense (Category 4) hurricane that severely damaged southwest Florida; here's an excerpt: "
Prior to Hurricane Charley, Hurricane Andrew was the modern-day hurricane that everyone talked about. It was 9 years ago when we were tracking with nervous anticipation Hurricane Charley. A few days earlier, Tropical Storm Bonnie was in the Central Gulf aimed for the Panhandle of Florida. The concern, we knew, was going to be the next one, which, at the time, was Tropical Depression 3 in the Caribbean. On August 11, 2004 Charley was upgraded to a hurricane with 75 mph wind just south of Jamaica. At this point it was now moving to the WNW. An early season trough in the Eastern United States was going to cause Charley to turn north and then northeast somewhere in the Gulf of Mexico. The challenge….exactly when and where that turn will occur. Early in the morning on the 13th of August, 2004, Hurricane Charley emerged from the north coast of Western Cuba as a strong category two storm with winds of 105 mph
..."
NASA Readies Hurricane Investigation Mission
. Here's an excerpt of an interesting story (and video) at VOA,
Voice of America
: "
The U.S.-based National Oceanic and Atmospheric Administration says this Atlantic hurricane season will likely be even more active than usual. And, as we head into peak hurricane season, the U.S. space agency, NASA, is planning to investigate the tropical storms and hurricanes that churn over the Atlantic Ocean. Two unmanned Global Hawk aircraft will take to skies above the Atlantic storms and collect measurements so scientists can see how hurricanes evolve. It's the second year of NASA's Hurricane and Severe Storm Sentinel, or HS3, field campaign, says Scott Braun, a research meteorologist at NASA's Goddard Space Flight Center outside Washington
..."
Volcanic Eruption As Seen From ISS (International Space Station)
. Here's a clip from
alltop.com
: "
It was a stroke of incredible luck that the International Space Station just happened to be in the neighborhood when the Sarychev Volcano decided to blow its top, allowing the crew to gain incredible footage of the geological event. A fortuitous orbit of the International Space Station allowed the astronauts this striking view of Sarychev Volcano (Kuril Islands, northeast of Japan) in an early stage of eruption on June 12, 2009. Sarychev Peak is one of the most active volcanoes in the Kuril Island chain, and it is located on the northwestern end of Matua Island
..."
The Orbits Of All Potentially Hazardous Asteroids In One Map
. NASA is tracking these asteroids - it's the ones they haven't discovered (yet) that make me a little nervous. Here's more from io9.com: "
NASA has put together an image showing the orbits of all known Potentially Hazardous Asteroids (PHAs) currently threatening Earth
.
That's 1,400 in total — making this map uncomfortably busy
.
"
Attack Of The Sun: Solar Flares And Disaster Recovery
. 2013 marks a peak in the natural solar cycle, when solar flares are often more numerous and severe. With any luck we'll get through this cycle unscathed, but (as always) there are no guarantees. Here's an excerpt from
Data Center Industry News
:
"...Unlike earthquakes or hurricanes, which can cause structural damage in addition to short-circuiting electric currents, the solar flare energy concentrates on ruining electrical systems alone. The high quantity of charged particles generate strong magnetic fields, which send highly charged currents to Earthly conductors, like power lines. Once this occurs, an electric grid system could be so overloaded that it collapses. The damage could be extensive and not immediately fixable. While admittedly less of a daily threat than earthquakes and severe storms, such a catastrophic solar flare is not out of the realm of possibility, due to the higher than normal activity of the sun. "The probability of a significant solar event that affects our power grid is very high," said Eric Gallant, Consultant Energy Management Services at Schneider Electric. "Solar flares and coronal mass ejections (CMEs) are occurring on a regular basis. If the energy from one of these solar events were to squarely strike the Earth's magnetic field, we could experience widespread electrical surges and blackouts
..."
Image credit
above: "
A solar flare direct hit could cause significant damage to Earth's electrical systems
."
Doomsday Fear: Could An EMP Throw World Into Chaos?
I know - the odds are small, but not zero. It's alarmist hype until it happens, right? I monitor global weather, looking for extreme conditions days, even weeks in advance. But we're also monitoring the sun, trying to provide as much lead time as possible for an X-class solar flare and resulting EMP capable of disrupting the power grid. As I tell my staff, if you're not just a little bit paranoid you're not paying attention. Here's a clip from a harrowing story at
LiveScience
: "
Baker and his colleagues just submitted a paper that details a coronal mass ejection that took place in July 2012. In that event, some 80 billion pounds of energized particles were ejected from the sun at a speed of several million miles per hour. Luckily it missed Earth. But if it had occurred one week earlier, it would have been aimed directly toward our planet — with catastrophic results. [
The Worst Solar Storms in History
] "Given our current state of readiness, we'd still be picking up the pieces," Baker said. Bad solar storms work by sending "blobs" of energized particles toward the Earth, carrying their own magnetic field, Baker said. This missile-like group of particles can "open a gate" in Earth's magnetic field, allowing energetic particles to enter the high atmosphere and send currents all the way down to the planet's surface, he said. These can induce currents in the electrical grid, overheating transformers and causing them to fail. And these things can take months or years to replace. "You can't exactly buy another at Sears," Baker said
..."
Image credit
above: "
A beautiful prominence eruption shot off the east limb (left side) of the sun on Monday, April 16, 2012. This view of the flare was recorded by NASA's Solar Dynamics Observatory.
" Credit: NASA/GSFC/SDO
Elon Musk Introduces The Hyperloop, A System For Ultra-Rapid Transit
. A 30 minute commute from L.A. to San Francisco, traveling at 800 mph? Sounds like science fiction, but I'm not sure I'd bet against Elon Musk. Details from
The Daily Beast
: "
It's a question technology and transportation enthusiasts have been mulling over for months. What will Elon Musk—the genius behind Space X, Tesla, and Solar City—come up with next? Rumors have been swirling that he would propose a fifth mode of transportation for the U.S and on Monday, the wait ended with a futuristic proposal straight out of the Jetsons. Musk's high speed transport system is called the
Hyperloop
, and the inventor likens the design to the barrels of a shot gun. Think two metal tubes placed side by side enclosed with pods inside of them. Pods run one direction down one tube and the opposite direction down the other. High speed air thrusts the pods from one location to the final destination, continuously giving them little bursts along the way
..."
Image credit
above: "
This image released by Tesla Motors shows a conceptual design sketch of the Hyperloop passenger transport capsule
." (Tesla Motors, via AP).
Elon Musk Gives Us The Goods On Hyperloop
. Here's a slightly different perspective on the details and viability of the hyperloop concept, excerpted from
gizmag.com
: "
He may be the man behind PayPal, Tesla Motors and SpaceX, but Elon Musk has been garnering more attention lately for his proposed
Hyperloop
transit system. Although virtually no details had previously been announced, Musk has stated that it would serve as a much faster, more efficient alternative to traditional passenger rail transport – more specifically, it would allow passengers to travel the 350 miles (563 km) from Los Angeles to San Francisco in just 30 minutes. Well, this afternoon (
as promised
) he finally let everyone in on just what it would be, and how it would work.
..."
Image credit
: "
Elon Musk has revealed the design and details of his proposed Hyperloop transit system
."
What's In A Name?
In response to the woman going to court for the right to name her child "Messiah" here's some perspective on names from
The Economist
: "
A BABY'S name can affect his life profoundly. That was the reason a Tennessee judge gave for changing the name of a seven-month-old called Messiah, a name that the judge argued would have put him "at odds with a lot of people" in his mainly Christian home county. But young Messiah (who now goes by Martin) was by no means a one-off. According to data from the
Social Security Administration
, last year 762 babies in America were named Messiah, up from about 200 in 2005. In fact since the 1950s names have become less uniform across the board.
.."
A 17 Year Divorce?
Amazing, considering the marriage lasted 10 years. This serves as proof that lawyers shouldn't marry other lawyers.
Cincinnati.com
has the harrowing story - here's a clip: "
When they married in 1986, Christo and Sharlene Lassiter vowed to create a marriage that would last in good times and bad.Instead, the marriage lasted 10 years – seven years less than their divorce-related legal battles. That fight has been so acrimonious that it's resulted in rare instances of judges sharply rebuking the pair. One judge noted the ex-spouses are both law professors and, by their actions in court, are teaching future lawyers how to ignore court rules and make a mockery of the legal profession
..."
TODAY: Sunny, beautiful. Dew point: 50. West 5-10. High: 77
WEDNESDAY NIGHT: Mostly clear, still comfortable. Low: 57
THURSDAY: Partly sunny, pleasantly mild. Thunder possible far western and southwestern MN. High: 78
FRIDAY: Less sun, isolated T-shower, especially southern Minnesota. Wake-up: 61. High: 79
SATURDAY: Warm sun, lake-worthy. Wake-up: 60. High: 82
SUNDAY: Hazy blue sky, still nice. Dew point: 61. Wake-up: 64. High: 86
MONDAY: Mix of clouds & sun, sticky. Dew point: 65. Wake-up: 66. High: 87
TUESDAY: Fading sun, T-storms western MN. Wake-up: 67. High: 85
Climate Stories...
This Is What Global Warming Looks Like
. Meteorologist Andrew Freedman has a good overview of temperature trends in this clip from
Climate Central
: "
Global warming has accelerated during the past three decades, which have each been unusually warm. In fact, the most recent decade from 2001-2010 was the warmest since instrumental records began in 1850, according to the
World Meteorological Organization
(WMO). While the rate of global warming has slowed in the past several years, possibly due to natural climate variability, the long-term temperature trend clearly shows that we're living on a warming planet.
.."
Map credit
above: "
This interactive shows just how warm average global temperatures have been over the past three decades, particularly on a backdrop of warming that extends back several decades, based on data reported in a recent WMO report. It shows the global average surface temperature (land and sea) for each decade since 1880, and the dotted line shows what the 30-year average was from 1961-1990. The numbers are an average of temperature records from the three main global surface data sets kept at the U.K.'s Hadley Center, at the National Oceanic and Atmospheric Administration (NOAA), as well as at NASA
."
Ambivalent Coverage Of Climate Change's "New Normal"
. Newspapers (remember those?) still do the bulk of real reporting worldwide, and as some newspapers cut staff and adjust to a new, perilous advertising world with dollars shifting to online, Google and Craigslist, the concern is that certain topics won't warrant the coverage they deserve. Here's a clip from
The Columbia Journalism Review
: "
On Tuesday, the American Meteorological Society released its annual "State of the Climate" report, a hefty,
258-page documen
t chronicling changes in global warming data. Compiled by members of the
National Oceanic and Atmospheric Administration
, along with 384 scientists from 52 countries, the report is used to set and influence domestic climate policy and distributes statistics that form the baseline for discussions of climate change. This year's report holds a wide roster of data—ranging from interesting to doomsday—and most major newspapers and wire serves at least ran something based on the report press release. But considering the importance, and acute detail, of the information contained in the release, the mainstream press provided a surprisingly limited amount of analysis
..."
10 Climate Change Wake-up Calls
. Here's a good summary of some of the impacts to health, safety and security, from a story at
Huffington Post
: "
Did you know?
Photo credit
: Granger Smith.
Rising Seas And Worsening Storms Require Rethinking Flood And Wind Insurance
. Here's the introduction to a story at
The Union of Concerned Scientists
: "
In a world with rising seas and worsening storms, we've got to get smarter about how and where we build along our coasts. A
new UCS report
released today points out that our government-backed flood and wind insurance programs are encouraging risky coastal development that exposes coastal communities to harm and creates the potential for large damage costs paid for by all taxpayers. Local examples of policies that create risk are unfortunately common too: recently, New Jersey policy makers passed
a bill
that would allow development on piers in
coastal high hazard areas
, putting more people and property in harm's way
..."
Global Warming: Earth Is Breathing More Deeply These Days
. More evidence of significant changes in CO2 levels. Here's an excerpt from
The Summit County Citizens Voice
: "
The Earth breathes in seasonal cycles, exhaling and inhaling great gulps of carbon dioxide as plant life goes through its annual cycle of growth. And lately, those breaths have become up to 50 percent deeper, as more carbon dioxide is emitted from burning fossil fuels and other human activities, according to a study led by scientists at the
Scripps Institution of Oceanography
. Levels of carbon dioxide in the atmosphere rise and fall each year as plants, through photosynthesis and respiration, take up the gas in spring and summer, and release it in fall and winter. But the amplitude of that cycle is intensifying, scientists say after studying data from several year's worth of airborne chemistry sampling done in a series of pole to pole sampling flights
..."
Graphic credit
above: "
Careful atmospheric measurement shows the annual carbon-dioxide cycle is amplifying
."
150 Years In 30 Seconds: Sea Level Debt Sinking U.S. Cities
. Here's an excerpt (and interactive U.S. map) courtesy of
Climate Central
: "
Measurements tell us that global average sea level is currently rising by about 1 inch per decade. But in an invisible shadow process, our long-term sea level rise commitment or "lock-in" — the sea level rise we don't see now, but which carbon emissions and warming have locked in for later years — is growing 10 times faster, and this growth rate is accelerating
."
Climate Change And Weather Modification: Could We Control The Future?
Two words: bad idea. But we'll probably try to push Mother Nature around anyway, searching for a short-cut to "fix" greenhouse gas emissions. Because we just can't help ourselves. Here's a clip from a story at
Huffington Post
: "
A U.S. study is under way to evaluate several possible ways to limit climate change including solar radiation management and carbon dioxide removal. The study will primarily be an analysis of peer-reviewed literature, and will not involve any substantial new research, experimentation, or development of new geoengineering technology, spokeswoman Lauren Rugani of the National Academy of Sciences said. "The project's main goal is to provide a technical evaluation of proposed geoengineering techniques such as carbon dioxide removal and solar radiation management, to determine what we know and don't know about their physical capabilities, technical feasibilities, known risks, and intended or unintended consequences," Rugani said
..."
Image credit
:
geoengineeringwatch.org
.
Fracking Could Accelerate Global Warming
.
NewScientist
has the story - here's a clip: "
The row over fracking for natural gas has hit the UK, with protests over plans in the village of Balcombe. Could they have a point? Studies are suggesting fracking could accelerate climate change, rather than slow it. The case for fracking rests on
its reputed ability to stem global warming
. Burning gas emits half as much planet-warming carbon dioxide as an equivalent amount of coal. That is why,
after embracing fracking, CO2 emissions have fallen in the US
. But leading climate scientists are warning that this benefit is illusory. Tom Wigley of the National Center for Atmospheric Research in Boulder, Colorado, concluded in a recent study that substituting gas for coal increases rather than decreases the rate of warming for many decades (
Climatic Change, doi.org/dv4kbp
)
..."
Photo credit
above: "
Who's winning the argument?
" (Image: Joe O'Brien/Demotix/Corbis).