79 F
. high in the Twin Cities yesterday.
81 F
. average high on August 15.
83 F
. high on August 15, 2012.
80s
this weekend, sunshine both days.
90s
expected by the middle of next week.
No
significant, widespread rain or T-storms until late Wednesday or Thursday of next week.
"...
Recently over 200 evangelical Christian scientists wrote a
letter
to Congress asking for climate change action,
Young Evangelicals For Climate Action
demand American Leadership, and over 350 evangelical leaders signed the
Evangelical Climate Initiative.
All of us recognize along with the National Academy of Sciences, American Medical Association, American Meteorological Association, the US Department of Defense, plus
every major scientific body
in the United States, that climate change is real; it won't completely destroy God's creation, which no one to my knowledge is claiming; but it has and will do serious harm to God's children
..." - from a letter written to Rush Limbaugh by Rev. Mitchell Hescox at the Evangelical Environmental Network; details below. (Photo: Apollo 8 image from NASA).
Summer, The Sequel
Now that school is about to start up again and thoughts are turning to football and the winter to come (ugh) Mother Nature will once again get the last laugh.
I've been telling friends, imaginary and otherwise, not to write off summer heat just yet. Although scorching 90s and 100s usually peak in mid or late July, we can sweat it out right into September.
With a high-amplitude pattern (big north/south dips in the jet stream steering winds) the hots have been hotter out west, the cools much cooler from Minnesota to New England. The normal west to east flow has stalled with nearly a month of comfortable temperatures and low humidity. That's unusual, a possible symptom of record warming at far northern latitudes having a domino effect here at home.
Chaos theory. We don't know what we don't know.
Here come the Dog Days of Late August: 80s and a few 90s the next 2 weeks. GFS guidance hints at some mid-90s with dew points rising to 70F.
Sauna-on-a-stick at the Minnesota State Fair!
It could be worse. You could have a beach home right on the Gulf of Mexico. A tropical swirl over Mexico's Yucatan may strengthen into "Fernand" - soaking the Gulf Coast with some 5-10" rains by Monday.
A Dry Spell
. According to ECMWF data the next chance of showers and T-storms may not come until next Wednesday night and Thursday. A beautiful weekend is on tap with highs in the 80s, gentle breezes, and dew points above 60 - humid, but not oppresive.
Heating Up.
WeatherSpark
confirms a warming trend into next week, with low to mid 90s possible by Tuesday and Wednesday, then slightly cooler by the end of next week. Dew points rise into the upper 60s next week - another case of the muggies, but not quite as sticky as early July.
Fall Outlook: Slightly Warmer - Slightly Wetter
. Here is NOAA CPC's extended outlook (guess-cast!) for the period September into November, showing a slight bias toward milder and wetter for portions of Minnesota; a better chance of a wet autumn from the Plains into the Great Lakes. Place your bets.
U.S. Drought Monitor
. There are pockets of abnormally dry soil in Minnesota and northwest Wisconsin, even moderate drought creeping back into Iowa and Nebraska - the worst drought conditions over the western Plains into New Mexico and Nevada.
Percentage Of Corn Belt Experiencing Drought
. At least report the
USDA
reported 24% of the corn-growing region of the USA experiencing drought conditions as of August 13.
What Are The Odds That "Erin" Will Reach The USA?
Brian McNoldy tackles that question in this post at
The Capital Weather Gang
; here's a clip: "...
If we look at all known storms (going back to 1851) of tropical storm status within 100 miles of Erin's current location during the entire month of August, we get a short list of just nine. Since the storm came off of Africa rather far north, its chances of recurving before reaching land are quite high, as the map of the previous nine analogs shows. Of the nine storms plotted, only one reached the U.S.: the 1893 "Sea Islands Hurricane". It also formed on August 15
..."
Map credit
above: "
Tracks of all known cyclones that were tropical storms within 100 miles of Erin's current position during August
." (NOAA).
Keeping An Eye On The Tropics, Hurricane Climatology, And Arctic Sea Ice Loss
. Will "Fernand" spin up in the Gulf of Mexico, what are the odds of "Erin" striking the USA, and the perception of Arctic ice "recovery" is just that - a perception, but not mirrored in reality. In today's edition of
Climate Matters
we examine all three topics: "
WeatheraNationTV Chief Meteorologist Paul Douglas looks at Tropical Storm Erin and an area of concern off the Yucatan Peninsula. Hurricane climatology for August may give us an idea where Erin will end up. Also Arctic sea ice loss; not periods of loss and recovery, but a truly downward trend
."
Alerts Broadcaster Briefing
, issued midday Thursday:

Here's what we're monitoring
:
-

Tropical Storm Erin

forms in the far eastern Atlantic; still 1-2 weeks away from possibly impacting the USA. Statistically, odds favor Erin curving north into the colder waters of the North Atlantic, but we'll need to keep an eye on this intensifying tropical storm for next week.
- "

Invest 92

" is weakening over Mexico's Yucatan Peninsula. Although odds favor strengthening into Tropical Storm Fernand within 48 hours, the ultimate track is still problematic; some of the models keep this system over Mexico, others push it north toward Louisiana. Due to very weak steering winds confidence level is still low as to the final track/intensity of this storm, but Gulf Coast interests and facilities need to pay attention in the coming days. I expect the final track to crystallize with a much higher confidence level within 36 hours.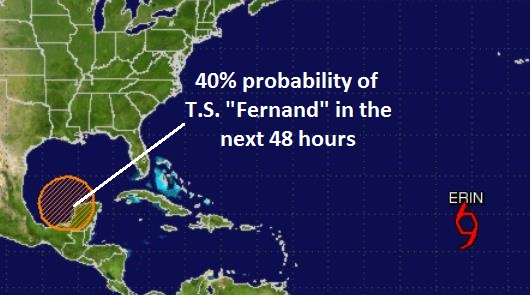 Tracking Erin And (Future) Tropical Storm Fernand.
Erin is a tropical storm in the eastern Atlantic, with 40 mph sustained winds, pushing to the west. A tropical depression near Cancun and Cozumel has a 50% risk of intensifying to tropical storm strength within 48 hours, a 60% probability of tropical storm formation within 5 days. The question: where is it going?
Invest 92
. Here's a satellite image of a rather disorganized (non-concentric) swirl of thunderstorms pushing into the Yucatan Peninsula. Since tropical systems get their energy from warm ocean water, this system is forecast to weaken further over the next 24 hours, before emerging into the Bay of Campeche (far southern Gulf of Mexico) sometime late Thursday or Friday morning. From there the question is: does the storm retain it's westward motion, or recurve to the north toward the USA. Odds still (slightly) favor the latter scenario, with a moderate tropical storm impacting Louisiana, Alabama and Mississippi in a late Saturday-Sunday time frame, but again, our overall confidence level on this track remains low.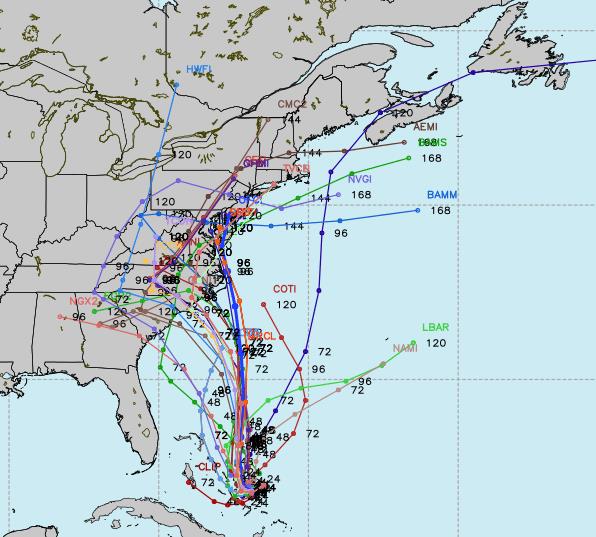 Spaghetti Plot
. Here is Exhibit A of why tropical meteorologists have gray hair and migraines. The models are (literally) all over the map with Invest 92 (future "Fernand"). Some carry the storm due west, back over Mexico within 72 hours, while a majority of models still turn the storm to the north or northwest, out over the open water of the Gulf of Mexico, increasing the risk to the U.S. coastline.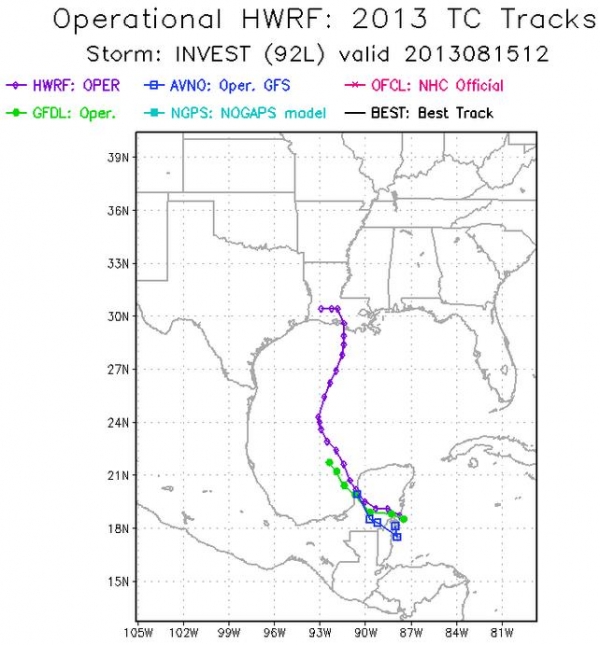 Official Track
. NHC is still predicting a more dramatic turn to the north within 24-36 hours, and possible Louisiana landfall of a moderate tropical storm within 72 to 96 hours - in a Sunday timeframe. The HWRF model track (purple above) is the most powerful simulation in NOAA's current arsenal - and that corresponds with the official forecast right now. This will almost certainly change and shift (again) in the coming days.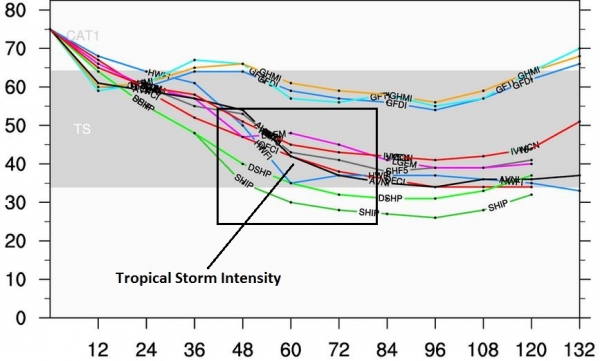 Odds Of Hurricane Status Are Small, But Not Zero
. As you can see with the plot above, most models strengthen Invest 92 (Fernand) to tropical storm strength before landfall within 72-84 hours, with sustained winds in the 40-50 mph range.

If this system does impact the Gulf Coast I still believe the greatest impact won't be storm surge or coastal flooding/beach erosion but inland flooding (from New Orleans and Birmingham to as far away as Atlanta and the Carolinas)

. The ground is saturated throughout much of the south - a dying tropical storm is capable of 10" rainfall amounts, and this could result in severe flooding - IF - Invest 92 takes that jog to the north and does, in fact, impact the Gulf Coast.
Wild Card
. Water temperatures are unusually warm in the central and western Gulf of Mexico. Warmer water = greater potential for rapid storm intensification. A more northward track toward Louisiana or Alabama would keep "Fernand" over moderately warm water, not as much strengthening to the system. But if the track is more northwest, toward Texas, the storm would pass over bath water (85-90F) and intensification could be rapid and dramatic. Again, models do a poor job predicting these sudden cycles of strengthening, but I could envision a scenario where rapid intensification takes place immediately before landfall, especially if the final track is closer to Galveston than New Orleans.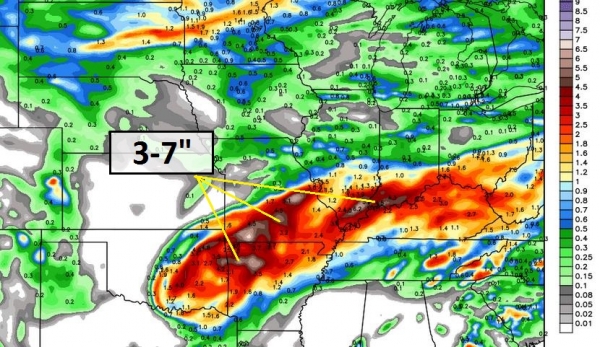 Greatest Concern: Inland Flooding
. The latest run of the HWRF model prints out a 5-10" rainfall swath from near New Orleans and Mobile to Pensacola. I'm more concerned about flash flooding within 150 miles of the Gulf Coast than coastal storm surge flooding at this point, coming in a late Saturday thru Monday time frame.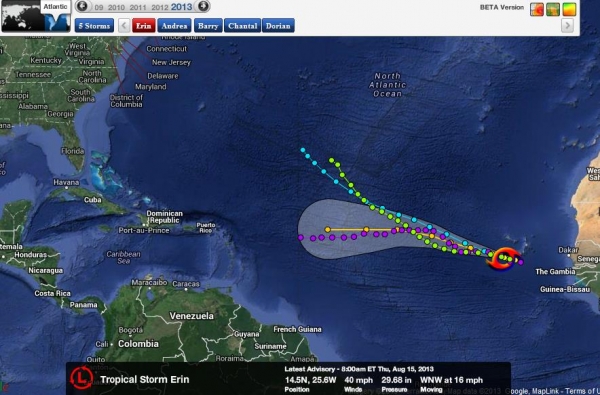 Tropical Storm Erin
. We're monitoring this (new) tropical storm in the eastern Atlantic, but it won't be a factor for the Caribbean or USA until the latter half of next week. Odds favor the storm turning northwest, then north, probably sparing the United States.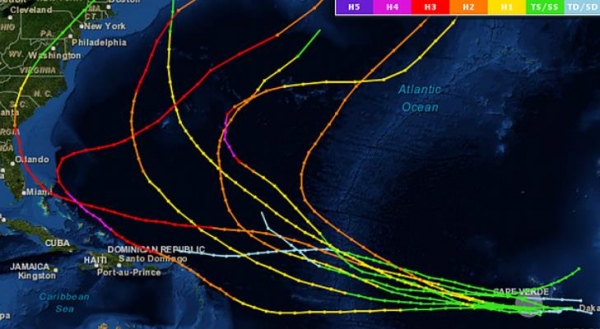 Hurricane Climatology In Mid-August
. Previous storms, near the current location of Erin, have tended to curve away from the USA, pushed into the North Atlantic by a persistent and blocking Bermuda High. We certainly can't and won't dismiss Erin - it bears careful watching, but looking at the numbers and climatology odds favor this system passing north of the Caribbean, and probably missing the East Coast.
Summary
: the forecast is rarely black or white, but usually some nebulous shade of gray. So it goes with Invest 92, the system over the Yucatan that will probably mutate into Tropical Storm Fernand by Friday night. Confidence levels are still low as to final track and intensity, but right now odds are this probably will not intensify to hurricane strength, but come ashore somewhere over the Gulf Coast as a moderate tropical storm, capable of minor/moderate storm surge flooding, but potentially much greater flash flooding just inland from 5-10" rains. The system is still evolving - I encourage you to keep staff and facilities from Brownsville to Pensacola in a heightened state of readiness in the coming days. We're also watching Tropical Storm Erin in the eastern Atlantic, not a risk to U.S. interests until the end of next week, if at all. Odds favor it will recurve away from the USA, but it pays to be perpetually paranoid. We'll keep you posted.
Late Night Update
. The latest model runs show a higher probability of a track toward Mexico or possibly southern Texas. I still think the disturbance over the Yucatan Peninsula will strengthen into "Fernand" as it passes over warm water in the Bay of Campeche, but right now it looks like a moderate tropical storm risk for Brownsville, possibly Corpus Christi, Texas.
Is The National Weather Service Issuing Too Many Thunderstorm Warnings?
In fairness, I think this problem, or perceived problem, varies wildly from one NWS office to the next. I haven't heard this complaint (much) here in Minnesota, but in other parts of the USA the perception is different, from local media and consumers. Here's a clip from a post by meteorologist Jason Samenow at The Washington Post's
Capital Weather Gang
: "...
A concern is that the NWS may be lulling the public towards warning fatigue by issuing warnings for these kinds of storms – which are common in the area during summer. If warnings are issued repeatedly for storms that are merely heavy, but not severe, it's reasonable to worry the public may start ignoring these warnings. Then, they may not appreciate the relatively rare circumstance when storms are actually producing widespread hazardous conditions and take the needed action
..."
Proposed Change To Winter Storm Warnings And Advisories.
Everyone (including me) fixates on "how many inches", when snowfall rates and time of day can be huge factors in determining how bad travel conditions will be. Some changes and modifications are coming. Here's a
YouTube clip
from the Central Office of the National Weather Service in Chicago: "
Here is a short description of the proposed changes the NWS Chicago is considering making to winter storm warning and winter weather advisory criteria this winter
."
The Killing Machines. How To Think About Drones
. No, this has nothing to do with weather, but I found it interesting (and disturbing) nonetheless. With a son in the military I'm trying to keep an open mind - here's an excerpt from an article at
The Atlantic
: "...
No civilian death is acceptable, of course. Each one is tragic. But any assessment of civilian deaths from drone strikes needs to be compared with the potential damage from alternative tactics. Unless we are to forgo the pursuit of al-Qaeda terrorists entirely, U.S. forces must confront them either from the air or on the ground, in some of the remotest places on Earth. As aerial attacks go, drones are far more precise than manned bombers or missiles. That narrows the choice to drone strikes or ground assaults....In fact, ground combat almost always kills more civilians than drone strikes do....."A fair-minded evaluation of the best data we have available suggests that the drone program compares favorably with similar operations and contemporary armed conflict more generally,"
he told
The New York Times. When you consider the alternatives—even, and perhaps especially, if you are deeply concerned with sparing civilians—you are led, as Obama was, to the logic of the drone
..."
The Hybrid Future Of Journalism
. Here's a clip from an interesting Op-Ed by Arianna Huffington at
The Huffington Post
: "...
This combining of the best of traditional media with the boundless potential of digital media represents an amazing opportunity. First, it's an opportunity to further move the conversation away from the future of newspapers to the future of journalism -- in whatever form it's delivered. After all, despite all the dire news about the state of the newspaper industry, we are in something of a golden age of journalism for news consumers. There's no shortage of great journalism being done, and there's no shortage of people hungering for it. And there are many different business models being tried to connect the former with the latter -- and Jeff Bezos will no doubt come up with another. The future will definitely be a hybrid one, combining the best practices of traditional journalism -- fairness, accuracy, storytelling, deep investigations -- with the best tools available to the digital world -- speed, transparency, and, above all, engagement.
.." (Photo:
University of Windsor
).
How To Choose Your Best Place To Retire
. I thought this article from PBS's
Next Avenue
brought up some good points, things I hadn't considered. Yes, retirement almost rolls off the tongue these days. Here's a clip: "...
The problem with these lists is that they're typically based on broad geographic statistics, such as home prices, cost of living, state and local taxes, the availability of medical care, public transportation, and weather and crime rates. While the data might measure factors that are important to consider when choosing a place to retire, other criteria that can't be quantified may well be more important to you. The best way to decide where you should retire is to find the place that best meets your needs and circumstances, however you define them. To do that, ask yourself the following questions:
Do you want to be near friends and family?
Will you be taking care of aging parents? If yes, will you need to be close by?
Do you have hobbies or interests that play into where you'd want to live?
Photo credit
: Thinkstock.
Climate Stories...

How "Skeptics" View Arctic Sea Ice Decline
. Here's an excerpt from
Skeptical Science
: "
September
Arctic sea ice extent data
since 1980 from the National Snow and Ice Data Center (blue diamonds). "Recovery" years, meaning years when the sea ice extent is greater than the previous year, are highlighted in red to mock the repeated cynical claims of climate change "skeptics" that global warming has somehow stopped. Many factors affect the annual summer decrease in Arctic sea ice extent, and it is illogical at best to claim any "trend" by
cherry-picking
only brief periods of data. The obvious true long-term trend in Arctic sea ice extent (red second-order polynomial curve fit) is that it is declining at an accelerating rate
..."
2012 State Of The Climate: Glaciers
. Here's the introduction to a story at NOAA's
Climate.gov
focused on glacier retreat around the world: "
Around the globe, some 370 million people live in basins where rivers derive at least 10 percent of their seasonal discharge from glacier melt. Glacier melt provides drinking water for human populations, and irrigation water for crops. The damming of glacial melt water even generates hydroelectric power. The retreat of the majority of mountain glaciers worldwide is one of the clearest signs of long-term climate change....
Between 1980 and 2011, glaciers around the world lost the water equivalent of 15.7 meters. That would be like slicing a roughly 17-meter-thick slab off the top of the average glacier and repeating that exercise worldwide
."
Photo credit
above: "
.
Extreme Heatwaves To Quadruple By 2040, Study Says
. Here's more from
NBC News
: "
The type of heat waves that wilt crops, torch forests — and kill people — are expected to become more frequent and severe over the next 30 years regardless of whether humans curb emissions of the greenhouse gas carbon dioxide, according to a new study. These are heat waves akin to those that
baked many regions of the U.S. in 2012
and
devastated crops in Russia in 2010
. Such bouts of extreme heat are so-called "three-sigma events," meaning they are three times warmer than the normal climate of a specific region for weeks in a row. Since the 1950s, the frequency of these events has "strongly increased and right now they cover about 5 percent of the global land area,"
Dim Coumou
, a climate scientist with the Potsdam Institute for Climate Impact Research in Germany, told NBC News
..." (Photo: Reuters).
Can Extreme Weather Make Climate Change Worse?
Normally the argument is the other way around - a warmer atmosphere creates conditions more favorable for extreme weather events, but what if the opposite is true as well? Here's a portion of a story at
Climate Central
: "
Devastating drought in the Southwest, unprecedented wildfire activity, scorching heat waves and other extreme weather are often cited as signs of a changing climate. But what if those extreme weather events themselves cause more extreme weather events, fueling climate change? That's one of the possibilities raised by
a study
released Wednesday that was conducted by a team of scientists at the Max Planck Institute for Biogeochemistry in Jena, Germany. The researchers have shown that extreme weather events may reduce an ecosystem's capability to absorb carbon and create a damaging cycle in which extreme weather fuels climate change by preventing forests from absorbing carbon, allowing more of it to remain in the atmosphere
..."
Photo credit
above: "
Low water levels in Lake Medina northwest of San Antonio, Texas
." Credit: Mike Fisher/flickr
Insight: California Aims To "Bottle Sunlight" In Energy Storage Push
. This is one of the big, remaining missing links - storing electricity generated by renewables (or any other source) until its needed.
Reuters
reports; here's a clip: "
California, whose green ambitions helped the solar and wind industries take root, is taking an essential next step by proposing a sharp rise in energy storage to better integrate renewable power with the rest of the grid.

Power from sun and wind fluctuates dramatically, so capturing it for later use makes the supply more predictable.

"We can't just rely on sunlight," Governor Jerry Brown told the Intersolar conference in San Francisco last month. "We've got to bottle the sunlight
..."
Scientists Have A Moral Obligation To Take Action On Climate Change
. Here's an excerpt from a story at The Guardian: "
...
As
Bill Maher put it
with comic exaggeration, "On this side of the debate: every scientist in the world. On the other: Mr Potato-Head". There is no debate here; it's just scientists and non-scientists, and since the topic is science, the non-scientists don't get a vote. The majority of climate scientists are probably right to follow their current strategy, which is keep calm and carry on. They are expanding our knowledge about the climate, doing what they are best at and which the rest of us are unable to do. However we are in a global crisis, and I believe that the scientific fraternity has an ethical obligation to take action. We need some scientists to show social leadership, not just scientific leadership. Edwards is being too strident, calling on all scientists to refrain from public advocacy and leadership. I think that is unreasonable to expect and never likely to happen.
.."
Exposing The (Climate) Disinformation Playbook
. Here's a slideshow and explanation from the
Union of Concerned Scientists
: "
Powerful coal, oil, and gas interests are trying to confuse us all about global warming and renewable energy. Not with facts or reasoned argument — but with disinformation. In this interactive slideshow, UCS reveals the tactics used by the fossil fuel industry to spread disinformation and delay action on climate change — the very same tactics used by Big Tobacco for years to mislead the public about the dangers of smoking. Don't stand for it.
Join our fight against disinformation today!
"
George Shultz: A Republican Who Accepts The Reality Of Global Warming
. No, you don't have to be a liberal or progressive to look at the data, the trends and the science and reach an informed decision. Here's a portion of a post at
Slate
: "...
Which brings me to George Shultz. Among other political appointments, he was Ronald Reagan's secretary of state. While I might disagree—vehemently—with much of Reagan's policies, there are plenty of places I imagine Shultz and I would agree. Of late I might disagree with him strongly on many things as well—he is, after all, a Republican strategist, as well as being an adviser to the George W. Bush campaign in 2000.But he sat down with Scientific American magazine
and gave a thoughtful and excellent interview about global warming
. The takeaway: He accepts the reality of warming and says in no uncertain terms we need to be doing something about it. One of the more clear statements he makes, among many, is this simple pronouncement: "You know, a new ocean is being created for the first time since the Ice Age [in the Arctic with the meltdown of sea ice]. How could that happen? It's getting warmer
..."
Photo credit
above: "
George Shultz and President Reagan in 1986
." Photo by White House staff, from the Ronald Reagan Presidential Library, National Archives and Records Administration/
wikimedia
An Open Letter To Rush Limbaugh.
Here's an excerpt from a letter from Rev. Mitchell Hescox at The Evangelical Environmental
Network
: "...
As a lifelong Republican and an evangelical pro-life clergyman who pastored a local congregation for almost 20 years, spent fourteen years working in the coal industry, and now leads one of the oldest creation care ministries, I ask you to refrain from your harmful rhetoric on climate change. It is simply wrong. Recently, you stated that "If you believe in God, then intellectually you cannot believe in man-made global warming." Nothing could be further from truth. You made this false claim as part of a rhetorical sleight of hand wherein you posited a straw-man position, which you then defeated, saying that only God has the power to destroy his creation. But in "winning" such a false argument, you take people further from the truth. I am aware of no one who is saying that human-induced climate change will completely destroy the earth. From the beginning we were created to be God's stewards or caretakers of His creation; we were given the freedom to care for it and for each other, or go our own way and selfishly look to our own interests and desires. Sadly, human history shows us that too often we have chosen the latter.
.."