49 F
. high in the Twin Cities Monday.
48 F
. average high on November 4.
45 F
. high on November 4, 2012.
.17"
rain fell at MSP International Airport Monday.
Winter Weather Advisory
in effect for the Twin Cities this afternoon and tonight.
Plowable snow
possible tonight, especially southern/eastern suburbs.
November 18
: average date of the first 1"+ snow in the Twin Cities.
Source
: Twin Cities National Weather Service.
On Edge
Ring the church bells, sound the air raid siren three times, then run for the hills! Snow is on the way!!
Which would be noteworthy if we lived in Maui or Miami.
"It's Minnesota. It's winter. It snows here. Get over it." a friend helpfully reminded me yesterday. I couldn't agree more.
But the first snow is always tricky, as we all try to regain our snow-legs. Traffic? A vehicular version of The Walking Dead. Gruesome. Be extra generous & patient on the freeways later today.
A fast-moving wave of low pressure taps moisture from the Gulf of Mexico; temperatures aloft cooling as the day wears on. A cold rain changes to wet snow by late afternoon or evening (but roads remain mostly-wet for the PM commute). After a few days in the 40s and 50s ground temperatures are still mild, and I still expect significant melting of snow on contact for a time Tuesday evening, cutting down on snowfall totals. After 6 or 7 PM, as ground temperatures cool, snow should begin to stick, and accumulate.
"How many inches!"
Expect a big range across the MSP metro, maybe an inch northern suburbs, but closer to 3-4 inches south metro, and a few lucky towns could wind up with 5-7" closer to Northfield, Le Center and Mankato. Plowable for much of the south metro, but again, this will NOT be Snowmageddon or Snowpocalypse. Lower your expectations.
If you like snow (and you know who you are) get out there and romp around in it first thing Wednesday, because highs may hit 50F by next Tuesday. In fact long-range guidance shows 50s, even 60F around November 18. No parades of snowstorms or bitter blasts are brewing just yet. Yes, November is one dark, cruel & fickle month.
Oh noooo. Snow!
---
* Potential for enough snow to shovel and plow late Tuesday and Tuesday night in a narrow band from Sioux Falls to the Twin Cities.
* 2-4" amounts expected, locally 6" south of the Twin Cities and portions of western Wisconsin Tuesday night.
*
Twin Cities
: roads remain wet up until 5 PM. Highways will become slushy and slick by Tuesday evening.
* 5-7 hour burst of heavy, wet snow. Leaves still on many trees - increasing potential for small tree limbs to come down between 6 PM Tuesday and 2 AM Wednesday morning, minor/sporadic power outages possible, especially south/east of the Twin Cities.
* Travel conditions rapidly improve Wednesday.
* Pattern trends milder into mid-November. No sign of a persistently snowy/icy or bitter pattern looking out the next 2 weeks.
---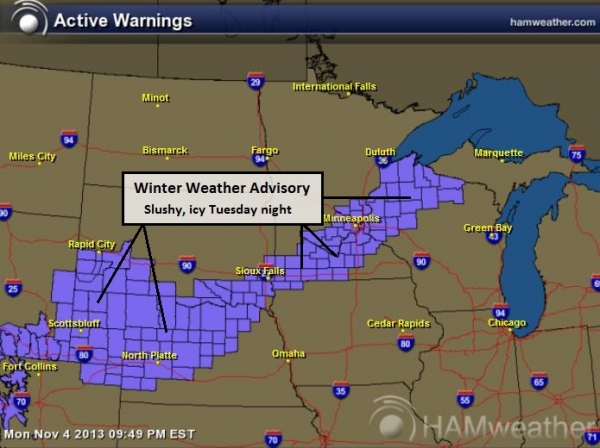 Winter Weather Advisory
. The Winter Storm Watch issued earlier today has been downgraded to a Winter Weather Advisory. Accumulation is still likely, but for a variety of reasons the risk of (heavy) snow has diminished in the last 8 hours. A fast-moving wave of low pressure will limit just how long significant snow will fall, and after a few days of 40s and 50s ground temperatures are still mild, meaning snow will melt on contact Tuesday evening, dropping total accumulations. The Advisory includes North Platte, Sioux Falls, Mankato, the Twin Cities and Eau Claire. Map:
Ham Weather
.
---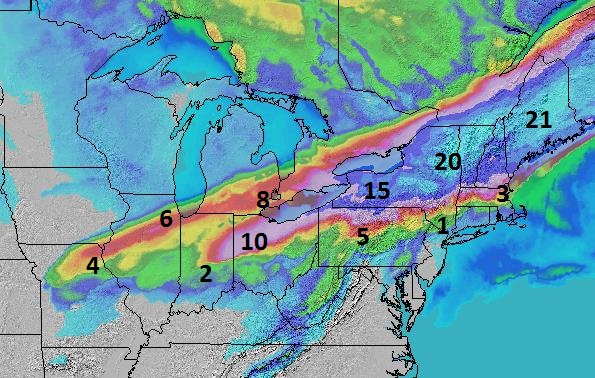 Latest Snowfall Projections
. I'm expecting a 100 mile wide band of snow accumulation, as much as 3-4" in Sioux Falls, 2-4" for much of the Twin Cities metro area, but far northern suburbs will pick up only an inch or two, while far southern suburbs (Lakeville, Cottage Grove) may see as much as 4-6" of accumulation by 2 AM Wednesday morning. I could see (minor) delays at MSP International Tuesday night due to low visibility in heavy wet snow. 4 km NAM model output: Ham Weather.
---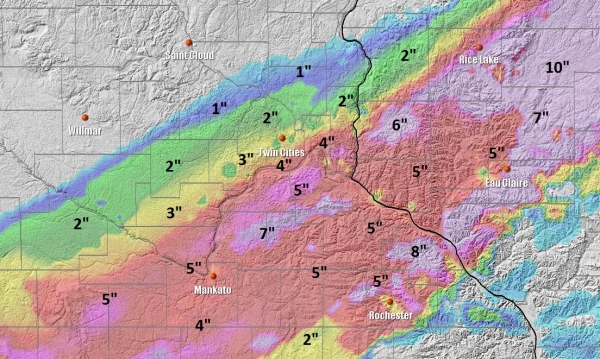 Sharp Snowfall Gradient
. The northern suburbs of Minneapolis and St. Paul may only pick up an inch, maybe 2" of slushy snow Tuesday night, while southern suburbs may see as much as 4-5". The downtowns and close-in suburbs (Maplewood, Edina and Bloomington) will pick up closer to 3" of snow, just (barely) enough to shovel and plow in many neighborhoods. Snowfall amounts increase as you drive south on I-35 Tuesday night, with the axis of heaviest snow from Northfield and Lake City into portions of northern and central Wisconsin.
Summary
: the first accumulating snow event of the season is shaping up for a relatively narrow swath of the Upper Midwest late Tuesday and Tuesday night. The average date of the first 1"+ snowfall in the Twin Cities is November 18, so this is coming about 2 weeks ahead of schedule. That said, there is no evidence that we're heading into a persistently snow or bitter pattern, in fact guidance shows warmer and drier conditions for much of the USA (east of the Rockies) into the third week of November. We'll keep an eye on the maps and keep you posted.
---
Much Of America Is Snow-Free
. Granted, it's only the 5th day of November, but there's precious little snow, even over far northern Minnesota and Wisconsin and northern New England. The Northern Rockies have seen significant snow, but as of yesterday snow was on the ground over 7.6% of the USA. Map: NOAA.
---
Close Encounter With Winter - Then Milder
. After a period of slushy snow tonight and a chilly Wednesday we warm up (slightly) into the weekend. The first half of next week may feel more like the 3rd week of October with highs in the upper 40s to near 50F, before a rapid cool-down next Wednesday. ECMWF data via Weatherspark.
---
Mild Bias Into Third Week Of November?
NOAA's NAEFS model shows unusually mild weather from November 12-18 east of the Rockies, some of the biggest temperature anomalies I've ever seen over Canada's Arctic region.
---
A Real Indian Summer?
GFS guidance shows 50s, even a shot at low 60s around November 17-19. We'll see, but I don't see any extended periods of bitter air looking out into the 3rd week of November as a zonal (west to east) flow dominates the weather pattern across the USA.
---
New Radar Could Save Lives When Spring Storms Hit DFW.
Here's an interesting story about the new "CASA" Doppler coming on line, and the potential it has to significantly improve resolution and timing, especially with tornadoes, hail and flash flooding. Here's a clip from
The Star-Telegram
: "...
The radar makes once-a-minute scans of storms instead of the usual five minutes and provides higher-resolution images and multiple overlapping views of storm cells, said Brenda Phillips, a co-leader of the project developed by the Engineering Research Center for Collaborative Adaptive Sensing of the Atmosphere. Because of Earth's curvature, Doppler radar can't observe the lower atmosphere, but CASA can scan down to about 250 feet above ground, Phillips said. That will afford meteorologists a new vantage point, Bradshaw said. "This is going to enable us, really for the first time, to get lower in the storms with higher resolution," Bradshaw said. He also expects better rainfall estimates because the radar can illuminate finer features in a storm, which should also allow for more pinpoint flash flood warnings
..."
---
In Rim Fire's Aftermath, A New Worry Emerges: Water.
Here's a clip from an article at
The Los Angeles Times
: "...
After two dry years, officials would welcome rain and snow, but they shudder at the thought of a storm that drops too much at once. Scientists predict that 15 minutes to an hour of intense rainfall — the type of storm that happens about every 10 years — would be enough to unleash a slurry of boulders, fine mud and brush. Normally, rain bounces off trees and brush, slowly percolating through the soil. But after a fire, the earth sits unprotected and, if severely burned, can even repel water. With fewer twigs, leaves and vegetation to slow down the water, it picks up speed and flows over the soil in sheets
..."
File photo
above: "
This Aug. 24, 2013 file photo shows firefighter John Curtis, of Big Bear, Calif., watching the Rim Fire burn near Yosemite National Park, Calif. Starvation, poverty, flooding, heat waves, droughts, war and disease already lead to human tragedies. They're likely to worsen as the world warms from man-made climate change, a leaked draft of an international scientific report forecasts. For North America, the highest risks over the long term are from wildfires, heat waves and flooding
."
---
The Chinese Are Anxious Over The Future
. No, we're hardly the only ones who are paranoid. Here's a snippet from a story that caught my eye at
The Washington Post
: "...
Last Tuesday the sun, when visible, was an eerie orange disc behind the smog. People in Beijing and many other cities won't let their children play outside for fear of the poisoned air, and they worry too about poisoned rivers and adulterated foods. Again, the party pledges reform. Again, it's hard to know whether reform can succeed as long as well-connected polluters need not fear the law. China needs to transition from a catch-up, copy-cat economy to one that innovates. But can you have unbridled innovation in a society where the media are controlled, books are censored, and bloggers, while much freer, are punished or silenced if they stray too far?
"
File photo
above: "
A man pushes a bike onto a bridge during a day of heavy pollution in Harbin in northeast China's Heilongjiang province Monday Oct. 21, 2013. Visibility shrank to less than half a football field and small-particle pollution soared to a record 40 times higher than an international safety standard in the northern Chinese city as the region entered its high-smog season
." (AP Photo).
---
First Impressions: iPad Air.
Gizmag.com
has the review; here's a snippet: "...
Physically, the iPad Air is like a big iPad mini. The first time I picked it up, it provided the same kind of "Holy crap, that's light" moment as when I first used the mini. The iPad Air is almost 30 percent lighter than last year's iPad, and you really feel the difference. I thought the iPad 4 felt like a heavy brick next to the iPad mini. With the Air, that playing field has been leveled. I can hold it very comfortably with one hand, something I could previously only say about the mini
..."
---
TODAY: Winter Weather Advisory. Rain changes to snow by late afternoon or evening. Winds: N 5-10. High: 42 (falling into the 30s during the afternoon).
TUESDAY NIGHT: Winter Weather Advisory. A period of moderate wet snow, 1-2" north metro, 2-4" possible south metro, possibly enough to shovel and plow, especially south of the Minnesota River. Low: 30
WEDNESDAY: Slow, slushy start. Peeks of sun. High: 38
THURSDAY: Partly sunny, still chilly. Wake-up: 25. High: 39
FRIDAY: More clouds. PM (rain) showers. Wake-up: 28. High: 43
SATURDAY
: Mostly cloudy, windy & cooler. Wake-up: 33. High: 41
SUNDAY
: More sun, the nicer day. Wake-up: 29. High: 42
MONDAY: More clouds than sun, milder. Wake-up: 32. High: 46
* ECMWF guidance is hinting at low 50s next Tuesday.
---
Climate Stories....
PwC: "Twenty of the 30 most costly insured catastrophes worldwide from 1970 to 2011 have occurred since 2001. With the exception of the 9/11 terrorist attacks, they were all natural disasters."
Munich Re: The number of weather-related loss events in North America over the last three decades has "nearly quintupled."
Swiss Re: Large-scale weather events in 2012 led to the "third highest insured losses since 1970," adding up to $71 billion worldwide from natural catastrophes.
Credit
: Media Matters, more details
here
.
---
Power Plants Try Burning Wood With Coal To Cut Carbon Emissions
. Here's a clip from an interesting story at
The New York Times
: "Even as the Environmental Protection Agency considers requiring existing coal-fired power plants to cut their carbon dioxide output, some utilities have started to use a decidedly low-tech additive that accomplishes that goal: wood. Ranging in size from sawdust to chunks as big as soup cans, waste wood from paper mills, furniture factories and logging operations has been used with varying levels of success. Minnesota Power, which once generated almost all of its power from coal and is now trying to convert to one-third renewables and one-third natural gas, found that
co-firing with wood was a quick way
to move an old plant partly to the renewable category..."
---
Will Climate Change Imperil Your Cup Of Starbucks? Oh no, not the coffee. Take anything but please leave me a few feeble coffee beans to spend my "mature years". We'll see - here's an excerpt from an entry at National Geographic: "...
To the relief and potential horror of caffeine addicts everywhere, Feeley said, "To see species move upslope, that means they are responding to climate change. So that's a good thing. Because if they don't respond, they are almost certainly doomed to extinction." So, could coffee become an imperiled species, threatened by the steady march of climate change? It's too soon to tell, but in remembering that jungle conversation I had in southern Peru last summer, I found some clues in Justin Gillis' page-one story in The New York Times on Nov. 2 under the headline: "Climate Change Seen Posing Risk To Food Supplies
..."
---
Shell Announces Plans To Resume Arctic Drilling In 2014
. Here's the intro to a story at
oilprices.com
: "
After a disastrous campaign in 2012, which forced the company to abandon all plans for this year, Royal Dutch Shell has announced that it will return to the Arctic waters in 2014 to begin exploring for oil again, but on a much smaller scale. One of the main differences this time will be the abandonment of the Kulluk conical drilling rig that ran aground last time as Shell tried to toe it back to Port near the end of the 2012 drilling season. As a replacement Shell has leased out the Polar Pioneer, a semi-submersible drilling rig owned by Transocean. The Kulluk may well be put back into operation at some other point in the future, but only if it is deemed cost effective to repair the damaged unit
..."
Photo credit
above: "Kulluk rig."
---
Ten Days: How We Imagine Climate Change
. The role of aerosols is coming under increasing scrutiny. Some of that air pollution may actually be preventing an even sharper spike in temperatures, worldwide. Here's a clip from a story at Australia's
The Conversation
: "...
But here's the twist. If all emissions were to stop tomorrow, so would the output of those human-made aerosols reflecting radiation back into space. These aerosols have a residence time in the atmosphere of just ten days, meaning that after just ten days it would be like increasing CO2 emissions by 50%. It kind of makes reducing CO2 emissions to 5% off 2000 levels by 2020 seem rather pathetic. Ten days, a time-horizon that people in the city should be able to relate to. If this were to happen, the likelihood of the positive feedbacks that are triggered by warming, such as more abundant water vapour, natural albedo loss (like melting ice an glaciers), extensive firestorms, and methane pulses, would be greatly enhanced
..."
Photo credit
above: "
Aerosols such as this smog over Mexico City have helped keep temperatures down. What would happen if they were cleaned up?
"
Flickr/brian.gratwicke.
---
Media Ignore Climate Change On Hurricane Sandy Anniversary
. Here's an excerpt from Media Matters: "
CNN and Fox News devoted massive coverage to the one-year anniversary of Superstorm Sandy, but both networks omitted any mention of climate change in their reporting despite its likely role in the extreme nature and devastation of the event. Though it is difficult to determine just how much of Sandy's unprecedented destruction can be directly linked to climate change, climate scientists agree that higher tides produced by global warming exacerbated flooding from the storm, and hurricane severity is expected to increase as sea levels continue to rise. Unlike Fox and CNN, several MSNBC segments about the Sandy anniversary mentioned climate change. But overall, just under 8 percent of segments on the top cable news networks mentioned climate change in their anniversary coverage
..."