31 F
. high in the Twin Cities Sunday.
36 F
. average high on November 24.
30 F
. high on November 24, 2012.
Minnesota Weather History on November 24
. Credit: Twin Cities National Weather Service.
1977
: Record lows were set across central Minnesota with lows in the teens to single digits below zero. Montevideo had the coldest temperature of 18 degrees below zero along with Long Prairie at 16 degrees below zero.
1820
: Ft. Snelling is in the middle of a three-day blizzard that would dump nine inches of snow.
A Dry Cold
I have to laugh when friends in Arizona describe a "dry heat" in the summer. But they have a point; moisture in the air makes a big difference. It's why 100F is tolerable in Scottsdale but horrific in Ft. Myers.
When I tell people I'm from Minnesota they look at me like I'm either slightly mad, or a descendent of Sir Edmund Hillary, the first man to conquer Mt. Everest. "How do you survive out there?" The reality: our coldest fronts blow dry (sunny) Canadian air into Minnesota, making it almost tolerable.
The coldest I've ever been? Chicago and Manhattan, surrounded by water - with higher humidity levels. Damp clothes allow the chill to penetrate through layers of clothing, making it feel much colder, much faster. It's true.
Long-range guidance shows another shot of numbing air after December 5. Until then Canadian air is tempered by a faint Pacific breeze, meaning highs mostly in the 30s the next 8-10 days. Good news for Upper Midwest travelers: a couple of scrawny clippers this week, but no slush-potential until early next week.
An ill-timed east coast storm dumps heavy rain east of I-95 with snow for the Appalachians the day before Thanksgiving. Travel updates and details below.
---
84 Hour Snowfall
. Here's a look at where heavy snow is likely Tuesday and Wednesday as a storm pushes out into the Atlantic. The Appalachians will take the brunt of this snowstorm, temperatures aloft warm enough for rain east of I-95. NAM guidance: NOAA and Ham Weather.
---
A Quiet Thanksgiving Week
. It's almost supernaturally quiet out there over the northern tier states. No complaints - travelers within 300-400 miles of MSP will be thanking their good fortune. We cool down agai Tuesday and Wednesday before (slight) moderation the end of the week and weekend; a slight chance of light snow next Monday and Tuesday. Graph: Weatherspark.
---
Loaded With Moisture
. The snow, ice and rain storm grinding across the south will take a turn up the east coast by tomorrow and Wednesday, spreading a shield of heavy rain and snow up the eastern seaboard. The storm should push offshore in time for Thanksgiving. NAM guidance courtesy of NOAA and Ham Weather.
---
Storm Evolution
. Keep in mind the animation above shows predicted (GFS) surface pressure and wind speeds. You can see the storm pushing out the Gulf of Mexico, tracking right up the east coast, dumping heavy rain, especially east of I-95. Loop: NOAA and Ham Weather.
---
Arctic Blast Second Week of December?
I've seen a few consecutive model runs, all pulling varying shades of bitter into MSP after December 5 or so. We could see a week with highs in single digits and nights dipping below zero, although a lack of snow cover MIGHT limit how low the mercury can go.
---
Alerts Broadcaster Briefing
: Issued midday Sunday, November 24, 2013.
* Dallas/Fort Worth still on track for significant ice Sunday night into Monday morning, impacting commutes and facilities.
* Heavy snow/ice overspreads Arkansas, northern Mississippi and Alabama Monday into early Tuesday; a few inches of icy accumulation expected.
* Still on track for heavy rain and urban flooding up and down the eastern seaboard Tuesday into Wednesday; all-rain expected east of I-95, some slush western suburbs of D.C., Baltimore, Philadelphia and New York City, with very heavy snowfall amounts from the Shenandoah Valley and Appalachians into central/western Pennsylvania and much of upstate New York by Wednesday. Thanksgiving travel will be impacted/disrupted.
---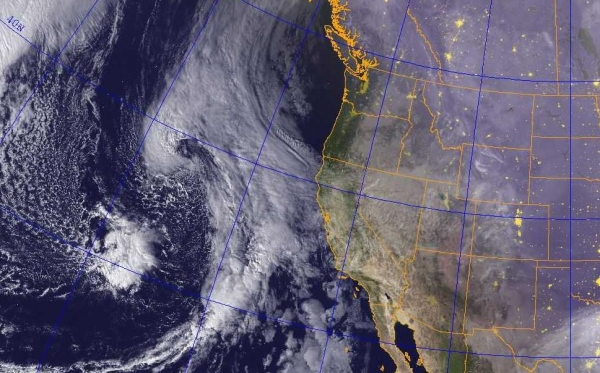 Lousy Timing.
A sharp contrast in air temperature coupled with the availability of moisture from the Gulf of Mexico will fuel a developing storm capable of impacting 80 million Americans over the next 3-4 days; tracking across the Gulf coast before turning up the east coast Tuesday and Wednesday. The heavy rain will taper in time for Thanksgiving Day, but heavy lake effect snows will linger from Cleveland and Pittsburgh to Buffalo, Rochester and Syracuse.
---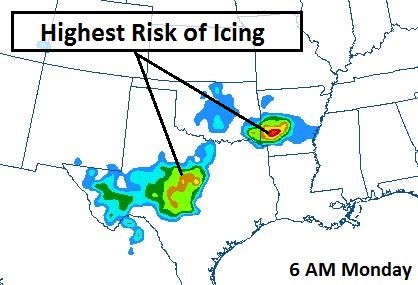 Serious Icing Concerns
. Computer models shows a significant risk of sleet (ice pellets) and freezing rain (rain freezing on contact with cold surfaces) across much of northern and western Texas into Sunday night, expanding into southwest Arkansas (Hot Springs area) during the day Monday. Very icy roads and sporadic power outages are possible in these areas. Map: NOAA.
---
Latest Warnings
. Winter Storm Warnings are postedf from Albuquerque east to Lubbock, San Angelo, Abilene and the Dallas metro area, with Winter Storm Watches for Shreveport, advisories for Hot Springs and the suburbs of Little Rock. The main surge of moisture pushes across the region later today into midday Monday, surface temperatures cold enough for an icy, snowy mix.
---
Heavy Rain Potential
. Models are consistently printing out some 2-4" rainfall amounts Tuesday into Wednesday from Atlanta to Charlotte, Richmond, Washington D.C., Philadelphia and New York into Hartford and Boston - capable of urban and small stream flooding in the days leading up to Thanksgiving. Travel by land and air will be impacted. Map above: NOAA 5-Day Precipitation Outlook.
---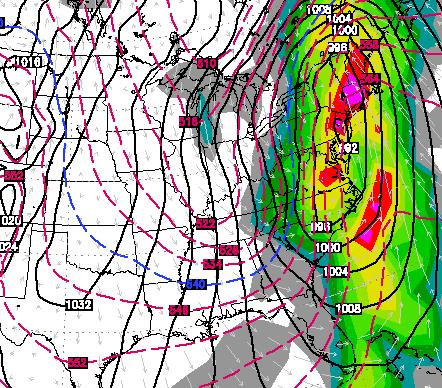 Peak Of The Storm
. The same ECMWF model shows the heaviest rain (and greatest potential for embedded T-storms) late Tuesday night into midday Wednesday in the I-95 corridor from D.C. to Philly, New York and Boston. This is when the potential for localized flash flooding and travel impacts will be greatest. Map above valid noon on Wednesday. Midday Wednesday map courtesy of WSI.
---
Heavy Inland Snows
. I still expect little or no accumulating snow east of I-95, but models consistently show a few inches of slush from the western suburbs of Washington D.C. and Baltimore to York, Lancaster and Allentown. The Appalachians will bear the brunt of the heaviest snow, some 1-2 foot snowfall amounts from far western Virginia and West Virginia to Altoona, State College, Syracuse and Rochester, with the worst conditions coming on Wednesday. I expect widespread delays and cancellations in this region by midweek. Map: NOAA's 12km NAM and Ham Weather.
---

Blizzard Potential Index.
Our internal BPI model shows blizzard-conditions for much of upstate New York Wednesday, as lake effect kicks in on cold winds on the backside of the storm. Map: Ham Weather.
---
Summary
: The storm we've been tracking and briefing on for many days now is still very much on track. Ice will impact metro Dallas and Fort Worth tonight and Monday morning, with hazardous winter travel possible over much of the Deep South Monday and early Tuesday, spreading up the Appalachians by midweek. East of I-95 precipitation will fall as (heavy) rain with a potential for urban flooding, especially Wednesday.
Plowable amounts of snow are expected from Roanoke to Leesburg, Winchester, Frederick, Hagerstown, York, Harrisburg, Lancaster, Reading and Allentown into northern New Jersey. This may be a crippling snowfall for the higher elevations from near Elkins and Charlestown, West Virginia to Pittsburgh, State College, Elmira, Syracuse and Rochester, New York.
Pre-Thanksgiving operations will be impacted all up and down the east coast
with conditions rapidly improving on Thanksgiving Day. Yes, major storms prefer to come on or before major holidays - the biggest travel week is just too tempting a target, I fear. We'll keep you posted.
---
Why Americans And Europeans May Soon Start Dying Of Infections Like It's 1905 Again
. Antibiotics aren't keeping up with the new "super-bugs" out there. As long as you don't get an infection or have to spend time in a hospital you should be just fine.
Quartz
has the story - here's an excerpt: "
Antibiotics aren't doing what they're supposed to do anymore. You know, kill infections. Since Alexander Fleming invented penicillin 75 years ago, nearly all bacteria have mutated into strains impervious to antibiotics. Those souped up bacteria now kill hundreds of thousands of people, at a minimum, each year. And according to a new issue of medical journal The Lancet focused on antibiotic-resistant bacteria, things could soon get a whole lot scarier.
"Rarely has modern medicine faced such a grave threat. Without antibiotics, treatments for minor surgery to major transplants could become impossible…
"
Photo credit above: "
---
Local TV Anchor Leaves Small Screen For Second Screen
. This shows some true initiative and creativity; here's a clip from
Lost Remote
: "
Jenni Hogan was a local TV anchor in Seattle, Portland, and Idaho for 10 years, but she recently left the small screen for the second screen, developing an app that curates viewer tweets and puts them on-air live during broadcasts. TVinteract is Hogan's creation for iPad's that allows TV personalities the ability to pick their favorite fan tweets, and air them live on TV. How it works is a TV personality can look at their @mentions on the left side of the app screen, and drag the tweets they like over to the right and hit live. This automatically flags the tweet to the show's director, who can then bring the tweet live to air through airplay or HDMI cable
..."
---
The Slight Overreaction
. Who doesn't like kittens? Especially cute kittens with a lizard phobia? This is one of 31 animated GIF's - I'd wager a stale bagel at least one of these clips at
Buzzfeed
will make you laugh.
---
TODAY: Partly sunny, above average temperatures. Winds: NW 15+ High: 37
MONDAY NIGHT: Patchy clouds. Low: 19
TUESDAY: More clouds, cold wind. Wind chill: 5. High: 21
WEDNESDAY: Blue sky, less wind. Wake-up: 10. High: 23
THANKSGIVING
: Intervals of sun. Talking turkey. Wake-up: 17. High: 30
FRIDAY
: Peeks of sun. No travel problems. Wake-up: 18. High: 31
SATURDAY
: More clouds than sun, quiet. Wake-up: 24. High: 31
SUNDAY
: Partly sunny. Dry roads. Wake-up: 23. High: 33
---
Climate Stories....
Last Minute Deal Saves Fractious U.N. Climate Talks.
The BBC
has the latest; here's a clip: "
After 30 hours of deadlock, they approved a pathway to a new global climate treaty in Paris in 2015. The agreement was achieved after a series of last minute compromises often involving single words in draft texts. Negotiators also made progress on the contentious issue of loss and damage that developing countries are expected to suffer in a warming world. Green groups were angry about the lack of specific commitments on finance
..."
---
Insurance Industry Shows Concern Over Climate Change
. Extreme storms are striking with greater frequency, and rising seas are further magnifying some of these impacts. Here is a look at how the insurance industry is taking climate change very seriously; an excerpt from
Insurance News Daily
: "...
The insurance industry has been warning of the increasing frequency of powerful natural disasters. Storms that had been considered once in 100 year events are becoming more common and there are few countries that have protection against such devastating natural disasters. Insurers have become well aware of the impact that these disasters can have....Swiss Re, one of the largest reinsurance companies in the world, recently reported that severe weather could cause some $160 billion in damage to the global economy, only $70 billion of which is actually covered by insurance protection. Exactly what can be done to mitigate the impact of powerful natural disasters is uncertain, but the insurance industry is beginning to show signs that it is taking the issue of climate change more seriously than others
." (Image: NASA).
---
Oil's Biggest Problem? A New "Peak" Worry
. Could our need for oil actually diminish, on a global scale, as new (less polluting) energy sources are invented? Who will be the next Google that reinvents how we use energy? Here's an interesting twist on the concept of peak oil at
Canada's Globe and Mail
: "...
If you're an oil company or investor, it's probably dawning on you that peak oil – the point at which geology and technology dictate the maximum rate of production, after which decline sets in – will not determine future oil prices and, therefore, the value of your energy portfolio. So what will? Peak demand could, and it's a credible theory that is gaining a following. In a recent interview, John Browne, the former chief executive of BP, said, "Oil prices will be limited by peak demand, not peak supply." By that, he means the point will come when the world simply doesn't need ever-rising amounts of oil
..."
---
Arctic Storms, Warming Mean More Methane Released.
Scientists describe "unknown unknowns". It's what we don't know that may come back to bite us. Here's an excerpt of a
Climate Central article
that caught my eye: "...
Shakhova has spent the past decade compiling data on the East Siberia Arctic Shelf through research cruises and flyovers of the region. She published initial results in 2010, which showed that methane has been escaping at hot spots where vents have formed from a combination of geothermal heat as well as warmer river water flowing into the region. Those results showed that 7 teragrams of methane is bubbling to the surface annually. That's roughly the equivalent of 10 percent of the methane emissions from U.S. oil and natural gas production and transmission in 2012. The new research refined those results, showing the amount of methane reaching the surface is more than double those previous estimates. In all, Shakhova and her colleagues estimate that 17 teragrams are escaping each year, though the new study says the estimates are likely on the conservative end. Shakhova said those totals are on par with emissions from the Arctic tundra
..." (Photo image: World Bulletin).
---
It's Settled.
Cartoon courtesy of
David Horsey
.
Americans Are Convinced Climate Change Is Connected To Stronger Storms, Poll Says
. Here's an excerpt from a story at
Huffington Post
: "
Most Americans think climate change, and more frequent and severe natural disasters are linked, according to a new HuffPost/YouGov poll that also finds most think human activity is at least partially responsible for the changing climate. According to the new poll, conducted after Typhoon Haiyan devastated the Philippines earlier this month, 55 percent of Americans think climate change is related to more frequent and severe natural disasters, while only 23 percent do not
..."
---
Sea Level Experts Concerned About "High-End" Scenarios
. Andrew Freedman has the story at
Climate Central
; here's the introduction: "
A survey of nearly 100 experts on sea level rise reveals that scientists think there is a good chance the global average sea level rise can be limited to less than 3.3 feet by 2100 if stringent reductions in planet-warming greenhouse gases are rapidly instituted. However, the survey, which is the largest such study of the views of the most active sea level researchers ever conducted, found that if manmade global warming were to be on the high end of the scale — 8°F by 2100 — the global average sea level is likely to jump by between 2.3 and 3.9 feet by the end of this century
..."
Graphic credit
above: "
Projections of global mean sea level rise over the 21st century relative to 1986–2005 from the combination of the computer models with process-based models, for greenhouse gas concentration scenarios. The assessed likely range is shown as a shaded band." Credit: IPCC Working Group I.
---
A Warm Over Solar Power Is Raging Within The GOP.
New Republic
has the story of what's happening in Arizona, disruptive technology that has many homeowners enthused, but utilities nervous, and that's creating friction. Here's an excerpt: "... "
Republicans who oppose solar in the next election, they are going to be wiped out across the board." "Solar power is philosophically consistent with the Republican Party," Rose added. "If you're going to be for healthcare choice and school choice, how can you not be for energy choice? Conservatives, overwhelmingly, get that. If the Republican Party stops standing for the empowerment of the individual, what does it stand for?
" (Image: Mike Baker, Creative Commons).