-16

F
. morning low Tuesday.
25

F
. average high on January 28.
33

F
. high on January 28, 2013.
12

"
snow on the ground in the Twin Cities.
1977: St. Paul Winter Carnival held indoors for the first time, due to severe winter cold.
4716 heating degree days since July 1. Average, to date, is 4411 HDD. That means we've spent about 7% more than normal heating our homes and businesses since autumn.
Perspective
Are we getting soft? Closing schools for cold fronts that would have triggered apathetic shrugs back in the 70s? No shortage of opinions and fine whines. Some days I wonder.
The paradox: as our winters slowly warm over time when we do get whacked it feels much worse.
And our weather patterns in recent years? The reassuring Symphony of the Seasons has been replaced by a hyperactive, second- grade band after binging on candy; playing very much out of tune.
For the record: 29 subzero lows at MSP since December 1; the most for Dec. 1 - Jan. 31 since 1982 and roughly the number of subzero lows we experience in an entire winter. During the same period in 1976-77 we saw 39 subzero lows. We've enjoyed 4 days of subzero highs so far. For a typical winter: 3 days with highs below 0F.
20s may leave you deliriously happy later today (how far we've fallen) - before the next clipper sparks an inch of fluff Thursday; maybe another 2 inches Friday night as a reinforcing smack of cold approaches.
Although not quite as frigid, more subzero air arrives by the middle of next week.
Allow me to change the subject & remind you of the Boat Show this weekend!
Hard to believe those lakes will ever thaw.
* image above courtesy of the
Minneapolis Boat Show
, going on at the Convention Center this weekend. No, summer hasn't been cancelled. Not yet.
---
Slightly Less Polar Pain
. The extended outlook is no bargain, as the predicted (ECMWF) numbers above show, but we won't see as many hours below zero next week as this week. Hey, that's progress, right? Good grief. Data: Weatherspark.
---
Another Canadian Sneak Attack.
So many people are worried about porous nature of the Mexican border. Me? I'm more concerned about our northern border, the artillery volleys - the cold bombs - being lobbed southward into the USA by an unsympathetic neighbor to the north. Congress should do something about this, and quickly. There must be something FEMA can do. Only the west coast and south Florida escape the wrath of Canada in the coming days. Solid green line: 0F. Solid red line: 32F. 2-meter NAM animation courtesy of NOAA and Ham Weather.
---
84-Hour Snowfall.
From New Bern, North Carolina to Norfolk and Rehoboth, accumulating snow is likely into midday today. New York City may be brushed with a few hours of snow, but the brunt of the moisture stays out over the Atlantic. The next clipper drops 2-3" snow from the Twin Cities to Green Bay Thursday.
---
A Polar Sandwich
. Temperature anomalies next Tuesday show warmer than average returning to the Gulf Coast (Tuesday's icy mess a distant memory by then), with readings 20-30F warmer than average for much of northern Canada, Greenland and Alaska, a nearly stationary whirlpool of cold air lingering over the northern USA. Yes, the pattern is still stuck. Map: Climate Reanalyzer.
---
"Polar Vortex" Costs Billions
. Open Next Fuel Bill With Care. No kidding. Details from
The Christian Science Monitor
- here's an excerpt: "...
The polar vortex that swept through much of the United States earlier this month may have cost the economy as much as $5 billion, according to Planalytics, a research firm in Berwyn, Pa., and London that tracks the effect of weather on the economy. In addition to damaged crops, grounded airline flights, disrupted deliveries, and lost work hours, cold weather can also diminish consumer spending and stress household utility budgets.
.."
---
---
---
Alerts Broadcaster Special Outlook
: Tuesday afternoon, January 28, 2014.
* I still don't see any major storms, certainly no blizzards or newscast-leading weather events for the Super Bowl on Sunday.
* Right now odds favor partly to mostly cloudy skies, dry weather for most or all of the game, with temperatures falling through the mid 30s into the upper 20s by Q4. Expect a northwest breeze around 8-12 mph, with a wind chill in the low to mid 20s. Cold but not debilitating.
* Models hint at a few rain/snow showers or flurries during the morning hours Sunday in East Rutherford, but odds still favor partial clearing by late afternoon and evening. It will look and feel (surprise!) like winter, but I still don't see any meteorological show-stoppers.
---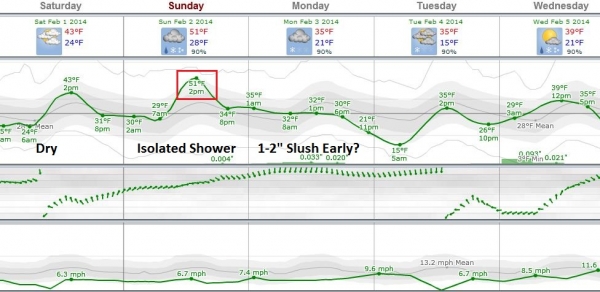 Super Bowl Planner
. Dry weather prevails across metro New York into Saturday morning as temperatures begin to thaw out, a good chance of 40s Saturday as clouds increase. A few rain showers Saturday night could end as snow showers or flurries Sunday morning as a cooler front pushes across the Tri-State area, but right now I don't expect any major problems, on land or in the air. Graph: Weatherspark.
---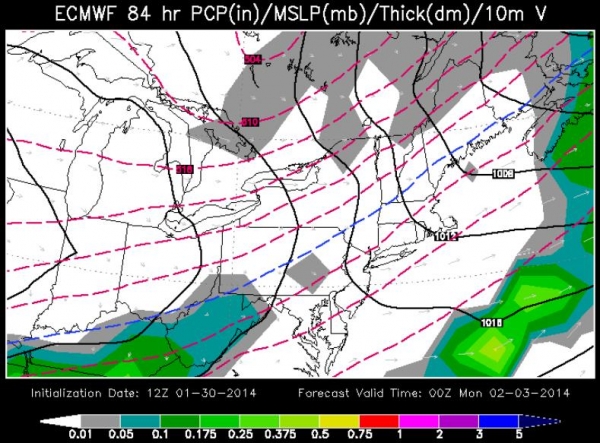 Sunday Evening - ECMWF
. The European model shows a mix of wet snow and rain over southern New Jersey Sunday evening, with a clearing trend over central and northern counties. It's still a bit close for comfort, and we need to watch the trends and model consistency, but odds still favor dry weather for most or all of the Super Bowl as temperatures drop through the low 30s. Model guidance: WSI.
---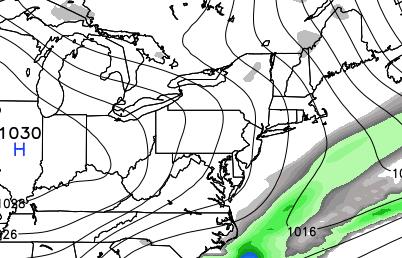 Sunday Evening - GFS
. The U.S. GFS solution keeps any rain or snow even farther out to sea Sunday evening - this solution suggesting partly cloudy skies, northwest winds 10-15 mph and precious little for meteorologists to babble about in East Rutherford, New Jersey Sunday. Map: WeatherBell.
---

Running The Numbers
. The same GFS model shows a high in the upper 30s late morning hours Sunday (with a shower of wet snow or rain), followed by a drying, northwest wind and slowly falling temperatures Sunday afternoon and evening.
Summary
: With each passing day our confidence levels continue to grow. The odds of being gob-smacked by a blizzard, ice storm, soaking rain or snow blitz dwindle with each passing day. If the front pushing across New York City Saturday night were to slow, or even stall, the forecast would change, and that's still a possibility (1 in 4 shot). Although spring fever will be nowhere to be found in or near MetLife Stadium, if people are dressed for typical mid-winter conditions it should be a very enjoyable game, with air temperatures in the low to mid 30s, reaching the upper 20s by the end of the 4th quarter.
We're monitoring 4 new model runs daily, and running our own models - we'll keep you posted.
Paul Douglas - Senior Meteorologist - Alerts Broadcaster
---
Super Bowl Already Putting Big Pressure On A Weatherman.
I feel for this guy - I really do. Nobody wants to get this forecast wrong, as described by
The New York Times
; here's the intro: "
There comes a moment in so many memorable games when a team will turn its anxious gaze to one player and ask a simple question: You got this covered? In the National Football League, it is likely to be the kicker, quarterback or running back. On Sunday, it was the weatherman. At 8 a.m., John Bateman, a meteorologist hired by the league, made his first presentation to some two dozen executives who are looking to him to tell them what to expect on Super Bowl Sunday.
.."
Photo credit
above: "
Michael Appleton for The New York Times.
---
The Greenest Super Bowl Ever?
Here's a clip from an AP story at
ABC News
: "...
Greening the Super Bowl has been a passion project for Groh, who started out as a journalist before forming an environmental communications firm with his wife. He did his first work for the NFL at the 1994 Super Bowl in Atlanta, at a time when the simple recycling of plastic bottles and cans at stadiums was a significant step forward. He continuously seeks out new ways to wring as much value out of things that normally would be discarded. For example, in the weeks leading up to this year's Super Bowl, the NFL sponsored e-waste recycling events in New York and New Jersey that collected 9,000 pounds of old phones, computers and other gadgets, according to Verizon, which partnered in the program
..."
Photo credit
above: "
Snow is cleared from the parking lot of MetLife Stadium, which will host the Super Bowl, in East Rutherford, N.J., Jan. 22, 2014. On Jan. 26, a meteorologist hired by the NFL made his first presentation to some two-dozen executives who are looking to him to tell them what to expect on Super Bowl Sunday
." (Fred R. Conrad/The New York Times).
---
Sacramento Breaks 130-Year-Old Record For Low Rainfall
. In spite of spotty rain showers and mountain snows, the west is still running a huge precipitation deficit. Here's a clip from a story at
The Merced Sun-Star
: "
In the annals of weather records, this is one nobody wanted to break. On Thursday, downtown Sacramento recorded its 47th continuous winter day without measurable rainfall, breaking a record that has stood since 1884, according to the National Weather Service. It appears likely the city will go on to shatter the record, as there is no sign of rain for at least another week. "That's pretty darn impressive," said Kelly Redmond, a climatologist and deputy director at the Western Regional Climate Center in Reno. "It's just tremendous that this kind of spectacular dry period has continued for so long.
.."
Photo credit
above: "
In this Jan. 9, 2014 file photo, a visitor to Folsom Lake, Calif., walks his dog down a boat ramp that is now several hundred yards away from the waters' edge. Gov. Jerry Brown formally proclaimed California in a drought Friday Jan. 17, 2014, saying the state is in the midst of perhaps its worst dry spell in a century and the conditions are putting residents and their property in "extreme peril.
" (AP Photo/Rich Pedroncelli, File).
---
Ski Resorts Seen As Buy-Out Targets Amid U.S. West Drought
.
Bloomberg
has the story; here's the introduction: "
Michael Simpson arrived at Alpine Meadows at Lake Tahoe earlier this month and found little more than dirt. Except for one ski run maintained by machines, the drought-parched California mountain was devoid of snow. "It's about as bad as I've ever seen it," Simpson said after his trip to the resort owned by KSL Capital Partners LLC. Simpson, 49, half of the Dust Brothers duo known for producing albums including the Beastie Boys' "Paul's Boutique," has skied the area for more than a decade. "My barometer is the parking lot," he said. "We parked right at the entrance every single day. The lot was never full
..."
---
5 Growing Threats To America's Cities
. Here's the intro to a story at
The Center for American Progress
: "
Weather events have been dominating the news recently thanks to the "polar vortex" that caused record cold temperatures across the nation. But just a few months ago, the news was filled with other events: record rain and flooding in Colorado; destructive tornadoes in Oklahoma; widespread drought in the Southwest; and the sluggish recovery from Superstorm Sandy in New Jersey. Unlike the record cold, however, these extreme weather events are becoming more commonplace. CAP has identified five growing extreme weather threats to American cities:
Heavy precipitation and floods
Droughts
Heat waves
Tropical storms combined with sea-level rise
Severe thunderstorms..."
---
The Year In Weather Like Never Seen Before
. Here's a snippet of an interesting story (and terrific video) from
Climate Central
: "
Satellite images often provide crucial information when major storms such as Super Typhoon Haiyan form. But both extreme events and our day-to-day weather are part of a much larger climate system. Now EUMETSAT, the European Union's satellite agency, has taken that long view and used satellite images to construct an entire year in weather on our planet in high definition. The new visualization uses data gathered in 2013 from European, Japanese, and American satellites and overlays it on NASA's Blue Marble images. This is the first time EUMETSAT has put together this type of visualization.
.."
---
Caffeine Can Enhance Memory, New Research Suggests
. Well here's a golden ray of good news on an otherwise blah Tuesday, courtesy of
Gizmag
: "
Caffeine is one the world's favorite productivity fuels and in many countries people choose a caffeinated drink, mainly coffee, to ignite the day. Although some people rightly worry about over-consuming the stuff, findings of a new study suggest that a moderate daily dosage may enhance our memory. The research carried out at Johns Hopkins University indicates that caffeine can help the brain retain information we study during a period of up to 24 hours subsequent to consuming it
..."
Photo credit
: Shutterstock.
---
Google Glass To Be Covered By Vision Care Insurer VSP.
Well, I guess that makes it a slam dunk. Yes, I want to test this out - I'm just glad they don't look dorky. Here's a clip from
The New York Times
: "
Google and VSP, the nation's biggest optical health insurance provider, have struck a deal to offer subsidized frames and prescription lenses for Google Glass, the Internet-connected eyewear. The announcement could take wearable devices, which tech analysts say are the next wave of computing, out of the realm of science fiction and into the mainstream by making them more affordable and giving them a medical stamp of approval. And it opens the door to a new level of cooperation between the health care and consumer electronics industries, which could lead to a world in which people wear or even ingest computers.
.."
Photo credit
above: "
Google
.
---
Have We Won The Safety Battle?
Yes, most of us are very bad at evaluating risk. That said, I'm going to think twice before tucking myself in tonight, after reading this article at
Air Facts Journal
; here's an excerpt: "
Here's a number that should be on the front page of every major newspaper: 224. That's how many people died–worldwide–in airline crashes last year. Around 3 billion people boarded some 35 million flights, each of them traveling over 500 miles per hour in an aluminum tube 7 miles above the earth. And only 224 died. That's simply an incredible number.
Some other statistics may put it into perspective:
Over 400 people died in the United States last year from falling out of bed.
Over 300 people drown in bathtubs every year.
About 2,900 people are killed by hippos in the average year..."
Photo credit
: "
Looks comfortable, but it's more dangerous than a Boeing
."
---
Internet Sensation: 2-Year Old In Diapers Is A Skateboard Prodigy
. Soon I'll be wearing a diaper, but I know for a fact I can't pull off moves like this. Video and text courtesy of
The Los Angeles Times
: "
A diaper-wearing 2-year-old skateboarder from Australia is an Internet sensation after video emerged of him racing up and down streets, hopping over curbs and even flying down steps (although he had an adult assisting with that one.) But first you need to look past the fact that he's not wearing a helmet -- or any protective gear, for that matter. Little dude isn't even wearing shoes!.
.."
---
Flatulent Cows Start Fire At German Dairy Farm - Police
. I don't think I've ever seen a headline like this before. Here's a clip from
Reuters
: "
Methane gas from 90 flatulent cows exploded in a German farm shed on Monday, damaging the roof and injuring one of the animals, police said..."
---
TODAY: Partly sunny, windy & milder. Winds: SW 20. High: 23
WEDNESDAY NIGHT: Windy - still cold. Low: 14
THURSDAY: Another clipper, 1-3" snow possible High: 19
FRIDAY: Cold start with sun giving way to clouds. Snowy coating Friday night. Wake-up: -11. High: 5
SATURDAY
: Mostly cloudy, cold wind, more flurries. Wake-up: 2. High: 13
SUNDAY
: Partly sunny. Try to hibernate. Wake-up: -6. High: 12
MONDAY: Mix of clouds and sun. Wake-up: -3. High: near 10
TUESDAY: More arctic air approaching. Help. Wake-up: -6. High: 12
* photo above taken in Navarre, Florida Tuesday courtesy of Mandy Hansen.
---
Climate Stories....
Getting Warmer: 2014 Could Top Last Year.
As a perpetual La Nina cooling phase fades in the Pacific, possibly replaced by a weak El Nino warming event, subsequent atmospheric warming may be greater, worldwide this year. I know, hard to imagine (here and now). Details from the L.A. Times and
Omaha.com
: "...
The scientists said 2014 is likely to be warmer than 2013. "Through the second half of 2014 we are looking at the likelihood of an El Niño, which will help warm 2014 over 2013," Schmidt said. Karl added that it is often difficult to predict an El Niño year before spring, though
..." (Image: NASA).
---
Dire Signs From A Warming World
. Climate volatility, more extremes showing up in the data, worldwide. Is extreme cold in one part of the planet "proof" that warming is a scientific scam? Here's an excerpt of an Op-Ed from
The Washington Post
: "
Another insane cold wave — not the

infamous

"polar vortex " but its evil twin — is bringing sub-zero and single-digit temperatures to much of the nation. And global warming may be even more extreme, and potentially more catastrophic, than climate scientists had feared. This is, of course, no contradiction. The rallying cry of

the

denialists — "It's really cold outside, so global warming must be a crock!" — can be taken seriously only by those with a toddler's limited conception of time and space. They

forget that it's winter, and

apparently

they

don't

quite

grasp that even when it's cold in one part of the world, it can be hot in another.
.." (Image: Climate Reanalyzer).
---
A UGA Professor Referees The Fight Over Global Warming
. Marshall Shepherd is President of the AMS, The American Meteorological Society. Lately his job has been even tougher than usual, as described in this story at
FindLaw
: "
If you lose a couple of toes to frostbite this morning, all Marshall Shepherd asks is this: Don't blame the polar vortex. The previous deep freeze could be attributed to that mystical force spiraling over the North Pole. The current one is just a traditional, run-of-the-mill cold snap. If Shepherd seems a little touchy about it, you can't blame him. The University of Georgia professor has spent a good part of this month trying to rescue the phrase from a tug of war between Rush Limbaugh and the White House. Putting out such fires -- protecting his science, in other words -- has been his job for the past year as president of the American Meteorological Society.
.."
---
The Maddening Cloud: When Forecasting The Future, Scientists' Blind Spot Is Above Them
. How do climate models treat cloud formation in a warmer world, and will more or less cloud cover in the low layers of the atmosphere accelerate warming even more than models have suggested, to date?
Grist
has the story - here's a clip: "...
The Nature study falls in line with the first scenario. Using 43 different computer models, the researchers concluded that, as temperatures climb, water vapor will circulate more extensively than previously anticipated between the different layers of the atmosphere. As a result, we'll have fewer low-level clouds, and more of the Earth will be exposed to the sun's rays. All this points toward "relatively severe warming." But cloud science is tricky business, Bretherton explains
.."
---
FEMA: Caught Between Climate Change And Congress
.
Bloomberg
has the article - here's a clip: "...
Climate change is affecting everything the agency does, and yet it isn't given much consideration," said Michael Crimmins, an environmental scientist at the University of Arizona who is leading a project to try to improve FEMA's use of climate science data. "FEMA has to be climate literate in a way that many other agencies don't have to be." A main problem, he and other experts say, is that FEMA doesn't use short- or long-term climate science projections to determine how worsening global warming may affect its current operations and the communities it serves.
.."
---
Around The World: Atlantic Warming Melts Antarctic Ice.
Here's an excerpt of an interesting post at
LiveScience
: "...
Now, a team of researchers based at New York University has studied more than 30 years of atmospheric data collected from around the world to try to identify other key atmospheric players in Antarctic climate. The team found that water temperatures in the North and Tropical Atlantic Ocean correlate strongly with sea-level pressure in Antarctica's Amundsen Sea, which influences the behavior of sea ice in the region.
.." (Map above: NASA).
---
Donald Trump's Climate Conspiracy Theory.
Please readjust your tinfoil hat, Mr. Trump. Here's an excerpt from a story at
Mother Jones
: "...
For a global warming conspiracy to exist, you'd need scientists around the world to be in on it. Not scientists at one university, or scientists in one country. Scientists everywhere, from Australia to Japan, from China to America. This is scarcely possible, especially in light of the incentive structure in science: Scientists advance and get promoted by publishing original research that is highly cited by other scientists.
.."
---
Global Temperature 2013.
Here is an update on recent data providing some global perspective for 2013, from
Real Climate
: "
The global temperature data for 2013 are now published. 2010 and 2005 remain the warmest years since records began in the 19th century. 1998 ranks third in two records, and in the analysis of Cowtan & Way, which interpolates the data-poor region in the Arctic with a better method, 2013 is warmer than 1998 (even though 1998 was a record El Nino year, and 2013 was neutral)
...."
The global temperature data for 2013 are now published.
2010 and 2005 remain the warmest years since records began in the 19th
Century.
1998 ranks third in two records, and in the analysis of Cowtan & Way, which interpolates the data-poor region in the Arctic with a better method, 2013 is warmer than 1998 (even though 1998 was a record El Nino year, and 2013 was neutral).
The end of January, when the temperature measurements of the previous year are in, is always the time to take a look at the global temperature trend. (And, as the
Guardian noted aptly
, also the time where the "climate science denialists feverishly yell [...] that global warming stopped in 1998.") Here is the ranking of the warmest years in the four available data sets of the global near-surface temperatures
- See more at: http://www.realclimate.org/index.php/archives/2014/01/global-temperature-2013/#sthash.wHOYD4UM.dpuf
---
Weather Or Not, It's Cold Outside
. Weather vs. climate. It's easy to get confused, to stare out your window at a scene right out of the tundra and assume this is what's happening planet-wide. Here's an excerpt of an Op Ed at
fayobserver.com
that caught my eye: "...
If I didn't know the difference between weather and climate, I might join the letter writer who opined, a couple of weeks ago, that "We have headlines with winter storms, below-freezing temperatures and blizzards, and we're told by the left that global warming exists. Very sad when people fall prey to such nonsense as is global warming." That kind of thinking is depressing - especially when it's a growing sentiment among the people we elect to make sound decisions about our state's and country's future. Climate scientists generally talk about "climate change," not "global warming," although there has been an upward trend in average temperatures that is not disproved by the occasional cold snap. What we've seen more is atypical disruptions of weather patterns, indications that the long-term trend of our climate is changing
..."
---
Global Warming Battle Is Over Market Share, Not Science
. Here's an excerpt of a very interesting story from
Bloomberg
: "...
The impact is across many industries. It's time to throw out your preconceptions of climate change as a fight between green hippies and Big Oil. This is far broader and more complex. And it goes far beyond energy, to include agriculture, insurance, transportation, construction, recreation, real estate, energy exploration, food production, health care, minerals and even finance. The culturally constructed ignorance known as "agnotology" has been driven primarily by the oil and coal industries. Funk argues that we are about to move beyond that faux debate to a more important battle between even larger interests
..."
---
The Good, The Bad, And The Ugly Of Natural Gas.
Scientists and environmentalists describe natural gas as a "bridge fuel", a step in the right direction, with roughly half the amount of carbon waste as oil or coal. It's certainly a step in the right direction.
National Journal
takes a closer look; here's an excerpt: "...
Three disparate factors make the relationship between natural gas and climate change not so unequivocally simple and good. Concerns about methane emissions persist, but notwithstanding that challenge, two greater problems loom: First, shifting significantly away from coal to natural gas doesn't get the planet anywhere close to the carbon-reduction levels scientists say we must reach. And second, while the natural-gas boom is great for the economy and the immediate reduction of greenhouse-gas emissions, it has deflated the political urgency to cut fossil-fuel dependence, which was more compelling when we thought our resources of oil and natural gas were scarce. We have a great problem of energy abundance
..."
File photo credit
above: "
The sun set over the Bakken Oil Formation, behind an oil well near Williston, North Dakota
." Jim Gehrz - Star Tribune.