-16 F
. low in the Twin Cities Monday morning.
-6 F
. high yesterday.
24 F
. average high on January 27.
33 F
. high on January 27, 2013.
12"
snow on the ground in the Twin Cities.
Windchill Warning
in effect thru midday today.
Little Siberia
Minnesotans are a tough, resilient bunch. On a morning like this I guess that's self evident. We grudgingly tolerate a few arctic fronts, in return for living in a magical land, one immune to earthquakes and hurricanes.
In 1885 a smug New York City reporter described St. Paul as "another Siberia, unfit for human habitation in winter". The next year city elders launched the first Winter Carnival, to prove to the world that winters at this latitude are magical and memorable.
Proving my theory that those who can - do. Those who can't - criticize. Or consult.
King Boreas will get the last laugh this year; no melting in Rice Park until further notice. Although not a Top 15 Coldest January, this may wind up being the chilliest since 1997, but a far cry from the frigid winter of 1977.
We've seen subzero AND 30s - huge temperature swings whipping up strong winds capable of ground blizzards.
The pattern is brutally persistent; colder than average into at least mid-February, but not the polar, school-closing cold of recent days.
20s return tomorrow. Anywhere else in America that would qualify as bitter. Here, after our recent spell of Nanook?
Sounds like sweet relief to me.
* file photo credit
here
.
---
26 Subzero Nights Since December 1.
The Twin Cities National Weather Service
has details on the subzero spell since late 2013; 26 nights dipping below zero since December 1, 2013. That compares to 40 nights in 1887 and 39 nights in 1977.
---
Numb And Number.
I still haven't received a satisfactory answer to my (purely rhetorical) question: "is it possible to feel colder than numb?" When it's this cold you get to numb faster, I guess. Suburban temperatures dip to -20F or colder before recovering close to 0F by late afternoon. At least the winds have eased up a bit. Map: 2-meter NAM data from NOAA and Ham Weather.
---
Slight Recovery.
No warm fronts or chirping robins anytime soon, but the core of the polar air retreats north, leaving us with seasonably cold weather into the first week of February. As long as steering winds are blowing out of western Canada it will be tough (impossible) to get significant moisture from the Gulf of Mexico into Minnesota. Graph: ECMWF forecast data for MSP from Weatherspark.
---
6 More Weeks Of Winter? Count On It.
I have no doubt the ground hog will see his shadow on Sunday, impling "6 more weeks of winter". I see no quick reversal in the (stuck) cold weather pattern that has gripped the northern tier of the USA since early December. Highs reach single digits and teens the first week of February. Cold, but not quite as polar.
---
Ski Wilmington, North Carolina?
The latest surge of Arctic air spins up a storm along the Gulf Coast, dropping ice and slushy snow as far south as New Orleans, Mobile and Pensacola, maybe a few inches for Augusta, Georgia, as much as 4-8" for parts of the coastal Carolinas. NAM data: NOAA and Ham Weather.
---
Thawing Out In....Alaska?
The pattern, for at least 2 months now, has been stubbornly resilient, with a bloated ridge of high pressure over the western USA, and jet stream winds consistently buckling, sending one surge of polar pain after another into the northcentral USA. A Conga-line of cold fronts. In today's
Climate Matters
we examine an odd pattern responsible for mild, snow-free weather over parts of Alaska: "
WeathernationTV Chief Meteorologist Paul Douglas looks at one of the few places in the United States experiencing a tropical heat wave. It just happens to be above 60°N latitude. Alaska is seeing temperatures well above normal while much of the Lower 48 is seeing bitterly cold temps. And the all important question on everyone's mind, what's the weather going to be like for the Superbowl?
"
---
Upside-Down Weather Map
. The map above shows temperature anomalies over the northern hemisphere next Monday, February 3, showing cold, but not polar air from Minnesota into New England. Note the unusually mild weather from Alaska into much of northern Canada and the Arctic. Credit: Climate Reanalyzer.
---
---
Stay Out Of The Right Lane
. 6-8 foot drifts courtesy of the Waseca County Sheriff's Office.
---
Swingset-Gobbling Drifts
. This is what can happen out in open country, when consistently high winds can swirl snow in a single location - check out the height of the snow drift in relation to the swing set. This picture was taken in Ossian, IA, courtesy of Carol Schnuelle.
---
"Snow Rollers"
. Look what high winds whipped up near Worthington, Ohio. Rare snow rollers, courtesy of Chris Baggs.
---
"Ask Paul"
. Weather-related Q&A:
Hi Paul,
Do you remember the "Silver Icicle Award" that was printed in the Star Tribune after the terrible January of 1977? We had just moved back to Minneapolis from sunny San Jose, California, so it felt particularly brutal and cruel. When we left, there was a drought in California and all the reservoirs were at very low levels. Déjà vu all over again.
There were five days of record lows that January, two days of near record lows, a high on 33 on January 23, followed by a plunge to a wind chill low of -70 on Friday, January 28. Then Governor Rudy Perpich declared an energy emergency, asked for a 4-day work week and for thermostats to be set at 65 daytime and 60 at night. On the 26th, President Jimmy Carter asked Congress for energy emergency legislation.
Isn't it time for another "Silver Icicle Award"? I clipped and saved the award from 1977. It is one of my proudest achievements to have survived that brutal January of 1977 and if the Star Tribune would publish another award after this January final ends, I would do the same.
Bob Brown, Bloomington, MN
---
Super Bowl Already Putting Big Pressure On A Weatherman.
I feel for this guy - I really do. Nobody wants to get this forecast wrong, as described by
The New York Times
; here's the intro: "
There comes a moment in so many memorable games when a team will turn its anxious gaze to one player and ask a simple question: You got this covered? In the National Football League, it is likely to be the kicker, quarterback or running back. On Sunday, it was the weatherman. At 8 a.m., John Bateman, a meteorologist hired by the league, made his first presentation to some two dozen executives who are looking to him to tell them what to expect on Super Bowl Sunday.
.."
Photo credit
above: "
Michael Appleton for The New York Times.
---
Alerts Broadcaster Special Product for Super Bowl Sunday
: Issued Monday afternoon, January 27, 2014.
Here is what has changed since Sunday's update:
* I still don't see a blizzard or major storm for the New York City area next Sunday.
* The chance of rain/snow showers has risen for Saturday night into early Sunday morning for East Rutherford, but skies should start to clear by midday and afternoon Sunday with dry conditions expected for the game.
* Temperatures should be in the low to mid 30s at MetLife Stadium by late afternoon and evening with a northwest breeze at 10 mph. Considering the possibilities in early February - not a bad outcome at all.
* No problems getting into NYC airports Friday or Saturday morning, or getting out of town Monday. A rain/snow mix may spread into New York late Tuesday, changing to all rain next Wednesday as highs surge into the 50s.
---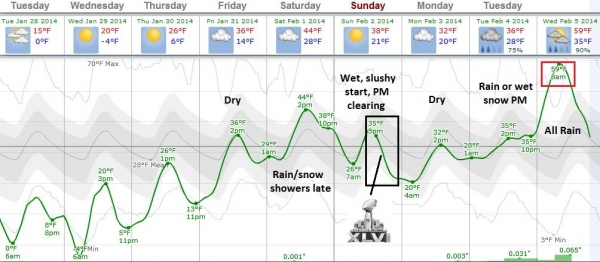 Super Bowl Planner
. Tuesday will be the coldest day in north Jersey with highs in the teens and a windchill near zero. Avoid the urge to panic - it will warm up significantly by next weekend. The arrival of a weak cool front may spark rain/snow showers Saturday night, spilling over into the morning hours Sunday - a little slush can't be ruled out on secondary roads and parking lots, but I still expect mainly wet roads around metro New York City and northern New Jersey. Skies should try to clear Super Bowl Sunday during the afternoon and evening, with dry weather spilling over into Tuesday morning. Graphic: Weatherspark.
---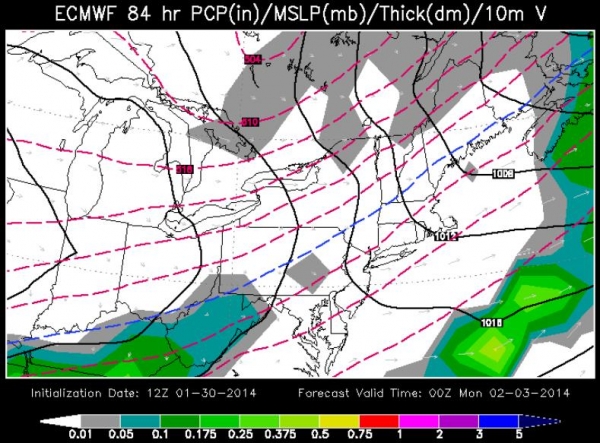 Predicted Weather Map Sunday Evening.
This is ECMWF guidance, valid 7 pm EST Sunday evening, suggesting partly to mostly cloudy skies in the New York City area, snow probably no closer than Chicago and Detroit. Map above: WSI Corporation.
---

Sunday Numbers
. GFS data shows temperatures peaking around 38-40F early Sunday afternoon, then falling slowly through the 30s, probably 31-33F for gametime with a northwest breeze at 7-12 mph. In the Pantheon of Potential Weather Horrors, this is pretty close to a best case scenario.
---
Summary
: It's still a bit early to celebrate, but the longer we go, with computers in fairly good agreement, the higher our confidence level grows that we probably won't see debilitating weather for Super Bowl Sunday. A few nuisance rain/snow showers will push across the New York City area Saturday night, and Sunday may get off to a wet start. But skies should brighten by midday over MetLife Stadium, with gradually improving weather and a few sunny spells by afternoon as temperatures slowly sink through the 30s. A more significant period of rain/snow may arrive by midday Tuesday, changing to all rain next Wednesday, but the window of Sunday into Monday looks fairly quiet, by New York standards in early February. Let's get a few more computer runs under our belt - then maybe I can start to exhale by midweek. Stay tuned...
Paul Douglas - Senior Meteorologist - Alerts Broadcaster
---
Alerts Broadcaster Briefing
: Issued Monday morning, January 27, 2014.
* Period of rain, changing to freezing rain (glaze ice) then finally snow from Tuesday PM into Wednesday PM, from near New Orleans and Mobile to Pensacola, Augusta, Savannah, Hilton Head, Myrtle Beach, Wilmington and Outer Banks.
* Atlanta may see a coating of slush, maybe 1-2" south of ATL, but heaviest snow/sleet/ice bands should stay south of Atlanta.
* Amounts may be "plowable", especially eastern North Carolina (heaviest bands probably staying east of Charlotte and Raleigh).
---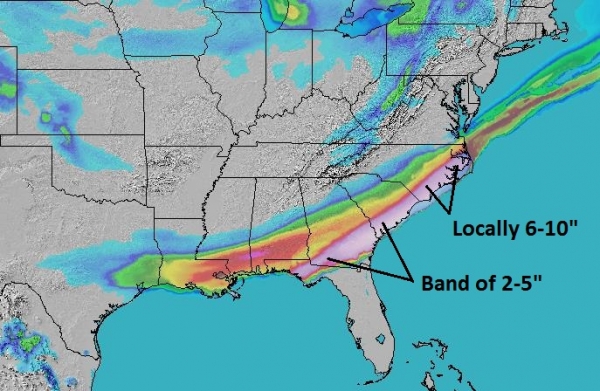 Big Picture.
A swirl of low pressure tracking along the leading edge of the latest polar airmass to invade the USA will drop a slushy, icy concoction within 100-150 miles of the Gulf Coast, with the greatest potential travel issues Tuesday evening into Wednesday morning from Lake Charles to Gulfport, Mobile, Pensacola and Destin, spreading across southern and central Georgia into the coastal Carolinas during the day Wednesday. Unusual? Yes, but hardly unprecedented. NAM snowfall: NOAA and Ham Weather.
---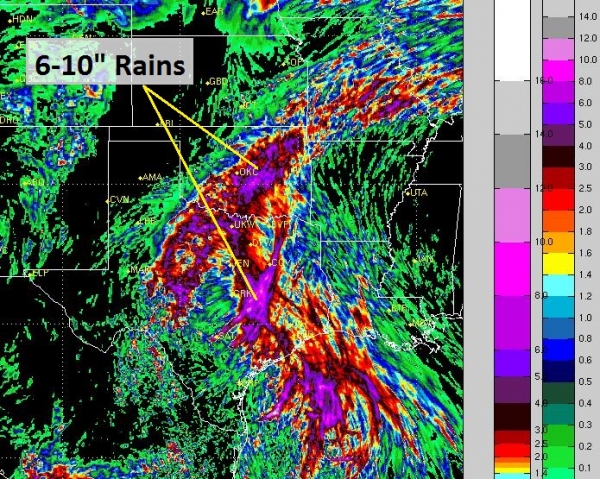 High-Res Solution
. Another model we trust prints out a coating of slush (and glaze ice) from near Mobile to Pensacola, some 2-4" amounts for southeastern Georgia, withh the heaviest amounts for eastern North Carolina, including the Outer Banks, where some 6"+ amounts can't be ruled out by Wednesday night. RPM model data: WSI Corporation.
---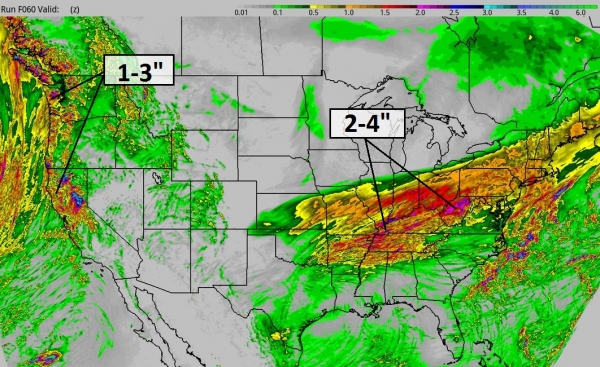 Winter Storm Watches In Unlikely Places
. NOAA has issued a Winter Storm Watch from Houston to Lake Charles, New Orleans, Mobile and Pensacola, extending into much of Georgia and the Carolinas by Wednesday, for a combination of freezing rain (glaze ice - rain freezing on contact with cold surfaces), sleet (ice pellets), ending as a little wet snow. The primary threat for the Gulf Coast is ice, topped off with a coating to 1" of slushy snow by Wednesday morning. Map:
Ham Weather
.
---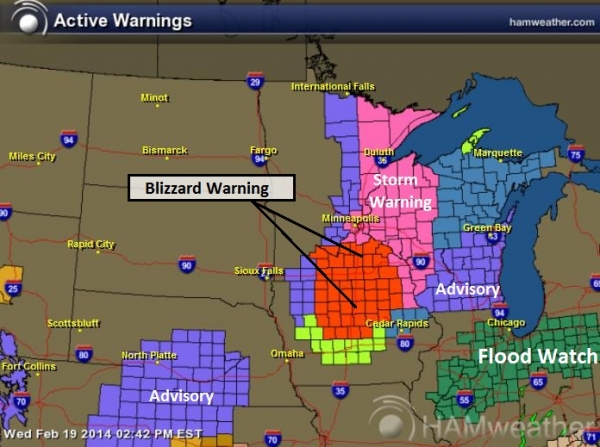 Greatest Snowfall Potential: North Carolina
. The heaviest snow bands are forecast to set up east of Raleigh, which is right on the edge of the Winter Storm Watch. Right now I do not expect widespread travel problems between Charlotte and Raleigh, but accumulating snow and ice is likely from Wilmington and Myrtle Beach to New Bern, Greenville and The Outer Banks.
---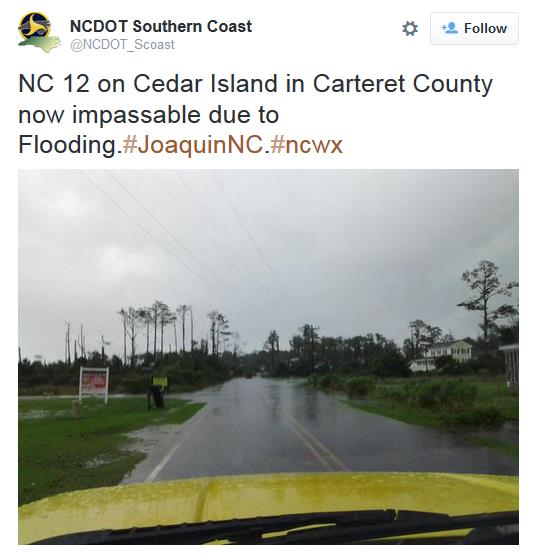 Wednesday Morning
. Wake-up temperatures by midweek dip below zero across a huge swath of the USA, colder than 32 from New Orleans to Pensacola to Savannah. New York City suburbs will see single digit lows early Wednesday, as cold as -4 Detroit and -5 Chicago, with double digit negative numbers from Madison to the Twin Cities and Duluth. NAM guidance: NOAA and Ham Weather.
Summary
: Never a dull moment, not this winter. While interest grows in Super Bowl weather conditions at MetLife Stadium in East Rutherford, New Jersey for Sunday, the short-term threat will be ice and snow from the Gulf Coast into the Carolinas. Atlanta should be spared a major accumulation; latest 12z models hinting at 1" of slushy snow Tuesday night for KATL. We'll keep an eye on this system and update you on Super Bowl weather, in the event some of your are lucky enough to have tickets to the big game. Otherwise the weather should be just fine in your family room for Sunday's Big Spectacle.
Paul Douglas - Senior Meteorologist - Alerts Broadcaster
---
The Greenest Super Bowl Ever?
Here's a clip from an AP story at
ABC News
: "...
Greening the Super Bowl has been a passion project for Groh, who started out as a journalist before forming an environmental communications firm with his wife. He did his first work for the NFL at the 1994 Super Bowl in Atlanta, at a time when the simple recycling of plastic bottles and cans at stadiums was a significant step forward. He continuously seeks out new ways to wring as much value out of things that normally would be discarded. For example, in the weeks leading up to this year's Super Bowl, the NFL sponsored e-waste recycling events in New York and New Jersey that collected 9,000 pounds of old phones, computers and other gadgets, according to Verizon, which partnered in the program
..."
Photo credit
above: "
Snow is cleared from the parking lot of MetLife Stadium, which will host the Super Bowl, in East Rutherford, N.J., Jan. 22, 2014. On Jan. 26, a meteorologist hired by the NFL made his first presentation to some two-dozen executives who are looking to him to tell them what to expect on Super Bowl Sunday
." (Fred R. Conrad/The New York Times).
---
Caffeine Can Enhance Memory, New Research Suggests
. Well here's a golden ray of good news on an otherwise blah Tuesday, courtesy of
Gizmag
: "
Caffeine is one the world's favorite productivity fuels and in many countries people choose a caffeinated drink, mainly coffee, to ignite the day. Although some people rightly worry about over-consuming the stuff, findings of a new study suggest that a moderate daily dosage may enhance our memory. The research carried out at Johns Hopkins University indicates that caffeine can help the brain retain information we study during a period of up to 24 hours subsequent to consuming it
..."
Photo credit
: Shutterstock.
---
TODAY: Fresh air! Mosquito-free. Windchill Warning AM hours. WC: -35 Winds: W 10+ High: near 0
TUESDAY NIGHT: Partly cloudy, not quite as cold. Low: -5
WEDNESDAY: Breezy and milder as clouds increase. High: 25
THURSDAY: Partly sunny, turning colder again. Wake-up: 15. High: 16
FRIDAY: Clouds increase, snow far south (near the Iowa border). Wake-up: -5. High: 9
SATURDAY
: Mostly cloudy, cold wind. Wake-up: -2. High: 12
SUNDAY
: Sunny start, clouds increase. Wake-up: -4. High: 17
MONDAY: Bright sun, can't catch a break. Wake-up: -3. High: 18
Climate Stories....
Global Temperature 2013.
Here is an update on recent data providing some global perspective for 2013, from
Real Climate
: "
The global temperature data for 2013 are now published. 2010 and 2005 remain the warmest years since records began in the 19th century. 1998 ranks third in two records, and in the analysis of Cowtan & Way, which interpolates the data-poor region in the Arctic with a better method, 2013 is warmer than 1998 (even though 1998 was a record El Nino year, and 2013 was neutral)
...."
The global temperature data for 2013 are now published.
2010 and 2005 remain the warmest years since records began in the 19th
Century.
1998 ranks third in two records, and in the analysis of Cowtan & Way, which interpolates the data-poor region in the Arctic with a better method, 2013 is warmer than 1998 (even though 1998 was a record El Nino year, and 2013 was neutral).
The end of January, when the temperature measurements of the previous year are in, is always the time to take a look at the global temperature trend. (And, as the
Guardian noted aptly
, also the time where the "climate science denialists feverishly yell [...] that global warming stopped in 1998.") Here is the ranking of the warmest years in the four available data sets of the global near-surface temperatures
- See more at: http://www.realclimate.org/index.php/archives/2014/01/global-temperature-2013/#sthash.wHOYD4UM.dpuf
---
Weather Or Not, It's Cold Outside
. Weather vs. climate. It's easy to get confused, to stare out your window at a scene right out of the tundra and assume this is what's happening planet-wide. Here's an excerpt of an Op Ed at
fayobserver.com
that caught my eye: "...
If I didn't know the difference between weather and climate, I might join the letter writer who opined, a couple of weeks ago, that "We have headlines with winter storms, below-freezing temperatures and blizzards, and we're told by the left that global warming exists. Very sad when people fall prey to such nonsense as is global warming." That kind of thinking is depressing - especially when it's a growing sentiment among the people we elect to make sound decisions about our state's and country's future. Climate scientists generally talk about "climate change," not "global warming," although there has been an upward trend in average temperatures that is not disproved by the occasional cold snap. What we've seen more is atypical disruptions of weather patterns, indications that the long-term trend of our climate is changing
..."
---
Global Warming Battle Is Over Market Share, Not Science
. Here's an excerpt of a very interesting story from
Bloomberg
: "...
The impact is across many industries. It's time to throw out your preconceptions of climate change as a fight between green hippies and Big Oil. This is far broader and more complex. And it goes far beyond energy, to include agriculture, insurance, transportation, construction, recreation, real estate, energy exploration, food production, health care, minerals and even finance. The culturally constructed ignorance known as "agnotology" has been driven primarily by the oil and coal industries. Funk argues that we are about to move beyond that faux debate to a more important battle between even larger interests
..."
---
Why Climate Change Is Ignored
.
Huffington Post
has the entry; here's the introduction: "
Two realities threaten the well-being of future generations. The first is global warming. In the words of the most recent report by the Intergovernmental Panel on Climate Change, "each of the last three decades has been successively warmer at the earth's surface than any preceding decade since 1850." Furthermore, it goes on, "in the Northern Hemisphere [the period] 1983-2012 was likely the warmest 30-year period of the last 1400 years." (1) The resulting rise of sea levels, increased storm intensity, and ecological disruptions promise to impose a heavy cost on those who come of age twenty years from now. The second is that the energy source that can be marketed most profitably is still the one that produces the most greenhouse gas emissions. Fossil fuels remain dominant.
.."
---
We Need Action On Climate Change Now
. Here's a clip of an Op Ed at
The Minnesota Daily
: "...
Last Monday, we celebrated Dr. Martin Luther King Jr.'s fight for civil and human rights. Climate change is a human rights issue. As sea levels rise and storms grow more severe, vulnerable communities will suffer most.
Action on climate change is necessary to ensure equal opportunity to life, liberty and the pursuit of happiness.
The transition from fossil fuels to renewable energy is inevitable. By urging the University of Minnesota to divest from the fossil fuel industry, the student group Fossil Free Minnesota is working to ensure that this transition happens before it's too late..."
---
The Good, The Bad, And The Ugly Of Natural Gas.
Scientists and environmentalists describe natural gas as a "bridge fuel", a step in the right direction, with roughly half the amount of carbon waste as oil or coal. It's certainly a step in the right direction.
National Journal
takes a closer look; here's an excerpt: "...
Three disparate factors make the relationship between natural gas and climate change not so unequivocally simple and good. Concerns about methane emissions persist, but notwithstanding that challenge, two greater problems loom: First, shifting significantly away from coal to natural gas doesn't get the planet anywhere close to the carbon-reduction levels scientists say we must reach. And second, while the natural-gas boom is great for the economy and the immediate reduction of greenhouse-gas emissions, it has deflated the political urgency to cut fossil-fuel dependence, which was more compelling when we thought our resources of oil and natural gas were scarce. We have a great problem of energy abundance
..."
File photo credit
above: "
The sun set over the Bakken Oil Formation, behind an oil well near Williston, North Dakota
." Jim Gehrz - Star Tribune.