Winter Weather Advisory posted for the immediate Twin Cities.
Blizzard Warning in effect just west of MSP, for much of central/western Minnesota for expected ground-blizzards and white-out conditions.
2 F. low Saturday morning.
24 F. high yesterday (12:08 AM).
24 F. average high on January 25.
21 F. high on January 25, 2013.
11" snow on the ground as of Saturday evening.
9.2 F average January temperature so far in the Twin Cities. If the average January temperature reaches 4.3F or colder this January would fall into the Top 15 Coldest Januaries at MSP. Details below:
Weather Pioneers
Breaking News: Clueless Minnesota Meteorologist Touts Advantages of Ridiculously Cold Weather!
Here's what I like about occasional cold waves. I like how it brings people together, often against their will. I like the way 32F feels (freezing!) after a subzero stretch. I like the fact that this level of cold is required to kill beetles and other pests chomping away at Minnesota's North Woods.
I like the way people's eyes get big when you tell them you live in Minnesota.
And finally I relish the fact that, in spite of all our advanced technology, there's not a 'ding-dang thing we can do to stop it. We are (still) very much at the mercy of the elements. It's good to be humbled every now and then.
That said, getting a flat tire in open country today could be life-threatening. Another lobe of the much-hyped Polar Vortex arrives on 40 mph wind gusts, whipping up ground-blizzards just west of MSP. A 20 mph wind sustained wind will spark a wind chill factor of -45F Monday morning.
I'll be amazed if schools open up Monday, again Tuesday. Temperatures bottom out Tuesday morning at -23F.
This may wind up being the coldest January since 1994 in the Twin Cities. 20s (above zero!) will feel like a Godsend late next week.
---
White-Out Potential West of MSP
. NOAA has issued Blizzard Warnings for much of central, western and southwestern Minnesota as 40-45 mph winds whip up snow already on the ground. The farther west you travel, away from MSP, the worse the travel conditions will be, especially this afternoon and evening:
...A PERIOD OF SNOW FOR MOST LOCATIONS TONIGHT... THEN BLIZZARD
CONDITIONS ACROSS WESTERN AND SOUTHERN MINNESOTA SUNDAY AND SUNDAY
NIGHT...

A BLIZZARD WARNING HAS BEEN ISSUED FROM LATE SUNDAY MORNING
THROUGH SUNDAY EVENING FOR LOCATIONS GENERALLY ALONG AND WEST OF
A LINE FROM STAPLES TO HUTCHINSON TO ALBERT LEA. PRIOR TO THE
DEVELOPMENT OF STRONG WINDS AND BLIZZARD CONDITIONS... A PERIOD
OF SNOW IS EXPECTED TONIGHT... WITH ACCUMULATIONS FROM 2 TO
LOCALLY 5 INCHES. A WINTER WEATHER ADVISORY HAS BEEN ISSUED DUE
TO THIS EXPECTED SNOWFALL... AND IS IN EFFECT FOR TONIGHT
GENERALLY ALONG AND SOUTHWEST OF A LINE FROM LITTLE FALLS TO NEW
RICHMOND TO MENOMONIE... INCLUDING THE TWIN CITIES METRO AREA.
THIS ADVISORY REMAINS IN EFFECT THROUGH SUNDAY EVENING FOR
LOCATIONS WHERE THE BLIZZARD WARNING DOES TAKE EFFECT... GIVEN
THE EXPECTATION FOR SIGNIFICANT BLOWING AND DRIFTING SNOW SUNDAY
AFTERNOON AND EVENING.

NORTHWEST WINDS FROM 30 TO 40 MPH... WITH GUSTS TO 55 MPH... WILL
DEVELOP ACROSS WESTERN AND SOUTHERN MINNESOTA ON SUNDAY. THE
STRONG WINDS COMBINED WITH THE FRESHLY FALLEN SNOW WILL RESULT IN
BLIZZARD CONDITIONS WITH WIDESPREAD VISIBILITIES NEAR ZERO IN THE
BLIZZARD WARNING AREA... WITH MORE SPORADIC WHITEOUT CONDITIONS
EXPECTED IN THE WINTER WEATHER ADVISORY AREA. THE WINDS WILL
DIMINISH SOME LATE SUNDAY NIGHT... WHICH WILL ALLOW CONDITIONS TO
IMPROVE... BUT AREAS OF BLOWING AND DRIFTING SNOW WILL LIKELY
PERSIST INTO MONDAY.

IN ADDITION... TEMPERATURES WILL QUICKLY DROP BEHIND THE LOW
PRESSURE SYSTEM SUNDAY MORNING... FALLING FROM AN EARLY HIGH IN
THE TEENS AND 20S TO READINGS BELOW ZERO OVER MOST AREAS BY
EVENING. TEMPERATURES WILL THEN DROP INTO A RANGE FROM 15 TO
25 BELOW BY MONDAY MORNING. THIS WILL RESULT IN DANGEROUS WIND
CHILLS FROM 40 TO 50 BELOW ZERO BEGINNING SUNDAY NIGHT AND
LASTING INTO TUESDAY.
---
Sleep In Until (March).
NOAA's NAM model is predicting surface temperatures between -15 and -20F Monday morning in and around the MSP metro, closer to -25 from Brainerd to Bemidji. Factor in a sustained wind of 20-25 mph and it will feel like -40 to -50F. Even the old-timers will be grumbling. Map: Ham Weather.
---
Another Polar Plunge
. Just when you thought it was safe to come out of the basement, Canada springs another enormous leak. Subzero air surges south into the Upper Midwest late Sunday and Monday, pushing across the Great Lakes into New England the first half of next week.
---
More Tundra Tales
. The mercury dips below zero by this evening, and holds there until Wednesday morning. The lowest wind chill comes Monday morning (-45F in the metro), with the coldest air temperature probably coming Tuesday morning, between -20 and -25F in the metro area. Upper 20s on Wednesday - a reason to keep on going. Graphic: Weatherspark.
---
Super-Sized Clipper.
What makes today's clipper more problematic is the amount of wind accompanying this low pressure swirl. The greater the north-south temperature contrast, the stronger winds have to blow to keep the atmosphere in equilibrium. About 2-3" of fresh powder will fall from the Dakotas into central and southern Minnesota - whipped along by 35-45 mph gusts to create white-out conditions. I suspect travel will get worse as the day goes on. NAM snowfall totals courtesy of NOAA and Ham Weather.
---
Gulf Coast Snow Event?
It's one thing to be tracking a couple inches of snow for the Twin Cities, Chicago or Cleveland, but a couple inches of slush for the bayous of Louisiana, even New Orleans? That could make for quite a party on Bourbon Street. We'll see, but there's little doubt that most of America east of the Rockies will feel the chill from this latest outbreak.
---
Dangers Beyond Frostbite
. Although heat claims more lives in the USA than winter cold, consistently low temperatures constrict blood vessels and increase blood pressure, increasing the potential for heart-related ailments, including heart attack. Today's edition of Climate Matters includes a look at how (and why) the pattern has been stuck for nearly 2 months, and how the same holding pattern is impacting weather from Honolulu to Sochi: "
It seems like the weather, increasingly, is getting stuck." Meteorologist Paul Douglas explains this weather pattern that seems to be stuck in a rut. Swells, drought and a polar vortex! Learn how it is impacting everywhere from Hawaii/Alaska all the way to Europe. The Winter Olympics may feel more like the Summer Olympics!
"
---
January School Closings May Lead To Makeup Days In June.
I have a strong hunch that most Minnesota schools will close again Monday, probably Tuesday of next week
. Kids should enjoy their days off now, because there won't be much celebrating in June, according to a story at
The Star Tribune
; here's a clip: "
Can't bear the thought of another snow day? Find the scroll of school closings painful to watch? Just wait until summer arrives and Minnesota schools are still in session. Some school officials are contemplating scheduling makeup days in June as their school calendars are on the verge of being blown up by a particularly bitter winter. Teachers and parents also have found their best-laid plans badly buffeted. Most Twin Cities metro area schools have canceled classes for three days this month, and Monday's forecast of 5 below zero makes a four-peat appear possible
..."
Alerts Broadcaster Super Bowl Weather Briefing
: Issued Saturday, January 25, 2014.
* This is still a 204 hour forecast, the rough meteorological equivalent of predicting what the NASDAQ will be on February 3. Good luck with that. The forecast for Super Bowl weather will change as new data arrives and supercomputer predictions zero in on a reasonable solution.
* Right now I don't see any blizzards for the game itself, in fact the trend with recent computer runs is milder and drier. Temperatures may reach the 40s earlier in the day at The Meadowlands, but probably hold in the 30s for the game itself.
* The most reliable model (ECMWF) suggests dry weather most of Sunday, patchy clouds with a risk of a (rain) shower. Friday appears to be the best travel day with generally dry conditions and few delays at nearby airports. I could see a rain-snow mix on Saturday with a slight chance of a slushy coating; probably no wide-spread delays with ATC. Getting out Monday should be OK with a slow clearing/drying trend behind a cold front.
---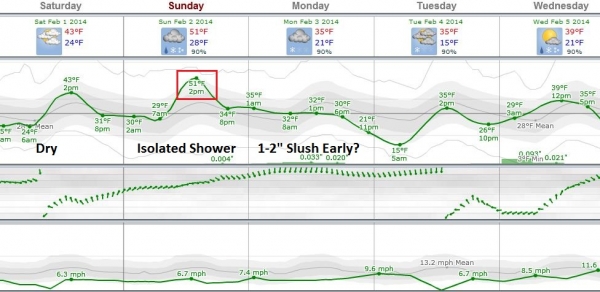 The Big Picture
. This is data for Newark, the closest reporting station, suggesting dry weather in the NYC area most of next week, the best chance of a rain-snow mix on Saturday, temperatures actually peaking on Super Bowl Sunday before a puff of cooler/drier air arrives on Monday. Graphic: Weatherspark.
---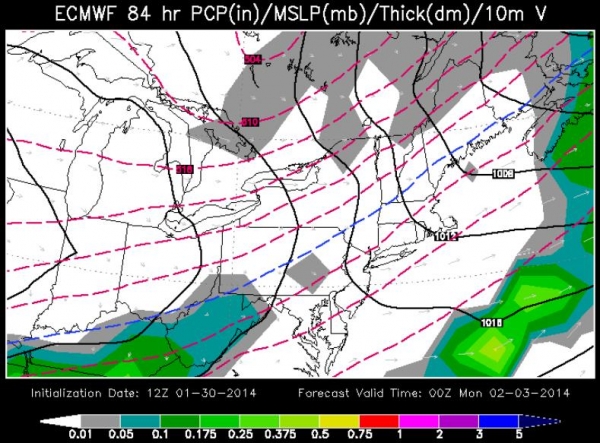 ECMWF Solution for Sunday Evening, Feb. 2, 2014
. Although not gospel, this is the best guidance we have right now, suggesting a generally dry afternoon/evening in the New York City area next Sunday. Could this solution change? Absolutely. Confidence levels are still low, overall (for any solution this far out). I want to see more runs and look for consistency and continuity from run to run. Stay tuned. Graphic: WSI.
Summary
: based on the best available model guidance I don't see any major weather nightmares shaping up for metro NYC for this year's Super Bowl. A nuisance rain-snow event is possible next Saturday, maybe a little slush, but with temperatures at or just above 32F I expect most (major) roads and runways in northern New Jersey to be wet vs. icy or snow-covered. The best travel days will be Friday and Monday, although getting out late Sunday night shouldn't be an issue either.
Setting Expectations
: I'll provide updates each afternoon, after I've had a chance to digest the day's 12z ECMWF run to look for patterns and trends.
Broncos by 7. Trust me, I'm a weatherman.
---
Predicting Super Bowl Snow Is An Epic Forecasting Challenge
.
LiveScience
does an admirable job tackling the complexities and impossibilities of a 2-week weather forecast (for a specific point, like The Meadowlands in New Jersey). Here's an excerpt: "...
This suggests that no one should put too much stock in any single prediction two weeks out. Even the official NWS local forecasts that go out seven days need to be viewed with some caution at the far end, since their skill is little better than climatology at that point.In other words, the average high, low and precipitation amounts observed on February 2 over the last 30 years may come nearly as close to being correct as a typical weather forecast issued seven days beforehand. It's also important to distinguish between "skill" and "accuracy." One could offer a firm prediction of "no snow" a month in advance of the Super Bowl, and chances are greater than 80 percent that the forecast would be correct — but not necessarily skillful.
.."
Image credit
above: "
The variable-mesh MPAS grid can be customized to feature higher resolution where added detail is desired, as illustrated here for North America
." Courtesy MPAS.
---
Biggest Storm Surge In Decades Brings Monster Waves To Hawaii And California
. Details from The
Sydney Morning Herald
: "...
Some of the biggest waves to hit Hawaii in years began slamming onto shore on Wednesday, turning beachgoers into spectators as waves up to 12 metres tall crashed into idyllic getaways. Waves up to 15 metres high were feared on the famous North Shore of Oahu and at other islands. Beaches were closed across the island chain as the surge hit on Wednesday and Thursday. Coastal roads and parking lots reportedly flooded as wind gusts up to 64 km/h whipped onlookers and tore fronds from palm trees. Officials urged surfers not to risk their lives to ride the violent surges
..."
NOAA's Storm Prediction Center To Make Changes To Severe Weather Outlooks
.
CBS3
in Springfield has the details; here's an excerpt: "
The Storm Prediction Center in Oklahoma is changing a category of their severe weather outlooks from "slight risk" to "enhanced risk." Emergency managers say the public is tuning out the word "slight," and getting caught off guard by deadly tornados that can still occur on those days. The Storms Prediction Center in Oklahoma, a branch of the National Oceanic and Atmospheric Administration, prepares severe weather outlooks for the entire country several days in advance. Their categories include slight, moderate, and high risks for severe weather.
.."
The Last Place On Earth Without Human Noise
. Greenland? Antarctica? Good luck finding a remote spot with zero noise pollution, according to this story at
The BBC
. One hint: Minnesota's Boundary Waters Canoe Area is near the top of the Quiet List, so we have that going for us. Here's an excerpt: "...
Unfortunately, Hempton says that there is absolutely no place on Earth that is completely free from human sound all of the time. A map of the established flight paths over the US, for example, "looks like a plate of spaghetti," he says. Hempton is not alone in this pronouncement. "There are no places on Earth that I've been that haven't been affected by human sound," agrees Bernie Krause, an expert in bioacoustics and one of the founders of the field of soundscape ecology. "All over the Earth, not a day goes by when you don't hear something
..."
Image credit
above: "
Satellite imagery of artificial light, like this picture of Italy, can reveal the human activity you might want to avoid
." (NASA).
---
The Geography Of The American Dream
.
The Atlantic
takes a look at upward mobility and where, statistically, the most people are getting closer to that dream; here's an excerpt: "
One of the most important lessons from today's blockbuster social mobility report is that place matters. (And, because your parents choose the place where you're born and live, parents matter.) Tucked into the appendix are two colorful maps of America that tell you where social mobility—the chance to move up the income ladder, a.k.a. The American Dream—is living and where it's not. First, the graphs. Then, five facts
..."
---
A Death In The Database
. As I gently remind my friends and colleagues, if the product is "free", YOU are the product. Here's an excerpt of a shocking and sobering tale from
The New Yorker
: "...
Segmenting potential customers based on their traumas is the funhouse-mirror inversion of a popular retail strategy known as "life-stage marketing." The idea is that during certain transitions—weddings, births, new homes—people will spend a lot of money, obviously, but will also be especially open to changing their habits. Crate & Barrel hosts engagement parties not only to persuade couples to register at its stores but to build new brand loyalties. Companies race to be the first to find these lucrative shoppers, which is how Target got in trouble several years ago for revealing that a teen-age girl was pregnant before she had told her father.
.."
---
C'mon Kids - Let's Go See The Creepy Robots That May Someday Take Your Jobs!
Remind me not to visit South Korea anytime soon, and I suspect Disneyworld has nothing to worry about. Here's a clip from
Gizmag
: "
Since 2007, the South Korean government has dreamed of Robot Land, a robotics research park and themed destination with rides, exhibitions, shopping, and even housing. Although the originally planned open date of 2012 has come and gone, ground was officially broken for the 300-acre park last year and a new timeline seems to indicate that Robot Land may now be on target to deliver on its promise of a themed world dedicated to robots
..."
---
What Reviewers Said About The First Mac When It Debuted 30 Years Ago
. It's been 30 years? Amazing, and now I'd be lost without my iMac and iPhone and iPad. I should get an iLife huh? Here's a clip of a great recap of that audacious moment from
Smithsonian
: "
Nearly thirty years ago, on January 24, 1984, a 28-year-old Steve Jobs appeared onstage in a tuxedo to introduce a new Apple computer that had been in the works for years: the Macintosh. Two days earlier, during the third quarter of Super Bowl XVIII, Apple aired a commercial that brought already-high expectations for the Mac to a fever pitch. In the ad, a nameless heroine runs through a dystopian setting, where a face projected onto an enormous screen commands a room full of conformists to obey. Evading police in riot gear, the heroine smashes the screen with a giant hammer, freeing the audience. The message: IBM was 1984's Big Brother, and Mac was the audacious liberator
..."
---
Giving New Meaning To "Great White Shark"
. In case you (somehow) missed this nugget, Rick
Kupchella's BringMeTheNews.com
has a great recap and video of the amazing artistry going on up in New Brighton; here's a clip: "
The Bartz brothers of New Brighton have completed their latest snow sculpture masterpiece – a giant shark that fills their front yard. Now the teens are getting national attention for the feat. The Today show featured the story on Monday, noting that the three teens – Connor, Trevor and Austin – said they spent more than 90 hours creating the massive snow sculpture – and it beat spending time on their cellphones
..."
Address
: if you want to check it out head to 2700 block of 16th Street Northwest in New Brighton; it's near Totino Grace.
---
Get Ready For A Shock: The World's Fastest Supercar Might Soon Be Electric
. For a cool million and change this can be yours!
CNN
has the details on the Concept_One; here's a clip: "
At full speed, the Rimac Concept_One is little more than a cherry red blur, flashing from one corner of the horizon to the other in the blink of an eye. If its projected performance figures prove to be true, this radical electric concept car -- the brainchild of an award-winning young Croatian designer -- could accelerate faster than all but two of the fastest supercars on earth. The Rimac Concept_One's figures are impressive. Not just for an electric car, but for traditional petrol-engine cars as well.
.."
---
TODAY
: Winter Weather Advisory metro area - Blizzard warnings for much of central and Western Minnesota for high winds and ground blizzards from 30-40 mph gusts. Blowing snow. High: 18
SUNDAY NIGHT
: Dangerously cold. Low: -17 (windchills near -45F by morning)
MONDAY: Minnesota is cancelled. Partly sunny and frigid. WC: -45. High: -8
TUESDAY: Still sunny. Still subzero. WC: -35. Wake-up: -23. High: -7
WEDNESDAY: Sweet relief. Clouds increase. Wake-up: -16. High: 29 (above)
THURSDAY: Some sun, not as polar. Wake-up: 7. High: 10
FRIDAY: Mostly cloudy, colder than average. Wake-up: -5. High: 14
SATURDAY
: Chance of snow southern MN. Wake-up: 6. High: 18
---
Climate Stories...
What Affect Does Cold Weather Have On People's Views On Climate Change?
We're hard-wired to react to changes in weather, not the slow-motion, yet potentially profound, long-term impacts of climate change and climate volatility. Here's an excerpt from
The Guardian
: "
If climate change means higher temperatures, then what are people to make of the brutal cold that continues to cause havoc across the US? Or the fact that only three years ago the UK experienced one of its coldest Decembers for decades, if not centuries? With public concern about climate change stalling in recent years, these might seem exactly the sorts of weather events likely to generate sceptical viewpoints, a sign that something is seriously amiss in the case for climate change. A study I have just had published in the journal Climatic Change suggests however that this way of interpreting extreme cold is actually quite rare
..."
Photo credit
above: "
The US side of Niagara Falls has begun to thaw after being partially frozen from the recent "polar vortex" that affected millions in the US and Canada
." Photograph: Nick LoVerde/AP.
---
Climate Change Awareness Increases With Extreme Weather Conditions
. Is the velocity of extreme weather, worldwide, truly increasing? Is it our imagination - or better reporting? Here's an excerpt from
Science World Report
: "...
Bill Gates also acknowledged the importance of the issue and believes that there is an awareness problem concerning climate change. Gates reiterated that since the issues of climate change and development are interlinked, the focus should not be more prevalent on either individual subject because it is a collective issue. He also warned of the dangers of growing prosperity, because as more people begin to afford new uses of energy, it is paramount that the energy is generated in a clean way or else the current state of affairs will worsen dramatically.
.."
---
Perspective
. Cartoon courtesy of
XKCD.com
.
---
Soon, Sochi Won't Be Cold Enough To Reliably Host The Winter Olympics
. Here's a snippet of a story at
ThinkProgress
: "
If the Winter Olympics were held in Sochi, Russia in 2050, the climate wouldn't be reliably cold enough to successfully host the games. That's one of the findings of a new study from researchers at the University of Waterloo in Canada and the Management Center Innsbruck in Austria. The researchers looked at high and low emissions scenarios for the 2050s and 2080s and found that, by the 2080s, only six of the 19 cities that have hosted Winter Olympics in the past would be able to reliably host the games again if high emissions predictions play out
..."
Photo credit
above: AP Photo/Marco Trovati.
---
Climate Change Threatens Future Winter Olympics Venues
. Here's an excerpt of a story at Canada's
CBC News
: "
Memorable host cities for the Winter Olympics wouldn't have a snowball's chance of reliably hosting a Games in the next few decades amid climate change, according to a new report. At the rate the Earth continues to heat up, only six of the last 19 Winter Olympics locations would be cold enough by the end of this century to stage the Games, the joint Canadian-Austrian study says. A new joint study from Canadian and Austrian researchers says that amid climate change, only 11 of the previous 19 sites for Winter Olympics could host the Games in the coming decades
..."
Photo credit
above: "
Global warming is progressing at such a rate that scientists say many previous sites of Winter Olympics would be too warm to host a Winter Games by the last half of this century
." (Dominic Ebenbichler/Reuters).
---
Climate Change: The Winter Olympics' Great Thaw.
Climate Central
has a unique perspective on some of the new methods and technologies cities and countries are employing to counter warming winter temperatures for their Winter Olympics Games; here's an excerpt of the story: "...
In 1952, hockey was moved to indoor rinks permanently with figuring skating and curling following suit in 1960. Refrigeration was added to bobsled tracks in 1972 and ski jumping ramps in 2010. Snowmaking for downhill skiing events became commonplace in 1992. This year, organizers of the Sochi Olympics have taken even more drastic steps to ensure the outdoor events go off without a hitch. "One thing Sochi is doing differently in their adaptation arsenal is they made snow last winter and stored it under tarps, in the same way some Swiss places have been protecting their glaciers," he said
..."
File photo
above: "
In this Wednesday, Sept. 25, 2013 file photo insulated blankets cover a snow storage unit in the Rosa Khutor Alpine center in the mountain cluster in Krasnaya Polyana outside the Black Sea resort of Sochi, Russia. Sochi will have enough snow for the Winter Olympics in February, Russia's chief weather forecaster vowed Friday. Concerns about a snowless Olympics were raised after two test events in Sochi had to be cancelled last February because of a lack of snow or rainy weather. The resort city on the Black Sea is the only sub-tropical region of Russia
." (AP Photo/Sergei Grits, File).
---
Industry Awakens To Threat Of Climate Change
. When it starts showing up on the top line, or bottom line, many companies are quickly getting past climate denial and trying to figure out viable strategies for dealing with increased climate volatility in their supply chains. Here's a clip from
The New York Times
: "
Coca-Cola has always been more focused on its economic bottom line than on global warming, but when the company lost a lucrative operating license in India because of a serious water shortage there in 2004, things began to change. Today, after a decade of increasing damage to Coke's balance sheet as global droughts dried up the water needed to produce its soda, the company has embraced the idea of climate change as an economically disruptive force. "Increased droughts, more unpredictable variability, 100-year floods every two years," said Jeffrey Seabright, Coke's vice president for environment and water resources, listing the problems that he said were also disrupting the company's supply of sugar cane and sugar beets, as well as citrus for its fruit juices. "When we look at our most essential ingredients, we see those events as threats.
.."
Photo credit
above: "
Andrew Link/Winona Daily News, via Associated Press.
---
More Global Warming Will Be Worse For The Economy, Says The Copenhagen Consensus Center. Here's a clip from an article at The Guardian: "
The Copenhagen Consensus Center (oddly, located in Massachusetts) is a think tank headed by Bjorn Lomborg that advocates for what they consider "the best ways for governments and philanthropists to spend aid and development money." The group recently released a report that attempts to quantify the economic damage caused by various global problems, including climate change. Regarding climate change and its costs, the group states,
"Climate change is real and man-made ... After year 2070, global warming will become a net cost to the world, justifying cost-effective climate action."
Image credit
above: "
Bjorn Lomborg leads the Copenhangen Consensus Center, which has concluded that more global warming will be worse for the economy
." Photograph: Camera Press.
---
Backers: Report On Rail Risks Boosts Keystone XL.
Because there have never (ever) been any pipeline-related spills, right? Here's an excerpt of a story from AP and
ABC News
: "
A government warning about the dangers of increased use of trains to transport crude oil is giving a boost to supporters of the long-delayed Keystone XL pipeline. U.S. and Canadian accident investigators urged their governments Thursday to impose new safety rules on so-called oil trains, warning that a "major loss of life" could result from an accident involving the increasing use of trains to transport large amounts of crude oil. Pipeline supporters said the unusual joint warning by the U.S. National Transportation Safety Board and the Transportation Safety Board of Canada highlights the need for Keystone XL, which would carry oil derived from tar sands in western Canada to refineries on the U.S. Gulf Coast. Oil started flowing Wednesday through a southern leg of the pipeline from Oklahoma to the Houston region.
.."
File photo credit
: "
In the is Oct. 4, 2012 file photo, large sections of pipe are shown on a neighboring property to Julia Trigg Crawford family farm, in Sumner Texas. On Wednesday, Jan 22, 2014, TransCanada said in a statement on its website that it is delivering oil through the Gulf Coast portion of its proposed Keystone XL pipeline, from a hub in Cushing, Okla., to Houston-area refineries
." (AP Photo/Tony Gutierrez, file).
---
NTSB Urges Oil Trains Be Routed Away From Population Centers
. There were more rail-related accidents involving transporation of oil in 2013 than the previous 37 years, nationwide. Here's a clip from a story at
The Star Tribune
: "
The National Transportation Safety Board (NTSB) expressed growing concern Thursday that accidents involving oil trains can cause "major loss of life," and recommended that they be rerouted where possible to avoid populated areas. The safety board's proposal, a direct response to last July's oil train disaster in Quebec, reverberates in the Twin Cities, where 100-car crude oil trains have become a common occurrence. But diverting oil tankers away from cities, especially historic rail hubs such as Minneapolis and St. Paul, represents a daunting challenge because most major tracks pass through urban areas.
.."
Photo credit above: "National Transportation Safety Board member Robert Sumwalt, right, views damaged rail cars in Casselton, N.D."
---
The Norwegian Carbon Capture And Storage Nightmare
. Will we someday invent technologies to render carbon pollution harmless, turn it into an inert gas, or bury it (forever) in the ground? Perhaps - but it hasn't happened yet, nothing that can be scaled. Here's a clip from a cautionary tale in Norway from
The Foreigner
: "...
In my perspective, the project was doomed to fail from the beginning. It was never true that effective CCS technology was readily available, no more in 2006 than today. Well-working carbon capture and storage that actually benefits the climate requires cost and energy-efficient carbon capture, efficient transport of the CO2, and safe storage. Furthermore, every part of this chain needs to be working well with the others at an industrial scale. None of this was present then, none of it is present now
..."
Image credit
above: "
The only remaining trace of the "Norwegian Moon Landing" is a very big pile of documents
.
" Photo: Nina Aldin Thune/Wikimedia Commons
.
* more on carbon capture and storage technologies from Joe Romm at
ThinkProgress
.