18 F. high in the Twin Cities Sunday (12:41 PM).
24 F. average high on January 26.
23 F. high on January 26, 2013.
1.1" snow fell yesterday at KMSP.
13" snow on the ground at Twin Cities International Airport.
46 mph: peak wind gusts yesterday (mid-afternoon hours).
9.4 F average January temperature so far in the Twin Cities. If the average January temperature reaches 4.3F or colder this January would fall into the Top 15 Coldest Januaries at MSP. Details below:
Well Preserved
Almost anywhere else in America, with the possible exception of Fairbanks, the National Guard would be called out by now. FEMA would be advising us to shelter in place. Local TV stations would be droning on with continuous coverage.
No matter how many schools close today life goes on. Most of us will trudge to work or the local store. You may even see a few crazies jogging and cross country skiing, in spite of a -45F wind chill early today.
Canada launches another full-frontal assault, another artillery blast of numb to rival January 6-7. For all intents and purposes it will be just as cold. At the rate we're going kids may still be in school on the 4th of July.
I know, not funny.
After bottoming out near -22F Tuesday morning the mercury rebounds into the 20s Wednesday; the first week of February still colder than average, but not as polar.
Why so much wind this winter? The sharper the temperature contrasts the stronger winds have to blow to keep the atmosphere in a state of equilibrium, however uncomfortable.
If you're curious odds favor clearing skies and 30s for Super Bowl Sunday. Meanwhile a couple inches of slushy snow may coat the Florida Panhandle by Wednesday.
Yes, we feel their pain.
---
Still Waiting For Winter In Alaska
. 60s with no snow in Alaska's Kenai Peninsula. Freakishly springlike, while much of the north central USA shiver into Tuesday. Details below.
---
7 AM Today
. We should be waking up to temperatures in the -14 to -18F range across most of the metro, some -20F readings far northern suburbs. A strong, lingering wind will make it feel like -40F at times, colder up north. Map: NOAA and Ham Weather.
---
Scraping Bottom?
It appears the core of the coldest surface temperatures passes over Minnesota late Monday night and early Tuesday, with wake-up readings ranging from -18 to -24F in the metro (mildest lows in the immediate downtowns, where the urban heat island will keep readings milder). Winds ease a bit, with a chill factor of -30 to -40F. No weather bargain by a longshot, but it'll keep us honest.
---
Ski Savannah?
The leading edge of one of the two coldest airmasses of winter may spin up a storm capable of rain changing to snow from near Pensacola to Augusta, Savannah, Charleston and Wilmington, even a few inches of slush - enough to snow and shovel. Do people living there even own shovels. NAM guidance: NOAA and Ham Weather.
---
A Cold Kink In The Jet Stream
. Instead of seeing a "progressive" weather pattern, where the jet stream varies over time, pulling in a mix of mild and cold, weather systems have stalled, the steering winds aloft temporarily locked in a pattern favoring record warmth and drought from the western USA to Alaska, and polar air vectoring due south, invading much of the central and eastern USA. 2-meter NAM temperatures out 84 hours from NOAA and Ham Weather.
---
A Faint White Light At The End Of A Very Cold Tunnel?
Naw - I'm just messing with you! At some point Canada will run out of cold air. They'll make more, of course, because that's what they do. It's barbaric - weather terrorism if you ask me. We are all under attack. Write your Congressperson. Temperatures hold below 0F until Wednesday morning; 20s will heal your brittle soul by Wednesday, again next weekend. Not great, but better. ECMWF data: Weatherspark.
---
Alerts Broadcaster Special Briefing
: Issued Sunday afternoon, January 26, 2014.
* I still don't see a major storm, certainly no blizzard for Super Bowl Sunday on February 2, 2014.
* Latest models hint at a possible rain/snow shower Sunday morning, with clouds lingering most of the day - but I expect a drying trend during the PM hours Sunday at MetLife Stadium, temperatures falling through the 30s with west winds at 10-15 mph.
* New York City will get a taste of the polar cold, but temperatures moderate somewhat by next weekend, closer to average.
* Right now I don't expect any major transportation challenges the Friday before the big game, but a light rain/snow mix may create some (minor) slushy issues Saturday. What has changed since yesterday? Models bring a rain/snow mix into metro New York during the day Monday. Getting out late Sunday or first thing Monday might be a prudent plan, reducing the risk of delays, until the pattern crystallizes we want to err on the side of safety and caution.
---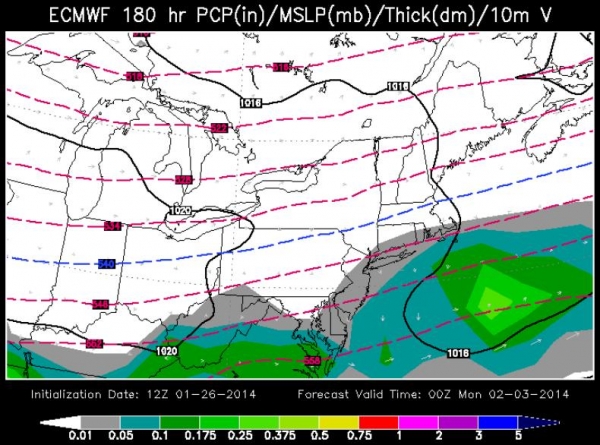 Sunday Evening Weather Map
. This is ECMWF (European) model guidance, showing a cold rain offshore by Sunday evening, clouds lingering over East Rutherford, New Jersey, with a drying/cooling west to northwest breeze. It's a little close for comfort, but assuming this guidance verifies I wouldn't see any steady rain or snow for the game itself. Map above: WSI.
---

GFS Solution
. NOAA's GFS model suggests temperatures in the upper 30s midday Sunday, falling to near 30F by 8 PM Sunday evening, with a west breeze (and no steady/heavy precipitation).
---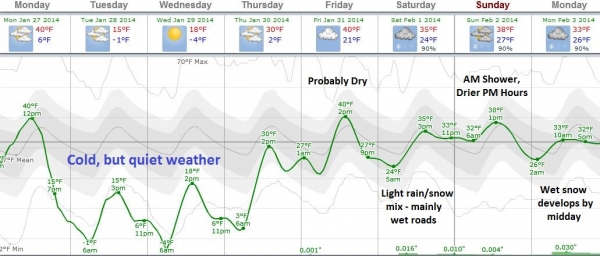 Super Bowl Planner
. Highs hold in the teens Tuesday and Wednesday, rebounding by the end of the week. Odds favor generally dry weather Friday, with a light rain/snow mix spreading into north Jersey Saturday. With surface temperatures in the low to mid 30s I expect most roads (and runways) to be wet, possibly slushy in spots, but no widespread travel headaches that I can see. An early shower Sunday should give way to drier conditions by afternoon and evening, although clouds will linger. High humidity levels will create a wind chill in the low to mid 20s, a bit raw at MetLife Stadium, but tolerable. The big unknown is whether the precipitation forecast for Monday, February 3, is real, or a computer artifact. I could see a better chance of traffic delays with wet snow the Monday after the Super Bowl. Graph: Weatherspark.
Summary
: Although not quite as mild as yesterday's solution, I have high confidence that temperatures will be in the 30s for the Super Bowl, with moderate confidence of no steady/heavy rain or snow. A snow shower can't be ruled out during the morning and midday hours next Sunday, but skies will probably dry out during the afternoon and evening hours. Getting in Friday shouldn't be a problem, some delays possible Saturday with a light mix of rain/snow pushing into metro New York, another chance of (mostly) snow the Monday after the game.
This is still a 7-Day forecast, so overall confidence levels remain low. I want to be transparent about setting weather expectations, knowing the forecast will invariably change as new data comes in. But right now I do not see any blizzards or major storms on February 2 in the New York City area that would have a high impact on travel or events. Stay tuned...
Paul Douglas - Senior Meteorologist - Alerts Broadcaster
---
New York Area Weather Has A History With The Super Bowl
. Check out weather for previous games in the NYC area in early February. From the sublime to the horrific, as reported by
The New York Times
; here's an excerpt: "
In the countdowns to each of the previous 47 Super Bowls, the primary question was, quite simply, Which team will win? But as Denver and Seattle await XLVIII next Sunday at MetLife Stadium in East Rutherford, N.J., questions about the weather for the first outdoor cold-climate Super Bowl have upstaged even the point spread. How cold will it be? How windy? If it snows or rains, how much and when? Before the game? During the game?.
..."
---
The Alaskan Winter That Never Was?
Greg Laden takes a look at historic warmth (and lack of snow) across portions of Alaska at
scienceblogs.com
: "...
I had heard it was warm in Alaska, but holy moly, I didn't know it was THIS warm. Above is an anomaly map showing the Drunken Arctic Air in central and eastern Canada and the US in contrast with the very (relatively) warm air over western Canada and Alaska. Remember, these are anomalies, not absolute temperatures. But still, it is warm enough in at least parts of Alaska that lakes that are normally well frozen by now are not frozen at all and may not even freeze this winter. Here are photographs taken by A.M.Mueller on January 25th 2014 in Skilak Lake, Kenai Peninsula, Alaska, and passed on for posting, with some commentary.
..."
---
California's Drought, Time Three.
Here's an excerpt of an Op-Ed at
The Los Angeles Times
: "...
Because these three droughts are interconnected, we rarely suffer from one without dealing with the others, and this year's situation is no different. The vast majority of Californians rely on water that falls in other parts of the state, or even outside the state, and although the multiple sources make water more secure for all of us, shortages usually come all at once. Southern California must prepare for the future by recapturing more of the rainwater that in wetter years still runs, unused, to the sea. It must do even more than is already being done to clean and reuse urban water.
.."
Photo credit
above: "
Seen above on Tuesday, a tree that is usually at the banks of Folsom Lake outside Sacramento is now several hundred feet away from the water. In his drought emergency declaration, Gov. Jerry Brown asked Californians to cut their water usage by 20%
."
(

John G. Mabanglo / EPA

)
.
Better Setting Tornadic Expectations: From "Slight" to "Enhanced" Risk
. The take-away; a "slight risk" day, as defined by NOAA SPC, can still generate significant, life-threatening tornadoes. Here's a clip from a story at
The Christian Science Monitor
: "...
For several years, the National Weather Service has been working with social scientists to find better ways of communicating the contents of its forecasts in ways meaningful to emergency managers, radio and TV weathercasters, and the general public, not just experienced forecasters, notes John Ferree, the SPC's severe-storms services leader. But the "slight" category for severe storms and for tornadoes actually spans a threefold increase in risk, from a 5 percent chance of severe weather to a 15 percent chance, he notes. At 15 percent, the risk for severe weather is considered moderate.
.."
Photo credit
above: "
Shuqualak, Miss. residents clean up debris after a tornado plowed through rural sections of eastern Mississippi in April 2013. The Storm Prediction Center plans to broaden its warning system for severe weather after finding the days labeled as "Slight Risk" turned out to have storms that could be deadly
."
Rogelio V. Solis/AP.
---
Get Ready For A Shock: The World's Fastest Supercar Might Soon Be Electric
. For a cool million and change this can be yours!
CNN
has the details on the Concept_One; here's a clip: "
At full speed, the Rimac Concept_One is little more than a cherry red blur, flashing from one corner of the horizon to the other in the blink of an eye. If its projected performance figures prove to be true, this radical electric concept car -- the brainchild of an award-winning young Croatian designer -- could accelerate faster than all but two of the fastest supercars on earth. The Rimac Concept_One's figures are impressive. Not just for an electric car, but for traditional petrol-engine cars as well.
.."
---
TODAY: Windchill Warning. Partly sunny and sub-arctic. Feels like -45 early. High: -8
MONDAY NIGHT: Clear - one of the two coldest nights of winter. Low: -22
TUESDAY: Still polar with blue sky, slightly less wind. WC: -40. High: -3
WEDNESDAY: Fading sun, closer to average. Wake-up: -9. High: 25
THURSDAY" Snow near Iowa border. Colder. Wake-up: 13. High: 14
FRIDAY: Sunny, still nippy. Wake-up: -8. High: 9
SATURDAY
: Clouds increase, not as harsh. Wake-up: 4. High: 22
SUNDAY
: Intervals of sun. No sign of spring. Wake-up: 2. High: 21
---
Climate Stories...
5 Warmest Years, Worldwide
. 4 different methadologies for making the global calculations - two of those have 2013 as a Top 5 Warmest Year. Credit:
Stefan Rahmstorf
.
---
No, Global Warming Isn't Suddenly A Myth Because It's Really Cold Out.
Unless you can look out your window and see the entire planet, it's just "weather", not climate. Here's an excerpt from
U.S. News and World Report
: "...
There appears to be a psychological basis for the way our collective concern about global warming tends to fall with the autumn leaves and rise whenever the mercury does. A 2011 study by researchers at Columbia University found that study participants who described the day they were surveyed as warmer than usual expressed more concern about global warming, and were willing to donate more money to a relevant charity. The opposite effects were observed in participants who described the day as colder than usual
..."
---
New Sea-Ice Map Offers A Long-Term Look At Climate Change
.
Alaska Dispatch
has a very interesting story - here's the introduction: "
Mining more than a century of sea ice observations, including from 19th century Yankee whalers and 20th century Arctic wildcatters, researchers at the University of Alaska Fairbanks have put together an expansive view of climate change that lets web surfers track the ice pack off Alaska for decades.
The interactive digital map, dubbed the Sea Ice Atlas, allows viewers to watch the ice around Alaska shrink and grow -- but mostly shrink -- during a period of their choosing, month by month or year by year..."
---
What Hiatus?
Here's a clip from a post by Minnesota climate scientist Greg Laden at
scienceblogs.com
: "
First, there is no hiatus. Climate science skeptics claim that warming stopped in 1998. It didn't. Stefan Rahmstorf has a nice post placing 2013 in context with the most recent data, HERE. Just click the "translate" button to read it in your favorite language.Stefan has a bunch of great graphics that you will enjoy. Following his lead I've decided to make a graphic or two myself. First, the data. NASA has this data to which people often refer when discussion global warming
..."
---
North Dakota Recorded 300 Oil Spills In Two Years Without Notifying The Public
. Here's an excerpt of an AP story, picked up by
The Guardian
: "
North Dakota, the nation's No2 oil producer behind Texas, recorded nearly 300 oil pipeline spills in less than two years, state documents show. None was reported to the public, officials said. According to records obtained by the Associated Press, the pipeline spills, many of them small, are among some 750 "oil field incidents" that have occurred since January 2012 without public notification. "That's news to us," said Don Morrison, director of the Dakota Resource Council, an environmental-minded landowner group with more than 700 members in North Dakota
..."
Photo credit
above: "
Diners at Kerry's Kitchen, a restaurant that sits near railroad tracks, in Casselton, N.D., Jan. 16, 2014. A fiery rail accident last month only a half mile down the tracks from the restaurant, which prompted residents to evacuate the town, has shattered people's confidence in the crude--oil convoys that rumble past seven times a day.
" (Jim Wilson/The New York Times)
---
Cost Of Climate Change High On Davos Agenda
.
Deutsche Welle
has the story - here's a clip: "
From within the Davos Congress Center, you can see skiers racing down the slopes outside of the World Economic Forum. Looking at the snow outside, some participants might wonder why there's so much talk about global warming. Not so Christiana Figueres. Standing in the snow, the UN climate chief said she is pleased the topic is so high on the agenda at Davos. "The risk of increased natural events is there, the risk of a water crisis and the risk for a food crisis," she told DW, adding that there was economic fallout associated with failing to deal with climate change and its effects.
.."
---
What Affect Does Cold Weather Have On People's Views On Climate Change?
We're hard-wired to react to changes in weather, not the slow-motion, yet potentially profound, long-term impacts of climate change and climate volatility. Here's an excerpt from
The Guardian
: "
If climate change means higher temperatures, then what are people to make of the brutal cold that continues to cause havoc across the US? Or the fact that only three years ago the UK experienced one of its coldest Decembers for decades, if not centuries? With public concern about climate change stalling in recent years, these might seem exactly the sorts of weather events likely to generate sceptical viewpoints, a sign that something is seriously amiss in the case for climate change. A study I have just had published in the journal Climatic Change suggests however that this way of interpreting extreme cold is actually quite rare
..."
Photo credit
above: "
The US side of Niagara Falls has begun to thaw after being partially frozen from the recent "polar vortex" that affected millions in the US and Canada
." Photograph: Nick LoVerde/AP.
---
Climate Change Awareness Increases With Extreme Weather Conditions
. Is the velocity of extreme weather, worldwide, truly increasing? Is it our imagination - or better reporting? Here's an excerpt from
Science World Report
: "...
Bill Gates also acknowledged the importance of the issue and believes that there is an awareness problem concerning climate change. Gates reiterated that since the issues of climate change and development are interlinked, the focus should not be more prevalent on either individual subject because it is a collective issue. He also warned of the dangers of growing prosperity, because as more people begin to afford new uses of energy, it is paramount that the energy is generated in a clean way or else the current state of affairs will worsen dramatically.
.."