14 F.
high in the Twin Cities Sunday.
25 F.
average high for February 2.
9 F.
high on February 2, 2013.
15"
snow on the ground in the Twin Cities.
39.7"
snow so far this winter season.
34.6"
normal winter snowfall for KMSP, to date.
23.1"
winter snowfall as of February 2, 2013.
The End is Near
To our meteorological migraine of a headache, that is - this epic cold wave, the most midwinter polar pain since 1984. For now you might want to say a silent prayer, thanking Canada for the lack of mercury in your back yard thermometer.
You've heard "too cold to snow"? That old, creaky proverb has some scientific merit. Of course it can snow at any temperature below 32F. But our heaviest snows pile up when temperatures are 20-30F, a storm track 200 miles southeast of MSP. Cold exhaust blowing behind a treadmill of clippers has pushed the main storm track too far south for heavy snow anytime soon. We may be brushed by flurries Tuesday; closer to 6-8 inches of flakes in Chicago.
Our weather won't exactly be a treat: single digits & teens, probably 5 more nights below zero in the next week.
But here's the thing: 66 extra minutes of daylight since December 21 - 2 to 3 more minutes every day. The sun is as high in the sky as it was November 6. It can't stay this Nanook much longer. A thaw arrives next week, as this miserable Yukon vacation begins to wind down. Finally.
A well-earned spring is coming, but just this week be glad it's not 15F warmer.
Plenty cold. Shovels optional.
* graphic above courtesy of
democraticunderground.com
.
---
One More Week Of (Moderate) Pain.
Schools will remain open until further notice. Right now I don't see any extreme air temperatures or wind chill values looking into early next week. It'll be cold, but nothing that will have your mother calling to make sure you're OK. ECMWF temperature curve for MSP: Weatherspark.
---
A Reason To Keep On Going
. GFS guidance continues to show thawing temperatures by mid-February. I'd wager a stale bagel we'll enjoy 40F by the third week of February, in fact the atmosphere is forecast to be mild enough aloft for rain by February 17. You remember rain, right?
---
Positive Phase Of The AO.
When the Arctic Oscillation is positive (stronger westerlies) North America tends to have a stronger influence from the Pacific, meaning milder temperatures overall. A negative phase means just the opposite.
NOAA CPC's latest prediction
shows a fairly strong positive phase returning by mid-February. Yes, it's going to warm up.
---
A Parade Of Southern Storms
. Today's storm spreads heavy snow across the Virginias and Maryland into Pennsylvania, brushing Baltimore and Washington D.C. with a few inches of heavy wet slush. A second, more northerly storm pushes heavy snow into Chicago and much of Michigan late Tuesday into Wednesday. NAM Future Radar courtesy of NOAA and Ham Weather.
---
84-Hour Snowfall.
Here is NOAA NAM guidance, showing the southerly streak of heavy snow today, a more northerly track of snow Tuesday and Wednesday stretching from Kansas City to Chicago, South Bend, Detroit and Cleveland to Rochester and Syracuse. Bright red implies 5"+ amounts, purple suggests 7-8" or more. Map: Ham Weather.
---
Alerts Broadcaster Briefing
: Issued Sunday, February 2, 2014.
* Heavy snow and ice spreads from Texas and Oklahoma into Ohio Valley and portions of Mid Atlantic over the next 36 hours.
* Impacted metro areas include Oklahoma City, Tulsa, Louisville and Cincinnati.
* Washington D.C. and Baltimore will experience heavy rain early Monday, ending as a few slushy inches of snow - heaviest amounts north and west of downtowns Monday.
* Second wave of significant snow to impact Quad Cities, Chicago and much of Lower Michigan late Tuesday into Wednesday morning with plowable snowfall amounts.
---
Winter Storm Warnings
. Another wide swath of the USA will be impacted by treacherous winter travel conditions into Wednesday. Today and Monday the focus is Midland and Wichita Falls, Texas into the southeastern half of Oklahoma, Fort Smith and Fayatteville, Arkansas, into portions of the Ohio Valley later today and tonight. Winter Storm Warnings in purple. Map: NOAA.
---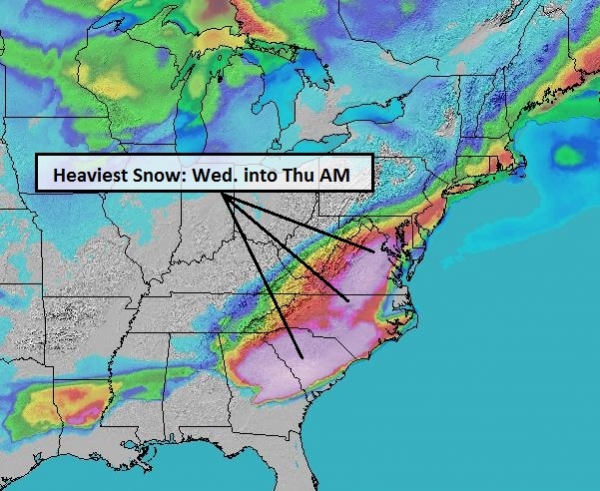 Two Separate Snow Events
. The situation is a bit confusing, with 2 distinct storms ripping east across the USA into midweek, setting up 2 bands of significant snow between now and Wednesday. Map: Ham Weather.
---
First Wave
. Today's storm spinning up over Texas drops a 200 mile wide band of snow from north Texas to Tulsa, Evansville, Louisville, Cincinnati, Altoona, Harrisburg and Hagerstown, Maryland, with a few inches of slush possible in the Washington D.C. - Baltimore markets Monday morning and midday. Map: WSI.
---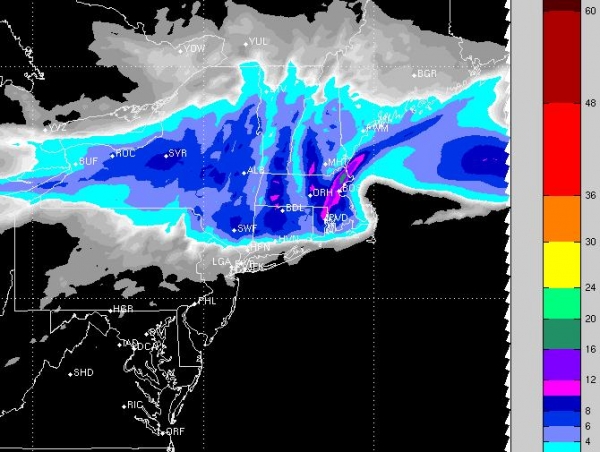 Second Wave.
From Tuesday into Wednesday a second storm drops significant snow from near Kansas City and Dubuque to Chicago, Lansing, Battle Creek, Ann Arbor and metro Detroit. Chicago may pick up 4-8" snow; the heaviest bands may set up just south/east of The Loop. Travel by land and air will be impacted, with the greatest risk of delays and cancellations at O'Hare and Midway Tuesday PM hours.
---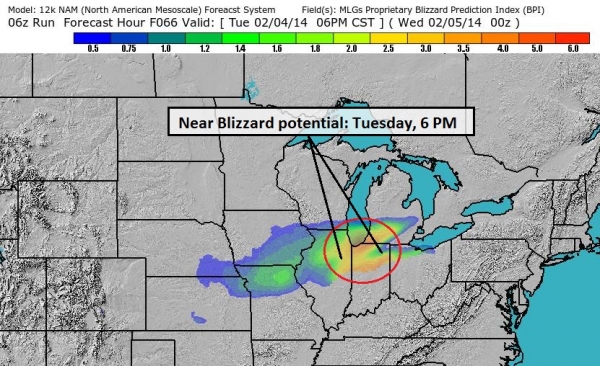 Blizzard Potential
. Our internal models calculate hour by hour blizzard risk. The greatest potential for low visibility in falling snow from Peoria to Chicago, South Bend and Lansing, Michigan comes Tuesday evening. BPI Index: Ham Weather.
---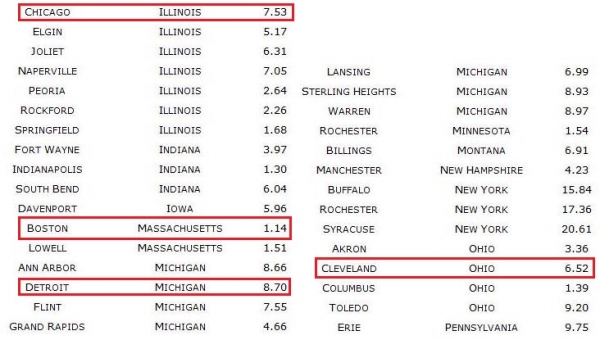 Select City Snowfall Predictions
. The numbers above reflect total, 84-hour accumulation potential. I'm not (yet) convinced that metro Chicago will pick up a foot of snow, but a plowable 4-8" snowfall appears likely in Chicago Tuesday into Wednesday morning, with locally heavier amounts. Baltimore may see a plowable 3-4"+ accumulation (especially northern/western suburbs from Towson to Westminster and Hagerstown). Travel into Baltimore and Washington D.C. may be impacted Monday morning and midday.
Summary
: Two storms are likely to drop plowable snowfall amounts into midweek. The more southerly accumulation (Texas to Louisville and Washington D.C.) comes today into Monday. A second storm drops heavy snow on Chicago, northern Indiana and much of Michigan Tuesday into Wednesday. Travel conditions improve somewhat the latter half of this week, nationwide, but stating the obvious: spring can't come soon enough. Much of the USA east of the Rockies is experiencing some of the coldest weather since the mid 1990s. More snowfall records are about to be broken. Another update Monday morning.
Paul Douglas - Senior Meteorologist - Alerts Broadcaster
---
Winter Misery Index
. I found
this nugget
very interesting, courtesy of the Minnesota Climatology Office. The 5 toughest winters, based on snowfall, snow depth and the duration/intensity of cold: 1917, 1936, 1979 1982 and 1984. Three of the five easiest winters at MSP have come since 1987.
---
Putting This Winter's Subzero Cold Into Perspective
. Here's an informative, timely post from The
Minnesota Climatology Working Group
: "
How does the winter of 2013-14 stack up for counts of minimum temperatures at or below zero in the Twin Cities? As of January 31st there have been 33 minimum temperatures of zero or colder: 13 in December, and 20 in January. This is the most number of minimums below zero so early in a winter since the winter of 81-82 when the total through January 31 was 33. The most in a winter through January 31 is 44 from the winter of 1976-77. If the forecast holds, 2014 will be in a four way tie for the 13th most lows of zero or colder going back to the winter of 1872-1873. Excluding the 19th century winters, this winter would tie for 7th place, an impressive feat given the heat island of the modern Twin Cities Metro Area. The highest number of at or below zero temperatures in an entire winter is 68 for the winter of 1874-75. The last time there were over 50 minimums of zero or colder was the winter of 1974-75 with 53
."
---
December - January: 20th Coldest Since 1873, Coldest Since 1984
. Data courtesy of The
Twin Cities National Weather Service
.
---
Cold Weather Nuggets.
Here's an excerpt from Dr. Mark Seeley's latest installment of
Minnesota WeatherTalk
: "...
Some of the windchill readings compiled by Pete Boulay of the State Climatology Office included:
-63 degrees F at Grand Marais Airport on the 6th (-48 F in the Twin Cities)
-50 degrees F at Duluth on the 7th
-51 degrees F at Park Rapids on the 23rd (-37 F in the Twin Cities)
-53 degrees F at Grand Marais Airport on the 27th (-39 F in the Twin Cities)
-52 degrees F at Fosston on the 28th
According to the State Climatology Office the median number of days each winter when the windchill warning criteria (-35 F or colder) is reached is three times. The National Weather Service had to issue four windchill warnings for the Twin Cities so far this winter.
.."
---
Great Lakes Have Most Ice In Decades Thanks To Bitter Winter.
Milwaukee's Journal Sentinel
has the story - 60% of the Great Lakes have ice cover - the most in 25 years.
---
California Drought Could Force Key Water System To Cut Deliveries
. Snow pack over the Sierra Nevada is 12% of normal. Stating the obvious: not good. Here's an excerpt from
The Los Angeles Times
: "
Officials Friday said that for the first time ever, the State Water Project that helps supply a majority of Californians may be unable to make any deliveries except to maintain public health and safety. The prospect of no deliveries from one of the state's key water systems underscores the depth of a drought that threatens to be the worst in California's modern history. But the practical effect is less stark because most water districts have other sources, such as local storage and groundwater, to turn to. Officials stressed that the cut did not mean faucets would run dry
..."
Photo credit
above: "
The water level in Lake Cachuma is dropping, in part because of sustained drought conditions across the state
."
(

Brian van der Brug, Los Angeles Times

/

January

14

, 2014

).
---
California's Devastating Drought Isn't Going To Get Better Any Time Soon. Slate advances the drought narrative for California with a few statistics that made me do a double-take; here's an excerpt: "...
It's the first time that any part of California has registered an exceptional drought in the 14-year history of the NDMC drought monitor. Now, 14 years is an admittedly short period of time. But thanks to the magic of science (and tree rings), we can now safely say that California hasn't been this dry since around the time of Columbus, more than 500 years ago. What's more, much of the state's development over the last 150 years came during an abnormally wet era, which scientists say could come to a quick end with the help of human-induced climate change
..."
* the latest U.S. Drought Monitor information for California is
here
.
---
Severe Drought Has U.S. West Fearing Worst.
The New York Times
has the story - here's a clip: "...
This latest development has underscored the urgency of a drought that has already produced parched fields, starving livestock, and pockets of smog. "We are on track for having the worst drought in 500 years," said B. Lynn Ingram, a professor of earth and planetary sciences at the University of California, Berkeley. Already the drought, technically in its third year, is forcing big shifts in behavior.
.."
Image credit
above: Max Whittaker for The New York Times.
---
If You Like To Eat, You Should Really Be Worried About California's Drought. Huffington Post has the story (and impressive infographic that may leave you with an urge to rush out to the grocery store to buy fresh produce); here's a clip: "
California had record low rainfall in 2013. It was potentially the driest year in the last 500 years, according to tree rings, and dry weather is expected to last through 2014. The state's $44.7 billion agriculture industry may take a significant hit, and prices for foods that are water-intensive to produce -- such as beef, milk, and tomatoes -- might start reflecting California's water woes
."
---
When Next Hurricane Hits, Storm Surge Will Be Mapped
. Forecasting surge levels is as much an art as a science, as Sandy proved. Here's an excerpt of a post from meteorologist Andrew Freedman at
Climate Central
: "
The next time a hurricane hits the Gulf or Atlantic coast, the National Weather Service will be ready with a new map that it hopes will more effectively communicate the threat of deadly storm surge flooding to the public.The NWS plans to issue "potential storm surge flooding maps" together with tropical storm and hurricane watches beginning with the 2014 hurricane season, the agency announced Friday
..." (Map credit: NOAA).
* more details on the upcoming hurricane storm surge forecasts from
NOAA NHC
.
---
How Vaccine Fears Fueled The Resurgence Of Preventable Diseases
.
NPR
has the details - here's the introduction: "
For most of us, measles and whooping cough are diseases of the past. You get a few shots as a kid and then hardly think about them again. But that's not the case in all parts of the world — not even parts of the U.S. As an from the Council on Foreign Relations illustrates, several diseases that are easily prevented with vaccines have made a comeback in the past few years. Their resurgence coincides with changes in perceptions about vaccine safety
..."
Graphic credit
: Credit: Adam Cole/NPR with data from the Council on Foreign Relations.
---
Dear America: I Saw You Naked
.
Politico.com
has a story that will make you think twice the next time you go through a TSA full-body scanner. Here's an excerpt: "...
Just as the long-suffering American public waiting on those security lines suspected, jokes about the passengers ran rampant among my TSA colleagues: Many of the images we gawked at were of overweight people, their every fold and dimple on full awful display. Piercings of every kind were visible. Women who'd had mastectomies were easy to discern—their chests showed up on our screens as dull, pixelated regions
..."
* Harrington's TSA (Taking Sense Away) blog is
here
.
The Pleasure And Pain Of Speed
. The world is speeding up - more stimuli, a daily data dump. Are we hard-wired, genetically, to keep up? Here's a snippet of a fascinating story at
Nautilus
: "...
As life has sped up, we humans have not, at least in our core functioning: Your reaction to stimuli is no faster than your great-grandfather's. What is changing is the amount of things the world can bring to us, in our perpetual now. But is our ever-quickening life an uncontrolled juggernaut, driven by a self-reinforcing cycle of commerce and innovation, and forcing us to cope with a new social and psychological condition? Or is it, instead, a reflection of our intrinsic desire for speed, a transformation of the external world into the rapid-fire stream of events that is closest to the way our consciousness perceives reality to begin with?
..."
---
Thwarted By The FAA
. Yes, there's too much government regulation - of beer deliveries via drone. After this
YouTube video
went viral the FAA shut down "airmail" deliveries of Lakemaid Beer to thirsty fishermen on Lake Mille Lacs. If you haven't seen the video - it really is pretty amazing.
---
University of Beyonce
. Sign me up.
Huffington Post
has the blurb - here's an excerpt: "
Beyonce is one of the world's most scrutinized pop stars, and now that study is moving to academia. The Department of Women's and Gender Studies at Rutgers University is offering a course called "Politicizing Beyonce
..."
---
For Those Who Can't Get Nearly Enough Bacon
. Yep, they were lined up for
The Blue Ribbon Bacon Festival
- "Baconfest" - at the Iowa State Fairgrounds in Des Moines on Saturday. If you look carefully you can see a few heart surgeons handing out business cards. Why am I hungry all of a sudden?
---
TODAY: Partly sunny. Refreshing. Winds: West 5. High: 17
MONDAY NIGHT: Clouds increase, not as cold. Low: 7
TUESDAY: Coating - 1" light snow and flurries. More snow far southern MN. High: near 20
WEDNESDAY: Intervals of sun, better travel. Wake-up: 1. High: 6
THURSDAY: No whining about humidity. Sunny and numb. Wake-up: -12. High: 3
FRIDAY: Still cold and quiet. More clouds. Wake-up: -11. High: 11
SATURDAY
: Light snow, couple inches of fluff? Wake-up: 5. High: 17
SUNDAY
: Sunnier but colder. Wake-up: -4. High: 9
* I see highs in the 30s (above zero) by the middle of next week.
** Photo above courtesy of Birch Leaf Photography.
---
Climate Stories....
The One Video To Shut Down All of The Climate Change Deniers.
NationalJournal
has the story and video; here's an excerpt: "...
Arctic air doesn't usually travel in a loop, experts say, but in an unusual phenomenon this year, the freezing jet stream spilled southward in a spiral out of Canada. The result? Pockets of extemely cold air in places like Michigan, and unseasonably warm temperatures in states like Washington. But the media isn't always so keen on elaborate scientific explanations or analyses of global air-flow patterns. According to Peter Sinclair, the independent videographer in charge of producing the monthly Yale video series, news networks are irresponsible in their weather coverage. "Whenever we have one of these cold snaps, we hear: 'Oh my god! It's cold. How can there be climate change?' Sinclair says
..."
---
Does Polar Vortex Mean "So Much For Global Warming?"
Here's an excerpt of an Op-Ed from climate scientist Michael Mann at
LiveScience
: "...
How can there be global warming if it's snowing outside, after all? Well, the short answer is that cold winters still happen even in a warmed world, but that doesn't mean it's cold everywhere. In fact, you don't even have to leave the United States to find a very striking image of warming. Just shift your attention from the East Coast to the West Coast. Alaska, usually snowy and frigid, has had two weeks of record high temperatures. Amazingly, the second half of January has averaged 40 F (4 C) above normal during some days in the central and western parts of the state
..."
* graphic above: Climate Reanalyzer.
---
Big Oil Not Only Believes In Global Warming - They'll Profit From It
. Not my headline, but
The New York Post's
headline; here's the intro: "
If this winter's polar vortexes and accidental Atlanta ice-skating rinks have you doubting whether climate change is real, you're not alone. In a recent Yale survey, a record 23% of Americans now deny the science. But take it from giant oil companies like ExxonMobil and Royal Dutch Shell: You're wrong. Big Oil not only believes in global warming, it's factoring it into the business plan
..."
Photo credit
above: "
An oil platform off Greenland shows how far north companies are pushing with the melting of polar ice
."
Photo: AP.
---
Keystone XL: Time To End The Addiction.
Because if the pipeline is approved, for any reason, it will unwittingly give the green light to more (dirty) carbon initiatives. Here's an excerpt from
MSNBC
: "
Chris Hayes' take on why the president needs to turn down the pipeline if America is ever going to break its dependency on fossil fuels
."
---
Can Backyard Hockey Reveal Global Warming?
Here's an excerpt from a story at
Fox News
: "...
McLeman and Robertson created RinkWatch
, an online citizen science initiative to track the condition of outdoor rinks across North America. Anyone with a backyard rink or frozen pond can sign up and mark the location of their rink on a map. Then all they are asked to do is record, day by day throughout the winter, whether their rink is skateable or not
..."
---
Leading Climate Scientists Explain How Climate Change Is Worsening California's Epic Drought
. Here's an excerpt of a must-read story from Joe Romm at
ThinkProgress
: "
Scientists have long predicted that climate change would bring on ever-worsening droughts, especially in semi-arid regions like the U.S. Southwest. As climatologist James Hansen, who co-authored one of the earliest studies on this subject back in 1990, told me this week, "Increasingly intense droughts in California, all of the Southwest, and even into the Midwest have everything to do with human-made climate change." Why does it matter if climate change is playing a role in the Western drought? As one top researcher on the climate-drought link reconfirmed with me this week, "The U.S. may never again return to the relatively wet conditions experienced from 1977 to 1999." If his and other projections are correct, then there may be no greater tasks facing humanity than 1) working to slash carbon pollution and avoid the worst climate impact scenarios and 2) figuring out how to feed nine billion people by mid-century in a Dust-Bowl-ifying world
..."
Photo credit
above: AP Photo/Rich Pedroncelli.
---
There Are Two Sochis
. I thought Minnesota climate scientist Greg Laden made an important distinction in this post at
scienceblogs.com
; here's an excerpt: "...
Sochi is a is a resort city on the Black Sea coast with a subtropical climate, including rather mild winters. In February, the average low is 36.5 F, and the average high is 50.7 F. There will be no snow there. In fact, it may rain for part of the Olympics. Krasnaya Polyana is inland, in the Caucasus Mountains. The base elevation there, where we find the Rosa Khutor ski resort, is 1,840 feet, with higher elevations along the ski slopes reaching over 7,600 feet. Indoor events such as hockey will be held in Sochi, outdoor snow events will be held at the resort in Krasnaya Polyana. This has caused some confusion in the on-line discussion of the games.
.."
---
Keystone XL Pipeline Closer To Reality After State Department Review.
The Guardian
has the latest - here's an excerpt: "
The Keystone XL, a mundane pipeline project that escalated into a bitter proxy war over climate change and North America's energy future, moved one important step closer to reality on Friday. The State Department, in its final environmental review of the project, concluded that the pipeline, which would carry crude from the Alberta tar sands in Canada to refineries on the Texas Gulf coast, would not – on its own – have a "significant" effect on carbon pollution.
.."
Photo credit
above: "
Crews work on construction of the TransCanada Keystone XL pipeline east of Winona, Texas
." Photograph: Sarah A Miller/AP.
---
State Department: "Keystone XL Would Have Little Impact On Climate Change."
Climate scientists aren't so sure, estimating that the additional crude would eventually represent 1/2 to 1% of global carbon emissions. Here's an excerpt of the official government line from
The Los Angeles Times
: "
A long-awaited environmental review of the Keystone XL pipeline released Friday by the State Department found the project would have a negligible impact on climate change, bolstering the case for the controversial project as it heads to the White House for a decision on its construction. During a sweeping speech on climate change last June, President Obama said his main criterion for approving the pipeline was that it not significantly worsen the problem of carbon pollution
..."
Image credit
above: "
The State Department says in a report released Friday that the proposed Keystone XL pipeline would have little effect on climate change
."
---
Extreme Weather Is A Reality - The Insurance Industry Must Adapt
. Here's the intro to a story at
The Guardian
: "
The atmosphere is heating up and becoming more humid, we can say this with great certainty. This is likely to lead to an increase in extreme weather and more flooding. Recent major catastrophes are entirely consistent with this. Climate change might not cause such events – but it can make them much worse. Since 1980, the cost of natural catastrophes has grown by $870bn in real terms and 2011 was the second costliest year on record for natural catastrophes including devastating floods in Thailand and Australia. Sea levels are rising, most probably at an accelerating rate, and this surely made the impact of Superstorm Sandy worse than it might otherwise have been.
.." (Image: NASA).
---
A Change In The Legal Climate
.
Newsweek
reports - here's a snippet: "...
For months before those articles, Mann and other climatologists had been speaking among themselves about the need to start fighting back against the attacks on their work and their character. The science is on their side, they argue, and by not responding aggressively against the skeptics, they have allowed the discussion to become derailed. And if critics have slandered or libeled them, they shouldn't stand for it. "If we don't step up to the plate, we leave a vacuum [for] those with an ax to grind," Mann says, while cautioning that he would not specifically address the lawsuit
..."
Photo credit
above: "
Pawel Kopczynski/Reuters
.
---
"I'm A Republican, And I Agree With Obama On Climate Change".
Not my words (although they could be), but from Reverend Mitchell Hescox at EEN (full disclosure: I'm on their board of directors). Here's an excerpt from
Salon
: "...
Rev. Mitch Hescox, the president and CEO of the Evangelical Environmental Network and a self-identified Republican, finds himself in the middle of that bipartisan divide. In the spirit of evangelical environmentalism, his ideology comes from an interpretation of Christianity that preaches protection of the natural world. But he also argues that a strong Republican history of environmental protection goes along with that. Hexcox
writes in Patheos..."
Photo credit
: NOAA.