Windchill Advisory
in effect today - values dip to -20F to -30F this morning, typical for late January.
8 F
. high in the Twin Cities Saturday.
34 F
. average high on March 1. Right.
31 F
. high on March 1, 2013.
21"
snow on the ground at KMSP.
1962
: last times the Twin Cities saw a wake-up temperature colder than -10F. Details below.
Silver Linings
Pray for a gradual thaw. There's 2-6 inches of liquid water locked up in those drifts. A MnDOT station near Monticello ground frost 73 inches deep. The potential for spring flooding will depend on many factors, especially the rate of warming, coupled with any rain in March, which would accelerate snow melt on frozen ground.
One silver lining: William Fernow asks "How much impact have our cold temperatures had on the emerald ash borer?" Lee Frelich at the U. of MN Center for Forest Ecology told me with metro readings around -20F the pests probably weren't wiped out, but our harsh winter may have set the bugs back a year or two. Details from Lee on my weather blog.
The sun is as high in the sky as it was in mid-October, which will make subzero fun less likely in March. I don't blame you for being skeptical, but we will warm up. Long-range models have been all but useless, hinting at repeated (phantom) thaws, but I suspect 30s late in the week are real. It may even feel like March out there.
A word of caution: as the atmosphere floating overhead begins to thaw the storm track will shift north, increasing the odds of a few tournament storms. Nothing brewing yet. Stay paranoid OK?
* photo above courtesy of
emeraldashborer.info
.
---
More Details from Lee Frelich:
Paul:
"
Emerald ash borer larvae that spend winter under the bark of trees will die if they freeze, but they produce natural antifreeze chemicals within their bodies, and it has to get quite cold for them to freeze. Substantial mortality, perhaps 50% of the insect population, is expected at about -20F, and almost all of the population would die at -30F. Remember that tree bark is a good insulator, and that it is usually 4 or 5 degrees warmer under the bark than air temperature. So, given the temperatures we experienced during the January cold spells in the Twin Cities, we expect that temperatures may have reached -20 or so under the bark, causing substantial mortality which will set back insect population growth and spread by a year or two (compared to what it would have been without the cold spells). It is important to note that we do not expect that the emerald ash borer will be wiped out. We won't know the effects for sure until insect population surveys and data become available in a few months.
Too bad we didn't get the -30 or -35 we would have gotten out of a similar cold spell years ago before the arctic air mass warmed up
."
Lee
Lee E. Frelich
Director, The University of Minnesota Center for Forest Ecology
---
SWE: Snow Water Equivalent.
According to NOAA estimates there is anywhere from 2-10" of liquid water trapped in Minnesota's snow pack right now, the greatest amounts over the Arrowhead, closer to 4-6" of water in and around the Twin Cities. This is one (of many) factors that hydrologists at NOAA will be examining when predicting the spring river flooding risk.
---
USA Snow Cover
. The northern third of America is still covered in snow; heaviest amounts over the highest elevations of the Pacific Northwest and Rockies; 15-35" on the ground across the great state of Minnesota.
---
Cold Perspective
. Here's an excerpt of a note I received Saturday night from TPT Almanac Executive Producer Brendan Henehan, who did a great job summarizing just how unusual nighttime lows of -10F or colder in March really are:
"
In the past 75 years --according to my tally-- there have been sixteen days in March in the Twin Cities when the temp was 10 below or colder. We are expected to add two more to this historic number this weekend. The National Weather Service forecast lows for (Saturday night) and Sunday night in the Twin Cities is 14 below. If it gets to -12F either night it will be the coldest Twin Cities March temp since 1962. And this weekend will almost surely constitute the coldest back-to-back March nights in the Twin Cities since 1948. But don't worry... the record for the coldest Twin Cities March temp in the past 75 years is safe and secure. On March 1, 1962 the mercury dipped to 32 below in Minneapolis and St. Paul. Let's let that one stay a record
."
Full List of -10 and Colder Twin Cities March Readings since 1939
3-2-1943 -11
3-10-1948 -17
3-11-1948 -27
3-2-1950 -13
3-9-1951 -10
3-7-1955 -11
3-4-1960 -10
3-5-1960 -14
3-7-1960 -16
3-1-1962 -32
3-6-1962 -10
3-7-1967 -10
3-2-1972 -11
3-4-1978 -11
3-26-1996 -10
3-9-2003 -10
---
Long Range Models: Consistently Awful.
The ECMWF (European) is usually pretty good, but none of the models are performing well in this (locked/stuck) pattern we've been experiencing since December. Any hint of a real thaw has been pushed back into early next week, but at least we'll see 20s later this week. Graphic: Weatherspark.
---
40 By Mid-March? Don't Take It To The Bank
. I really want to believe the GFS solution above, suggesting highs topping 40F by mid-March. But everything keeps getting pushed back, a pattern I've been witnessing for several months now. I feel a growing sense of confidence that we will see 30s the second week of March. With a little divine intervention maybe we'll top 40F. Again, for the sake of people living along rivers, streams and in poor drainage areas let's hope our spring thaw is a gradual one.
---
Limping Into Spring
. NOAA's CFS (Climate Forecast System) extended model - more of a trend - suggests one more run of subzero weather around March 12; maybe a couple nights near or just below 0F, before a sustained period of more seasonable weather from mid-March into early April. 60F by the second week of April? We can only hope and pray this outlook will verify. Graphic: NOAA and Ham Weather.
---
More Like Late January Than Early March
. The core of the jet stream is still fairly far south for early March; today's storm spreading snow and ice across the Mid South into Tennessee and Kentucky, reaching Washington D.C. and Dover, Delaware Monday. NAM snowfall amounts: NOAA and Ham Weather.
---
Ice Potential
. Baron Service's BAMS model shows a risk of significant ice (freezing rain and sleet) from near Little Rock to Memphis and Nashville today, enough to stop traffic and possibly spark power outages.
---
Measures Of This Cold Winter.
Dr. Mark Seeley has a few eye-opening weather nuggets and statistics related to the duration and intensity of the cold across Minnesota in this week's edition of
Minnesota WeatherTalk
; here's an excerpt: "....
For the meteorological winter (Dec-Feb), persistent cold and snow cover have been the themes across Minnesota. On a statewide basis it is the coldest winter since that of 1978-1979 and will likely end up among the top 5 coldest historically. Some measures of the cold winter season include:
* 65 days with below 0 F minimum temperature at Duluth, including a record string of 23 consecutive days from January 20 to February 11
* 70 days with below 0 F minimum temperatures at International Falls
* 50 days with 0 F or colder minimum temperatures in the Twin Cities, over twice the historical average and the most since the winter of 1977-1978.
.."
---
Alerts Broadcaster Briefing
issued Saturday by meteorologist Andy Mair:
SNOW AND ICE STORM
- A rain/snow/ice mix is expected to begin falling this afternoon in southern and central Missouri. Expect rain at first, transitioning over to ice and snow by the evening. This storm will push eastward and by the end of the weekend will have impacted southern Illinois, Indiana, Ohio and Northern Kentucky.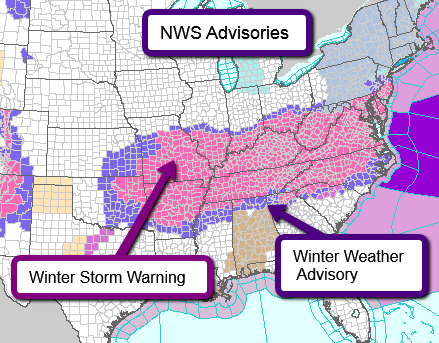 - Above you can see the advisories issued for the central part of the US. The National Weather Service has already issued a Winter Storm Warning for much of Missouri. Winter Storm Watches exist from Indiana to New Jersey. Expect the National Weather Service to begin upgrading these Winter Storm Watches to Winter Storm Warnings today as the models all come into agreement.
- Heavy winds will also accompany the fresh snow. This will make travel conditions even more difficult due to reduced visibility, including white out conditions, along with drifting snow. Please take extra precautions if traveling this weekend. Below is our in-house BPI forecast (Blizzard Potential Index). This shows the greatest potential for blizzard conditions to occur. The area below outlined in red is where we expect the wost conditions over the next few days as the storm progresses to the east.
---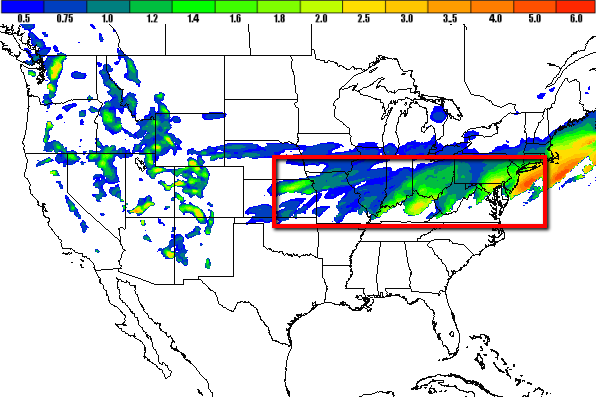 - Snow and rain will begin late this afternoon in Missouri and northern Illinois, Indiana and Ohio and carry on overnight and into Sunday. Here is a look at the simulated radar from Weatherbell this evening.
---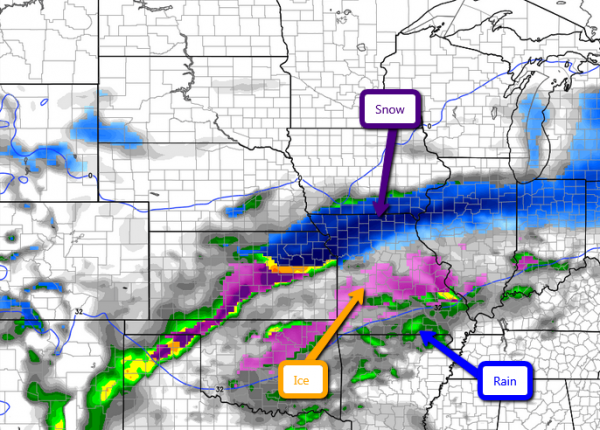 - By Sunday evening the snow/rain line will have pushed farther to the south bring a mixed bag of precip to Kentucky and West Virginia. You can see the very fine line between what is snow, ice and rain.
---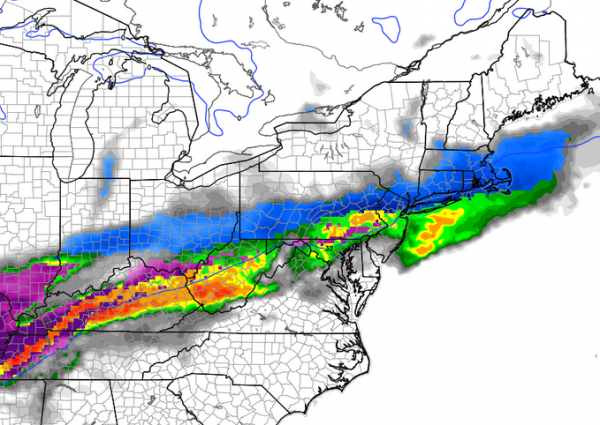 - Once the system has moved through most areas will have seen over 4+ inches of snow with some seeing as high as 8+ where the air stayed colder only allowing for snow to fall. Map: Weatherbell.
---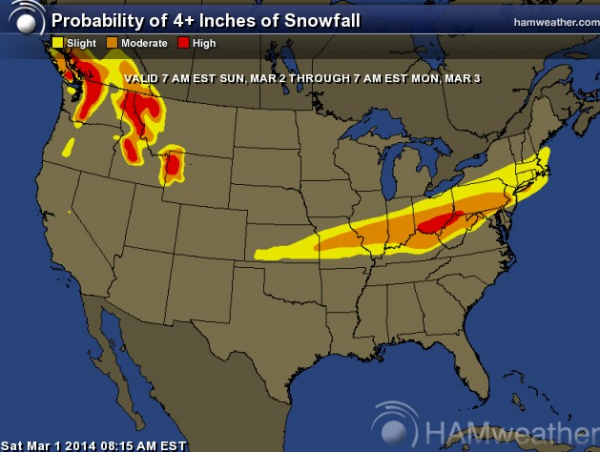 - Expect difficult driving conditions and air travel delays over the next 48 hours in the Central Plains. Driving will be hazardous as a rain/snow mix will create a layer of ice on roads accompanied by heavy winds to reduce visibility and create drifts. This will also cause extensive power outages as power lines will be dragged to the ground by the heavy ice accumulation and wind. Graphic: NOAA SPC and Ham Weather.
---
FLOODING IN CALIFORNIA
- More rain is expected for Southern California today and into the evening. Up to another inch of rain again today causing widespread flooding for most areas. Below is the forecasted rain accumulation today.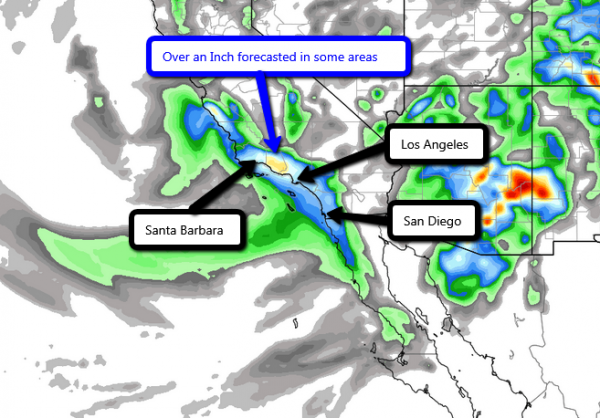 - Heavy rain yesterday already created serious flooding and mudslides. Some areas reported 5"+ of rainfall, which destroyed roads and flooded low-lying areas. After additional rain today, expect continued flooding concerns, but the good news is that dry skies are in sight. Rainfall should wrap up across this area by the end of this evening.
Some impressive rain fall totals so far from the NWS at 4am Saturday:
- Newhall 3.14"
- San Gabriel Dam 5.15"
- Crystal Lake 7.28"
- Camp Hi Hill 7.75
- Cogswell Dam 8.19
- White Ledge Peak 5.00"
- Black Mountain 4.76"
- Heavy rains have already caused mudslides and flooding across much of the area. Try to remain off roads and do not risk driving your vehicle through a flooded road. It only takes a few inches to knock you off your feet and 6" to move your vehicle.
---
SEVERE RISK TODAY
- The Storm Prediction Center has issued a slight risk for most of the Southeast Sunday. The main risks will be widespread straight line wind damage and hail. A few tornadoes cannot be ruled out. The same system that is bringing snow and ice to the Central Plains will continue to dive south bringing the cold air to the warm moist air in the gulf creating strong instability. That coupled with decent wind shear will create the opportunity for a line to form Sunday evening and overnight. Expect a long narrow band of high precip and damaging winds to form into a squall line with the chance of isolated tornadoes. Here is the risk that the SPC has issued for tomorrow:
---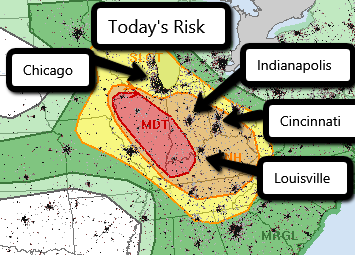 SUMMARY:
- A lot going on out there today and tomorrow. Biggest concern for me today is the rain/ice/snow mix falling this evening from Missouri to West Virginia. Difficult travel conditions along with several power outages can be expected. It's best to get home and stay there this weekend. California has been experiencing heavy rain and isolated severe weather yesterday. Today expect another round of rain, although I don't expect totals today to be as high as yesterday. Stay off flooded roads and take proper precautions for flooding in your area. Tomorrow evening expect a line of thunderstorms to form and produce damaging winds and hail for most areas. This most likely WILL be an overnight event, so make sure your weather radios are on and you take proper precautions before going to sleep. After these next few days, things should begin to quiet down as high pressure will take control over most of the central US. Stay safe!
---
Will Future Sunburst Unplug The Earth?
X-Class solar flares are measured on a G-scale from 1-5. A Category 4 or 5 geomagnetic storm has the potential, under just the right circumstances, to bring down the grid. How likely? Here's an excerpt of a story at
pressherald.com
: "...
If the remnants of a similar solar flare struck the planet today? "Gee, I'd be without cable TV," Melott deadpanned. Without email too, some fear. No heating or cooling. No electric grid. Satellite technology, it was nice knowing you. This is the scenario rolling out from a growing network of scientists, policymakers and survivalists. Not quite doomsday because life itself would continue, but a silent natural disaster that could unplug us from all we depend upon.
.."
Photo credit above: "This image shows a solar flare just as sunspot 1105 was turning away from Earth on Sept. 8, 2010. The active region erupted, producing a solar flare and a fantastic prominence." The Associated Press.
---
TODAY
: More January than March. Bright sun. High: 1 (windchills near -20F)
SUNDAY NIGHT
: Clear and numbing. Low: -13
MONDAY: Plenty of sun, patience running out. High: 8
TUESDAY: Passing flurries. Not as harsh. Wake-up: 1. High: 16
WEDNESDAY: More flurries, feeling better. Wake-up: 6. High: 24
THURSDAY: Breezy. Blessed with a thaw? Wake-up: 14. High: 33
FRIDAY: Clouds increase, snow late. Wake-up: 22. High: 32
SATURDAY
: Snow tapers, a bit cooler. Wake-up: 19. High: 24
* photo above of an icy, eerie-looking Minnehaha Falls courtesy of Tracey Palmer.