What March?
You won't realize it walking out the door, but today marks the start of Meteorological Spring. In theory, the 90 coldest days of the year, historically, are behind us now. On paper. Then again you can prove anything with statistics.
Welcome to a Pioneer Winter, something only Laura Ingalls Wilder could love. 9th coldest Meteorological Winter.
47 subzero nights
- 4th most on record - the most nights of negative fun since 1935-36. According to Dr. Mark Seeley, February was the coldest since 1979, "ranking among the 8 coldest months of February on a statewide basis since 1895."
Many of us are counting the days (hours!) until spring break. We've had good luck with
Delta Vacations
for air/hotel packages,
vrbo.com
for home rentals, and
vacationstogo.com
and
90dayticker.com
for inexpensive last-minute cruises in years past. No, I don't get a kickback or commission.
Dr. Douglas is just trying to help ease the numbing pain.
Hard to believe that Canada is exporting more brisk air south of the border - sparking a coating of fluff today; temperatures struggling to near 0F today & Sunday. 20s return next week, 30s by late week. I'd say we're turning a corner, but the way this winter is going I'll remain mum, here tucked away in my (cold and drafty) little house on the prairie.
---
Measures Of This Cold Winter.
Dr. Mark Seeley has a few eye-opening weather nuggets and statistics related to the duration and intensity of the cold across Minnesota in this week's edition of
Minnesota WeatherTalk
; here's an excerpt: "....
For the meteorological winter (Dec-Feb), persistent cold and snow cover have been the themes across Minnesota. On a statewide basis it is the coldest winter since that of 1978-1979 and will likely end up among the top 5 coldest historically. Some measures of the cold winter season include:
* 65 days with below 0 F minimum temperature at Duluth, including a record string of 23 consecutive days from January 20 to February 11
* 70 days with below 0 F minimum temperatures at International Falls
* 50 days with 0 F or colder minimum temperatures in the Twin Cities, over twice the historical average and the most since the winter of 1977-1978.
.."
---
Subzero Weekend - Then Hints of March
. I know we've been sucker-punched by Old Man Winter before. For too many weeks long range guidance (even the normally reliable ECMWF data above) showed warming trends far into the future, only to evaporate. A higher sun angle should make a tangible difference next week; highs in the 30s the end of next week. But first we muddle through another unreasonably cold weekend. Graph: Weatherspark.
---
Healthy Skepticism
. I tell people it's good to be skeptical (about everything). Long range guidance from GFS has been notoriously unreliable much of the winter, hinting at phantom warming trends 1-2 weeks out. But the Son of Polar Vortex shows signs of responding to a higher sun angle next week, and I suspect the long range outlook of (sustained) 30s by mid-March is real. I sure hope so.
---
45-Day Wish Cast.
Here is NOAA's CFS (Climate Forecast System) extended trend looking out into early April, showing a few highs in the 40s by the third week of March, 50s by the first week of April. I show this not because I believe it will verify, but because all of us need a reason to keep on going. Let's hope it's real. Graph above: Ham Weather.
---
Ask Paul
. Weather-related questions, comments and threats:
"
Paul, you must be familiar with Laura Ingalls Wilder's book, "The Long Winter." My question for you: are we in a 21st winter
?"
Thanks,
Rebecca
Dear Rebecca. The answer is yes. Welcome to a Pioneer Winter, something we may be sharing with kids and grandkids down the road. Laura would certainly identify with our winter (minus the furnaces, heated car seats and cable TV).
---
Paul,
"
We always enjoy your light touch weather humour and intelligent reporting. The other day a two-year old friend was over and wanted a glass of water. She said "ice". Apparently the young think water in Minnesota is called ice
."
Ralph and Kathy Yehle
Thanks Ralph and Kathy - appreciate your kind words. Tell your two year old friend that Minnesota will definitely be more ice than water into most of March.
---
Hey Paul,
We're Minnesotans - we make lemonade!
(Photo of Chuck Shults, Apple Valley, 2/28/2014, taken by Melinda Shults)
---
4th Most Subzero Nights On Record at MSP.
As of Thursday the Twin Cities have experienced 47 nights below zero, the 4th most since 1873. At the rate we're going, with at least 2-3 more nights of subzero fun, I suspect we'll wind up 3rd on the all-time list, potentially more subzero nights than 1935-36. Source:
Twin Cities National Weather Service
.
---
Bucking The Trend
. We've seen fewer subzero nights, on average, since about 1980s, a gradual decline in the number of pioneer winters. But this winter is proving to be the exception. Source: Twin Cities National Weather Service.
---
Alerts Broadcaster Briefing
: Issued Friday afternoon, February 28, 2014.
* Risk of small, isolated tornadoes over southern California into the late evening hours, including Los Angeles and San Diego.
* Flash flood risk southern California with some locally heavy 1-3" rainfall amounts - flooding of streets and poor drainage areas likely, impacting travel. Coastal flood warnings are posted for most of southern California for severe beach erosion and coastal flooding, especially close to high tide.
* Potential for a band of heavy snow and ice stretching from the Ohio Valley into the Mid Atlantic Region Sunday and Monday. Plowable amounts of snow are likely, with enough ice accumulation for possible power outages, especially across portions of the Ohio Valley.
* Heavy snow cover northern USA + potential for rapid warming in March means a heightened risk of flash flooding and river flooding by late March from the Twin Cities to Chicago, Detroit and New England. A preview of the risk below.
---

Tornadoes In Unlikely Places
. Although the potential is small, it's worth alerting on a risk of (isolated) severe T-storms across southern California today into Saturday. A very small percentage of these severe storms may produce small, brief tornadoes. The map above is from Alerts Broadcaster's proprietary TPI, or
Tornado Potential Index
. The yellow regions show the greatest risk of tornado development into the late evening hours. Map credit above: Ham Weather.
---
More on the growing
Flash Flood Potential
for southern California:
...FLASH FLOOD WATCHES HAVE BEEN EXPANDED TO INCLUDE ALL OF LOS
ANGELES AND VENTURA COUNTIES THROUGH SATURDAY EVENING...
A VERY STRONG AND DYNAMIC STORM WILL CONTINUE TO BRING BANDS OF
HEAVY RAIN AND POSSIBLE THUNDERSTORMS TO MUCH OF SOUTHWESTERN
CALIFORNIA THROUGH SATURDAY EVENING. A FLASH FLOOD WATCH HAS BEEN
EXPANDED TO INCLUDE ALL OF LOS ANGELES AND VENTURA COUNTIES AS
RAINFALL RATES COULD LOCALLY EXCEED ONE INCH PER HOUR NEAR
THUNDERSTORMS. RECENT BURN AREAS OF LOS ANGELES AND VENTURA COUNTIES
WILL CONTINUE TO BE MOST SUSCEPTIBLE TO DANGEROUS FLASH FLOODING
AND SIGNIFICANT MUD AND DEBRIS FLOWS.
---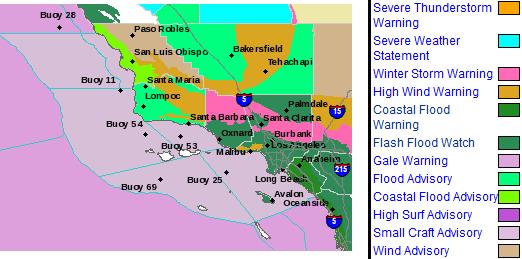 A Rough 36 Hours For Southern California
. From Flash Flood Watches to small hail, damaging wind gusts and isolated tornadoes, coastal California will experience a significant storm into Saturday night. Coastal flooding is likely with this storm, especially close to high tide. Map credit: NOAA. Details:
...COASTAL FLOOD WARNING REMAINS IN EFFECT UNTIL 1 AM PST
   SUNDAY...
...HIGH SURF ADVISORY REMAINS IN EFFECT FROM 4 AM SATURDAY TO
  4 AM PST MONDAY...
* COASTAL FLOODING...WIDESPREAD MINOR COASTAL FLOODING EXPECTED DURING
  TIMES OF HIGH TIDE. SOME MORE VULNERABLE LOCATIONS MAY
  EXPERIENCE COASTAL FLOODING SIGNIFICANT ENOUGH TO CAUSE PROPERTY
  DAMAGE AND INUNDATION OF LOW-LYING BUILDINGS AND STRUCTURES
  ALONG THE BEACHES.
* IMPACTS...COASTAL FLOODING COULD CAUSE DAMAGE TO BEACH-FRONT
  PROPERTY IF PROPER PRECAUTIONS ARE NOT TAKEN. LARGE AND ROUGH
  SURF...ALONG WITH STRONG RIP CURRENTS...WILL CREATE HAZARDOUS
  CONDITIONS FOR SWIMMERS AND SURFERS. SURF...LARGE TIDAL
  SWINGS...AND PRECIPITATION MAY RESULT IN MODERATE TO
  SIGNIFICANT BEACH EROSION.
---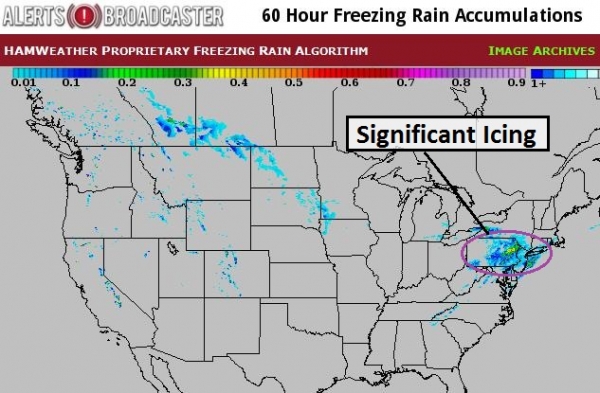 Ice Potential
. It's still early, but some high-resolution models show a band of rain freezing on contact, with a risk of significant icing Sunday and Sunday night from near St. Louis to Indianapolis and Columbus, possibly extending into Washington D.C., Baltimore and the Delaware Valley during the day Monday. If these ice accumulation predictions verify there would be sporadic power outages (often half an inch of glaze ice is all that's required to bring down some power lines). Map credit: Baron Services.
---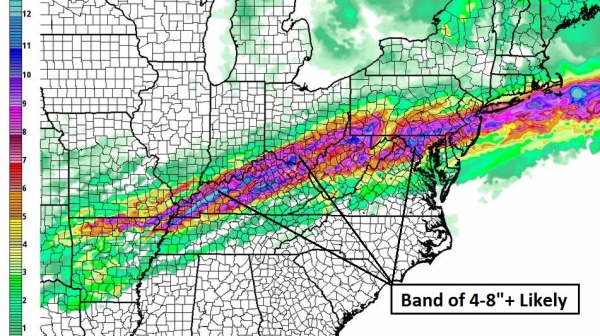 More January Than March
. Internal models here at Alerts Broadcaster show a persistent band of heavy snow (mixed with ice) extending from the Midwest and Ohio Valley into the Mid Atlantic Region Sunday night and Monday. Monday appears to be a (very) challenging travel day for Mid Atlantic facilities, including Washington D.C., Baltimore, Philadelphia and New York, where plowable amounts of slushy snow are possible. Precipitation may begin as rain, and then switch over to ice and snow during the day Monday.
Summary
: Never a dull moment in the weather department, especially this winter. The next wave of bitterly cold Canadian air spins up a wave of low pressure from the Midwest and Ohio Valley this weekend, reaching major eastern population centers by Monday, with improving weather by Tuesday of next week.
In another case of severe weather whiplash: Southern California is going from historic drought to flash flooding as a Pacific storm sweeps inland; the heaviest rains and worst coastal flooding and flash flooding from this afternoon into Saturday, with rain diminishing during the day Sunday. Expect flooding of streets, streams and poor drainage areas, impacting air and land travel into tomorrow. Coastal facilities may be impacted by very rough surf capable of beach erosion.
Another subzero airmass pushes across the Upper Mississippi Valley into the Great Lakes this weekend, but models are increasingly suggesting moderation for much of the USA by the latter half of next week. The toughest winter since the late 1970s for America's northern tier may give risk to rapid snow melt and enhanced river flooding risks by late March and early April. It's too early for specifics, but there is significant water tied up in all that snow, as much as 5-10". The potential (and severity) of river flooding will depend on the rate of warming, and whether warm fronts are accompanied by heavy rain, which accelerates snow melt on frozen ground. Frost levels are deeper than I've seen them in 30 years, so any (liquid) water will tend to run off - enhancing the flood risk. We'll keep you posted.
Paul Douglas - Senior Meteorologist - Alerts Broadcaster
---