. high in the Twin Cities Sunday. F
. average high on March 9. F
. high on March 9, 2013. F
snow on the ground in the Twin Cities as of Sunday evening.
40s
again today, 5-10F above average for March 10.
Slow Motion Spring
Why is 40F a chilly annoyance in October but a wondrous revelation in March? Weather Relativity. It's why the first flurries of fall generate a ripple of excitement. By April the mere mention o snow generates veiled threats & growling howls of protest. And that's from family members.
We have a right to be grumpy. By any objective measure it was the toughest winter since the late 70s. In a slowly warming world we get stuck with a Pioneer Winter. It doesn't seem fair.
MSP has picked up 58.4 inches so far this winter; 13 inches more than average - 16 inches on the ground - about 3-5 inches of liquid water trapped in the snow in your yard. According to NOAA the spring flood threat is at or below the historical average west of the Mississippi River. But heavier snow pack northeast of the Twin Cities means a higher risk of flooding in the St. Croix, Chippewa and Eau Claire basins. It all depends on how fast we warm, and whether heavy rain accelerates snow melt.
I suspect we'll limp into spring this year; 90-day trends show a nagging cool bias into May. A few hours of wet snow Tuesday may give way to a more impressive storm one week from tomorrow.
For now the Doppler is holding at Defcon 5.
---
Sunday Afternoon Temperatures
. Minnesotans were happy to see 40s; imagine how residents of Nebraska must have felt, basking in 70s. Click here to see current USA temperatures, courtesy of
mesonet.org
.
---
Flirting With 50F?
There's still a little too much snow on the ground for 50-degree highs in the Twin Cities. The last time we enjoyed 50s was mid November, according to the
Twin Cities National Weather Service
.
---
Looks Like March
. ECMWF "European" guidance shows highs well up into the 40s today, then cooling off a bit midweek before mellowing again late in the week. There are growing signs of a cold smack by the middle of next week, but it doesn't look polar/subzero. A higher sun angle means the risk of subzero temperatures drop off rapidly as we head into mid-March. Graphic: Weatherspark.
---
Flood Potential.
The risk of river flooding is less west of the Mississippi River, but greater north and east of the Twin Cities, because there's more snow on the ground, and more liquid water locked up in the snow. For a video briefing of flood potential from the Twin Cities National Weather Service
click here
.
---
Major Take-Aways
. I grabbed these images from the Twin Cities NWS video briefing, but here are the main bullet points. The major thing to remember: flood potential will hinge on the rate of warming, any heavy rain events in March and April, even humidity levels.
---
Snow Water Equivalent. The latest numbers from NOAA estimate 3-4" of liquid water trapped in the snow pack over the south metro, but closer to 5-6" from Isanti and Cambridge to Taylors Falls, as much as 10" along Lake Superior's North Shore. Pray for a gradual thaw (with no heavy rain).
---
Unusually Deep Snow Over Northeastern Minnesota
. In his most recent post, Dr. Mark Seeley answers a listener question about the deep snow pack along the North Shore and over the Minnesota Arrowhead. Here's an excerpt of his response at
Minnesota WeatherTalk
: "...
Though not record-setting it is rare to have snow depths over 40 inches, yet several observers have reported these amounts for this winter including 47 inches near Two Harbors, 43 inches at Isabella, 42 inches at Wolf Ridge and Babbitt, 41 inches at Cook, and 40 inches at Cloquet and Grand Marais. The measurement of 47 inches neat Two Harbors is the deepest snow there since they measured 51 inches in March of 1965. Similarly at Babbitt the reading of 42 inches is the most there since a snow depth of 52 inches in February of 1969. The state record by the way is a snow depth of 75 inches at Pigeon River Bridge in March of 1950
..."
---
Alerts Broadcaster Briefing
: Issued Sunday night, March 9, 2014.
* Another Significant snowstorm is brewing for midweek: Wednesday looks like the roughest day for travel and facility impacts from the Ohio Valley into New England.
* Evolution of model runs suggesting a plowable snowfall for Chicago (probably 4-6"), with the heaviest snow bands passing south/east of The Windy City. The heaviest amounts are likely from near Toledo and Cleveland into northern Pennsylvania, upstate New York and much of New England Wednesday night into Thursday morning.
Boston may wind up with 8-12" snow by Thursday
.
---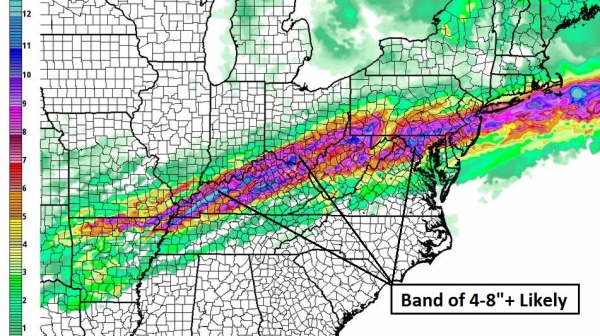 Model Trends
. The maps above show NOAA's snowfall prediction (upper left) and the proprietary Alerts Broadcaster model (upper right), suggesting less snow Chicago and portions of the Ohio Valley, but heavier amounts from Cleveland into interior New England Wednesday and Wednesday night.
---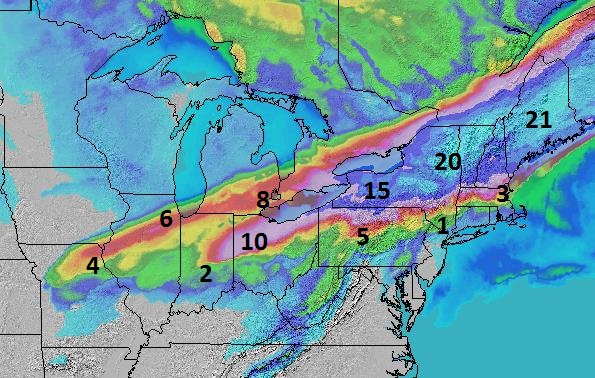 Early Snowfall Estimates
. The storm is still 48-72 hours away, and any slight variation in the track will impact the final numbers, but the trends our (in-house) models were showing are showing up in the very latest model run, showing significant (plowable) snows for the Ohio Valley, but much heavier amounts east of Cleveland, with nearly a foot of snow possible from northern Pennsylvania and much of New York State into New England. With the atmosphere cold enough for all snow I expect 8-12" for metro Boston by midday Thursday.
* New York City will see rain at the height of the storm Wednesday PM hours, ending as a few inches of slushy snow late Wednesday night and Thursday morning. Travel will be impacted for the Thursday AM commute in the Tri-State Region.
* Detroit may be close to the northern edge of the heaviest snow band; latest models suggest 4-6" in the Motor City Wednesday.
---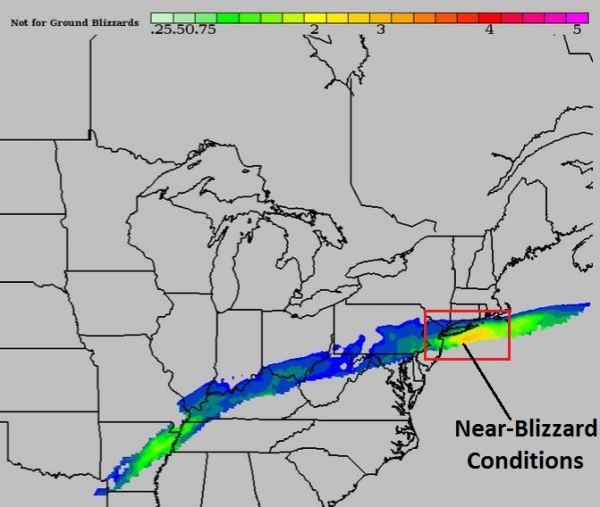 BPI Summary
. The proprietary Alerts Broadcaster BPI, or Blizzard Potential Index, shows a possibility of near-blizzard conditions (sustained winds and low visibility) from near South Bend and Terre Haute to Toledo and Cleveland, with intensification near the coast sparking another area of very heavy snow from near Boston to Portland by late Wednesday night and Thursday morning. Timing the storm:
---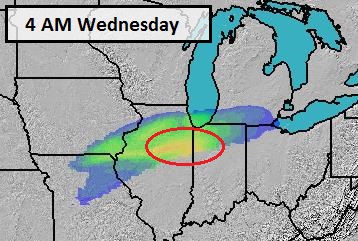 Wednesday Complications In Chicago.
Although I expect the heaviest snow bands to set up south/aest of Chicago, I do expect delays and cancellations at ORD and MDW Wednesday, with latest models suggesting 3-6" for the Chicagoland area. Closer to South Bend and Terre Haute closer to 8-9" may fall Wednesday.
---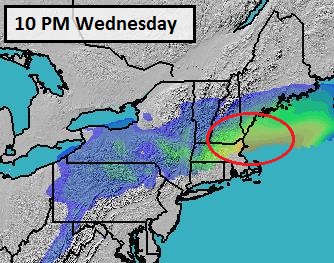 Fast-Moving System
. By 10 PM Wednesday night Boston may be experiencing blizzard or near-blizzard conditions, with low visibility and high winds an issue into the morning hours Thursday.
Summary:
It's still early, but enough ingredients are converging for a very significant snowfall from the Ohio Valley into portions of the Great Lakes and New England. A plowable snow is likely in Chicago, Detroit, Indianapolis, South Bend, Toledo and Cleveland, with as much as 8-12" from east of Cleveland into Buffalo, Syracuse and Rochester by the PM hours Wednesday, spreading rapidly into the rest of New England Wednesday night and Thursday morning. Latest models suggest 8-12" of snow for metro Boston, most of that falling Wednesday evening into midday Thursday, enough to shut down the city for 12-18 hours, if the models are on the right track (and I suspect they are).
Another update Monday as we receive more data and weigh the various model solutions. It's been the roughest winter since the late 70s and early 80s for many northern cities, and Old Man Winter isn't quite done with us yet. The pattern remains active and volatile. Stay tuned for more details as the specifics on this storm crystallize.
Paul Douglas - Senior Meteorologist - Alerts Broadcaster
---
Have You Checked The Batteries In Your Smoke Alarm?
Switching to Daylight Saving Time is a good time to take stock of the smoke detectors in your home. According to
ready.gov
2 out of 3 home fire deaths are the result of fires in homes with no smoke alarms.
---
The Future Of TV Is Coming Into Focus, And Looks Pretty Great.
Will every show you care about eventually be delivered online, and on-demand? What will this do to traditional network TV schedules? Are we heading to more of a Netflix model for most of our entertainment?
Quartz
has a thought-provoking article; here's the introduction: "
The future of TV is here. It's just not evenly distributed.
If it doesn't seem like the American television industry is in the middle of a dramatic transformation, that's simply because the pieces are scattered all over the place. But they are starting to come together.
One transformative piece arrived earlier this week, when Dish Network secured the rights to include ABC, ESPN, and other popular channels owned by Disney in a TV service delivered entirely over the internet. Negotiating deals like that one has generally been the biggest impediment to internet TV in the United States..."
Photo credit
above: "
---
TODAY: Peeks of sun, still mild. Winds: West 10. High: 46
MONDAY NIGHT: Clouds increase, wet snow late, mainly south of the Minnesota River. Low: 32
TUESDAY: Morning snow southern Minnesota. Little or no accumulation in the MSP metro. High: 38
WEDNESDAY: Blue sky, light winds. Wake-up: 16. High: 28
THURSDAY: Partly sunny,more hints of spring. Wake-up: 21. High: 42
FRIDAY: Mild start with scrappy clouds, turning cooler. Wake-up: 36. High: 40
SATURDAY
: Intervals of sun, good travel day. Wake-up: 15. High: 35
SUNDAY
: Chance of wet snow late PM hours. Wake-up: 13. High: 33
---
Climate Stories....
Global Warming Will Intensify Drought, New Study Says.
Here's more on Kevin Trenberth's latest paper, a good overview from
The Guardian
- here's a clip: "...
A very recent study by Trenberth et al., "Global warming and changes in drought" published in Natural Climate Change has investigated the way droughts are measured. They discuss various drought metrics such as the Standardized Precipitation Index which is based entirely on precipitation, the Standardized Precipitation and Evapotranspiration Index which includes ET effects, and the Palmer Drought Severity Index (PDSI) which balances precipitation, evaporation, runoff, and includes local soil moisture and vegetation. This most sophisticated metric has led different teams of researchers to very different conclusions about drought trends
..."
Photo credit
above: "
A new study finds that global warming will probably cause droughts to set in quicker and be more intense
." Photograph: David Gray/REUTERS.
* more on the ongoing debate over extreme drought and climate change from
Tamino
.
---
Out There: Climate Change Is For Real
. Here's an excerpt from an Op-Ed at
The Poughkeepsie Journal
: "...
The report also states that concerns about major tipping points — illustrated fantastically in the 2004 Hollywood film "The Day After Tomorrow" — are unfounded. No, you won't need a dogsled to get to the New York Public Library. Nor is the Gulf Stream likely to stop flowing anytime soon. But even here, the report says, we are entering new climate realities and as a result, the uncertainty "is large." The bottom line? The body of evidence about climate change continues to grow. Many questions still need to be answered. And more research is imperative. Believing otherwise is akin to being an insect that believes windshields don't exist
."
---
Who Cares About Flowers Anyway?
Here's a clip from an Op-Ed at
The Boston Globe
that got my attention: "...
F

lowers stink. They're expensive and can't hold a charge. And for the life of me, I can't remember the last operating system update. No music. No video. No apps. No, technology is what we find beautiful today. Understated design, clean lines, and functionality have become our preferred aesthetic. Never mind that nature provided us this template to begin with. Being plugged in is what we value. We have no time for sentimentality. Perhaps that's why we've so easily turned our backs on the spot-on warnings of scientists for decades now that our current use of energy, the juice that powers our beautiful products, means the climate will get too hot for plants to survive
..." (Photo courtesy of Tricia Frostad).
---
Cultural Production Of Ignorance Provides Rich Field For Study.
This report focuses primarily on smoking and the willingness for corporate interests to keep doubt and confusion going (if it's good for business), but tell me if this excerpt from
The Los Angeles Times
has a familiar ring: "...
But then there's ignorance custom-designed to manipulate the public. "The myth of the 'information society' is that we're drowning in knowledge," he says. "But it's easier to propagate ignorance." That's especially so when issues are so complicated that it's easier to present them as the topics for discussion in which both sides are granted equal time.
..."
---
Elizabeth Kolbert: "The Whole World Is Becoming A Kind Of Zoo."
Here's the intro to an interview and book review at
The Guardian
: "
Elizabeth Kolbert is the author of The Sixth Extinction, which argues that a catastrophe that may be as significant as the one that wiped out the dinosaurs is under way around us. But whereas the previous five mass extinctions were caused by natural phenomena, Kolbert shows us that this one is manmade. One third of all reef-building corals, a third of all freshwater molluscs, a third of sharks and rays, a quarter of all mammals, a fifth of all reptiles, and a sixth of all birds, says Kolbert, "are heading towards oblivion
..."
Climate Change Is A Conservative Cause - Really.
Here's an excerpt of an Op-Ed from former South Carolina (Republican) Congressman Bob Inglis at
The Miami Herald
: "...
Usually, we conservatives feel dragged along by the ever-expanding liberal ship of state. We see ourselves as the anchor on that ship, and in many ways we are. But on this issue of climate change, we have the opportunity to be the ship's engine. We passionately believe in markets and free enterprise. We want to avoid regulatory dictates on climate change. And we want to eliminate all subsidies for all fuels. What some of us haven't considered is the possibility that the biggest subsidy of all is being able to pump pollutants into the air with no accountability. Those pollutants are fouling our families' lungs and endangering the climate for those who will come after us. We can improve our lives and theirs by simply changing what we tax. Cut taxes on income. Put a tax on pollution
..." (Image: Wikipedia).
Amen.
---
Floods And Gales Are Taste Of Things To Come, Says UN Climate Science Chief
.
The Guardian
has the video interview - here's the introduction to the story: "The heaviest rainfall in 200 years, floods and gales experienced in Britain this winter are a foretaste of what is certain to occur in a warming world, the head of the UN's climate science panel has told the Guardian. "Each of the last three decades has been warmer than the last. Extreme events are on the increase. Even if what we have just had [this winter] was not caused by anthropogenic climate change, events of this nature are increasing both in intensity and frequency," said
Rajendra Pachauri,
chair of the Intergovernmental Panel on Climate Change..."
---
"Energy Sprawl". Is A Shrinking Wilderness The Hidden Cost Of Energy Security?
LiveScience
has an interesting perspective - here's an excerpt: "...
Our study predicts the potential for development of up to 106,004 new gas wells and 10,798 new wind turbines, affecting roughly 1,224,053 acres of forest land and resulting in the creation of up to 1,490,732 acres of impervious surfaces due to development of roads, well-pads and pipelines — materials such as concrete or soils compacted by development are highly impervious, meaning fluids cannot pass through them. As it turns out, this is enough impervious surface to cover an area larger than the state of Delaware
..." (Photo credit: Jesse Lewis).
---
Climate Science Resources.
If you're looking for more information about climate science, impacts and predictions
here
is a good place to start, with links to (scientifically credible) sources.