53 F
. high in the Twin Cities, mildest since November 15, 2013 (114 days ago).
38 F
. average high for March 10.
36 F
. high on March 10, 2013.
15"
snow on the ground as of Monday evening.
Blizzard potential
Wednesday from Chicago to Detroit.
Weather Volatility
It may just be my imagination - perhaps I need to recalibrate my meds - but when it comes to the weather something seems....off. I can't quite put my finger on it yet, but the normal ebb & flow of the atmosphere is gummed up. The jet stream is misbehaving more than usual.
Exhibit A: two years ago it was already in the mid-60s; flowers were starting to pop. It was 80F. by mid-March! We had a 7 month boating season in 2012, the warmest year in recorded Minnesota history.
This winter? Coldest since the late 70s for much of the state. It's that variability, a jumbo case of weather-whiplash, that has us scratching our heads in wonder.
It's not just temperature extremes. Ask a farmer. We now live in perpetual drought, interrupted by an intense flood every now and then.
The forecast calls for greater swings of the weather pendulum, more eye-watering extremes.
For the record, I'm as happy as the next guy to see this week's thaw - I'm almost looking forward to studying the maps. A little rain early today ends as a coating of slush; a cool half foot for Chicago tonight, a foot for parts of New England. No intense weather drama here at home, just 40 wondrous degrees again by Thursday, followed by cooler weather next week.
But no Polar Vortex.
* Northern Hemisphere temperature anomalies for Monday courtesy of Climate Reanalyzer.
---
Monday Highs
. 55F at Brainerd, 51 Duluth, a balmy 53F at MSP International in the Twin Cities and 47 at St. Cloud, in spite of nearly 20" snow on the ground? Yesterday's highs were impressive, considering all the snow still on the ground. BTW: without the snow we would have been in the 60s to near 70. Graphic: Mesowest.
---
A Milder Than Average Week?
We cool off a bit later today and Wednesday before warming up into the low 40s again Thursday and Friday. No, I guess we shouldn't be surprised, considering the sun is now as high in the sky as it was in late September. We cool off next week, but ECMWF guidance is reassuring: no polar air in sight. Graphic: Weatherspark.
---
Our Own Spring Break?
Snow on the ground will act as a meteorological brake, preventing the mercury from reaching balmy levels anytime soon. But GFS guidance suggests 40s and even a few 50s by the end of March; potentially warm enough for a major (rain) event between March 22-24. Any heavy rain on frozen, snow-covered ground may accelerate flood potential - something we'll need to keep an eye on.
---
All-Time Ice Coverage Record On Lake Michigan
. Here are details from
CIMSS
, at the University of Wisconsin: "
Ice coverage on Lake Michigan set an all-time record of 93.29% on Saturday March 8th. Partial cloud cover prevented a clear view so here are two side-by-side views of the ice from March 5th and 6th acquired by the MODIS instrument on the Terra satellite. Notice how the wind shift pushed ice off-shore along the Michigan coastline on March 6th."
---
One Photograph That Sums It All Up.
I saw the traffic jam on the beach at Fort Myers and had to laugh. It was either laugh or weep uncontrollably. Yes, it's been a tough winter, and Spring Break is going to be madness. Enough about winter - I'm as sick of snow and cold as you are right now; so let's fixate on Spring Break Weather in late March for a variety of warm weather destinations. Yes, that sounds like a good idea for today's edition of
Climate Matters
: "
WeatherNationTV Chief Meteorologist Paul Douglas feels what much of America is feeling, that we're all sick of Winter! He reads your Facebook comments and takes a welcome trip to some warmer spots. Not all is well however as yet another winter storm takes aim at parts of the Ohio Valley and Northeast. When will it end?!
"
---
Wrong Place - Wrong Time
. In spite of all the cold weather headlines east of the Rockies in recent months, the entire Northern Hemisphere has had a (much) warmer than average run of temperatures since December 1. From MIC Dan Luna at the Twin Cities National Weather Service: "
Jon Martin at UW has calculated the areal coverage (across the Northern Hemisphere) of various threshold temperatures from 1948-49 through this year (using gridded reanalysis and analysis data). He has a paper on some of this. The image above shows the total square kilometers covered by 850 hPa temperatures < -5 C for the DJF period in comparison to "normal" (solid blue is mean, and the dashed are +/- 1 standard deviation). He also noted that this year had the least overall (time averaged/integrated) spatial extent for the period of record. We, unfortunately, have been the ones stuck in the anomalously coldest pocket the entire time
."
* thanks to Meteorologist In Charge Dan Luna at the Twin Cities National Weather Service for passing this along.
---
Alerts Broadcaster Update
: Issued Midnight, Monday night, March 10, 2014.
* Latest guidance more impressive for a burst of very heavy snow Wednesday morning from Chicago to Detroit. Some 8-12" amounts are possible, and sustained winds of 30-40 mph at the height of the storm will be capable of creating blizzard or near-blizzard conditions Wednesday.
* I expect numerous airline cancellations for Chicago and Detroit area airports Wednesday; traffic gridlock is possible on area highways as temperatures drop rapidly behind the storm, falling into the teens by late afternoon with a subzero wind chill.
* Blizzard conditions may extend to Toronto and Montreal late Wednesday and Wednesday night; I still expect 10-14" snowfall amounts for much of upstate New York and interior New England by Thursday.
* New York City will avoid heavy snow with this storm; the atmosphere warm enough for mostly rain.
---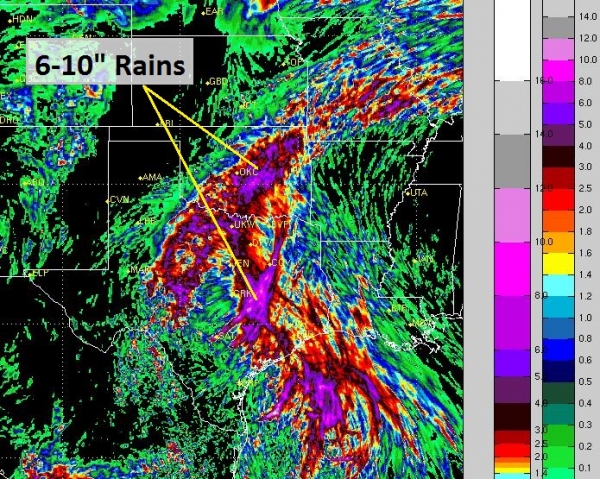 Latest Model Guidance.
High-resolution model data (RPM simulation) shows considerably more snow for Chicago and Detroit, a 6-8 hour burst of heavy snow late Tuesday night into midday Wednesday, tracking rapidly from west to east across the northern Ohio Valley and Great Lakes. Near white-out conditions are possible Wednesday along the I-90 corridor. Model guidance: WSI Corporation.
---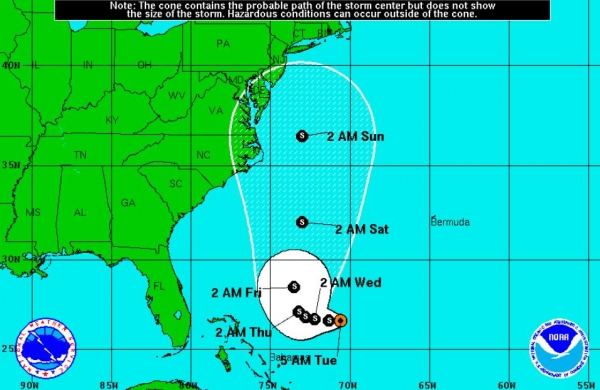 Updated BPI Solution
. Our proprietary in-house BPI (Blizzard Potential Index) shows blizzard conditions pushing from Rockford and Joliet into Chicago late Tuesday night into Wednesday morning, reaching Detroit by late morning and midday Wednesday. A blizzard is defined as 35+ mph winds and visibilities under 1/4 mile in falling or blowing snow. It now looks like we will have this criteria from Chicago to Detroit late Tuesday night into Wednesday. Map sequence: Ham Weather.
---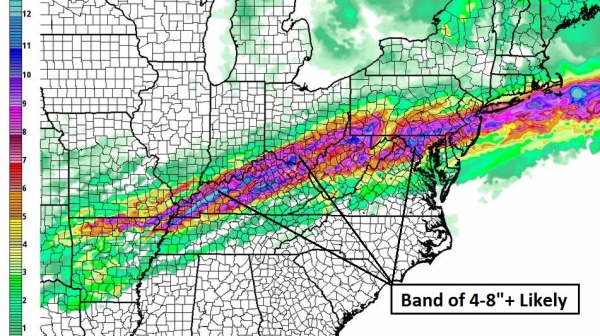 Latest Snowfall Projection
. A fast-moving storm tapping ample moisture from the Gulf of Mexico will put down a carpet of plowable snow amounts from Chicago into the northern Ohio Valley and much of New England. Indianapolis and Columbus should be spared (heavy) amounts, but Detroit, Toledo, Cleveland, much of upstate New York and interior New England won't be nearly as lucky. Map: Ham Weather.
---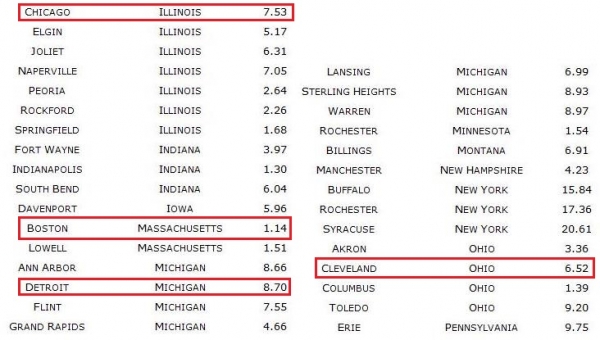 Select City Amounts
. Wednesday morning will be a slushy mess in Chicago, with some 5-6" amounts in the city; the burst of snow quickly enveloping South Bend, Detroit and Cleveland during the day Wednesday, reaching upstate New York and New England Wednesday night and Thursday morning. Boston may pick up an inch or two, but the potential for a major snowfall at BOS has diminished somewhat..
---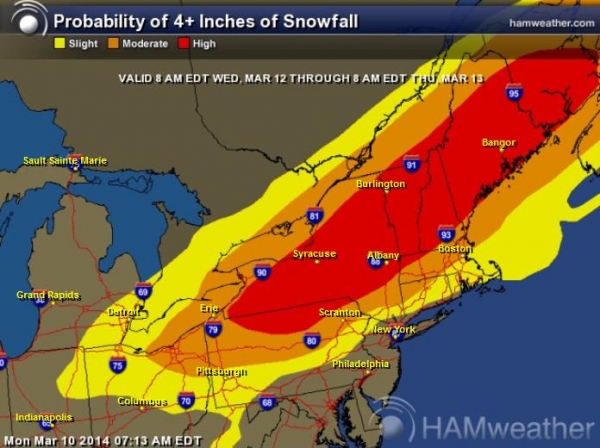 Potential For 4" Or More.
This graphic does a good job summarizing the area expecting the heaviest snows from 8 AM Wednesday through 8 AM Thursday, stretching from Erie, Buffalo and Williamsport into much of New England. Map: Ham Weather.
---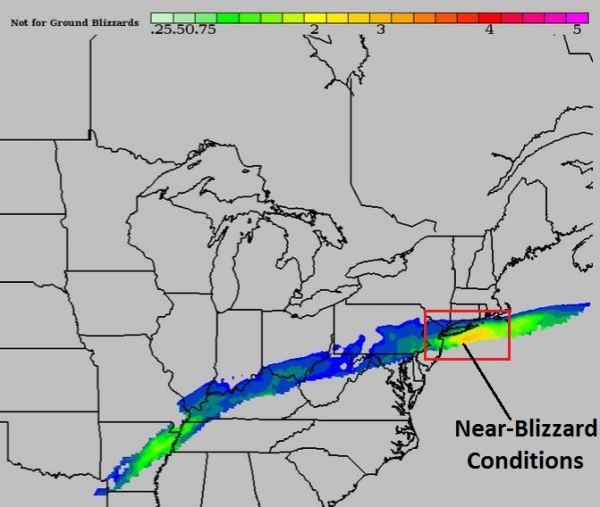 BPI: Blizzard Potential Index
. We're faced with a fast-moving system Wednesday into Thursday. Our internal, proprietary BPI model shows the greatest risk of travel disruptions and potential power outages from high winds and low visibility in moderate/heavy snow from near Chicago and South Bend to Detroit, Cleveland and much of upstate New York. Graphic: Ham Weather.
Summary
: Mid-March blizzards are unusual, but not unprecedented for the Great Lakes, and it looks increasingly like a major storm will temporarily shut down (most) travel by land and air. Wednesday will be the tough day, with some improvement Thursday. I would prepare staff and facilities for heavy snow, blowing and drifting and rapidly falling visibilities Wednesday with near blizzard conditions a very real possibility.
Paul Douglas - Senior Meteorologist - Alerts Broadcaster
---
New Ozone-Destroying Chemicals Found In Atmosphere
. Scientists say these new chemicals, greenhouse gases, are 7,000 times more powerful than CO2. Here's a clip from
The Guardian
: "
Dozens of mysterious ozone-destroying chemicals may be undermining the recovery of the giant ozone hole over Antarctica, researchers have revealed. The chemicals, which are also extremely potent greenhouse gases, may be leaking from industrial plants or being used illegally, contravening the Montreal protocol which began banning the ozone destroyers in 1987. Scientists said the finding of the chemicals circulating in the atmosphere showed "ozone depletion is not yesterday's story
..."
Image credit
above: "
The ozone hole reached its biggest extent for the year on 26 September, 2013
." Photograph: NOAA.
---
California's Drought-Prone Pattern Forcing Farmers To Adapt
. Here's an excerpt from a story at
The San Francisco Chronicle
: "...
As California gets drier and hotter, no one is more vulnerable than farmers. And no one is likely to have to do more to adapt to what many experts fear will be a more drought prone environment. Climate change is "coming upon us, and it looks like it's coming upon us fairly quickly," said Paul Wenger, a Modesto almond and walnut grower who heads the California Farm Bureau Federation. Wenger said this year's drought has farmers asking how long they can continue. "It's going to be difficult," he said. "We're going to see a lot of farmland retired
..."
Photo credit
above: "
Coburn Farms foreman Jose Gonzales walks along an empty field near Firebaugh (Fresno County), among many left unplanted
." Photo: Michael Macor, The Chronicle.
---
The Red Faces Of Solar Skeptics
. Prices of photovoltaic cells continue to drop (good old Moore's Law) and at some point it won't make sense NOT to have solar panels on your roof (or windows). Because it generates free power, and there's a certain timeless allure to the word "free".
The New York Times
has an interesting story; here's the intro: "
If the faces of renewable energy critics are not red yet, they soon will be. For years, these critics — of solar photovoltaics in particular — have called renewable energy a boutique fantasy. A recent Wall Street Journal blog post continues the trend, asserting that solar subsidies take money from the poor to benefit the rich. But solar-generated electricity is turning into a powerful environmental and economic success story. It's also threatening the balance sheets of electric utility companies that continue to rely heavily on fossil fuels and nuclear energy.
.."
Photo credit
above:
Jenn Ackerman for The New York Times
. " "
---
Compound In Fruits And Vegetables Prevents Symptoms Of Alzheimer's In Mice
. Some interesting details in an article at
Gizmag
; here's an excerpt: "
Alzheimer's disease represents the most common form of dementia, with the early stages of the disease generally characterized with short term memory loss and learning difficulties that increase in severity as the patient progresses in age. Scientists at the Salk Institute for Biological Studies, California, have discovered that with regular treatments of the antioxidant fisetin, they were able to prevent memory loss in mice with genetic mutations linked to Alzheimer's
..."
Photo credit
above: "
A compound commonly found in fruit and vegetables, including apples, grapes and strawberries, has been found to prevent Alzheimer's disease in mice
." (Photo:
Shutterstock
).
---
The Music You Love Tells Me Who You Are
.
Time Magazine
has a very interesting article; here's a clip: "
Ever been a bit judgey when you hear someone's taste in music? Of course you have. And you were right — music tells you a lot about someone's personality. Research has learned a great deal about the power of music:
Your musical taste does accurately tell me about you, including your politics.
Your musical taste is influenced by your parents.
You love your favorite song because it's associated with an intense emotional experience in your life..."
---
MONDAY: Light rain, then a coating of slush. Winds: N 10. High: 36
TUESDAY NIGHT: Clearing and colder. Low: 14
WEDNESDAY: Cool sunshine, light winds. High: 26
THURSDAY: Breezy and milder. Soggy Shoe Alert. Wake-up: 19. High: 43
FRIDAY: Mostly cloudy, cooler wind. Wake-up: 32. High: 40 (falling PM hours)
SATURDAY
: Fading sun, better travel day. Wake-up: 25. High: 34
SUNDAY
: Couple inches of snow early? Wake-up: 22. High: near 30
MONDAY: Breezy, another fleeting thaw. Wake-up: 21. High: 38
---
Climate Stories....
The Pentagon's Guide To Overcoming Climate Denial
.
Motherboard
has an analysis of the Pentagon's latest 2014 Quadrennial Review and implications - here's an excerpt: "...
Forget the climatologists, for a second, ye of little faith in the scientific method, and let the military explain, in its own words, verbatim, what climate change is, and why we should be very worried about it. Here, let's allow the Pentagon to teach us about climate change:
Climate change poses another significant challenge for the United States and the world at large. As greenhouse gas emissions increase, sea levels are rising, average global temperatures are increasing, and severe weather patterns are accelerating. These changes, coupled with other global dynamics, including growing, urbanizing, more affluent populations, and substantial economic growth in India, China, Brazil, and other nations, will devastate homes, land, and infrastructure.
Climate change may exacerbate water scarcity and lead to sharp increases in food costs..."
Photo credit
above: US Navy/Wikimedia.
---
GAO: Climate Change Threatens Energy Infrastructure
. The ironies never cease.
Kitsap Sun
has the story; here's the introduction: "
Oil refineries and drilling platforms in the U.S. are vulnerable to sea level rise and greater storm surge. Fuel pipelines, barges, railways and storage tanks are vulnerable to melting permafrost and severe weather. Warming seas and water shortages put nuclear and other electric power plants at risk. Power lines can be blown away by hurricanes and other extreme weather. In other words, all the infrastructure Americans rely on to heat their homes, power their lights and fuel their trains, trucks and cars is becoming more and more exposed to failure in a changing climate
..."
---
Notes From The Arctic: Dr. Jason Box On Winter, 2014
. Peter Sinclair has an interesting video and interview with "Chasing Ice" creator and scientist Jason Box. Here's an excerpt at
Climate Crock Of The Week
: "
Dr. Jason Box, Chief Scientist of the Dark Snow Project, and a researcher formerly of the Byrd Polar Center at Ohio State, now with the Geological Survey of Denmark and Greenland – has spent the last week in Svalbard, a group of Islands high in the arctic, controlled by Norway. I asked him to chat by skype and update us on the intense winter of 2013 and 14, the "cold continents warm arctic" paradox, and the 'ridiculously resilient ridge" that continues to deliver punishment on both sides of the Atlantic
."
---
Polar Vortex Emboldens Industry To Push Old Coal Plants.
Bloomberg
has the story; here's the introduction: "
The polar vortex may give new life to aging coal and nuclear power plants in the U.S. Masses of arctic air rolling down from the North Pole have driven electricity prices to more than 10 times last year's average in many parts of the country and have threatened some cities with winter blackouts. They've also emboldened energy companies to call for extending the lives of older and dirtier coal plants, as well as aging nuclear reactors
..."
Photo credit
: Daniel Acker/Bloomberg. "
Despite a concerted campaign by environmentalists and public health experts to stanch its use, coal, the most plentiful and cheapest fuel in the world, is proving globally resilient
."