Winter Storm Watch
in effect for the Twin Cities and much of central/southern Minnesota.
37 F
. high in the Twin Cities Tuesday.
50 F
. average high on April 1.
36 F
. high on April 1, 2013.
.2"
snow fell yesterday at KMSP.
63"
snow so far this winter in the Twin Cities, 10.9" above average, to date.
49.3"
snow had fallen last winter as of April 1.
How 'bout those Twins!
I'm starting to wonder out loud if it's too late to find a sports gig in town. Something a little less controversial than babbling about Minnesota's increasingly manic weather.
Just when I thought I'd seen everything along comes Monday's lion-like departure to March. 70s. Tornadoes. Blizzards. On the same day - in the same state.
A state of severe atmospheric confusion.
Folks up in Thief River Falls can be excused for being extra-cranky: 18 inches of new snow fell.
Dazed robins in my yard are chirping a melancholy tune, because they must sense what's coming. It's still too early to opine about snowfall totals, but both ECMWF and GFS models suggest plowable, shovelable amounts of snow here Thursday; wet, heavy, slushy, gloppy "heart attack" snow. Freeways may stay wet and mushy, but Friday may wind up testing your character, resolve and stoic sense of humor. A Winter Storm Watch has been posted - details below.
Skies clear Saturday; long-range guidance showing a Pacific puff of 50-degree air the latter half of next week.
There's a good chance El Nino will return by May, a warm stain of Pacific Ocean water that usually results in warmer than average temperatures, nationwide. We'll see.
Expect 40s Opening Day at Target Field.
---
Alerts Broadcaster Briefing
: Issued Tuesday night, April 1, 2014.
* Slight severe risk Wednesday (especially PM hours) from near Kansas City and Little Rock to Tulsa, Dallas and Shreveport - a few tornadoes are likely, and I expect Tornado Watches to be issued by NOAA SPC by early afternoon.
* Severe risk shifts east on Thursday, with a potential for tornadic supercell T-storms from St. Louis and Little Rock to Evansville, Bowling Green, Kentucky and Memphis, Tennessee. A few large, violent tornadoes can't be ruled out, especially Middle Mississippi River Valley Thursday afternoon and evening, with a squall line containing hail and damaging straight line winds pushing into the Ohio Valley by Thursday night.
* It sounds like a cruel April Fool's joke, but the weather maps look more like early March than early April across the Upper Midwest. Significant, plowable snows are possible from northern Iowa and the southeastern half of Minnesota into much of Wisconsin late Thursday into Friday. Significant travel delays are expected from Des Moines, Rochester and the Twin Cities to Eau Claire, La Crosse and Wausau, Wisconsin, with Friday being the worst travel day.
---

Tracking The Severe Storm Risk
. Our proprietary TPI (Tornado Potential Index) model shows a significant risk of damaging winds and hail from near Tulsa and Oklahoma City to Dallas and Shreveport Wednesday afternoon; the risk expanding north and east on Thursday into the Middle Mississippi Valley, from Cairo, Illinois to near Louisville, Bowling Green, Memphis and Nashville. Right now this doesn't look like a devastating, widespread tornado outbreak, but
as many as 5-10 EF1-EF3 tornadoes are possible
; a few may approach large urban areas with the greatest risk of isolated tornadoes around the dinner hour, from 4 PM to 8 PM local time. Be alert for
Tornado Watches
issued by early afternoon;
Tornado Warnings
will be issued for specific portions of counties by local National Weather Service offices. If a large tornado approaches a major metro area a
Tornado Emergency
will be issued. The risk is small, but not zero. Graphics:
Ham Weather
.
---
On the cold side of the storm winter is still very much alive and well: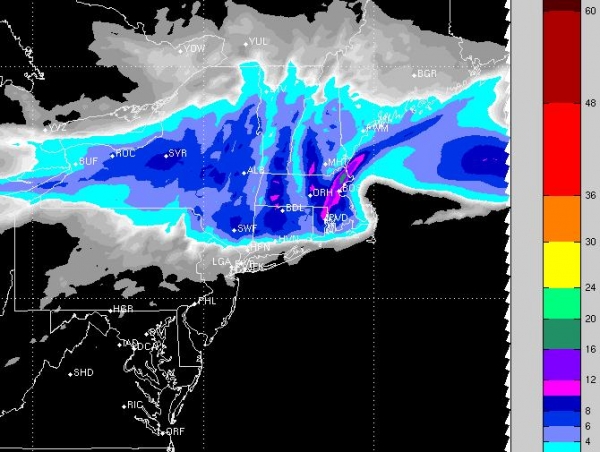 Very Plowable
. Although early April snows are much different than January snowfalls (they tend to be heavy and wet with higher moisture content) travel impacts are likely Thursday into Friday across the Upper Midwest and Upper Mississippi Valley, with the greatest amounts projected from near Des Moines, Waterloo, La Crosse and Rochester to Eau Claire and the U.P. of Michigan, where some 6-12" snowfall totals are possible by Friday night.
Chicago should be spared any snowy headaches this time around
- the Twin Cities may not be so lucky. Map:
Alerts Broadcaster
.
---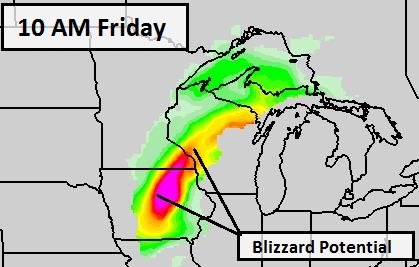 Blizzard Potential
. Our internal, proprietary BPI (Blizzard Potential Index) shows a high probability of low visibility and strong, sustained winds over 30 mph creating blizzard or near-blizzard conditions Friday morning from central Iowa into southeastern Minnesota, spreading across western and central Wisconsin Friday afternoon. Graphic: Ham Weather.
---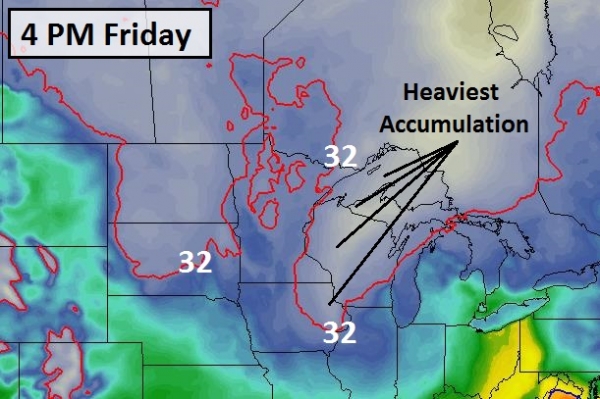 Cold Enough To Stick
. Although temperatures may rise just above 32F across portions of Minnesota by Friday afternoon, readings in the lowest mile of the atmosphere are forecast to stay well below freezing from northeast Iowa into southeast Minnesota and much of western/central Wisconsin during the day Friday, allowing snow to accumulate at the rate of 1-2"/hour at times, creating very difficult travel conditions. Map: Ham Weather.
* The heavy, wet nature of this upcoming snowfall may increase the risk of
sporadic power outages
late Friday night into Saturday. Some ice will be mixed in with the snow, especially Thursday, changing to mostly snow on Friday as colder air wraps around the storm.
---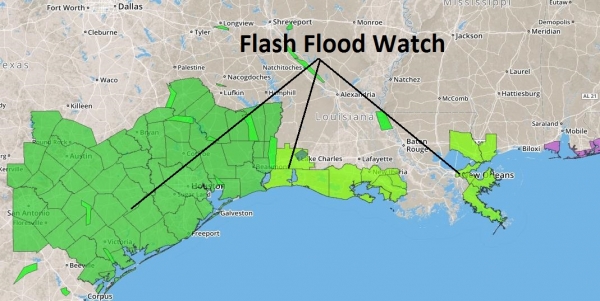 Winter Storm Watch
. NOAA has already blanced much of central and southern Minnesota and west central Wisconsin under a Winter Storm Watch, meaning a potential for 6" or more of snow in a 24 hour period. I suspect the heaviest snow band may set up south and east of the Twin Cities, but it's going to be a very close call. Right now the axis of heaviest snow appears to be setting up from Waterloo, La Crosse and Rochester to Eau Claire and Rhinelander, but it's still early, and that heavy snow zone may shift 50-100 miles east or west in the coming 48 hours.
Summary
: I'm already seeing some (very early) evidence of a brewing
El Nino
warming phase in the Pacific, which tends to strengthen the southern branch of the jet stream, invigorating storms over the central and southern USA. I suspect this trend will continue into early summer, with cooler weather over the northern states, and rapid warming in the south
setting the stage for more tornadoes and severe weather in general than we experienced in 2013
. Severe thunderstorms capable of isolated tornadoes are likely Wednesday afternoon into Thursday night from the central and southern Plains into the Mississippi and Ohio River Valleys. Staff should be alert for potentially violent storms capable of large hail, damaging straight line winds in excess of 70 mph, and a few tornadoes capable of more widespread and significant damage. On the cold side of the storm another major snow event is brewing from Iowa and Minnesota into Wisconsin from Thursday PM into Friday. If it's any consolation (doubtful) long-range model guidance shows 50s and 60s returning for this same region for the latter half of next week. A rapid thaw may increase the potential for mostly minor river flooding, but the slow melt of recent weeks has helped to ease the overall risk, especially in the Red River Valley, where the threat was greatest. We'll continue to monitor conditions and have an update Wednesday.
---
A Hopeful Extended Outlook
. As we hear the sirens sounding, the weather threat upgraded to Defcon 2, preparing to ride out the next slushy slop-storm in our bunkers, keep in mind that it is (in theory) spring, and at some point that higher sun angle will start to make a real difference. ECMWF guidance shows 50s returning next week, maybe 60s by Thursday. Whatever snow winds up in your yard Thursday and Friday will be gone by early next week. That's the "beauty" of an April snowfall. Graphic: Weatherspark.
---
70F By Mid-April?
No, I wouldn't bet much money on that prediction, but if you believe the GFS we may come close to 70 within 2 weeks (give or take a month). Notice the significant precipitation amounts by mid-month into the third week of April; the atmosphere warm enough for mostly rain. I think.
---
Upper Midwest Blizzard Not Increasing Flood Fears
. Unless we pick up a few more major snowstorms or blizzards, followed by rapid warming (and heavy rain) we may yet dodge a flooding bullet. Here's an excerpt from
The Star Tribune
: "
A spring blizzard that dumped up to 20 inches of snow in parts of the Upper Midwest isn't increasing fears of spring flooding. There wasn't much of a flood threat going into Monday's storm, and the snow that fell was light and without much moisture, according to National Weather Service officials in North Dakota. "What we're expecting right now is really not much," meteorologist Tom Grafenauer in Grand Forks said. "The snow had an inch to maybe 2 inches of liquid equivalent in it. The flood threat was very minimal before the snow, and an inch or two of water isn't going to raise the flood threat significantly
..."
File Photo credit
: "
The Red River out of its banks just south of Moorhead in 2009
." Photo: Marlin Levison, Star Tribune.
---
Higher Probability Of El Nino By Summer of 2014
. The threshold is .5C, and we should reach that in the Pacific as early as May or June. For a little light reading and more than you ever wanted to know about a brewing El Nino and ENSO in general, check out this 29 page PDF from
NOAA NCEP
.
---
Parallel Parking In The Arctic Circle
. If you missed Thomas Friedman's latest Op-Ed in
The New York Times
it's definitely worth a read - with a son in the Navy I found this especially fascinating. Here's an excerpt: "...
More important, you learn how crucial acoustics are when operating deep under ice with no vision and no GPS satellite to guide you. Or, as the New Mexico's captain, Todd Moore, 40, put it: It's like every day "engaging in a knife fight in a dark room: the only thing you can do is go after what you hear." You can't see the adversary. You can't see the ice keels, but you can hear enemy subs, surface ships, whales, calving icebergs, schools of fish and bounce sound waves off them with sonar to measure distances
..."
Photo credit
above: "
Credit

Joshua Davies Communication Specialist 2nd Class/U.S. Navy Photo.
---
Don't Look Now: The Digital Ad Economy Is Heading For A Correction. Because who wants to be spammed with irrelevant ads on their smart phones and tablets? Advertising Age has the story; here's a clip: "...
Michael Wolff recently opined that the evolution of TV is resulting in fewer people watching fewer ads. But the evolution of mobile (the medium poised to eclipse TV in the not-too-distant future) may be an even bigger issue. The classic application of advertising within mobile content and apps is fairly unnatural. Social media usage has dominated the smaller, vertically oriented screens of mobile devices, so what people are actually consuming is inherently different
..."
---
People Can Predict The IQ Of Men, But Not Women, By Looking At Their Face
. Deep down you always knew this, right? Here's an excerpt from
psypost.org
: "
New research published in PLoS One has found that a man's facial characteristics contain some clues about his intelligence. Surprisingly, the same can't be said for women's facial traits. And the particular male facial characteristics linked with intelligence are a mystery
..."
---
The Depressing Truth Behind Michael Lewis' "Flash Boys": Even The World's Top Investors Don't Understand Today's Markets
. Is the stock market game rigged? Probably. And a new book from Michael Lewis (author of "Liars Poker" among others) seems to confirm what many of us have suspected for a long time. Here's an excerpt of a story/review from
Quartz
: "
The ideas aren't new. Unsavory elements of high-speed computerized trading have been a concern since at least May 2010, when the so-called "flash crash" struck US exchanges. (Die-hard market geeks were concerned long before that.) But Michael Lewis's new book Flash Boys, on the perils of high-speed computerized markets, could still be important if only because it cuts through the dense webbing of jargon and complexity that has proven dangerous to the US financial system and the economy as a whole..."
---
16 Airline Secrets That Will Change How You Feel About Flying
. Great. Some things I wanted to remain blissfully ignorant about, but this story at
Huffington Post
changed all that; here's an excerpt: "...
We've added a few of our own world-rocking facts to the list, and we've gotta tip our hat to Viral Quake for posting some of the Reddit thread's most startling secrets. We should also mention the validity of individual Reddit comments can't be completely confirmed.That being said, we're already thinking about flying from a whole new perspective.
Dim lights are meant to prepare you for evacuation, not sleep.
"When a plane is landing at night, they dim the interior lights incase you need to evacuate upon landing... your eyes are already adjusted to the darkness so you'll be able to see better once outside the plane
." --@
bonestamp
---
Here's How Much It Costs To Propose At Every Major League Baseball Park.
$209 at Target Field? What a bargain! And yes, the proceeds go to charity. Here's an excerpt of real news you can use from
Swimmingly
: "
Today is Major League Baseball's Opening Day, the start of the 2014 season. That means it's also the time of year for America's second-favorite pastime: the scoreboard marriage proposal. To step up your engagement game, we reached out to all 30 MLB teams to find out the cost of putting a ring (World Series or otherwise) on it at each stadium
..."
---
Best April Fool's Day Jokes of 2014
.
Time Magazine
has a rundown on some of the more unusual pranks yesterday, including this one from Sir Richard Branson on one of his Virgin America flights. I wish we could do this for Minnesota's weather: "
Virgin America partnering with Nest to create a personalized climate control feature on planes, in which passengers can create their own climate at 35,000 feet, from "Chicago Polar Vortex" to "Standard Day in Los Angeles." (Virgin America)
"
---
TODAY: Partly sunny, less wind. East 10. High: 45
WEDNESDAY NIGHT: Mostly cloudy, slushy snow possible late. Low: 32
THURSDAY: Winter Storm Watch. Rain-snow mix, sloppy roads. High: 39
FRIDAY: Winter Storm Watch. Plowable snow likely. Messy and slow travel. Wake-up: 30. High: 34
SATURDAY
: Sun returns. Snow melts. Wake-up: 20. High: 43
SUNDAY
: Mostly cloudy, a little drizzle. Wake-up: 32. High: 44
MONDAY: More clouds than sun @Target Field. Wake-up: 34. High: 47
TUESDAY: Partly sunny. Drama-free. Wake-up: 31. High: near 50
* 50s are likely the latter half of next week.
---
Climate Stories...
Climate Signals, Growing Louder.
Here's an excerpt of an Op-Ed from the Editorial Board at
The New York Times
: "
Perhaps now the deniers will cease their attacks on the science of climate change, and the American public will, at last, fully accept that global warming is a danger now and an even graver threat to future generations. On Monday, the Intergovernmental Panel on Climate Change, a United Nations group that since 1990 has been issuing increasingly grim warnings about the consequences of a warming planet, released its most powerful and sobering assessment so far. Even now, it said, ice caps are melting, droughts and floods are getting worse, coral reefs are dying
..."
---
Warming World Threatens Us All, Warns U.N. Report.
Time Magazine
has an overview of the latest IPCC report; here's a clip: "...
So the report predicts with high confidence that the negative impacts of warming on crop yields will outweigh any potential positive impacts; that violent conflict will exacerbate the effects of global warming; that glaciers will continue to shrink as the climate warms, which has major impacts for downstream water supplies; that species on land and in the sea are shifting their range in response to warming and that some will face an increased risk of extinction; that health impacts will be felt from heat waves and from floods in low-lying areas; that the seas will continue to acidify, destroying coral reefs
..." (Image: NASA).
---
Climate Change Impacts In Pictures: 8 Stark IPCC Images
. Here's an excerpt from a post at
Climate Central
: "
100-year floods:

More extreme precipitation, expected with climate change, means that major flood events could happen more often and thus more people are likely to be impacted. By 2100, hundreds of millions of people per year are projected to have to deal with the challenges flooding poses, the IPCC shows in the above graph. That graph even keeps population steady at 2005 levels, meaning even more people will be under threat with population rise.
Averaged globally, annual flood exposure increases 4-14 times over the course of the 21st century compared to the 20th century. Using a moderate population growth estimate increases that risk by 7-25 times.
.."
Exxon: Highly Unlikely World Limits Fossil Fuels
. We know it's bad for us, long-term, but in the short term we can't live without it, right? Give Exxon Mobil some credit for acknowledging the obvious: climate change is real. Here's an excerpt from a report at
ABC News
: "...
The report, the first detailed response to these concerns by a major oil company, acknowledges the need to adopt policies to address climate change. But it concludes that because oil and gas are so critical to global development and economic growth, governments are "highly unlikely" to adopt policies that cut emissions so sharply that fossil fuel consumption would be severely restricted. "We know enough based on the research and science that the risk (of climate change) is real and appropriate steps should be taken to address that risk," Ken Cohen, Exxon's government affairs chief, said in an interview Monday. "But given the essential role that energy plays in everyone's lives, those steps need to be taken in context with other realities we face, including lifting much of the world's population out of poverty
..."
---
GOP Rhetoric vs. Global Warming Reality.
Here's a clip from a piece that caught my eye at
The Daily Beast
: "..."
What's unique about this report is that it focuses so much on adaptation," says Peter Ogden with the liberal Center for American Progress. Previously, the emphasis was on mitigation and persuading governments to curb their output of greenhouse gases, which has yielded mixed results at best. The scientific community and environmentalists downplayed discussion of adaptation on the theory that it would let politicians off the hook in making the tough decisions to reduce emissions. "This is actually a very clear-eyed willingness by the scientific community to acknowledge that while intent on doing what they can to mitigate climate change we're already experiencing it. We're already living in a world that is fundamentally changed," says Ogden.
.."
---
---
*
"The Hellish Monotony of 25 Years of IPCC Climate Change Warnings."
Graham Readfern has the story at
The Guardian
.
** Twitter cartoon credit
here
.
---
Panel's Warning On Climate Risk: Worst Is Yet To Come
. Justin Gillis has a good summary of the latest IPCC report in
The New York Times
; here's an excerpt: "...
The scientists emphasized that climate change is not just some problem of the distant future, but is happening now. For instance, in much of the American West, mountain snowpack is declining, threatening water supplies for the region, the scientists reported. And the snow that does fall is melting earlier in the year, which means there is less meltwater to ease the parched summers. In Alaska, the collapse of sea ice is allowing huge waves to strike the coast, causing erosion so rapid that it is already forcing entire communities to relocate. "Now we are at the point where there is so much information, so much evidence, that we can no longer plead ignorance," said Michel Jarraud, secretary general of the World Meteorological Organization
..."
---
MIT Scientist Responds On Disaster Costs And Climate Change
.
FiveThirtyEight
has an article from hurricane expert Kerry Emanuel from MIT; here's an excerpt: "...
The increasing normalized trends in the U.S. were evident in convective storms, winter storms, flooding events and high temperature-related losses, and were almost statistically significant for hurricanes at the conventional 95 percent confidence level.3 In view of data like this, it's very hard to accept Pielke's confident assertion that "[n]o matter what President Obama and British Prime Minister David Cameron say, recent costly disasters are not part of a trend driven by climate change
..."
---
Wake Up To The Reality Of Climate Change
. Here's an excerpt of an Op-Ed at
CNN
that caught my eye, from former (Republican) Governor of New Mexico and U.S. Energy Secretary Bill Richardson: "...
We are now witnessing how it is changing our world: The past winter was the eighth-warmest on record. For 348 consecutive months -- 29 years -- global temperatures have been above average. The latest IPCC report finds that impacts from climate change are "widespread and consequential" and they are being felt on every continent and in our oceans. The world last year experienced 41 weather-related disasters that caused damages totaling at least $1 billion. Over the past decade, the western United States experienced seven times more large-scale wildfires than it did in the 1970s. Climate change has made it much more likely that we will suffer severe droughts like the one that recently swept across Texas and my home state of New Mexico
..."
---
North America: Shifting Water.
New Scientist
examines how climate change will impact specific regions around the world. Here's an excerpt focused on North America: "...
Rain and storms will move northwards, flooding areas north of New York and leaving southern areas short of water. Mexicans will have to do everything they can to preserve water and escape the heat. Adapting to water deficits is not too hard: the key is increased efficiency. But extra flooding is more problematic, with total costs expected to increase tenfold this century. The US has the capacity to adapt, but is struggling with misinformation and a lack of political will
..." (Photo: ThinkStock).
*
The Telegraph
has a continent by continent breakdown of the risks and options related to a warming atmosphere and oceans.
---
13 of 14 Warmest Years On Record Occurred In 21st Century - U.N
. Here's a clip from a summary at
The Guardian
: "
13 of the 14 warmest years on record occurred this century, according to the UN. Publishing its annual climate report, the UN's World Meteorological Organisation said that last year continued a long-term warming trend, with the hottest year ever in Australia and floods, droughts and extreme weather elsewhere around the world. Michel Jarraud, the WMO's secretary-general, also said there had been no 'pause' in global warming, as has been alleged by climate change sceptics. "There is no standstill in global warming," Jarraud said
..."
Graphic credit
: WMO (World Meteorological Organization) and The Guardian.
* A link to the latest IPCC WG2 Climate Summary is
here
.
---
Food And Water Shortages May Prove Major Risks of Climate Change
.
Scientific American
has more on the implications of continued warming; here's a clip: "...
In that light, climate change becomes a risk management proposition, particularly given the uncertainty about exactly how bad impacts might become and when. The worst risks include sea level rise for small islands and coasts, flooding, the breakdown of infrastructure in the face of extreme weather, loss livelihoods forfarmers and fishers, food insecurity and heat-wave deaths. Expect a big demand for energy for air conditioning as the 21st century continues. Some of these impacts are already here, from a meltdown of polar ice and glaciers everywhere to higher rates of sea level rise than the IPCC predicted in the past
..." (Image credit: NASA).