False Spring
"April showers bring May flowers". The prevailing wisdom is that spring rains cause flowers to bloom, on cue. But recent research suggests spring bloom times are more a function of temperature than moisture.
An article on today's weather blog (below) shows flowering times for 23 native species across Wisconsin have shifted from May 7 (1935-1945) to May 1 (1977-2012). The authors of the paper point out the rising incidents of "false springs", where unusually early surges of March warmth trigger premature blooms, only to be followed by hard, killing frosts & freezes.
Gazing at the weather maps I'm wondering about our tenuous spring. Clouds increase today, a stiff east breeze with daytime highs stuck in the 50s - as mild as it's going to get looking out into next Thursday. Showers arrive Sunday; steadier/heavier rain Monday before a brief clearing trend Tuesday. A temporarily stalled storm "retrogrades", pinwheeling moisture back into Minnesota Wednesday/Thursday - precipitation approaching from the east!
It pains me to say this out loud, but the atmosphere may be marginally cold enough for a rain/snow mix Wednesday. Accumulation? Probably not.
ECMWF models show 60F the end of next week.
---
Do April Showers Bring May Flowers?
Temperature may be more of a signal for the flowers in your yard than rainfall, it turns out. Here's an excerpt of a very interesting article with new research finds at
FiveThirtyEight
: "...
Rain, in general, has an effect on timing and abundance of flowering, said David W. Inouye, a biology professor at the University of Maryland, College Park. Inouye, who has studied bloom times in the Rocky Mountains, noted that some plants flower at the start of a rainy season and that some species might flower a second time in late summer, following a good soaking. But for most species, first flowering is more closely tied to temperature than to rain.
.."
---
Shades of March
. Forget late April. No more 60s for a week or more. A slow-moving storm will pull unusually chilly air south of the border (again), meaning highs in the 40s to low 50s much of next week. A cold rain is likely much of Sunday and Monday, possibly mixing with a little wet snow Tuesday. Right now I don't see accumulations in the metro area, although a couple inches of slush could pile up on lawns and fields up north.
---
April Soaking Upper Midwest
. NOAA's NAM model prints out some 1-2" rainfall amounts over the next 84 hours from the Dakotas to Minnesota, Wisconsin and northern Illinois.
---
It's Spring - In Theory.
The latest NAM snowfall accumulation shows potentially plowable amounts of snow for the central and northern Rockies, maybe a couple inches of slush from the western Dakotas into the Red River Valley of Minnesota early next week.
---
Alerts Broadcaster Briefing
: issued Friday by Media Logic meteorologist Andy Mair.
- We are preparing for a multiday severe weather threat starting tomorrow through next Tuesday. Sunday is looking to be the worst day of the bunch with a day 3 moderate risk already issued. Hail will be the main threat tomorrow, but Sunday will pose a threat for large damaging, long track tornadoes.
THE RIGHT MIX OF INGREDIENTS
- Much like baking a cake, the perfect set of ingredients will come together this weekend allowing several days of severe weather to kick off. A low pressure system will form over the Rocky Mountains tomorrow afternoon and begin moving to the east stirring up severe weather. This will give the wind speeds and direction needed for severe supercell development. As you can see below, the low pressure will be pulling up warm moist air from the Gulf of Mexico while at the same time be driving the dryline east. This will create an explosive environment the next few days.
---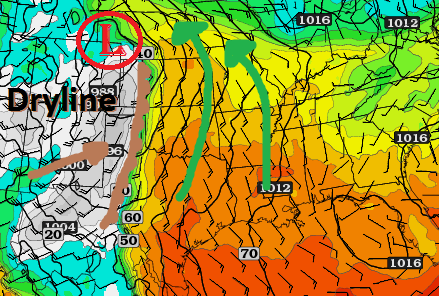 - A dryline will form just the east of the Rockies and will create the needed forcing for severe storms. Drylines are best known for their ability to generate discrete supercells that can create violent tornadoes.
---
SATURDAY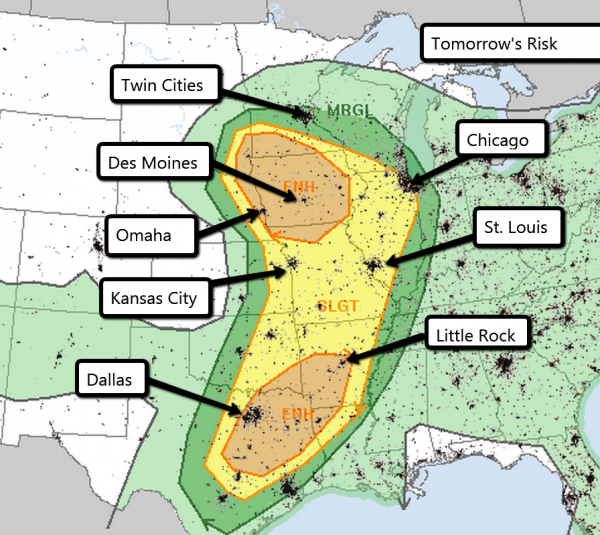 - The Storm Prediction Center has issued a slight risk for Saturday from south central Texas up through Oklahoma and central Kansas. This will be the start of our multiday severe weather threat. Above shows the 30% risk area, but also a hatched region. The hatched regions indicate a 10% higher risk of F2 or larger tornadoes, 2 inch or greater hail and damaging winds in excess of 65kts.
---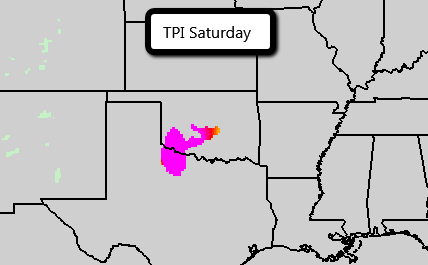 - Above is our in house TPI forecast model. You can see the bright pinks where the greatest tornado threat exists tomorrow. Storms are expected to begin firing in the early evening in western Oklahoma and move to the east through the risk area and die in Missouri overnight. Main threat will be hail, but we cannot rule out the chance for some tornadoes.
---
SUNDAY (POTENTIAL OUTBREAK DAY)
-
Sunday is shaping up to be the most dangerous day during this severe weekend
. It is believed by much of the meteorological community that what a weather system has done the previous days will tell you what can be expected about the current risk. So pay attention to what happens tomorrow and it may be a key as to what can be expected Sunday.
---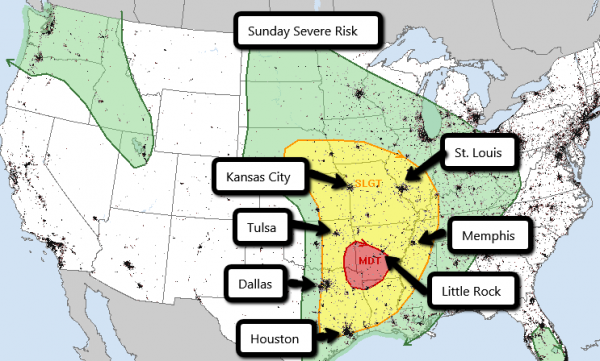 - Here is the current risk from the SPC. You can see a moderate risk already exists for much of Arkansas and a slight risk is in place from Iowa down through Texas. Many large metropolitan cities are at risk Sunday including Dallas, St. Louis and Kansas City. Little Rock is currently in the most danger being located in the moderate risk.
-
When the SPC issues a moderate risk on day 3 it almost always means that a high risk will occur on the day of the storm.
-
When a high risk is issued any watches in that area are required to be a PDS watch. PDS stands for Particularly Dangerous Situation. If you hear PDS mentioned you need to pay extra special attention to the weather that day.
---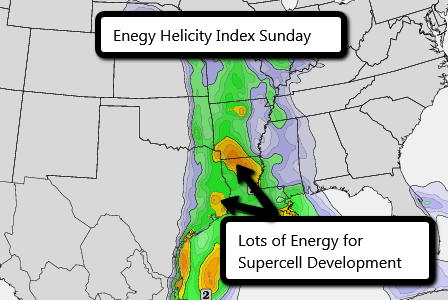 - A common tool used for forecasting severe weather is EHI (Energy Helicity Index). The brighter colors on the map indicate areas where the best cross over between instability and wind shear. This is the kind of environment supercells need to create long lived damaging tornadoes. You can see the bulls eye right over the current day 3 moderate risk.
---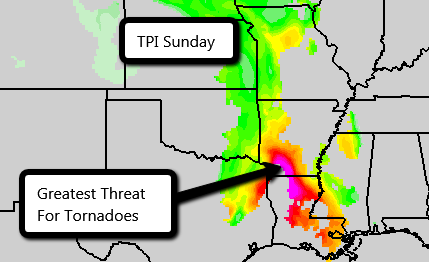 -
Our TPI forecast on Sunday is off the charts maxing out at 5
. As it stands right now, this day may be an outbreak event. Large hail, damaging winds and long track tornadoes are all possible. If you live or work in this area please review your severe weather safety plans and procedures.
Make sure everyone is on high alert!
---
Is A Powerful El Nino Brewing In The Pacific Ocean?
Odds statistically favor an El Nino warming phase of ENSO by the latter half of 2014; the question now is how strong will it be. Here's an excerpt from a post at
Skeptical Science
:
The current large build-up and eastward movement of

heat

in the equatorial subsurface ocean strongly hints at a powerful El Niño developing this year.
A powerful El Niño is by no means guaranteed, but should one develop mid-2014 to mid-2015 would likely be the hottest 12 months ever recorded. Unfortunately widespread weather-related

chaos

and mass coral bleaching is almost certain to follow.
*
image above
courtesy of NOAA CPC.
---
NOAA CPC: Cool Bias For May.
Here is the latest 30 day outlook for May, and an extended outlook into the summer months, showing a warm bias for much of the west, south and eastern USA, with a lingering cool/wet bias from the northern Rockies and Midwest into the Great Lakes. One big factor that's flavoring this prediction: El Nino, which is forecast to strengthen into the summer months. Credit:
NOAA
.
---
TODAY
: Clouds increase, cool breeze. Drier day of the weekend. Winds: E 15. High: 55
SATURDAY NIGHT
: Mostly cloudy with showers developing. Low: 40
SUNDAY
: Showers likely. Windy and damp. High: 51
MONDAY: Heavier, steadier rain likely. Wake-up: 42. High: 48
TUESDAY: Partial clearing, still brisk. Wake-up: 43. High: 53
WEDNESDAY: Rain, possibly mixed with snow. Wake-up: 38. High: 41
THURSDAY: Showers taper. Raw for May 1. Wake-up: 37. High: 51
FRIDAY: Peeks of sun, hints of spring return. Wake-up: 38. High: near 60
---
Climate Stories....
---
Stanford Scientists: Climate Change Occurring 10 Times Faster Than Any Time In Past 65 Million Years.
It's the rate of greenhouse gas release and subsequent warming that has climate scientists so concerned. Here's a clip from a story at
desmogblog.com
: "
With scant media attention, climate scientists from Stanford University have concluded that climate change is occurring 10 times faster than at any time in the past 65 million years, and the current pace of change will lead to a 5-6 degree (Celsius) spike by the end of this century.

The

findings come from a review of climate research by Noah Diffenbaugh, an associate professor of environmental Earth system science, and Chris Field, a professor of biology and of environmental Earth system science and the director of the Department of Global Ecology at the Carnegie Institution. Both scientists are senior fellows at the Stanford Woods Institute for the Environment. Their work is part of a special report on climate change in the current issue of Science
..."
---
Refrigeration Could Cool Down The Cost of Carbon Capture and Storage
. Here's a clip from an interesting article at
Gizmag
: "
For years carbon capture and storage (CCS) has been considered a costly but necessary step in reducing emissions and protecting our environment. New research by Scandinavian research organization Sintef has found that refrigeration technology may reduce costs by up to 30 percent, increasing the potential for faster implementation. "We were able to show that there are a number of important potential improvements to be made in the process," says Sintef research scientist Kristin Jordal. "That said, cold CO2 capture turned out to be one of the most promising technologies
..."