78 F
. high in the Twin Cities Friday.
83 F
. average high on July 4.
90 F
. high on July 4, 2013.
Slight
severe storm risk Red River Valley later today.
First 90 F.
high of 2014 possible tomorrow.
Wash. Rinse. Repeat.
I wish Mother Nature would kick back with a cold one and just take the holiday weekend off. Show a little mercy for weather-weary meteorologists slumped over a hot Doppler.
Please?
We live in a state of perpetual paranoia that peaks on major holidays, because we know more people are outside, following the forecast even closer than usual.
I'm up at our cabin north of Brainerd, anxious to disconnect from my laptop and spend some quality time on the pontoon. My goal is to NOT talk about the weather for 72 hours.
No such luck.
The latest warm front sparks a few T-storms today, but enough sun should leak through the haze for 80s. 90F isn't out of the question tomorrow; it would be the first of 2014. We cool off again by midweek, in fact the forecast is almost a carbon copy of last week; evidence of a 7-day storm cycle. After a welcome dip in dew point Wednesday & Thursday we heat up to near 90 again next Friday and Saturday.
Summer took it's sweet old time, but it's finally here.
Mark Seeley reports a statewide average 8.09 inches of rain in June, "A record historical high not only for June, but for any month of the year" he wrote. Glencoe saw 14.6", nearly 4 month's worth! Details below.
* photo credit above: Russ Latimer.
---
Slight Severe Storm Risk.
NOAA SPC has much of northwest and north central Minnesota in a slight risk; the main threat being hail and damaging straight-line winds later today. In the metro area the best chance of showers and T-storms comes during the early morning; I expect enough PM sun for mid-80s (and noticeably higher dew points).
---
Weekend Details
. A warm frontal passage sparks a few showers and T-storms this morning (best chance southern third of Minnesota). The sun should break through by midday and heat us up into the low to mid 80s by late afternoon. Dew points (lower graph) increase, peaking in the low 70s tomorrow before drying out next week). There's still a very good chance MSP will enjoy (?) the first 90-degree high on 2014 tomorrow. Graph: Weatherspark.
---
June: Wettest Month, Statewide, In Recorded Minnesota History
. Dr. Mark Seeley has more details at
Minnesota WeatherTalk
; here's an excerpt of his latest post: "...
On a statewide basis the average rainfall for June was 8.09 inches, a record historical high not only for June, but for any month of the year. The previous wettest months in Minnesota history on a statewide basis were June of 1914 and July of 1897 with values of 7.32 inches. Those individual climate stations setting records for the wettest June include:

Ada 9.20 inches
International Falls 10.24 inches
Littefork 9.23 inches
Waskish 8.93 inches
Kabetogama 11.58 inches
Benson 10.49 inches
Dawson 8.27 inches
Chaska 13.84 inches
Glencoe 14.61 inches
..."
Lightning photo credit: A.J. Pena.
---
"90-Less" So Far in 2014
. Excerpt of an e-mail from Minnesota State Climatologist Greg Spoden:
"
Advancing into July without a 90-degree max in the Twin Cities is a relatively common occurrence in the long-term record; roughly one-in-five summers. However, it is less common in recent decades: occurring only in 1974, 1981, 1993, 2003, and 2014 over the past 40 years. (see: http://climate.umn.edu/text/historical/mspmaxtge90.txt )

There have been three summers in the Twin Cities record where 90 degrees was never reached at all: 1902, 1915, and 1993. You may recall the summer of 1993. Like this year (thus far), the summer of 1993 was extraordinarily wet in the Midwest. It's interesting to note that the previous summer, 1992, reported only three 90-degree days. On average, 1992 was far colder than 1993. Similar to this year to-date, average temperatures in 1993 were propped up by elevated minimum temperatures due to the persistent cloudiness
..."
---
Outer Bank Mops Up and Counts Storm's Costs
.
The New York Times
has a good overview of impacts from Arthur across North Carolina's Outer Banks; here's an excerpt: "...
And here, as well as in the other small communities that together make up the Outer Banks and serve as a hub for tourism, there was a deep sense of relief. Although the center of the hurricane made a surprising shift to the west as it neared North Carolina, reports of damage were limited. The hurricane was the first of this season and the first Atlantic hurricane to make landfall in the United States since 2012
..."
Photo credit
above: "
This Friday, July 4, 2014 aerial photo provided by the U.S. Coast Guard shows flooding caused by Hurricane Arthur on the Outer Banks of North Carolina. Arthur struck North Carolina as a Category 2 storm with winds of 100 mph late Thursday, taking about five hours to move across the far eastern part of the state
." (AP Photo/U.S. Coast Guard, Petty Officer 3rd Class David Weydert).
---
Alerts Broadcaster Briefing
: Issued Friday afternoon, July 4. Final update on Arthur.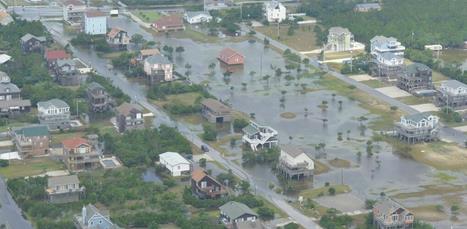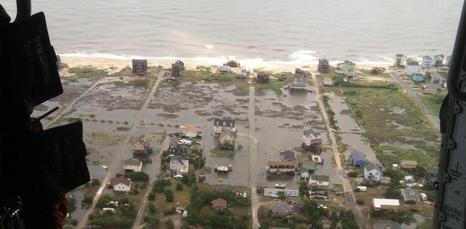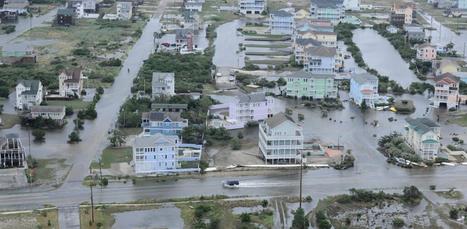 Cleaning Up The Mess
. Coast Guard helicopters captured the extent of storm surge flooding from Arthur across North Carolina's Outer Banks. Weather-related injuries have been kept to a minimum, but the damage toll from Arthur will almost certainly rise in the multiple millions of dollars.
Governor of NC says the beaches are open for business.
Repairs are underway and efforts are being remade to restore access to Highway 12 and Hatteras Island (More: http://darecountyem.com/repairs-underway-for-nc-highway-12-on-hatteras-island/). Until then, access to and from Hatteras Island on Highway 12 will remain closed. This includes the Villages of Rodanthe, Waves, Salvo, Avon, Buxton, Frisco, and Hatteras.
The number of power outages continues to decrease across the area. Numbers as of 1:30 CT:

Duke Energy: 4,300+ customers across North Carolina
Dominion Electric: ~100 customers in North Carolina & 1,100+ customers in Virginia.
NC Electric Coops: ~23,000 AS OF 8:30 THIS MORNING - no updated number this afternoon as of yet

No reported casualties.
Ferry service to Ocracoke Island is resuming this afternoon, though with restrictions. More: https://apps.ncdot.gov/newsreleases/details.aspx?r=10059&utm_source=twitterfeed&utm_medium=twitter
The USCG Mid-Atlantic has great photos of flooding in the Outer Banks: https://twitter.com/uscgmidatlantic
Mass EMA says greatest impacts between 9PM and Midnight, with minor coastal flooding and beach erosion on north side of Nantucket. Widespread 3-5" rain amounts possible.
---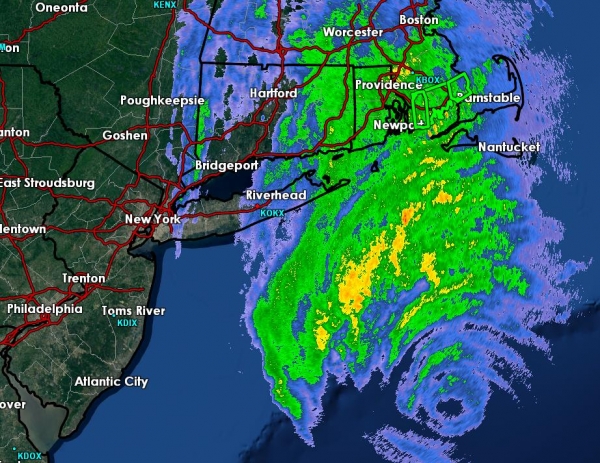 Category 1 Arthur Weakens Slowly, Lashing New England with Flooding Rains and Tropical Storm-Force Winds
. After sparking moderate wind and wave-related damage across North Carolina's Outer Banks Arthur is still a formidable Category 1 storm capable of widespread weather disruptions tonight from Providence to Cape Cod to Boston, with rain/wind impacts spreading up the coast of Maine late tonight and early Saturday. Serious flooding has been reported around New Bedford, MA, where Doppler radar rainfall estimates have been as high as 5".
As much as 7-10" may fall by midnight, sparking serious flash flooding and additional river flooding in the days to come
. Arthur will gradually weaken to tropical storm status, losing many of its tropical characteristics late tonight as it lashes coastal Maine.
---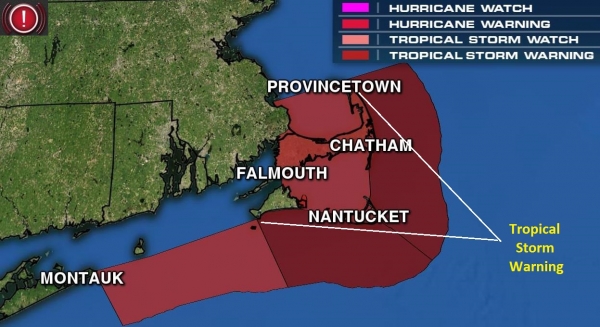 ---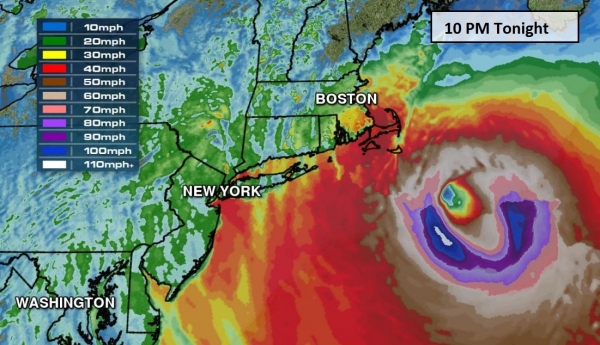 10 PM Tonight: Very Close Encounter for Cape Cod
. Models still show 60-80 mph winds whipping around Arthur's eyewall later this evening, and wind gusts may be in the 30-50 mph range for much of Cape Cod, high enough to bring down tree branches and powerlines -
expect sporadic power outages from near Providence and Nantucket to Cape Cod and much of Downeast Maine by Saturday morning
.
---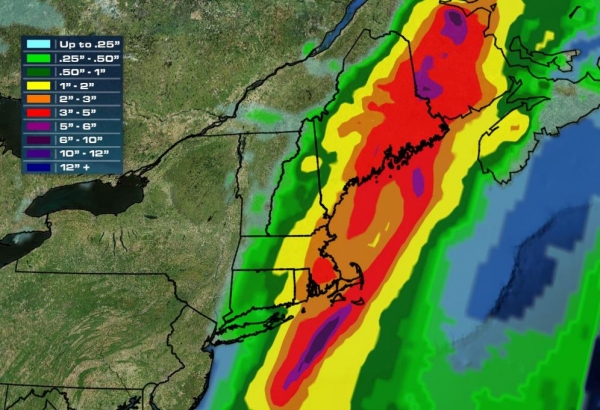 Models Underestimating Rainfall from Arthur
. Our internal models were printing out some 3-6" amounts for eastern Massachusetts and Downeast Maine, but near New Bedford and Hyannis, MA amounts may top 8", increasing the risk of serious flash flooding overnight, and 2-5 days of extensive river flooding into the middle of next week. Map: WeatherNation TV.
---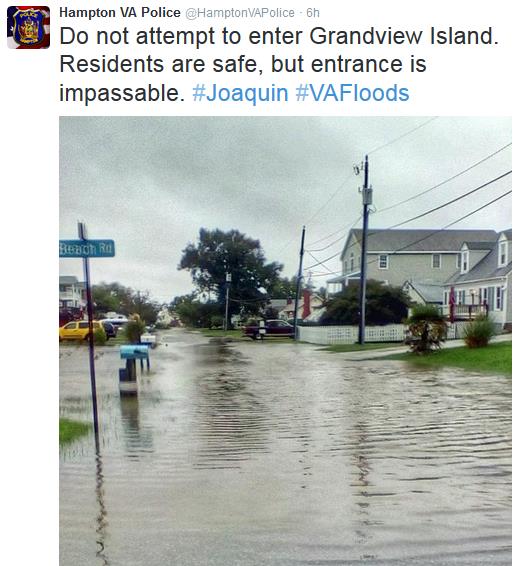 Potential for Significant River Flooding
. The area we're watching extends from near Providence, Barnstable and New Bedford to Plymount and the suburbs of Boston. Many streams and rivers will be out of their banks for at least 72-96 hours, the resulf of 2+ month's worth of rain falling in less than 15 hours, all tropical moisture pumped north by Arthur.
Summary
: Although damage across North Carolina's Outer Banks was moderate, no confirmed fatalities have been reported from Arthur, a testament to advance warning and local officials making the call for mandatory/voluntary evacuations. Arthur is still packing a formidable punch, and more weather-related impacts are likely across coastal New England into early Saturday, followed by rapid improvement tomorrow as the soggy remains of Arthur push toward Nova Scotia, the storm the rough equivalent of a severe wintertime Nor'easter. This will be the last update on Arthur unless we see a significant change in track or intensity.
Paul Douglas - Senior Meteorologist - Alerts Broadcaster

---
The AI (Artificial Intelligence) Boss that Deploys Hong Kong's Subway Engineers
. Why do I think we'll all be working for computers within 20 years? Maybe sooner, as computers become more powerful and learn over time. Here's an excerpt of an eye-opening story at
New Scientist
: "
Just after midnight, the last subway car slips into its sidings in Hong Kong and an army of engineers goes to work. In a typical week, 10,000 people carry out 2600 engineering works across the system – from grinding rough rails smooth and replacing tracks to checking for damage. People might do the work, but they don't choose what needs doing. Instead, each task is scheduled and managed by
artificial intelligence.
.."
---
Minneapolis: 4th "Least Stressed Out" City in America?
That according to
stumbleupon.com
; here's an excerpt: "
The winters may be a bear, but Minneapolis' residents enjoy a quality of life that's hard to beat. Less than 11% of the city's residents live below the poverty line, one of the lowest rates of all 55 metro areas that CNNMoney analyzed. Unemployment is also low, due in part to a number of large Fortune 500 companies, ranging from Target (TGT) and Best Buy (BBY) to Hormel Foods (HRL) and UnitedHealth Group (UNH)
..." (Photo credit: Meet Minneapolis).
---
Is a Hot Dog a Sandwich? An Extended Meditation on the Nature of America
. This guy is sure reading a lot into a simple hot dog (projecting a bit?) but I found his ruminations interesting on some level. Hot dog as a proxy for American reinvention and exceptionalism? Here's a clip from
The Guardian
: "...
America is a country founded by people from someplace else on ideas borrowed from someplace else, ultimately to try to distinguish itself from every place else. It is a fraught balance of identity – to take and be of an other, yet define yourself by contrast to that other. This is the strange impulse of our "exceptionalism", to always borrow something and modify it slightly, then declare the end result definitively, uniquely American. You can see this at play with the hot dog: the sandwich and sausage were both invented elsewhere.
.."
Photo credit
above: "
Joey Chestnut is widely favored to win this year's International Hot Dog Eating Contest again. The contest speaks to hot dogs' portability and minimal mess
." Photograph: Shannon Stapleton / Reuters.
---
V8 Wet Road: The Luxury Yacht of Personal Watercraft?
Yes, every lake should have at least one, although for the record it's still "in development", but the specs show a top speed of 65 mph, traveling in singular style.
Gizmag
has more details: "
If you're a millionaire who wants the ultimate in opulence for your sea voyages, you get yourself a luxury yacht. However, what about those times when you're just playing around? Currently, you get the same Jet Ski-type thing as everyone else ... although there may soon be an alternative. Yacht designer Kurt Strand has just announced his forthcoming Strand Craft V8 Wet Rod luxury personal watercraft.
.."
---
TODAY
: Partly sunny, more humid with a few T-storms. Dew point: 66. Winds: S 15. High: 85
SATURDAY NIGHT
: A few T-storms possible, still sticky. Low: 72
SUNDAY
: Hot sun, isolated T-storm. High: near 90
MONDAY: Morning sun, PM T-shower risk. Wake-up: 68. High: 83
TUESDAY: Unsettled, lingering T-showers. Wake-up: 63. High: 81
WEDNESDAY: More sun, cooler and less humidity. Dew point: 54. Wake-up: 61. High: 78
THURSDAY: Intervals of sun, still pleasant. Wake-up: 58. High: 81
FRIDAY: Sunny, heating up again. Dew point: 66. Wake-up: 67. High: 89
---
Climate Stories...
Obama Advisory on Front Lines of Climate Fight.
The New York Times
has the story - here's a clip: "...
But it also acknowledged a truth: Mr. Holdren has this president's ear, perhaps more than any White House science adviser in recent memory, at a time when climate change has been thrust to the forefront of national politics and could help shape Mr. Obama's legacy. Mr. Holdren's influence can be seen in many of the administration's policies, including its biggest on climate change — the plan to cut power plant emissions of carbon dioxide, the main contributor to global warming
..."
---
The Declaration of Interdependence and Jefferson's Brilliant "Statement of Intergenerational Equity"
. Do we have a moral responsibility, as Americans, to future generations? Thomas Jefferson sure thought so. Here's an excerpt from a story at
Think Progress
: "...
By saying that it is a self-evident truth that all humans are created equal and that our inalienable rights include life, liberty, and the pursuit of happiness, our Founding Fathers were telling us that we are all in this together, that we are interdependent, that we have a moral duty to protect these inalienable rights for all humans. President Lincoln, perhaps above all others, was instrumental in making clear that the second sentence of the Declaration was "a moral standard for which the United States should strive," as Wikipedia puts it. The double appeal to "Nature" — including the explicit appeal to "the laws of Nature" in the first sentence — is particularly salient
..."
Image credit: Wikimedia Commons.
---
Ignorance is Bliss
. Thanks to David Horsey at
The Los Angeles Times
for highlighting the idiocy of our carbon-fueled global joy ride.
---
Climate Report Focuses on Midwest Flooding, Storms and Region's Future.
Here's a clip from an interesting read at
EcoWatch
: "Here are some facts in the report, issued by five scientists:
Precipitation in the Midwest has been increasing since the '30s, including increases in overall precipitation and an increase in extreme precipitation events.
Midwest flooding presents a major economic risk in the Midwest—the 1993 Mississippi flood was the costliest flood in modern times after Hurricane Katrina. In 2008, another flood in Cedar Rapids incurred over $10 billion in damages.
These historic floods were caused by persistent heavy rainfall. Research shows that the trend towards heavier rainfall events has resulted in an overall increase in flood risk across the region.
The risk of levee failure is a significant hazard, as the Midwest contains nearly 4,000 miles of levees, many of which are in poor condition.
Photo credit
above: "
An Island Press report expounds on the dangers climate change is presenting and will continue to present in states like Iowa
." Photo credit: National Climate Assessment.
---
Hot Zone. Is Climate Change Destabilizing Iraq?
This is why we need to pay attention to increasing climate volatility. Drought can quickly become a force-multiplier, setting revolutions (and new caliphates in Iraq) into motion. Here's an excerpt from a story at
Slate
: "...
Drought is becoming a fixture in the parched landscape, due to a drying trend of the Mediterranean and Middle East region fueled by global warming. The last major drought in this region (2006-2010) finished only a few years ago. When taken in combination with other complex drivers, increasing temperatures and drying of agricultural land is widely seen as assisting in the destabilization of Syria under the regime of Bashar al-Assad. Before civil war broke out there, farmers abandoned their desiccated fields and flooded the cities with protests. A series of U.N. reports released earlier this year found that global warming is already destabilizing nation states around the world, and Syria has been no exception
..."
File photo
from Mosul, Iraq: Moises Saman/The New York Times.
---
Climate Change Affects U.S.'s Anti-Terrorism Efforts
. Here's an excerpt of an Op-Ed from a former Army Officer at
The Des Moines Register
: "...
Some of the least stable states in the world will face changing weather patterns that reduce arable land and fresh-water supplies, in turn driving mass-migration, provoking resource conflicts and fostering global health threats. As a former Army officer, I have seen firsthand how "climate disruption" puts more of my fellow soldiers at greater risk. Both the creeping effects of climate change, producing gradual shifts over time, as well as the increasing frequency and severity of natural disasters pose unique threats to global security
..."
---
The Disaster We've Wrought On The World's Oceans May Be Irrevocable
. Talk about a harrowing read. Here's a clip from
Newsweek's cover story
: "...
The last is the least understood of these phenomena. Along the coasts and out in the deep, huge "dead zones" have been multiplying. They are the emptiest places on the planet, where there's little oxygen and sometimes no life at all, almost entirely restricted to some unicellular organisms like bacteria. Vast blooms of algae—organisms that thrive in more acid (and less alkaline) seawater and are fed by pollution—have already rendered parts of the Baltic Sea pretty much dead. A third of the marine life in that sea, which once fed all of Northern Europe, is gone and may already be beyond hope of recovery. "There's a profound game-changing event going on in the life of the sea," says Callum Roberts, a professor of marine conservation at the University of York, England.
.."