32 F
. high in the Twin Cities Friday.
30 F
. average high on December 5.
14 F
. high on December 5, 2013.
1" snow
on the ground at MSP International Airport.
December 5, 1950
: A snowstorm hits Duluth with 23.2 inches of snow in 24 hours, and a storm total of 35.2 inches.
December 5, 1939
: December heat wave. High temperature hits 62 at New London.
Zigs and Zags
Nature (nor science for that matter) ever moves in a perfectly straight line. Minnesota's weather is the meteorological equivalent of a runaway roller coaster at Valley Fair. The sky overhead is rarely "average". We go from one extreme to the next. November was worth forgetting: coldest since 1995 statewide; 3rd longest stretch of consecutive sub-freezing days since 1871 (total of 11).
But the atmosphere often tries to regain equilibrium, even things out a little. Unusually cold outbreaks are often (but not always) followed by big warm swings in the opposite direction. Such is the case late next week.
An extended thaw seems likely as a bubble of Pacific warmth pushes east of the Rockies. A warm ridge of high pressure should result in 40s late next week; I still think we may top 50F one week from today. You'll be amazed how good that will feel.
Long-range models show a mild bias into Christmas week, possibly longer. At some point the Pacific party will be crashed by the Arctic Express, but I don't see any truly bitter air into late December.
El Nino isn't official, not yet, but I'm seeing early symptoms: drought-easing rains for California; a warming trend close to home. Consider it a fleeting mid-winter siesta.
---
Hints of March One Week Away?
The models are fairly consistent bringing a welcome surge of milder, Pacific air across the Plains into Minnesota late next week. That should mean 40s by Friday, maybe 50F next weekend. The extent of warmth depends on how quickly we melt snow, and whether mild air passing over cold ground will spark thick fog, which would keep temperatures a few degrees cooler. Either way it looks like a fleeting taste of March. An inch or so of slush may fall late Sunday; the atmosphere mild enough for rain showers next weekend. Graph: Weatherspark.
---
NAEFS Extended Temperature Trends
. Both NOAA CPC (upper left) and Environment Canada (upper right) predict temperatures well above average between December 13 and December 20. The atmosphere will be warm enough for rain from the 10th to the 18th. Coupled with highs in the 30s and 40s (with a high topping 50F one week from today) there may be precious little left of the 2" of snow on the ground at MSP International. If we do see a white Christmas it'll be by the skin of our teeth, a couple days before the 25th.
---
Waiting To Exhale
. No mega-snows are brewing over the next few days, a couple inches for interior New England, maybe 4-8" for the Cascade Range of the Pacific Northwest, and an inch of slush for parts of central and northern Minnesota Sunday. Next week looks more interesting for both coasts, with mild Pacific air pushing into the central USA by late week. 60-hour NAM acccumulated snow product: NOAA and HAMweather.com.
---
Alerts Broadcaster Briefing
. Issued Friday afternoon, December 5, 2014.
*
Super Typhoon Hagupit
approaching Philippines, weakening slightly, but still expected to strike as a severe typhoon/hurricane Saturday. Minor to moderate flood/wind damage possible in Manila by Sunday as Hagupit tracks due west. Bicol Peninsula expected to bear the brunt of Hagupit's fury and storm surge.
* Flooding rains expected northern California into Pacific Northwest as a series of storms push inland. Mudslides and power outages can't be ruled out with this next series of storms.
* Potential nor'easter brewing for Mid Atlantic and New England next Tuesday and Wednesday, December 9-10.
---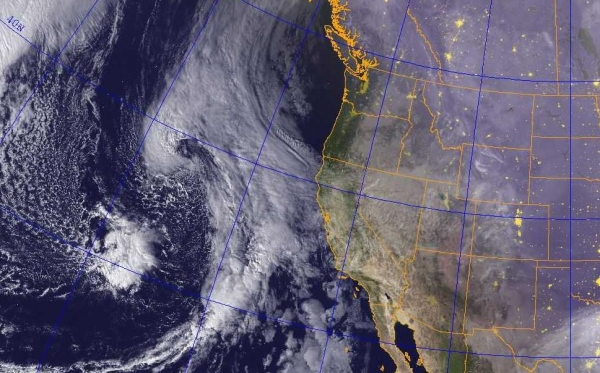 Dangerous Super Typhoon
. At one point on Wednesday Typhoon Hagupit was packing 180 mph sustained winds, making it one of the 3 strongest typhoons of 2014. The storm has weakened, but only slightly, producing sustained winds of 130-145 mph. Further weakening is likely over the next 24 hours as the core of the storm passes over slightly cooler water. The worst of the damage with Hagupit should avoid Tacloban City, hit so hard by Super Typhoon Haiyan in early November, 2013. Image:
NOAA RAMMB
.
---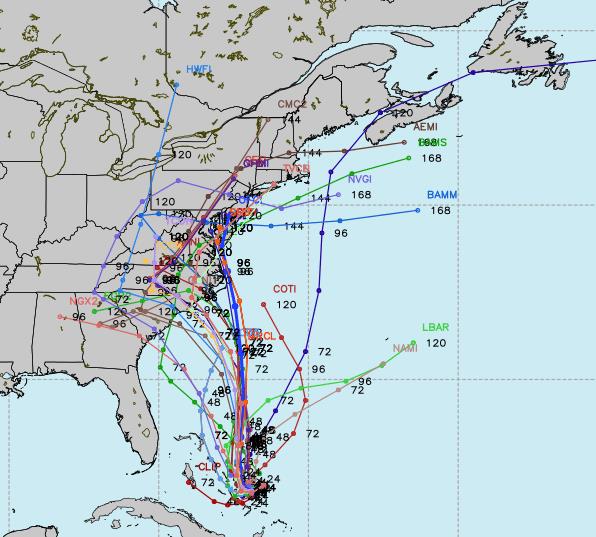 Hagupit's Track Crystallizing
. Computer models show a fair amount of consensus tracking the slowly weakening typhoon (same thing as hurricane) to the west-northwest. The storm may still be at marginal hurricane strength as it passes close to downtown Manila Saturday night and early Sunday, local Philippine time. Moderate wind and flash flood damage is possible across metro Manila with sustained winds in the 60-85 mph range. Sporadic power outages are possible over the weekend, especially south and southeast of Manila. Map:
Joint Typhoon Warning Center
.
---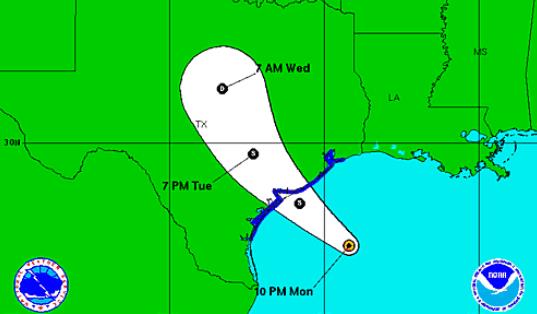 Close Call for Manila
. Called "Ruby" in the Philippines but "Hagupit" elsewhere, this typhoon tracks from the island of Samar in the Visayas into Cebu and the Bicol Peninsula, southeast of metro Manila. Although Manila Harbor may avoid a severe storm surge some flood and wind-related damage is possible, especially late Saturday into midday Sunday, local Manila time. Tacloban, virtually leveled by Haiyan, should be spared a direct strike. Map credit:
PAGASA
.
---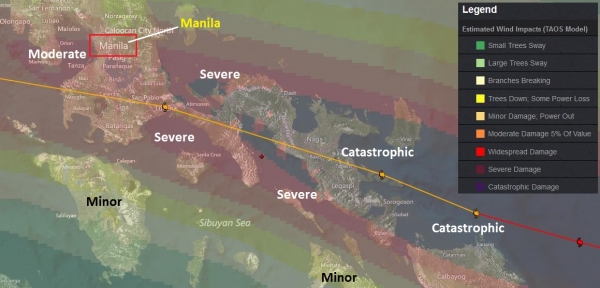 Predicted Damage Swath
. Severe to catastrophic wind and flash flood damage is possible over the Bicol Peninsula, especially Naga and Legaspi. Manila will be on the northern edge of a moderate to widespread damage; a greater potential of power outages and minor to moderate wind damage over the southern suburbs, near San Pablo and Santa Cruz.
---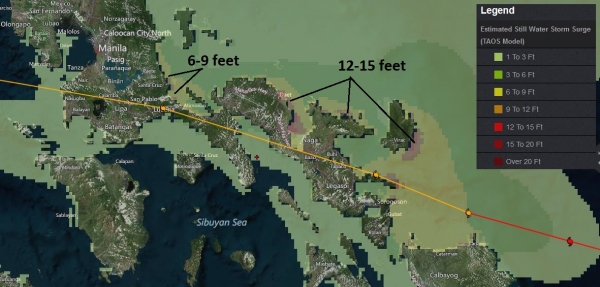 Storm Surge
. Our internal models are predicting a storm surge of 12-15 above mean sea level for portions of the Bicol Peninsula, from Sorogoson to Naga and Daet, where extreme flooding can't be ruled out within 12 hours of landfall Saturday, local time.
---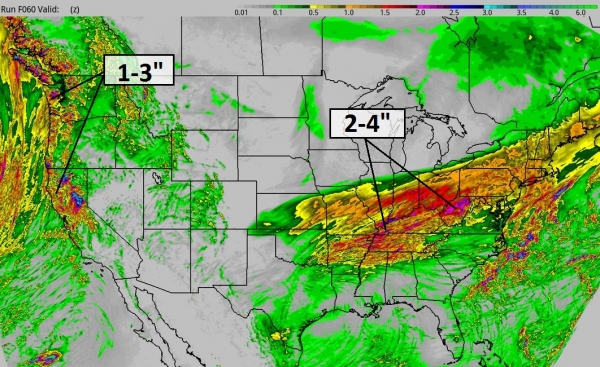 60-Hour Rainfall Potential
. Alerts Broadcaster models print out some excessive rains from near Memphis and Cairo to Louisville, Cincinnati and Columbus, where 1-3" of rain (a few isolated 4" amounts possible) falling on frozen ground may result in flash flooding. The next wave of heavy rain and mountain snows pushing into the West Coast, a recurring theme predicted for the coming weeks. Image: HAMweather.com
---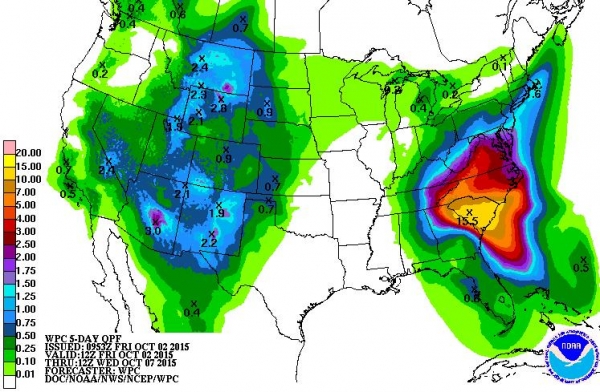 Significant Flood Risk West Coast - Nor'easter Next Week
. The map above shows predicted rainfall for the next week, as much as 5-9" for northern California and 10-12" closer to Seattle, Tacoma and Vancouver. The window where flooding potential is greatest comes next week, from Monday into Thursday, as a slow-moving front pushes down the coast. Map: NOAA.
---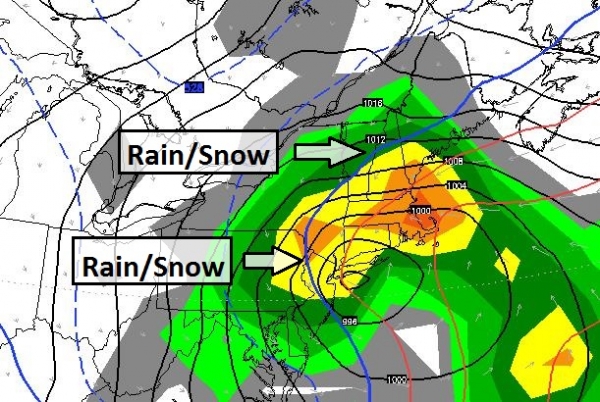 Another New England Slop-Storm
. ECMWF (European) model guidance shows another significant storm spinning up from the Mid Atlantic Region into New England from late Tuesday into Wednesday. I expect mostly rain from New York to Providence and Boston - once again minor flooding is possible. Rain ends as snow, and plowable amounts are possible for much of interior New England with this coastal storm. Image above: WSI Corporation.
Summary
: We're watching Typhoon Hagupit pushing toward the Philippines, on a track north of "Haiyan" in late 2013. I don't expect the same level of damage as we saw with Haiyan, but Hagupit (also called "Ruby" in The Philippines) is a very dangerous storm - there will be widespread damage and loss of life south/east of Manila, across the Bicol Peninsula. Moderate damage, street flooding and sporadic power outages may impact metro Manila over the weekend, especially Sunday morning, local time.
Meanwhile more flooding rains are likely early next week from Seattle into the Bay Area; while a potentially disruptive nor'easter changes a cold, windswept rain to snow from the suburbs of New York City to Boston next Tuesday and Wednesday.
Paul Douglas - Senior Meteorologist - Alerts Broadcaster
---
A Forgettable November
. Yes, it was cold. Dr. Mark Seeley includes a few nuggets about November in this week's installment of
WeatherTalk
: "
On a statewide basis November of 2014 was the coldest since 1995 with over two-thirds of the days showing temperature values that were colder than normal. Since 1895 it ranked as 9th coldest November statewide. For the Twin Cities the 11 consecutive days with below freezing temperatures (Nov 10-20), tied as the third longest November stretch below freezing in history back to 1871
..."
---
November Recap - Much of Minnesota Abnormally Dry Again
. Here's an excerpt of a good November summary for the state from the
Minnesota DNR
, and a look at moisture conditions - once again Minnesota is trending drier than average:
Average monthly temperatures for November

in Minnesota were well below historical averages, ranging from six to ten degrees below normal. Numerous records for all-time minimum high daily temperatures were set during the month. Extremes for November ranged from a high of 60 degrees F at a number of locales on the 2nd, to a low of -25 degrees F at Camp Norris (Lake of the Woods County) on the 27th.
[see: November 2014 Climate Summary Table]

Snow depths

across Minnesota vary from zero to eight inches. Little or no snow cover is on the ground in southwest Minnesota. Whereas, some areas of south central, west central, and northeast Minnesota report six to eight inches of snow depth in early December.
[see: NWS Snow Depth Estimation Map]
The

U. S. Drought Monitor

, released on December 4, indicated that Abnormally Dry conditions exist over large sections of Minnesota, the result of a dry late summer and autumn. A small area of west central Minnesota is placed in the Moderate Drought category. The Drought Monitor index is a blend of science and subjectivity where drought categories (Moderate, Severe, etc.) are based on several indicators.
---
December's ENSO Update: Close, But No Cigar
. We are close to an official El Nino, but according to
NOAA's climate.gov
, not quite there just yet. Here's an excerpt: "...
Recently, the observed increase in SST anomalies has generally matched up well with forecasts from most climate models. The August, September, and October forecasts from the NMME predicted a November Niño3.4 SST anomaly between +0.7°C and +0.9°C. Due to the recent warming and our expectation that ocean temperatures will continue to be above-average, forecasters this month have again increased the odds of El Niño this winter to an approximately 2-in-3 chance
."
Graphic credit
:
---
Fishing In Pink Waters
. Here is one of the better explanations I've seen on El Nino and ENSO in general, and how this periodic warming of Pacific ocean water can impact global weather, courtesy of
Road to Paris
: "...
Here's the basic idea of El Niño. Every few years, a relatively warm patch of water—the pink on Pierce's map—forms beneath the Pacific. The difference is just a few degrees, but in a global context, the extra heat can transform the seasonal climate. Some years, the warm region spreads outward and eventually upward, where it meets with easterly trade winds. This creates a feedback loop. Warm water undermines easterly winds that normally enable an upwelling of cool water, which amplifies warming and in turn further slows the winds. It's this moment of atmospheric-oceanic coupling that helps scientists define the start of El Niño. Wind and water exist in delicate balance with the rest of the climate—so El Niño sets off a cascade of effects
..." (Graphic credit: NOAA CPC, NCEP).
---
The Golden Quarter
.
Aeon
has a terrific article focusing on the golden age of innovation and technological breakthroughs (1945-1971). We have fancy phones, but where are the flying cars? Here's an excerpt that caught my eye: "...
In the energy sector, civilian nuclear technology was hobbled by a series of mega-profile 'disasters', including Three Mile Island (which killed no one) and Chernobyl (which killed only dozens). These incidents caused a global hiatus into research that could, by now, have given us safe, cheap and low-carbon energy. The climate change crisis, which might kill millions, is one of the prices we are paying for 40 years of risk-aversion. Apollo almost certainly couldn't happen today. That's not because people aren't interested in going to the Moon any more, but because the risk – calculated at a couple-of-per-cent chance of astronauts dying – would be unacceptable.
.." (Photo credit: NASA).
---
TODAY
: Partly sunny and brisk. Winds: NE 5-10. High: 28
SATURDAY NIGHT
: Clouds increase, not as cold. Low: 20
SUNDAY
: Wet PM snow. Inch or two of slush possible late. High: 33
MONDAY: Slick spots early. Slow clearing. Wake-up: 26. High: 32
TUESDAY: Blue sky, cooler with less wind. Wake-up: 14. High: 26
WEDNESDAY: Some sun, milder breeze. Wake-up: 21. High: 34
THURSDAY: Mostly cloudy. Go ahead and exhale. Wake-up: 30. High: 42
FRIDAY: Gray & mild, vague hints of March. Wake-up: 32. High: 45
Photo credit: Tom Purdy.
---
Climate Stories...
West Antarctic Melt Rate Has Tripled
. Here's a clip from a press release by AGU,
The American Geophysical Union
: "A comprehensive, 21-year analysis of the fastest-melting region of Antarctica has found that the melt rate of glaciers there has tripled during the last decade. The glaciers in the Amundsen Sea Embayment in West Antarctica are hemorrhaging ice faster than any other part of Antarctica and are the most significant Antarctic contributors to sea level rise. This study by scientists at the University of California, Irvine (UCI), and NASA is the first to evaluate and reconcile observations from four different measurement techniques to produce an authoritative estimate of the amount and the rate of loss over the last two decades. "The mass loss of these glaciers is increasing at an amazing rate," said scientist Isabella Velicogna, jointly of UCI and NASA's Jet Propulsion Laboratory, Pasadena, California..."
Photo credit
above: "
Glaciers seen during NASA's Operation IceBridge research flight to West Antarctica on Oct. 29, 2014. A new analysis of the fastest-melting region of Antarctica has found that the melt rate of glaciers there has tripled during the last decade
." Credit: NASA/Michael Studinger.
---
Research Casts Alarming Light on Decline of West Antarctic Glaciers.
The Washington Post
has the video and article; here's the introduction: "
For two decades, scientists have kept a close watch on a vast, icebound corner of West Antarctica that is undergoing a historic thaw. Climate experts have predicted that, centuries from now, the region's mile-thick ice sheet could collapse and raise sea levels as much as 11 feet. Now, new evidence is causing concern that the collapse could happen faster than anyone thought. New scientific studies this week have shed light on the speed and the mechanics of West Antarctic melting, documenting an acceleration that, if it continues, could have major effects on coastal cities worldwide
..."
---
Antarctic Ice Sheets Threatened By Warm Water Rising From Below.
Here's a slightly different perspective on the new research findings, an excerpt courtesy of
Bloomberg
: "
A layer of warmer water under Antarctica's ice sheet has been increasing for at least three decades, possibly due to changed wind patterns linked to climate change, and may make it melt faster. That would prompt the oceans to rise faster than expected, according to an article today in the journal Science. "We likely are underestimating the sea-level rise that comes from Antarctica," said Sunke Schmidtko, one of the paper's authors and a researcher at GEOMAR Helmholtz Centre for Ocean Research Kiel.
.."
---
Planet Reboot: Fighting Climate Change With Geoengineering
. Having engineers fix our overheated planet by spraying chemicals into the stratosphere? What can possibly go wrong. Here's a clip from
Newsweek's cover story
: "...
In the meantime, the world's climate scientists have begun to turn their attention to generating workable geoengineering projects that can either bypass governmental red tape or reverse the change so quickly and with such great efficacy that it might not matter if the world never manages to get its act together. Today there are a slew of ideas for geoengineering the planet. They range from the very simple to the very sci-fi. But they're all based in science, and they could one day be the last chance to save the human race
..."
---
Deniers Are Not Skeptics
. Here's a clip from a post by CSI,
The Committee For Skeptical Inquiry
: "...
Real skepticism is summed up by a quote popularized by Carl Sagan, "Extraordinary claims require extraordinary evidence." Inhofe's belief that global warming is "the greatest hoax ever perpetrated on the American people" is an extraordinary claim indeed. He has never been able to provide evidence for this vast alleged conspiracy. That alone should disqualify him from using the title "skeptic." As scientific skeptics, we are well aware of political efforts to undermine climate science by those who deny reality but do not engage in scientific research or consider evidence that their deeply held opinions are wrong
..."
---
Church of England Challenges BP and Shell Over Global Warming
.
The Guardian
has the article; here's the introduction: "
The Church of England has challenged BP and Shell, two of the world's biggest oil companies, to take responsibility for their carbon footprints and limit their contribution to global warming. The church will submit a shareholder resolution calling on the energy companies, which are two of the top five investments in its £9bn investment fund, to take action to "adapt their businesses over the long term for a low carbon economy
"...
---
Minneapolis Gets White House Attention for Climate Change Work.
The Star Tribune
has the story - here's the introduction: "
Minneapolis' efforts to combat climate change have helped put it on a White House list of national leaders on the issue. The White House said Wednesday that Minneapolis is one of 16 "Climate Action Champions" selected in a competitive process. Each of the communities will receive help from a coordinator, who will help provide information and guidance on funding, among other support. The designation does not come with direct funding
..." (Photo credit:
Steve Burns Photography
).
---
"No Warming Since 1998 - Wrong."
You've probably heard this meme, temperatures have flattened out or even cooled since 1998, the last extreme El Nino event. The reality is that the data just doesn't support this statement. Here's an excerpt from
RealClimate
: "...
You see a warming trend (blue line) of 0.116 C per decade, so the claim that there has been no warming is wrong. But is the warming significant? The confidence intervals on the trend (+/- 0.137) suggest not - they seem to suggest that the temperature trend might have been as much as +0.25 C, or zero, or even slightly negative. So are we not sure whether there even was a warming trend? That conclusion would be wrong - it would simply be a misunderstanding of the meaning of the confidence intervals. They are not confidence intervals on whether a warming has taken place - it certainly has. These confidence intervals have nothing to do with measurement uncertainties, which are far smaller
..."
You see a warming trend (blue line) of 0.116 °C per decade, so the claim that there has been no warming is wrong. But is the warming significant? The confidence intervals on the trend (± 0.137) suggest not – they seem to suggest that the temperature trend might have been as much as +0.25 °C, or zero, or even slightly negative. So are we not sure whether there even was a warming trend?
That conclusion would be wrong – it would simply be a misunderstanding of the meaning of the confidence intervals. They are not confidence intervals on whether a warming has taken place – it certainly has. These confidence intervals have nothing to do with measurement uncertainties, which are far smaller.
- See more at: http://www.realclimate.org/index.php/archives/2014/12/recent-global-warming-trends-significant-or-paused-or-what/#sthash.vijqTxcP.dpuf
---
CO2 Takes Just 10 Years To Reach Planet's Peak Heat.
Stated another way, industry and political leaders can take steps (today) that can effectively lower carbon dioxide levels in their lifetime. Here's a clip from
Climate Central
: "
In a study that could have important ramifications on estimating the impacts, costs and benefits of reducing carbon dioxide emissions, new research shows that CO2 brings peak heat within a decade of being emitted, with the effects then lingering 100 years or more into the future. The research, published Wednesday in Environmental Research Letters, provides policymakers and economists with a new perspective on how fast human carbon emissions heat the planet
..."
Animation credit: "Spring atmospheric CO2 concentrations, when they're usually at their peak." Credit: NASA
---
Climate Skeptics Feeling The Heat
. Paul Hudson is a weather and climate presenter at
The BBC
; here's an excerpt of a recent post: "...
And according to new research from the Met Office, the current elevated level of global temperatures is highly unlikely in a world without man-made carbon dioxide. Moreover, the research shows that human influence has made breaking the current UK temperature record around 10 times more likely. In the years since I joined the BBC from the Met Office in 2007 I have spoken to several prominent climate sceptics who always insisted to me, quite vocally, that global temperatures would soon begin to fall. The latest temperature data will make uncomfortable reading for them
."
Cartoon credit
:
Tom Toles, Washington Post
.