36 F
. high in the Twin Cities Saturday.
27 F
. average high on February 7.
12 F
. high on February 7, 2014, after waking up to -5 F.
1" snow
on the ground at KMSP.
February 7, 1996
: Showers and thunderstorms bring a mix of ice and rain across the eastern portion of Minnesota. In Edina, lightning damaged a house.
February 7, 1933
: Arctic air entrenched across Minnesota with a morning low of -55 at Warroad.
All or Nothing
Truth be told weather has never been average or normal. A clumsy waltz of weather fronts greeted the first caveman peering out at an uncertain sky. Since then untold fortunes have been spent trying to engineer the vagaries of weather out of our lives. We split the atom, mapped the human genome and sent men to the moon. But we still can't disrupt a tornado or stop a snowstorm.
The third major storm in 2 weeks dumps another foot and a half of snow on Boston, on top of 43 inches since late January. What's going on? The same drive-by clippers that drop narrow carpets of blowing snow across Minnesota go on to spin up major coastal storms - Nor'easters - spewing a fire-hose of Atlantic moisture on New England, where extreme precipitation events (rain and snow) have spiked 71 percent in the last 50 years, compared to a 45 percent increase here in Minnesota.
You'll be SHOCKED! to hear that no big storms are showing up close to home. Another clipper drops a nuisance snow on Tuesday, maybe a couple inches, as temperatures start to chill. We may flirt with zero a few mornings late next week but I see nothing to rival last year's pioneer winter.
Snow would be nice but I don't yet miss the polar vortex.
---
Another Major League Dumping
. Watch the snowfall amounts spike (purple and blue shades show regions expecting more than a foot of additional snow) as a clipper taps moisture from the Atlantic. Maybe Boston can ship some of that 12-18" of additional snow to Minnesota? 60-hour NAM accumulated snow: NOAA and Aeris Weather.
---
Another Temperature Correction.
Although hardly polar-vortex-cold, temperatures dip below average the latter half of next week, with a few subzero lows likely from next Thursday morning into the following week. It still looks like the core of the coldest air is aimed at New England, not Minnesota. We'll get a glancing blow, just cold enough to remind you that this is still prime time wintertime. Graph: Weatherspark.
---
Another Subzero Smack?
GFS guidance shows another surge of numbing air reaching Minnesota between February 17-19, with moderation by the last week of February as prevailing winds become more westerly, blowing in milder air from the Pacific.
---
Late February Warming Trend for Minnesota - Growing Tornado Potential Southern USA
. I could see a fairly significant severe storm outbreak for the southeastern USA if the GFS model verifies, a very active southerly branch to the jet stream possibly providing the necessary wind shear for violent thunderstorms. Meanwhile a more westerly shift in the jet stream winds should mean more 30s for Minnesota. Map: GrADS:COLA/IGES
---
Alerts Broadcaster Briefing
: Issued Saturday night, February 7, 2015.
* Long-duration snow event for much of New England, snowfall amounts by Monday night range from plowable to crippling.
*
Winds stay below blizzard criteria
, and the extended period of light to moderate snow, coupled with less blowing and drifting, should make it a little easier to remove snow from roads than last week's bonafied blizzard.
* 12-18" possible in
Boston
by Monday night;
New York City
sees rain later Sunday ending as ice and a couple inches of slushy snow Monday.
---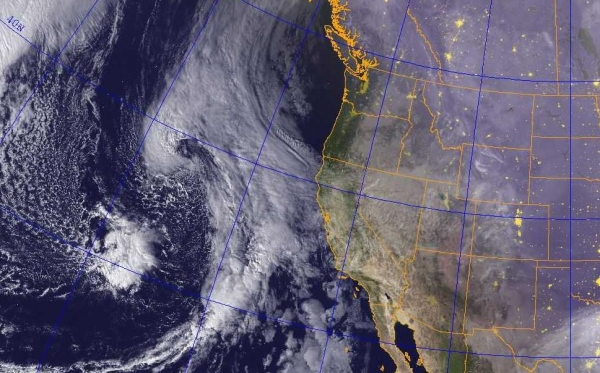 Another Mutant Clipper
. Fast-moving storms diving southeast out of Canada are strengthening as they approach the east coast, tapping copious moisture from the Atlantic ocean, meaning a 36-48 hour snow event for much of interior New England.
---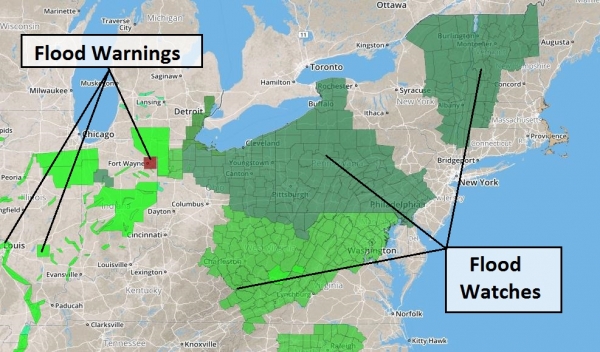 Winter Storm Warnings In Effect
. The difference this time around, no blizzard watches or warnings. Snowfall amounts will be nearly as high as last Monday from Hartford and Albany to Springfield, Boston, Nashua, Montpelier and Rutland. Snow increases in intensity during the day Sunday, slowly tapering by Monday night. Map: Aeris Weather.
---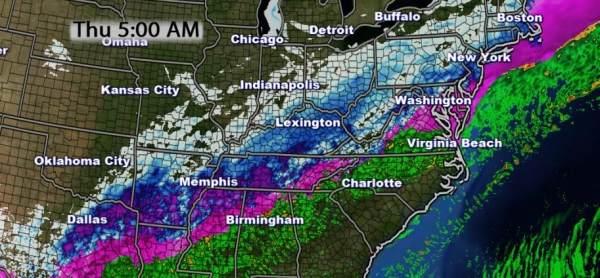 Deja Vu All Over Again
. This is getting old for Boston residents; 44" of snow from 2 blizzards in one week, and now a third major snow event capable of at least another foot of snow, capable of widespread travel disruptions from Hartford to Boston, Portland and upstate New York. Map: Aeris Weather.
---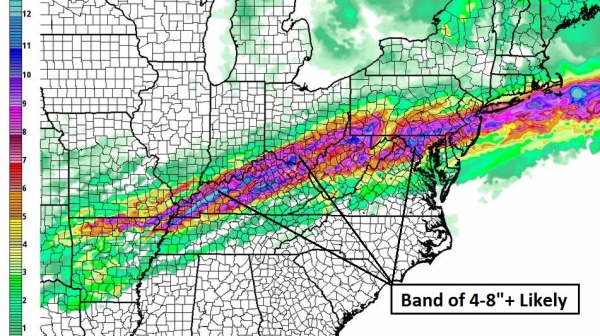 Converging Models
. Although the models we study, including GFS, NAM and ECMWF never totally agree (on anything) there is sufficient agreement in where the axis of heaviest snow should set up (Rochester to Boston) and general amounts in excess of a foot for much of interior New England.
---

Tracking Boston Amounts
. Our internal Aeris models show snowfall totals as high as 15-17" by Tuesday morning. With temperatures in the lowest mile of the atmosphere consistently below freezing, over 1.5" liquid precipitation translates into a foot and a half of accumulation for some Boston suburbs.
---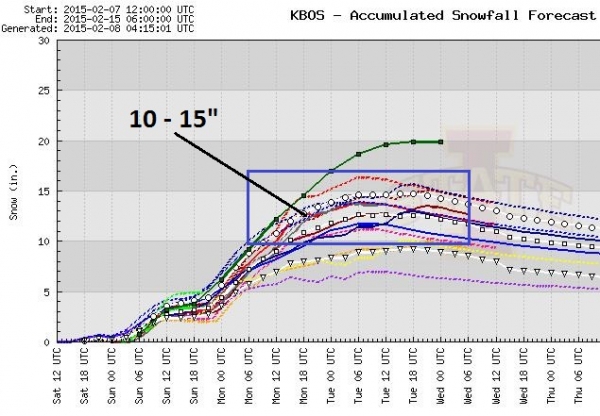 A Very Snowy Rut
. From time to time the atmosphere becomes locked in a specific pattern, with storms traveling along the same track, resulting in excessive rainfall or snowfall amounts. Residents of Boston and the rest of New England won't need much convincing. The challenge of where to put the snow will become glaring in the next 36 hours. I expect widespread closures Monday, the transportation grid slowly improving Tuesday. Graphic: Iowa State.
---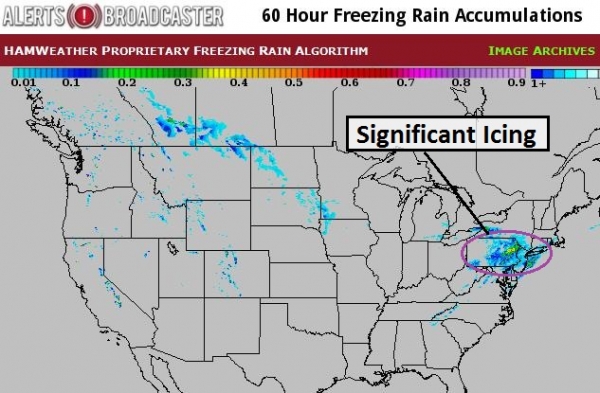 Icing Potential
. Our internal models show significant icing from Wilkes-Barre/Scranton and Allentown into northern New Jersey, metro New York City and parts of Connecticut Sunday night into Monday morning, south of the heaviest snow bands.
Summary
: This may wind up becoming one of Boston's 3 snowiest winters on record at the rate we're going, with plowable to crippling impacts for much of New England. Conditions continue to deteriorate into Monday, and although not a blizzard, disruptions will be widespread. The greatest potential for icing and subsequent power outages will be from eastern Pennsylvania into northern New Jersey and the Tri-State area. Good luck, be careful out there.
Paul Douglas - Senior Meteorologist - Alerts Broadcaster
---
A Family Of Alberta Clippers
. It's been a relatively quiet start to February; nothing resembling a "storm" in the classic sense, just a series of fast-moving disturbances dropping out of Canada. Dr. Mark Seeley takes a look at clippers in this week's edition of
Minnesota WeatherTalk
; here's a clip: "...
Additionally Alberta Clippers usually usher in colder air from higher latitude. Such was the case this week as many northern climate stations reported some overnight lows in the -20s°F, with Ely falling to -30°F and Embarrass and Cotton reporting -31°F. With 7 inches of Alberta Clipper delivered snow on the ground, even Preston (Fillmore County) in southeastern Minnesota fell to -21°F this week. These were the coldest temperatures since the first half of January
..."
---
An Exclusive Look At Sony's Hacking Saga.
Vanity Fair
has more details on the chronology of the largest corporate hack in history; here's the prologue: "
The devastating moment that Amy Pascal and Michael Lynton learned Sony had been taken hostage by vicious cyber-criminals targeting The Interview, was just the beginning of the drama. Mark Seal speaks with Seth Rogen and Evan Goldberg for an inside account of Hollywood caught in the crosshairs
..."
Image credit
above: "
Seth Rogen, Sony Pictures co-chairman Amy Pascal, North Korea leader Kim Jong Un, Sony Pictures C.E.O. Michael Lynton, and James Franco
."
---
The Next Internet Is TV.
The Awl
has an intriguing story that focuses on apps that bring people together, virtually or in-person. Will they eventually eclipse the power and reach of legacy media? Here's a clip: "...
The only thing that keeps people coming back to apps in great enough numbers over time to make real money is the presence of other people. So the only apps that people use in the way publications want their readers to behave—with growing loyalty that can be turned into money—are communications services. The near-future internet puts the publishing and communications industries in competition with each other for the same confused advertising dollars, and it's not even close
..."
---
Americans Are Too Blinded By Fandom To Save Football From Destroying Itself.
Yeah, those concussions and brain injuries are unfortunate, now get out of the way of my TV screen while I turn up the volume on the game. Not sure what to make of this, but a story at
Quartz
is worth reading - here's a clip: "...
Participation has been waning for years. Between 2008 and 2013 the number of people playing tackle football, the full-contact version of the sport, declined by 1.9 million people, a drop of 23%, according to the Sports Industry and Fitness Association. There has even been an exodus from safer variants like "flag" football (down 21%) and touch football (down 32%)..."
---
Why Did Brian Williams Lie?
Or misremember, my new favorite word. Maybe it all stems from a desire not to disappoint, an almost subconscious desire to tell a better story, according to a story at
POLITICO
; here's an excerpt that caught my eye: "...
Alas, the human tendency to juice our stories is universal, and it's a temptation that some journalists find impossible to resist. When we tell our personal stories, we tend to add dramatic pauses that will build suspense. In each retelling, we tend to incorporate into it the reactions of the last audience, escalating the drama that got a good reaction, tamping down the events that dragged, and making up stuff to further engage our audiences. We supplement and reshape our stories both subconsciously and deliberately, because there is no public shame like the public shame that follows the telling of a boring tale
..."
Photo credit
: Brad Barket/Invision/AP, File.
---
"Cloud Bursting" Service Can Ensure Sunny Wedding Photos for $150,000.
Uh huh. A sucker is born every minute; for people with more money than sense check out a story at
PetaPixel
; here's an excerpt: "
Want to ensure sunshine for bright and happy outdoor wedding photographs? All you need is $150,000. A UK-based company has begun offering a "cloud bursting" service that can 100% guarantee fair weather for your wedding day and photographs. Oliver's Travels, a luxury travel and rental service, has begun offering the service for prospective brides and grooms who are interested in a sunny destination wedding at certain venues in France
..."
Image credit
: "
Header graphic created with photos by Milkbar Nick and Les Chatfield, and illustration by DooFi"
---
TODAY
: Gray, a few flakes in the air. Winds: NE 10. High: 31
SUNDAY NIGHT
: Patchy clouds, colder. Low: 18
MONDAY: Mix of clouds and some sun. High: 29
TUESDAY: Clipper, couple inches of snow? Wake-up: 23. High: near 30
WEDNESDAY: Flurries taper, clearing and colder. Wake-up: 20. High: 25
THURSDAY: Blue sky, yep - still winter. Wake-up: -3. High: 13
FRIDAY: Cloudy clipper, coating of snow? Wake-up: 0. High: 21
SATURDAY
: Cloudy, colder front arrives late. Wake-up: 12. High: 30
* image credit above:
Mike Hall Photography
.
---
Climate Stories....
Global Warming May Spawn More Southeast U.S. Tornadoes.
Live Science
has the details of new research and projections; here's an excerpt: "...
Researchers examined how global warming will affect severe weather during the heart of tornado season — March, April and May. They found that while the yearly tornado total will climb by 2080, the number of tornadoes will also vary wildly from year to year. That's because sometimes, the weather will get stuck in a pattern that favors tornadoes, and sometimes, conditions will stymie stormy weather, according to the report, published Jan. 15 in the journal Climatic Change
..."
---
The Global Heat Is On For Congress.
An Op-Ed at
The Prior Lake American
resonated with me, a terrific summation of the threat...and opportunity. Here's an excerpt: "...
Ronald Reagan's Secretary of State George Schultz is a Citizens' Climate Lobby (CCL) advisory board member. CCL is a nonprofit and nonpartisan group focused on national policies to address climate change. Schultz supports CCL's 100-percent revenue-neutral carbon fee and dividend plan while Art Laffer, economic advisor to President Reagan, calls it a "no-brainer." The fee and dividend plan is very simple. Place a steadily rising fee on the carbon dioxide content of fossil fuels, enact border adjustments to ensure fairness and competition for American businesses, and return 100 percent of the revenue to American households to offset energy price increases
..."
---
Climate Changes Are Coming To The American Heartland.
Here's an excerpt of a good summary of the recent "Risky Business" report for the Midwest at
fastcoexist.com
: "...
Some counties in northern Minnesota, Wisconsin, and Michigan could benefit from warmer temperatures, as farmers extend their growing seasons. But most of the impacts are likely to be negative. Rising temperatures could increase energy demand (because of the need for more air conditioning), decrease productivity (because outdoor workers tend to toil less hard in hotter weather), and drive up mortality rates (because older people are affected by hotter temperatures)
..."
---
Climate Change As A Significant National Security Threat
. More like a force-multiplier, volatility that can help to result in civil unrest, mass migrations, even war. Here's an excerpt from
Politico
: "...
Climate change is an urgent and growing threat to our national security, contributing to increased natural disasters, refugee flows, and conflicts over basic resources like food and water," the document states, according to the former U.S. official. "The present day effects of climate change are being felt from the Arctic to the Midwest. Increased sea levels and storm surges threaten coastal regions, infrastructure, and property. In turn, the global economy suffers, compounding the growing costs of preparing and restoring infrastructure
..."
---
Can We Reverse-Engineeer The Environment?
An article at
The New York Times Magazine
caught my eye; here's an excerpt: "...
More than 1,000 dams have been removed from American rivers in the past century, 72 of them last year. Homesteaders drained wetlands; after Hurricanes Katrina and Sandy, we're building them. Battling the effects of climate change is now central to the Army Corps's mission. Having spent centuries trying to bring natural forces under our control, our civil engineers are now declaring peace with them, or at least establishing diplomatic relations
..."
---
What Should We Tell The Kids About Climate Change?
Bloomberg
has the story - here's a clip: "...
Efforts to block teaching about climate change echo attempts by religious conservatives two decades ago to put creationism based on biblical teaching on equal footing with evolution in science classrooms. "On one side you have 97 percent of scientists and video of melting polar caps, and on the other you have 3 percent of scientists, with discredited theories," Hoyos says. "Why give them equal space?
..."