32 F
. high in the Twin Cities Sunday.
27 F
. average high on February 8.
15 F
. high on February 8, 2014.
Trace of snow
on the ground at MSP International Airport.
February 8, 1899
: The mercury plummets to -59 at Leech Lake Dam
50 Shades of Brown
I'm working on a screenplay about a man so paranoid about Minnesota weather treachery that he hides out in the Skyway System, afraid to show his face at street-level. Far-fetched? Yes, thank God.
If 3 months ago you had told me that we'd be staring out at brown lawns and fields in February - while Boston was buried under 2 or 3 WINTER'S worth of snow I would have accused you of standing too close to the Doppler. No way. Not possible. But that's how the pattern has stalled; temporarily locked on a track that strengthens Alberta Clippers off the coast of New England. One after another. We get peanuts in the back of the plane while New England gets a first-class snow buffet.
Boston's suburbs may pick up 15 to 20 inches by tomorrow morning; they're running out of places to stash snow.
Unreal. A quiet Monday gives way to a slow-moving clipper on Tuesday capable of 2 to 4 inches of accumulation. A plowable snow? Call out the National Guard!
I see a cold bias the next 2 weeks; a few nights below zero from Wednesday into next week. The pattern still isn't ripe for big, sloppy southern storms. Maybe we'll pick up a few jumbo clippers capable of white-washing my nasty-brown yard.
---
Another Fickle Clipper
. Snow from clippers is even more unpredictable and manic than trying to pin down snow amounts from a southern system, approaching from Colorado or Missouri. A 20 mile north-south shift in the track can make the difference between flurries, and a half foot of flurries. The 00z NAM model shows the best chance of 3-4" from near Bemidji to Leech Lake and Hibbing, maybe an inch or 2 for the metro.
---
Another Northeastern Snow-Bomb
. As much as 12-16" of snow is likely in Boston, on top of the nearly 4 feet of snow that has fallen since late January. Skiers may be snubbing Colorado and Utah in favor of New England. At the rate we're going avalanches may become a significant risk from Killington to Stowe and Lake Placid. 60-hour accumulated 4 KM snowfall product: NOAA and Aeris Weather.
---
Cooling Trend
. Again, not exactly polar, but consistently colder than average from Thursday of this week into much of next week. A few more subzero nights are likely, especially over the weekend, but the volume of Canadian air pales in comparison with last winter.
---
Moderately Cold for Late February.
Although the thrust of bitter air will be New England we'll see our fair share of cold frontal passages into late February; a more zonal, west to east flow pumping milder Pacific air inland. I wouldn't call this winter's last gasp, but the odds of subzero weather drop off dramatically in March with a rising sun angle. Source: GrADS:COLA/IGES.
---
The Groundhog Was Right.
GFS data shows teens and 20s the latter half of February, maybe a few days near freezing, but nothing terribly springy just yet. February is the shortest month; before we know it it'll be March, tournament time, spring break time. Easter eggs and thoughts of summer to come.
---
Alerts Broadcaster Briefing
: Issued Sunday evening, February 8, 2015.
* Long-duration snow event for New England still on track. Snow tapers Monday night with travel conditions slowly improving Tuesday.
* I don't expect blizzard criteria to met for an extended period, but land and air travel will be severely disrupted over the next 24-36 hours.
* Boston on track for at least a foot of snow, some suburbs may pick up 18" by Tuesday morning, on top of the 4 feet of snow that's fallen since late January. We are on track for one of the 3 snowiest winters on record for Boston.
* Governor Charlie Baker asks Massachusetts residents to stay off the road Monday.
* In a 5 p.m. Sunday press conference, Baker asks non-emergency state workers to stay home Monday, urges other employers to follow suit. Source: Boston Globe.
---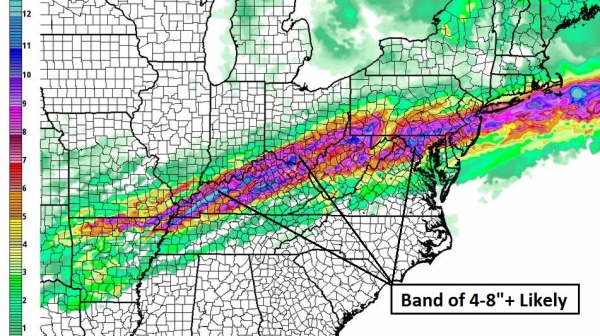 Staggering Amounts of Snow
. NOAA's NAM model prints out upwards of 16"+ for eastern Massachusetts over the next 36 hours; Boston may be in the northeast-southwest axis of heaviest snow. 60-hour accumulated snowfall: NOAA and Aeris Weather.
---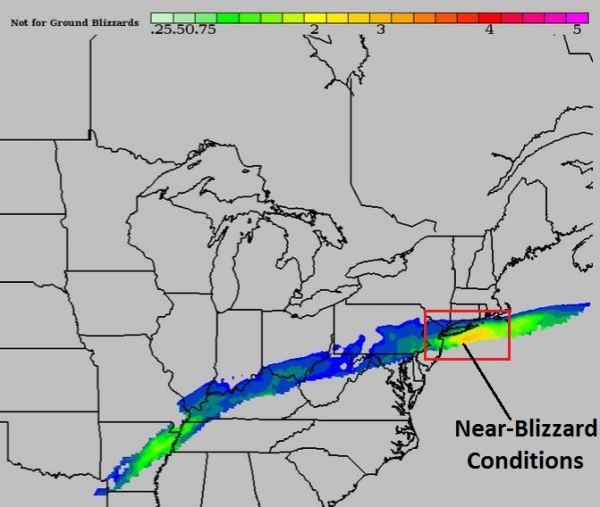 BPI: Close To Blizzard Criteria Monday Morning
. Our in-house models show conditions close to blizzard criteria Monday morning at 10 AM (above). Visibilities may fall to 1/2 to 1/4 mile in moderate snow at times, resulting in numerous delays and cancellations from Hartford to Providence, Boston and Portland, Maine. BPI data: Aeris Weather.
---
National Weather Service Snowfall Outlook
. NOAA is predicting some 18-24" amounts from Boston up the North Shore into the Merrimack Valley. This forecast could still verify, especially north of Boston, but I feel like final totals will wind up closer to 12-16" for downtown Boston and close-in suburbs. At some point you lose track and it probably doesn't matter whether it's 15" or 21". It'll be enough to turn Monday into another snow day across most of New England. Map credit: Boston National Weather Service.
---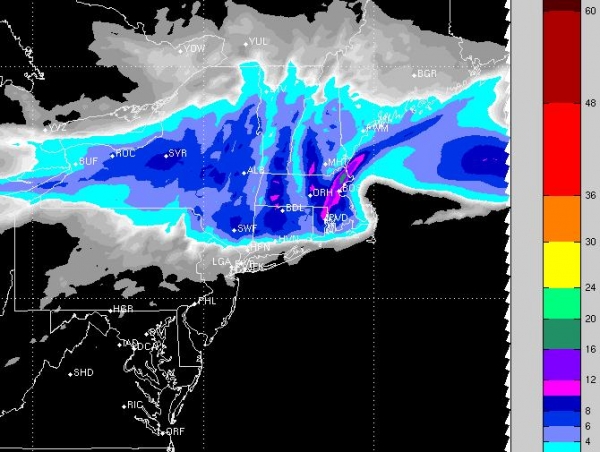 Closer To The Mark?
High-resolution models are predicting closer to 12-16" for Boston, with 10" possible in Providence. New York City will see a mix of ice and snow with an inch or two possible from north Jersey to Westchester County into Fairfield County, Connecticut, but the heaviest snow bands set up well north of NYC. RPM graphic above: WSI Corporation.
Summary
: When in doubt this winter, just predict heavy snow for Boston and the rest of New England. Odds are you'll be close to the mark. The pattern has become temporarily locked on a track that intensifies Alberta Clippers into Nor'easters, tapping copious moisture from the Atlantic Ocean. 6 feet of snow in 2 weeks? That's unusual for major ski resorts like Tahoe, Snowbird and Big Sky - it's nearly unprecedented for a major urban area on the Atlantic coast, where warm Gulf Stream waters usually result in rain or a mix. Not this winter.
Paul Douglas - Senior Meteorologist - Alerts Broadcaster
---
Many Factors Made 2014 Hottest Year in California.
It was also the warmest year, worldwide, on record, but California was off-the-scale hot. How much of this is part of a natural cycle or evidence of the urban heat island?
Los Angeles Daily News
has a good recap; here's the intro: "
Many blame man-made global warming. Others say it's more about the natural cyclical ocean currents, sea temperatures and wind patterns. Some wag the finger at urbanized humanity — too many people, cars and concrete heating up inside nonporous asphalt jungles. Actually, the reasons for 2014 being Earth's warmest year since 1880 when record-keeping began are all of the above, according to scientists and researchers. Explaining warmer temperatures can be complex. Unfortunately, the media don't like to report yes-but answers
..."
---
An Exclusive Look At Sony's Hacking Saga.
Vanity Fair
has more details on the chronology of the largest corporate hack in history; here's the prologue: "
The devastating moment that Amy Pascal and Michael Lynton learned Sony had been taken hostage by vicious cyber-criminals targeting The Interview, was just the beginning of the drama. Mark Seal speaks with Seth Rogen and Evan Goldberg for an inside account of Hollywood caught in the crosshairs
..."
Image credit
above: "
Seth Rogen, Sony Pictures co-chairman Amy Pascal, North Korea leader Kim Jong Un, Sony Pictures C.E.O. Michael Lynton, and James Franco
."
---
Americans Are Too Blinded By Fandom To Save Football From Destroying Itself.
Yeah, those concussions and brain injuries are unfortunate, now get out of the way of my TV screen while I turn up the volume on the game. Not sure what to make of this, but a story at
Quartz
is worth reading - here's a clip: "...
Participation has been waning for years. Between 2008 and 2013 the number of people playing tackle football, the full-contact version of the sport, declined by 1.9 million people, a drop of 23%, according to the Sports Industry and Fitness Association. There has even been an exodus from safer variants like "flag" football (down 21%) and touch football (down 32%)..."
---
Why Did Brian Williams Lie?
Or misremember, my new favorite word. Maybe it all stems from a desire not to disappoint, an almost subconscious desire to tell a better story, according to a story at
POLITICO
; here's an excerpt that caught my eye: "...
Alas, the human tendency to juice our stories is universal, and it's a temptation that some journalists find impossible to resist. When we tell our personal stories, we tend to add dramatic pauses that will build suspense. In each retelling, we tend to incorporate into it the reactions of the last audience, escalating the drama that got a good reaction, tamping down the events that dragged, and making up stuff to further engage our audiences. We supplement and reshape our stories both subconsciously and deliberately, because there is no public shame like the public shame that follows the telling of a boring tale
..."
Photo credit
: Brad Barket/Invision/AP, File.
---
Map: The Most Common* Job In Every State
. According to
NPR's Planet Money
I will soon be driving a truck. Don't laugh - so will you. Here's an excerpt from a fascinating story: "...
We used data from the Census Bureau, which has two catch-all categories: "managers not elsewhere classified" and "salespersons not elsewhere classified." Because those categories are broad and vague to the point of meaninglessness, we excluded them from our map
..."
---
TODAY: More clouds than sun, quiet. Winds: NE 5. High: 30
MONDAY NIGHT: Clouds increase late. Low: 21
TUESDAY: Another clipper. 1-2" possible, more north of MSP. High: 31
WEDNESDAY: Windy, turning colder again. Wake-up: 16. High: 18, falling during the day.
THURSDAY: Blue sky. Still feels like winter. Wake-up: -1. High: 12
FRIDAY: Clouds, few flurries. Wake-up: 5. High: 22
SATURDAY
: Reinforcing shot of cold air. Wake-up: -4. High: 9
SUNDAY
: Mix of clouds and sun, brisk. Wake-up: -2. High: 14
---
Climate Stories....
Global Warming May Spawn More Southeast U.S. Tornadoes.
Live Science
has the details of new research and projections; here's an excerpt: "...
Researchers examined how global warming will affect severe weather during the heart of tornado season — March, April and May. They found that while the yearly tornado total will climb by 2080, the number of tornadoes will also vary wildly from year to year. That's because sometimes, the weather will get stuck in a pattern that favors tornadoes, and sometimes, conditions will stymie stormy weather, according to the report, published Jan. 15 in the journal Climatic Change
..."
---
The Global Heat Is On For Congress.
An Op-Ed at
The Prior Lake American
resonated with me, a terrific summation of the threat...and opportunity. Here's an excerpt: "...
Ronald Reagan's Secretary of State George Schultz is a Citizens' Climate Lobby (CCL) advisory board member. CCL is a nonprofit and nonpartisan group focused on national policies to address climate change. Schultz supports CCL's 100-percent revenue-neutral carbon fee and dividend plan while Art Laffer, economic advisor to President Reagan, calls it a "no-brainer." The fee and dividend plan is very simple. Place a steadily rising fee on the carbon dioxide content of fossil fuels, enact border adjustments to ensure fairness and competition for American businesses, and return 100 percent of the revenue to American households to offset energy price increases
..."