21 F
. high yesterday in the Twin Cities.
25 F
. average high on February 1.
22 F
. high on February 1, 2014.
1/2 inch
of snow fell at MSP International Airport Sunday morning.
Minnesota Weather History
, courtesy of the Twin Cities National Weather Service:
1996
: State record low temperature set in Minnesota. With numerous media folk present, the low dipped to -60 three miles south of Tower. Governor Arne Carlson cancelled school statewide due to the cold.
1988
: Temperature bottoms out at -43 at Embarrass.
1927
: Spring-like temperatures on Groundhog's day. Tracy is 57 and Fairmont reaches 56.
Bored Groundhogs
"Why are we not getting any snow this winter? It's SO boring!" wrote Sylvia Goldman from Anoka. I agree. Try and make a snow angel and you'll get brush burns. While you're at it BORROW a friend's skis or sled and expect a rough ride.
Snow lovers are in a dark place. Snowfall so far this winter is half as much as last year: 5.4 inches in January, 20.4 for the winter, to date. At this rate we may wind up with 30-40 inches for the season, significantly less than average.
We're stuck in a rut; big storms sailing to the south, a relatively dry, mild Pacific influence with the coldest fronts of winter taking aim at New England, not Minnesota.
While residents of Chicago, Detroit & Boston dig out from a foot of snow we track a series of feeble clippers, each one capable of a coating. Zzzzzzzzzz.
This week trends colder than average but a thaw returns next week. Minnesota continues to dry out; a simmering low-grade El Nino should mean a mild, dry bias into early spring, but I'm not convinced this means a drought-summer is imminent.
And it doesn't really matter what Punxetawney Phil says. At this latitude 6 more weeks of winter is a sure thing, but it'll be a pale imitation of last year.
---
Heavy Snow Pushes Across New England. The Patriots may have to delay their victorious flight back to BOS by 24 hours, as heavy snow sweeps eastward, near-blizzard conditions possible for coastal New England by this afternoon. Meanwhile residents from Davenport to Chicago to Detroit will be digging out today. 60-hour 4 km NAM accumulated snowfall product via NOAA and Aeris Weather.
---
Cold, But Nothing Brutal. Old Man Winter is pulling his punch; the high temperatures highlighted above are considerably warmer than GFS numbers were hinting at just 1-2 weeks ago, when it looked like an extended streak of nights below zero. According to European guidance we may not see any subzero lows into early next week, another shot at freezing Friday before a clipper brushes us with a coating of snow Saturday. Woo hoo!
---
Seasonable Second Week of February.
Temperatures run about 5-10F colder than average this week, but moderation is still expected next week with a few days near or above freezing. You may be shocked to hear this, but the pattern doesn favor significant snow into mid-February.
---
Blizzard Warnings For Chicago - Reaches New England Monday


Alerts Broadcaster Briefing: Issued Sunday morning, February 1, 2015.

* Blizzard conditions impacting Chicago, about to push into Grand Rapids, Ann Arbor, Detroit, South Bend and Toledo later today.
* No travel recommended from across a broad swath of land stretching from Iowa into northern Illinois, southern Wisconsin, into the Great Lakes.
* Some 10-15" amounts are likely with widespread blowing and drifting of snow by Monday as winds top 35 mph.
* Heavy snow reaches upstate New York and New England tonight and Monday.
* Icing event in New York City, glaze icing will impact travel - sporadic power outages can't be ruled out in Tri-State suburbs. Plowable amounts of snow expected in New York City, with amounts ranging from about 4" in Manhattan to 8" from north Jersey into Westchester/Fairfield county.


A Bad Travel Day. Data from FlightAware shows nearly 1500 cancellations as of 8:30 AM central time Sunday, with more imminent. Airports most impacted by heavy snow and high winds includes Boston, Detroit, Cleveland and by Monday Buffalo, Rochester, Albany, New York City, Providence and Boston will be impacted.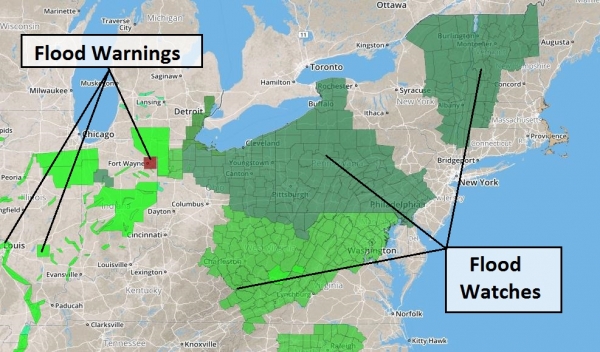 Swath of Winter Weather Misery. Kids must be excited by the prospect of a snow day tomorrow, but the impact to travel, staffing, facility operations and customer safety will be very significant from Des Moines and the Quad Cities to Milwaukee, Chicago, South Bend, Detroit, Rochester, Springfield, New York, Hartford and Boston. Winter Storm Warnings in purple show the areas where treacherous conditions are already taking place or imminent.

---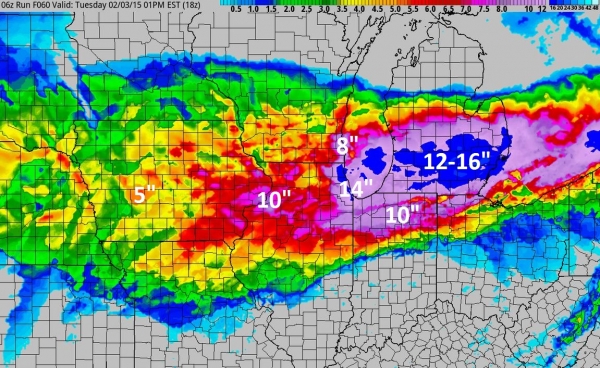 Predicted Snowfall Totals. NOAA's 4 KM NAM seems to have a pretty good handle on this slow-moving, moisture-rich storm. As much as 8-14" is expected in Chicago and Detroit, with some 2-4 foot drifts expected by tonight. Plowable amounts of snow are likely in South Bend, Toledo and Cleveland; on our nuisance-plowable-crippling scale this will border on cripping for much of Lower Michigan with white-out conditions paralyzing travel for the better part of 24-36 hours. Source: Aeris Weather.

---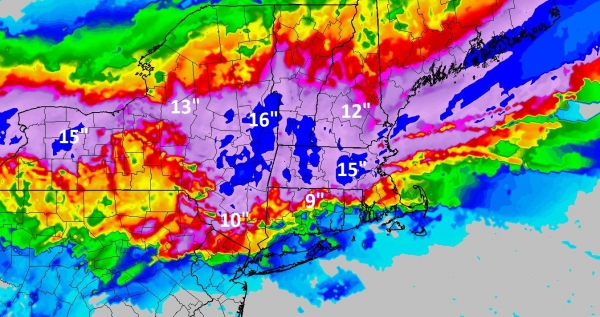 Monday Mess. The same model keeps the heaviest snows north of New York City, Hartford and Providence, with some 12-18" snowfall totals expected from Buffalo, Rochester, the Catskills and Hudson Valley into the Berkshires, Worcester and northern suburbs of Boston, exactly 1 week to the day after Boston picked up 20-30" of snow.
* New York City is under a Winter Storm Warning, but I expect a mix of snow and ice, with totals around 4", probably plowable, but not a crippling event with Monday temperatures at or just above freezing much of the day. Much heavier amounts are possible from Westchester County into Fairfield County, CT, where there will be more snow, less ice.

---

BPI: This Evening. Our internal models show the greatest potential for blizzard conditions by late afternoon from Chicago into South Bend, Ann Arbor and Toledo by the dinner hour.


BPI: Monday morning. The Tri-State area of New York City and suburbs is brushed by a burst of intense snow and ice early tomorrow; blizzard conditions reaching Boston by late morning or midday.


BPI: Monday afternoon. Blizzard or near-blizzard criteria will be met into the evening hours from Boston and Cape Cod into coastal Maine, where little improvement in travel conditions are expected until Tuesday.

---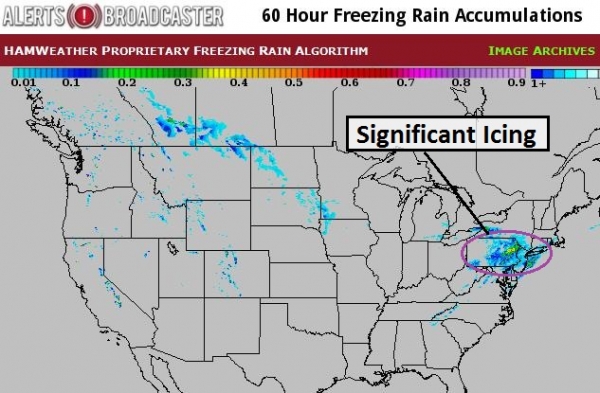 Monday Icing Event. Rain falling on sub-freezing ground may result in significant glaze icing from the Poconos into northern New Jersey, metro New York City late tonight and early Monday. I expect temperatures to thaw to or just above 32F in New York City by late morning, which will give road crews and chemicals a chance to work, but NYC suburbs may remain icy and treacherous much of the day.

---

An Unpleasant Glaze. Our internal Alerts Broadcaster models show nearly half an inch of ice for New York City, which seems high, but the trends bring some icing into the Tri-State area late tonight and Monday morning, making for very rough commutes and widespread cancellations at New York's 3 airports.

Summary: Rumor has it that February has arrived. The ground hog will see his shadow, there will be 6 more weeks of winter, especially for New England, where I see the greatest potential for colder than average temperatures and additional snow and ice storms into March. In the meantime today may be the worst travel day of winter for Chicago and Detroit. Much of New England will be a no-go zone tomorrow, with travel conditions improving on Tuesday. Good luck out there.

Paul Douglas - Senior Meteorologist - Alerts Broadcaster



Important Leadership Lessons From The Blizzard That Never Came
.
Inc.com
has an interesting post; here's an excerpt: "...
A post-crisis review included apologies for the snow that never came--but no one talked about how well it all went. I don't think an apology was necessary, and I give my city an A in crisis management. Better safe than sorry; better over prepared than under prepared. Leadership Lesson:Appoint a team (with different membership from the crisis management team) to assess the response and recommend changes in procedures.
.."
---
Minnesota Struggles To Slow Deforestation, Protect Water
. In case you missed it in Sunday's Star Tribune,
here's a link and excerpt
: "
Kathy Connell never thought she'd see it in Minnesota: deforestation. But last year she watched with dread as the pine trees surrounding her tiny vegetable farm 60 miles northwest of Brainerd were torn out and heaped into piles of slash. Now she fears what might come next — huge potato fields, aerial pesticides and contaminated drinking water. Already her neighbors are paying thousands of dollars to dig deeper wells. "To me the earth is a God-given gift," she said. "It's morally wrong to poison the water.
.."
Photo credit above: "A lone pine tree survived the plowing of this field south of Park Rapids." Photo: Brian Peterson.
---
Why It's Taking The U.S. So Long To Make Fusion Energy Work
.
Huffpo
has the article; here's a clip that got my attention: "...
Fusion scientists make an incredible proposition: We can power our cities, they say, with miniature, vacuum-sealed stars. According to those who study it, the benefits of fusion power, if it ever came to fruition, would be enormous. It requires no carbon drawn from the ground. Its fuel -- hydrogen harvested from seawater -- is inexhaustible. It emits no gases that warm the planet. And unlike its cousin fission, which is currently used in nuclear power plants, fusion produces little radioactive waste, and what it does produce can be recycled by the reactor. The only hurdle, as many U.S. physicists tell it, is the billions of dollars needed before the first commercially viable watt of power is produced
..."
Photo credit
above: "
A researcher examines the National Spherical Torus Experiment."
---
Poll Shows Giant Gap Between What Public, Scientists Think.
In the end this comes down to education and science literacy, according to a story at
AP
; here's an excerpt: "...
The American public and U.S. scientists are light-years apart on science issues. And 98 percent of surveyed scientists say it's a problem that we don't know what they're talking about. Scientists are far less worried about genetically modified food, pesticide use and nuclear power than is the general public, according to matching polls of both the general public and the country's largest general science organization. Scientists were more certain that global warming is caused by man, evolution is real, overpopulation is a danger and mandatory vaccination against childhood diseases is needed.
.."
---
Dying To Be Free
. If you have a friend or family member with an addiction read this long, but remarkable bit of investigative journalism from
Huffington Post
. Abstinence simply doesn't work for a majority of people. But there are medications that can ease recovery and decrease the risk of relapse (and death by overdose). Here's an excerpt of this important article:
"..There's no single explanation for why addiction treatment is mired in a kind of scientific dark age, why addicts are denied the help that modern medicine can offer. Family doctors tend to see addicts as a nuisance or a liability and don't want them crowding their waiting rooms. In American culture, self-help runs deep. Heroin addiction isn't only a disease – it's a crime. Addicts are lucky to get what they get....
..."
Illustration by Jan Diehm / The Huffington Post
.
---
TODAY: Sunny start, clouds increase. Winds: SW 10. High: 18
MONDAY NIGHT: Mostly clear and chilly. Low: 10
TUESDAY: Another clipper, coating possible. High: 22
WEDNESDAY: Blue sky, colder smack. WC: -15. Wake-up: 14. High: 16 (falling during the day)
THURSDAY: Cold start, breezy afternoon. Wake-up: 3. High: 19
FRIDAY: Mostly cloudy and milder. Wake-up: 7. High: 32
SATURDAY
: Another clipper, light accumulation. Wake-up: 24. High: 30
SUNDAY
: Partial clearing, close to average. Wake-up: 20. High: 27
---
Climate Stories...
Why Bigger Snowstorms Come With Global Warming.
"Juno" last week and the recent storm tracking from Chicago to Boston evidence that climate change is a hoax? Just the opposite, as explained in this InsideClimate News article at
Ames Tribune
: "...
That claim is nonsensical," said Kevin Trenberth, a climate scientist at the National Center for Atmospheric Research (NCAR) in Boulder, Colo. "Yes, we have always had storms in the winter, but climate change is often teh contributing factor that pushes these events over the edge to become record-breaking." Here's why. As the oceans warm due to the burning of fossil fuels, the atmosphere above can hold more moisture, which in turn fuels the creation of the most intense precipitation events
..."
---
"That claim is nonsensical," said Kevin Trenberth, a climate scientist at the National Center for Atmospheric Research (NCAR) in Boulder, Colo. "Yes, we have always had storms in the winter, but climate change is often the contributing factor that pushes these events over the edge to become record-breaking."
Here's why: As the oceans warm due to the burning of fossil fuels, the atmosphere above can hold more moisture, which in turn fuels the creation of the most intense precipitation events.
- See more at: http://amestrib.com/news/why-bigger-snowstorms-come-global-warming#sthash.CAFsfewG.dpuf
Climate Change's Bottom Line.
Thanks to Greg Page and Cargill for standing up for data, facts and science - and not giving into ideological talking points. Here's an excerpt from
The New York Times
: "...
Mr. Page is not a typical environmental activist. He says he doesn't know — or particularly care — whether human activity causes climate change. He doesn't give much serious thought to apocalyptic predictions of unbearably hot summers and endless storms. But over the last nine months, he has lobbied members of Congress and urged farmers to take climate change seriously. He says that over the next 50 years, if nothing is done, crop yields in many states will most likely fall, the costs of cooling chicken farms will rise and floods will more frequently swamp the railroads that transport food in the United States. He wants American agribusiness to be ready.
.."
* The 58 page PDF from Risky Business, "Heat in the Heartland: Climate Change and Economic Risk in the Midwest" is
here
.
---
In Major Shift, Obama Administration Will Plan For Rising Seas In All Federal Projects.
The Washington Post
has the story - here's the intro: "President Obama issued an
executive order
Friday directing federal agencies to adopt stricter building and siting standards to reflect scientific projections that
future flooding will be more frequent and intense
due to climate change. The order represents a major shift for the federal government: while the
Federal Emergency Management Administration
published a
memo
three years ago saying it would take global warming into account when preparing for more severe storms, most agencies continue to rely on historic data rather than future projections for building projects..."
Graphic credit
:
---
Does Global Warming Mean More or Less Snow?
Climate scientist Kevin Trenberth pens an article for
The Conversation
in the wake of this week's New England blizzard; here's a clip: "...
By contrast, the heaviest snowfalls occur with surface temperatures from about 28°F to 32°F – just below the freezing point. Of course, once it gets much above freezing point, the snow turns to rain. So there is a "Goldilocks" set of conditions that are just right to result in a super snow storm. And these conditions are becoming more likely in mid-winter because of human-induced climate change
..." (Image: NOAA/NASA).