-3 F. morning low on Saturday.
20 F. high Saturday afternoon.
34 F. average high on February 28.
14 F. high on February 28, 2014.
Trace of snow on the ground at KMSP.
9.4. February is running 9.4F colder than average in the Twin Cities. February 2014 was 12.3F colder than normal.
February 28, 1966
: The Blizzard of '66 hits Minnesota and lasts 4 days. Aitken got 23 inches of snow. The snow depth at International Falls reached a record 37 inches by the end of the storm.
In Like a Yak?
"If March comes in like a lamb it will go out as a lion?" How predictably pedestrian.
Sadly, lions are endangered and lambs have hired lawyers. I was raised (by wolves) to believe that, when March comes in like a yak, it will go out like an emu. Or is it tortoise and aardvark? I'm just not good with animals.
I apologize for any confusion.
Welcome to March, a baffling month of slush, puddles and a wild freeze-thaw cycle, where the only thing guaranteed is crater-size potholes. By the end of this month the average high is close to 50F, but temperatures can range from subzero to 80s.
With an average of 10.3 inches, March, once the snowiest month of the year, is now second only to January.
A few inches of snow may fall on Tuesday, maybe 6 inches for southeast Minnesota. A rapidly thawing atmosphere will push the storm track north in the coming weeks, increasing the potential for moisture here. But by the latter half of next week temperatures aloft should be warm enough for rain. I see persistent 30s and 40s by the second week of March. It still looks like the wicked winds of winter, a winter that hasn't been that bad, will subside within 2 weeks.
Very yak-like, don't you think?
---
Potentially Plowable
. I'm not yet convinced the metro area is picking up 6" on Tuesday, but a plowable, 2-3"+ slush-fest is possible, slowing down your commute a bit, maybe enough to shovel, plow (and lead the news).
---
An Early Taste of Spring Fever?
One more cold front with subzero implications arrives Wednesday; 2 more nights below zero later this week. No travel problems today or Monday but Tuesday may be a mess with a few inches of snow, with could be catastrophic, conisdering we're all forgotten how to drive on "snow". A Pacific warm front arrives Friday; 40s may be commonplace next week with a chance of "rain". So many new terms in the weather blog.
---
The (Mild) Ides of March
. 500 mb winds (18,000 feet) are forecast to be zonal, blowing in from the Pacific Northwest by mid-month. That should mean 40s, even a chance of a few 50s within 2 weeks or so, temperatures aloft warm enough for rain. I don't think March 2015 will in any way resemble March, 2014.
---
Too Early To Celebrate
. The (new) GFS model hints at 60F in roughly 2 weeks. Not sure I'm buying that, at least not yet. We have a trace of snow on the ground and even if we pick up a few more inches Tuesday most of that will be gone by next weekend. If the sun comes out temperatures may surge into the 50s in about 12-14 days. Source: Ham Weather's Aeris Enterprise.
---
Alerts Broadcaster Briefing
: Issued Saturday night, February 28, 2015.
*
Major icing event
possible Sunday afternoon, evening and early nighttime hours as rain falls on ground temperatures colder than 32F. I-95 may be wet and slushy, but many state and local roads from Baltimore to Philadelphia to New York City will become icy during the late afternoon and evening hours.
* Potential for major travel disruptions on land, and from BWI to PHL, JFK, EWR and LGA.
* Power outages possible as ice accumulates on power lines and transformers. Risk appears to be greatest in the Delaware Valley.
---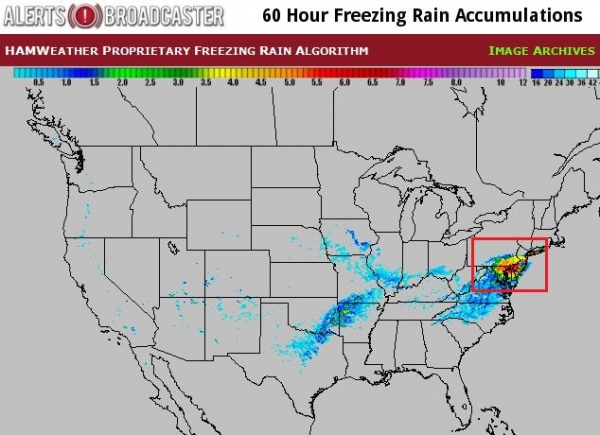 Major Ice Storm Potential
. Internal Alerts Broadcaster algorithms focus the greatest risk of moderate to severe glaze icing from Baltimore and Wilmington to Lancaster, Philadelphia and south Jersey late afternoon and evening hours on Sunday. Graphic: Alerts Broadcaster.
---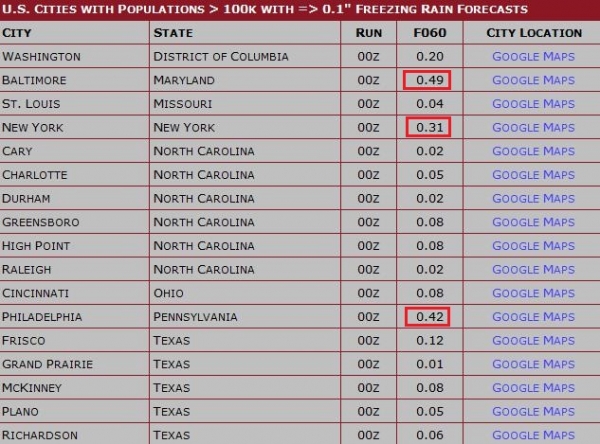 Cities We're Tracking
. Over a third of an inch of freezing rain (rain freezing into glaze ice on sub-freezing surfaces, including streets, sidewalks and power lines) from Baltimore to Philadelphia and the suburbs of New York City. Credit: Alerts Broadcaster.
---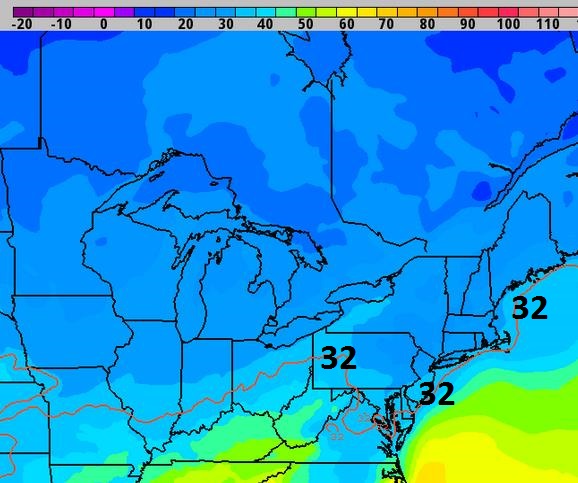 Why We're Concerned
. Model guidance shows the 32-degree isotherm staying south of Baltimore, Philadelphia and New York City at 4 PM Sunday, increasing the risk of significant accumulations of ice. Models print out .50 to .80" of rain, and a significant percentage of that rain may freeze into glaze, especially at the onset of precipitation Sunday afternoon. 4 PM NAM: NOAA and Ham Weather.
Paul Douglas - Senior Meteorologist - Alerts Broadcaster
---
2015 Boston Blizzard Takes It's Toll On Region's Buildings
. I found a story at
Architecture Magazine
interesting - here's an excerpt and link: "
This winter has been a particularly tough one for those in the Boston area, which has experienced 31 days and counting of heavy snow, ice, and deep freezes. The severe winter weather has not only claimed several lives, but also a number of the region's buildings—44 in a two-day span. In particular, the unanticipated and extreme snow and ice loads have taken their toll on the region's roofs, causing them to sag, leak, and collapse. The damage to municipal buildings can be seen through the city's drone footage.
.."
File Photo
credit above: "
Graham Jamison, right, and Austin Anschultz walk through blowing snow on Beacon Hill in Boston, Sunday, Feb. 15, 2015. A blizzard warning was in effect for coastal communities from Rhode Island to Maine, promising heavy snow and powerful winds to heap more misery on a region that has already seen more than 6 feet of snow in some areas
." (AP Photo/Michael Dwyer).
---
Close-Up Lightning Strike Compilation
. No, don't try this at home - some of these close calls are truly amazing. Check out the
YouTube clip
, which has received 3.7 million views.
---
Aeris Pulse: Location-Specific Severe Weather Threats.
Full disclosure: this is an app for Apple iOS and Android that my team is working on, the ability to create GPS-centric alerts that are different for everyone, based on their current location and the areas they care about. Learn more about
Aeris Pulse
: "
Using your current GPS location, Aeris Pulse highlights where the weather threats are relative to you. Aeris Pulse informs you to a variety of threats, whether it's a severe thunderstorm with large hail and lightning or a winter storm with ice and heavy snow. All of this is immediately available when you launch the app in an easy-to-read, clean interface
."
---
Aeris Wear
. Doppler on your watch? People raised eyebrows when we (first) put Doppler radar on cell phones back in 2001. Why on Earth would you ever want that? Maybe in a few years (most) weather enthusiasts won't think twice about checking their watches to see if rain or lightning (or any threat) is lurking nearby. For now Aeris Wear is available for
Android phones
only, and the basic version is free. A version for iOS and Apple is coming soon.
---
What ISIS Really Wants
. Just in case you missed this important story in
The Atlantic
; here's a link and excerpt: "
The Islamic State is no mere collection of psychopaths. It is a religious group with carefully considered beliefs, among them that it is a key agent of the coming apocalypse. Here's what that means for its strategy—and for how to stop it
..." (Image credit: AP/The Atlantic).
---
Who Is Hacking Whom?
Ham Weather uber-programmer and weather model specialist, Patrick Francis, wrote a recent story that made me do a triple-take. Here's an excerpt from
aplus.com
: "
Modern Media will "Hype" times that a massive hack occurs, such as Sony Corporation, but does that tell the real story? For the last two months I have tracked every attempted breach of my systems, stored the IP of the attacker, and researched information about his or her country of origin, city, company and so forth. The heck of it is, there's not a lot that can be done with this information, because there is no one to share it with who can do anything about it! :) Still, some people might be interested to know a little bit about who is hacking who.
.."
---
Who Killed Tony The Tiger?
Bloomberg Business
takes a look at how Kellogg lost breakfast and what it means for the rest of the industry; here's a clip: "...
Now Americans have fewer children. Both parents often work and no longer have time to linger over a serving of Apple Jacks and the local newspaper. Many people grab something on the way to work and devour it in their cars or at their desks while checking e-mail. "For a while, breakfast cereal was convenience food," says Abigail Carroll, author of Three Squares: The Invention of the American Meal. "But convenience is relative. It's more convenient to grab a breakfast bar, yogurt, a piece of fruit, or a breakfast sandwich at some fast-food place than to eat a bowl of breakfast cereal
...."
---
Facebook Will Now Reach Out To Users Who Their Friends Think Are Suicidal
. A big thank you to Dr. Dan Reidenberg and his amazing team at SAVE (Suicide Awareness, Voices of Education) based in Bloomington for being the driving force behind this effort with Facebook;
BuzzFeed News
reports: "...
The social network teamed up with a number of suicide prevention organizations and research centers in hopes of helping people online prevent their friends from committing suicide. These organizations include National Suicide Prevention Lifeline, Now Matters Now, Save.org, and Forefront: Innovations in Suicide Prevention from the School of Social Work at Washington University
..."
---
---
TODAY
: Mix of clouds and sun, not bad. Winds: W 15. High: 27
SUNDAY NIGHT
: Partly cloudy and chilly. Low; 10
MONDAY: Partly sunny, no travel problems. High: near 30
TUESDAY: Few inches of snow? More south. Wake-up: 22. High: 28
WEDNESDAY: Sunny and bitter. Feels like -20F. Wake-up: -1. High: 8
THURSDAY: Cold start, breezy with fading sun. Wake-up: -6. High: 19
FRIDAY: Some sun, above average. Wake-up: 17. High: 35
SATURDAY
: Blue sky, feeling better out there. Wake-up: 19. High: 37
* Thanks to Media Logic meteorologist Todd Nelson, who snapped the photo above near Two Harbors on Saturday.
---
Climate Stories...
Is The Environment a Moral Cause?
Here's a clip from a
New York Times Op-Ed
: "...
People think quite differently, however, when they are morally engaged with an issue. In such cases people are more likely to eschew a sober cost-benefit analysis, opting instead to take action because it is the right thing to do. Put simply, we're more likely to contribute to a cause when we feel ethically compelled to. Still, why do liberals moralize environmental issues, while conservatives do not? The answer is complex, owing in part to the specific history of the American environmental movement
..."
---
Greenpeace Probe of Climate Naysayer Implicates Exxon Mobil
.
BuzzFeed News
takes a look at more implications of the Willie Soon sage; here's an excerpt: "...
The records released Friday show that Exxon's support of Soon came despite a 2007 pledge to quit funding climate naysayer groups, according to Greenpeace's Jesse Coleman, who started the Soon records search using public records laws. "Exxon told us that they would stop funding climate denial front groups," Coleman told BuzzFeed News. "Years later, they were still funding Willie Soon.
.."
---
Climate Oscillations and the Global Warming Faux Pause.
Here's an excerpt of a story written by Penn State climate scientist Michael Mann at
Huffington Post
: "..
.It is true that Earth's surface warmed a bit less than models predicted it to over the past decade-and-a-half or so. This doesn't mean that the models are flawed. Instead, it points to a discrepancy that likely arose from a combination of three main factors (see the discussion my piece last year in Scientific American). These factors include the likely underestimation of the actual warming that has occurred, due to gaps in the observational data. Secondly, scientists have failed to include in model simulations some natural factors (low-level but persistent volcanic eruptions and a small dip in solar output) that had a slight cooling influence on Earth's climate. Finally, there is the possibility that internal, natural oscillations in temperature may have masked some surface warming in recent decades, much as an outbreak of Arctic air can mask the seasonal warming of spring during a late season cold snap. One could call it a global warming "speed bump." In fact, I have
..."
* An abstract of the new research is available at
Science Magazine
.
* Reuters has more on the latest research
here
.
---
Climate Change Might Be Causing These Huge Craters in Siberia
.
VICE News
has the story - here's the introduction: "
Reports of new methane-eruption craters in the Siberian permafrost have piqued the interest of scientists around the higher latitudes who see it as a new sign of a warming climate. The first craters were identified in summer 2014 in the natural gas-rich Yamal Peninsula, which juts into the frigid Kara Sea more than 2,000 miles northeast of Moscow. They're suspected to have been caused by eruptions of methane from beneath the region's permafrost soil, which has been thawing during recent summers
..."
Photo credit
: Vladimir Pushkarev/Russian Centre of Arctic Exploration/Reuters.