81 F
. high in the Twin Cities Thursday.
84 F
. average high on July 10.
79 F
. high on July 10, 2014.
July 10, 2002
: Intense rainfall causes extensive street flooding in St. Cloud. 2.70 inches of rain fell in 1 hour 45 minutes at St. Cloud State University. Persons were stranded in their cars and had to be rescued by the fire department.
Summer Afternoon
"Summer afternoon — summer afternoon; to me those have always been the two most beautiful words in the English language" wrote Henry James. I couldn't agree more.
Meteorologists have a slightly myopic, perpetually paranoid view of summer: we remember the droughts, floods, severe outbreaks, bugs and busted forecasts. Sweaty nights and incandescent, antiperspirant days.
But there's so much more good than bad. Turn off the TV, wander outside and bite off a big slice of Minnesota nice! This is the time of year I want to memorize the sky...
Amazingly the Twin Cities has experienced only 1 day above 90F so far this summer season. That may be about to change. Hot, humidified air oozing north will set off a few random showers and T-storms
Saturday, the wetter day of the weekend
. On the backside of this hot front temperatures may top 90F
Sunday
afternoon. Throw in a dew point in the low 70s and it may feel like 95-100F.
Next week may be the warmest, stickiest week of summer; a summer that has been miraculously free of drama. No more drought, few severe storms - yet ample moisture for farmers and gardeners.
What's not to like?
On the blog below: tracking Canadian smoke plumes and a potentially severe typhoon pushing toward Shanghai, a super-sized El Nino and a look at how dust from the Sahara Desert may be reducing Atlantic hurricanes. Hope you enjoy your summer afternoons!
---
Good Reason To Complain About The Heat.
We spend most of the year praying for a warm front, and then it gets hot and people curse the heat. It's hard to get it just right. Right? The
graphic above
is from the Twin Cities office of the National Weather Service; southwestern Minnesota will see potentially dangerous levels of heat and humidity early next week.
---
Ribbons of Smoke
. You can see "smoke front" pushing southward across Minnesota Thursday afternoon. The plume was at least 2-4 miles above the surface (unlike Monday when strong subsidence brought the smoke down to the ground). From the ground the sky looked white, milky and hazy as the smoky ribbon drifted overhead. Source: NOAA and AerisWeather.
---
Getting Hacked By Mother Nature
. As of late last night Typhoon Chan-Hom was still a category 4 storm with sustained winds of at least 130 mph. Some weakening is likely over the next 24 hours, but the storm is still expected to strike mainland China as a Category 2. Shanghai and suburbs may experience some of the worst storm surge flooding in recent history, based on latest model guidance.
---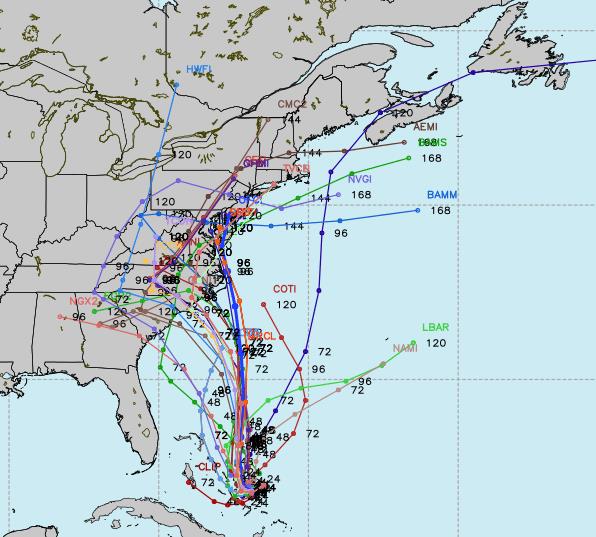 Predicted Typhoon Track
. Chan-Hom is expected to strike land as a Category 2 storm, weakening to Category 1 (80-95 mph) winds just south of Shanghai during the PM hours Saturday, local time. It appears that Okinawa will be spared the strongest winds and storm surge, but flood-related damage in Shanghai and suburbs may be severe to extreme.
---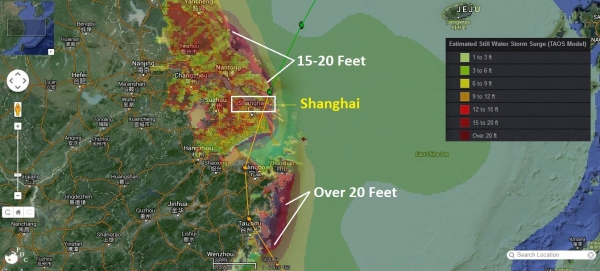 Why We're Concerned
. Some of our models are suggesting at 15-20 foot surge associated with Typhoon Chan-Hom Saturday (local time); over 20 feet to the right (northeast) of where the eye of the storm comes ashore, closer to Taizhou. Once again, downtown Shanghai has a 22.6 foot floodgate protecting the immediate downtown area, but high water may encroach from other directions, not just surging up the Huangpu River. If this forecast verifies the impact on Shanghai's urban infrastructure, transportation and economy will be very severe. Expected impacts:
* Transportation will ground to a halt: air, rail, public transport and shipping.
* Low-lying areas are very vulnerable to severe flooding and beach erosion.
* I expect widespread power outages, the result of flooding interfering with transformers and transmission lines.
* If inland evacation is difficult or impossible I highly recommend vertical evacuations: a well-constructed office tower, hotel or corporate building; at least 3rd floor or higher, preferably with emergency generator and food for at least 4-7 days. Avoid outer walls/windows at the height of the storm as flying debris may cause damage.
---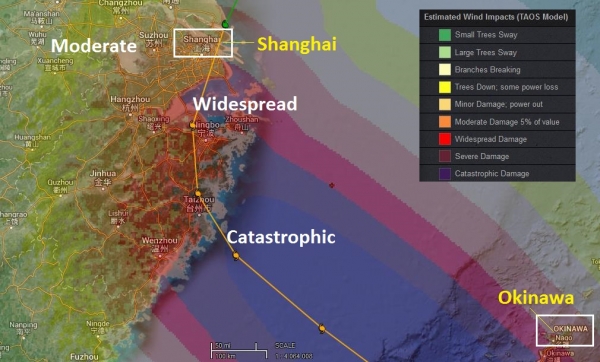 Wind Damage Potential
. Some of our models show widespread to potentially catastrophic damage just south of Shanghai, along the coast from Taizhou to Zhoushan. Moderate wind damage is likely in Shanghai, with more severe damage in suburbs where building codes and materials are more lenient. Okinawa sees a near miss, but avoids the worst wind and water damage from Chan-Hom. Thanks to Dr. Jeff Masters at
Weather Underground
for helping with some of the background/historical information.
---
Enough Rain To Maintain
. The old rule of thumb is an inch of water a week, and crops, plants and flowers are generally in good shape. That seems pretty close for many towns, although as is always the case in the summer when precipitation is convective: some areas will see far more, others less. 7-Day rainfall from NOAA.
---
Sticky Spell
. European data may be running a few degrees too cool, but the trends are probably on the right track with Sunday and Monday as the two hottest days. They bring in a few T-storms Sunday and Monday, while NOAA's models strongly suggest that Saturday will be the wetter day of the weekend.
---
A Hot Latter Half of July.
All the guidance I'm seeing suggests ridging over much of the USA into late July as the core of the jet stream lifts north. I suspect the hottest weather of the year will take place over the next 2 weeks from the Intermountain West to the Plains and Eastern Seaboard; lot's of 90s, plenty of records. 500 mb GFS winds valid Thursday evening, July 23, courtesy of GrADS:COLA/IGES.
---
Super-Sized El Nino?
NOAA has raised the probability of El Nino lingering into the entire North American winter to 90% - an 80% chance this warming phase of Pacific Ocean water will spill over into spring of 2016.
Click here
for more details.
Image credit
: "
Average sea surface temperature (SST) anomalies (C) for the week centered on 1 July 2015. Anomalies are computed with respect to the 1981-2010 base period weekly means
."
---
Smoke From Hundreds of North American Wildfires Is Taking a Toll on U.S. Air Quality.
Here's a snippet from an explainer at
The Washington Post
: "...
To the northwest, 300 wildfires are burning in Alaska, most of which are "very large," covering more than 2,500 acres. That brings the total number of fires to nearly 700 north of the 49th parallel, and all of that smoke has been riding south on the jet stream for the past couple of weeks, reaching as far south as Florida and lingering over the Mid-Atlantic and Northeast for days
..."
Photo credit
above: "
---
The U.S. West is still baking. The temperatures for June are in and five Western states saw their

warmest June ever (helping to make the month the second warmest June for the contiguous U.S.), and four continue to see their warmest year-to-date, just as 2015 hits the halfway mark.

In drought-plagued California, "we're beating the record set just last year" and "not by a razor thin margin,"

Daniel Swain, a PhD student at Stanford University, said.
.."
Photo credit
above: "
Below the Tuttletown Recreation Area at New Melones Lake in Sonora, Calif."
Credit: Ben Amstutz/flickr.
---
Weather Freak. Check out the tweets from Caltrans District 9, serving the eastern Sierra Nevada. There's a crippling drought and heat wave, but it snowed Thursday over the highest elevations. Just when you thought it couldn't get any stranger...
---
Tornado Damage in Venice, Italy. Details and some harrowing video, courtesy of The Weather Channel: "
A reported tornado in Venice, Italy, snapped trees, damaged homes and vehicles, and left more than a dozen people injured Wednesday. According to the European Severe Weather Database, the tornado hit around 5:30 p.m. local time. The chilling video above, originally posted by youreporter.it, shows the twister throwing debris in the air. Local media sources are reporting separate fatalities
..."
---
NOAA: Saharan Dust Clouds Suppressing Hurricanes. WGCU News in southwest Florida has the story - here's an excerpt: "...
South Florida's air has been dustier than usual this week.

The dust has come from across the Atlantic, originating from dust storms in the Sahara desert and being pushed towards the Americas by winds and tropical waves. While the current influx of dust-filled air may be a hazard for people with respiratory conditions, scientists say it also brings with it a more positive effect. Jason Dunion, a research meteorologist with the National Oceanic and Atmospheric Administration, explains how Saharan dust storms can serve as hurricane suppressants on this side of the Atlantic
..."
Image credit
above: "
A satellite image taken Tuesday, July 7. The green area is dust making its way across the Atlantic
.
" NRL-Monterey.
---
How You Consist of Trillions of Tiny Machines
. Yes, the human body is an amazing thing, some would call it miraculous, even divine. Here's an excerpt of a book review from
The New York Review of Books
: "...
His book Life's Engines: How Microbes Made Earth Habitable focuses on one of the most astonishing discoveries of the twentieth century—that our cells are comprised of a series of highly sophisticated "little engines" or nanomachines that carry out life's vital functions. It is a work full of surprises, arguing for example that all of life's most important innovations were in existence by around 3.5 billion years ago—less than a billion years after Earth formed, and a period at which our planet was largely hostile to living things. How such mind-bending complexity could have evolved at such an early stage, and in such a hostile environment, has forced a fundamental reconsideration of the origins of life itself.
.."
Image credit
: Martin Oegger/Micronaut. "
A colorized image, made with a scanning electron microscope, of Staphylococcus aureus bacteria. According to a recent National Geographic feature on microbes, Staphylococcus aureus 'lives harmlessly in the noses of about a third of us. But it can turn rogue, causing skin infections—or worse
."
---
IBM Announces Computer Chips More Powerful Than Any In Existence.
Here's the intro to a story at
The New York Times
: "
IBM
said on Thursday that it had made working versions of ultradense computer chips, with roughly four times the capacity of today's most powerful chips. The announcement, made on behalf of an international consortium led by
IBM
, the giant computer company, is part of an effort to manufacture the most advanced computer chips in New York's Hudson Valley, where IBM is investing $3 billion in a private-public partnership with New York State, GlobalFoundries, Samsung and equipment vendors..."
Photo credit
: "
Credit

Darryl Bautista/IBM.
---
Hot and Bothered. Is using A/C any different (from a fossil fuel consumptions standpoint) to heating our homes in the winter? Here's an excerpt from an opinion piece at Slate: "...
Simply put: It's more efficient to air-condition homes in Florida than it is to warm the ones in Minnesota. Anti-AC sentiment persists in spite of basic facts, and without convincing evidence. It relies instead on naked ideology and posture. To rail against the air conditioner is a way for cosmopolitans to claim their bona fides, and to place themselves in opposition to irresponsible, American excess. When they proudly say they'd rather use electric fans, they show their neighbors that they're tasteful intellectuals—right-minded and upstanding. That is to say, they're members of the brrr-geoisie
..." (File image: CollegeHumor).
---
10 Japanese Travel Tips For Visiting America
. I thought this was pretty funny, a Google Translation of a Japanese tip sheet, courtesy of
Mental Floss
. Which got me thinking: did this guy drive in Minnesota?
3. But You'll be Pleasantly Surprised by American Traffic Patterns.
Manners with cars in America are really damn good. Japanese people should be embarrassed when they look at how good car manners are in America. You must wait whenever you cross an intersection for the traffic light. People don't get pushy to go first. Except for some people, everyone keeps exactly to the speed limit. America is a car society, but their damn good manners are not limited to cars.
---
TODAY
: Sticky sunshine. Dew point: 64. Winds: South 10. High: 86
FRIDAY NIGHT
: Partly cloudy, isolated T-shower southern Minnesota. Low: 68
SATURDAY
: Some sun, muggy with a good chance of showers, possible T-showers. Winds: SE 10. High: 81
SUNDAY
: Hot front, sizzling sun. Dew point: 72. Feels like 95-100F by late afternoon. Wake-up: 71. High: 91
MONDAY
: Steamy, late PM T-showers possible. Wake-up: 73. High: 94
TUESDAY
: Very humid, scattered T-storms. Wake-up: 72. High: 89
WEDNESDAY
: Plenty of sun, plenty of warmth. Wake-up: 70. High: 87
THURSDAY
: Jungle-like humidity. Few T-storms. Wake-up: 71. High: 85
---
Climate Stories...
World Suffering Surge in Extreme Rainfall Due to Climate Change
. Basic physics: warmer air can hold more water vapor, more fuel for extreme rainfall amounts. Here's an excerpt from
Bloomberg Business
: "
The world is suffering a surge in record-breaking rainfall because of climate change, scientists say. Extreme rains, like those that led to flooding and a cholera outbreak that killed hundreds in Pakistan in 2010, are happening 12 percent more often globally and 56 percent more frequently in Southeast Asia than if the world wasn't warming, according a study by the Potsdam Institute for Climate Impact Research. "One out of 10 record-breaking rainfall events observed globally in the past 30 years can only be explained if the long-term warming is taken into account," Dim Coumou, co-author of the report released Wednesday, said in a statement.
.." (File photo: Ryan McGinnis, Bloomberg).
---
Increased Record-Breaking Precipitation Events Under Global Warming
. Here is an excerpt of the abstract of the
new research
referenced in the Bloomberg article above: "...
We show that over the last three decades the number of record-breaking events has significantly increased in the global mean. Globally, this increase has led to 12 % more record-breaking rainfall events over 1981–2010 compared to those expected in stationary time series. The number of record-breaking rainfall events peaked in 2010 with an estimated 26 % chance that a new rainfall record is due to long-term climate change. This increase in record-breaking rainfall is explained by a statistical model which accounts for the warming of air and associated increasing water holding capacity only.
.."
---
Study: Global Sea Levels Have Risen 6 Meters Or More With Just Slight Global Warming.
Oregon State University
has the details; here's an excerpt: "
A new review analyzing three decades of research on the historic effects of melting polar ice sheets found that global sea levels have risen at least six meters, or about 20 feet, above present levels on multiple occasions over the past three million years. What is most concerning, scientists say, is that amount of melting was caused by an increase of only 1-2 degrees (Celsius) in global mean temperatures. Results of the study are being published this week in the journal Science.
.." (File image: NASA).
---
E-Mail Shows Exxon Was Studying Its Climate Impact in the 80s.
InsideClimate News
has the story; here's the intro: "
Exxon scientists studied the impact of greenhouse gas emissions on global warming as far back as 1981, an indication that the company was probing the industry's potential contribution to climate change much earlier than previously reported.

Exxon's early research into climate change was revealed in a 2014 email from a former company scientist that

was uncovered by the Union of Concerned Scientists (UCS). It was shared as part of a broader project,

The Climate Deception Dossiers, published Wednesday, that traces campaigns by fossil fuel companies, including Exxon, to discredit the impact of industry on the planet's warming.
.."
---
When The End of Human Civilization Is Your Day Job?
The end of civilization? I seriously doubt it. The end of business as usual? Yes. Here's an excerpt of an important story at
Esquire
: "...
For more than thirty years, climate scientists have been living a surreal existence. A vast and ever-growing body of research shows that warming is tracking the rise of greenhouse gases exactly as their models predicted. The physical evidence becomes more dramatic every year: forests retreating, animals moving north, glaciers melting, wildfire seasons getting longer, higher rates of droughts, floods, and storms—five times as many in the 2000s as in the 1970s. In the blunt words of the 2014 National Climate Assessment, conducted by three hundred of America's most distinguished experts at the request of the U. S. government, human-induced climate change is real—U. S. temperatures have gone up between 1.3 and 1.9 degrees, mostly since 1970—and the change is already affecting "agriculture, water, human health, energy, transportation, forests, and ecosystems." But that's not the worst of it
..."
---
Technical Solutions Alone Can't Fix Climate Change
.
Reuters
has the article; here's a clip: "...
Already more than 70 percent of global emissions caused by energy use come from cities, according to scientists on the Intergovernmental Panel on Climate Change.
By 2050, urban areas will have 2.6 billion more people, most of them in Asia and Africa, Dhakal said.
If rapidly urbanizing areas can build homes close to jobs and services and make walking and public transport good options, climate-changing emissions could be reduced dramatically, he said.
"Our ability to make deep cuts to global greenhouse gas emissions depends to a large extent on what kinds of cities and towns we build," Dhakal said..."
---
Climate Denial Linked To Conspiratorial Thinking In New Study. The Guardian has a summary of new research - let the conspiracy theories about conspiracy theories begin! Here's an excerpt: "...
A new study has examined the comments on climate science-denying blogs and found strong evidence of widespread conspiratorial thinking. The study looks at the comments made in response to a previous paper linking science denial and conspiracy theories
..."
Image credit
above: "
Stephan Lewandowsky, professor of cognitive psychology and author of Recurrent Fury
." Photograph: University of Bristol.