48 F
. high in the Twin Cities Friday.
58 F
. average high on October 16.
72 F
. high at KMSP on October 16, 2014.
October 17, 1971
: Heavy rains in NW Minnesota. 4.02 inches at Georgetown (20 miles N of Moorhead).
October 17, 1952
: Record lows were reported across central Minnesota with lows from 10 to 15 degrees, including a low of 10 degrees at St. Cloud, 12 degrees at Glenwood, and 14 degrees at Alexandria, Litchfield, and Mora.
America's Clean Energy Revolution
Freeze This Morning, Then 70s by Monday
Can we keep the economy powered up without burning dirty fuels that threaten short-term health - and weather and climate disruption for generations to come? Yes.
Prices for solar have
plummeted
and
energy storage
may be the next disruptive technology. When the sun doesn't shine or the wind doesn't blow next-generation batteries kick in, releasing power back to the grid, or keeping the lights on during the next severe storm.
I'm speaking at a
conference
in San Diego, in a state that routinely gets 30% of its power from clean renewables. It's not a Pollyanna pipe-dream. It's a sustainable way forward, and Minnesota will help lead the way.
In spite of a warming atmosphere and oceans winter hasn't been cancelled. Not yet. The opening salvo came overnight as countless plants and flowers froze their buds off.
More head-snapping changes are brewing: alternating between a freeze and lukewarm 70s will turn on the wind machine again
Sunday
- but another sunny, glorious weekend is on tap.
Meanwhile the ECMWF (European) hints at Tropical Storm Kate in the Gulf of Mexico in one week.
---
Image credit
above:
earthtimes.org
and Shutterstock.
---
Record Setting Warmth on October 11
. From upper 90s to a hard freeze in less than a week - that's pretty impressive, even for Minnesota. Here's the intro to this week's edition of Mark Seeley's
Minnesota WeatherTalk
: "
Strong south winds, bright sunshine, and a relatively dry landscape helped produce widespread record-setting warm temperatures on Sunday, October 11th. On a statewide basis it was the warmest October 11th in Minnesota history with a new statewide record of 97°F reported from climate stations at Sabin (Clay County) and Wheaton (Traverse County), breaking the old record of 92°F at Canby on October 11, 1928. It was also 97°F at Fargo, ND. Many observers also reported the highest temperature ever measured so late in the autumn season
..." (Map credit: DNR-State Climatology Office).
---
Cold Start - Trending Milder Next Week
. A big, bloated bubble of Canadian high pressure treats us to a hard freeze this morning (the growing season is pretty much over) but a return southerly flow on the backside of this high turns on a southerly wind by Sunday; temperatures much of next week in the 60s. Keep an eye on the Gulf of Mexico the latter half of next week - the ECMWF is more aggressive in spinning up a possible tropical depression or tropical storm. GFS model guidance: NOAA.
---
70s on Monday?
Models are in fairly good alignment showing low 60s Sunday and a good shot at low 70s Sunday afternoon; but generally trending above average most of next week. Source: Aeris Enterprise.
---
Mild Bias Into Halloween
. 500 mb winds (GFS forecast) valid Friday evening, October 30, show a persistent ridge of high pressure bouncing back over the central USA, hinting at a mild end to October. The coldest air bubbling out of Canada will be swept toward New England and Quebec, a trend which may continue into much of winter as El Nino keeps our winds more zonal, more west-to-east, than normal.
---
Alerts Broadcaster Briefing
: Issued Friday, October 16, 2015.
*
Dangerous Typhoon Koppu
expected to hit northern island of Luzon as a Category 4 storm, capable of extensive to extreme flooding, mudslides and damage across northern Philippines next 36-48 hours.
* Normally-reliable ECMWF (European) model continues to spin up a
possible
tropical system in the Gulf of Mexico late next week. It's too early for specifics, but interests along the Gulf Coast should pay attention.
---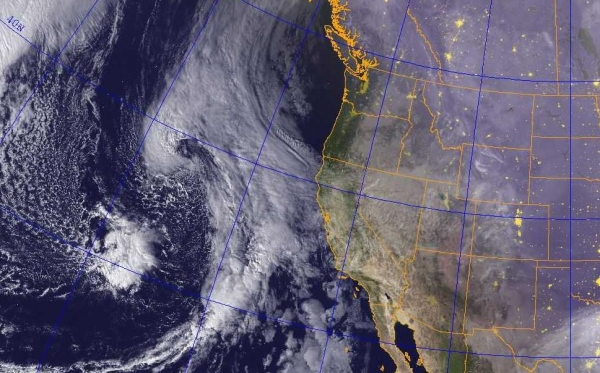 Typhoon Koppu
. Category 2 "Koppu" is passing over warm water with further intensification likely, expected to strike the Philippine's northern island of Luzon as a Category 4 typhoon (hurricane) within 24 hours.
---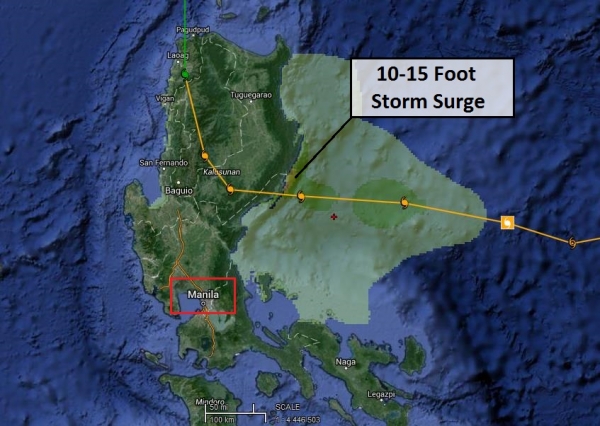 Manila Should Be Spared a Major Storm Surge
. Our internal models show a 10-15 foot storm surge as Koppu approaches Luzon, with battering waves superimposed on top of that surge, but only minor fluctuations in water levels are expected in Manila Harbor. Power, transportation and other infrastructure disruptions may, however, extend into the Manila metropolitan area, with the most extreme impacts north of the capital city.
---
Biggest Concern: Excessive Rains
. Models print out in excess of 24" of rain (on a par with what fell across portions of South Carolina from recent rains). If this forecast verifies the extent of flooding and mudslides will be extreme, with a very significant threat to life and property for much of Luzon. Manila is forecast to see closer to 10" of rain, and widespread flooding will result, but probably not the historic amounts of rain predicted for hilly terrain 50-150 miles to the north and northeast of the capital.
---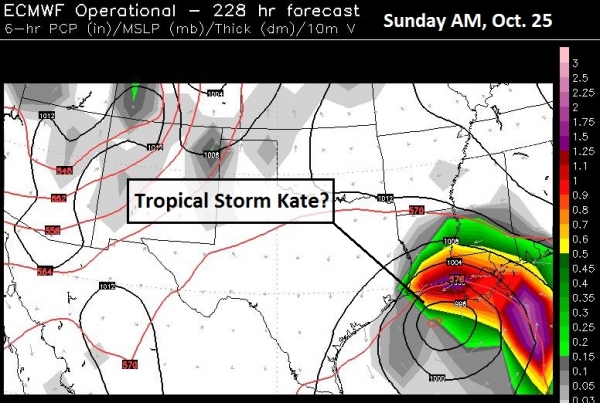 Don't Write Off Hurricane Season Just Yet
. We all remember Sandy in late October, 2012. Water temperatures in the Atlantic and Gulf of Mexico are still very warm, in some cases close to record values, warm enough to fuel tropical systems for at least the next few weeks. The normally-reliable ECMWF model (my preference during potential tropical events)
consistently
spins up a tropical disturbance in the Gulf of Mexico late next week, with a possible landfall between Galveston, New Orleans and Biloxi next weekend. It's still much too early for specifics, but both ECMWF and GFS have had just completed 3-4 model runs in a row showing a potential tropical storm in the Gulf of Mexico, so we're paying attention, and so should you.
(Image credit above: WSI Corporation).
Typhoon Koppu is the short-term risk to the northern Philippines, where rainfall and subsequent flooding may be extreme, potentially historic in a few spots. Closer to home we'll continue to monitor the potential for a tropical storm in the Gulf of Mexico 7-9 days out and keep you posted.
Paul Douglas, Senior Meteorologist, AerisWeather.
---
Surprise!
AerisWeather meteorologist Todd Nelson is spending a few days in Surprise, Arizona with family. On Friday he made the mistake of trying to get a round of golf in, only to be chased away by strong T-storms which created a gust front that whipped up a blinding, swirling cloud of dust - a "haboob". A little worse than a water obstacle. Mercifully no injuries were reported.
---
El Nino's Rains Forecast To Reach Into Northern California, Where They're Most Needed
. Here's an excerpt from
The Los Angeles Times
: "...
If El Niño acts as it has before, "there will be a number of significant storms that will bring heavy rains. What that brings will be floods and mudslides," said Mike Halpert, deputy director of the National Weather Service's Climate Prediction Center. "We're more confident we're going to be seeing El Niño through this winter." This prompted officials, who had generally been reluctant to predict El Niño's effect on the drought, to say they expect the rains will ease the drought conditions but won't end them. "If the wettest year were to occur, we still wouldn't erase the deficit that's built up in the last four years," said hydrologist Alan Haynes for the National Oceanic and Atmospheric Administration
..."
---
Earth Just Had Its Warmest September on Record - By a Longshot.
At least in the historical record, according to JMA (Japan Meteorological Agency). Here's an excerpt from a story at
Mashable
that caught my eye: "...
The previous record-holder for the warmest September since such data began in 1891 was last year, September 2014. This may seem like quibbling over very small differences, but consider that the discrepancy between the planet we know today and a planet with virtually zero ice cover in Greenland and Antarctica is about 10 degrees Fahrenheit, for a global average.
In short, big changes can occur as a result of relatively small differences in global average temperatures..."
---
Strong El Nino Sets The Stage for 2015-2016 Winter Weather
. Will El Nino keep Minnesota somewhat warmer than usual? Odds favor that outcome, but it's not a slam-dunk. Here's an excerpt from a story at
NOAA
: "...
This year's El Niño, among the strongest on record, is expected to influence weather and climate patterns this winter by impacting the position of the Pacific jet stream. "A strong El Niño is in place and should exert a strong influence over our weather this winter," said Mike Halpert, deputy director, NOAA's Climate Prediction Center. "While temperature and precipitation impacts associated with El Niño are favored, El Niño is not the only player. Cold-air outbreaks and snow storms will likely occur at times this winter. However, the frequency, number and intensity of these events cannot be predicted on a seasonal timescale
."
---
Mixed Blessing for Snow Lovers. El Nino events tend to energize the southern branch of the jet stream, resulting in wetter winters from California to Texas to Florida and much of the East Coast. Will the biggest, wettest storms sail to our south in a few months? Plausible, but more energy and volatility (and warmth) in the system will probably result in a few significant snowfalls for the metro. I can't promise a blockbuster winter for snowmobilers (and kids hoping for a treadmill of snow days) but hopefully we'll see close to average amounts, around 50-55". That's not a prediction, more of a "wish-cast". Map: NOAA.
---
Online Attacks on Infrastructure Are Increasing at a Worrying Pace
. The first time a hacker brings down portions of the grid, derails a train or crashes an airplane in flight there will be collective outrage. But we've been warned for some time now. Here's an excerpt from
The New York Times
: "
Over the last four years, foreign hackers have stolen source code and blueprints to the oil and water pipelines and power grid of the United States and have infiltrated the Department of Energy's networks 150 times. So what's stopping them from shutting us down? The phrase "cyber-Pearl Harbor" first appeared in the 1990s. For the last 20 years, policy makers have predicted catastrophic situations in which hackers blow up oil pipelines, contaminate the water supply, open the nation's floodgates and send airplanes on collision courses by hacking air traffic control systems.
.."
---
The U.S. Dips a Toe in the Offshore Windfarm Water
.
Gizmag
has the article; here's the intro: "
Offshore wind farms have been creating electricity off the coast of Denmark since 1991 and England, Germany and other countries on mainland Europe have followed suit, as have China, South Korea and Japan. It's a different story in the US, where until recently there were no offshore wind farms in operation or even under construction. That changed recently with the start of construction of a small wind farm off the coast of Rhode Island
..." (File image: Shutterstock).
---
Bill Gates: "We Need an Energy Miracle"
. Will technology save us from ourselves? Here's an excerpt of a fascinating interview at
The Atlantic
: "...
Gates is on a solo global lobbying campaign to press his species to accomplish something on a scale it has never attempted before. He wants human beings to invent their way out of the coming collision with planetary climate change, accelerating a transition to new forms of energy that might normally take a century or more. To head off a rise in average global temperatures of 2 degrees Celsius above preindustrial levels—the goal set by international agreement—Gates believes that by 2050, wealthy nations like China and the United States, the most prodigious belchers of greenhouse gases, must be adding no more carbon to the skies.
.."
---
Norway Is A Model for Encouraging Electric Car Sales
. Here's an excerpt from a story at
The New York Times
: "...Mr. Tellefsen and Ms. Nordgarden, along with thousands of other Norwegians, are taking part in the world's most ambitious governmental effort to wean drivers off fossil fuels. It is part of the effort by this country of 5.2 million people to reduce greenhouse gas emissions and meet its ambitious United Nations
climate goals
. At a time when the
Volkswagen
emissions scandal has helped expose the drawbacks of Europe's heavy reliance on diesel cars, Norway has become a global model of how to get the public to embrace electric vehicles, an experiment that is attracting researchers and policy makers from around the world..."
Graphic credit
above: "
Figures include battery-powered electric vehicles and plug-in hybrids. Exemptions include national tax breaks on purchases of electric cars vs. comparable internal combustion engine cars. Nonnational subsidies and incentives for purchase are not included. Recurring tax exemptions are a 5-year cumulative total including savings on highway and tunnel tolls and parking fees
." Sources: Norwegian Electric Vehicle Association, McKinsey & Company.
---
Toyota Maps Out Decline of Conventionally Fueled Cars
. Will our grandkids or (God-willing) great grandkids ask us why we put smelly "dinosaur juice" into our cars? Great question. Toyota seems to believe the answer is yes. Here's an excerpt from
The Wall Street Journal
: "
Toyota Motor

Corp.

is plotting a road to near extinction for its conventionally fueled cars as the industry grapples with the fallout of Volkswagen

AG

's diesel-emissions scandal. The world's best-selling auto maker said Wednesday that by 2050, gas-electric hybrids, plug-in hybrids, fuel-cell cars and electric vehicles will account for most of its global vehicle sales, without giving a detailed breakdown. That means gasoline- and diesel-engine powered cars, currently accounting for roughly 85% of Toyota global vehicle sales, would be near zero, Senior Managing Officer Kiyotaka Ise said
..."
Image credit
above: "
Photo:

Bloomberg News.
---
Why What You Learned in Preschool Is Crucial at Work. With automation and robots doing more of what (people) did a few years back which jobs will be harder to computerize in the future? Here's an excerpt of a New York Times article that got my attention: "...
Work, meanwhile, has become more like preschool. Jobs that require both socializing and thinking, especially mathematically, have fared best in employment and pay, Mr. Deming found. They include those held by doctors and engineers. The jobs that require social skills but not math skills have also grown; lawyers and child-care workers are an example. The jobs that have been rapidly disappearing are those that require neither social nor math skills, like manual labor
..."
---
Oil: A Mixed Blessing for North Dakota?
HBO's John Oliver has a tragically-funny take on the boom-bust cycle playing out next-door. Some of what has happened is far from funny, it's horrific. I'm just glad there's no oil or natural gas under Minnesota. Thank God for big favors. Here's a link to the video (rated PG for profanity) at
Holy Kaw!
---
TODAY
: Morning freeze. Bright sunshine, light breeze. Winds: SW 5-10. High: 53
SATURDAY NIGHT
: Clear, not as cold. Low: 37
SUNDAY
: Sunny, stiff breeze returns. Winds: SE 10-20. High: 62
MONDAY
: More clouds, lukewarm. Wake-up: 49. High: 73
TUESDAY
: AM sun, late showers. Wake-up: 53. High: 65
WEDNESDAY
: Damp start, then clearing. Wake-up: 48. High: 61
THURSDAY
: Sunny and quiet. Wake-up: 45. High: 62
FRIDAY
: Fading sun, mild breeze. Wake-up: 48. High: 61
---
Climate Stories...
Why Solving Climate Change Will Be Like Mobilizing for War.
I have a little more faith, however misguided, in technology and the power of the markets to come up with the solutions we're going to need. Here's an excerpt of a rather sobering piece from
The Atlantic
: "...
It's clear that the market is unlikely to solve the problem of climate change on its own. If scientists are right, and there is no reason to think they aren't, averting climate change will require such large-scale, rapid action, that no single energy technology, new or emerging, could be the solution. Neither could any single non-energy technology, such as video-conferencing as a substitute for travel, solve the problem on its own. There is always a possibility that a single cheap and effective solution will emerge, rendering expensive interventions moot, but few climate experts are willing to trust the future to that unlikely prospect.
.."
Image credit
:
Zak Bickel / The Atlantic.
---
Editorial: Exxon's Damaging Denial on Climate Change. Here's an excerpt of an Op-Ed from The Los Angeles Times Editorial Board: "...
Exxon had the foresight and commitment to invest in understanding the problem back when few were mentioning it. And if it had given its weighty endorsement to the warnings of academics, this nation and the world might have started taking action in the 1990s that would have made the battle against global warming less daunting. Instead, Exxon — now ExxonMobil — used its research to figure out how to pull yet more fossil fuels from the earth to be burned. The company now acknowledges — just as most Americans do — that the problem of climate change is real (though only half of Americans understand that it is largely caused by human activity).
.."
---
ExxonMobil's Commitment to Climate Science
. In a rebuttal to multiple reports of ingoring their own scientists and putting out a different (skeptical) narrative here is how
ExxonMobile
responded to a growing chorus of critics: "
Some recent critics of ExxonMobil, notably Bill McKibben and Naomi Oreskes, are expressing surprise to hear that ExxonMobil helped pioneer research into climate change science in the 1970s and '80s. They claim that evidence of our climate research was unearthed recently by InsideClimate News and the Los Angeles Times after being suppressed as part of a conspiracy to deny the existence of climate change. Nothing could be further from the truth. ExxonMobil is a science- and engineering-based company and we employ roughly 16,000 scientists and engineers who every day explore the boundaries of scientific knowledge in order to develop the energy supplies that power the modern economy
..."
---
National Geographic: Climate Change is Here. NatGeo has produced a visually stunning online primer on climate change: how and where it's already showing up, and what we can do about it. Highly recommended.
---
Even Fossil Fuel Companies Support an International Climate Agreement. ThinkProgress has a summary; here's a link and excerpt: "
In a joint statement released Wednesday by the Center for Climate and Energy Solutions, 14 major Fortune 500 companies voiced their support for a strong global agreement on climate change. The 14-company coalition represents a broad set of business interests, from technology giants like Intel and HP to the electronics manufacturer Siemens Corporation. But the letter also includes supporters that might not seem like the most natural allies to a global climate agreement, including coal mining companies like BHP Billiton and Rio Tinto, oil and gas companies like BP and Shell, and industrial manufacturers like Alcoa and LafargeHolcim. Together, the companies have a combined revenues of $1.1 trillion and employ more than 1.5 million people, according to the Center for Climate and Energy Solutions
..."
---
Is America Coming Around on Climate Change? Quartz takes a look at a recent poll - here's an excerpt: "
It's climate change, stupid. For the first time since 2008, at least seven out of 10 Americans correctly believe there is strong evidence that climate change is real. That's up seven percent points from April this year and 10 percentage points from last fall, according to a new survey by the National Surveys on Energy and Environment (NSEE).
..."
Graphic credit
:
National Survey of Energy and Environment
---
Acceptance of Global Warming Among Americans Reaches Highest Level Since 2008.
Here's a clip from a press release at The Center for
Local, State and Urban Policy
at the University of Michigan: "
For the first time since 2008 at least 7 out of 10 Americans indicate that they believe there is solid evidence of global warming over the past four decades. This 70% belief level is the second highest mark in the history of the National Surveys on Energy and the Environment (NSEE) falling just short of the 72% record level reported in Fall 2008. This increased level of acceptance of evidence of global warming coincides with the lowest percentage of Americans expressing doubt in solid evidence of global warming in the history of the NSEE. The Fall 2015 survey shows that only 16% of adult Americans currently believe there is not solid evidence of global warming, a mark 1% lower than the previous record of 17% recorded in Fall 2008
..."
---
Whom Can We Trust About Climate Change?
Here's an excerpt of a well-written Op-Ed at
The Union
, serving western Nevada: "...
Globally, greenhouse gas emissions are accelerating. Meanwhile, average temperatures are rising. The hottest year so far was 2014, but is being surpassed this year, 2015. All the world's major scientific institutions agree that anthropogenic climate change is real, including the Intergovernmental Panel on Climate Change (IPCC) and all national scientific academies. Even the conservative World Bank has published an urgent report: "Why a 4 degree warmer world must be avoided." Meanwhile, a relative handful of self-proclaimed experts make varied and contradictory claims: That there is no global warming, or that humans are not causing these "normal" variations, or that CO2 will help plants grow, or that there's nothing we can do about it anyway. What is behind these claims?
..."
---
Energy, Mining Companies Begin to Back Back Climate Talks.
Here's the intro to a stor at
The Wall Street Journal
: "
A major international agreement to reduce carbon-dioxide emissions is starting to draw in major energy and mining companies. Some global companies, especially those that face heavy environmental regulation, say they are supportive of nearly 200 countries' efforts to reach an accord in Paris in December at negotiations sponsored by the United Nations. On Wednesday, a dozen companies, including oil giant BP PLC and global mining giant BHP Billiton

Ltd.

released a statement touting the Paris climate talks as a "critical opportunity to strengthen efforts globally addressing the causes and consequences of climate change
..." (File photo: Shutterstock).