47 F
. high in the Twin Cities Thursday.
29 F
. average high on December 10.
29 F
. high on December 10, 2014.
.16" rain
had fallen at MSP as of 6 PM Thursday.
December 11, 2010
: A blizzard hits much of southern Minnesota. Minneapolis saw a December record 16.3 inches of snow in one calendar day and much of the metro area saw between 15 and 20 inches of snow.
December 11, 1983
: Nine cars fall through the ice at the same time on Buffalo Lake in central Minnesota. There was only 5 to 6 inches of ice on the lake.
December 11, 1979
: The temperature drops in Roseville from 48 degrees at 2 pm to zero by dawn of the following day.
December 11, 1916
: Montevideo has its fifty-second consecutive day with no precipitation.
A December to Remember
Boating and Golfing?
Just when you think you've seen everything. A few days ago my wife spied fishing boats on a nearby lake. Yesterday people were golfing up in Maple Plain. My lawn is still in need of a good mowing.
Curious, head-scratching, downright unsettling, considering we should be knee-deep in snow right about now.
NOAA reports autumn was the warmest on record for the lower 48 states. It was the second warmest fall from the Dakotas and Minnesota into Wisconsin and Michigan. What is looking more and more like a record El Nino, even stronger than 1997-98, is overwhelming all other signals. Warmth is bubbling out of the Pacific and overpowering Canadian winds.
Case in point: yesterday's cool frontal passage dropped temperatures about 8F. today, but the atmosphere will still be warm enough aloft for rain this weekend; half an inch may fall. Any other December that would have translated into half foot of snow.
Another, colder system may coat the ground with snow
next Tuesday
; a streak of 20s next week. Any cold-correction may be brief; models show another warm front arriving on Christmas.
---
This Past Fall Was The Warmest on Record in the Continental U.S., Says NOAA
. It was the second warmest on record for the Dakotas, Minnesota, Wisconsin and Michigan. Here's an excerpt from
The Capital Weather Gang
: "
The continental U.S. just ended its warmest autumn on record, September through November, during which "record and near-record warmth spanned much of the nation," said NOAA in a press release. The average autumn temperature in the U.S. was 56.8 degrees, which is 3.3 degrees above the 20th century average, and the warmest such period in 121 years of record-keeping. The previous record for warmest fall was set in 1963, when the average temperature was 56.6 degrees
..."
*
Climate Central
has more details on autumn's amazing, record-breaking warmth
here
.
---
El Nino vs. The Polar Vortex: So Far, It's El Nino in a Wipeout
. Record warmth bubbling out of the Pacific is (by far) the dominant signal, flavoring weather thousands of miles downwind. Here's an excerpt from
USA TODAY
: "...
So far, in the USA's weather contest between the warmth of El Niño and the icy cold of the infamous Polar Vortex, it's been El Niño in a wipeout. Record-breaking warmth is possible this weekend for much of the central and eastern U.S., with temperatures forecast to soar as much as 20 to 30 degrees above average from Texas to New England, according to AccuWeather. The ongoing and strengthening El Niño could keep Arctic air out of much of the USA well into the winter
..."
---
"Monster" El Nino Could Usher In Decade of More and Stronger Events
. A sign of things to come? Here's a snippet from a story at
Reuters
that caught my eye: "...
While El Nino oscillates on a more or less yearly cycle, another dynamic in Pacific Ocean water temperatures, known as the Pacific Decadal Oscillation (PDO), has the potential to accelerate global warming and increase the severity of El Nino episodes, scientists said. The last time the PDO was, as it may be now, in a prolonged positive, or "warm" phase, it corresponded with two of the strongest El Ninos on record. "When you really have a monster El Nino, it could be enough to flip the PDO into a new phase for a decade or so," said William Patzert, a climatologist at NASA's Jet Propulsion Laboratory in California. "Keep your eyeballs peeled because maybe we're in for a decadal shift
..." (Image credit: NOAA).
---
Record Intensity Storm in the Bering Sea?
924 mb is a serious storm, close to record-setting territory, according to
Weather Underground
: "...Although this may be the lowest pressure ever mapped in the Bering Sea, it is likely that the storm of October 25, 1977 was considerably stronger. An actual measured barometric pressure level (by a ship docked at Dutch Harbor on Unalaska Island in the Aleutians) of 925 mb (29.31") during that storm would tend to indicate that, at some point, during that storm's life cycle its central pressure was probably lower than the 925 mb figure measured and thus probably lower than the 924 mb estimate for the current storm..."
Surface Pressure Map valid Thursday evening:
earth.nullschool.net
.
---
Slushy Snow Up North This Weekend
. Our internal models issued an alert for as much as 4" of snow from Brainerd to Bemidji by Sunday; a surge of mixed snow, ice and rain Saturday night and Sunday. Major roads may stay wet and slushy (more of a March snow) with the best chance of accumulation on lawns and fields. Source: Aeris Enterprise.
---
84-Hour Snowfall Potential
. Here's guidance from NOAA's NAM model, predicting close to 6" of snow for International Falls, maybe a plowable amount from near Bemidji into portions of the Brainerd Lakes area and the Minnesota Arrowhead, with a couple inches for far western Minnesota. Farther east the atmosphere should be just warm enough aloft for rain. Source: AerisWeather.
---
Dance of the Canadian Cold Fronts
. If you stare at this long enough you will suffer a seizure, so buyer beware. Watch the 32-degree isotherm sag southward next week - by the latter half of next week with highs in the 20s there will be NO doubt in your mind it's December. Yes, we knew it was coming.
---
Thawing Out Again Late December?
GFS guidance looking out 2 weeks (ha!) shows the core of the cold closed low pushing into the eastern USA and New England, with more warm ridging from the western USA into the Rockies, a milder surge that may warm us back into the 30s to near 40 in late December.
---
Alerts Broadcaster Briefing
: Issued Thursday, December 10
th
, 2015
* Heavy rain since the beginning of the month has led to numerous reports of flooding and landslides across the Pacific Northwest. Rainfall amounts have exceeded over a half a foot in some locations.
* The state of Washington has declared a
State of Emergency
due to the widespread flooding and power outages that have occurred.
* More rain is in the forecast into the weekend that could total over 4" in spot.
---
36 Homes Damaged by Tornado in Battle Ground, Washington
. Yes, Washington State - odd to be seeing tornadoes in the Pacific Northwest in mid-December. So far El Nino has largely spared California, focusing it's wet weather fury on Washington and Oregon. More details from
KING-TV
in Seattle.
---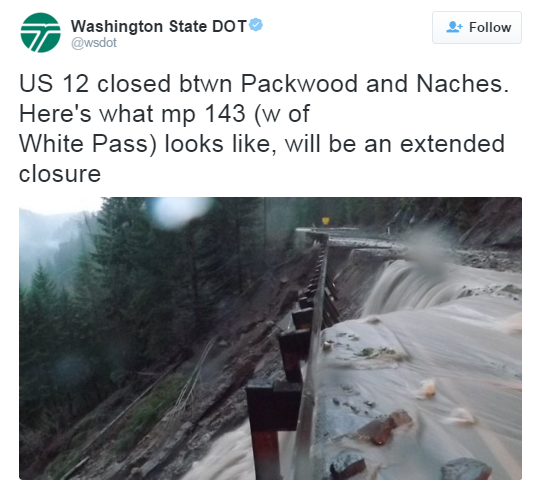 Rain Washing Away Roads.
Due to the amount of rain, roads are literally being washed away in parts of Washington and Oregon. With the widespread flooding that has occurred across parts of Washington, Governor Jay Inslee declared a state of emergency
Wednesday
.
---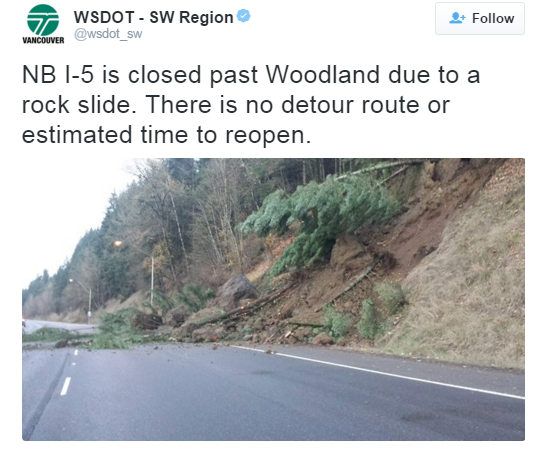 Numerous Landslides.
Numerous landslides have also occurred across the region due to all the heavy rain. This is just one of them, located 21 miles north of the Washington/Oregon border along I-5 near the city of Woodland, WA. Hundreds of semi-trucks have had to pull off the side of the road due to this landslide and are stuck.
More Rain On The Way.
The atmosphere is set up for more waves of rain to move in off the Pacific Ocean over the next few days. The next system will move through as we head into
Friday
, bringing another 1-3" to spots. The rain will continue, though, as we head into the weekend, only making problems worse. The only real, extended break in the rain may not come until the middle of next week for areas like Portland and Seattle.
---
Thursday

6 PM

:
Friday

7 AM

:
Friday

5 PM

:
Saturday

9 AM

:
Saturday

:

6 PM

:
Map Credit: AerisWeather.
---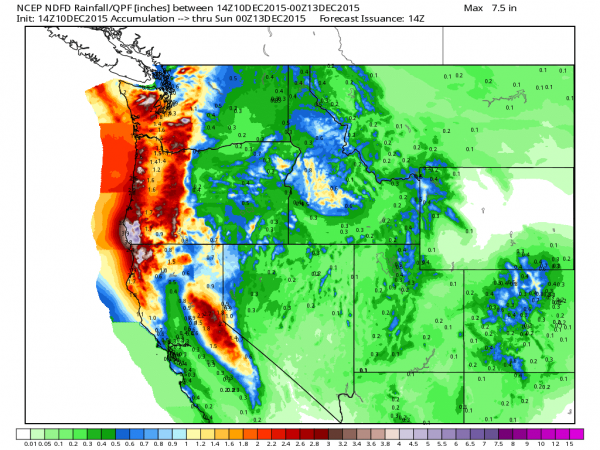 Additional Rain Through

Saturday

Evening.
With more rounds of rain expected in the next few days, rainfall tallies will be climbing once again across the Northwest. Rain over the next few days will be the heaviest along the coast, especially in southwest Oregon/northwest California, where totals could exceed four inches. For areas such as Seattle and Portland, another 1-3" can be expected on the already 5-8" they've seen in the past week. Portland, OR has seen at least a quarter inch of rain each day so far this month. Source: WeatherBell.
---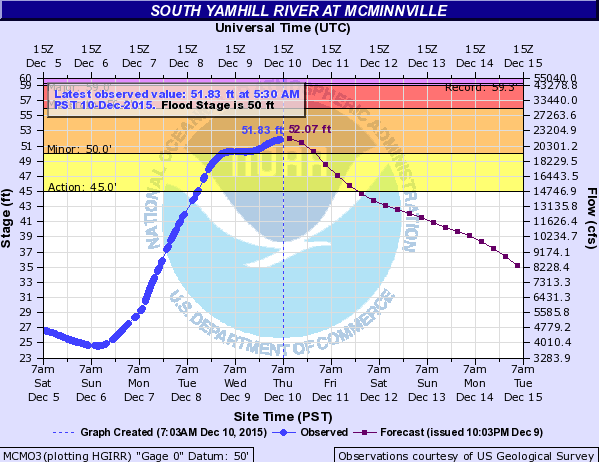 Ongoing River Flooding.
Additional rainfall will only exacerbate river levels over the next few days. Already the South Yamhill River southwest of Portland, OR at McMinnville is in minor flood stage.
---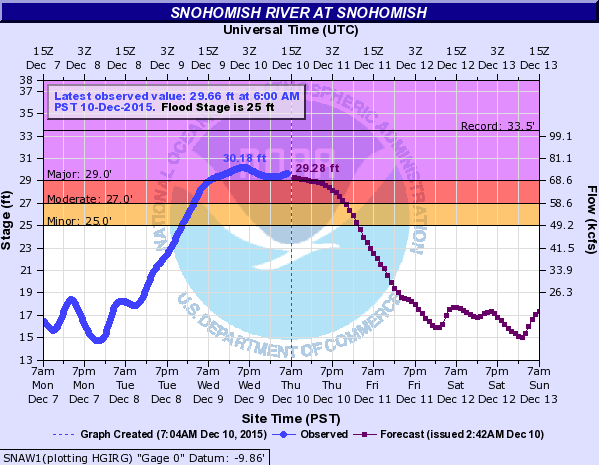 River Flooding Near Seattle As Well.
The Snohomish River is in major flood state in Snohomish, WA (northeast of Seattle) and has been for a few days. While the forecast shows the level starting to decrease over the next 24 hours, the next wave of rain could help the river linger in flood stage for a longer period of time. Map source: NOAA.
Summary.
Heavy rain will continue to cause numerous issues across the Northwest over the next several days, with impacts to transportation and infrastructure likely as another 2-5" of rain is expected through the weekend. A break in the constant rain doesn't look likely until the middle of next week at the moment.
D.J. Kayser, Meteorologist, AerisWeather
---
January Preview: Ditto
. When in doubt go with the flow. Meteorologists call this "persistence". The same El Nino signal responsible for one of the mildest autumns (and Decembers, to date) on record will - in all probability - spill over into early 2016. NCEP CFSv2 climate guidance: NOAA and WeatherBell.
---
January Precipitation Anomaly Forecast
. The El Nino signal persists; wet weather from the Pacific Northwest into northern California, much wetter for the Gulf Coast and Florida, while much of the Lower 48 experiences drier than average conditions.
---
For Indians, Smog and Poverty are Higher Priorities than Talks in Paris
.
The New York Times
has the analysis - here's a link and story excerpt: "...
But few countries have so much at stake as India. For the last month, the front pages of major newspapers have been dominated by one environmental crisis after another: City-dwellers are up in arms about hazardous levels of air pollution, which has already damaged the lungs of about half of Delhi's schoolchildren. And last month brought torrential rains and flooding in the southern city of Chennai, evoking the erratic weather that climate experts warn about. "People are experiencing far more, and the impacts are far more severe," said Arivudai Nambi Appadurai, a climate risk specialist for the World Resources Institute, whose family weathered the flood in Chennai. "It is right there in front of them. You experience it, you believe it. It's not something happening far away that you read about in the newspaper.
.."
Photo credit
above: "
In this Dec 1, 2015 photo, smoke billows out of a chimney of a small scale factory in New Delhi, India. Over the last decade the city's air pollution has grown so rapidly that the cold weather turns the city into a grey, smog-filled health nightmare. New Delhi has earned the dubious distinction of being the world's dirtiest city, surpassing Beijing, once the poster child for air pollution
." (AP Photo /Tsering Topgyal).
---
The Most Polluted City Is? Hint: Not Beijing.
USA TODAY
links to the list no city wants to be on; here's the introduction: "
As Beijing again makes worldwide news for its hideously smog-choked skies, a look at a list of some of the planet's most polluted cities finds that the Chinese capital isn't even in the top 20 for smog. While certainly wretched by American standards, Beijing's average air pollution level is 53, on a scale from 26 to 208. (The numbers reflect the amount of the smog-causing microscopic particles in the air.) Many of the world's most polluted cities are in India, with Delhi "leading" the pack with a level of 153. The report, which was prepared in 2014 by the World Health Organization, looked at outdoor air pollution in nearly 1,600 cities in 91 countries.
.."
File photo
: "
In this Nov. 25, 2015 photo, Sitesh Singh, 48, an auto rickshaw driver wears a mask to protect himself from pollution in New Delhi, India. Over the last decade the city's air pollution has grown so rapidly that the cold weather turns the city into a grey, smog-filled health nightmare. New Delhi has earned the dubious distinction of being the world's dirtiest city, surpassing Beijing, once the poster child for air pollution
." (AP Photo /Tsering Topgyal)
---
China's Polluted Skies Take on a Darker Meaning For Its Leaders
. Here's a clip from
The New York Times
: "...
On no other issue are President Xi Jinping and other Chinese leaders forced to walk such a fine line, between controlling information that has the potential to undermine their legitimacy and doling it out to increasingly anxious citizens who consider such disclosures essential. And as awareness of their toxic environment grows, people are demanding fundamental solutions, not only periods of red alert that result in inconveniences
..."
Photo credit
above: "
A woman wears a mask for protection against the pollution in Beijing, China,

Wednesday, Dec. 9, 2015. Unhealthy smog hovered over downtown Beijing as limits on cars, factories and construction sites kept pollution from spiking even higher Wednesday, on the second of three days of restrictions triggered by the city's first red alert for smog
." (AP Photo/Ng Han Guan)
---
It's True - Being Handsome is a Living Hell
. Not a problem that I have, thank goodness. Here's an excerpt of a study recap at
The Guardian
: "...
You knew all this – of course you did – but you probably weren't aware of a new challenge to being a successful man. This bear-trap is the curse of handsomeness. According to a new study from University College London's School of Management, men are more likely to be overlooked for competitive roles that rely upon individual talent – sales positions, for example – if they are perceived as handsome. Male superiors who fancy themselves as the alphas in your hedge fund, PPI call-centre or longbow showroom will pass you over for promotion, reluctant to place those they consider to be more handsome at the same level as themselves
..."
---
TODAY
: Cloudy, a bit cooler. Winds: E 7-12. High: near 40
FRIDAY NIGHT
: Cloudy with patchy drizzle and fog. Low: 34
SATURDAY
: Light rain and drizzle. Ice far northern MN. Winds: N 8-13. High: 39
SUNDAY
: Periods of rain likely, heaviest south/east of MSP. Winds: N 10-20. Wake-up: 36. High: 38
MONDAY
: Drying out, still cool and gray. Wake-up: 32. High: 36
TUESDAY
: Wet, slushy snowfall possible; light accumulation possible. Wake-up: 30. High: 33
WEDNESDAY
: Flurries taper, colder wind kicks in. Wake-up: 19. High: 25
THURSDAY
: Chilled sun, feels like December again. Wake-up: 16. High: 23
* Photo: Brad Birkholz.
---
Climate Stories...
Climate Negotiators Zero In on Key Issues as Planned End to Paris Talks Near.
The Wall Street Journal
has an update; here's the intro: "
The U.S. closed ranks with some 100 countries—including members of the European Union, Mexico and Colombia—in calling for a strong deal to tackle climate change, with just days of negotiations left at a summit here. A new draft of the agreement released Wednesday afternoon—after almost 10 days of talks among 195 nations—showed that some fundamental points remain up in the air. Governments still haven't decided by how much temperatures should be allowed to increase, how much money would be provided to poor governments to adapt to the effects of climate change and switch away from fossil fuels, and whether emerging economies will take on more responsibilities.
.."
Photo credit
above: "
People attend a climate conference at the U.S. pavilion during the COP21, United Nations Climate Change Conference in Le Bourget, north of Paris, Thursday, Dec. 10, 2015. Widely derided by politicians on the left and the right, once thought dead even by its supporters, the idea of allowing companies to buy and sell pollution "rights" like stocks is now at the fore again as 151 heads of state and government at the Paris climate conference grope for ways to avert environmental havoc
." (AP Photo/Christophe Ena)
---
5 Climate Summit Takeaways as Deadline Nears
.
POLITICO
has a few bullet points on what we can expect in terms of a final deal; here's an excerpt: "...
A Paris deal appears visible on the horizon… but there's still a lot of work to do. The problem is that the latest draft lays out the deepest fault lines in the negotiations, and they tend to be over issues that cut across the entire package. But on the positive side, a lot of the smaller issues have been dealt with. Until now, some of the biggest players — India and China but also the European Union and others on the developed side — have largely kept their cards close to their chests. In the final hours, they are gradually starting to take steps towards what people here like to call "the landing zone," or the conditions for an agreement that doesn't end in a nasty crash
..."
Photo credit
above: "
NGO representatives gather next to on the mini red Eiffel Tower after a sit-in protest closed to the plenary session to denounce the first draft COP21 Climate Conference agreement, and put pressure to reach an international agreement to limit global warming, during the COP21, United Nations Climate Change Conference in Le Bourget, north of Paris, France, Wednesday, Dec. 9, 2015
." (AP Photo/Francois Mori).
---
Saudi Arabia Accused of Trying to Wreck Paris Climate Deal.
Here's the intro to a story at
The Guardian
: "
Saudi Arabia stood accused on Tuesday of trying to wreck the Paris climate summit in order to protect its future as one of the world's largest oil producers. As the talks entered the home stretch, developing country negotiators and campaigners became increasingly vocal in their complaints that the kingdom was getting in the way of a deal. "They are seeing the writing on the wall," said Wael Hmaidan , director of Climate Action Network, the global campaign group. "The world is changing and it's making them very nervous
..."
Photo credit
above: "
Ali bin Ibrahim Al-Naimi, minister of petroleum and mineral resources, of Saudi Arabia addressing delegates at COP21 conference in Le Bourget, Paris
." Photograph: IISD.
---
At the Climate Conference, The Rich are Working to Stay Rich
.
New Republic
provides more perspective; here's an excerpt: "...
Remember: Climate change, by definition, is going to affect every single system on Earth. One of those systems is commerce and trade. Another is politics. When a massive disruption happens to money and power in the hands of people we currently think of as winners, some of them might start to lose. And some people we currently think as losers might start to win. This climate conference is the winners spending hundreds of millions of dollars to make sure they keep winning, in part by making sure that things don't change so dangerously and fast that everybody loses. That is why Google, 3M, Philips, Air France-KLM, two French Energy companies, and dozens of other corporate sponsors are helping cover the conference's $185 million bill
..."
Photo credit
above: AP Photo/Francois Mori.
---
Will The Paris Climate Deal Spell out the End of the Fossil Fuel Era?
The Guardian
has analysis on implications - here's a snippet: "...
But the other side of this coin is the impact that the deal will have on the world's energy industries. It's squeaky bum time too for fossil fuels. Here in Paris, the World Coal Association says it has been having "productive discussions with a range of governments and international organisations" in an attempt to save its industry's future. The industry group is trying to persuade the world that fossil fuels have a future in a decarbonized world. The industry is the biggest single contributor to greenhouse gas emissions and is telling negotiators it can capture those gases from coal burning on a large scale – a promise the industry has been making for a decade or so with no result.
.."
Photo credit
above: "
Climate activists stage a protest outside the Louvre pyramid in Paris where negotiations are taking place to agree a global deal on greenhouse gas emissions
." Photograph: Benoit Tessier/Reuters.
---
Scientists Keep Rallying Around NOAA Chief in Climate Feud, Telling Her, "Stay Firm Against Bullying Tactics."
Here's an excerpt of an update at
The Washington Post
: "
Scientists keep rallying behind Kathryn Sullivan, the federal official on one side of a two-month standoff with a senior House Republican over a groundbreaking climate change study. On Monday, the chief of the National Oceanic and Atmospheric Administration received a letter signed by 587 individual scientists from chemists to biologists urging to hold her ground against House science committee Chairman Lamar Smith's campaign to discredit NOAA scientists.
.." (File photo: Fred R. Conrad/The New York Times).
---
Watch This Navy Admiral Destroy Ted Cruz's Climate Myths
. Dave Titley is a friend and collegue, we graduated together at Penn State. I was exceptionally proud of his testimony on Tuesday. Here's an excerpt from
Mother Jones
: "...
He started out by explaining that Cruz's dataset begins just before the exceptionally warm El Niño year of 1998. Out of context, this makes recent warming appear less dramatic. As the UN's Intergovernmental Panel on Climate Change points out [PDF], the warming trend looks much bigger if you pick 1995 or 1996 as the beginning of your dataset. Titley, who is now a meteorology professor at Penn State, then pointed to his own chart—more than a century's worth of temperature data that shows an unmistakable warming trend. "I'm just a simple sailor," said Titley, "but it's hard for me to see the pause on that chart. So I think the pause has kind of come and gone.
.."
---
Admiral Titley on Climate Security: A Scientist and a Sailor Speaks Sense to the Senate.
Here's an excerpt from
The Center for Climate and Security
: "...
In this context, Admiral Titley made the case that we have more than enough certainty to justify a robust response to a changing climate – just as we have more than enough certainty about other security risks (from nuclear proliferation to international terrorism) to justify robust responses to those threats. This objective reality – which our defense and intelligence communities understand full well – is critically important, and one that is too often lost in the partisan discourse. If you are interested in a nonpartisan opinion from someone who has spent decades thinking through both climate science and matters of national and international security, it's worth watching the full hearing to see what Admiral Titley had to say
."
---
Climate Talks Show Signs of Progress.
Here's an excerpt of an update at
The Wall Street Journal
: "
Strands of a deal on tackling climate change began to emerge Tuesday, but divisions remained on the two most contentious issues: Who will help developing countries pay for less-polluting energy generation and adapt to rising temperatures; and whether emerging economies take on larger responsibilities in the broader fight against global warming. Two days of negotiations among ministers managed to bridge some differences that had hamstrung the first week of talks here.
.."
Photo credit: "
US Secretary of State John Kerry waves as he walks off stage after speaking at the Mashable/UN Foundation "Earth to Paris" summit at Le Petit Palais in Paris, France, on the sidelines of the COP21, the UN climate change conference, Monday, Dec. 7, 2015
." (Mandel Ngan/Pool Photo via AP)
---
How The U.S. Became an Unlikely Hero at the Paris Climate Summit
.
TIME
reports; here's the intro: "
The U.S. has been an obstacle at past climate-change summits, but in Paris, it has been key to a deal Negotiators from the U.S. arrived in Paris last week for talks on climate change with a mandate from President Barack Obama to advance a strong deal to stem greenhouse-gas emissions.
And with just days remaining before the conference is set to conclude, climate-policy experts say the U.S. has done just that..."
---
U.S. Proposes Raising Spending on Climate-Change Adaptation. No matter what we do to reduce emissions some level of adaptation will be required; it's not optional at this point with additional warming already in the pipeline. Here's an excerpt from an article at The New York Times: "
In an effort to help smooth the passage of a sweeping new climate accord here this week, Secretary of State John Kerry announced on Wednesday a proposal to double its grant-based public finance for climate-change adaptation by 2020 to $860 million, from $430 million. Mr. Kerry's announcement came as the momentum toward a deal appeared to have hit a momentary snag. Laurent Fabius, the French foreign minister who is presiding over the talks, delayed by two hours a self-imposed 1 p.m. deadline to release a new draft of the international agreement that negotiators here have been haggling over for more than a week
..."
Photo credit
above: " "
Credit

Pool photo by Mandel Ngan.
---
Fossil Fuels Kill More People Every Year than Wars, Murders and Traffic Accidents Combined.
Yes, fossil fuels brought us to this point in time and made exponential gains in GDP and prosperity possible. But the way we're keeping the lights on the economy powered up (today) is not sustainable. Here's an excerpt at
Quartz
: "...
One way out may be to reframe the debate. Global warming will affect billions of lives in the future. But, by one estimate, our love for fossil fuels may already be responsible for more deaths than those caused by wars, murders, and traffic accidents combined. These figures come from the 2012 Climate Vulnerability Monitor. In 2010, some 4.5 million deaths could be attributed to air pollution, because of the production of carbon particles and nitrogen oxides
..."