January 3, 1981
: Arctic air visits Minnesota. Embarrass, Wannaska, and Tower all hit 38 below zero.
January 3, 1977
: 14.2 inches of snow falls in Mankato.
Parka Alert: Subzero Possibilities Next Week
"Pale January lay in its cradle day by day, dead or living, hard to say" wrote Alfred Austin in Primroses. January is the reason Minnesota doesn't have a population of 20 million, which is probably a good thing.
Long shadows, numbing nights, a wind chill capable of making a grown man cry; January is an acquired taste.
On the other hand road construction is in suspended animation, the mosquito count is down, and the weeds in my yard are hibernating.
Historical data shows the coldest weather of the entire year is 1-2 weeks away, on average. That won't be hard to believe next week, possibly the coldest of 2016.
The sun stays out much of today and
Monday
as temperatures cool down to average; expect a late-week thaw with a chance of some wet snow by
Friday
&
Saturday
. Nuisance amounts are possible - this doesn't look like The Big One.
A hunk of polar air breaks off and pinwheels across the Midwest next week. Daytime highs may hold in single digits with 2-4 nights below zero.
Unlike previous winters I don't see a prolonged push of polar pain, just a few days of nicely numb.
---
A Real Cold Front
. Here is the 2-meter temperature forecast for 1 AM Tuesday morning, January 12, showing temperatures well below zero across Minnesota and the Dakotas, a wind chill as low as -20F. It will be the first real arctic slap of the winter season. Map: WeatherBell.
---
Plenty of Ice for the St. Paul Winter Carnival
. I can't rule out a thaw by the third week of January, but temperatures should be sufficiently cold in 7-12 days for thicker ice to form on area lakes. The predicted temperature at 6 AM, January 11 in St. Paul is a nippy -8F. Something to look forward to. Source: Aeris Enterprise.
---
A Pinwheel of Pain.
Temperatures trend above average for the next 7 days, but you can watch the leading edge of subzero air (bright purple) pushing southward out of Canada by next weekend, setting the stage for a few polar days in Minnesota. Source: NOAA (GFS) and AerisWeather.
---
Change in the Weather?
The Arctic Oscillation has been positive much of autumn 2015, meaning a tight polar vortex with few southern intrusions of bitter air, but NOAA models suggest a shift to a negative phase is underway, which means a good chance of a few (polar) outbreaks within 1-2 weeks. That said, the volume, intensity and duration of polar air this winter probably won't be as severe as recent winters as a warm El Nino signal continues to overwhelm the pattern across North America.
---
Warmest December Statewide, Third Warmest December for MSP
. Thanks to AerisWeather meteorologist D.J. Kayser for passing along this weather nugget.
---
Mild Signal Lingers Into February?
Here is NOAA's CFS climate model guidance for the month of February, showing temperatures 3-5F warmer than average across Minnesota next month, even warmer across much of Canada. Source: WeatherBell.
---
AerisWeather Briefing
: Issued Saturday evening, January 2, 2016.
* The much advertised El Nino pattern, the strongest since 1998, will shift the storm track southward, putting California in its cross-hairs next week with a series of wet, Pacific storms sweeping inland.
* Waves of heavy rain arrive Sunday night and Monday, with additional heavy rain Tuesday, Wednesday and Thursday.
* Northern California and the Bay Area will experience the heaviest rains (3-5" amounts) by the end of next week, but the Los Angeles metropolitan area will pick up some 1-3" amounts, capable of
significant urban flooding and minor power outages
.
* Winds gust to 50 mph with a heightened risk of mudslides as squalls of very heavy rain push inland. Expect snow above 4,500 feet.
*
Facilities that normally experience flooding or power disruptions during heavy winter rainfall events will probably see problems next week, possibly as early as Monday
.
---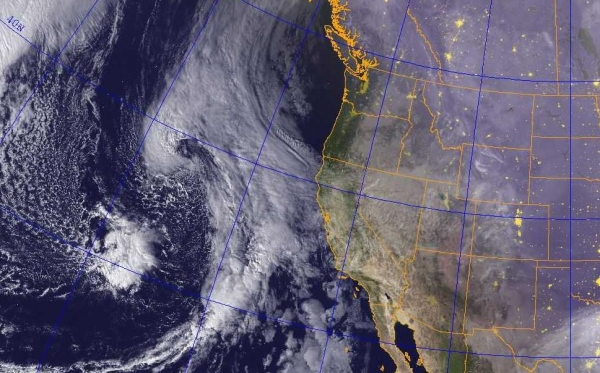 Parade of Storms
. The late afternoon satellite image shows at least 3 separate storms lined up off the west coast. For much of the winter the firehose of moisture spawned by El Nino has been focused on the Pacific Northwest, with record flooding in the Portland, Oregon area. Now the pattern is shifting as colder air pushes the main highway for storms 500 miles farther south, meaning a much better chance for flooding rains across California in the coming weeks.
---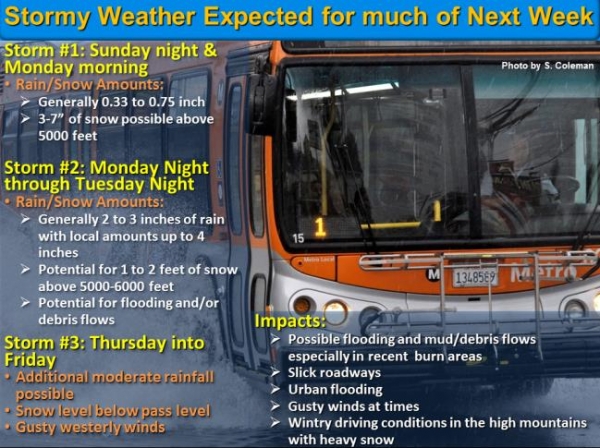 On Alert
. The graphic above is from the Los Angeles office of the National Weather Service, describing the impacts of at least 3 separate storm systems between now and Friday.
For the first time this winter the Los Angeles area will see significant weather-related disruptions next week
.
NOAA in Los Angeles warns
:
"A series of storm systems are expected to impact southwestern California Sunday night through Friday. The first storm is expected to move across the area Sunday night into Monday, bringing generally light rainfall with snow level around 5000 to 6000 feet. From Tuesday through Friday, additional storms are expected with periods of rain, mountain snow and gusty winds. There is the potential for significant rainfall of 2 to 4 inches for many areas with local accumulations up to 6 inches for south-facing slopes. Significant snowfall is also possible above 4500 to 5000 feet, with winter storm conditions due to heavy snow and gusty winds. The exact timing and intensity of each weather system is still in question, but the overall weather pattern appears to be a wet one for the coming week. In addition, communities in and around recent burn areas, especially the Colby, Madison, Powerhouse, Madre, Solimar and Springs burn areas, will need to be alert for the potential for heavy rainfall at times which could produce flash flooding with mud and debris flows. Drainage areas should be cleared of debris to help reduce the chance of urban flooding."
---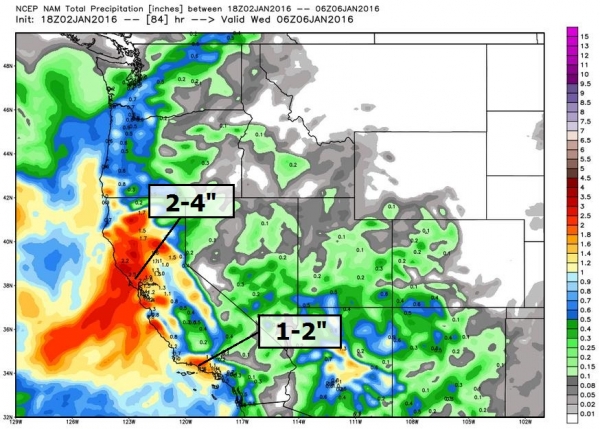 Predicted Rainfall by Midnight Tuesday.
As much as 2-4" of rain may drench the Bay Area (heaviest amounts near the coastal range), but metro L.A. may pick up some 1-2" amounts Monday and Tuesday, resulting in significant hydroplaning on freeways, road closures (Pacific Coast Highway is most vulnerable) and mudslides. With winds gusting as high as 40-50 mph with some of these squalls sporadic power outages can't be ruled out. Map credit: WeatherBell.
---
Southern California Soaking
. Models print out anywhere from 2.3 to 3.3" of rain for Los Angeles by Friday of next week, thus the concern about flooding. Source: Aeris Enterprise.
---
10-Day Rainfall Potential
. This will be a longer-duration flood risk; NOAA's GFS model printing out some 5-8" precipitation amounts for northern California and 3-4" amounts for SoCal. Heavy winter snows are likely above 4,000 feet. A stalled frontal zone may produce 2-4" rains for Florida where flash flooding is possible - a late week storm may drop a few inches of snow across the Upper Midwest and Great Lakes.
---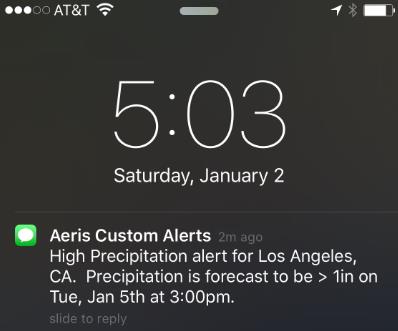 AerisWeather Custom Alerts
. I received the text alert (above) on my smartphone late this afternoon from Aeris Enterprise Mobile; our internal models printing out 1" of rain in Los Angeles by 3 PM Tuesday afternoon, enough to spark significant flooding and travel disruptions.
Summary
: From killer tornadoes in December in the Dallas area to some of the worst flooding on the Mississippi River since 1993, El Nino is already spiking winter weather from coast to coast. It's been relatively quiet across most of California, to date, but that's about to change. A series of storms push inland next week and I expect significant flooding and disruptions to transportation and infrastructure. The next 2-4 weeks may bring some of the most disruptive and dangerous weather to California as El Nino peaks. We'll keep you posted.
Paul Douglas, Senior Meteorologist. AerisWeather
---
It's Going To Get Ugly: Midwest Calls in National Guard as Flood Disaster Unfolds
. Here's a clip from
The Guardian
: "
Floods have submerged towns, roads, casinos and shopping malls around the south and midwest for more than three days, prompting governors in Illinois and Iowa to call in the National Guard.Sixteen states issued flood warnings covering some eight million people. By Saturday floodwaters had begun to subside in many areas, reopening several important highways, after topping levees in the region late on Friday. But swollen rivers have yet to crest in southern states, alarming governors in Tennessee, Louisiana and Mississippi. At Dardanelle, Arkansas, the National Weather Service recorded the Arkansas river at 41ft, nine feet above flood stage
..."
Photo credit
above: "
Workers from the Missouri department of transportation attempt to pump water off I-55 near Arnold, Missouri on Thursday
." Photograph: Sid Hastings/EPA.
---
Blizzard Kills Thousands of Cows and Threatens Texas Dairy Business.
The same storm that spawned killer tornadoes near Dallas whipped highs winds, bitter temperatures and 5-10 foot drifts over western Texas. Here's an excerpt from
CNN Money
: "
The Texas dairy business took a big hit from Goliath -- the deadly storm system that wreaked havoc in several states near the end of 2015. The storm resulted in the loss of "hundreds of loads of milk" that were ready to be processed and many milk-producing cows weren't milked daily, according to Darren Turley, executive director of the Texas Association of Dairymen
...."
January 2 snow cover map
:
NOAA
.
---
NASA Warns El Nino May Cause "Weather Chaos"
. The best way I've heard it described is like going up a flight of steps (climate change and warming, worldwide) and then standing on your tip-toes (El Nino). A much warmer Pacific ocean may be turbocharging the El Nino we're experiencing right now, forecast to linger into at least spring of 2016.
MSNBC
has the video and story; here's an excerpt: "
Despite the devastating storms across the country the last few weeks, NASA is forecasting the worst is yet to come. Michael Mann, author of "Dire Predictions: Understanding Climate Change" joins to discuss."
---
Why We'll Keep Having Weird Weather in 2016.
Additional warmth is loading the dice, spiking the punch in favor of more extreme events. They would have happened anyway, but a warmer climate is "juicing" the atmosphere, making droughts and floods deeper, longer and stronger. Here's an excerpt from
TIME
: "...
In recent years, a weak Arctic Oscillation has allowed cold air to escape the Arctic, leading to a chilly winter in the Northeast U.S. But the Oscillation appears to be holding strong, according to NOAA data, lessening the chance of a chilly winter. Climate phenomena like El Niño are not new occurrences, but scientists say that global warming has contributed to making them larger and more damaging. NOAA's Deke Ardnt likens climate change to a flight of stairs. "Over time you get higher and higher," Ardnt told The Guardian. "El Niño is like standing on your tippy toes when you're on one of those stairs. Both of those together work to create the warmest temperature on record.
.."
Total Precipitable Water
animation above courtesy of
NOAA NESDIS
.
---
2015 Recap
. According to NOAA data 2015 was 2.3F warmer than average and about 5.5" of precipitation wetter than normal in the Twin Cities and the St. Cloud area. Place your bets for 2016.
---
Record Warmth in December.
It was the warmest December ever recorded for Washington D.C., Philadelphia, New York City and Boston, according to
AccuWeather
.
---
2015: Most Tornadoes on Record for Fort Worth Texas NWS Forecast Area
. The 46 counties in northern and central Texas that make up the Dallas/Fort Worth forecast area saw 76 tornadoes in 2015, breaking the previous record of 73 twisters in 1994.
---
Pick of the Week: Massive Tornadoes Roar Across Texas
. Typical for April, a bit unusual for late December, according to
The Capital Weather Gang
: "...
The storms left 11 people dead, and incredible destruction in their wake. It was the second day of destructive tornadoes in less than a week, following an outbreak on Dec. 23 that killed 10 people. Just like that, in the span of four days, 2015 went from having a record low number of tornado fatalities to tripling the annual count. In fact, between the two tornado events, the month brought more tornado deaths than all the other months of the year combined, making it the deadliest December on record
..."
Image credit
above: "
---
With only a couple meteorology courses at Long Beach Community College under his belt but extensive time spent studying the subject on his own, in 1985 Collins was recruited to join Surfline, the nation's first commercial surf prediction center geared toward surfers. He grew the company into a global enterprise that provides weather and forecasting services not just to surfers, but to all lifeguard agencies in California, as well as the Coast Guard, U.S. Navy SEALs, the National Weather Service, and television and movie production companies, among other entities, according to a profile on Surfline.com about Collins, who passed away in 2011 at the age of 59.
.."
Swell animation
above:
Surfline.com
---
This diesel pollution is not just unpleasant; it is also dangerous. The nitrogen oxides produced by diesel engines, which are far more popular in Europe than in the United States, are a potent irritant for asthma sufferers. Health officials in Italy also noted increased reports of cardiovascular disease this week. Diesel exhaust is laden with insidious soot particles, the so-called PM 2.5 (particulate matter smaller than 2.5 microns, or one-thirtieth the width of a human hair), which allow carcinogens to penetrate deep into tissues and organs. In other words, a driver who steps on the accelerator of a diesel car may be filling the lungs of nearby pedestrians, cyclists, infants in strollers and other drivers with potentially deadly particulate matter
..." (File image:
The Telegraph
).
---
The Brief: America Way Beyond 2016
. Predicting the future is not for the faint-of-heart. Trust me. Futurist Eric Garland peers over the horizon in an interview at
Politico
; here's an excerpt that caught my eye:
DS: What is Washington getting wrong about the future?
EG: I think we were too slow to jump onto alternative energy, and, you know, we're a car-based culture. The overall macro trend for energy has been a transition to the grid, and it sounds weird because gas is $1.50 to $1.70 right now, and so we can all drive where we want for Christmas, just like the good old days. I, myself, am thinking about getting my 1968 Buick Skylark Custom from high school. It got 4 gallons to the mile. That's doable again now. But, if you look in terms of the macroeconomics around the world, look at the infrastructure investments that other countries are making. They're in [the] electrical grid
..."
---
Mainstream scientific consensus holds that there is little to no evidence that cellphone signals raise the risk of brain cancer or other health problems; rather, behaviors like texting while driving are seen as the real health concerns. Nevertheless, more than 500 pages of internal records obtained by The New York Times, along with interviews with former agency officials, reveal a debate and some disagreement among scientists and health agencies about what guidance to give as the use of mobile devices skyrockets.
.." (File photo credit: Brian Peterson, Star Tribune).
---
What Will The Future of TV Networks Look Like?
The empowered television viewer and on-demand changes everything, or does it? Here's a clip from an article at
Slate
: "...
If upscale audiences ditch linear for subscription on demand, advertisers may decide TV is no longer a viable way to reach them, leaving network TV (or even some cable networks) to go for the Walmart demo. Given how many Americans shop at Walmart, that's not some small niche. But it could result in network TV looking a lot different than it does today.
" (Image credit: Wikipedia).
---
Pluto TV
. Here's another indicator of how fast the television business is iterating, experimenting and reinventing new ways to aggregate content (and make it more convenient to watch anytime, anywhere, on any device). Pluto TV reminds me of the promise of Aereo - no local broadcast stations, but you can watch NBC (reruns) and MSNBC, Sky News (pictured above from my iPad), Bloomberg TV, CNET, reruns of Jimmey Kimmel and Conan, food channels, sports highlights (no ESPN, sorry), even music channels similar to what you'd see in a cable or satellite bundle. There are apps for smart phones and tablets, or you can just click over to
pluto.tv
to watch on your PC or Mac. Pretty cool, and an omen of what's to come.
---
---
---
---
TODAY
: Sunny, a bit cooler. Winds: NW 8-13. High: 28
SUNDAY NIGHT
: Clear and chilly. Low: 14
MONDAY
: Blue sky, light winds. High: 24
TUESDAY
: Partly sunny, milder breeze. Wake-up: 10. high: 28
WEDNESDAY
: Overcast, PM flurries. Wake-up: 26. High: 32
THURSDAY
: Overcast, light icing possible. Wake-up: 30. High: 34
FRIDAY
: Period of light snow, slippery. Winds: NW 8-13. Wake-up: 30. High: 33
SATURDAY
: Light snow and flurries, then colder. Winds: NW 10-15. Wake-up: 27. High: 30 (falling)
---
Climate Stories...
---
MSU Study: Climate Change Denial Messaging Works.
Michigan Public Radio
has the story and study results; here's the intro: "
Attacking the science behind climate change effectively sways public opinion, according to a recent study by Michigan State University researchers. MSU associate professor and sociologist Aaron McCright led the study of 1600 US adults. McCright says messages that frame climate change as a public health or national security threat, or even through a "positive" frame like economic opportunity or religious obligation, seem to fall flat
..."
---
Climate Change is Showing up in Blockbusters and Binge Watches. So What?
Grist
has the article; here's the intro: "
At one point midway through the first episode, the camera pans past the skyline of New York. It's both familiar and uncanny: There's One World Trade Center, standing in a thicket of shinier, spindlier towers that announce we are now in The Future. And standing sentinel outside the city is the Statue of Liberty — except now she is ringed by a reinforced seawall, set in ten feet of angry surf. That's it. That's all the reference to climate change we get in the 45 minute-long pilot of The Expanse, SyFy's new space drama. In fact, only a handful of those minutes are spent on Earth at all.
.."
---
"...
What is most unfortunate," said Farrell, the Yale sociologist, "is that polarization around climate change was manufactured by those whose financial and political interests were most threatened." Even today, he added, that polarization has crippled any hopes for bipartisan policy solutions
.... "
- from the latest installment of an ongoing series at
The Los Angeles Times
.
---
Climate Chaos, Across the Map.
Justin Gillis at
The New York Times
tries to connect the dots between weather volatility, ENSO (El Nino) and larger planetary trends. As always, trying to prove cause and effect with the atmosphere is problematic, but are we inadvertently loading the dice in favor of more extremes, especially with rainfall and heat? Here's an excerpt: "...
In both the Atlantic and Pacific, the unusually warm ocean surface is throwing extra moisture into the air, said Kevin Trenberth, a climate scientist at the National Center for Atmospheric Research in Boulder, Colo. Storms over land can draw moisture from as far as 2,000 miles away, he said, so the warm ocean is likely influencing such events as the heavy rain in the Southeast, as well as the record number of strong hurricanes and typhoons that occurred this year in the Pacific basin, with devastating consequences for island nations like Vanuatu. "The warmth means there is more fuel for these weather systems to feed upon," Dr. Trenberth said. "This is the sort of thing we will see more as we go decades into the future
."
Photo montage credit
, left to right: Missouri flooding: AP Photo/Jeff Roberson; Dallas area tornado: G.J. McCarthy/The Dallas Morning News via AP; Scotland flooding: Danny Lawson/PA via AP.