71 F
. high on Monday in the Twin Cities.
75 F
. average high on June 3.
77 F
. high on June 3, 2012.
Trace
of rain fell yesterday.
.77" rain
predicted for the metro area by Thursday morning (00z NAM).
Cool and Crispy
Yesterday a colleague at my company moaned and groaned, complaining of the painful sunburn he got while staining a deck. "No sunscreen?" I asked. "It was so cool I totally forgot." It's a common oversight: many people think you only get fried on hot days.
Of course the potential for sunburn has nothing to do with air temperature and everything to do with the date and subsequent sun angle. The June sun is as high in the sky and direct as it ever gets, sunburn potential off the scale.
SPF 50 sunscreen will be optional the next couple of days as the next front sloshes overhead, wringing out showers, even some heavier rain tonight. Over an inch of water will delight flowers in your yard and leave your lawn greener than you thought possible.
Hey, I'm trying a positive spin, but it's not working, is it?
Clouds spill over into Thursday, but rare sunshine sightings are likely Friday and part of Saturday - probably the nicer day of the weekend. More showers arrive late Saturday & Sunday.
I'm shocked.
The soggy remains of Pacific Tropical Storm Barbara will soak Florida and much of the East Coast by late week. Meanwhile Oklahoma is under another tornado threat.
This pattern is a bit surreal.
More Like Early May.
Highs in the 60s and 70s into at least the first half of next week, storms or frontal passages every 2 days or so? What happened to June? The best chance of significant rain comes tonight and early Wednesday, again Sunday. Sunscreen (and A/C) optional until further notice, based on latest ECMWF guidance.
Today's Severe Storm Risk
. A few T-storms are expected to exceed severe limits again today over the Central Plains, even an isolated tornado from Oklahoma City and Tulsa to Kansas City. Source:
NOAA SPC
.
An Active Pattern
. NOAA's latest 84-hour NAM model shows a disturbance pushing out of the Gulf of Mexico, spreading heavy rain into Florida and possibly coastal Alabama by late tomorrow. The next trough of low pressure whips up showery rains over the Upper Midwest, a few severe storms over the Central Plains. The west remains hot and dry, increasingly vulnerable to wildfires.
"...
If anything, the events of Friday evening demonstrate storm chasers need to back off. For too long, too many chasers – both professional and amateur – have been crossing the line
..." - excerpt of a post from Washington Post meteorologist Jason Samenow. Story below. Tweet above from a chronology from
Digital Meteorologist
, which has more on Friday evening's tornado tragedy.
File photo
of the late Tim Samaras, during a tornado intercept in New Manchester, South Dakota. Photo by Carsten Peter/National Geographic Image Collection.
Lessons From The El Reno Tragedy: The Chasing Conundrum
. Life is rarely black or white. I do try to see the gray in every scenario, and there's plenty of gray when it comes to tornado chasers. Do they serve a purpose? Absolutely, but too many chasers in one location at any given time can make it exponentially more dangerous for everyone. Friday evening's tragedy, which resulted in at least 9 deaths, including tornado researcher Tim Samaras, was a reminder that there is inherent danger in the pursuit and intercept of nature's most violent wind. In today's version of
Climate Matters
I take a look at the pro's and cons of "chasing tornadoes": "
Chief Meteorologist Paul Douglas reflects on the the Friday night tornado tragedy that killed 9 people including 3 professional tornado researchers. Paul says we need to be careful in the media that we don't incentivize and reward bad behavior. But there must be a balance because by broadcasting professionally shot tornado videos it can help show the public the danger and propel them to take cover or not get in their cars and drive
."
*Note: The semi clip in this video is from a REAR go-pro camera, not the windshield.
Recipe For Disaster
. Image upper left from RadarScope app shows location of storm chasers in relation to El Reno tornado. Image upper right shows traffic jam on I-35 south of Oklahoma City, courtesy of KWTV.
Phased Array Doppler Loop of El Reno Tornado
. This
loop
is from NSSL, showing Friday evening's EF-3 in the western suburbs of OKC occluding, veering suddenly northeast, trapping many tornado chasers and researchers in the process, a deadly chain of events. Thanks to WeatherNation TV meteorologist Susie Martin for passing this along.
A Few Thoughts About Tornado Chasing
. Things have really gotten out of control. This has been an accident waiting to happen for the better part of 20 years now. On some level I blame the movie "Twister", which glamorized tornado research and inspired countless hundreds (thousands) of amateurs to try their hand at a tornado intercept, with visions of great video and local or national TV weather-glory. Ironic, since I helped with special effects with "Twister" and even had a line in the movie. I don't want to be a hypocrite. I was in Oklahoma on 3 separate occasions, intercepting tornadic storms with NSSL, the National Severe Storms Lab. Every time I went down to Oklahoma I was struck by the number of people tagging along. Often scores, even hundreds of chasers would converge on the same cell by late afternoon. It's a free country - you're obviously free to drive when and where you want, and I certainly don't want that to change, but something has to be done to avoid another tragedy like the one that killed 9 motorists Friday evening, including 3 professional tornado researchers Tim Samaras, his son, and intercept partner.
They weren't out there to videotape the tornado and try to sell it to KFOR-TV or The Weather Channel. They were conducting research, and yet the sheer number of chasers converging on the El Reno supercell (apparently) made it impossible to get away from an EF-3 erratic tornado in time. I honestly don't know what the solution is here, but one would hope common sense would apply. With the May 20 EF-5 which leveled much of Moore, one of the local TV meteorologists warned local residents that, without a basement or storm shelter, the tornado was "unsurvivable" - he told them to get into their vehicle and try to drive away before the tornado struck. That only makes sense if you have HOURS of lead time, which just isn't realistic with the state of tornado detection and warning, when the average lead-time is closer to 13-15 minutes.
If you had 10 minutes and you were the ONLY one trying to get out of Dodge, maybe. Just maybe. But the problem is this: tens of thousands of local residents heard the same admonition, and if everyone is trying to get onto the interstate to drive away from a tornadic supercell, the result will most likely be gridlock, making you and your family sitting ducks. A bad idea. If you're home, stay home. Get into your tub (with bike or football helmets, if you have them) and try to ride out the tornado on the ground floor, away from outer walls and windows. Statistically that's still safer than getting into a car or truck and trying to zip down the highway out ahead of a tornado. Friday evening's multiple fatalities proved it.
Call By Responsible Storm Chasers To Ban Reed Timmer Chasing Antics
. Here is an excerpt of a
Google-cached version
of a Warren Faidley post from Monday: "
It must be hell or heaven for Reed Timmer right now. After promotion "getting to close" to violent tornadoes for the past seven years, he's now facing a new kind of storm. Not only has the subject of "getting too close for no real purpose" become big news, he just lost several friends. Let's hope to God he uses this heartbreaking moment to retire from inspiring others to follow his footsteps. But judging by his past ego-maniac, money making behavior, I'll bet he finds a way to capitalize off this horrific event. Sick, but you mark my words. There is a growing number of storm chasers who are asking for public and media retaliation against storm chaser Reed Timmer following the tragic events in El Reno, Oklahoma on June 1, 2013. Blog sites and discussion groups have come alive with complaints and in some instances harsh accusations regarding Timmer and the way he chases, in which many find to be reckless and deceptively reasoned
...."
How 3 Storm Chasers Died, And What To Do About It.
Here's an excerpt of a thoughtful post from Greg Laden at
scienceblogs.com
: "...
I have no idea how many of the people in the viewing area of this station saw or heard this report and responded by driving into the path of the tornado. Of those who did I don't know how many of them were primed to use "drive away" as a strategy by earlier chatter in major media outlets, and elsewhere such as twitter and other social media. I'm not sure how many people actually got in their cars and "drove south." We do know, however, that the highways in the area became jammed with cars, and the vicinity around the intersection of I35 and I40 was described as a "parking lot." One thing we do know is that many people who "drove south" to get away from the tornado in fact drove directly into its path, created a traffic jam, and most of the deaths associated with this tornado were among those people in those cars. Three experienced tornado "chasers" … actual meteorological scientists … were killed when their truck (one of the vehicles depicted above, probably) was destroyed by the tornado. Other professional meteorologists, from The Weather Channel, were injured. As of this writing, the death toll stands at 13 with another 6 (though I've also heard 7) people still missing
..."
A Conversation Starter On Chasing 2.0
. Here's an excerpt from
J. Marsh
of the American Meteorological Society, although these opinions are his own, and don't reflect the official position of the AMS: "...
Good chaser, Bad Chaser?:

It will be tempting to latch onto the deaths of Tim Samaras and colleagues and label them in a "unified" batch with all storm chasers. However, a review of Tim's biography confirms that he was engaged in research to advance our knowledge of tornadic storms (
http://www.nationalgeographic.com/explorers/bios/tim-samaras/
) and was a key element of TWISTEX.

There are numerous colleagues and research programs (e.g., VORTEX2 (
http://www.nssl.noaa.gov/projects/vortex2/
) that involve storm chasing and field work. Our knowledge of tornadic storms and how to respond to them have undoubtedly been helped by these activities. However, I am on record as being concerned about some aspects of the contemporary chasing culture and the "trivialization" of the tornado threat. Just last week, I tweeted that "some are trivializing the tornado threat." That tweet was inspired 2 photos seen on social media. One photo was of chasers doing silly poses with a tornado in the immediate background, and the other was a photo of a line of roughly 10 drivers pulled over taking pictures of a tornado with their camera phones.

My first-order fears have centered around (1) the emergence of a generation of inexperienced, thrill seekers; (2) ratings "hype" and desire for the most dramatic image or video for use in local or national media ("are we getting too close" and does "informative journalism" require a storm chasing vehicle in 2013"); and (3) chaser convergence hampering emergency response and rescue
. ..."
Photo credit above: "A vehicle lies upside-down at the Canadian Valley Technology Center in El Reno Okla. on Saturday June 1, 2013 after tornadoes swept through central Oklahoma on Friday." (AP Photo/Nick Oxford)
The Day That Should Change Tornado Actions And Storm Chasing Forever
. Here is a perspective I trust and respect, an excerpt of some thoughts from
Washington Post meteorologist Jason Samenow
: "...
There is reason to believe some of these motorists were intentionally trying to outrun these storms and weren't just commuting home or running errands, unaware. Recently, in the wake of the tragedy in Moore, Okla., some media outlets told the story of residents who successfully eluded the massive tornado by driving out of town. CNN even quoted an "expert" who encouraged this practice. "With the good lead time, I'd tell people to get in their automobile and go 90 degrees from that perceived path," Ed Bates, an architect who designs buildings that incorporate storm shelters
told CNN
. "It's manageable and easy to do — even in a city environment." But it's not easy to flee a storm if the tornado is not visible because it is wrapped in rain and/or traffic is at a standstill
..."
Photo credit above: "Overturned semitrailer from El Reno tornado, May 31, 2013." (Omaha World-Herald, Chris Machian/Associated Press).
Lesson From Friday Storm Deaths: When Weather Is Bad, Stay Home
. Amen. I couldn't agree more with Matt Daniel's post at
earthsky.org
; here's an excerpt: "
...A big and concering problem about the May 31, 2013 storms in Oklahoma was that at least one local television station in the Oklahoma City area, while reporting that weather was imminent, mentioned that going underground or leaving your house was the best way to survive the storm. This is wrong. When tornados are imminent, going to your vehicle and driving on the roads is the last thing you should do.
In my post from Friday afternoon
– before the storms broke – I described in detail the possibility of severe weather for Friday evening. Included in the post was a graphic from the Norman, Oklahoma National Weather Service Office via twitter.
.." (excerpt above).
* Andy Revkin has a write-up on the El Reno Tornado disaster in the New York Times
here
.
About Tim Samaras
. I knew Tim - he was a super-smart tornado researcher with a real passion for learning more about how and why these storms form, strengthen and die off, why some go on to become EF-4+ monsters, while most fizzle. He was a kind man, a family man. His 25 year old son died by his side. The meteorological community feels a real sense of loss; I find it amazing, and more than a bit humbling, that a seasoned professional was killed by a tornado. These guys know how to avoid trouble, how to get out of the way and always keep a safe buffer. All I can think is that traffic prevented Tim from moving out of harm's way. Here's a
YouTube retrospective
of Tim Samaras's life.
Tornado Chasing: Still Not a "Sport"
. Some days you chase the tornado, other days the tornado changes direction and chases you. The Friday evening El Reno multi-vortex tornado was highly erratic, and this caught storm chasers, professionals and amateurs, off-guard. Here's an excerpt of a first-hand account from Dan Robinson at
stormhighway.com
: "
I was nearly run over by the El Reno violent wedge tornado as it made a sudden 45-degree turn to the northeast. I had been on it from birth. It had been moving slowly east-southeast, and I drove east to try to get a backlit view of it. It suddenly turned northeastward and began moving over the road. I floored it to escape, but my car would only go 40mph tops with the strong headwinds. I escaped the tornado only to be struck by a powerful inflow jet filled with golfball-sized hailstones. This broke my back window and rearview mirror, cracked my laptop screen and nearly ripped my wiper blades off. When this happened, I was outside the car, and throught that the tornado had turned again or expanded on top of me. I ran and dove into the ditch. The wind pulled off one of my shoes and the lens hood from my video camera. As I ran, I was struck by several large wind-driven hailstones and sustained several bruises and cuts, the worst to my left eyelid. Below are a few video captures of the tornado. The start of the tornado exhibited wild multiple vortices. The most rapid motion I've ever seen. I had to do a double-take when reviewing the video that it wasn't fast-forwarded.
.."
Unrecognizable
. I'm not 100% certain, but I have a strong hunch this is the vehicle that Tim Samaras, his son and chase partner were driving when they were killed by the EF-3 El Reno tornado, that changed direction suddenly. If this doesn't make you shudder, and reconsider the wisdom of getting close to tornadoes, I'm not sure what will. Image courtesy of
CNN
.
"Chasing The Storm, But Hoping Not To Catch It."
The New York Times has more on Samaras's life and recent death
here
.
Ask Paul
. Weather-related Q&A:
"On the subject of staying home during a tornado warning .... I am always inclined to go outside at look for it. (I learned that from my parents during the 1965 tornado outbreak in the NW Metro area.) Once I got scared enough to go to my basement, but there is no where to hide there. My basement is unfinished, has full size windows and no interior walls. Here's my dumb question ...is it better to stay upstairs and hide in the bathtub?"
Susan Evans (West Metro)
Susan - the goal in any tornado or severe wind storm is to get below ground, below grade. The greatest risk is flying debris, and your odds of survival are still greater in the basement. Even with windows nearby I would seek shelter under the stairs leading down to the basement, under a work bench or table, if available. Avoid outer walls and windows. A bathtub would be a good option if you didn't have a basement available.
Not Again
. Our in-house EHI algorithm (Energy Helicity Index) shows another significant risk of tornadoes for Oklahoma this afternoon and evening. I hope it's wrong.
Minnesota: One Of The Safer States In The USA For Billion Dollar Weather Disasters
. Yes, our weather can be annoying, at times damaging, even deadly, but everything is relative. I can't remember the last time we were a "green state", as in relative safety. The Washington Post has more details
here
.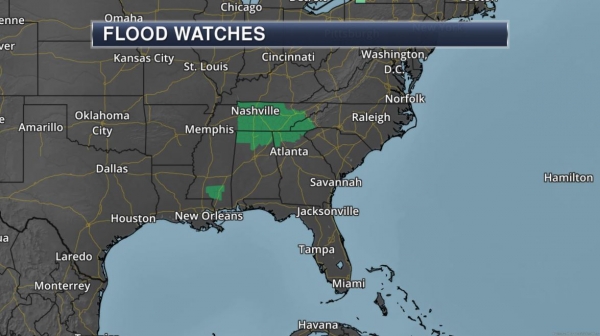 More Flooding
. The soaking rains of recent weeks (some 20"+ amounts in a few counties) have left streams and rivers out of their banks from eastern Iowa into western Illinois, with moderate to major flooding in the St. Louis area on the Mississippi (the city's protective levees should hold). An interactive map of flooding details is
here
.
* severe flooding has temporarily closed Mississippi River shipping in St. Louis. Details from
Reuters
.
NWS St. Louis: "There has been a levee breach on the Mississippi River, affecting West Alton, MO in St. Charles county. If you are in or near the West Alton area, please seek higher ground immediately!"

Missouri residents told to evacuate after levee breach:

Hundreds of people were being evacuated from their homes in Missouri after a levee was breached Monday night.

Earlier Monday, a bridge connecting West Alton, Missouri, and Alton, Illinois, was shutdown after a temporary flood barricade gave way.

Forecasters say there could be major flooding Tuesday.
CNN has details
here
.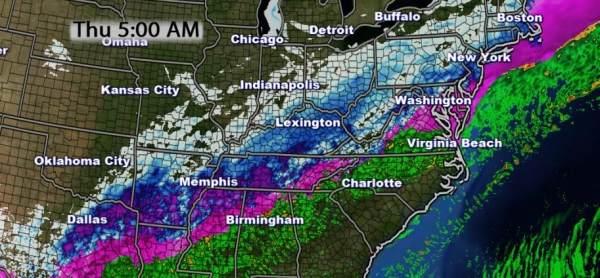 Whispers Of Hurricane Season To Come
. Hurricane season in the Atlantic basin offically began on Saturday, and Mother Nature is wasting little time. The soggy remains of Tropical Storm Barbara, which hit the west coast of southern Mexico last week, will regenerate into a tropical depression, an additional surge of tropical moisture fueling a nor'easter-type storm. NHC predicts only a 20% risk of this system becoming Tropical Storm Andrea, but the storm may drop 5-8" rains from Florida to the Outer Banks of the Carolinas Thursday into Saturday
with a potential for urban and river/stream flooding
.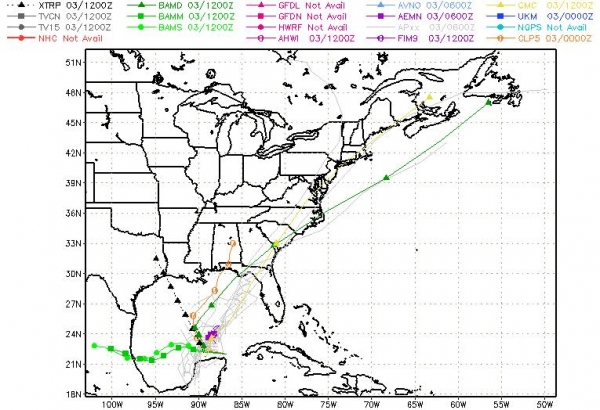 Model Solutions
. Most of the computer simulations whisk this tropical disturbance quickly northeastward across the Gulf of Mexico, a fairly rapid forward motion preventing severe flooding from coastal Delaware and New Jersey into metro New York by Friday and early Saturday. There's a better chance of minor flooding problems across coastal New England by Saturday, based on latest guidance.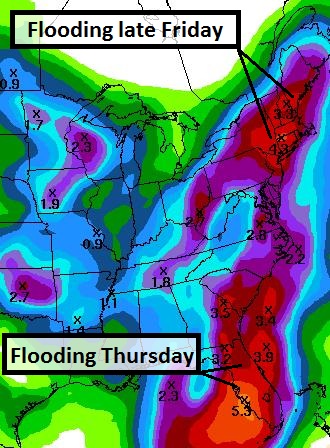 Soaking Rains
. Here's the 5-Day Rainfall Outlook, showing as much as 5-6" rain for central and southern Florida, where the best chance of flooding will come Thursday of this week. By Friday heavy rain and a 1-3 foot storm surge spreads quickly up the east coast.

Historic Flooding
. Last week we sent out a series of briefings highlighting the potential for major flooding across central Europe. That forecast verified. The image above is from Passau, Germany, at the confluence of 3 rivers. It's the worst flooding there since 1501, according to Tagesschau, and some of the worst flooding in 20 years on the Danube; traffic curtailed on much of the Rhine, with a 50-Year Flood underway in Prague, Czechoslovakia. Sunday Garmisch was totally cut off by flooding rains and high water levels. Train service from Munich to Milan was shut down due to mudslides and extreme flooding. Heavy rain will taper today with clearing by midweek, but very similar to North America, the pattern is very active and stormy. With saturated soils over much of Europe it won't take much additional rain in coming weeks for severe flooding to return. The potential for more flood-related problems into June remains high.
500 Year Flood?
The Danube is way out of it's banks - this may have been a 1 in 500 Year Flood for Passau, in southeastern Germany. Der Spiegel has some remarkable photos of the flood
here
. Image above: DPA.
* more on extreme flooding in Europe from
The Washington Post
.
Prague Flood Defenses Put To Test
.
BBC
has the story; here's the introduction: "
At least four people are now feared dead in the Czech Republic, as heavy rain in the western half of the country continues to cause severe flooding. The Czech government has declared a nationwide state of emergency, Prague's metro system has been shut down and most schools in the capital remain closed. With the catastrophic floods of 2002 and 1997 still very much alive in people's memories, some Czechs are once again battening down the hatches while others head for higher ground. At midday on Monday the River Vltava in Prague was flowing at 2,815 cu m per second - 10 times its usual volume
..."
Photo credit: AFP.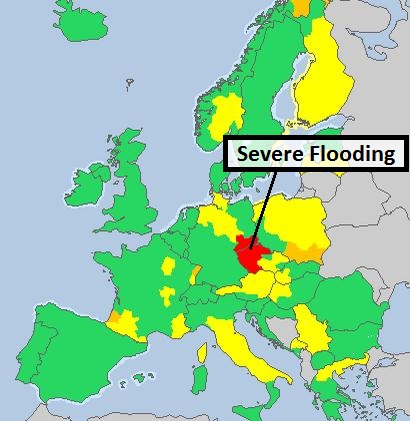 Flood Warnings
. The EU has placed much of southern and eastern Germany, including much of Bavaria, under Flood Warnings. Conditions won't improve with receding water levels until late Tuesday and Wednesday.
This is turning into a Hundred Year Flood from Bavaria to Salzburg and Prague
.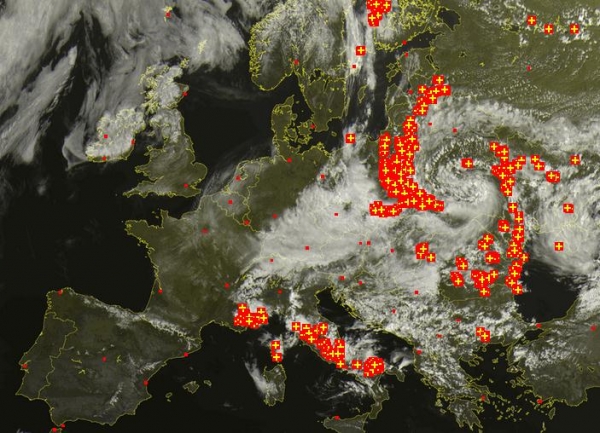 Slow Improvement
. The mid-afternoon European Satellite shows the center of a very slow-moving storm, a prolific rain-maker, pushing into Russia, with skies clearing over central and northern Germany and most of France. A clearing/drying trend will push into southern Germany and the Swiss/Austrian Alps over the next 36 hours.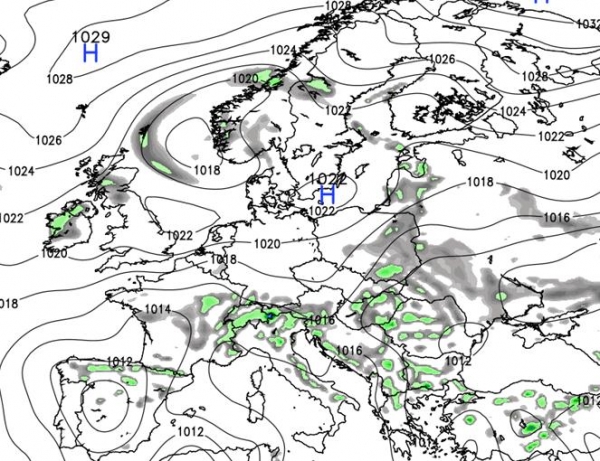 Good News For Europe
. The Wednesday weather map shows high pressure pushing (lighter) showers and T-showers into Italy and the Balkans, so hard-hit areas of Germany, Austria, Switzerland and Czechoslovakia will get a break from Tuesday into at least Friday of this week. Image: Weather Bell.
Summary
: More severe thunderstorms fire up across the Plains, with a low-grade threat for Oklahoma City Tuesday afternoon and evening, although the threat level for large, devastating tornadoes will not be as high as previous weeks. We're keeping a close watch on a tropical system coming out of the Gulf of Mexico. Florida facilities that often flood may see problems by Wednesday night and Thursday. Right now I don't expect this system to strengthen into Tropical Storm Andrea, but minor to moderate flooding (inland and coastal) is still possible along the East Coast from Thursday into Saturday. Meanwhile historic flooding continues over Central Europe, with numerous mudslides reported across Switzerland and Austria and some of the worst flooding in centuries from Passau to Salzburg and Prague. The flood crest will continue to move downstream into Hungary and Romania in the coming days. Conditions slowly improve over the next 36 hours. We'll continue to monitor conditions - as always, if you have a specific weather question don't hesitate to drop me a line.
NOAA Kills Agency-Wide Furlough Proposal
. Some good news for National Weather Service employees (and by extention, the rest of us as well) from The Washington Post's
Capital Weather Gang
: "
Following the recent tornado outbreaks in the Plains, NOAA
faced strong Congressional pressure
not to furlough National Weather Service employees (as a cost savings measure in response to the budget sequester). The agency gave in late Friday. In an email to staff, NOAA acting administrator Kathryn Sullivan said the agency was cancelling the furlough plan for the entire organization, which includes the National Weather Service
..."
Sunrise Over Minnesota
. Here's a
link
to NASA's International Space Station, sent to me by Dr. Randy Wedin at Wedin Communications: "
This photo, taken 'above a point in southwestern Minnesota on May 21, 2013' might be a good image for Paul Douglas' weather blog - an essential and enjoyable component of my daily Internet diet
." Thanks Randy!
Astronomers Find First Evidence Of Other Universes
. If you want your head to explode dig into this article from
MIT Technology Review
; here's an excerpt: "...
Today, another group says they've found something else in the echo of the Big Bang. These guys start with a different model of the universe called eternal inflation. In this way of thinking, the universe we see is merely a bubble in a much larger cosmos. This cosmos is filled with other bubbles, all of which are other universes where the laws of physics may be dramatically different to ours. These bubbles probably had a violent past, jostling together and leaving "cosmic bruises" where they touched. If so, these bruises ought to be visible today in the cosmic microwave background. Now Stephen Feeney at University College London and a few pals say they've found tentative evidence of this bruising in the form of circular patterns in cosmic microwave background. In fact, they've found four bruises, implying that our universe must have smashed into other bubbles at least four times in the past
..."
Stop Work Overload By Setting These Boundaries
. Here's an excerpt of an interesting piece from
The Harvard Business Review
: "...
Here are five steps to gain that confidence, which you can apply on an individual level or a group level if you have responsibility for managing the expectations of your team:
Step 1: Develop a Time Budget
People who manage their finances well follow a few consistent principles. For one, they spend only what they have, so they avoid unnecessary debt and the corresponding stress and cost. They also make sure that they allocate their money correctly, so that they have sufficient funds for everything they need to buy. Finally, they cut costs where they can, without a significant negative impact, and make sure to put money into investments where they have a good probability of a return. The same principles apply with effective time investment. To have a clear sense of what you can reasonably handle, you should start out by calculating how many hours you have to "spend" each week. If you tend toward over-allocating time toward work, you can do the calculations in reverse
..." (Image source
here
).
"When Work Feels Overwhelming Remember You're Going To Die" And Other Uplifting Messages
. I love someecards, and
Marketplace
has the story of how this unorthodox e-greeting card company, the anti-Hallmark, got started. Here's an excerpt: "
Sometimes being nice and tactful and giving just doesn't cut it. Thankfully, for those moments, the Internet has given us
Someecards.com
. You've probably seen these around. They're digital greeting cards with black and white drawings on solid color backgrounds with hilarious, snarky messages. They seem to express all the things you're thinking, but would never dare say out loud in a million years. Duncan Mitchell and Brook Lundy are the co-founders of Someecards.com. They talked to us about why their e-greetings resonate with so many office workers. When it comes to the workplace, what are people griping about? "Every aspect of their jobs. Duncan and I worked together in advertising for 15 years. It was a great lab for discovering every possible way to complain about work. That's kind of how we started with Someecards was our own brand of complaining and saying things that felt honest to us that maybe people were thinking, but didn't have a way to express," says Lundy
..."
TODAY: Mostly cloudy, showers likely. Winds: SE 15. High: 63
TUESDAY NIGHT: Showers, locally heavy rain possible. Low: 52
WEDNESDAY: Showers taper, still cool. High: 62
THURSDAY: A drier day, still mostly cloudy. Wake-up: 53. High: 64
FRIDAY: Dear diary: the sun may come out. Wake-up: 52. High: 69
SATURDAY: Nicer day of the weekend. Fading sun, showers late. Wake-up: 56. High: 72
SUNDAY: Partly soggy. more showers. Wake-up: 53. High: 67
MONDAY: Mix of clouds & sun. Lukewarm. Wake-up: 54. High: 75
* photo of Lake Independence above courtesy of Laura Schara.
Climate Stories...

Climate, Ice and Weather Whiplash.
Are changes in the Arctic ultimately responsible for a shift in the jet stream, resulting in polar amplification? Here's a story and video from Peter Sinclair's
Climate Crock of the Week
: "...
This year, the extremes continue. I've revisited Dr. Francis on the issue, to talk about what last year's "July in March" spring has in common with this year's cold and sluggish roll into summer here in North America. Dr. Francis has become a bit of a rockstar on the Meteorology wonk circuit in the last year, as she makes a compelling case that the loss of arctic sea ice, and more broadly, polar amplification of climate change, and its effect on the jet stream, has been an important driver of the changes we have seen. It appears that this may be an emergent property of atmospheric circulation that has not been well modeled or foreseen
..."
An Economist's Dire Warning About Global Warming
. Here's an excerpt of an article at
IT World
: "...
As for the global warming skeptics, Weitzman asks, "Are they or the mainstream climate scientists more right than wrong? [C]an we afford the luxury of assuming that a small minority of climate skeptics are more correct than the vast majority of mainstream climate scientists? What is the probability of that?" Good question! The answer, at least to any rational, objective human being, is 0%. There' a zero percent chance that the global warming skeptics are right, while the vast majority of mainstream climate scientists are wrong. It's plain silliness to believe otherwise. Actually, it's far worse than that, as Weitzman concludes: "The bottom line is that if we continue on a business-as-usual trajectory, then there is some non-trivial probability of a catastrophic climate outcome materializing at some future time. Prudence would seem to dictate taking action to cut back greenhouse gas emissions significantly. If we don't start buying into this insurance policy soon, the human race could end up being very sorry should a future climate catastrophe rear its ugly head
..."
Photo credit
above: Flickr/
Mikael Miettinen
Coming Off Fossil Fuels Is Akin To Quitting Smoking - Only Harder
. Here's an excerpt from
The Guardian
: "...
The idea that society is hooked on fossil fuels – addicted to the carbon compounds that underwrite everything from the plastic in our toothbrushes to the petrol in our cars – is nothing new. But a
new paper
by Steven Suranovic, an academic at the George Washington University, takes the analogy one step further. Comparing societal dependence on fossil fuels to individual addiction to tobacco using a model derived from behavioural economics, Suranovic argues that unhitching ourselves from coal, oil and gas will be very much like coming off the cigarettes – but harder.
.."
Photo credit above: "Thai students urge people to quit smoking during 2001 World No-smoking day parade. Steven Suranovic has compared societal dependence on fossil fuels to individual addiction to tobacco." Photograph: Pornchai Kittiwongsakul/EPA.