64 F
. high Tuesday in the Twin Cities.
75 F
. average high.
84 F
. high on June 4, 2012.
.01"
rain yesterday.
2.6 mile wide tornado
hit Oklahoma City suburbs Friday evening, the biggest ever observed.
Game Changer
The massive tornado that hit the suburbs of Oklahoma City last Friday was a game-changer. The NWS confirms the widest tornado ever observed on the planet: 2.6 miles. Winds reached 296 mph; based on a portable Doppler on the scene, which itself is generating controversy, since EF-rating is always tied to damage on the ground.
The El Reno tornado is generating a firestorm of criticism for an Oklahoma City TV meteorologist, who told people in the path to get into their cars and try to drive away. Tens of thousands heeded the warning, only to be stuck in traffic. Sitting ducks.
Data seems to show you have a better chance of riding out even an extreme tornado in your home vs. tempting fate and trying to drive to safety. No basement? Consider a bathtub. People are alive today because they put on football & bike helmets to protect themselves from G-forces and flying debris. Yes, it probably looks goofy, but it might just save your life.
More details below.
It may surprise you to hear of more showers today, another round late Saturday & Sunday, yet more puddles the middle of next week. Highs hold in the 60s and 70s, a bit too cool and stable for anything severe.
We'll see glimpses of summer every now and then. Long-range ECMWF (European) guidance hints at a 90-95F degree heat spike by the end of next week.
We're due.
Photo credit above: "In this May 31, 2013 file photo a tornado forms near Banner Road and Praire Circle in El Reno, Okla. The National Weather Service says the deadly tornado that struck near Oklahoma City late last week was another top-of-the-scale EF5 that packed winds reaching 295 mph. The weather service also says the twister's 2.6-mile width is the widest ever recorded." (AP Photo/Alonzo Adams, File)
Second Deadly Tornado That Hit Oklahoma Upgraded To Rare EF5; 2.6 Mile Width Widest Ever Recorded
. Here's a clip from a
Star Tribune summary
: "...
The update means the Oklahoma City area has seen two of the extremely rare EF5 tornadoes in only 11 days. The other hit Moore, a city about 25 miles away from El Reno, on May 20, killing 24 people and causing widespread damage. But Friday's massive tornado avoided the highly populated areas near and around Oklahoma City, and forecasters said that likely saved lives. When the winds were at their most powerful, no structures were nearby, said Rick Smith, chief warning coordination meteorologist for the weather service's office in Norman. "Any house would have been completely swept clean on the foundation. That's just my speculation," Smith said. "We're looking at extremes ... in the rare EF5 category. This in the super rare category because we don't deal with things like this often
..."
Photo credit
above: "
A storm develops just before it produced a tornado near El Reno Okla. just south of Interstate 40 on Friday May 31, 2013. Several tornadoes in the area caused damage and injuries
." Photo: Chris Machian, ASSOCIATED PRESS.
El Reno EF-5: A Game-Changing Tornado?
I can't remember a tornado that had the entire nation talking, arguing and debating. Friday night's monster multi-vortex tornado threw a spotlight on local TV meteorologists, and the words they choose to communicate risk. Is there ever a good time to encourage viewers to leave their homes and hit the streets? Probably not. And the 296 mph estimated wind speed came not from tracking damage and debris, but from a local Doppler radar on the scene. I've never heard of an EF-estimate based on Doppler vs. damage. Today's edition of
Climate Matters
focuses on the El Reno tornado, and the mechanics and physics behind tornadogenesis.
El Reno - Union City Tornado Widest On Record
. More remarkable details, maps and videos focused on Friday evening's monster from
kfor.com
; here's an excerpt: "
The National Weather Service has just upgraded the May 31 El Reno, Union City tornado to an EF-5 with a width of 2.6 miles wide, making it the widest tornado ever documented. EF-5 is the highest possible rating for tornadoes on the Enhanced Fujita scale. The upgrade was based on information from OU RaxPol Doppler data or mobile radar data, that measured low level winds of 296 miles per hour. The National Weather Service said some of the subvortices had a forward movement of up to 180 miles per hour. This tornado is double the width of the May 20 tornado in Moore, Oklahoma. The F-4 Wilber-Hallam, Nebraska, tornado May 22, 2004 was the previous record holder for the widest tornado on record at 2.5 miles wide
..."
PUBLIC INFORMATION STATEMENT
NATIONAL WEATHER SERVICE NORMAN OK 
1206 PM CDT TUE JUN 4 2013

...UPDATE ON MAY 31 EL RENO TORNADO...

METEOROLOGISTS WITH THE NATIONAL WEATHER SERVICE AND RESEARCHERS FROM 
THE UNIVERSITY OF OKLAHOMA CONTINUE TO INVESTIGATE INFORMATION 
RELATED TO THE MAY 31 EL RENO TORNADO.

WITH THIS INVESTIGATION... THE TORNADO HAS BEEN UPGRADED TO AN EF5 
TORNADO BASED ON VELOCITY DATA FROM THE RESEARCH MOBILE RADAR DATA 
FROM THE UNIVERSITY OF OKLAHOMA RAXPOL RADAR. IN ADDITION... THE 
WIDTH OF TORNADO WAS MEASURED BY THE MOBILE RADAR DATA TO BE 2.6 
MILES AFTER THE TORNADO PASSED EAST OF US HIGHWAY 81 SOUTH OF EL 
RENO. THIS WIDTH IS THE WIDTH OF THE TORNADO ITSELF AND DOES NOT 
INCLUDE THE DAMAGING STRAIGHT-LINE WINDS NEAR THE TORNADO AS 
DETERMINED BY THE HIGH-RESOLUTION MOBILE RADAR DATA. THE 2.6 MILE 
TORNADO PATH WIDTH IS BELIEVED TO BE THE WIDEST TORNADO ON RECORD 
IN THE UNITED STATES.

.EL RENO TORNADO  

RATING:                  EF5 
PATH LENGTH /STATUTE/:   16.2 MILES 
PATH WIDTH /MAXIMUM/:    2.6 MILES 
FATALITIES:              N/A 
INJURIES:                N/A

START DATE:              MAY 31 2013 
START TIME:              6:03 PM CDT 
START LOCATION:          8.3 WSW OF EL RENO /CANADIAN COUNTY /OK 
                           NEAR COURTNEY ROAD ABOUT 1 MILE NORTH
                           OF REUTER ROAD
START LAT/LON:           35.495 / -98.095

END DATE:                MAY 31 2013 
END TIME:                6:43 PM CDT 
END LOCATION:            6.2 ESE OF EL RENO /CANADIAN COUNTY /OK 
                           NEAR INTERSTATE 40 AND BANNER ROAD
END LAT/LON:             35.502 / -97.848
Oklahoma Storms: Amateur Storm Chaser Took Photo Of Tornado That Killed Him
. Morbid? Yes, but everyone needs to grasp the inherent dangers of chasing tornadoes. Here's an excerpt from
newsok.com
: "
From his pickup, amateur storm chaser Richard Charles Henderson took a cellphone photo of the first tornado Friday and excitedly sent it to a friend. Minutes later, that tornado would kill him. "That was the end of his life right there," said the friend, George "Sonny" Slay. "He said, 'I'm having fun,'" Slay recalled Monday. "He told me he was riding around … chasing the storms …. I said, 'You better quit that!' "And, then, I guess he was en route to the position that he got in because he said, 'There goes Channel 9!' He said, 'You might even see me on TV.' And, then a few seconds later, he said, 'Oop, there's Channel 5!
'"
Photo credit
above: "
Amateur tornado chaser Richard Charles Henderson sent this cellphone photo of a tornado to a friend minutes before the tornado killed him. The friend, George "Sonny" Slay, provided the photo to The Oklahoman
."
"
Get As Low As You Can And Put As Many Walls As You Can Between You And The Tornado
." Possibly the best advice anyone can give in the wake of two EF-5 tornadoes in 11 days in Oklahoma. Here's an excerpt from a great Harold Brooks NSSL guest post at
Living In The Real World
: "
...Occasionally, someone strays from this basic messaging, potentially causing problems. Many in the tornado safety community are concerned about an inappropriate message that seems to have become very popular recently, but that differs significantly from the basic safety idea. Some broadcast meteorologists have offered the advice that "if you don't get underground, you won't survive." Sometimes, it's couched in terms of "this tornado is so severe, the usual advice doesn't work" or "you can't survive an EF5 above ground." The message suggests that even in-residence shelters built to the design specifications of the Texas Tech wind engineering groups and the FEMA standards won't survive. This advice is wrong and providing it is irresponsible at best, and dangerous at worst. As a factual statement, claiming that EF5 tornadoes can't be survived above ground is wrong. After the 3 May 1999 tornado that hit Moore, Oklahoma, survey work indicated that 1% of people who were in houses that were rated F4 or F5 were killed, as reported by
Hammer and Schmidlin
..."
Photo credit
above: "
People arrived at Fred and JoAnn Horn's home to help in their salvage efforts, Saturday, June 1, 2013 in El Reno, Okla. . He is a retired state trooper and now serves as a deputy for the Canadian County Sheriff's Department. Their home was heavily damaged in Friday night's tornado. More than two dozen family members, church friends and neighbors came to the Horn's home to help recover items that can be saved
." (AP Photo/The Oklahoman, Jim Beckel)
RaXPol: Doppler Envy.
I'd love to mount one of these on the top of my truck - not sure my wife would approve. Here's an excerpt of a fascinating post (and video) from Robin Tanamachi at
tornatrix.net
: "...
One might expect the entire truck to wobble with a giant antenna swinging around on its bed. The engineers addressed that issue from the design stages. As can be seen in the video clip, the entire truck remains surprisingly static, even without the hydraulic levelers deployed. Seasick crew members will not be an issue. And as for the problem of "beam-smearing" (insufficient dwell time) that might result from such a rapidly rotating antenna, the engineers implemented a multi-frequency Tx/Rx system. Conventional Doppler radar transmits pulses a single frequency, then "listens" for the echo of the transmitted signal. Imagine someone striking a single piano key, then listening for the echo of that note. In contrast, RaXPol transmits consecutive pulses at slightly different frequencies, then listens for the returned signal from all of them simultaneously. In the piano analogy, instead of striking only one key, you would sweep your fingers over several keys, then listen for the combined echoes of all the different notes. Dr. Andy Pazmany explains in
this presentation
how this "frequency hopping" technique works
..."
How Storm Chasers Have Made Tornado Alley Safer
. I have no beef with storm chasers - they provide the "ground truth" that Doppler radar doesn't. They've saved countless lives in recent decades and contributed to a large and growing body of science. It's just gotten a little out of control, to the point where there are SO MANY chasers that it makes it safe for everyone, with traffic snarls that can make it dangerous, even deadly for everyone else. There's no easy answer here, but at least people are talking about this. In the end I hope cooler heads and reason will prevail. Here's an excerpt of a post from Andrew Revkin at
The New York Times
: "
Here's a "
Your Dot
" contribution exploring the surprising mix of factors — including data gathered by storm-chasing scientists — that have steadily made America's tornado hot zone a safer place, despite the meteorological hazards that are a fact of life there. The piece, building on
the discussion
that has followed the
deaths of three storm chasers in a powerful Oklahoma tornado
last Friday, is written by
Mike Smith
, an
entrepreneurial
(and
blogging
) meteorologist focused on extreme weather. Smith is also the author of "
Warnings: The True Story of How Science Tamed the Weather
," an engaging history of how individuals fought institutional inertia to improve severe-weather warnings
..."
Image credit
above: "
This May 21, 2013 file aerial photo shows the remains of houses in Moore, Okla., following a tornado the May 20, 2013 tornado. The Oklahoma City area has seen two of the extremely rare EF5 tornadoes in only 11 days. The tornado that hit El Reno had a record-breaking width of 2.6 miles. The one in Moore, a city about 25 miles away from El Reno, killed 24 people and caused widespread damage
." (AP Photo/Kim Johnson Flodin, File)
Storm Chasers: Rapidly Moving Targets.
Here's a remarkable
YouTube clip
showing the relative motion of the El Reno EF-5 with storm chasers nearby - trying to stay out of the direct path. As the tornado occluded and weakened it veered to the left (northeast), catching some offguard with tragic consequences. When you watch the animation it looks like a potentially deadly game of Frogger. Here's an explanation:
An animation showing the approximate location of the El Reno tornado, with chaser positions overlayed. Tornado path and size based on radar and path compiled by NWS. Chaser positions from Spotter Network
."
Perspective
. A 2+ mile wide tornado is unimaginable, but
MAPfrappe.com
has a tool that lets one superimpose a tornado track on any metro area. Sometimes people don't get the message until/unless they see it in the perspective of their hometown. The El Reno EF-5 would have touched down near Wayzata, destroying major portions of Minnetonka, Hopkins, the Inner Lakes and South Minneapolis before occluding and dying out over downtown Minneapolis.
Tornado Spike
. After a very slow start to the 2013 tornado season a persistent southward dip to the jet stream has created a sudden flurry of tornadoes, with a disproportionate number of violent, EF-3+ tornadoes in the last 2 weeks. Graph: NOAA SPC.
Wednesday Severe Threat
.
NOAA SPC
shows a 10% chance of (significant) severe storms in the hatched area over the Texas Panhandle, an enhanced risk of tornadoes and large hail. A slight severe risk extrends from Amarillo to Oklahoma City, Tulsa and Little Rock.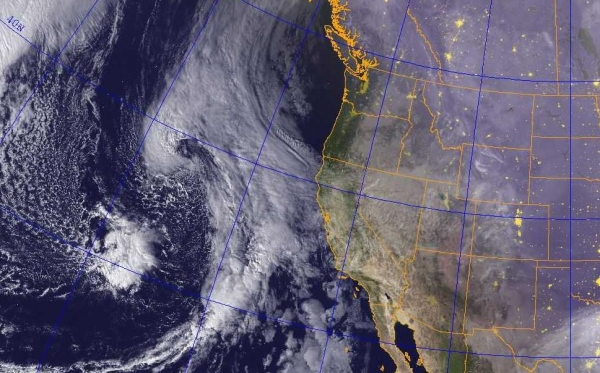 Disorganized, But Potentially Potent
. Whether the tropical wave in the eastern Gulf of Mexico reaches tropical storm status is academic; the real concern here is not storm surge or coastal inundation but inland flooding, from Wednesday night into Thursday across Florida, where some 4-8" rainfall amounts are likely, due to the slow forward motion of this system.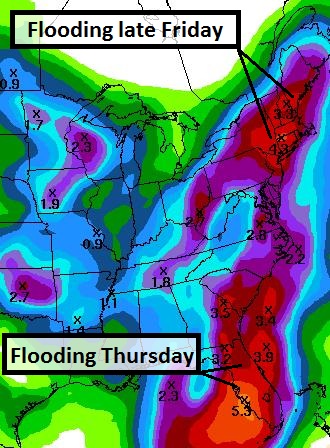 Moderate Flood Potential
. A huge sweep of the east coast, from Sarasota and Tampa to Charleston, Savannah and much of New England may pick up enough rain for flash flooding from the tropical wave pushing across the Gulf of Mexico. Some models print out 3-5" rains for New York City, Boston and much of interior New England, possibly enough rain to send some streams and smaller rivers out of their banks. Urban flooding is most likely Friday evening into Saturday from New York north and east. QPF courtesy of NOAA.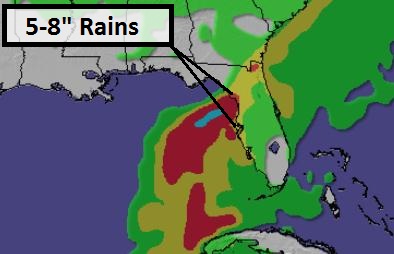 Alerts Broadcaster Models
. Our in-house modeling expert is most concerned about Tampa/St. Pete, in terms of flash flood potential, with some 5-8" rainfall amounts from today into early Friday.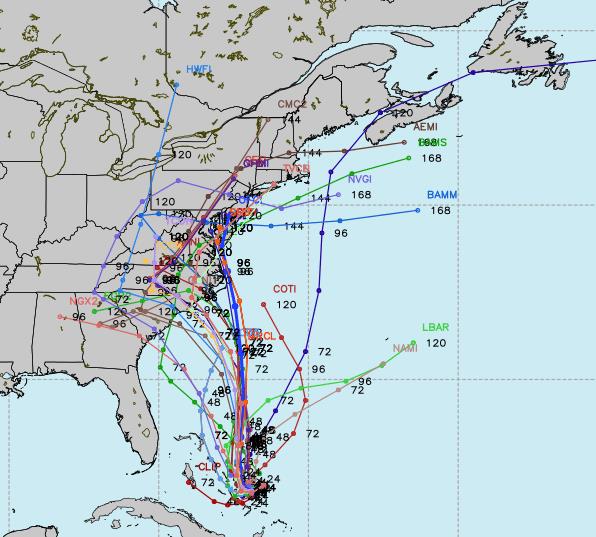 Track
. It's a little early to be tracking tropical systems, and my sense is that it's a precursor to a very busy year for hurricanes and tropical storms in the Atlantic, Caribbean and Gulf. Remember, a storm doesn't have to be a hurricane to be dangerous. In recent years as many as 1 in 3 deaths have come from inland flooding, hundreds of miles from the coast, in some cases 1-3 days after landfall. This danger is often overlooked and underestimated. In many cases the speed of the system is a much better indicator of flood risk than the intensity (category) as it reaches the coast.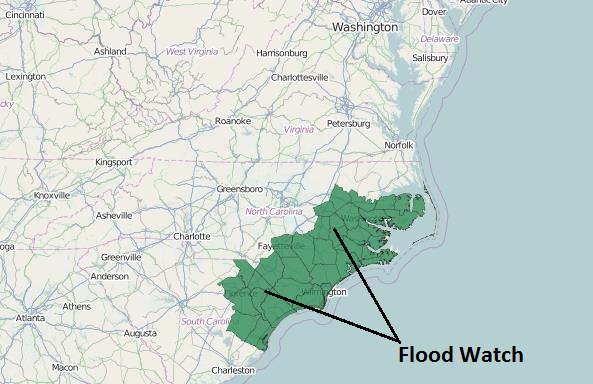 Flood Watch
. NOAA has already dropped a
Flash Flood Watch
in place from Fort Myers and Naples to Sarasota and the Tampa/St. Petersburg market. I expect a significant flood risk farther inland as well, from Orlando to Ocala and Gainesville by late Thursday. Expect this watch to be upgraded to Flood Warnings for specific counties as early as Thursday morning.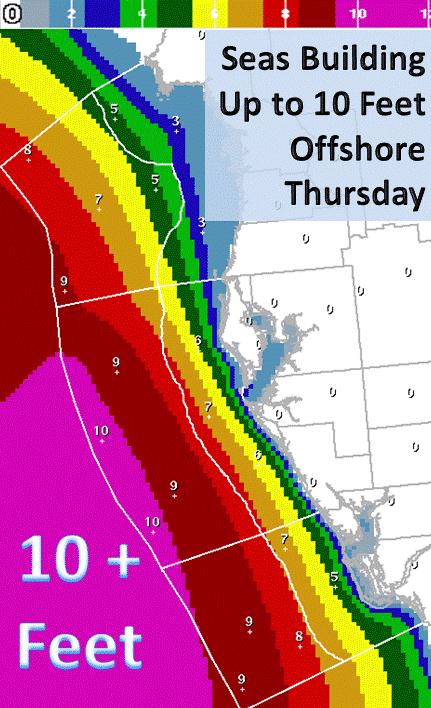 Rough Seas
. Seas up to 10 feet are expected by Thursday in the Gulf of Mexico, the best chance of a 3 foot-plus storm surge from Tampa northward to Florida's Big Bend. Graphic: NOAA.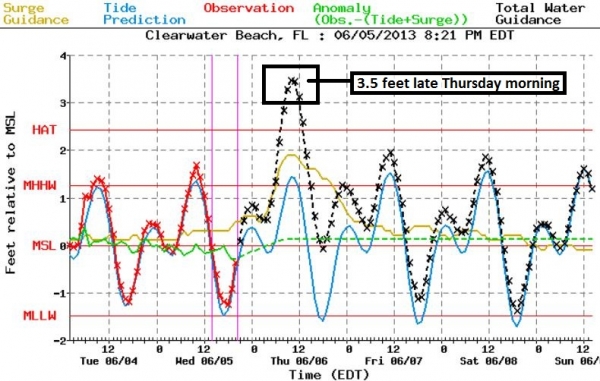 Minor Coastal Flooding
. High tide at Clearwater Beach, Florida is 10:38 am Thursday morning, so there will be some astronomical forcing to go with any wind-whipped storm surge pushing ashore. Storm surge models bring a 3 foot swell into Clearwater Beach during the late morning hours Thursday. Facilities that are susceptible to flooding (urban, small stream or coastal) may experience problems along Florida's Gulf Coast, especially Thursday morning and midday.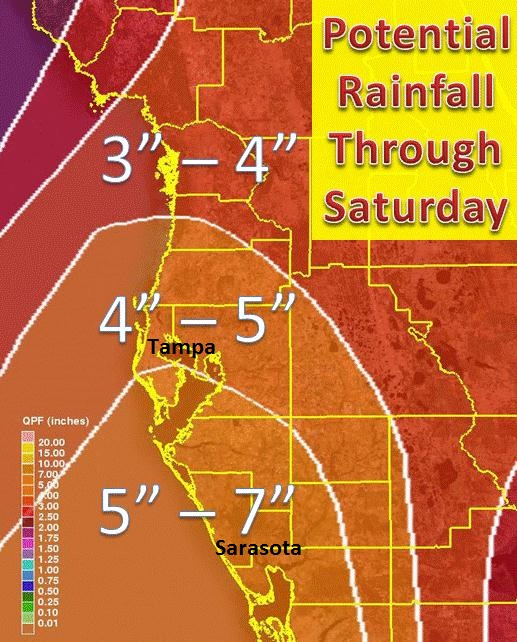 Copious Rains
. Some of the models we trust print out as much as 4-7" rain from Marco Island and Naples to Tampa; that's 5-6 week's worth of rain, falling on ground already partially saturated. I do expect considerable inland flooding over Florida from Thursday into Friday.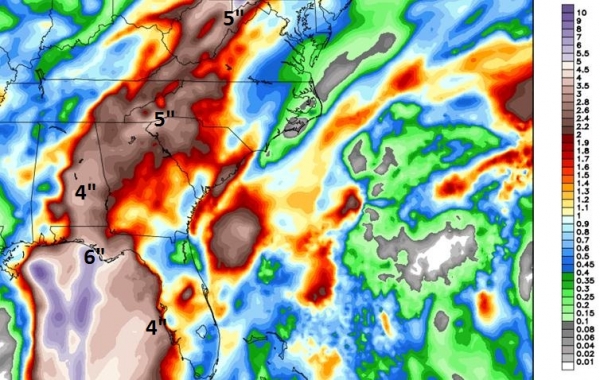 Rainfall Risk
. The east coast of Florida (Miami and Ft. Lauderdale to Daytona Beach and Jacksonville) will be brushed by this system, with scattered thunderstorms, downpours, even a few isolated tornadoes from feeder bands into this tropical swirl. The greatest risk of rainfall heavy enough to spark significant flooding is along Florida's Gulf Coast, from Ft. Myers to Pensacola. Farther inland as much as 2-3" rain may soak Atlanta (minor to moderate flash flooding), with heavier amounts over the Appalachians - as much as 4-6" from near Chattanooga into West Virginia by Friday.
Flash flooding, mudslides and power outages are expected, especially over hilly terrain well inland
.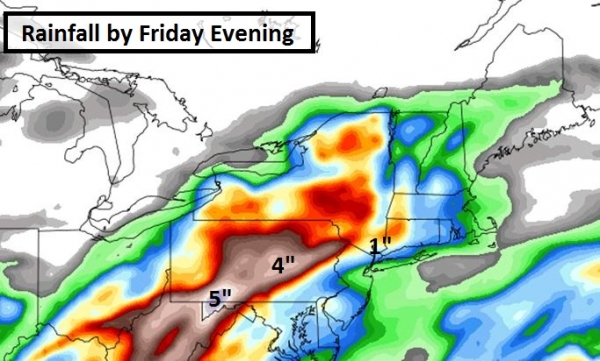 Growing Flood Threat Northeast
. The map above shows predicted rainfall amounts by Friday evening. The height of the storm comes Friday night into Saturday from New York to Hartford, Providence and Boston, where some 2-4" rainfall totals are possible from this tropical system. But the risk extends inland, from Altoona and Harrisburg to State College and Wilkes-Barre/Scranton, where flash flooding may unfold as well from Friday PM into Saturday, lingering into Sunday from Boston to Portland, Maine.
Severe Storms Bring More "Weather Whiplash" to U.S.
From flood to drought, back to flood, with a few EF-5 tornadoes thrown in for good measure. Residents of Oklahoma must be both traumatized and confused. Meteorologist Andrew Freedman has the story at
Climate Central
; here's a clip: "...
The extreme swings in precipitation may be connected, in part, to climate change, since the atmosphere is now carrying more moisture than it used to due to warming air and ocean temperatures. Climate studies have projected that precipitation extremes will become more frequent and severe, and some studies have already found an
increase in heavy precipitation events
across the Northern Hemisphere and in North America, including in the Midwest. Other studies have found that climate change is
increasing the odds
for certain extreme rainfall and flooding events
..."
Floods Bring Misery To Central Europe
.
CNN
has more details on historic flooding underway in Europe, the result of incessant rains from very slow-moving storms; here's an excerpt: "
Rising rivers menaced swaths of Germany, the Czech Republic and Austria Tuesday, as floodwaters inundated historic cities and forced mass evacuations of low-lying areas. The floods are feared to be the worst since 2002, when parts of Germany and the Czech Republic were devastated and communities in Austria, Slovakia, Russia and Romania were affected. Seven deaths have been reported in the Czech Republic, while southern and eastern areas of Germany, including Bavaria and Saxony, are also badly impacted by recent heavy rains. Images from Passau, a city in southern Bavaria where the Danube River is joined by two other rivers, show dirty brown water running through the streets of the historic old town after water levels passed a 500-year-old record
..."
Photo credit
above: "
Rudolf (11) crosses the flooded market place of the city of Wehlen at river Elbe, Germany, Tuesday, June 4, 2013. After heavy rainfalls, swollen rivers flooded areas in Germany, Austria , Switzerland and Czech Republic
." (AP Photo/Markus Schreiber)
Germany Flood Threat Heads North Toward Dresden
. Some regions of central Europe have experienced a 500 Year Flood; here's an excerpt from
The BBC
: "Thousands of German troops have been sent to help flood-hit regions as rising rivers threaten more cities. Surging waters that have already caused extensive damage across central Europe are moving north and east along rivers including the Elbe and Danube. German Chancellor Angela Merkel has visited areas already hit by the deluge and promised 100m euros (£78m; $130m) in emergency aid. Meanwhile river levels in the Czech capital Prague have begun to fall.
Top 10 Cities At Risk From Hurricane Damage
. Number one on the list: Miami. Here's an excerpt from
CBS News
: (MoneyWatch) "
Storm surge damage from a hurricane or tropical storm can devastate a city, leaving destroyed homes, standing water and debris in its wake, miles away from any coastline. This year, more than 4.2 million homes are at risk from storm surge, which could cause more than $1 trillion in damage, according to a recently released storm surge report by CoreLogic, a property analysis and data firm. Vulnerability is so widespread that more than 75 percent of major cities could be underwater after a major storm
..."
Photo credit
above: Shutterstock. "
The gem of Florida's long eastern coast faces -- not surprisingly -- the greatest risk of damage, with 615,756 homes susceptible to flooding caused by hurricanes. About 25 such storms have struck the city in the past century. The city's location near the tip of Florida makes it highly vulnerable
."
Worrying "Hole" In The Sun Is The Biggest Spotted By NASA In Over A Year
. We are rapidly approaching a peak in the sunspot cycle, and the potential for large, potentially damaging solar flares. Here's an excerpt from
Huffington Post UK
: "
A giant hole has been discovered in the Sun - and it's heading our way. The giant gaping coronal gap has been
described by Nasa
as "extensive", "rotating our way" and bigger than anything they have seen in over a year. Not to worry though, the only effect it will have on Earth is an increased chance of observing aurora, which is nice.
As NASA explains: Coronal holes are the source of strong solar wind gusts that carry solar particles out to our magnetosphere and beyond. They appear darker in extreme ultraviolet light images (here, a combination of three wavelengths of UV light) because there is just less matter at the temperatures we are observing in
..."
Negative NAO: Amazingly Persistent Pattern
. A strongly negative North Atlantic Oscillation correlates with big north/south swings in the jet stream, frequent intrusions of Canadian air capable of spinning up flooding rains and tornadoes. Last year at this time the NAO was strongly positive, meaning powerful west to east winds, keeping cold air bottled up over Canada, resulting in record warmth. A strongly negative NAO also increases the potential for Atlantic hurricanes hitting the USA (with a Bermuda high closer to Florida - steering storms toward the Caribbean and Gulf).
Tracking The Tropics.
Note the surge of moisture coming out of the Gulf of Mexico, producing soaking rains from Tampa to Atlanta (by Thursday), Washington D.C. and New York (Friday). Flash flooding is likely with some 3-4"+ rains up and down the east coast. A cold upper air low sparks showers and a few rumbles of thunder over the Upper Midwest and Great Lakes today and Thursday. The west stays dry - I'm increasingly concerned about drought spreading west of the Rockies, setting the stage for a potentially record year for wildfires.
Outlook: Even Greener
. Models show more showers today (4 km NAM prints out nearly .8"), then a light shower Thursday giving way to dry skies Friday into part of Saturday; another risk of showers and thundershowers by Saturday night. Graphic: Iowa State.
Welcome To Late April
. We're still lagging the calendar by 4-6 weeks; a pattern that kicked in back in February, and shows no sign of quitting anytime soon. Your best odds of 2 dry days, back to back? Next Monday and Tuesday.
TODAY: Mostly cloudy and cool. A few showers, stray T-shower. Winds: E 5-10. High: 64
WEDNESDAY NIGHT: Showers taper. Low: 54
THURSDAY: Clouds linger, isolated shower or sprinkle. High: 63
FRIDAY: Rare sunshine sighting. Wake-up: 51. High: near 70
SATURDAY: Sunny start, late PM showers. Wake-up: 50. High: 73
SUNDAY: Gray, risk of showers. Wake-up: 57. High: 68
MONDAY: Partly sunny and quiet. Wake-up: 55. High: 74
TUESDAY: Warm sun, summerlike! Wake-up: 57. High: 81
* photo above: Mike Hall.
Climate Stories...
Cartoon
courtesy of The Washington Post's Tom Toles.
"
There Have Been Just As Many Scientific Papers Predicting Cooling As Warming!
" Wrong. Here's an excerpt from
Skeptical Science
: "
It is a
recurring myth that global warming has stopped
and the Earth has begun to cool. This graphic summarizes data that refutes a related myth that publications now supporting the scientific consensus that the world is warming due to increased carbon dioxide were predicting in the 1970s that the world would cool. A survey of peer-reviewed scientific papers from 1965 to 1979 by
Peterson et al. (2008)
shows that few papers predicted global cooling (7 in total), while significantly more papers (42 in total) predicted global warming. (Also see the
original figure from the paper
)
..."
Climate Change Keeping Early Birds From Getting Worms: Study.
CTV News
in Canada has the story; here's an excerpt: "
New research suggests that climate change is starting to keep early birds from getting the worms. In a groundbreaking study that wouldn't have been possible even a few years ago, scientist Kevin Fraser from York University in Toronto says that shifting seasons due to global warming have thrown the delicate timing of bird nesting and food availability out of whack. "Selection has favoured birds arriving at the perfect time, so they get there right at the peak of insect food, the big flush of all different kinds of insects we get in spring," said Fraser, whose paper is published in the online journal PLOS One.
.."
Photo credit
above: "
A magnolia warbler, one of the most-sought birds on the shores of Lake Ontario this month. One of dozens of types of warblers to make appearances in trees and bushes from Oshawa to Hamilton in May
."
Stephan Lewandowsky: The Mind Of The Conspiracy Theorist.
Yes, Uncle Bud, I'm talking about you. Here's an interesting audio interview with Chris Mooney at
Point of Inquiry
: "
From 9-11, to the death of Osama bin Laden, to the Boston Bombings, there's been a consistently bizarre and troubling reaction by some members of the public. We're referring to the people—a minority, to be sure, but a surprisingly large one—who always seem to think there's some kind of cover up. The U.S. government, they feel, was really behind the attacks on, uh, itself. And as for Bin Laden—well, he isn't really dead. These people are called conspiracy theorists, and, their particular form of irrationality is uniquely befuddling. It has been often denounced, but rarely understood. That's too bad, because conspiratorial thinking clearly plays an important role in science denial, on matters ranging from the connection between HIV and AIDS, to the safety of vaccines, to global warming
..."
Will ExxonMobile Adapt To Climate Change? Not Likely
.
Triple Pundit's
headline, not mine. Personally, I hope to be pleasantly surprised. Here's an excerpt of their post: "...
Owen then issued her call to action: "As I cast my votes this year, I hope that more shareholders will get involved to move ExxonMobil toward a life-sustaining future. ExxonMobil's $44.9 billion in earnings for 2012 came close to a world's record. Instead of wildcatting in costly, unproven non-conventional fossil fuel technologies such as fracking and tar sands that add greenhouse gases to the atmosphere, the company could show foresight and leadership by investing in clean, renewable energy such as wind, solar and geo-thermal." So what happened at the

May 29 shareholder meeting with regard to Owen's pleas? Not much, except for obfuscation and gobbledygook from ExxonMobil Chairman and CEO Rex Tillerson. Here's a sampling of what he said, taken from the
transcript
of the meeting: "I think our views on climate change and the risk of climate change have been fairly well described both in public forums where I and others have spoken as well as in publications in the ways we have expressed view climate change as a serious issue, it does present serious risk. I will maintain the view that I have had for some time now, but notwithstanding all the advancements that have been made in gathering more data, instrumenting the planet so that we understand how climate conditions on the planet are changing, notwithstanding all that data, our ability to project with any degree of certainty the future is continuing to be very limited.
..."