79 F.
high in the Twin Cities Thursday.
78 F
. average high on June 13.
76 F
. high on June 13, 2012.
Scattered T-showers
from this afternoon into Saturday afternoon, most numerous south of MSP.
Sunday
appears to be the sunnier, drier and warmer day of the weekend.
Weekend Number 12
I used to look forward to weekends.
Now it's hard crawling out of bed Friday, knowing full well computer models at work will be freckled with neon-green blobs for weekend plans - the next 72 hours spent apologizing on behalf of a vindictive Mother Nature.
Wait, do people blame Mark Rosen when the Twins lose, or fault Jeff Passolt when there's a terrible news story? No. But apparently weather forecasters are fair game when the weekend sky turns weepy. It defies logic, but I get it. 12 summer weekends - and every one is precious. We're easy scapegoats.
You have to go back to March to find a weekend without any measurable precipitation in the Twin Cities. This will be the 12th weekend in a row with puddles (or worse). An approaching trough of low pressure kicks up a few showers and T-showers by afternoon today. A stalled frontal boundary keeps a few T-storms around Saturday, especially south of the Twin Cities. The farther north you go into Cabin Country the better the odds of lukewarm sun.
Sunday still looks like the better day, statewide, as highs top 80F under a partly sunny sky. It looks like we're moving into a slightly warmer, slightly drier pattern the latter half of June.
A late summer this year? Yep.
Trending (Slightly) Warmer and Drier.
Not a lot of weather drama - probably nothing severe and the risk of a heat spike next week has diminished. The 90 and 100 degree air can't quite make it this far north, at least not yet. The best chance of showers and a few T-showers should come later today into Saturday; Sunday the warmer, drier day. Expect highs in the 70s and low 80s much of next week. ECMWF guidance above.
NAM Model.
A trough of low pressure sparks a few T-storms Friday into Saturday over the Upper Midwest, with the best chance of rain over far southern Minnesota and Wisconsin, Iowa and Illinois. A few storms may flare up along Colorado's Front Range, but recent storms have triggered lightning and precious little rain. This "dry lightning" can ignite more wildfires. It's going to be a very long, hot, potentially historic fire season over the western third of the USA.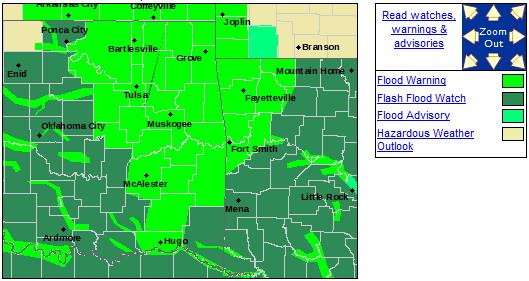 River Flooding Update
. With persistent rains (and rivers still out of their banks from Andrea last week)
USGS and NOAA
report major river flooding over portions of the Carolinas. The Mississippi River is still at major flood stage near St. Louis, some reports of river and stream flooding across North Dakota.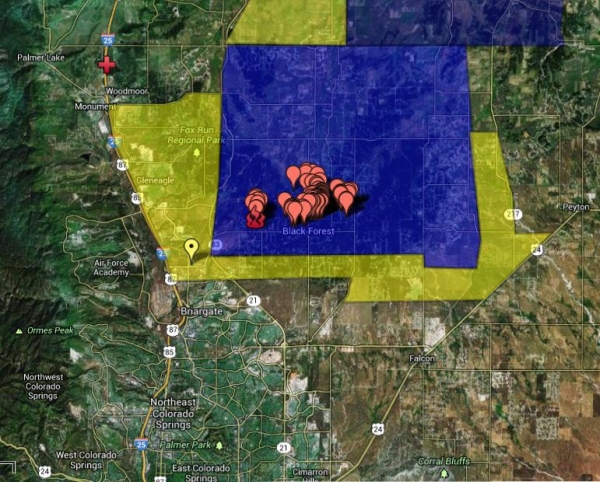 Historic Black Forest Colorado Springs Blaze
. The fire engulfing tens of thousands of acres just northeast of Colorado Springs is bringing back some very unpleasant memories from last June's Waldo Canyon Blaze.
It is now the worst widlfire in Colorado history, based on the number of homes lost so far (360). The evacuation area cover 38,000 people over 94,000 acres
. Here's an excerpt of a news update from
Channel 7
in Denver: "
The Black Forest Fire is now the worst fire in Colorado history, based on the number of homes lost.The fire has destroyed 360 homes, according to El Paso County Sheriff Terry Maketa. 14 other homes have been partially damaged. Last year's Waldo Canyon Fire had been the most destructive fire in Colorado history with 346 homes lost. That fire started June 23, 2012. Evacuations peaked at 32,000 on June 27. It burned 18,247 acres. Maketa said the Black Forest Fire has now burned 15,000 acres. The evacuation area expanded early Thursday morning. It now covers 38,000 people in a 94,000 acre area. The new evacuation area is north and west of the Black Forest Fire. The boundaries now cover Highway 83 east to Eastonville Road, and Walker Road north to County Line Road
..."
*
click here
for an interactive Google map that shows the location of the blaze, addresses of many of the homes lost to fire, emergency shelters, and other resources.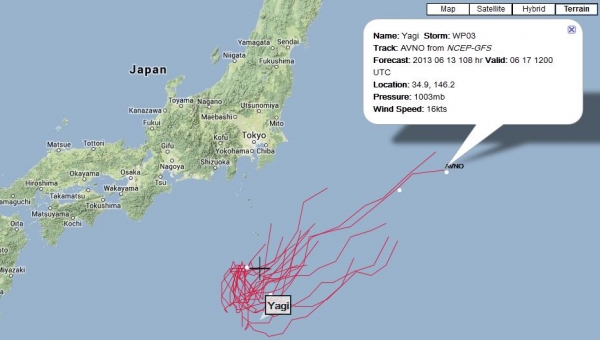 Good Riddance Yagi
. Tropical Storm Yagi continues to weaken south of Tokyo, a few squalls of heavier rain pushing inland, but no major impacts are likely to facilities across Japan.
2012 Billion Dollar Weather/Climate Disasters
. Here's an excerpt from a recent press release from
NOAA NCDC
, the National Climatic Data Center: "
According to
NCDC's 2012 weather and climate disasters information
, 2012 saw 11 weather and climate disaster events each with losses exceeding $1 billion in damages. This makes 2012 the second costliest year since 1980, with a total of more than $110 billion in damages throughout the year. The 2012 total damages rank only behind 2005, which incurred $160 billion in damages due in part to four devastating land-falling hurricanes. The 2012 billion-dollar events included seven severe weather and tornado events, two tropical cyclone events, and the yearlong drought and its associated wildfires. These 11 events killed over 300 people and had devastating economic effects on the areas impacted. With 11 events, 2012 also ranks second highest in total number of billion-dollar events behind 2011, which had 14 events
...."
17 Separate Billion Dollar Disasters for Minnesota since 1980
. Texas is ground zero, with Dallas-Fort Worth the most dangerous metro area in the USA, due to the frequency and severity of tornadoes, floods and hurricanes. Texas saw 54 separate billion dollar disasters during the same period. Map:
NCDC
.
Spooked By Hurricanes, Homeowners Make Storm-Proofing Upgrades
. Here's a clip from an interesting story at
The Regional News
: "
All those monster hurricanes and tornados we've been experiencing have apparently spooked homeowners worse than just about any disaster film Hollywood ever produced. Six years after the housing bubble burst, the National Association of Home Builders reports homeowners may be beginning to dabble again in largish home remodeling projects costing an average of $100,000 to $150,000. But -- and this is one of the biggest trends -- they're also putting lots of their dollars towards more practical
storm-proofing
upgrades like wind-resistant roofing, built-in generators and basement drainage. "It's exploded since Hurricane Irene in 2011," Justin Mihalik, a vice president of the New Jersey chapter of the American Institute of Architects, told MarketWatch.com
..."
The Biggest Threat To The Global Economy Could Come From Outer Space
. From our nearest star, the sun. Here's an excerpt of an eye-opening story at The National Journal and
Quartz
: "
Imagine waking up just after midnight to a sky so bright you swear it must be early morning. Imagine seeing the Northern Lights as far south as Cuba or Hawaii. Imagine that the same phenomena behind both has also generated electric fields in the ground strong enough to power small electronics. That's what happened in 1859, when the earth was struck by the most severe geomagnetic storm ever recorded. Forget asset bubbles, recessions, or hurricanes—space weather could prove far more economically harmful. A severe geomagnetic storm—a sudden, violent eruption of gas and magnetic fields from the sun's surface—could prove particularly devastating. If the 1859 storm, known as the "
Carrington event,
" were to recur today it could cause trillions of dollars in economic damage and take years to recover from, according to estimates. The sun would sneeze and the economy could shatter.
.."
Illustration credit
above: "
Artist illustration of events on the sun changing the conditions in near-Earth space
." NASA.
An Eerie Resemblance
.
Imgur.com
has a link that compares a sunset on Mars (top image) to a recent sunset in heavily polluted Beijing. Hey, we don't need no stinking EPA!
Steven Spielberg Predicts "Implosion" Of Film Industry
. Talk about the Internet (and new technologies like Netflix) disrupting traditional distribution of movies; here's an excerpt from Steven Spielberg (my old pal Steve!) at
The Hollywood Reporter
: "...
Lucas and Spielberg told USC students that they are learning about the industry at an extraordinary time of upheaval, where even proven talents find it difficult to get movies into theaters. Some ideas from young filmmakers "are too fringe-y for the movies," Spielberg said. "That's the big danger, and there's eventually going to be an implosion — or a big meltdown. There's going to be an implosion where three or four or maybe even a half-dozen megabudget movies are going to go crashing into the ground, and that's going to change the paradigm." Lucas lamented the high cost of marketing movies and the urge to make them for the masses while ignoring niche audiences. He called cable television "much more adventurous" than film nowadays
..."
My Father's Active Retirement And Why I Plan To Follow In His Footsteps
. On some level this is intuitive: stay active, and you'll live longer (with a great quality of life). But this article at PBS's
Next Avenue
really brought it home for me; here's an excerpt: "...
My mother spent her final years in a wheelchair; she no longer had the strength to walk. And her memory was mush. (Am I wrong to put some blame on All My Children and The Days of Our Lives?) Just months before my father died of natural, age-related causes, he was still driving his pickup and hauling groceries. Until his dying breath, he was as mentally sharp as he'd always been. Now that I'm in my 60s, my turn to retire is approaching — quicker than I can believe. And I already know how I will approach my golden years. I won't take old age lying down. Instead, I'm going to follow my father's example. I will to do everything I can to stay as active as possible
..."
Advanced Alien Civilization Discovers Uninhabitable Planet.
Breaking news from The Onion: "
...
The alien researchers stated that the dramatically warming atmosphere of RP-26 contains alarming amounts of carbon dioxide and methane, as well as an ozone layer that—for reasons they cannot begin to fathom—has been allowed to develop a gaping hole. They also noted the presence of melting polar icecaps, floods, and enough pollutants to poison "every last drop of the planet's fresh water, if you can even call it that." Given the extreme toxicity of its environment, the Terxus scientists said they did not yet understand how the planet ever came to support single-cell organisms, let alone more complex species and intelligent life
..."
Image credit
above: "
Terxus II astronomers say this planet, which they have named RP-26, will soon no longer be able to support any sort of advanced life
."
TODAY: Dry start with some early sun. Clouds increase, midday and PM T-showers. Winds: SE 15. High: 76
FRIDAY NIGHT: Unsettled, another shower or T-storm. Low: 62
SATURDAY: Patchy clouds. T-showers south, warm sun north. High: 78
SUNDAY: Nicer day of the weekend. Warm sunshine. Wake-up: 63. High: 83
MONDAY: Blend of clouds and sun, a bit cooler. Wake-up: 61. High: 76
TUESDAY: Warm sun, still pleasant. Wake-up: 59. High: 79
WEDNESDAY: Sunny start, clouds roll in late. Wake-up: 60. High: 81
THURSDAY: Sticky again. Spotty T-storms. Wake-up: 63. High: 83
* photo above: WeatherNation TV meteorologist Todd Nelson.
Climate Stories....
Warm Ocean Causing Most Antarctic Ice Shelf Mass Loss
.
NASA
has the details; here's an excerpt: "
Ocean waters melting the undersides of Antarctic ice shelves are responsible for most of the continent's ice shelf mass loss, a new study by NASA and university researchers has found. Scientists have studied the rates of basal melt, or the melting of the ice shelves from underneath, of individual ice shelves, the floating extensions of glaciers that empty into the sea. But this is the first comprehensive survey of all Antarctic ice shelves. The study found basal melt accounted for 55 percent of all Antarctic ice shelf mass loss from 2003 to 2008, an amount much higher than previously thought. Antarctica holds about 60 percent of the planet's fresh water locked into its massive ice sheet. Ice shelves buttress the glaciers behind them, modulating the speed at which these rivers of ice flow into the ocean. Determining how ice shelves melt will help scientists improve projections of how the Antarctic ice sheet will respond to a warming ocean and contribute to sea level rise. It also will improve global models of ocean circulation by providing a better estimate of the amount of fresh water ice shelf melting adds to Antarctic coastal waters
..."
Photo credit
above: "
This photo shows the ice front of Venable Ice Shelf, West Antarctica, in October 2008
." Image credit: NASA/JPL-Caltech/UC Irvine
Obama Quietly Raises Carbon Price As Costs To Climate Increase.
Bloomberg.com
has the story - here's an excerpt: "Buried in a little-noticed rule on microwave ovens is a change in the U.S. government's accounting for
carbon emissions
that could have wide-ranging implications for everything from power plants to the Keystone XL pipeline. The increase of the so-called social cost of carbon, to $38 a metric ton in 2015 from $23.80, adjusts the calculation the government uses to weigh costs and benefits of proposed regulations. The figure is meant to approximate losses from global warming such as flood damage and diminished crops.
Photo credit
above: "
For example, the administration's vehicle fuel-efficiency standards would cost industry $350 billion over the next 40 years, while benefits in energy security, less congestion and lower pollution totaled $278 billion
." Photographer: Reed Saxon/AP Photo.