68 F
. high predicted today in the Twin Cities. That's the average high for September 2.
83 F
. high in the Twin Cities Thursday.
83 F
. average high for July 25.
92 F
. high on July 25, 2012.
.03"
rain fell at Twin Cities International Airport yesterday.
Canadian Leakage
Stare at the weather maps long enough and you begin to hallucinate. I've been telling you (ad nauseum) for years that something has changed on the maps - the pattern isn't even close to what I grew up with in the 70s and early 80s. Weather getting "stuck" for extended periods of time. Odd gyrations in the jet stream steering winds.
John Mason at Skeptical Science writes: "Evidence is mounting to indicate that the response of the jet stream to polar amplification has been to tend to slow down and meander more, with a greater tendency to develop blocking patterns, which in turn prolong and intensify all sorts of extreme weather events."
Northern latitudes are warming faster than mid latitudes, resulting in a 12 percent drop in average jet stream winds, which may slowing storms and hot high pressure ridges.
All or nothing? Drought or flood?
Speaking of sweeping north-south sweeps in the jet stream - an early taste of September will keep us in the 60s today; a ragged, windblown sky and a PM instability shower. Although cool for the lake temperatures slowly mellow over the weekend; Sunday the nicer day with more sun & less wind.
A 90s rerun? Not until the second week of August.
The record cool high temp for today in
MSP
is 68 F, set in 1903 & 1972. The same stat on the 27th is 65 F, set in 1991.
The record cool high temp. for St. Cloud today is 64 F in 1968. Saturday's record minimum high: 64 F in 1895.
A Buckling Jet Stream
. The map above shows predicted 500 mb winds (18,000 feet) at 12z Sunday morning, showing a massive cut-off low centered north of Green Bay, a swirl of unusually cold air aloft hovering over the Upper Midwest and Great Lakes. Typical for early October, not late July. The maps just keep getting stranger. Map credit: Weather Bell.
30s Up North Saturday Night?
Good grief - what next? One more symptom of an amped up jet stream taking some very unusual turns, more evidence of "Arctic amplification". The map above shows predicted lows for Saturday night, upper 40s in the Twin Cities, low 40s from Brainerd to Bemidji. I'd bet a bagel Tower and Embarrass will record lows in the 30s early Sunday morning. Map courtesy of
NOAA
.
Stunted Thermometers
. Nothing more refreshing than a July cold front huh? Daytime highs hold in the 60s today and Saturday, reaching low to mid 70s Sunday, a rerun of 80+ highs the latter half of next week. No, summer isn't over. This is halftime.
Free A/C Into Early Next Week
. Highs, even in the metro, hold in the upper 60s today and Saturday, about 15F cooler than average for late July. Temperatures slowly recover next week, 80s returning by late week. Yes, we will see 80s again. A few instability showers are possible this afternoon (best chance north/east of MSP) and then it stays dry until next Tuesday and Wednesday, when a few T-storms may pop ahead of a warmer front.
Summer Relapse
. Residents from Minnesota to Michigan will be reaching for sweatshirts the next couple of mornings, lows dipping into the 40s and 50s with a stiff wind and a few instability showers. Meanwhile a tight little storm chugs up the East Coast, brushing Cape Cod and Boston with heavy rain. Showers and T-storms track across the Mid South, a few monsoon storms over the Southwest, while the West Coast remains bone dry. 84 hour NAM: NOAA.
Thawing Out....In Fairbanks
. Another mixed-up, upside-down weather map. Fairbanks will be 20-25 degrees warmer than much of Wisconsin and northern Michigan by Saturday, a southward dip in a buckling jet stream plunging an airmass that would be right at home in late September into the Upper Midwest and Great Lakes. Free A/C? Plenty of free A/C. Details of today's
Climate Matters
: "
Travel to Alaska to warm-up? Yes,a big change in the jet stream is bringing much cooler temperatures to the lower 48. Chief Meteorologist Paul Douglas likes to call it Canadian Leakage. Then there's Tropical Storm Dorian. The models are all over the place for where Dorian could wind up
."
Late July Hurricane Climatology
. I thought this was an interesting nugget, courtesy of Brian McNoldy, at
The Capital Weather Gang
: "...
In the past 162 years, just three other storms were named (tropical storm intensity or greater) this far east during the entire month of July: Anna 1969, Alex 1998, and Bertha 2008. Dorian has joined that list, and for reference, its current location is marked with a red "D"… basically right on top of Bertha's track; however, Dorian is not expected to curve out to sea so quickly
..."
Image credit
above: "
The only three storms that were at least tropical storms at or near Dorian's longitude during July going back to 1851
." (NOAA).
Tropical Storm Dorian Update
from Alerts Broadcaster (issued Thursday afternoon):

Here's the latest on Dorian:
* 60 mph sustained winds; Dorian has showed slow but steady strengthening over the last 24 hours.
* Dorian forecast by most models to track north of Lesser Antilles, U.S. Virgin Islands and Puerto Rico in a Sunday-Monday timeframe, possibly reaching the Bahamas by Tuesday of next week.
* Model skill levels and confidence are (very) low for any track/intensity beyond next Tuesday. Dorian may still impact the USA, but it's too still too early to provide specifics.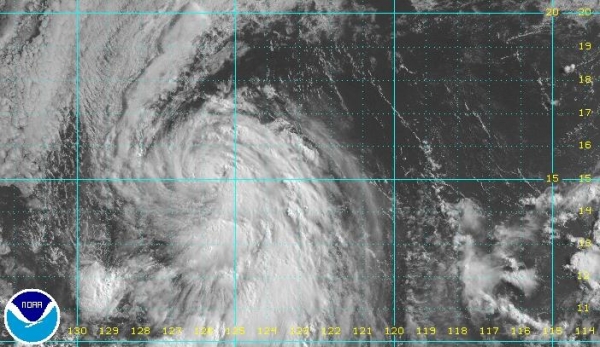 Still Strengthening
. Midday satellite images confirm that Dorian has become a strong tropical storm, with sustained winds of 60 mph. Ocean water temperatures are forecast to warm as Dorian heads west-northwest, but wind shear may still prevent it from reaching hurricane status.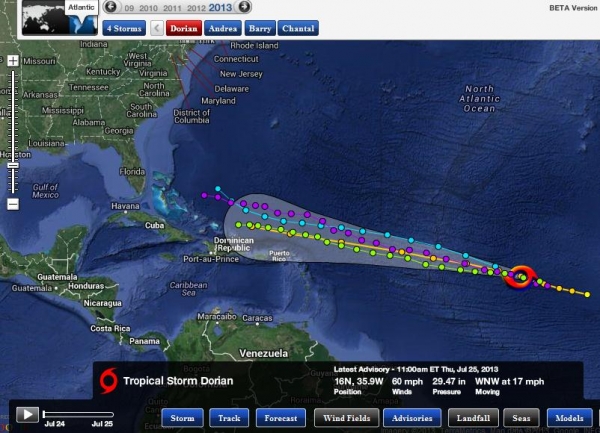 Latest Fix
. Dorian is one of the strongest storms to form so early, and so far east in the Atlantic. That doesn't necessarily mean a quantifiably higher risk to the USA, but we need to keep an eye on the storm and see if future models converge on a believable solution (with moderate to high confidence). To date that is not the case.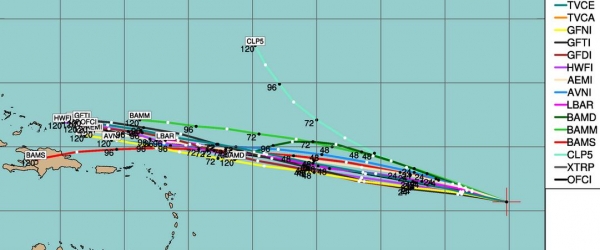 Short-Term Track
. Models are in good agreement, a tight cluster of predicted tracks taking Dorian on a slightly northward path, one that takes the strongest winds, heaviest rains and highest storm surge north of St. Martin, St. John's and San Juan by Monday of next week.

Model Consensus
. Both existing and experimental tropical models have nudged Dorian's track about 50-100 miles farther north since midday Wednesday. Confidence levels are moderate to high that Puerto Rico and The U.S. Virgin Islands will avoid a direct hit.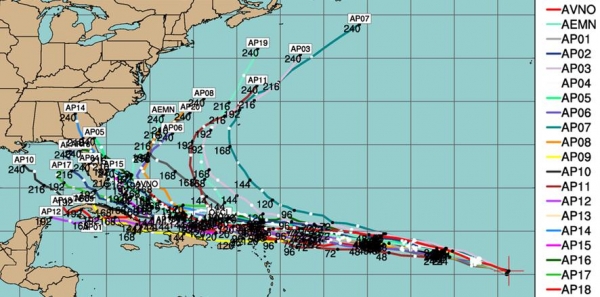 Extended Track
. Various ensemble GFS runs show a wide divergence beyond next Monday; several models bringing Dorian into the Gulf of Mexico and Florida, while about a third of the models recurve the storm out into the North Atlantic. There is a moderate confidence level (6 on a scale from 1 to 10) that Dorian will impact The Bahamas in a Monday-Tuesday timeframe next week, either as a tropical storm or hurricane. Beyond that we can't say with any skill or confidence.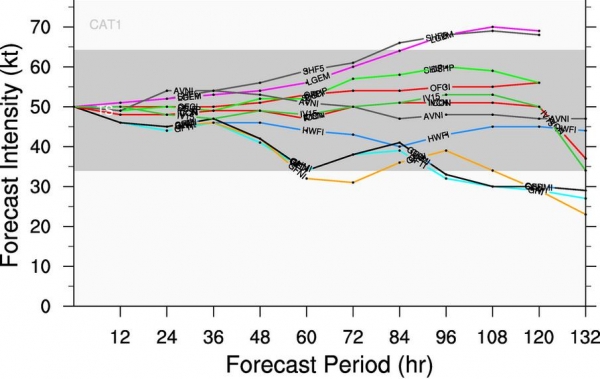 Intensity: Status Quo
. The vast majority of the weather simulations we trust show Dorian continuing to track west-northwest as a moderate to strong tropical storm out through 120 hours, only a couple of models strengthen the storm to hurricane status. Conditions aren't favorable for rapid intensification through the weekend.
Summary
: Although the final track of Dorian is very much up in the air, we need to treat this storm (like all Atlantic storms) with a fair amount of respect. History shows that the storms during the first half of the season are the ones that wreak the most havoc. Out of 74 hurricane names "retired" by NOAA NHC - 59 were the A-K storms, only 15 the K-Z storms. A high-amplitude pattern (big north/south gyrations in the jet stream) might be able to pull any tropical system in the Gulf of Mexico or Bahamas unusually far north next week, depending on timing, so we all need to pay attention in the days ahead. We're looking for model trends, continuity and consistency - the signal amidst the noise of the long-range weather simulations. We'll keep you posted on the trends and potential for Dorian to reach the U.S. coastline.
Scientists Discover What's Killing The Bees And It's Worse Than You Thought
. Here's more from
Quartz
: "
As we've written before, the mysterious mass die-off of honey bees that pollinate $30 billion worth of crops in the US has so decimated America's apis mellifera population that
one bad winter could leave fields fallow
. Now, a new study has pinpointed some of the probable causes of bee deaths and the rather scary results show that averting beemageddon will be much more difficult than previously thought. Scientists had struggled to find the trigger for so-called Colony Collapse Disorder (CCD) that has wiped out an estimated 10 million beehives, worth $2 billion, over the past six years. Suspects have included pesticides, disease-bearing parasites and poor nutrition. But in a first-of-its-kind study
published today in the journal PLOS ONE
, scientists at the University of Maryland and the US Department of Agriculture have identified a witch's brew of pesticides and fungicides contaminating pollen that bees collect to feed their hives
..."
Photo credit
above: "
Outlawing a type of insecticides is not a panacea
." AP Photo/Ben Margot
The Lucky-Take-All Society.
How much of success is true skill, vs. great timing (or luck).
The Economist
takes a look in this fascinating article; here's the introduction: "
EVEN those disturbed by rising income inequality accept the necessity of a system that rewards ability. And even the most die hard capitalist would not defend a system that apportions its rewards principally to the lucky. But what if talent and luck are increasingly hard to distinguish? Alan Krueger, the departing chairman of Barack Obama's Council of Economic Advisers, hit upon just that possibility in a
speech
in June, when he observed, "The lucky and the talented – and it is often hard to tell the difference – have been doing better and better, while the vast majority has struggled to keep up
..." (Photo credit: Alamy).
TODAY: Mostly cloudy, gusty. PM shower possible. Winds: NW 20+ High: 68
FRIDAY NIGHT
: Clearing and almost chilly for late July. Low: 51 (metro) 40s in the outlying suburbs.
SATURDAY: Mix of clouds & sun, still brisk. DP: 47. Winds: NW 10-15. High: 69
SUNDAY: More sun, less wind. Better. Wake-up: 52. High: 74
MONDAY: Partly sunny, lukewarm. Wake-up: 58. High: 79
TUESDAY: Warmer, more humid. Stray T-storm possible. Wake-up: 63. High: 83
WEDNESDAY: More clouds than sun, still warm. Wake-up: 64. High: 82
THURSDAY: Intervals of sun, near normal. Wake-up: 65. High: 81
Climate Stories...
Summer Cyclone Chewing Up Canada's Arctic Sea Ice
. Curious how the perpetual, predictable climate deniers will spin this one.
CTV News
has the troubling story; here's the intro: "
Arctic scientists are watching in awe this week as a raging summer cyclone tears up what could become a record amount of rotting northern sea ice. "We're really watching this year with a lot of fascination," said Matthew Asplin, an Arctic climatologist at the University of Manitoba. Arctic cyclones are driven by low-pressure systems in which winds of up to 100 km/h blow counter-clockwise in spiral more than 1,000 kilometres across. They occur in both winter and summer, but are usually stronger in winter. Cyclones are not unusual in the Arctic, but seem to be changing in recent years, said David Barber, one of Canada's top sea-ice experts. "These cyclones are not getting more frequent, but they are getting deeper -- which means stronger," he said
..."
Animation credit
:
30 Day Arctic ice animation
. United States Naval Research Laboratory, Stennis Space Center, Mississippi.
Shrinking Polar Ice Cap
.
Sea Ice Concentration map
courtesy of the Snow and Ice Data Center.
Arctic Methane "Time Bomb" Could Have Huge Economic Costs
.
The BBC
has the story; here's an excerpt: "
Scientists say that the release of large amounts of methane from thawing permafrost in the Arctic could have huge economic impacts for the world. The researchers estimate that the climate effects of the release of this gas could cost $60 trillion (£39 trillion), roughly the size of the global economy in 2012. The impacts are most likely to be felt in developing countries they say. The research has been published in the journal Nature.
.." (Photo credit: NASA).
Ice-Free Arctic In Two Years Heralds Methane Catastrophe
. A tipping point in the climate system? There's increasingly little doubt that we are sailing into uncharted waters, new waters opening up at the top fo the world. Here's a clip from
The Guardian
: "
A
new paper
in the journal Nature argues that the release of a 50 Gigatonne (Gt) methane pulse from thawing
Arctic
permafrost could destabilise the climate system and trigger costs as high as the value of the entire world's GDP. The East Siberian Arctic Shelf's (ESAS) reservoir of methane gas hydrates could be released slowly over 50 years or "catastrophically fast" in a matter of decades – if not even one decade – the researchers said. Not everyone agrees that the paper's scenario of a catastrophic and imminent methane release is plausible. NASA's Gavin Schmidt has previously argued that the danger of such a methane release
is low
, whereas scientists like Prof Tim Lenton from Exeter University who specialises in climate tipping points, says the process would take
thousands if not tens of thousands of years
, let alone a decade
..."
Photo credit
above: "
Leading Arctic expert Prof Wadhams warns that a summer ice free Arctic in 2 years could trigger dangerous methane release
." Photograph: Jenny E Ross/Corbis.
NASA Climate Change Video: This Is The U.S. In 2100
. Story (and video) courtesy of
Mother Nature Network
; here's a clip: "
The United States will be a much hotter place at the end of the 21st century, according to a new climate change visualization released by NASA this week. The video illustrates a small component of the upcoming
National Climate Assessment
, set to come out in 2014, which provides Congress with the most up-to-date information on the state of climate change in the country from more than 240 contributing climate scientists. The last report was published in 2009. Researchers at NASA's Goddard Space Flight Center teamed with scientists at the National Oceanic and Atmospheric Administration's National Climatic Data Center (NCDC) in Asheville, N.C., to create a new video, which compares two different climate change scenarios: One in which atmospheric carbon dioxide levels increase from
today's level of 400 parts per million
to 550 ppm, and a second in which carbon dioxide levels double to 800 ppm. (Parts per million means that, for example, for every million molecules of air, 400 of them are carbon dioxide.)
.."
Troubling Trends
. Here's a recap of a recent poll at
The University of Texas
which shows a drop in the percentage of Americans who believe climate change is underway. I found it interesting that people who are living with kids under the age of 18 are much more likely to acknowledge the science: "
Sixty-seven percent of Americans say that climate change is occurring, down from 73 percent in March, according to the latest survey conducted by the University of Texas Energy Poll. Eighteen percent of respondents say that climate change is not occurring and 15 percent report they don't know. The online nationwide survey, conducted July 18-22, indicates that although climate change can be a polarizing issue politically, both Democrats and Republicans experienced similar declines from where numbers were in March. Over the past four months, the percentage of Republicans who say that climate change is occurring dropped from 55 to 51 percent and Democrats decreased from 89 to 84 percent
..."
A Republican Secretary Of State Urges Action On Climate Change
. Here's a clip from a story at
Yahoo News
: "
As Secretary of State under President Ronald Reagan, George Shultz helped negotiate the most successful global environmental treaty to date: the
Montreal Protocol
, which phased out the use of
chlorofluorocarbons
and other ozone-depleting chemicals. Those chemicals also act as potent greenhouse gases, so the agreement also makes him the negotiator of one of the most effective global climate treaties ever, despite being part of an administration that famously
removed solar technology from the White House roof
. Few modern Republican politicians favor such environmental effort, or even
believe climate change is happening
or that humanity could be primarily responsible for it.
.."
Photo credit
above: M.I.T.
Climate Change Steers New Insurance Course
. If increasingly extreme weather doesn't open up eyes, maybe a look at your next insurance premium will. Here's an excerpt of a story at
Westfair Communications
: "
People may still have their doubts about climate change, but it's already affecting property owners' bottom lines. According to industry reports, property insurance rates have increased more than 5 percent over the last year in places like Connecticut that have a high exposure to natural disasters such as hurricanes, tornadoes, blizzards or wildfires. Experts agree the frequency of such disasters is expected to increase with climate change, and as a result, there's a heightened focus on the insurance industry and how property owners can protect themselves
..."