35 F
. high in the Twin Cities Sunday.
30 F
. average high on December 7.
1 F
. high on December 7, 2013.
1/10th of an inch of snow
fell yesterday at MSP International Airport.
1" of snow
on the ground.
December 7 in Minnesota Weather History
. Source: Twin Cities National Weather Service:
1995
: A strong low pressure system passed across Northern Minnesota which produced considerable snowfall in advance of an intense cold front. Snowfall of five to eight inches was common with eight inches recorded at New London and Alexandria. The most snow reported was 9.6 inches in Mound. The Minneapolis, St. Paul International Airport received 7.1 inches.The cold front moved through by late morning on the 8th as temperatures dropped 20 degrees within an hour of the frontal passage. Strong northwest winds of 20 to 40 mph immediately behind the front resulted in severe blowing and drifting and white-out conditions in many areas. Over 150 schools closed early or cancelled classes. Many businesses closed early as well. The Governor ordered state offices closed at noon on the 8th, sending thousands of state employees home. Over 100 outbound flights were cancelled at the Twin Cities International Airport, but the airport remained open.
1876
: The term "Blizzard" first used in the government publication "Monthly Weather Review."
1804
: John Sayer at the Snake River Fir Trading Post near present day Pine City mentions: "Cold day. Thermometer 10 degrees below freezing." Lewis and Clark also noted this cold wave at their winter quarters in Ft. Mandan, North Dakota near present day Bismarck.
Dear Santa
Dear Santa, please send Minnesota a polar-vortex-free winter. A shiny new El Nino would be nice, with mild winds howling from the Pacific some of the time. A Doppler on the roof would be great too.
No, I haven't been a good boy. Yes, I will get off your lap now.
And was I the only one who did a double-take during Sunday's Vikings game? At one point the TV announcer referenced "frigid" weather at TCF Stadium. I frowned and checked the air temperature. 33F with a wind chill of 24F. Frigid? Maybe in Manhattan, but 30s in December, while properly dressed? Pretty reasonable.
Because there's no such thing as bad weather, just inappropriate clothing choices.
You'll be able to shed a few layers by late week as a mild high pressure ridge direct from the Pacific arrives. An extended thaw is likely; 40s by late week with a good chance of 50F Saturday. Mild air passing over cold ground may spark clouds & dense fog later in the week, but the pattern looks benign and storm-free looking out 10 days.
16 inches of snow fell last December; a year ago highs were already stuck in the teens with subzero lows. December 2014 should be easier to take: milder with less snow.
Consider it an early gift.
---
Friday Evening Jet Stream
. A sprawling ridge of high pressure pushes 40s and even some 50s into the Upper Midwest by late week; Saturday probably the mildest day in sight for Minnesota. An omega-block pattern favors major storms over New England and the Pacific Northwest this week. Credit: GrADS:COLA/IGES.
---
Predicted Jet Stream Configuration: Sunday Evening, December 21
. GFS data shows a modified zonal flow roughly 2 weeks out, a more active southern branch of the jet stream, but Pacific air engulfing most of the USA as the coldest air remains over northern Canada and Alaska.
---
Positive Phase of AO and NAO
. A strong negative phase corresponds with a higher-amplitude jet stream, capable of sweeping arctic air southward into the USA. A strong positive phase means stronger, west to east winds aloft, which tends to trap bitter air at far northern latitudes, with fewer intrusions into the Lower 48. A positive phase into mid-December will ensure temperatures above average. How long will the (milder) positive phase linger - too early to know.
---
Extended Thaw.
The warming trend we've been advertising for nearly 2 weeks is still on track. It's going to warm up - the question is how mild. The answer to that question will depend on how quickly snow melts, and whether mild, Pacific air passing over cold ground sparks thick fog and low stratus clouds Saturday, which would keep us a few degrees cooler. 40s are possible as early as Thursday, with a shot at 50F by Saturday.
---
Alerts Broadcaster Briefing
: Issued Sunday afternoon, December 7, 2014.
* No travel problems expected Monday, but heavy, windswept rain from a strengthening Nor'easter pushes up the Mid Atlantic coast Tuesday, soaking Washington D.C., Philadelphia and New York City, where flash flooding is expected - heavy rains push into coastal New England, including Boston, Tuesday night into Wednesday.
* Coastal flooding possible Delaware and New Jersey to Cape Cod.
* Significant snow piles up over interior New England, upstate New York and parts of central PA as storm stalls over northeast Wednesday and Thursday.
* Series of Pacific storms forecast to drop 5-10" rains over Pacific Northwest. Serious river flooding possible Olympics and northern Cascades, moderate flooding possible Seattle/Tacoma to Vancouver this week.
---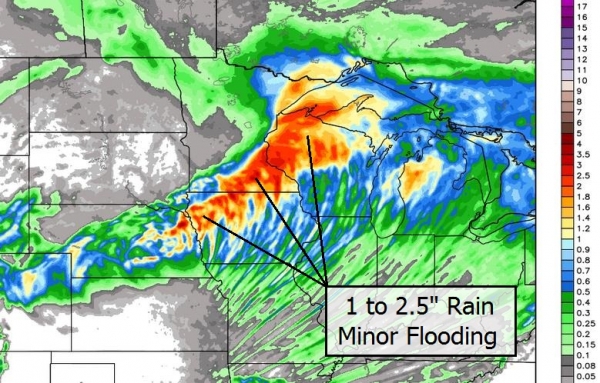 Tuesday Soaker
. Internal Alerts Broadcaster models print out some 2-3"+ rainfall amounts near Washington D.C., Baltimore and Rehoboth, Delaware, with 1-2" amounts Philadelphia and New York City to Boston by Wednesday. With significant frost in the ground much of that rain water will run off into streets and streams. Some urban flooding is likely, with the greatest travel delays Tuesday into Wednesday.
---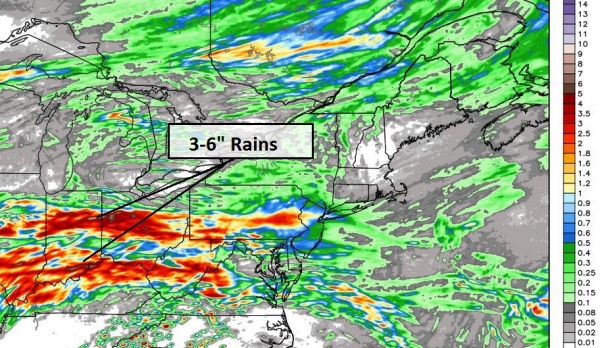 Flash Flood Guidance
. Our models show that 1.5" of rain falling over a 6 hour period would be enough to spark flash flooding in Washington D.C., where 3.13" of rain is predicted over the next 60 hours. Some 2-3"+ amounts are possible from D.C. and Baltimore to Allentown and the suburbs of New York City Tuesday and Tuesday night.
---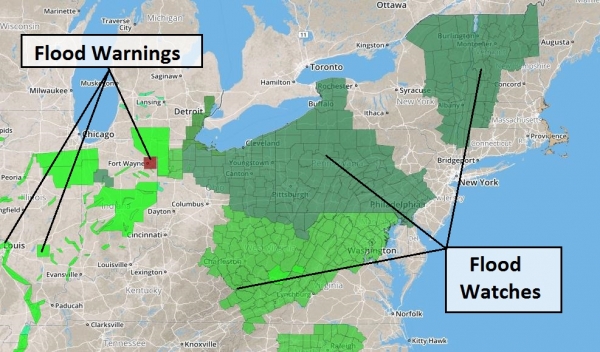 Latest Advisories
. NOAA may have to issue Flash Flood Watches for portions of the Mid Atlantic region and New England by tomorrow. For now Winter Storm Watches are posted from the Poconos and far northwest New Jersey northward to the Catskills, for plowable snowfall amounts by midweek. It would appear that major eastern cities will avoid a heavy snow event with this coastal system. Strong winds will spark coastal flooding, especially at high tide. Details from the NWS:
THE NATIONAL WEATHER SERVICE IN MOUNT HOLLY HAS ISSUED A COASTAL
FLOOD WATCH...WHICH IS IN EFFECT FROM MONDAY MORNING THROUGH
MONDAY AFTERNOON.
* LOCATION...COASTAL SECTIONS OF NEW CASTLE AND SALEM COUNTIES ALONG
  THE UPPER DELAWARE BAY.
* COASTAL FLOODING...THE POTENTIAL FOR WIDESPREAD MINOR TO
  MODERATE TIDAL FLOODING.
* TIMING...AROUND HIGH TIDE MONDAY, WHICH OCCURS BETWEEN 1045 AM
  AND 130 PM.
* OUTLOOK...TUESDAY MORNING`S HIGH TIDE CYCLE WILL SEE AT LEAST
  MINOR COASTAL FLOODING AND THERE IS SOME POTENTIAL FOR MODERATE
  FLOODING. A WATCH HAS NOT BEEN ISSUED AT THIS TIME SINCE THERE
  IS SOME DOUBT AS TO THE TIMING OF THE STRONGEST WIND TO AFFECT
  THIS AREA.
---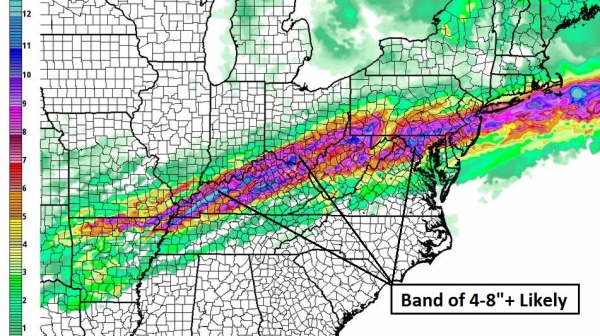 Heavy Snow Potential
. This band may shift over time, but right now models show the best chance of a plowable snowfall from near Altoona and Williamsport, PA to Rochester and Syracuse, New York. I suspect heavy snow amounts may push into the Hudson River Valley and the Berkshires of Massachusetts by Wednesday and Thursday.
---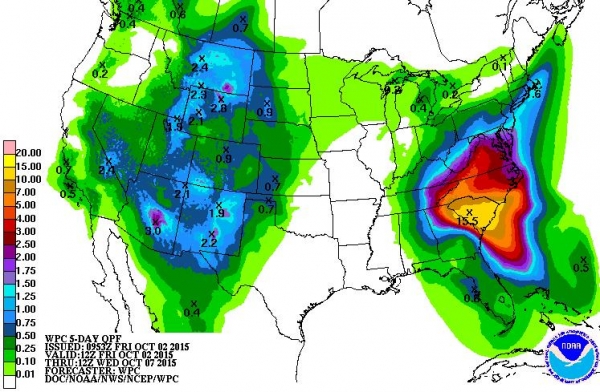 Stormy Book Ends
. Conditions are ripe for street and (minor) river flooding across New England later this week, the result of 1-3" rains. More serious flooding is expected over the Pacific Northwest as a series of very wet storms blow in off the Pacific. Models hint at 14" rainfall amounts for the Olympic Range of Washington State, capable of mudslides and serious river flooding. Seattle, Portland and northern California may see moderate urban flooding later this week.
---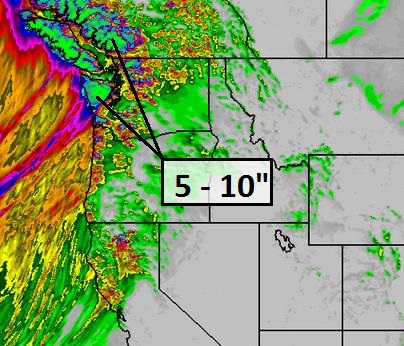 Why We're Concerned.
Our internal models show extreme amounts of rain (and very heavy mountain snows) over the Pacific Northwest. I could see avalanche conditions above 6,000 feet with flash flooding and river flooding at lower elevations by Thursday.
Summary
: With El Nino gradually ramping up conditions will become increasingly ripe for major storms slamming into the West Coast, and a series of coastal storms tracking up the East Coast. One such storm will spark heavy rain and flash flooding along the I-95 corridor Tuesday into Wednesday, with high winds creating beach erosion and coastal flooding from Delaware and New Jersey Tuesday to Cape Cod by Wednesday. Heavy snows are possible from interior Pennsylvania and upstate New York into interior New England by midweek.
Meanwhile the Pacific Northwest is bracing for a parade of sloppy Pacific storms, with the best chance of urban and river flooding Wednesday and Thursday. Relatively quiet weather is expected over the central USA the next 7-10 days. We'll keep you posted.
Paul Douglas - Senior Meteorologist - Alerts Broadcaster
---
TODAY: Flurries taper, clouds linger. Winds: NW 10-20. High: 33
MONDAY NIGHT: Gradual clearing. Low: 20
TUESDAY: Bright sun, less wind. High: 29
WEDNESDAY: Partly sunny and milder. Wake-up: 18. High: 32
THURSDAY: Peeks of sun, breathing easier. Wake-up: 22. High: 38
FRIDAY: Intervals of sun, jacket weather. Wake-up: 30. High: 44
SATURDAY
: March preview. Patchy clouds, fog. Wake-up: 37. High: near 50
SUNDAY
: Mild start, passing rain shower. Wake-up: 45. High: 48
---
Climate Stories...
Cutting Carbon Pollution Is The Key To Curbing Global Warming.
Here's an excerpt of an article from John Abraham at St. Thomas, writing for
The Guardian
: "...
Most of us already know this, but not all greenhouse gases are created equal. There are some greenhouse gases that, when emitted, only stay in the atmosphere for a short time. There are other greenhouse gases (like carbon dioxide) that stay aloft for decades to centuries. Finally, there are some that stay airborne for an intermediate duration. It has often been stated that we can "buy time" by focusing on short-lived greenhouse gases. Reducing things like black carbon or methane can give us some extra years to get our act together on carbon dioxide. But this suggestion is challenged in the PNAS paper
..."
---
West Antarctic Melt Rate Has Tripled
. Here's a clip from a press release by AGU,
The American Geophysical Union
: "A comprehensive, 21-year analysis of the fastest-melting region of Antarctica has found that the melt rate of glaciers there has tripled during the last decade. The glaciers in the Amundsen Sea Embayment in West Antarctica are hemorrhaging ice faster than any other part of Antarctica and are the most significant Antarctic contributors to sea level rise. This study by scientists at the University of California, Irvine (UCI), and NASA is the first to evaluate and reconcile observations from four different measurement techniques to produce an authoritative estimate of the amount and the rate of loss over the last two decades. "The mass loss of these glaciers is increasing at an amazing rate," said scientist Isabella Velicogna, jointly of UCI and NASA's Jet Propulsion Laboratory, Pasadena, California..."
Photo credit
above: "
Glaciers seen during NASA's Operation IceBridge research flight to West Antarctica on Oct. 29, 2014. A new analysis of the fastest-melting region of Antarctica has found that the melt rate of glaciers there has tripled during the last decade
." Credit: NASA/Michael Studinger.
---
Research Casts Alarming Light on Decline of West Antarctic Glaciers.
The Washington Post
has the video and article; here's the introduction: "
For two decades, scientists have kept a close watch on a vast, icebound corner of West Antarctica that is undergoing a historic thaw. Climate experts have predicted that, centuries from now, the region's mile-thick ice sheet could collapse and raise sea levels as much as 11 feet. Now, new evidence is causing concern that the collapse could happen faster than anyone thought. New scientific studies this week have shed light on the speed and the mechanics of West Antarctic melting, documenting an acceleration that, if it continues, could have major effects on coastal cities worldwide
..."