62 F
. high in the Twin Cities Friday.
65 F
. average high on October 2.
60 F
. high on October 2, 2014.
October 2, 1953
: A record high of 90 degrees Fahrenheit for the St. Cloud area was recorded in 1953 (and later tied in 1992). Minneapolis also set a record that same day in 1953 with a high of 89 degrees.
October 2, 1849
: Persistent rain at Ft. Snelling leaves 4 inches in a day-and-a half.
Model Envy: The European Model Wins Again
Meteorologists are drowning in data. We tap scores of weather models from around the world, looking for consistency and agreement before we issue a forecast. When models agree our confidence levels go up.
It doesn't make me happy to admit this, but we have a problem. NOAA has taken an entrepreneurial approach, with scores of models. The European Union has one model, the ECMWF. Once again it outperformed NOAA's models with Joaquin, predicting the hurricane would pass harmlessly out to sea 6 days ago. Much like Sandy in 2012 the "Euro" was superior to models from the USA, Britain & Canada.
It's not just raw computational horsepower; it's the physics within the model - and how new data is "initialized" that's different - and superior. No model is infallible, but we still have some catching up to do.
Fine weather lingers into much of next week as winds aloft blow from the Pacific; a zonal, west to east pattern favoring milder and drier than average. The next chance of showers?
Thursday.
I see 60s, even a few 70s, into the third week of October. That's from the ECMWF model. Sorry.
---
* ECMWF track of Hurricane Joaquin from successive model runs earlier this week courtesy of WeatherBell.
---
Hurricane Joaquin Forecast: Why U.S. Weather Model Has Fallen Behind
. Providing more context on my brief comments about ECMWF here's an excerpt of a good explainer at
The New York Times
: "...
The European model's data assimilation relies on more observations than the G.F.S. — including satellite measurements of radiation from clouds, which is crucial in areas with relatively few land observations. It also assimilates the data over time, allowing the model to start with the evolution of the weather heading into the forecast period, not just a snapshot. The G.F.S. is making strides in this area, but Mr. Mass says there's still a long way to go. Maybe it will be Joaquin's false alarm, not another Hurricane Sandy, that gets America to make the G.F.S. great again
." (Map credit: WSI Corporation).
---
Alerts Broadcaster SitRep
: Issued
Friday evening
, October 2, 2015.
* Hurricane Joaquin pushing out to sea - not a threat to the USA, but life-threatening conditions persist.
* Most serious river and urban flash flooding focused on Carolinas and portions of Georgia into the weekend.
*
State of Emergency
declared from southern New Jersey and Maryland into D.C, Virginia and the Carolinas for heavy rains, high winds and possible power outages related to a persistent storm over the Southeastern USA and a persistent fetch of high winds blowing off the Atlantic Ocean.
* Significant risk of river flooding from Maryland southward to the Carolinas over the next 3-5 days, according to NOAA analysis.
* Models suggest the hills of western North Carolina and much of South Carolina may receive another 7-12" of rain, leading to a severe, in some cases catastrophic flood risk. Most-impacted metro areas may include
Asheville
,
Spartanburg
,
Columbia
and
Charleston
.
* Persistent onshore winds (20-40 mph) will create minor to moderate coastal flooding into the weekend; areas within 5-6 feet of sea level may experience unusual levels of flooding, especially close to high tide, from the Carolinas northward to Long Island and Cape Cod into early next week. Graphic: AerisWeather.
---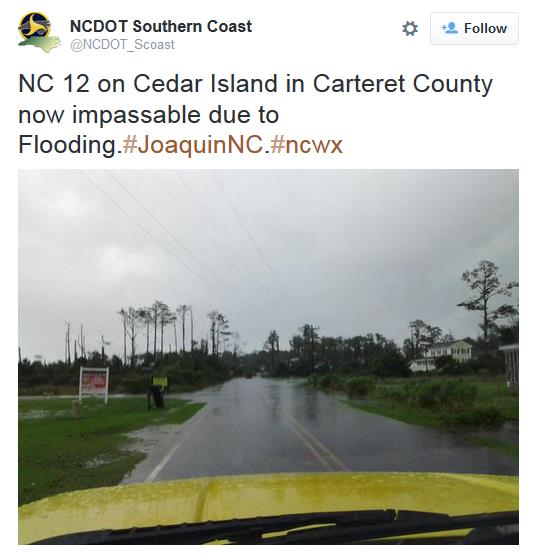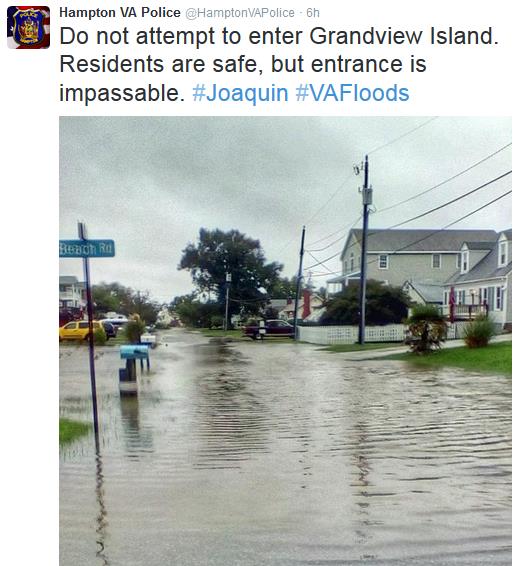 Ocracoke Island, North Carolina, is under a mandatory evacuation, with 1,100 taken off the island
Sout Carolina (
http://www.scemd.org/component/content/article/21-home-page/public-information/219-hurricane-joaquin
) and NJ also under a state of emergency
Limited state of emergency declared in Sussex County, DE:
http://www.delawareonline.com/story/weather/2015/10/02/heavy-rain-flooding-erosion-high-tide-approaches/73202360/
---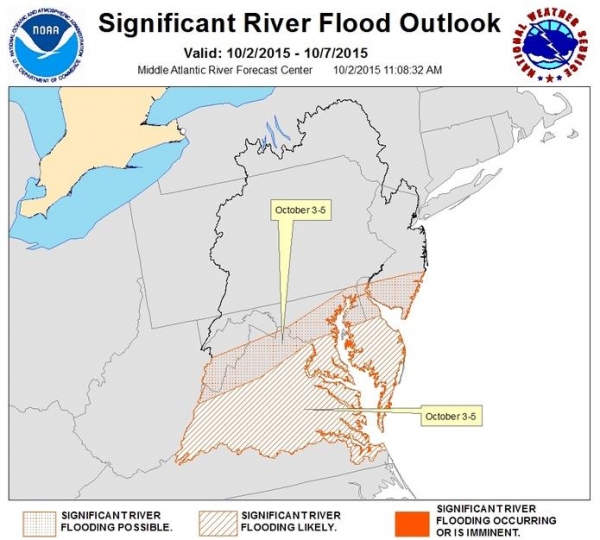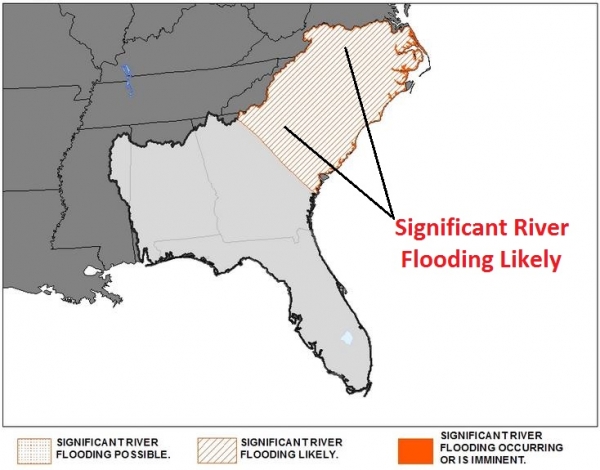 Potential for Significant River Flooding
. Additional heavy rains falling on saturated soil are already resulting in serious stream and river flooding, and conditions will worsen before slowly improving next week. We are most concerned about the risk of (major) river flooding across the Carolinas. Map: NOAA.
---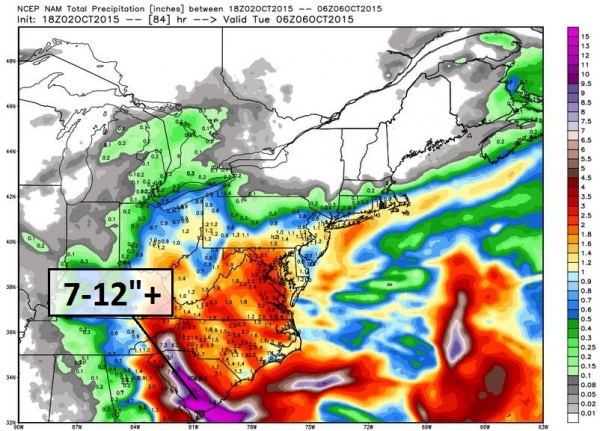 Additional Rainfall
. Models continue to print out excessive amounts of rain for the Mid Atlantic region, with the greatest amounts from the hills of western North Carolina (Asheville area) into South Carolina - as much as 7-12" of additional rain, on top of saturated soil and the rain that has already fallen. If this forecast verifies the resulting flooding will be severe, perhaps even historic. NAM graphic: WeatherBell.
---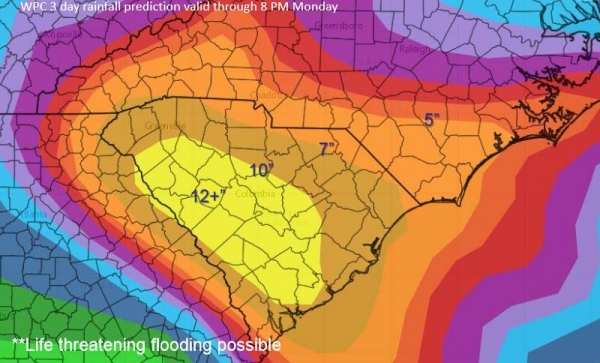 Area of Greatest Concern
. Models show bands of very heavy rain persisting and converging over South Carolina - flooding in and around Columbia, Spartanburg and Charleston may become widespread/extensive, with prolonged impacts to facilities and staff. Map: NOAA.
Key Points:
- The ground remains saturated over a widespread area. The risk for excessive rainfall ranges from slight to high across our area (highest across SC through tonight). The potential for dangerous flooding will persist into Monday.
- Flooding will make driving difficult as runoff collects across intersections and low spots. In addition, some small creeks may quickly get out of their banks and spill across the roadway. Any location where water is flowing across the road may result in a scour or complete wash out.
- The dangers of flooding are even higher at night as the hazards become harder to recognize. The combination of saturated ground conditions and wind gusts could lead to some downed trees Saturday through Sunday.
- Basin-wide heavy rainfall, locally and upstream, will allow all rivers to experience significant rises. Some of the rivers could begin to exceed flood stage by early next week, while others are a little slower to respond to the rainfall.
- Large waves are expected across the open ocean and large breakers are likely in the surf by this weekend with strong rip currents. Waves will be particularly steep near inlet entrances, especially with the falling tide.
- Minor to moderate coastal flooding is possible with each high tide through the weekend. Additional beach erosion is possible from large breakers in the surf. Source: NOAA.
---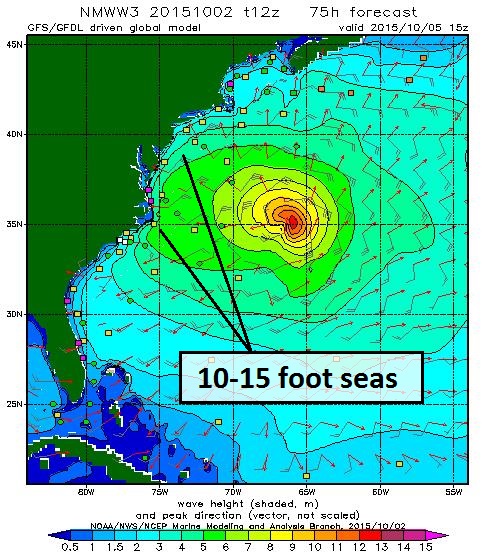 Coastal Flooding Risk
. The flooding rains over the East Coast are not a result of Joaquin, but rather a stalled storm over the Southeastern USA pulling tropical moisture off a (record) warm Atlantic Ocean, resulting in excessive rainfall amounts. The storm swells in the Atlantic are the result of Joaquin and a persistent fetch of strong winds off the ocean triggered by a sharp contrast in air pressure; a pattern expected to linger another 3-4 days, which is highly unusual. Seas will reach 10-15 feet just offshore, with an onshore storm surge of 2-5 feet in some coastal areas, especially close to high tide. Map: NOAA.
---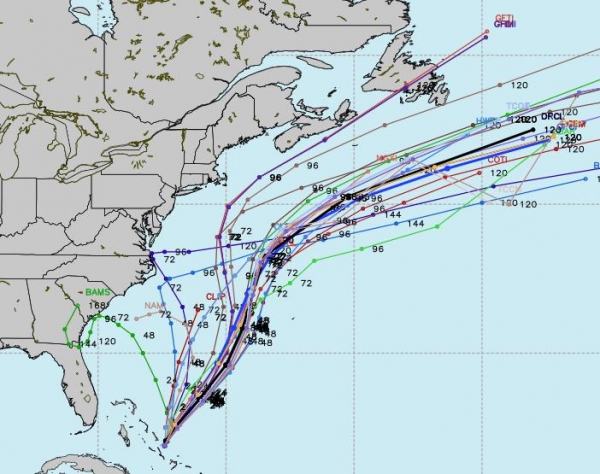 Finally: Model Agreement.
Models from NOAA, UKMet and the Canadian GEMS have caught up with the ECMWF (European), which had the right idea 5-6 days ago. sweeping the storm out into the Atlantic. After delivering a devastating blow to the Bahamas, Joaquin's 125 mph winds are pushing northeast at 7 mph as of this evening, on a course which should take the core of the hurricane's strongest winds and highest storm surge just west of Bermuda by Sunday afternoon. Map: WeatherBell.
Joaquin will not score a direct strike on the USA, but some of the symptoms of this storm (strong pressure gradient whipping up coastal flooding) and a second storm stalled over the Carolinas, will continue to create disruptive, potentially life-threatening weather for the next 72-96 hours.
Paul Douglas, AerisWeather

---
Tracking Joaquin and Wild Weather Out East.
Using AerisWeather's (free)
interactive tracker
you can call up current threats, radar, wind speeds and dial up the perspective you want to track the storm out east, or local Minnesota/Wisconsin weather. (hint: take it full-screen to get the highest resolution).
---
Tracking Joaquin - And Record Rains Across the Southeast
. Here's the latest GFS model showing Hurricane Joaquin pushing out to sea, but residual moisture swirling around a "cut-off" low will soak the Carolinas with potentially record rains. Dry weather lingers into the first half of next week across Minnesota; the next chance of showers next Thursday. Source: NOAA.
---
What Makes Hurricanes Like Joaquin Tick?
National Geographic
takes a look at some of the factors that power hurricanes, including sea surface temperatures, and the depth of warm waters; here's an excerpt that caught my eye: "...
Flash flooding caused by intense rains is also a major killer, Emanuel said. "Hurricane Mitch [in 1998] killed 12,000 people and it was all from flash flooding."
Then comes wind that blows around debris. Hurricane Andrew in 1992 is an example of this. "It didn't really cause too much of a storm surge," the atmospheric scientist said, "but boy did it blow a lot of buildings down."
The worrisome thing though, is that climate change will likely increase the frequency of "the high-end hurricanes," Emanuel said. Those categorized as threes or above (the scale tops out at five)..." (Image: NOAA).
---
Watch: "Game-Changing" Weather Drones Can Detect Tornadoes Earlier Than Ever. This just makes sense - drones to measure the atmosphere around tornadic supercells AND drones with cameras to (safely) gather video from the air - it's coming. Here's a video clip from KWTV in Oklahoma City, featured at The Austin Statesman: "
The technology meteorologists currently rely on to predict tornadoes can do so just a few minutes before they hit. New weather drones, still in the works, could make predictions earlier than ever before — as much as an hour prior touchdown. Capable of moving right through tornado-producing storms, development of the nine-foot-long drones will be aided by nearly $2 million awarded to the University of Colorado Boulder
."
---
Extreme Commuting: When a 10-Hour Transcontinental Flight Is Just Another Trip to the Office. I'm feeling better about my 15-20 minute drive; here's an excerpt from Quartz: "...
Another study conducted this year by the market research firm Barna Group, found that nearly 60% of adults never plan to move, and out of the adults who did move, 42% moved for family, while just 28% relocated for a job. And this isn't just an American phenomenon. "Relocation is a problem for people," said Ellen Galinsky, president of the Families and Work Institute in New York, which is currently studying this issue. "Men in particular, are putting more value on being a good parent, not just a provider, and in some sense that might mean not moving their kids
..."
---
Learning Diderot's Lesson: Stopping the Upward Creep of Desire
. This is dense but fascinating, at least for those of us who medicate via shopping; "this one last item will complete me". Of course it's a treadmill, and buying one object may inspire you to change your entire wardrobe, or home, something I wasn't aware of called the "Diderot Effect". It goes to some of the challenges outlined by Pope Francis, including consumerism and hyper-capitalism. Here's an excerpt of an
online essay
from Juliet Schor: "...
To avoid the pitfalls of Diderot, and the new consumerism more generally, requires a new consumer consciousness and behavior. In this chapter, I outline nine principals to help individuals, and the nation, get off the consumer escalator. They are intended as remedies to the problems I have discussed through the book: too little saving, a harried lifestyle, a deteriorating environment, the growth of competitive spending, and a lack of consumer control. I anchor my principles in the values of social equity and solidarity, environmental sustainability, financial security, and the need for more family and free time
..."
Image credit
above
here
.
---
The Decline of "Big Soda"
.
The New York Times
has a fascinating story - here's an excerpt: "...
Sales are stagnating as a growing number of Americans say they are actively trying to avoid the drinks that have been a mainstay of American culture. Sales of bottled water have shot up, and bottled water is now on track to overtake soda as the largest beverage category in two years, according to at least one industry projection. The drop in soda consumption represents the single largest change in the American diet in the last decade and is responsible for a substantial reduction in the number of daily calories consumed by the average American child.
.."
Photo credit
above: " "
Credit

Ruth Fremson/The New York Times.
---
Google's Cute Cars and the Ugly End of Driving. Maybe this is something our kids and grandkids will benefit from, but I'm not stepping inside an autonomous-driving vehicle anytime soon. Here's an excerpt from BuzzFeed: "...
A future without human drivers is a long, long way off. But we'll get there. No matter what you think. No matter what you hope. No matter how you feel about it. Because the efficient, unemotional, necessary logic of cars that operate without human error and instability is unquestionable. But when a little self-driving car does, at last, pull up at your door, whether it's a Google car or an Uber car or an Apple car or a Ford, hopefully we'll have asked the right questions of it before it gets there. Hopefully we'll have properly interrogated it. Because when you do get in, you're going to be delighted, and you're going to want to ride it again and again. There's no stopping them
."
Photo credit
above:
---
A Japanese startup is raising funds through Indiegogo for Tempescope, a sleek-looking device that will fetch the weather forecast from your smartphone and recreate rain, lightning, fog and sunshine inside a clear plastic box sitting in your living room. The idea for the Tempescope first came to its inventor Ken Kawamoto after returning from a holiday in the Pacific Northwest. Wishing to take the skies back home with him, he created a prototype (out of shampoo bottles, a fan, LEDs and a mist diffuser) that could physically reproduce weather conditions in a confined space..
."
---
TODAY
: Lot's of sun, breezy and pleasant. Winds: East 10-15. High: 62
SATURDAY NIGHT
: Mostly clear. Low: 46
SUNDAY
: Mix of clouds and sun. Winds: E 8-13. High: 60
MONDAY
: Partly sunny, less wind. Wake-up: 48. High: 66
TUESDAY
: Mild sun, very nice. Wake-up: 52. High: 71
WEDNESDAY
: Sunny treadmill continues. Wake-up: 54. High: near 70
THURSDAY
: Best chance of showers in sight. Wake-up: 51. High: 62
FRIDAY
: More clouds than sun. Winds: NW 7-12. Wake-up: 49. High: 64
---
Climate Stories...
How Climate Change is Intensifying Hurricane Joaquin.
According to NOAA water temperatures in the Atlantic and Caribbean, in the path of Joaquin in recent days, was "record warmest". Here's an excerpt from
Huffington Post
: "...
Joaquin's quickly progressing strength can be tied to unprecedented sea surface temperatures in the hurricane's vicinity, Michael Mann, director of the Earth System Science Center at Pennsylvania State University, told The Huffington Post. "Joaquin has been traveling over a record-warm ocean surface and undoubtedly that has contributed to its rapid intensification," he said. "In a very basic sense, warmer ocean surface temperatures mean there is more energy available to strengthen these storms. So we expect more intense hurricanes in general in a warmer world
..."
---
General Mills and other Food Producers Speak Out on Climate Change.
Here's an excerpt from
The Star Tribune
: "
General Mills has joined nine other food companies in addressing climate before a large United Nations gathering on the issue later this year. In a letter to U.S. and global leaders, the food companies' CEOs say that if action isn't taken now, "we risk not only today's livelihoods, but those of future generations." The companies note that climate change is a menace to the world's food production system. "Climate change is bad for farmers and agriculture," the letter says. "Drought, flooding and hotter growing conditions threaten the world's food supply and contribute to food insecurity.
.."
---
On Climate, Love Thy Neighbor.
Here's a snippet from a story at
Huffington Post
: "...
When Pope Francis met with President Obama, they charted a path forward on climate change based on shared values. They both made the powerful moral argument that, to address climate change, it is essential to fight poverty in the developing world. Pope Francis and the president are right for reasons that go beyond ethics: as a practical matter, spurring action in the developing world is key to climate success.
.."