60 F
. high Saturday in the Twin Cities.
64 F
. average high on October 3.
50 F
. high on October 3, 2014.
October 4, 2005
: Localized heavy rain fell in parts of central Minnesota. 4.61 inches of rain fell in the Minneapolis area, 3.42 inches was recorded in St. Cloud, 2.28 inches in Redwood Falls, 2.98 inches in New London, 3.23 inches in Buffalo, 1.43 inches in Little Falls, 1.92 inches in Alexandria, 1.10 inches in Glenwood, and 1.77 inches in Amery, WI.
October 4, 1939
: Storm dumps 2.16 inches of rain at Fairmont.
October 4, 1922
: A record high of 89 degrees Fahrenheit was set in the Minneapolis area.
Climatologist: 2015 Growing Season Close to Ideal
Savor the moment. Lately it seems most summer seasons trend either cool & wet or hot & steamy. But this year's warm season has been extraordinary any way you look at it. Statewide, September was 6F warmer than average; possibly the warmest on record. According to State Climatologist Greg Spoden growing season weather was close to ideal. "The state did not suffer a major heat wave or consistently unbearable humidity levels. Growing season rainfall totals were adequate to abundant" Spoden added.
The MSP metro area usually sees its first frost by early October, the first flakes in mid-October. Push that back at least 2 weeks this year. More symptoms of the warmest year on record, worldwide.
Clouds increase today, but the first chance of a statewide lawn-watering comes
Wednesday
night and
Thursday
. Temperatures trend milder than average into mid-October; a few more 70-degree highs possible early next week.
Historic floods are underway across South Carolina, but nothing resembling a real storm close to home. Winter is coming - but it's running late this year.
Enjoy the honeymoon!
---
Record Warm September, Statewide? Here's an excerpt of the latest HydroClim update from Greg Spoden, Minnesota State Climatologist: "Average monthly temperatures for September
were well above historical averages across Minnesota. Preliminary data indicate that the statewide average temperature for September 2015 was nearly six degrees above normal and may set an all-time high record for the month. Extremes for September ranged from a high of 94 degrees F at Marshall (Lyon County) on the 3rd, to a low of 18 degrees F in Isabella (Lake County) on the 29th.
The October

precipitation outlook

tilts towards below-normal conditions for all Minnesota counties. Normal October precipitation ranges from one and one-half inches in northwestern Minnesota, to over two and one-half inches in portions of northeastern Minnesota.
[see: Climate Prediction Center 30-day Outlook | October Precipitation Normal Map]
The October

temperature outlook

favors above-normal conditions across Minnesota. Normal October high temperatures fall from the low to mid-60s early in the month, to the upper 40s by month's end. Normal October low temperatures drop from the low 40s early in the month to near 30 by late October..." (Map above: Midwest Regional Climate Center).
---
Additional Rainfall
. NOAA's 12KM NAM model prints out another 5-10" of rain for portions of South Carolina; I'm very concerned about the I-26 corridor between Columbia and Charleston, South Carolina, where extensive flooding is already underway. Historic flooding may impact nearby communities from Hilton Head to Myrtle Beach. South Carolina appears to ground zero for the worst flooding.
---
Accumulating Snow
. NOAA's 10-Day GFS model keeps most of the accumulating snow well north of the Canadian border, a little slush piling up across the Rockies, but no gasp-worthy amounts close to home just yet. Source: NOAA and AerisWeather.
---
Relatively Smooth Sailing
. Highs reach the 60s next week; European guidance hinting at 70F next weekend. The best chance of a little rain comes Wednesday night and early Thursday, otherwise it's a remarkably quiet, drama-free forecast. Source: Weatherspark.
---
Hurricane Joaquin Forecast: Why U.S. Weather Model Has Fallen Behind
. Providing more context on my brief comments about ECMWF here's an excerpt of a good explainer at
The New York Times
: "...
The European model's data assimilation relies on more observations than the G.F.S. — including satellite measurements of radiation from clouds, which is crucial in areas with relatively few land observations. It also assimilates the data over time, allowing the model to start with the evolution of the weather heading into the forecast period, not just a snapshot. The G.F.S. is making strides in this area, but Mr. Mass says there's still a long way to go. Maybe it will be Joaquin's false alarm, not another Hurricane Sandy, that gets America to make the G.F.S. great again
." (Map credit: WSI Corporation).
---
What Makes Hurricanes Like Joaquin Tick?
National Geographic
takes a look at some of the factors that power hurricanes, including sea surface temperatures, and the depth of warm waters; here's an excerpt that caught my eye: "...
Flash flooding caused by intense rains is also a major killer, Emanuel said. "Hurricane Mitch [in 1998] killed 12,000 people and it was all from flash flooding."
Then comes wind that blows around debris. Hurricane Andrew in 1992 is an example of this. "It didn't really cause too much of a storm surge," the atmospheric scientist said, "but boy did it blow a lot of buildings down."
The worrisome thing though, is that climate change will likely increase the frequency of "the high-end hurricanes," Emanuel said. Those categorized as threes or above (the scale tops out at five)..." (Image: NOAA).
---
Alerts Broadcaster Update
: Issued
Saturday morning
, October 3, 2015.
* Hurricane Joaquin still expected to track offshore - no direct impact for the USA.
* Stalled storm over southeastern USA focuses heaviest rains on South Carolina; 10" rains have already soaked much of the Carolinas and Mid Atlantic, another 5-10" may fall by Sunday evening, producing extreme flooding problems - especially South Carolina.
* Historic, 1-in-1,000 year flooding possible from Asheville to Spartanburg to Columbia and Charleston.
* Strong onshore winds creating minor to moderate coastal flooding for communities on the Atlantic - especially close to high tide.
* Conditions gradually ease by Monday and Tuesday.
---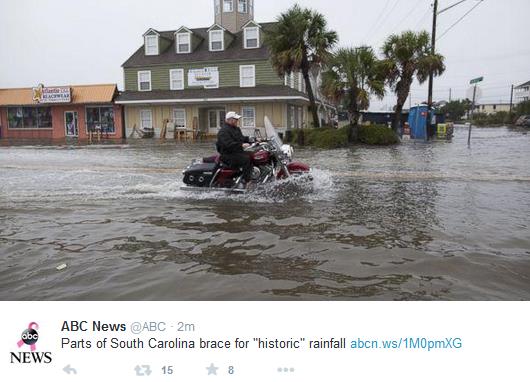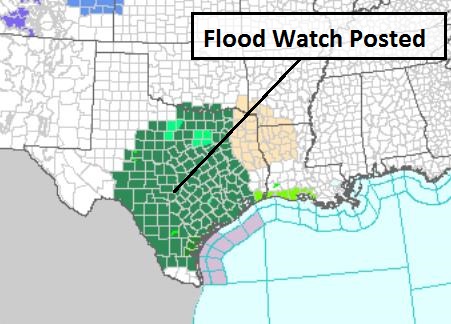 ---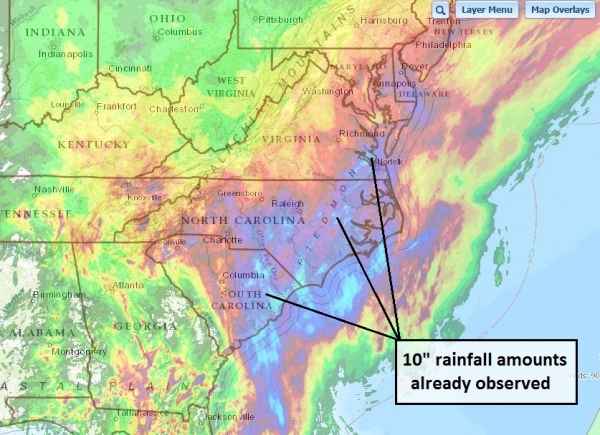 A Tropical Storm's Worth of Rain Has Already Fallen
. Doppler radar estimates show some 10" amounts have already soaked the Carolinas and Tidewater region of Virginia (shaded in light blue). Stating the obvious: the ground is saturated, flooding is already taking place - additional heavy rain will force streams and rivers even higher over the next 72 hours, especially over South Carolina. (Map credit: NOAA).
---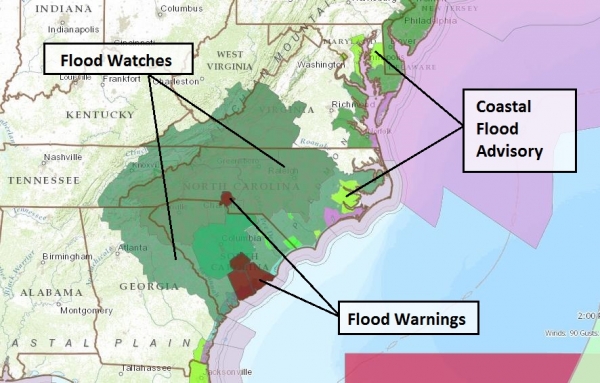 Latest Advisories
. Coastal Flood Advisories have been posted all up and down the Atlantic seaboard from coastal Massachusetts to the Jacksonville, Florida area - maximum flooding (tides running 2 feet above average with breaking waves as high as 5 feet) at high tide. (Map: NOAA).
Flash Flood Watches are depicted in dark green, with Flash Flood Warnings (flooding already well underway) shaded in red - major flooding already reported from Charlotte to Charleston.
---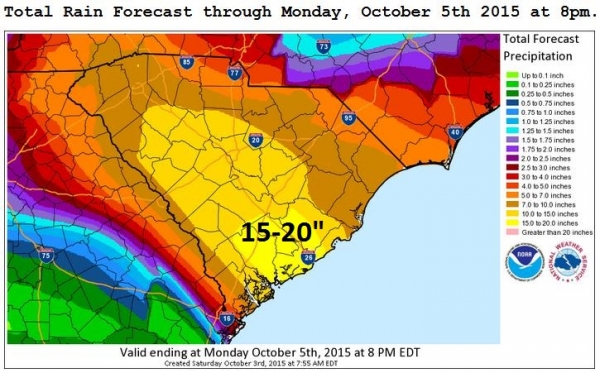 Total Predicted Rainfall Amounts
. This is a weather model and models are often wrong, but considering 10" rains have already been observed, totals in the 15-20" range aren't hard to fathom with this (temporarily stalled) system. Again, I'm most concerned about the corridor from Columbia to Charleston with serious flooding from Charlotte to Spartanburg to Augusta, Georgia. (Map source: NOAA).
---
Gone But Not Forgotten
. Although America was spared a direct strike, the formation of Joaquin helped to plunge weather patterns into a holding pattern. Essentially Joaquin became a giant, atmospheric roadblock, causing another storm to stall over the Carolinas, resulting in historic amounts of rain (and potential flooding). Map source: WeatherBell.
Another update this evening as new guidance (and flooding reports) roll in. Be careful out there.
Paul Douglas, AerisWeather

---
The Decline of "Big Soda"
.
The New York Times
has a fascinating story - here's an excerpt: "...
Sales are stagnating as a growing number of Americans say they are actively trying to avoid the drinks that have been a mainstay of American culture. Sales of bottled water have shot up, and bottled water is now on track to overtake soda as the largest beverage category in two years, according to at least one industry projection. The drop in soda consumption represents the single largest change in the American diet in the last decade and is responsible for a substantial reduction in the number of daily calories consumed by the average American child.
.."
Photo credit
above: " "
Credit

Ruth Fremson/The New York Times.
---
Google's Cute Cars and the Ugly End of Driving. Maybe this is something our kids and grandkids will benefit from, but I'm not stepping inside an autonomous-driving vehicle anytime soon. Here's an excerpt from BuzzFeed: "...
A future without human drivers is a long, long way off. But we'll get there. No matter what you think. No matter what you hope. No matter how you feel about it. Because the efficient, unemotional, necessary logic of cars that operate without human error and instability is unquestionable. But when a little self-driving car does, at last, pull up at your door, whether it's a Google car or an Uber car or an Apple car or a Ford, hopefully we'll have asked the right questions of it before it gets there. Hopefully we'll have properly interrogated it. Because when you do get in, you're going to be delighted, and you're going to want to ride it again and again. There's no stopping them
."
Photo credit
above:
---
Ms. Fiorina's trainwreck stint at HP has been well documented. But I want to address one tiny but telling aspect of her misbegotten reign: an episode that involved her good friend Steve Jobs. It is the story of the HP iPod. The iPod, of course, was Apple's creation, a groundbreaking digital music player that let you have "a music library in your pocket." Introduced in 2001, it gained steam over the next few years and by the end of 2003, the device was a genuine phenomenon. So it was news that in January 2004, Steve Jobs and Carly Fiorina made a deal where HP could slap its name on Apple's wildly successful product.
.." (File photo above: AP Photo/Cheryl Senter).
---
---
TODAY
: Clouds increase during the day. Winds: E 7-12. High: 62
SUNDAY NIGHT
: Patchy clouds. Low: 49
MONDAY
: Mix of clouds and sun. Winds: S 7-12. High: 66
TUESDAY
: Partly sunny, pleasant. Wake-up: 54. High: near 70
WEDNESDAY
: Early sun, showers late. Wake-up: 55. High: 68
THURSDAY:
Damp, showers linger. Wake-up: 57. High: 65
FRIDAY
: Blue sky, drying out. Winds: NW 5-10. Wake-up: 56. High: 63
SATURDAY
: Sunny, mild breeze. Winds: SW 10-20. Wake-up: 50. High: 70
---
Climate Stories...
New Study: Emissions From Thawing Permafrost Add Trillions in Economic Impacts
. Here's the intro to a story from
The National Snow and Ice Data Center
: "
Greenhouse gas emissions from thawing Arctic permafrost could result in an additional $43 trillion in economic impacts by the end of the twenty-second century, according to a new study by researchers from the University of Cambridge and the National Snow and Ice Data Center (NSIDC). These extra impacts justify the need for urgent action to reduce emissions from thawing permafrost. The study was published today in the journal

Nature Climate Change

.

Permafrost or frozen ground, which contain about 1,700 gigatons of carbon in the form of frozen organic matter, have begun to thaw in response to Arctic warming over the past few decades
..."
Photo credit
above: "
The village of Qannaaq, Greenland, in the Arctic, is built on permafrost
." Credit: Andy Mahoney/NSIDC.
---
Characteristics of Climate Science Denial.
I found this post at
Scisnack
fascinating; here's an excerpt: "...
It is important to mention that not everyone that denies climate science intends to do so. Science denial can be the result of a person not having the right background knowledge to understand the issue, unconscious psychological processes that reinforce previous existing ideas, political preference or religious beliefs. However, there are science deniers who actively and publically fight the scientific consensus. That is because creating doubt about this consensus within the general public has been shown to be the single, most successful strategy to delay action. Science denial is not a recent development. There are numerous examples of society rejecting science, sometimes with horrible consequences for the scientist involved (think of Galileo Galilei). The Earth revolving around the Sun, biological evolution, and more recently, smoking causing lung cancer or the effect of vaccinations… new scientific evidence is often met with doubt in society.
.."
---
How Climate Change is Intensifying Hurricane Joaquin.
According to NOAA water temperatures in the Atlantic and Caribbean, in the path of Joaquin in recent days, was "record warmest". Here's an excerpt from
Huffington Post
: "...
Joaquin's quickly progressing strength can be tied to unprecedented sea surface temperatures in the hurricane's vicinity, Michael Mann, director of the Earth System Science Center at Pennsylvania State University, told The Huffington Post. "Joaquin has been traveling over a record-warm ocean surface and undoubtedly that has contributed to its rapid intensification," he said. "In a very basic sense, warmer ocean surface temperatures mean there is more energy available to strengthen these storms. So we expect more intense hurricanes in general in a warmer world
..."
---
General Mills and other Food Producers Speak Out on Climate Change.
Here's an excerpt from
The Star Tribune
: "
General Mills has joined nine other food companies in addressing climate before a large United Nations gathering on the issue later this year. In a letter to U.S. and global leaders, the food companies' CEOs say that if action isn't taken now, "we risk not only today's livelihoods, but those of future generations." The companies note that climate change is a menace to the world's food production system. "Climate change is bad for farmers and agriculture," the letter says. "Drought, flooding and hotter growing conditions threaten the world's food supply and contribute to food insecurity.
.."
---
On Climate, Love Thy Neighbor.
Here's a snippet from a story at
Huffington Post
: "...
When Pope Francis met with President Obama, they charted a path forward on climate change based on shared values. They both made the powerful moral argument that, to address climate change, it is essential to fight poverty in the developing world. Pope Francis and the president are right for reasons that go beyond ethics: as a practical matter, spurring action in the developing world is key to climate success.
.."